Awesome Ways to Decorate with Lanterns in Your Home
Lanterns are popular accessories for use in our home, both inside and out.  Here are some awesome ways to decorate with lanterns in your home decor.
There are so many ways to decorate with lanterns. If you already use lanterns in your home decor, hopefully, I can add some more interesting ideas to your home decor toolbox.

And, if you don't use lanterns as accessories, then I hope these ideas will inspire you to try them.
Lanterns are so popular in today's home decor. As an accessory, they can be used in any room in your home. They can be used inside and outside. They can be filled with anything. Styled to fit your own esthetic, from farmhouse to midcentury to classic, lanterns are an essential home decor accessory to have in your home decor styling toolbox.
I'm using my own lanterns as examples of awesome ways to decorate with lanterns in your home decor. I have 4 lanterns and I'm going to show you different places and ways to use the lanterns to decorate your home.
 Awesome Ways to Decorate with Lanterns in your Home Decor
Lanterns are so popular in today's home decor. As an accessory, they can be used in any room in your home. They can be used inside and outside. A lantern can be filled with just about anything that will fit inside it. Styled to fit your own esthetic, from farmhouse to midcentury to classic, lanterns are an essential accessory to have in your home decor styling toolbox.
My first thought before deciding how to decorate with lanterns was: "what is a lantern?" I mean, I know what a lantern is, but I like to know definitively. Here's what Wikipedia says: "a lantern is a portable source of lighting, typically featuring a protective enclosure for the light source—usually a candle or a wick in oil—to make it easier to carry and hang up, and make it more reliable outdoors or in drafty interiors.
O.K. now that we are clear on that, let's get started with these lantern design ideas
A Pinterest~Inspired Lantern
We love Pinterest for finding ideas and inspiring us to create our own versions of a photo for our homes. This inspirational lantern photo is from Kelley Nan.  This design is classic and timeless. Made of metal and glass, this lantern is filled with a battery~operated candle which is a great way to add a focal point to any space.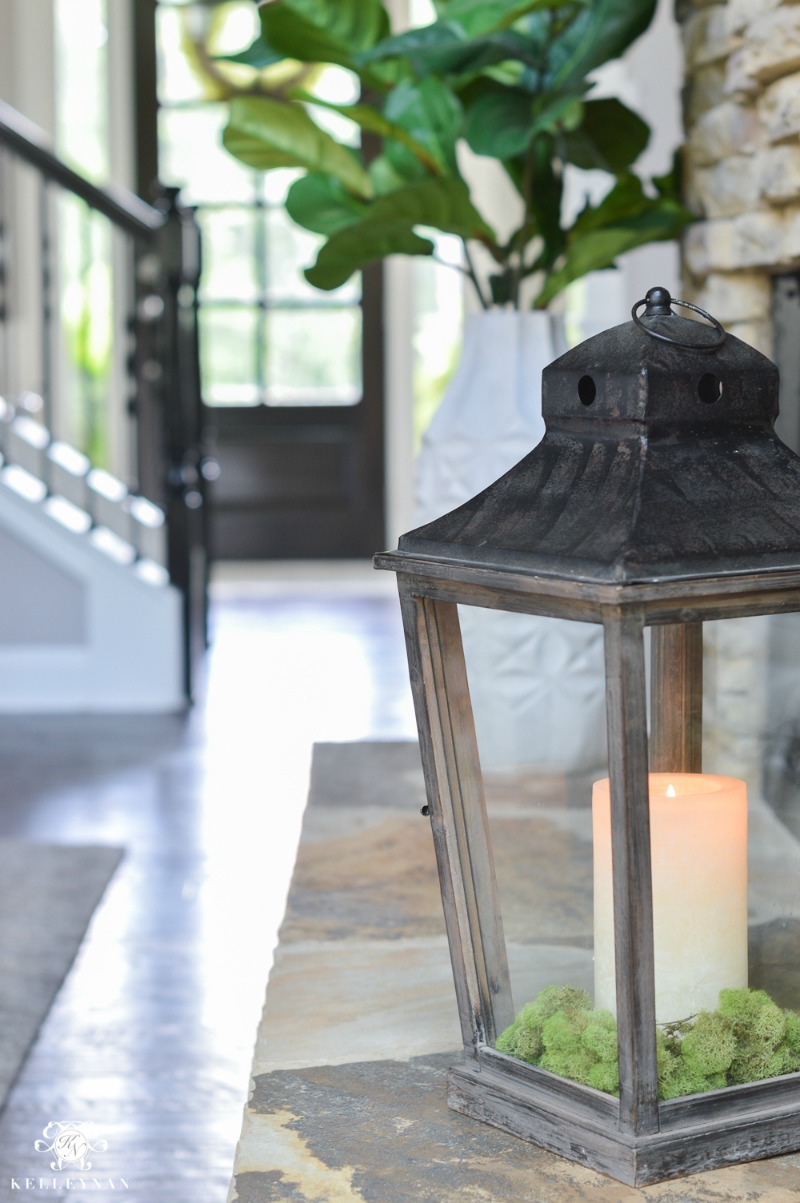 Kelley Nan placed her pretty vintage lantern on her hearth, filling the base with moss and a candle. Here's a larger view. We don't have a hearth, so I'll be styling my lanterns in other parts of our home.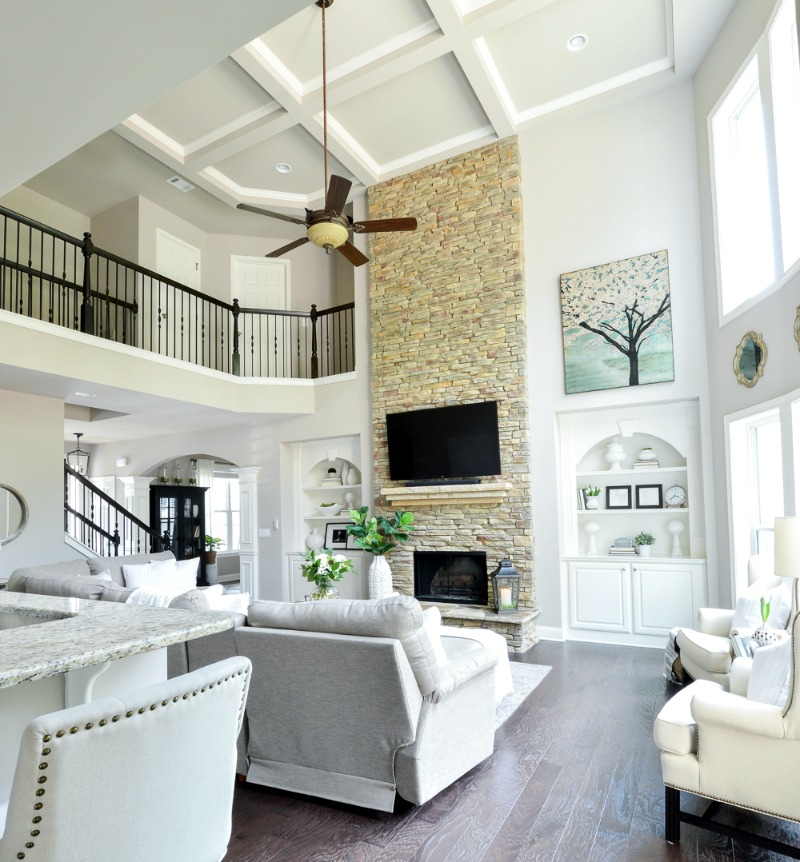 There are so many ideas for using lanterns in different ways. Use your imagination. Think of the different items you have around your home for what to put in a decorative lantern. One home decor lantern can have so many different looks.
Lantern Number 1 ~ Brass Lantern
I bought this brass lantern a few years ago at Pier 1 for Christmas decor. At that time, I filled it with battery~operated lights and it created a magical look. Then I used it as part of a lantern centerpiece on our dining room table for our dining room makeover.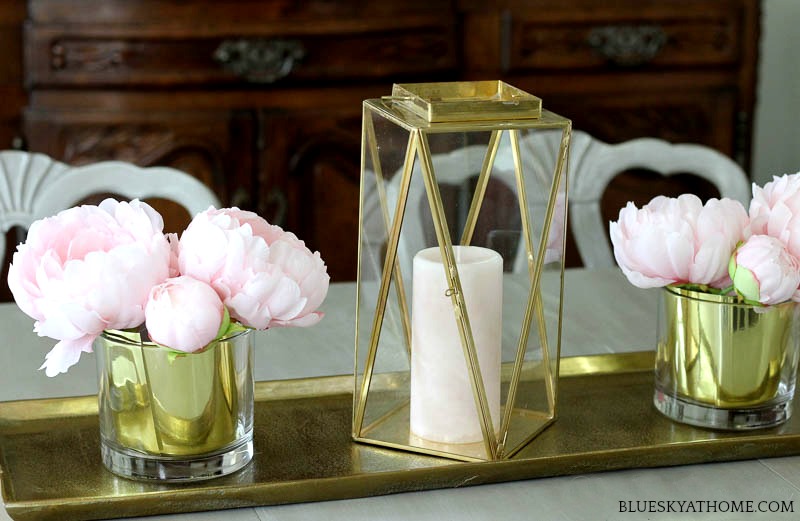 Entries are such great places for wonderful vignettes using decorative lanterns. Now, for our entry, I used the brass and glass lantern inside a grey painted tray along with a stack of books tied in twine (The tray and the books are usually on our living room coffee table.) For a pop of color, I used 3 ceramic vases that I have used in several places throughout our home, such as on our bedroom console table.
I used Kelley Nan's idea to place a little moss around a candle. This is a battery~operated candle that I recently bought at At Home and it's also been outside on our patio table. We use a remote to turn it on and program it to stay on for 4 hours. It gives the lantern a beautiful glow at night.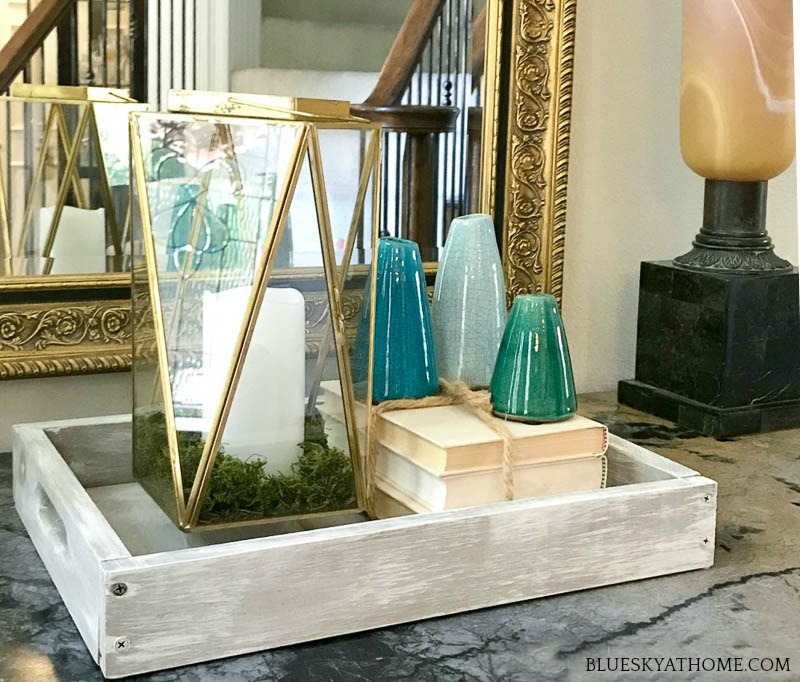 In a third setting, this brass lantern found its way into our breakfast room last year as part of my fall vignette. This time I filled it with tig~style balls and paired it with a blue candle, blue books, and blue beads.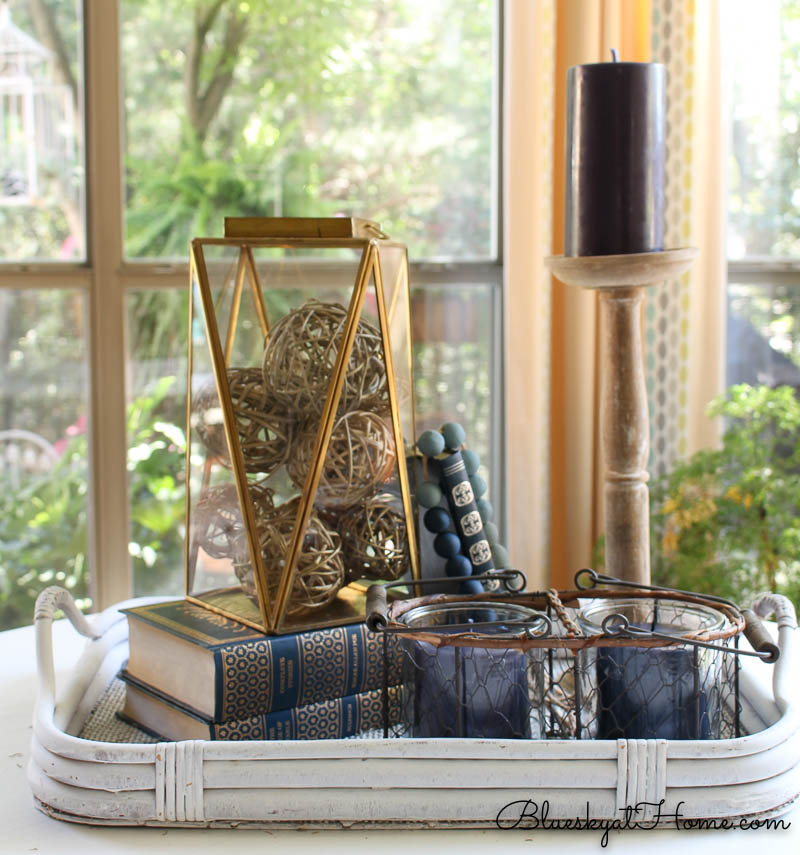 Obviously, this brass lantern has seen several more uses ~ filled with Christmas lights and faux flowers.
Lantern Number 2 ~ Tall Wood Lantern
Lanterns come in all shapes and sizes. We have had this tall wood lantern for several years now and it's one of my favorite things to decorate. It's not a lantern that you would carry around, but we're interested in home decor, not practicality here.
It usually sits on the large console table in front of one of our big breakfast room windows. The windows of the lantern are actually clear plastic. It may stay in the same place, but I fill it with different accessories. I change it based on the season and the holidays.
For this summer look, I filled it with fabric~wrapped styrofoam balls that I made several years ago with fabric scraps. I also threw in a couple of vintage spools. The fabric picks up the aqua and yellow colors in our open concept living room, breakfast room, and kitchen.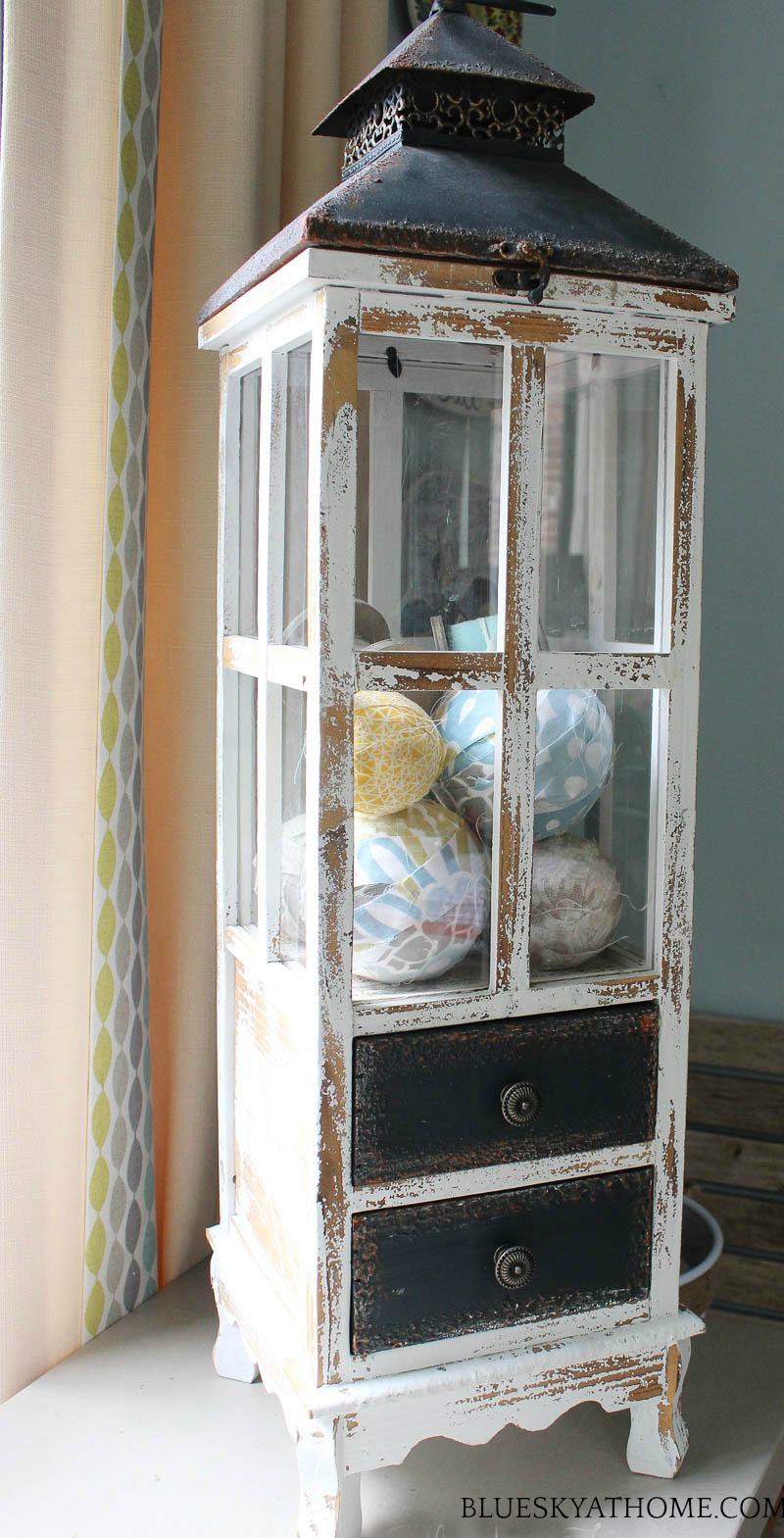 In the fall, I fill it with faux gourds and other fallish items.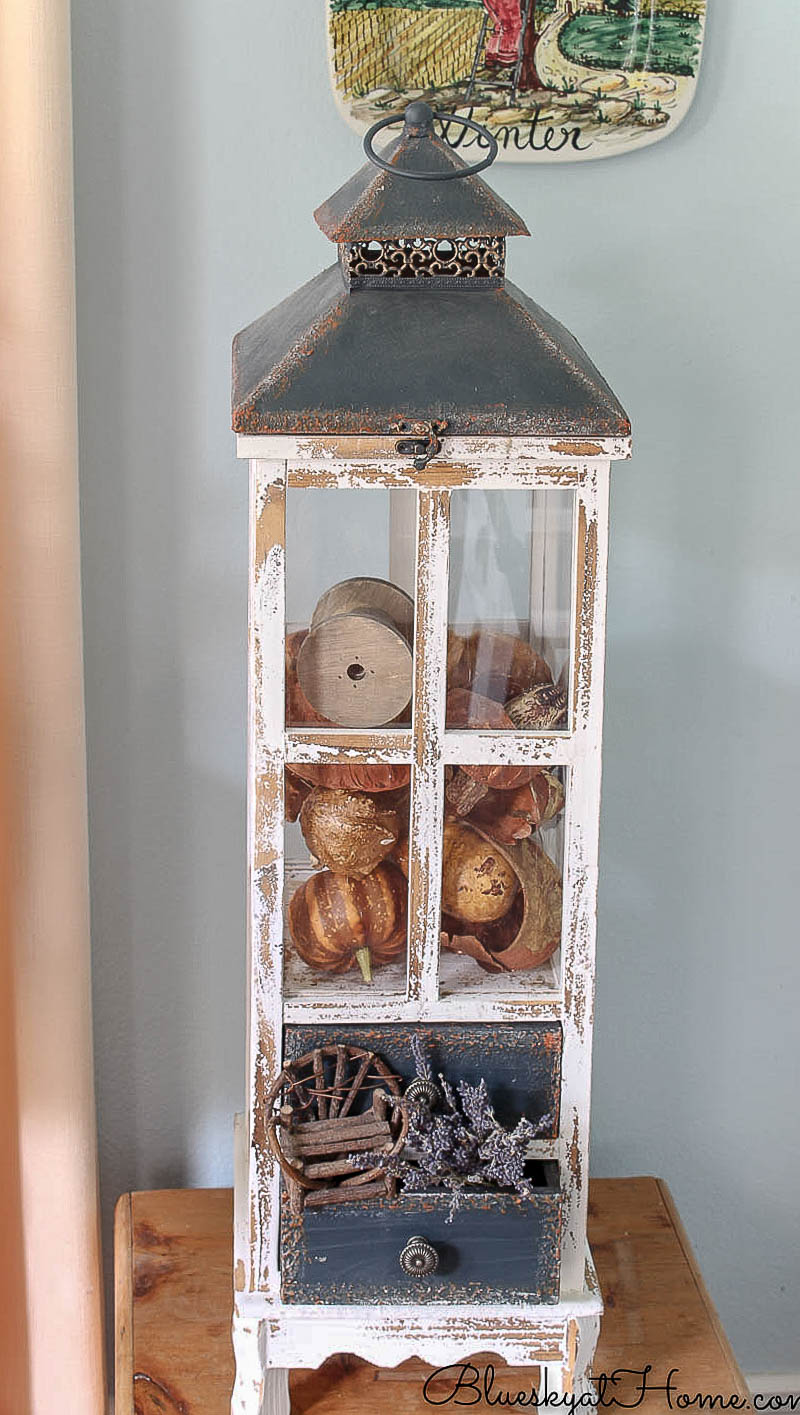 This summer, I've filled the lantern with a bright blue vase and white faux peonies. That is in keeping with my blue and white theme.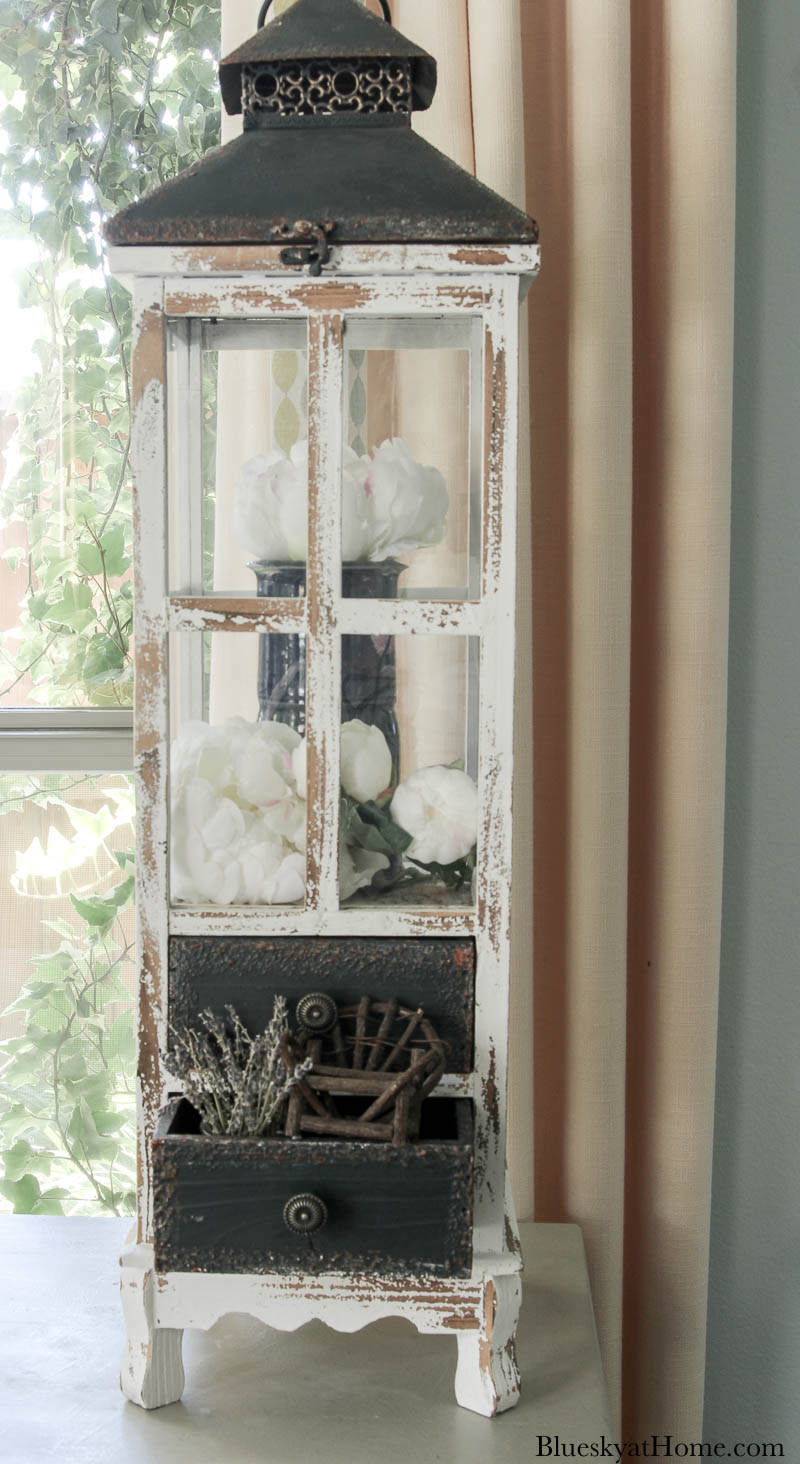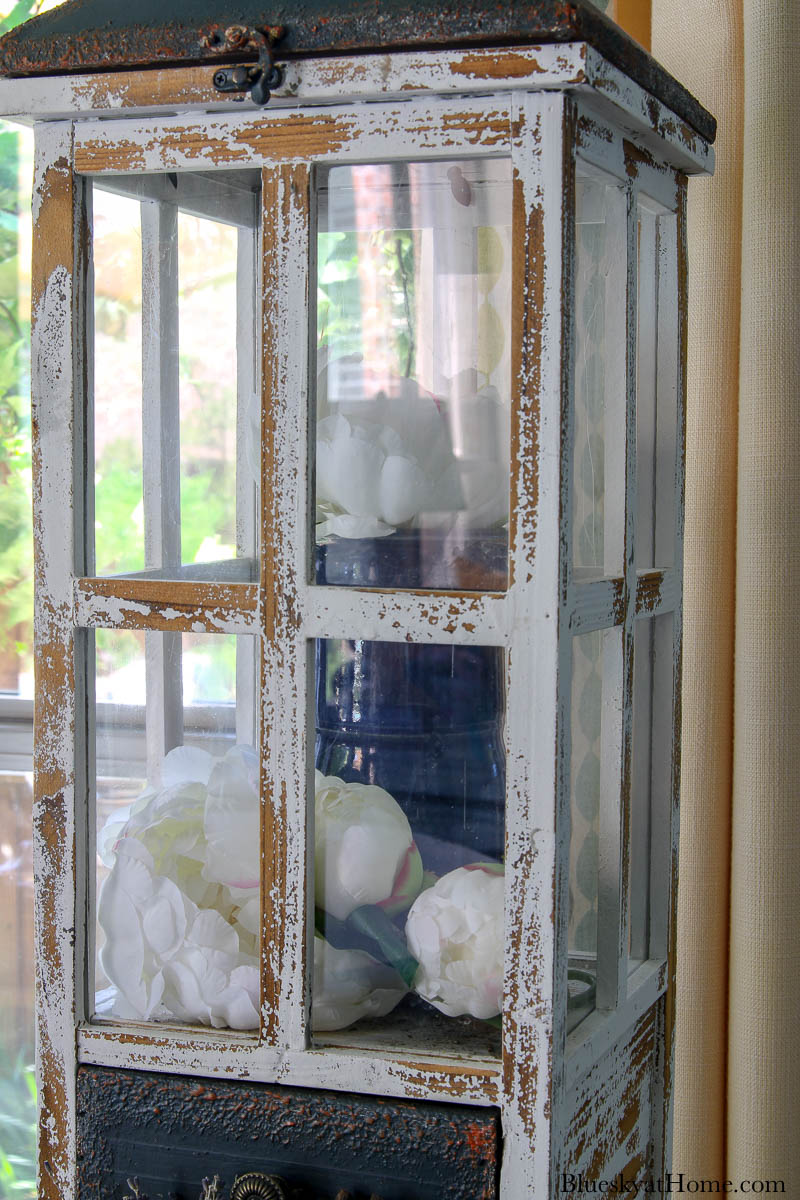 At other times, this tall lantern has been filled with Christmas balls and lights, Easter bunnies and American patriotic items.
Lantern Idea Number 3 ~ White Metal and Glass
When we updated our patio last summer, I added a white metal and glass lantern that I found on sale at Pier 1 to one of the new tabletops I made. I love the touch of brass on the handle.
Once again, I used moss and added another blue candle, but this one is real. I placed the candle on a cupcake holder to give it a little more height. The lantern is open around the top so that smoke from a candle can escape. I moved one of the planters that I painted for our bedroom outside since the painted planter went with the color of the candle quite well. The faux ivy is from At Home.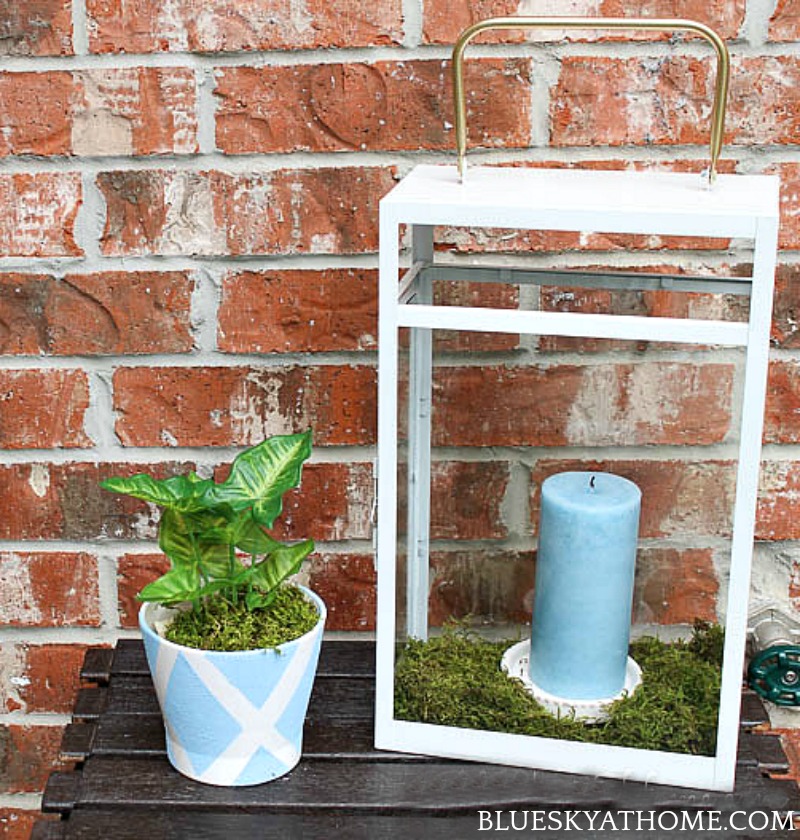 This summer I'm using this lantern in the living room on our bookcase. I thought that these 3 vases in shades of blue and green would fit nicely inside the lantern. I liked the look, but they were too short.
TIP: When decorating with lanterns take scale into consideration. Items should fill the lantern at least 2/3 full or the arrangement will look out of proportion.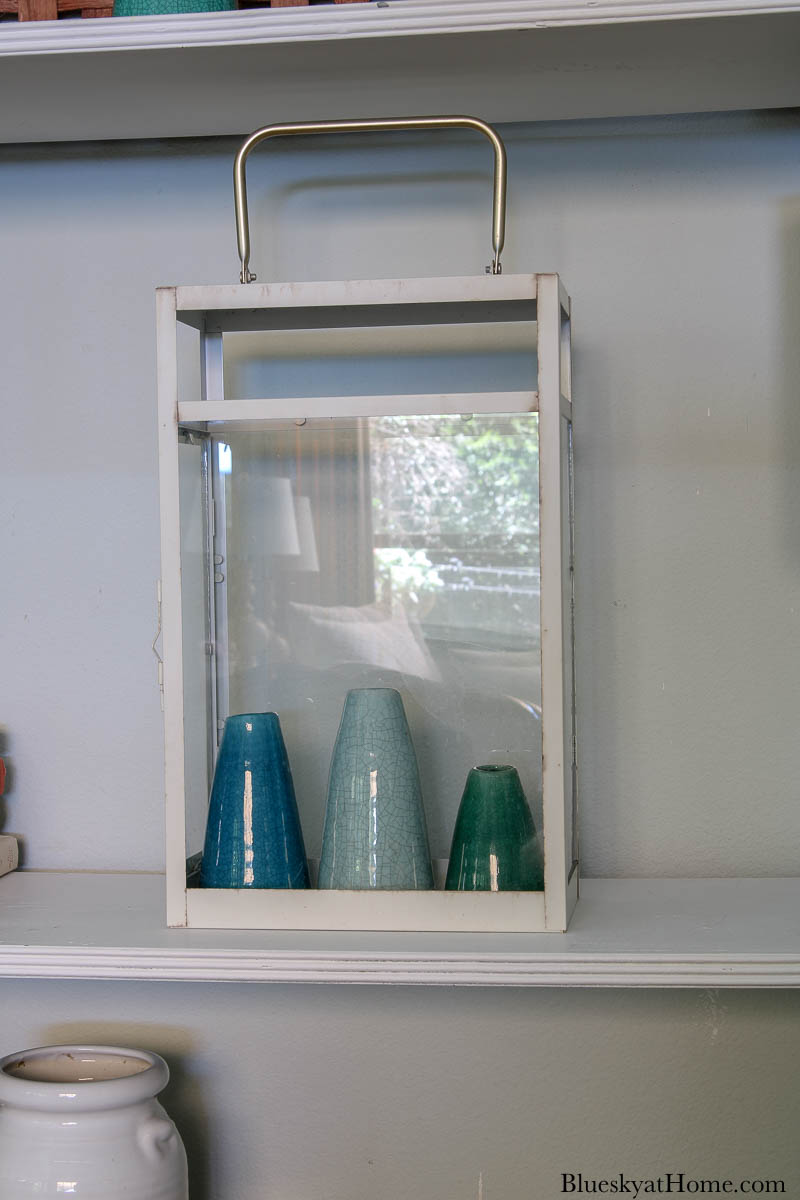 The lantern needed something taller inside. Two tall white vintage vases were the right size and shape. A bit of faux greenery completed the lantern decor.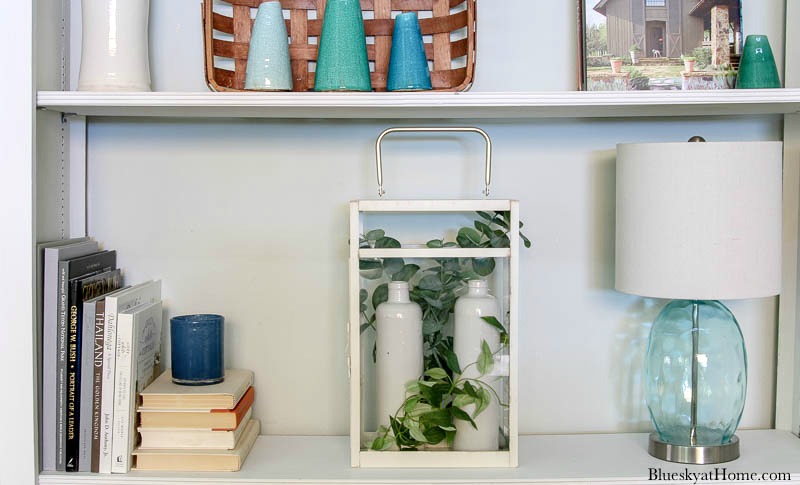 Lantern Number 4 ~ Metal and Wire Lantern
I almost forgot about this metal and wire decorative lantern which I bought a few years ago at Tuesday Morning. I loved the shape and style. It was a funky shade of green, so I painted it grey with a whitewash top coat.
TIP: Paint a lantern if you like the shape, style, and size, but don't like the color.
While organizing my decor closet in one of the guest rooms last week, I found the lantern. I thought that my blue decoupage balls would be a perfect fit in size and color for our living room side table.

This lantern has also been filled with a candle, Christmas lights, Easter bunnies, and decorative balls for the seasons.

I've shown you almost a dozen different ways to style 4 different home decor lanterns. I hope you enjoyed these ways to decorate with lanterns and the different places you could place a lantern and how to fill a lantern.
Please be sure to PIN these ideas to save for reference for your own home.

Link Parties June 8 ~ June 14
All About Home   Anything Goes Pink Saturday Beautifully Made  Celebrate Your Story Charming Homes and Gardens Creative Muster  Creatively Crafty   Funtastic Friday.  Grace at Home   Handmade Monday  Happiness is Homemade The Happy Now  Home Matters  Keep in Touch  Love Your Creativity  Make It Pretty Monday   Party in Your PJ's Saturday Sparks  Share Your Style  Silver Pennies Sundays  Thursday Favorite Things   Vintage Charm Party   Waste Not Wednesday   Wednesday Link Party  Wonderful Wednesday  Wow Me Wednesday