Easy Ideas for Making Valentine's Day Vignettes
How do you decorate your home for Valentine's Day? You don't have to go big. Go small with these easy ideas for making Valentine's Day vignettes to spread around your rooms.
I love creating vignettes for areas of our home, especially those areas that are already natural focal points. The iconic Valentine's colors of red and pink are your starting point. After that, anything can be used to make a Valentine's Day vignette.
Already have Valentine's decorations at home? Then use them to make easy Valentine's Day vignettes that will be fun, whimsical, or romantic.
Just follow my lead and you'll be on your way to having pretty Valentine's Day vignettes dress up your home.
An Idea for an Easy Valentine's Day Vignette
My inspiration for this Valentine's vignette was some of the Valentine's Day vignettes using cloches on Pinterest.
Like this one from the amazing Leslie of My 100-Year-Old Home. I love how Leslie filled these large jars with felt hearts. A girl after my own heart.
And this Valentine's Day cloche-ish from my sweet friends Julie and Jodie of the Design Twins. How simple, but attractive using pink shred in a glass jar.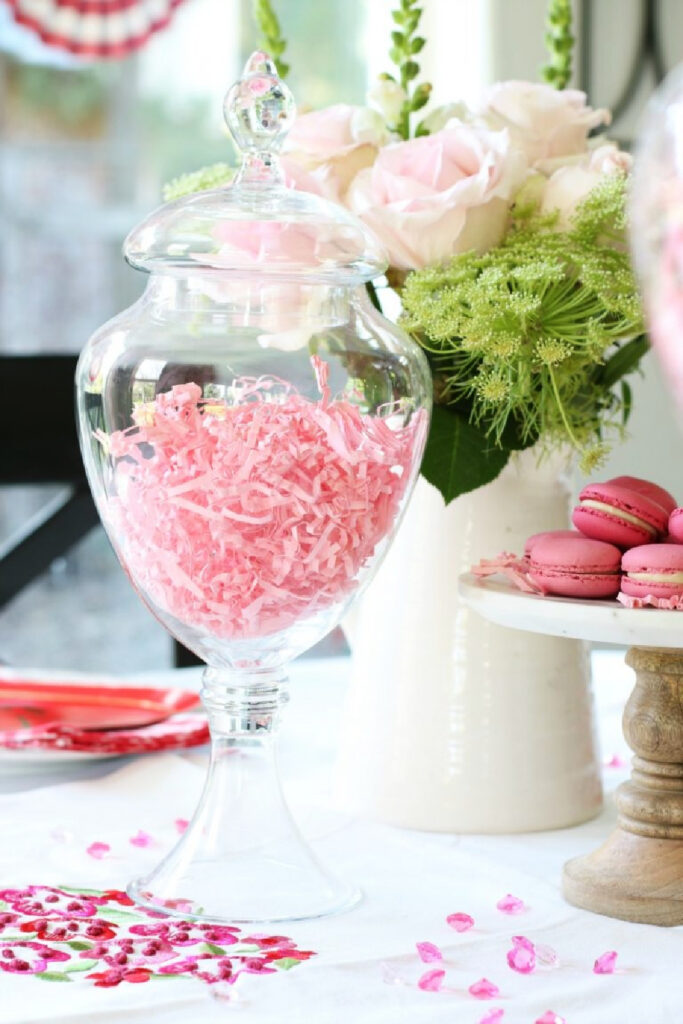 I grabbed onto this idea as soon as I saw it. My only problem? I only had one cloche, which was too small to use for a Valentine's Day vignette.
Don't have a cloche? No problem. You can use any jar, glass or vase. Or several. You can mix and match.
So my interpretation is to use things that could serve the same purpose as a cloche – any glass which allows you to see inside but holds your vignette together.
If you want to purchase cloches to use in your home decor, here are a few great options:
What to Use When You Don't Have a Cloche?
Cloches are round-topped glass containers used to feature and protect the items inside.
No cloche to make a Valentine vignette? Use whatever large jars you have on hand.
apothecary jars – with or without the lid; turn them upside down
a cake stand with a cover or use the cover by itself
a trifle bowl
glass vases – upright or turned upside down.
wire lantern or basket
As you can see, I gathered four apothecary jars and a white cake stand with a glass cover. I threw in a couple of cupcake stands to use as risers.
Other types of glass jars to use instead of a cloche:
What Items to Use to Make Your Valentine's Day Vignette?
You can use anything to make a Valentine's Day vignette. I went through my kitchen drawers and my Valentine's Day box. At this point, I didn't have a firm plan in mind. Call it Valentine-storming.
The only thing I was certain of was where I wanted to use my Valentine's Day vignettes: our kitchen island console table and our living room coffee table.
TIP: Gather more things than you think you will need. You'll be surprised what you come up with.
From the kitchen . . .
,
From my Valentine's box (which was a bit of a mess) . . .
a heart design gift bag
Valentine's Day cocktail napkins in two designs
paper hearts that I made with my Cricut
Valentine's Day candies (these are no longer edible; I just keep them in a baggie and use them over and over.)
*both were part of last year's Valentine's heart wreath
felt ball Christmas garland ~ I made this cute garland for Christmas, but I didn't pack it away. I transferred it to the Valentine's Day box.
I also had Valentine's Day items I made using DIY vinyl stickers.
Once I gathered every Valentine's thing I could find, I was ready to start making my Valentine's Day vignettes.
Valentine's Day Vignette: the Kitchen Console Table
I knew I wanted to make a Valentine's Day vignette for the kitchen island console table.
The cake stand would be a main part of the Valentine's Day vignette. Also in the vignette (see the links to some of these items above):
two of the heart-shape ramekins
cookie cutters
a cupcake stand
Valentine M & M's and strawberries are must-haves.
Red Velvet cake is Sweet Shark's favorite. I love macarons, so I had to include a few.
In the background is the heart-shaped Le Creuset casserole, some red ice cream bowls, and a DIY-painted Valentine sign.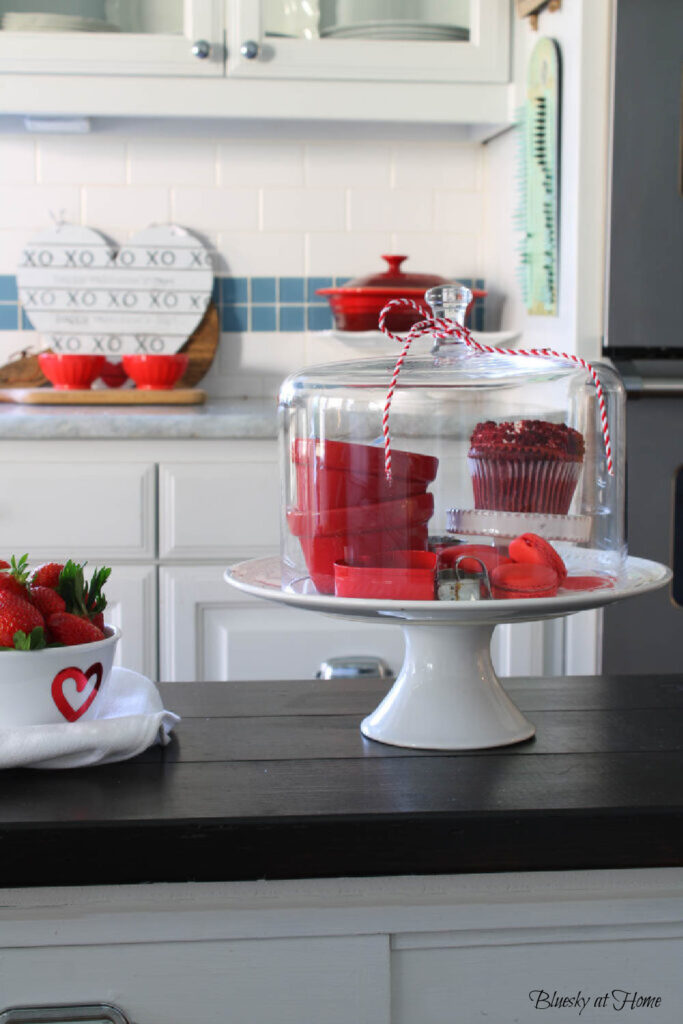 As you can imagine, the cupcakes and macarons won't last long.
Valentine's Day Vignette – Pretty Pink on an End Table
Here is a very simple arrangement: I paired the pink bud vase with a Dollar Tree wine glass adorned with heart stickers and filled with Hersey kisses. Placing the two items on the heart plate grounds them. The pink fabric DIY napkin adds more pattern and color.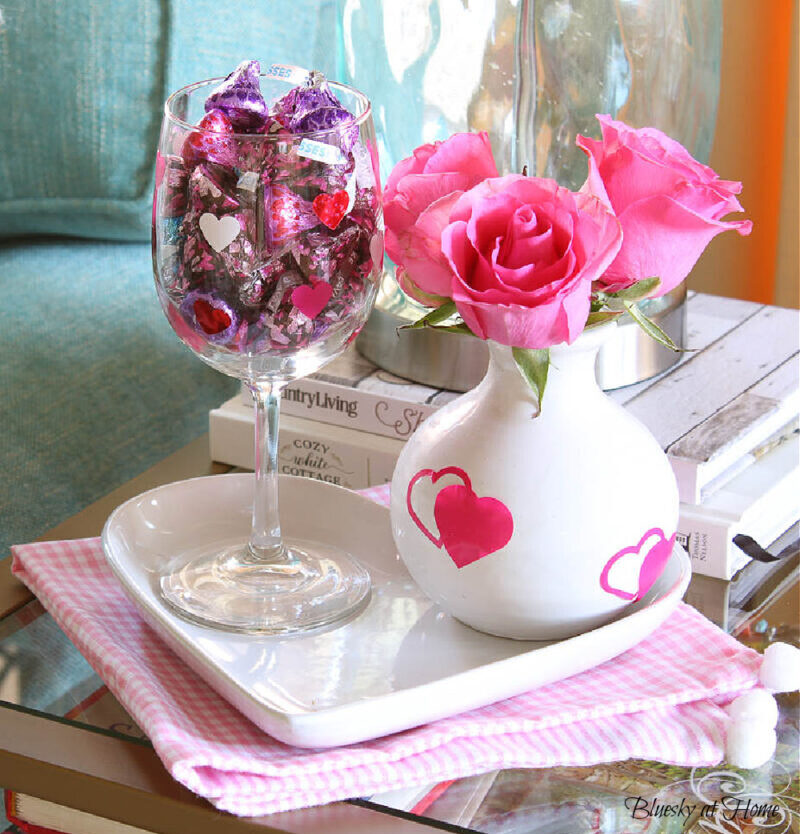 Valentine's Day Vignette – Decorating the Coffee Table
The coffee table is always a focal point. Add pretty red and pink Valentine's vignettes and it becomes the star of the room.
For this vignette, I used:
four apothecary jars of varying sizes
one glass vase
one ceramic vase
a red check fabric napkin
I knew the large apothecary jar would be the center of my Valentine's Day vignette on the coffee table.
TIP: Start with your largest element and then fill in around it.
First, I began by using my yarn and pom~pom garland as filler. Yes, a garland can serve as a vignette filler.
Then I removed the ticking fabric hearts from the wreath and added them around the inside of the jar. Here is how to make the fabric hearts.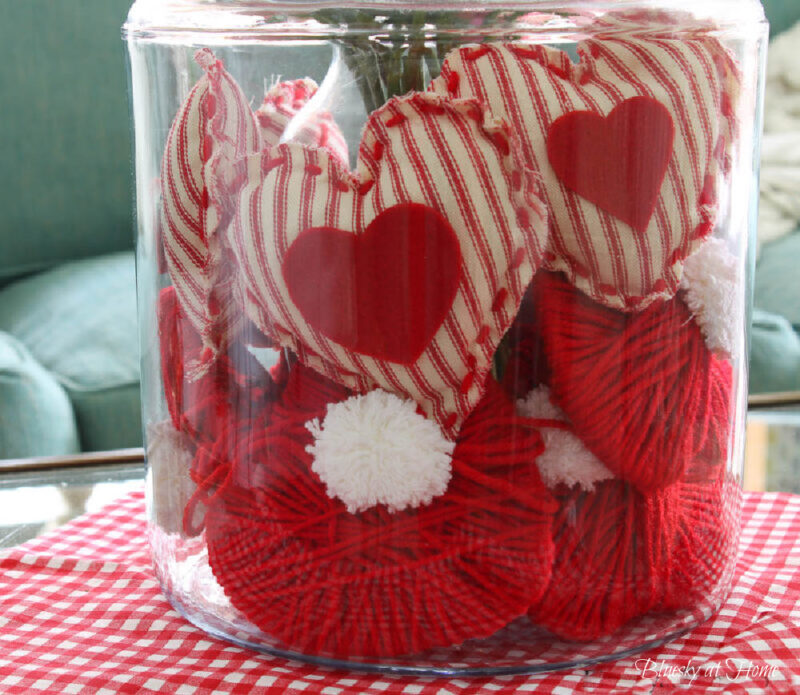 Next, I placed a cupcake stand inside the center of the apothecary jar to add height (which you can't see).
Finally, I prepared a bunch of pink roses and arranged them inside a glass vase. I set the glass vase on the cupcake stand inside the jar.
I probably should have used red roses to keep the red theme going.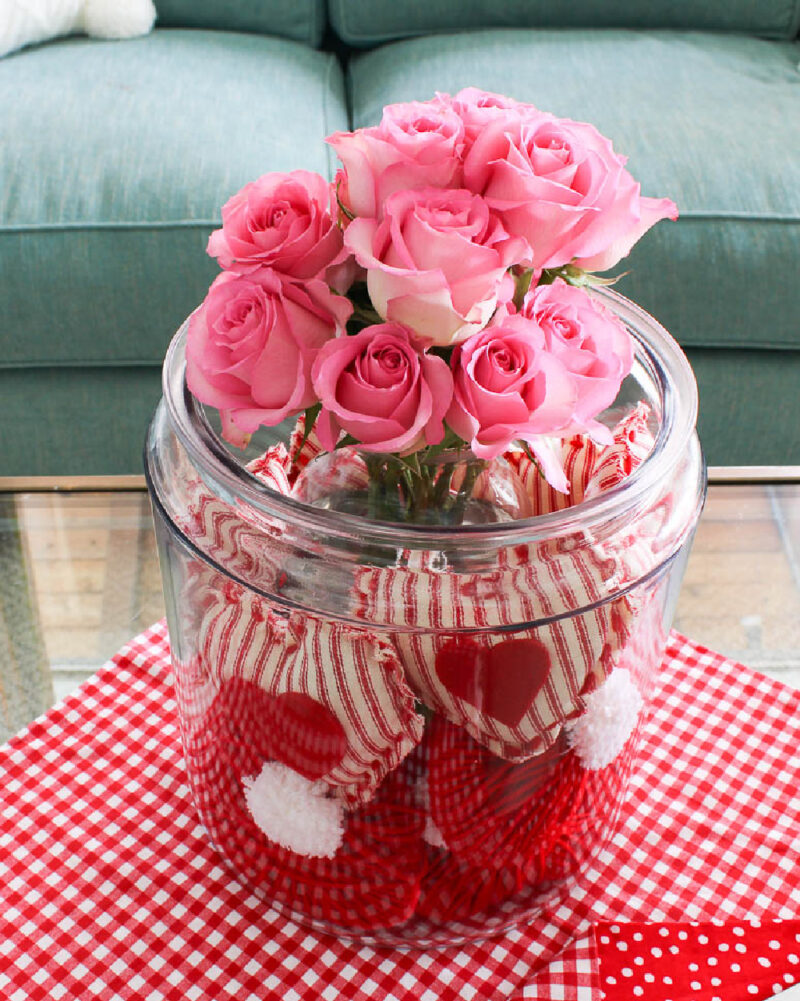 To complete the Valentine's Day vignette, I prepared the remaining three apothecary jars and vases.
Again, I used two different garlands to fill the jars. This is such an easy way to add color, pattern, and interest.
For the tall, skinny jar, I used three colors of tissue paper for an ombre effect.

Years ago, while part of the decorations committee for our Junior League ball, we used inexpensive glass vases filled with crumpled tissue paper on the tables as centerpieces. It was beautiful and no one thought, "that's tissue paper".
After the original real red roses had wilted from my Valentine's Day sticker photo shoot, I replaced them with faux flowers from my Kentucky Derby box.

Crumpled white tissue paper and a random red pom~pom filled another glass vase, allowing the Valentine's Day decal to show.
Once all my containers were filled, I was ready to combine them to make my Valentine's vignette.
I surrounded the large center jar with the other apothecary jars and vases.
There is something to look at and enjoy from every angle.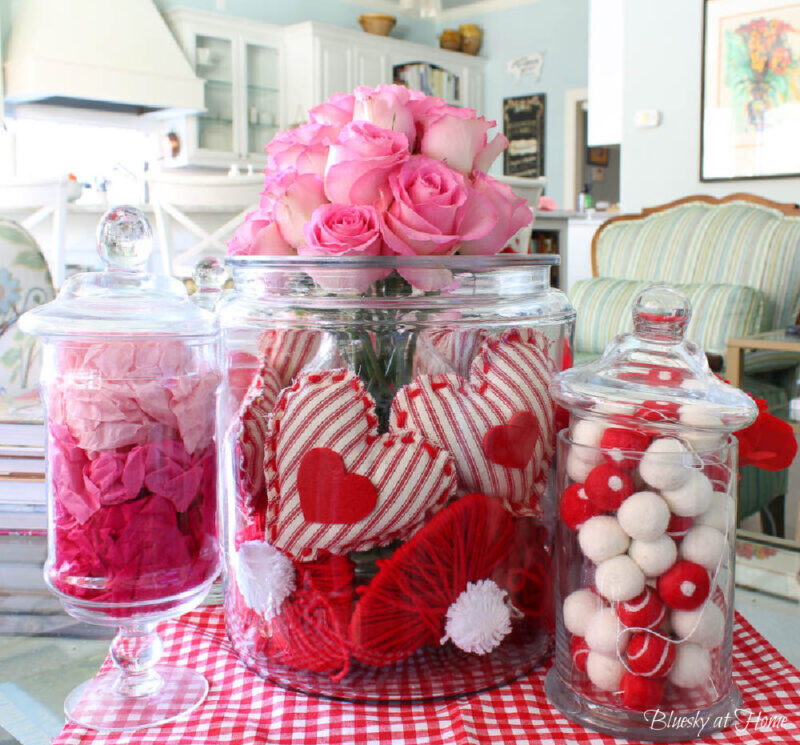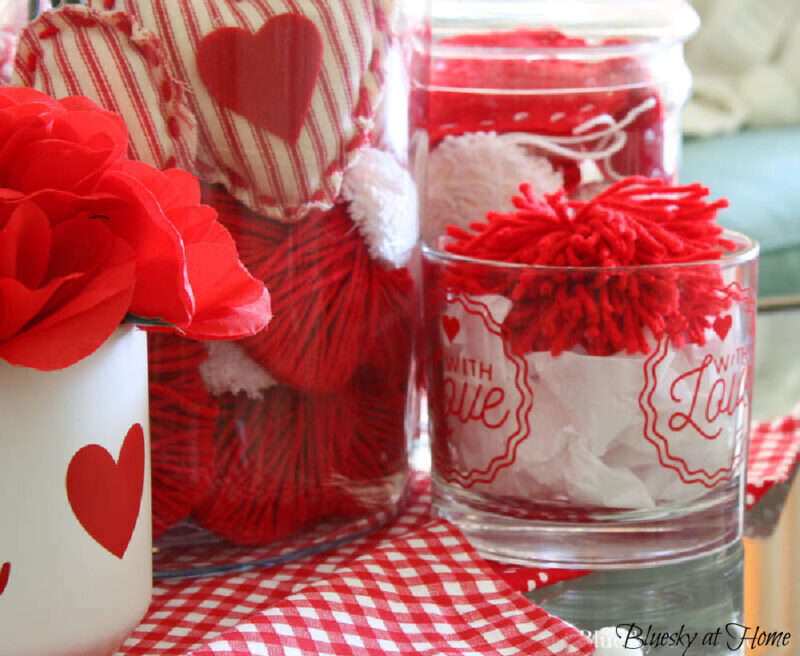 Next to my Valentine's Day vignette, I stacked three coffee table books with a pink theme. Two of my favorite vintage pink sherbet glasses filled with candy complete the coffee table vignette.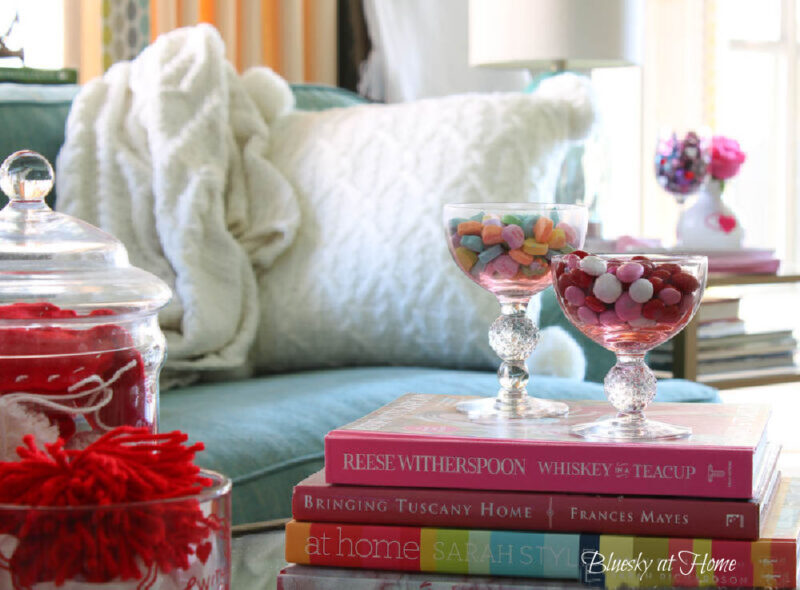 I loved that I was able to use many of my Valentine's decorations. What did I have to buy?
pink roses
a red velvet cupcake
red macarons
M & M's
Hersey kisses
We will enjoy the roses and Sweet Shark will love all the sweets.
Valentine's Day Vignette Ideas: Tips to Use at Any Time
I hope you can see how easy it is to make a Valentine's Day vignette – or any vignette.
Gather all your Valentine's Day decorations and any others that may work.
Find any containers that you think might work; have an open mind.
Don't hesitate to mix ingredients up. It will make your vignette more interesting.
Think outside the box; use ingredients in unusual ways.
If one combination or arrangement doesn't work, just move things around until you like the arrangement.
There are so many parts to these Valentine's vignettes that you will want to PIN this post on your Valentine's Pinterest posts.
Here are some of my Valentine's Day Pinterest Boards: Valentine's Day Ideas and Projects, Valentine's Day Ideas, Valentine's Tablescapes, and a new board, Valentine's Day Party Ideas.