Make a DIY Pom~Pom and Heart Valentine Garland
Do you realize that Valentine's Day is our next holiday? Have you thought about decorating ideas for this special holiday? How about making a DIY pom~pom and heart Valentine garland?
This DIY pom~pom and heart Valentine garland is one you might not have thought about.
With Valentine's Day about one month away, I'm ready to share a ton of excellent projects that you can create for your home. I promise there will be a few that you will want to make.
Sounds like a great idea? Well, then, I hope that you'll have a seat, and enjoy these projects. I hope that you'll love my project – how to make a DIY pom-pom and heart Valentine garland.
Today is the first Celebrate the Holiday Blog Hop of the year. We're focusing on that loveliest of holidays – Valentine's Day. 9 bloggers are sharing a variety of lovely ideas for you to try.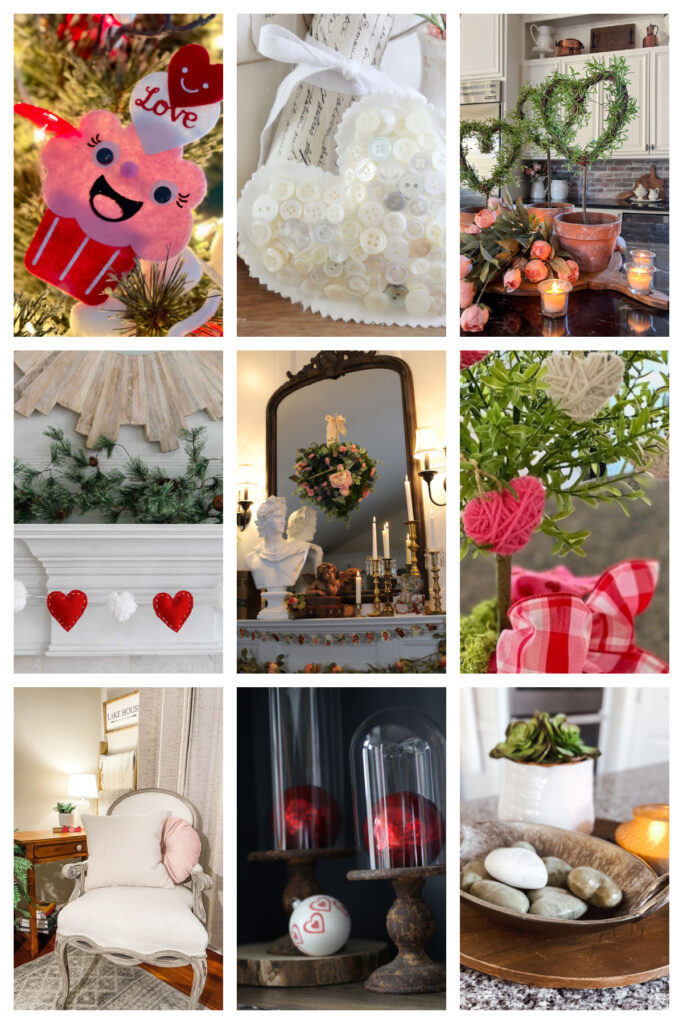 If you are visiting from my friend Laura of Everyday Edits, then welcome to Bluesky at Home. I'm so happy to meet you and have you here.
Never made a pom-pom? No problem. I'm going to show you how. This DIY pom-pom and heart Valentine garland is so cute and easy that you might make one for everyone you know.
How to Make a DIY Pom-Pom and Heart Garland
This pom-pom and heart garland was inspired by a project I saw on Pinterest. With Valentine's Day our next big holiday, I chose to make this Valentine's garland for our mantel.
This post contains affiliate links to products used in the creation of this project. If you should order any item from this site, I may receive compensation, but you do not pay a penny more. Your purchase is greatly appreciated as it helps support the continued publication of this site.
My Valentine Garland Inspiration
I don't know about you, but I love garlands and banners for decorations. I've made many over the years ~ I'll share some ideas with you at the end of this post.
My inspiration is from Jenny at Refresh Living. I saved it to my Valentine's DIY Ideas Board.
Her pom-pom and heart Valentine garland really excited me. Why?
I love garlands – I already told you that.
Our mantel needed a new Valentine's decoration.
I already had white yarn that I bought on sale last summer. Just because.
I already had a pom-pom maker which I bought months ago but had not used yet. I couldn't wait to try it out.
First, I went to Jenny's post and read how she made her garland. I watched the video of how she made the Valentine hearts. You should too. It's pretty cool. I wanted to use Jenny's garland as inspiration, but not copy it.
Supplies for the Pom-Pom and Heat Garland
POM-POM MAKER ~I ordered the Clover Pom-Pom Maker. I don't know who invented this little gadget, but it's really cool and very inexpensive. There are 2 sizes in this package. I used the smaller one which makes a 2 1/2-inch diameter pom~pom.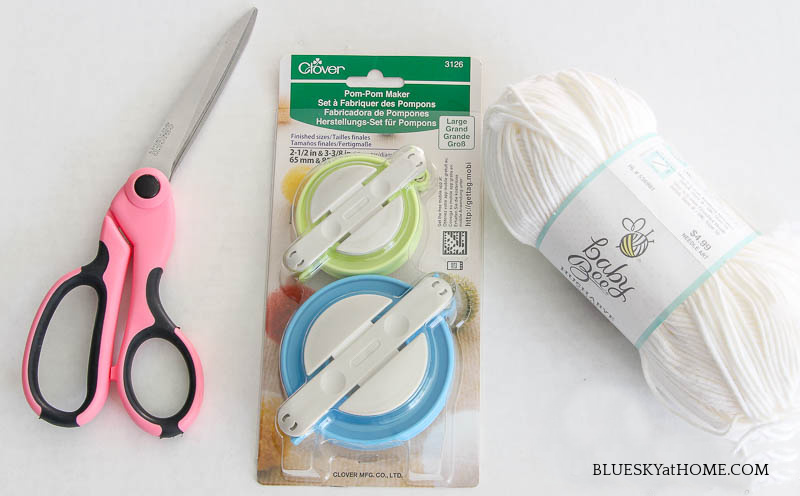 NOTE: I read later that there is a heart-shape pom-pom maker. I couldn't resist so I ordered it.
P.S. Maybe it's just me, but I had a hard time using the heart-shaped pom~pom maker. Let me know if you get it and what you thought.
YARN IN THE COLOR OF YOUR CHOICE – I chose a yarn that was smooth and not too thick. This one comes in a package of two in multiple colors. Since there are so many projects you can use this yarn for, this is a good choice.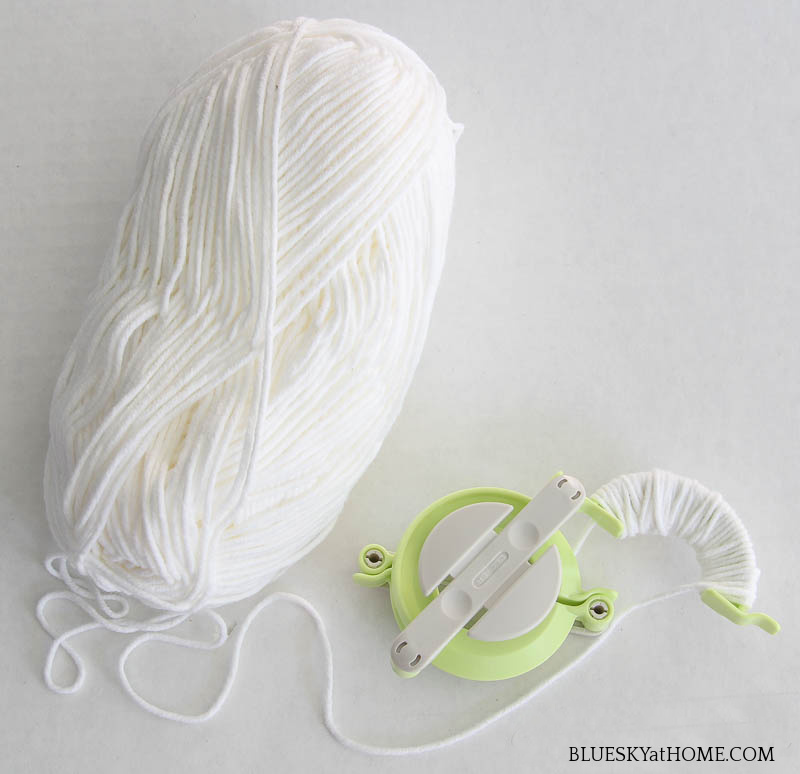 VERY SHARP SCISSORS ~ I quickly discovered that my large sewing scissors were difficult to work with. For pom-pom making, you need a small, but very sharp pair of scissors with a point. These Fiskars scissors were perfect.
These scissors are great for small spaces on fabric when you need a really sharp blade and a point. I have used these scissors a lot for crafts since I bought them.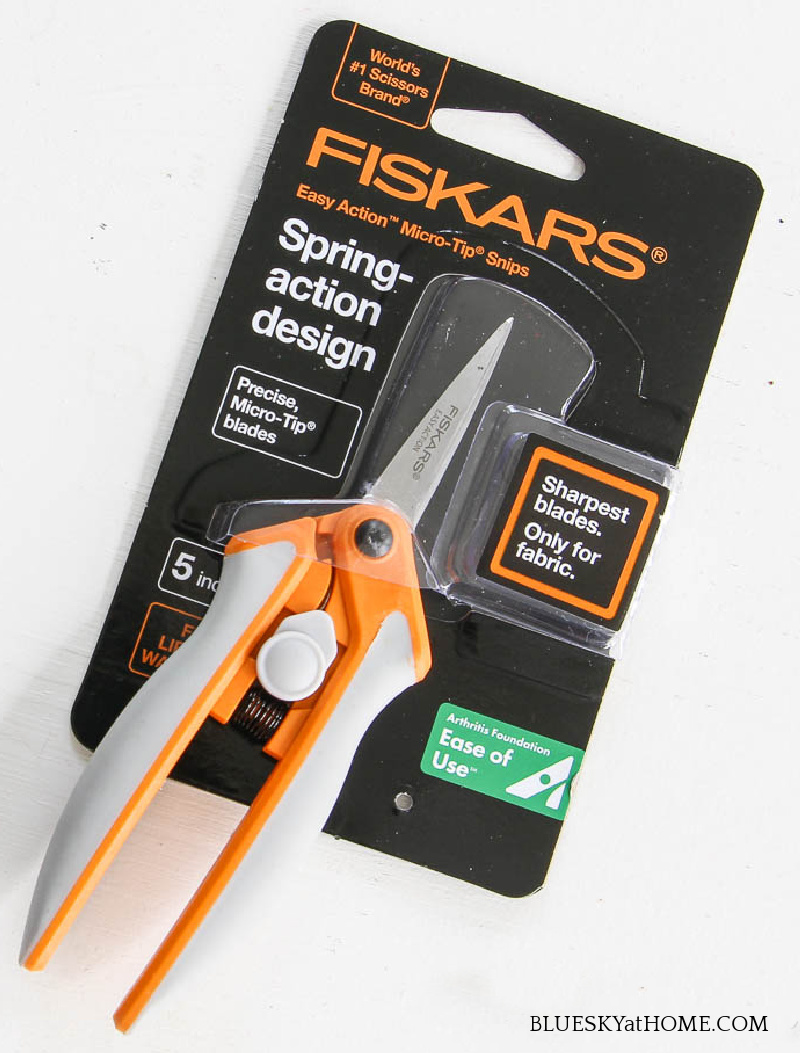 RED FELT ~ You can buy felt by the yard or squares.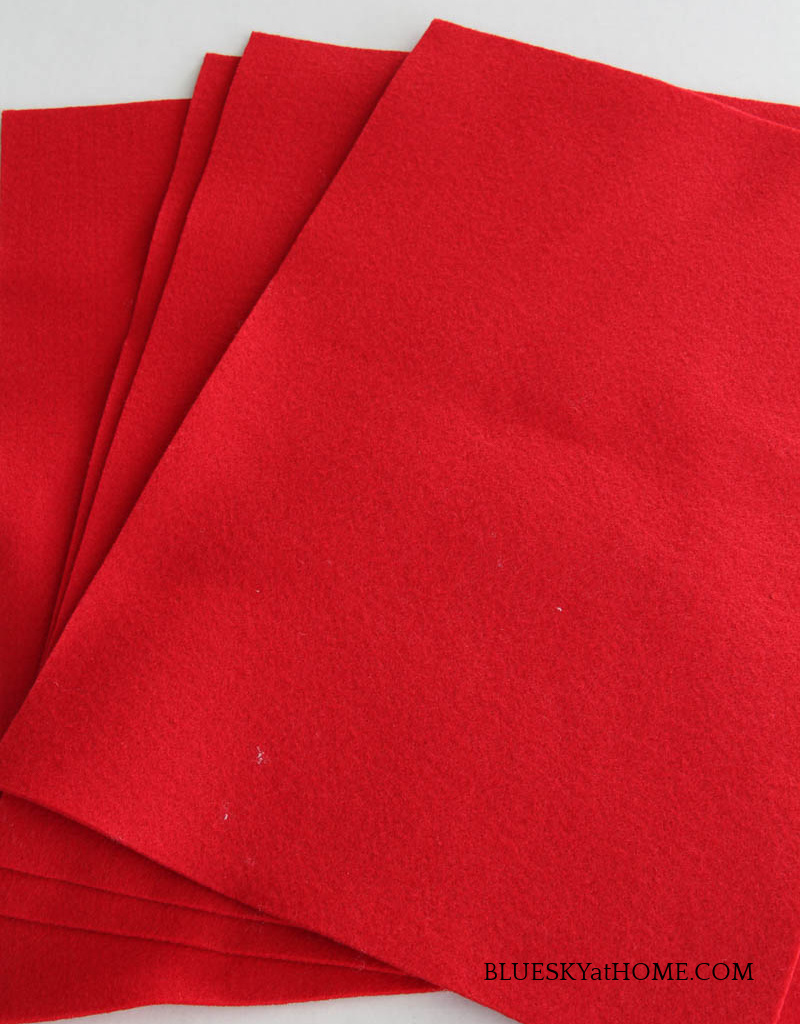 BATTING FOR FILLING THE HEARTS ~ I always try to keep a bag of batting on hand for projects.
Making the DIY Pom-Poms
The directions on the back of the package aren't very clear, so I went to YouTube and watched this video. Suddenly, using the pom-pom maker made perfect sense. It may take you a couple of pom-poms to get the hang of the motion, but then it's a breeze.
I'm not going to give you a detailed step-by-step tutorial myself because the video already does that. I can tell you that making pom-poms is a great project to do while watching TV.
NOTE: I can also tell you that wrapping your yarn as smoothly and thickly as possible around the curved plastic is desirable. You want to fill the curve thickly with yarn; this makes for a full pom-pom. You will wrap one side and close it, then wrap the other side and close it.
I did not use enough yarn on my first pom-pom and it was really skimpy. Lesson learned. Fill up the curved plastic sides until the yarn is very thick.
After you have wrapped both sides of the pom-pom maker, this is where the sharp and pointed scissors come in.
You place the point of the scissors in the groove of the curved plastic and start snipping the yarn all across to the other side.
TIP: DO NOT open the pom~pom maker!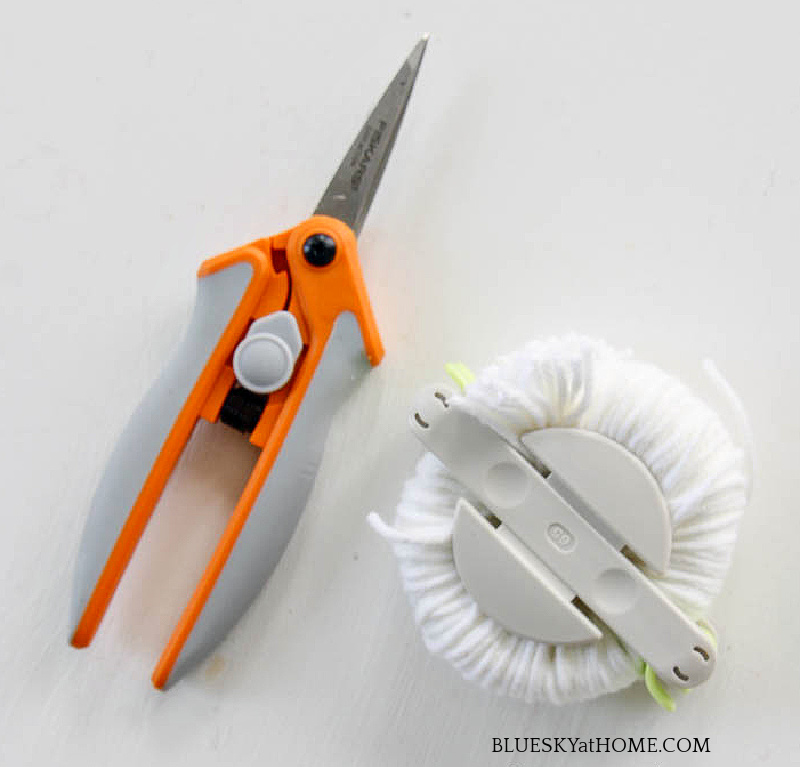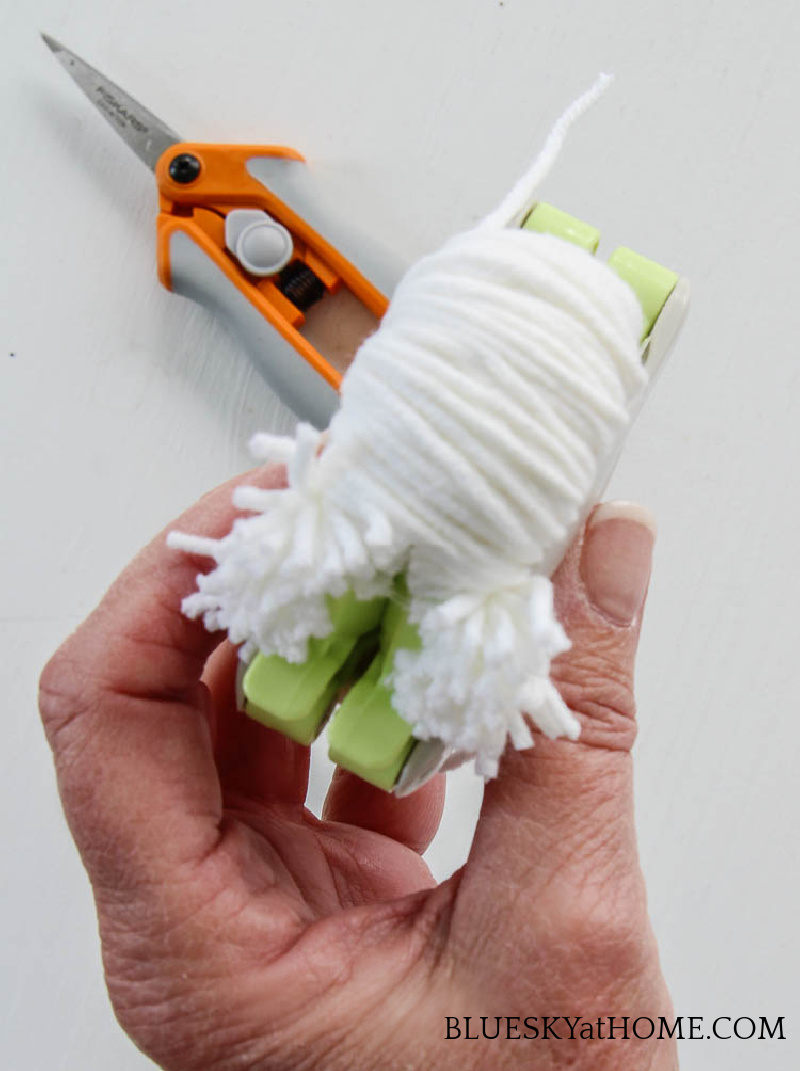 I didn't take a picture, but next, you will cut a piece of yarn about 6 – 8 inches long and wrap it around the entire pom-pom maker in the grooves, knot it, pull tight, and then knot it again. Now you can pull the pom-pom maker apart and voila! You have a pom-pom!!
I highly recommend that you watch the YouTube video. It will make perfect sense.
After you remove your pom-pom from the maker, you will want to shake it, fluff it up, roll it in your hands. You will probably have a few pieces that stick out. Just use your scissors to trim them up a bit.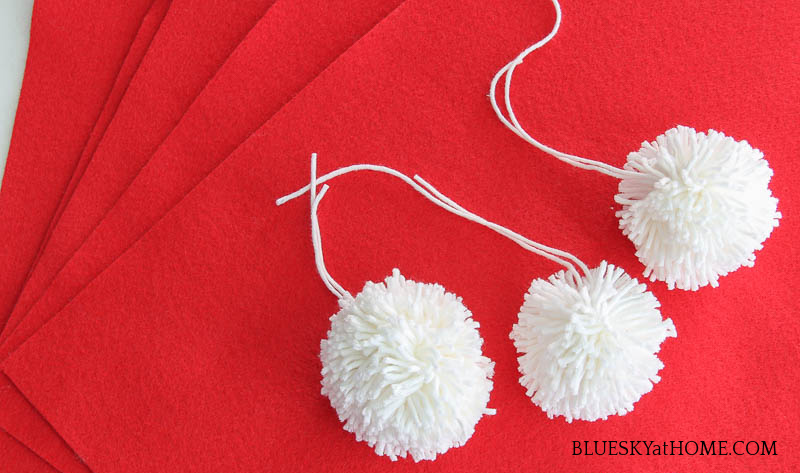 Reassemble the two sides of the pom~pom maker and repeat the process for your next pom~pom. I made 6 pom-poms for my Valentine's garland.
Making Red Felt Hearts
I bought a package of 5 sheets of 9 X 12-inch red felt rectangles. I didn't know how many I would need. As it turned out, I needed just 1 sheet to make 12 hearts – 2 for each heart. I have another project in mind for the red felt so it will not go to waste.
Fortunately, I had some thick paper red hearts to use as a pattern for my felt hearts. I used a fabric pencil to trace around the pattern and then cut out my hearts.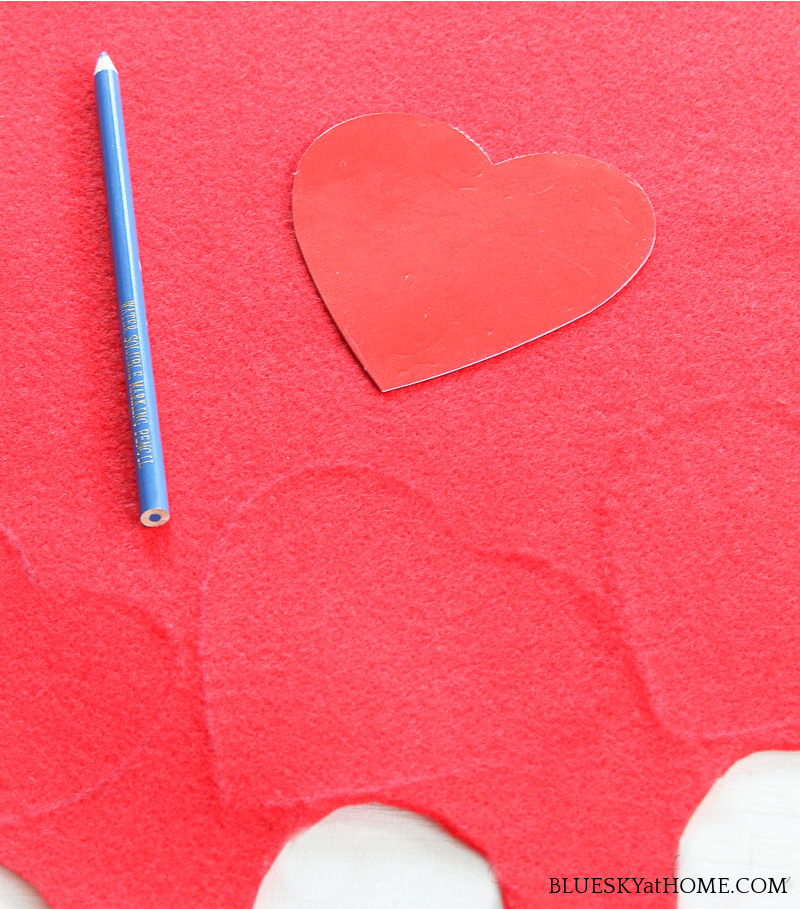 I needed 12 hearts for my DIY pom~pom and heart Valentine garland project – to actually have 6 hearts.
Originally, I intended to use the same white yarn I used for the pom~poms to sew 2 hearts together, but the yarn would not go through the felt. Instead, I used white embroidery thread which was perfect for this DIY pom~pom and heart Valentine garland. Using a 1/4-inch stitch, I sewed around the heart, leaving about 2 inches open.
Next, I used the batting to stuff my felt hearts.
You want to push your batting into the rounded parts of the heart. I held the felt together and finished stitching my heart. Just tie the embroidery thread on the back of the heart and cut off the excess.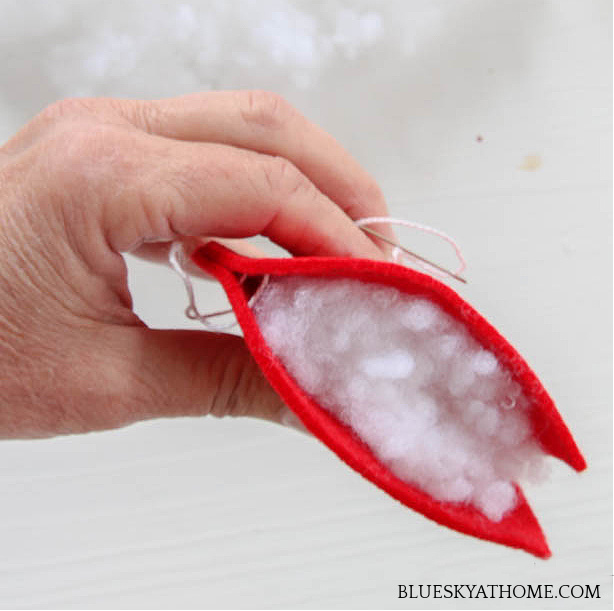 I love the puffed look of the hearts.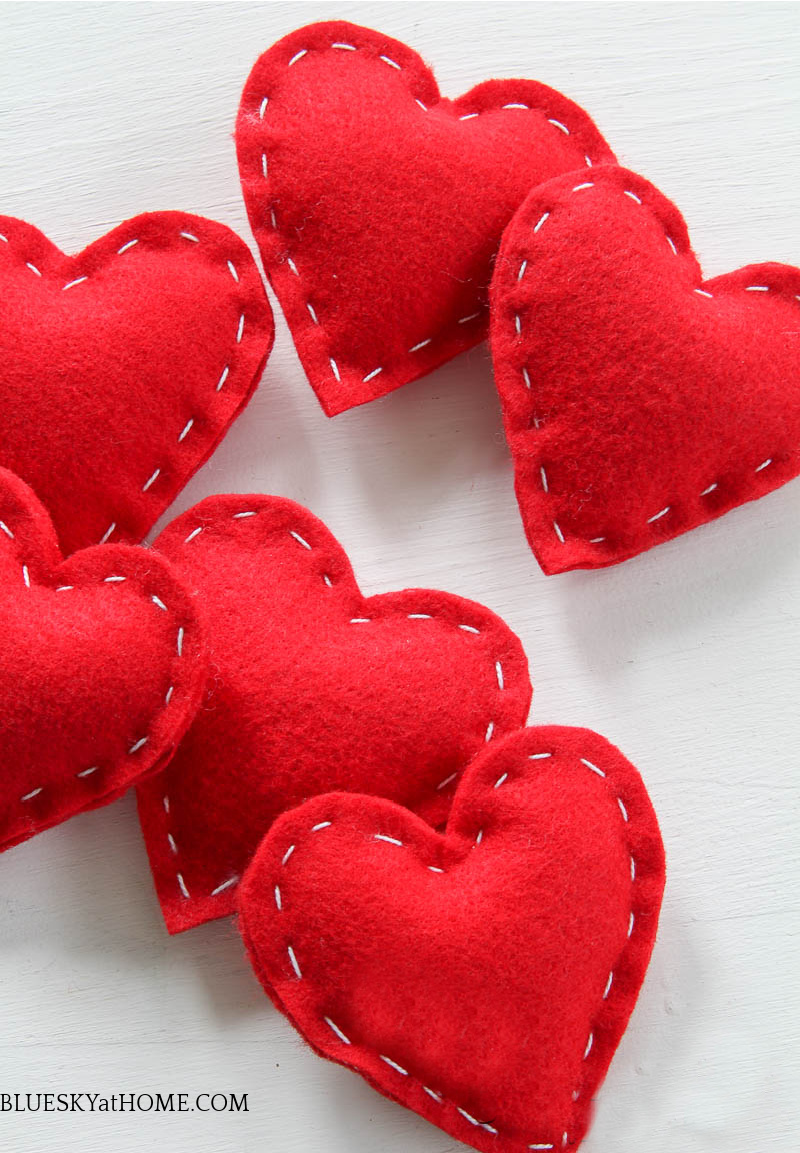 Now I was ready to assemble my pom-pom and heart Valentine garland. Jenny used jute twine to string her garland, but I knew that would not work for my felt hearts. Instead, I used the same yard as the pom-poms to string the 6 pom-poms and the 6 red hearts together alternating them.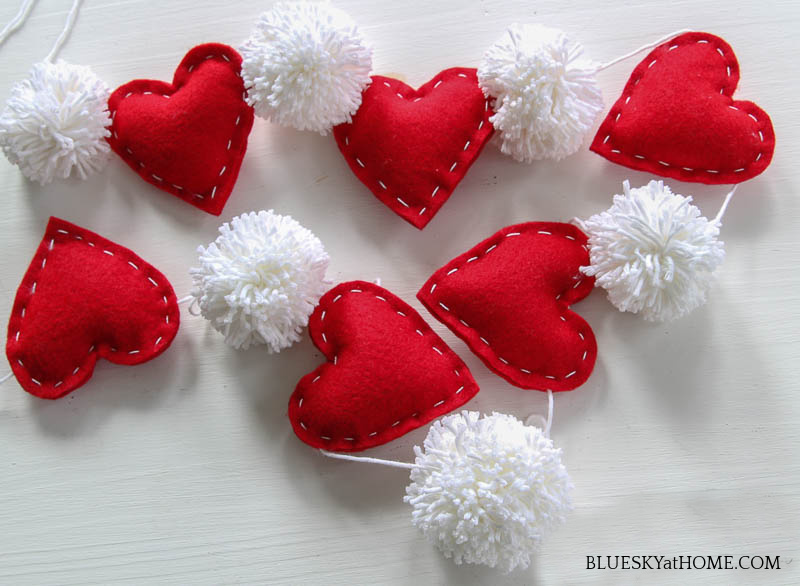 Here is another heart Valentine project using red and white ticking fabric that you'll like.
Displaying the Pom-Pom and Heart Garland
Finally, where to hang my pom-pom and heart Valentine garland? The mantel, of course. Now the mantel is still decorated with winter decor, but for now, that is where the Valentine garland had to go.
After holding up the garland on the mantel for inspection and input from Sweet Shark, we both thought it would look better with the red hearts on each end. I just took off one of the pom-poms from the end of the garland. That looked much better.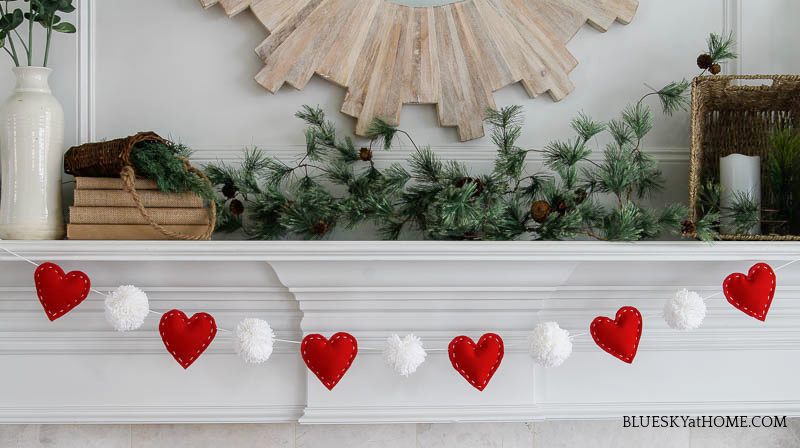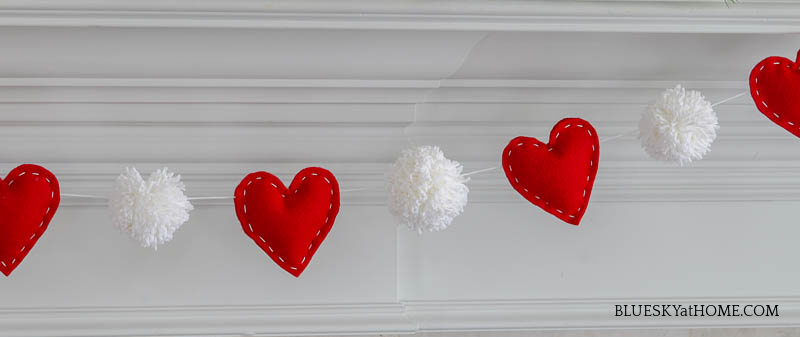 Just for fun, I also hung the Valentine's garland on the cabinet doors below our TV.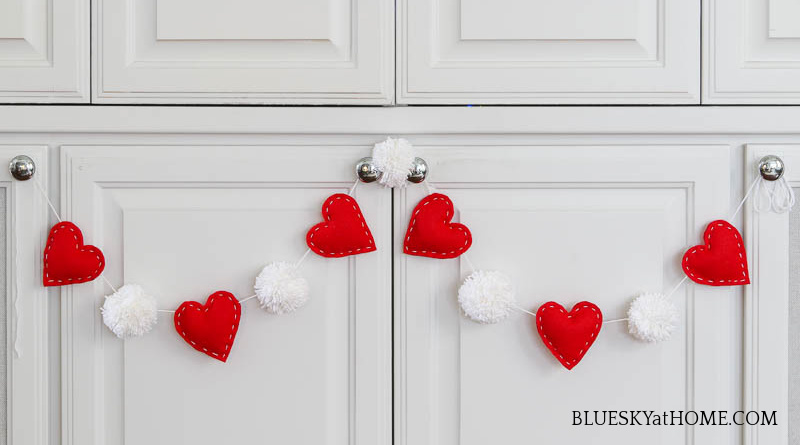 Did you enjoy learning how to make a DIY pom~pom and heart Valentine garland?
I love this sweet little pom-pom and heart Valentine garland project. I may become a pom-pom-making fool. I'm not sure exactly where the garland will find a final home, but it will definitely be on display this Valentine's Day.
I hope that you will PIN it for your future Valentine's decorations.
Be sure to visit the other 8 Valentine's Day ideas shared by the other ladies on our Celebrate the Holiday Blog Hop. Start with Renae of Peacock Ridge Farm and her beautiful Valentine's wreath.