Mixing Old and New for Thanksgiving Decorations
You know that saying? "Make new friends, but keep the old; some are silver and the others gold? I think of holiday decorations, or even everyday home decor, in that way. Just as making a new friend can bring a spark to our soul, adding something new to the Thanksgiving decorations can give us a little boost. That's why I love mixing old and new for Thanksgiving decorations.
We all have our favorites, those cherished accessories that we love to have out to see everyday or every holiday. For Thanksgiving, our favorites may be collections of turkeys, scarecrows, pumpkins and pilgrims.
For our Thanksgiving decorations this year, I actually started in September before we left for 2 weeks in Europe. Fall decorations set the foundation for the holidays until Christmas. I add and rearrange for Halloween. After all the Halloween decorations are put away, I begin unpacking the Thanksgiving decorations and incorporating them into the fall decor.
Mixing old and new for Thanksgiving decorations becomes a fairly easy task and doesn't take too long. The few new Thanksgiving decorations mixed easily with the old. With Thanksgiving so early this year, we don't have as much time to enjoy our decorations.
Mixing Old and New for Thanksgiving Decorations
The Entry
I always want to decorate the entry since that is a place we see everyday and guests see when they arrive. My old is all the rustic and natural turkeys that we've collected in the past few years set on the gold tray I bought at Wisteria I bought last year and used for Christmas and fall.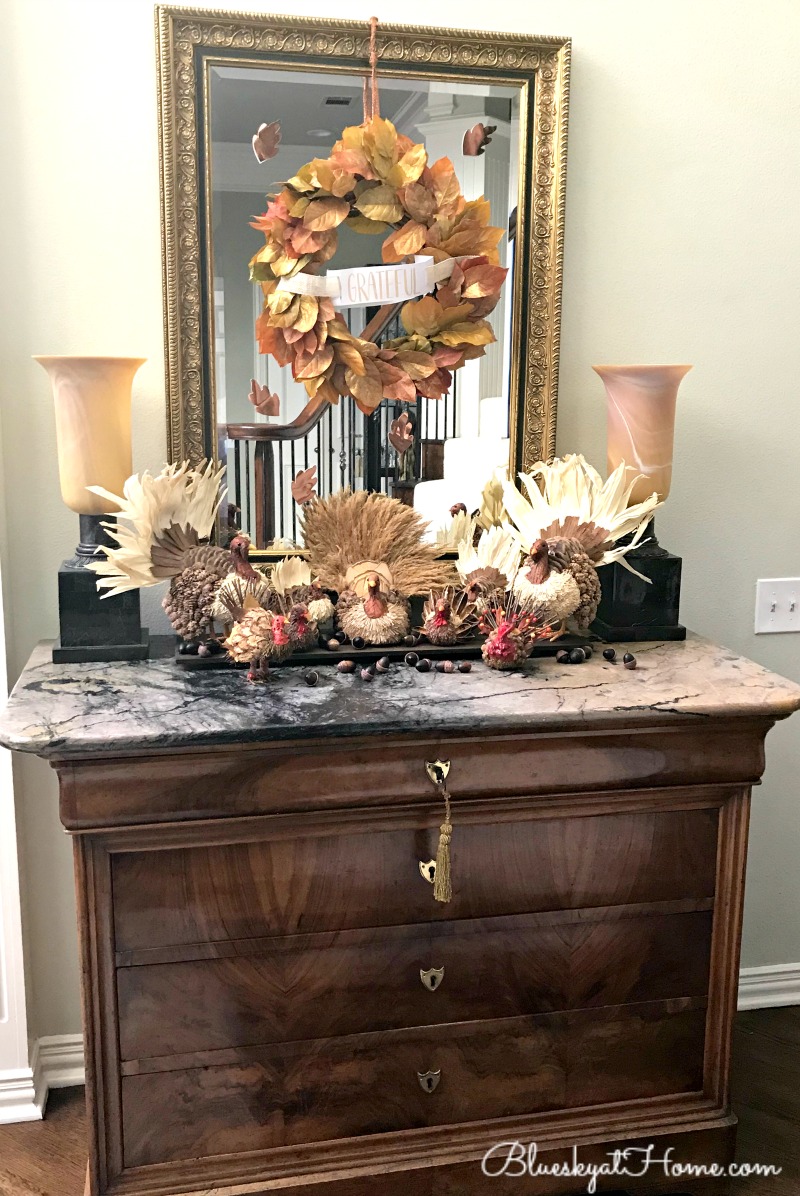 On our mirror, I used a new wreath. I found an autumn leaf wreath at Trader Joe's back in early October. At the bottom of the box were piles of leaves that had fallen off the wreaths. I knew they would be thrown away, so I grabbed a bunch. I told the cashier and he shrugged his shoulders. To be honest, it was kind of dull, so I used Metallic Gold ChalkArt from A Maker's Studio to give the leaves some shine. I just brushed the ChalkArt randomly on the leaves until I got the look I wanted. Then I hot glued the extra leaves onto the wreath.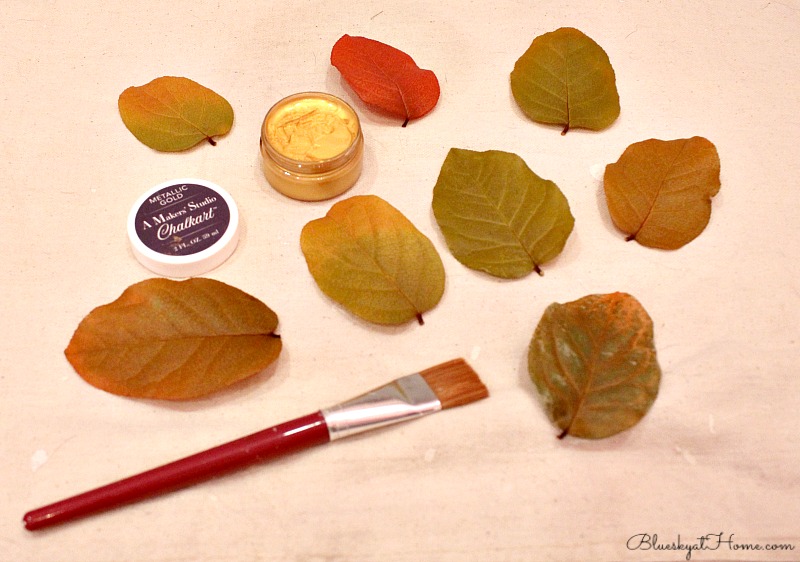 I love the gold color of the leaves rather than the typical orange and reds.
The wreath definitely needed something else. I stenciled a piece of cardstock, once again using the Metallic Gold ChalkArt and our "GRATEFUL" stencil. Then I cut out the paper, made slits and ran a piece of off~white burlap wire from Joann through the back. This burlap ribbon has wire running through it, like French ribbon, which is a plus. Then I snuggled the ribbon into the leaves and hung the wreath on our entry mirror.
The Mantle
As I've mentioned before, if you have a mantle, it should always be a focal point in your home and holiday decor. I've shared my Thanksgiving sign that I updated last year and it once again took center stage on our mantle. I flanked it with our collection of Pilgrims and Indians. This year I used previously painted faux pumpkins and new real white mini~pumpkins at the base of the sign across the mantle. It's a bit on updated look from last year. Two dark caramel colored candles stand atop our tall candlesticks.
The Coffee Table
Another must~do focal point for decorating. Our glass jar vase filled with small faux pumpkins remains, but I left it with no more embellishment. I set 2 burnt orange candles (Had these for years, too.) on leaf dishes. I bought a set of 4 years and years ago at crate and Barrel and have never used them much.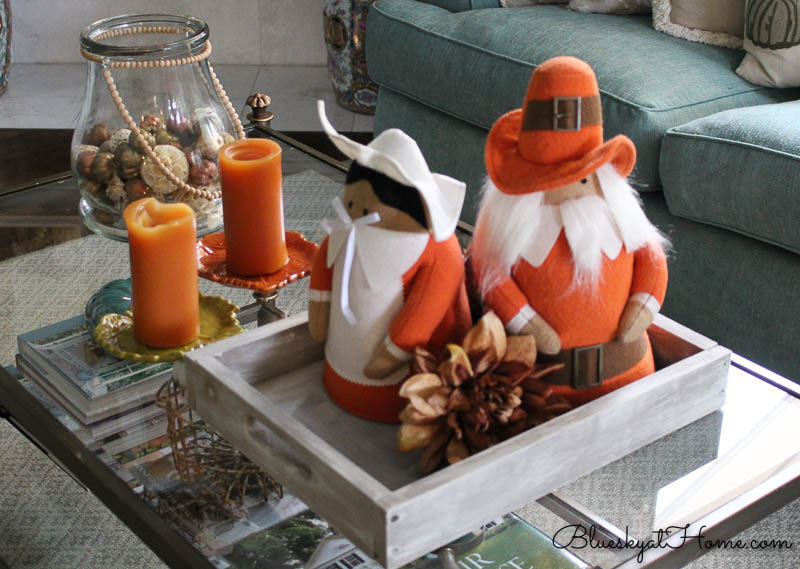 The only new addition here is the Mr. and Mrs. Pilgrim that I bought at the Wisteria outlet back in the spring. I knew they would have to have a place of honor. Wisteria does a great job of felt figures for holidays (We have birds and I gave my daughters nativity scenes in felt a few years ago ~ non~breakable!) I placed them in my painted tray (definitely, an oldie that I love) with a few faux flowers from last year's fall tablescape. A Pier 1 find, they are actually napkin rings.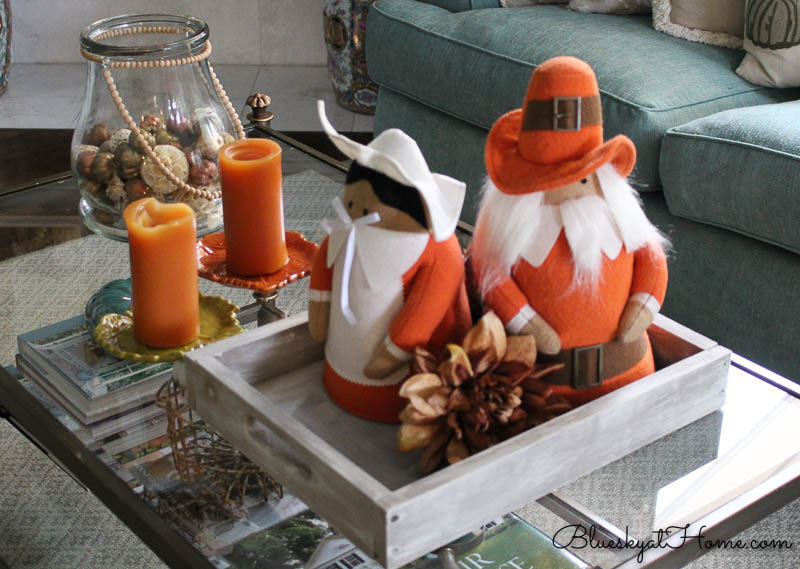 The Bookshelves
Another place for holiday display, bookshelves offer so many options. Nothing new here, just rearranging. I removed the woodland animals and the Halloween scarecrows and witches and added a few turkeys. My favorite fall, family and friends sign stayed as did the lantern full of metallic pumpkins.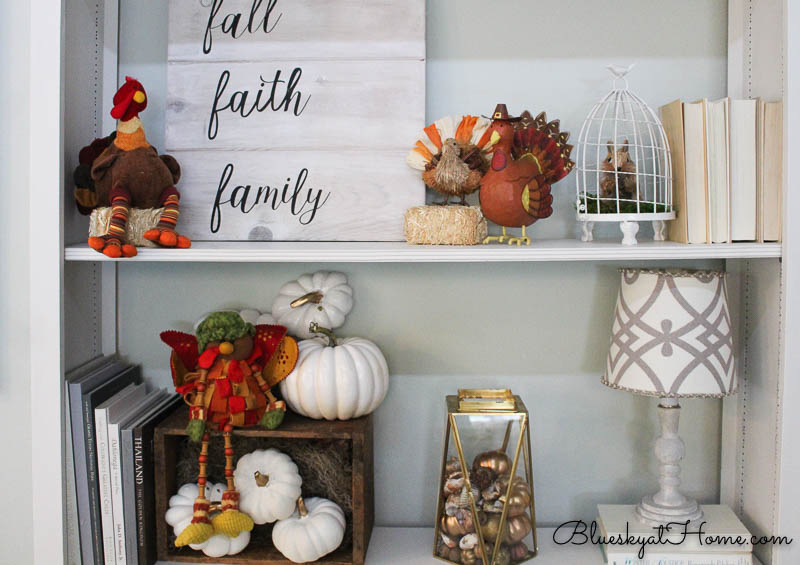 I did add one of my favorite burlap bags, a freebie from Scottsdale. Some random fall foliage stuck in the bag and then placed on its side filled the space nicely.
Breakfast Room Table
If you visited my Thanksgiving Tablescape, you saw how I used felt leaves to trace craft paper placemats. Not wanting to not use the felt leaves, I placed all 3 on the breakfast room table. A grocery store arrangement of sunflowers and mixed greenery (that would be the new) in a vase we have had since we built our former home in 1999. Originally, I had 2 of the vases, but 1 disappeared in the move. I don't think I've used it since we've been in our new home (that's 5 1/2 years) because the colors and the vibe don't fit. But Thanksgiving seemed like a good time to reuse it.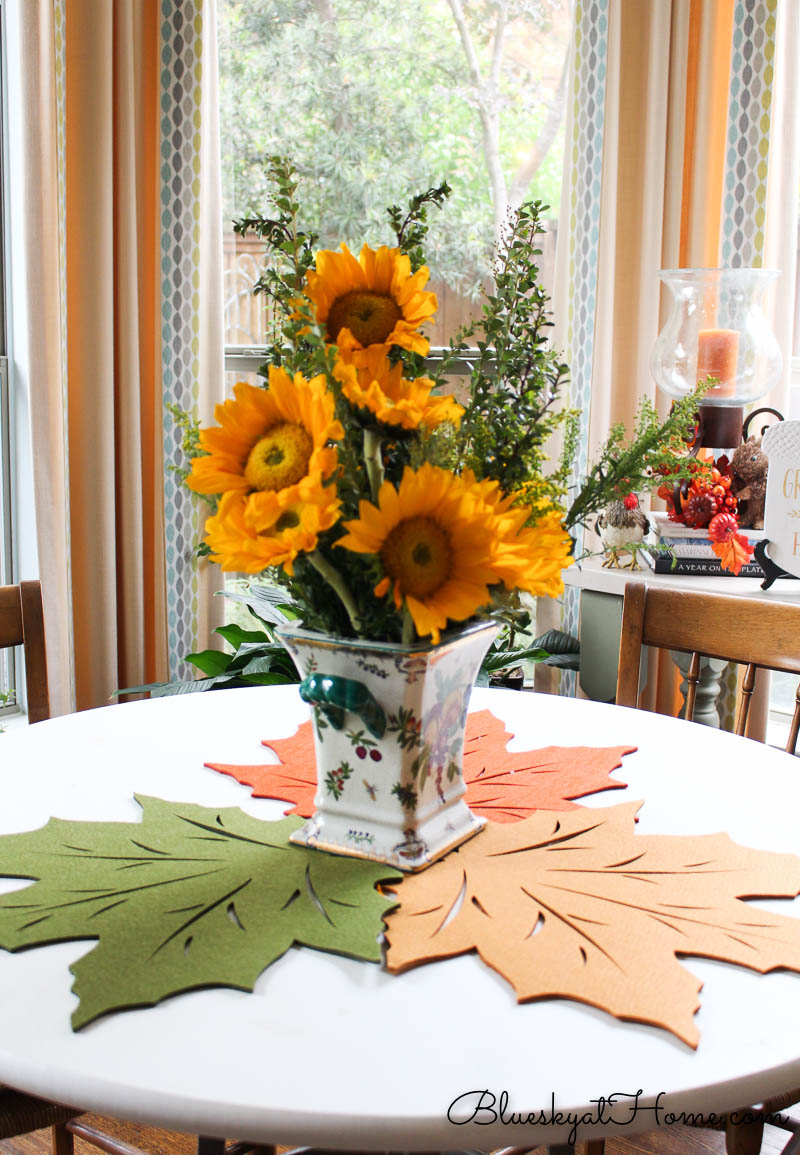 The Console Table
The console table in our breakfast room is a great place for holiday decor. It deserved a mix of old and new Thanksgiving decorations. And some accessories that made a return visit.
The woodland animals found a new home here. See my fox? I couldn't find it for months and it wasn't in our boxes of fall decorations. When we unpacked the Thanksgiving boxes, there he was, after a long sleep. This year, I'll pack him in the fall decorations box.
Another discovery was my ceramic acorn plaque, another Wisteria purchase from last year. I found it when I was getting our my Thanksgiving dishes. Last year I used black market to write on it. This year I again used Metallic ChalkArt and mixed 3 stencils from A Maker's Studio. I guess you can tell I'm in love with this Metallic Gold ChalkArt. The natural looking rooster on the far left is also a new creature, another last minute Joann find (super sale!).
The white ceramic turkey is a new purchase. I bought it a few months ago, but can't remember where. When I unwrapped him, I discovered that his top comes off to use as a vase ~ like an arrangement you would send from the florist. I decided to leave him just as turkey without flowers.
And that friends, is my mix of old and new Thanksgiving decorations. Silver and gold. Old friends and new ones. I can't believe that a week from today, we will be packing them away and bringing out the jingle bells.
This weekend may be a really busy one if you are hosting Thanksgiving. Early grocery shopping, making and freezing pies and setting the Thanksgiving table. Which reminds me . . .
Please hop over and visit the final day of our 2018 Thanksgiving Tablescape Blog Hop. My thanks to all the talented bloggers who participated and to Chloe for organizing and hosting. Next up in a few weeks (December 10th) will be our Christmas Tablescape Blog Hop. But enjoy this one for now.
Monday
Knock it Off Kim |  Home is Where the Boat Is  | Everyday Living |  Living With Thanksgiving
Tuesday
Panoply | Corner of Plaid and Paisley | Red Cottage Chronicles | Home and Gardening with Liz
Wednesday
Me and My Captain | Bluesky at Home | Life and Linda | Our Crafty Mom
Thursday
The Painted Apron | Debbee's Buzz |Loveland Lodge | Celebrate & Decorate
Friday
The Painted Hinge | Sweet Sensations | Zucchini Sisters | a casa di Bianca
Follow the Yellow Brick Home