Easy Valentine's Day Sticker Decorating Ideas
Do you like stickers? How about making your own? Here are some Easy DIY Valentine's Day Sticker Decorating Ideas for You to Make.
You can buy Valentine's Day stickers at the store. But it's so fun to make your own with just a few supplies.
Then you can add them to items you already have at home.
What was my inspiration for this Valentine's Day sticker project?
I saw some cute Valentine's Day stickers at a local paper supply store. I thought it would be fun to use them on things I already had at home. What kind of items?
This post contains affiliate links to products used in these projects. If you should order any product from this post, I may receive compensation, but you will not pay a penny more.
ITEMS TO USE AS VALENTINE DECORATIVE PIECES
As I held the package of Valentine's stickers at the store, I realized I could make stickers with supplies I already had at home.
I bet you have things at home that you can add Valentine stickers to:
bowls
vases
glasses
containers
dishes
platters
mirrors
I had six items that I knew would work very well for adding stickers to:
red bowl
wine glass
white bowl
white vase
round glass container
white bud vase
SUPPLIES TO MAKE STICKERS
The two ways to make stickers? Use paper punches and a Cricut Explore machine.
I had both at home.
The other supply you need? Cricut Vinyl.
I had plenty of Cricut Vinyl at home, too. In red, pink and white ~ perfect for Valentine's Day stickers.
We'll start with stickers using paper punches. I love punches and have several different sizes and shapes.
For this project, I used heart~shaped punches in two sizes: 3/4 and 1 1/2 inches.
This collection of three heart punches in three sizes would be a very good buy.
ITEM #1 ~ RED BOWL WITH A PUNCH
I have had this red bowl for a long time. I've always wanted to embellish it in some way. I thought making white hearts with vinyl and a heart punch was the answer.
You are only limited by your imagination and the available punches. I already had two sizes of heart punches. For the red bowl, I used a 1 1/2 inch heart punch.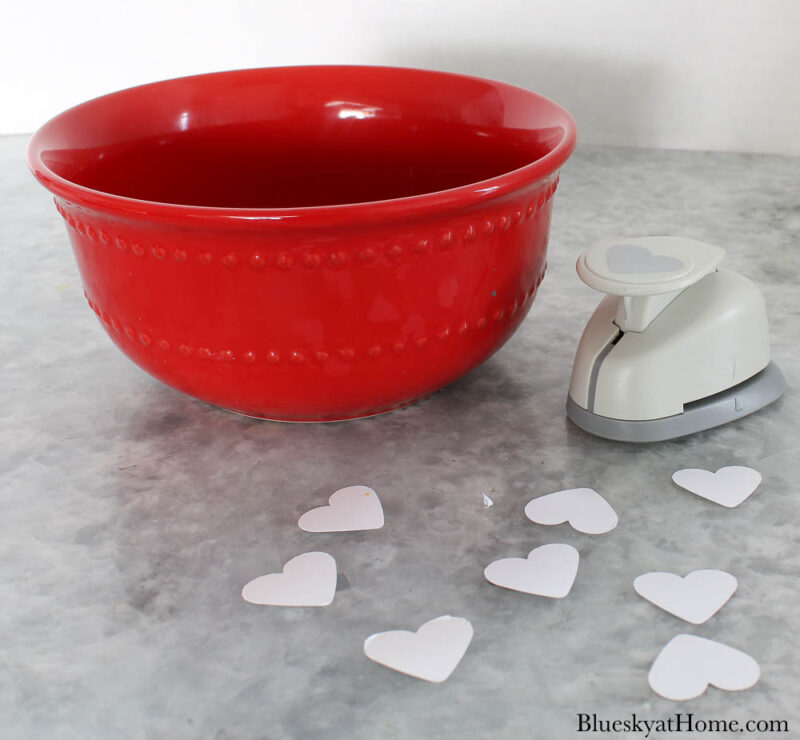 I acutally used eight hearts around the red bowl. Pretty cute, uh?
ITEM # 2 ~ WINE GLASS WITH A PUNCH
I have used punches before to embellish wine glasses for different occasions. Dollar Tree wine glasses are perfect for adding shapes and color to enhance your table settings.
Last year I used this decorating idea for a Valentine's tablescape.
For this Valentine's Day decorating idea, I used the smaller heart punch in red, pink, and white in a random pattern.
TIP: If you have leftover stickers, definitely keep them for other future projects. I put mine in a small plastic box.
ITEM # 3 ~WHITE BOWL USING A CRICUT
Now let's look at how to use a Cricut Explore to make vinyl stickers. In addition to the Cricut Explore Air and vinyl, you will need some tools:
weeder* ~ for removing negative vinyl
spatula* ~ for removing larger pieces of vinyl
scraper* ~ for burnising, rubbing vinyl or transfer tape
scissors* ~ for cutting vinyl
twizzers (optional) ~ helpful for picking up smaller pieces of vinyl
Transfer Tape ~ this is what you use to transfer the vinyl from its backing to your chosen surface.
I had not used my Cricut in a long time so I was a little rusty.
To re~familiarize myself with the process, I went to two of my own blog post, How to Make Vinyl Decals and How to Cut Vinyl Decals. Both of these posts have step~by~step guides you can print off to keep.
This very plain white bowl was part of a gift basket we received a few years ago. Adding vinyl stickers using red vinyl would add a sweet punch of Valentine decorating.
I picked a heart shape from Cricut Design Space on my computer. There are thousands of images to choose from. You can search by category and shapes.
I used a roll of sparkle vinyl for this Valentine's Day sticker decorating idea. I used the weeder to remove the center of the heart.
Next measure a piece of Cricut Transfer Tape over your Vinyl sticker. Cut out the Transfer Tape a little bigger than the Vinyl sticker. Remove the backing of the Transfer Tape.

Now, place the sticky piece of Transfer Tape on top of the vinyl stickers. Use the scraper to smooth out any air bubbles from between the Transfer and the vinyl stickers.
TIP: Be sure to have some overlap of Transfer Tape on at least one side of the vinyl sticker. This little step makes it easy to grab the Tape to pull it away from the sticker.
Then, cut each design apart.
Next, very gently pull the vinyl backing away from the vinyl sticker. If any part of the vinyl sticks to the backing, use your fingernail or the tip of the weeder to keep it attached to the Transfer Tape.
Lastly, attach the vinyl sticker with the Transfer Tape to the surface of your object. Press down all over the Transfer Tape to adhere the vinyl sticker to the surface. Then, gently pull away the Transfer Tape from the vinyl sticker.
Discard the backing and the sticking front of the Transfer Tape.
How am I going to use this Valentine's sticker for a decorating idea? I'll show you at the end of the post.
ITEM #4 ~ WHITE VASE
I believe this vase came from Trader Joe's. My idea was to decorate it with a heart design.
This is another view of attaching the vinyl sticker to your surface.
I repeated the design on two sides of the vase. I also added two red hearts in between.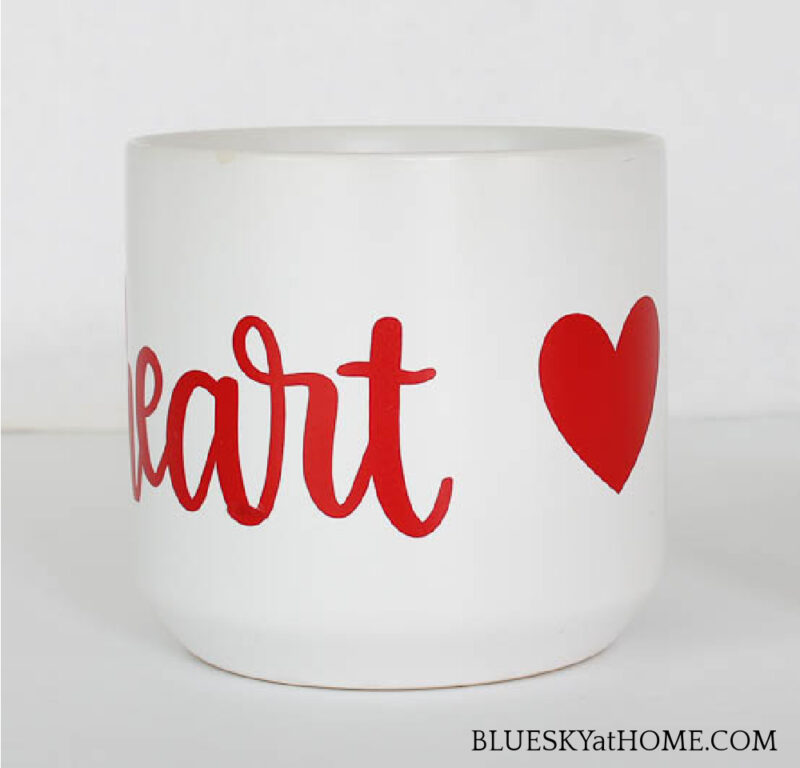 ITEM # 5 ~ ROUND GLASS CONTAINER
For this container, I chose a design with a more intricate design. You will definitely use your weeder to remove the areas in the "l", "o", "e", and between the two scallop outlines.
I made two copies of this design to place around the glass container.
ITEM # 6 ~WHITE BUD VASE
For my last Valentine sticker, I used a simple design with pink vinyl. I used the weeder to remove the area inside one of the hearts. I repeated the design four times around the vase.
NOTE: Once you have a design in the size you want, it's easy to duplicate it in the Dropdown menu.
When you have a round surface, the vinyl may not lay completely flat. For a small area, use your fingernail to rub it down smooth on the surface. For a large vinyl, use the scraper.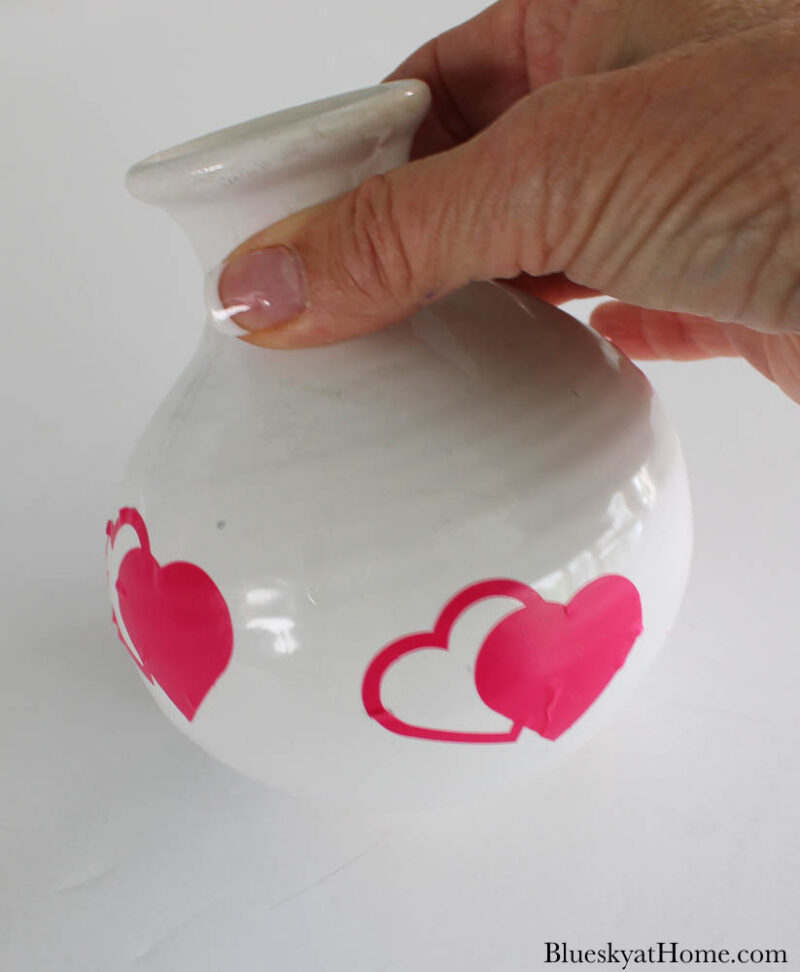 VALENTINE STICKER DECORATING IDEAS
Here are all my completed easy Valentine's Day sticker projects ~ complete with flowers and candy.
What do you think of these easy Valentine's Day sticker decorating ideas?
I love projects that are easy. Having supplies at home to use in a project is even better.
It was fun to use my Cricut again. I had forgotten how much I loved this machine.
Here are some other projects you can look at that use a Cricut: