How to Decorate with Pillows – 11 Tips
Pillows may be one of the most popular home accessories we can use in our homes. We love to use pillows in our home decorating plans. Need some guidance? Here are 11 helpful tips for how to decorate with pillows.
Decorative throw pillows are essential accessories for almost every room in our homes. Their versatility often makes them the first item we add to change the look of a room.
Whether in your living room, family room, bedroom, den or library, pillows are not just decorative. They also add comfort to our environment.
Nothing can give an existing room a refresh more than adding new pillows. After purchasing new furniture, bringing in throw pillows is one of the easiest ways to complete the new room.
The Inspiration for Decorating with Pillows
This post contains affiliate links to products used in the creation of this project. If you should order any item from this site, I may receive compensation, but you do not pay a penny more. Your purchase is greatly appreciated as it helps support the continued publication of this site.
For a few years, I have wanted to replace the sofa in our living room. This was a custom-made sofa that we had in our previous home. Before moving into our present home almost 10 years, we had the sofa and three other chairs reupholstered.
Why did I want a new sofa?
Although the sofa was in good condition, it became apparent that the 92-inch long sofa was oversized for our living room space. It made furniture arranging a challenge.
I loved the aqua color of the sofa when I originally selected it. I love coastal colors and it set the tone of our home. However, the aqua color did limit my accessory choices. Not every color works well with aqua. (Although I did use other shades of blue, apple green, and yellow.) It was a challenge to find pillows, throws, and lamps that worked well with the aqua. Most of the time, I used cream or white pillows.
In this post from a few years ago, you can see our aqua sofa and how I used pillows on it.
I have changed my home decor style in the last few years. I wanted my foundation pieces to be neutral – white – as my anchor color and my accessories to provide a pop of color for the room.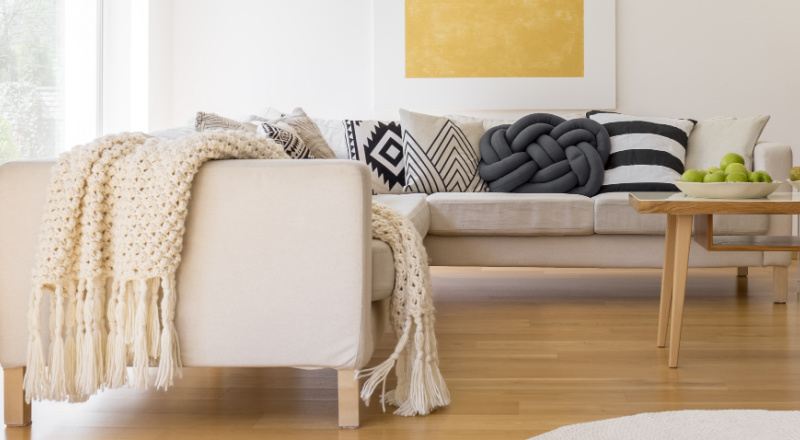 We also decided to replace the too-large easy chair in the living room. Instead, two smaller swivel chairs would serve us better.
Last February, I started visiting my local design stores. A month later, I still hadn't found the style and fabric I wanted.
Then in March, Sweet Shark suggested we visit our local NFM (Nebraska Furniture Mart). It's actually about 30 minutes from us.
Honestly, I didn't even know an NFM was in our area. A friend of Sweet Shark's at the Y told him about their positive experience.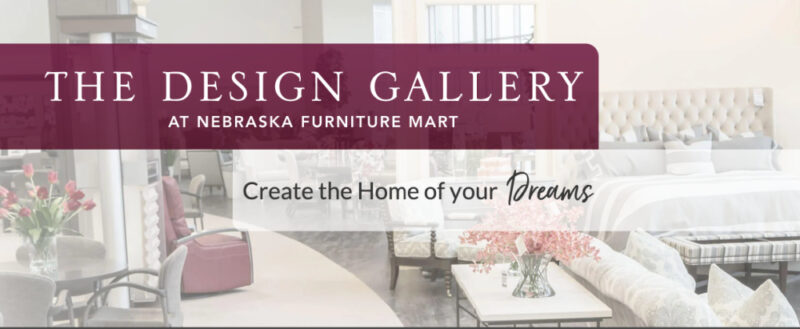 I won't go into our shopping experience right now (It was wonderful.), but after working with a designer in the Design Gallery, we placed an order for a new sofa and two new swivel chairs.

It would take months for the furniture to be made to our specifications and delivered. We were willing to wait to get exactly what we wanted.
Right before Christmas, our new sofa and two swivel chairs were delivered – 10 months after we ordered them from NFM. I squealed with happiness as the delivery men brought them into the living room and moved the furniture (tables, rug, lamps, etc.) until I was happy with the arrangement.
I love the new white fabric and the style of the living room sofa and two chairs. The furniture gives our living room a whole new look. Plus, all three new pieces are so comfortable.
The two white pillows came with the sofa. I chose to have them in the same fabric as the sofa.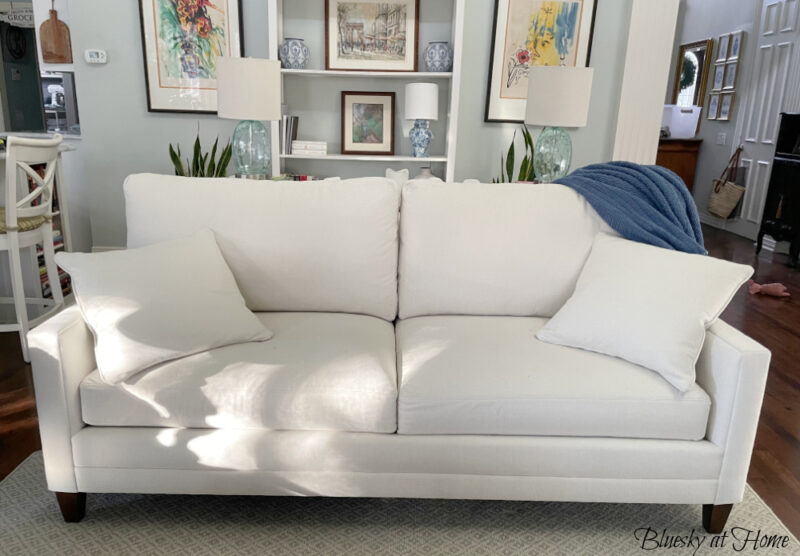 We love that we have a better view of the backyard.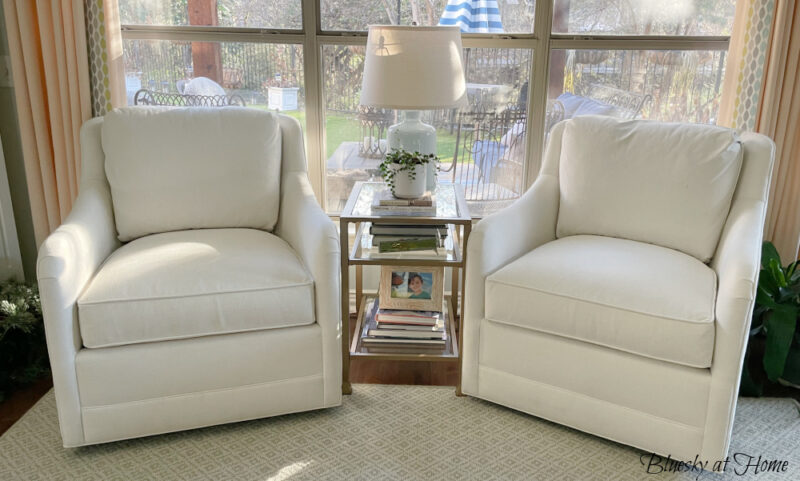 The white furniture means I can now use any color accessories I what.
We still need a new rug, a new table to go between the two chairs and new lamps. We may rearrange the furniture. The first thing I'm looking to add is new pillows – one of home decor's best friends. 
And that brings us to my search for new pillows.
Here are some simple tips for using pillows in your home.
11 Guidelines to Decorate Your Home with Pillows
Pillows are perfect for adding comfort to any seat and are a great way to bring texture and color into a room. The best result for a great overall look is to use these pillow tips.
Use Pillows with Inserts
There are two types of throw pillows: all-in-one options (cover and insert without zippers) or versatile zippered styles consisting of an insert and interchangeable decorative cover.
For more options and easy cleaning, I love the insert-and-cover variety. With an insert and decorative pillow cover, you can change up your home decor whenever you wish, without having to store your out-of-season pillows.
Another benefit is that you can wash the covers when necessary, without putting the inserts through the laundry. You can reuse the pillow insert as much as you want to.
Speaking of inserts – inexpensive pillow inserts use polyester batting as a filler. This is fine for purely decorative throw pillows since they don't provide a very comfortable feel.
For throw pillows on sofas and chairs, down/feather filled is the way to go. They're so much more plush and they have a much heavier, luxe weight than polyester. 
Pillow Size to Pillow Inserts
For a full, plush appearance, choose a pillow insert two inches larger than your throw pillow cover. For example, an 18- by 18-inch throw pillow cover paired with a 20- by 20-inch pillow insert provides a fuller appearance and the best support for reading or watching TV.
If you're not a fan of the plump pillow look, you can choose the same pillow and insert size—for example, an 18- by 18-inch pillow insert with an 18- by 18-inch cover—but your pillows may not offer as much support. The corners may stick up as points.
Bottom line – don't waste your beautiful pillow cover by using a cheap insert.
Where to Decorate Your Home with Throw Pillows
You can toss extra pillows anywhere (Is that why they are called throw pillows?) – your bed, the sofa, a statement armchair, the bench at the foot of your bed – to add some oomph to your space. 
Here you can see several examples of how I decorated our bedroom with pillows.
There are different ways to choose the colors, textures, and patterns for your throw pillows:
Pair Colors with Complementing Patterns
Pull inspiration from the other existing colors in your room, such as a patterned comforter, blanket, art or furniture.

Pair solid throw pillows with a statement pillow that features a floral print, embellishment, or trim. Using different patterns is one of the easiest ways to add visual interest to your home.
Use a Monochrome Color Scheme
Choose a handful of your favorite shades of blue (or green or orange) or stick with all-white pillow covers, but feature a different design on each, or choose a series of gradually darker pillows to create a contemporary light-to-dark gradient effect.

The great thing about using pillows as accessories is that it's easy to change your color palette.
Pair Patterns with Patterns
Chevron, ikat, and polka-dots, florals and stripes, checks and plaids – the pattern-pairing options are endless. The only limit is your creativity.

To coordinate throw pillow patterns, decide on a primary color and choose complementing patterns that echo the hue. Mix large-scale patterns with small and medium-scale patterns for the most up-to-date and interesting look.
If you're new to interior design, stick with patterns in similar sizes. When you feel more confident, experiment with bold choices like big polka dots, herringbone or grand-scale florals and narrow pinstripes.
Play with Textures
When we say texture, we mean fabric. Velvet, linen, embroidery, faux fur, cotton or tweeds – textures provide interest, so choose a variety and pair them up for stunning results.

Velvet and silk are a winning combination, but don't overlook options that seem like complete opposites. 
For example, a chunky knit pillow cover offers bold contrast with a festive appliqué or elegant embroidered design. Mix different textures for more interest.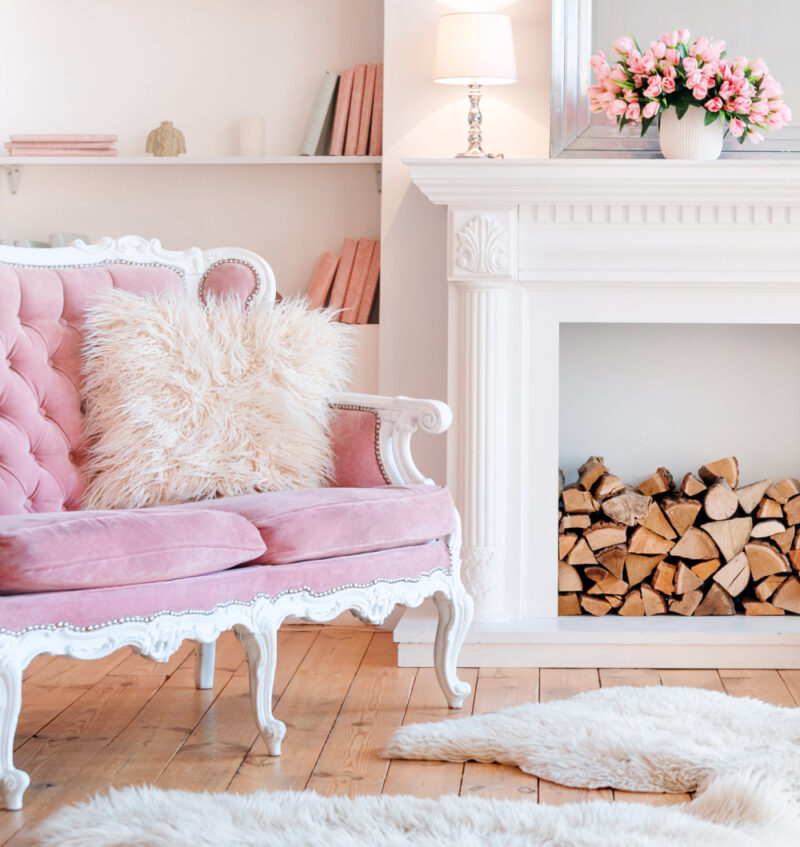 Number of Pillows
 Choose a pillow arrangement that creates a comfortable place to sit or lounge and an interesting focal point. The size of your furniture can dictate the number of your pillows. While there's no magic number of pillows, an odd number helps create balance. 
In the bedroom – When adding decorative pillows to a queen- or king-size bed, a winning formula for a cushy layered look is two to three decorative pillows, two Euro shams, and two to four sleeping pillows. 
For a large sofa, five decorative pillows (two at each end of the sofa and one in the middle) provide a balanced look. 
For a smaller sofa (our new sofa is 78 inches wide), use one pillow at each end and a contrasting pillow in the center of the sofa.
Mix up the Shapes of Your Pillows
Pillows come in several shapes. Square isn't your only option. Pair different shapes for more impact. Choose from these shapes:
bolster pillow
boudoir pillow
long rectangles
round cushions
square pillows
The Size of Your Pillows
Like shape, you can vary pillow size. The larger your furniture, the larger your pillows should be.
The most common throw pillow sizes for couch pillows are 18″ x 18″ and 20″ x 20″. However, larger sofas and sectionals, especially those with deep seats or high backs, may be better off with 22″ x 22″, or even 24″x 24″ pillows.

Use the bookends method to frame an embroidered rectangular toss pillow or line up your throw pillows by size.
Mixing different sizes of decorative pillows on your sofa will create more interest.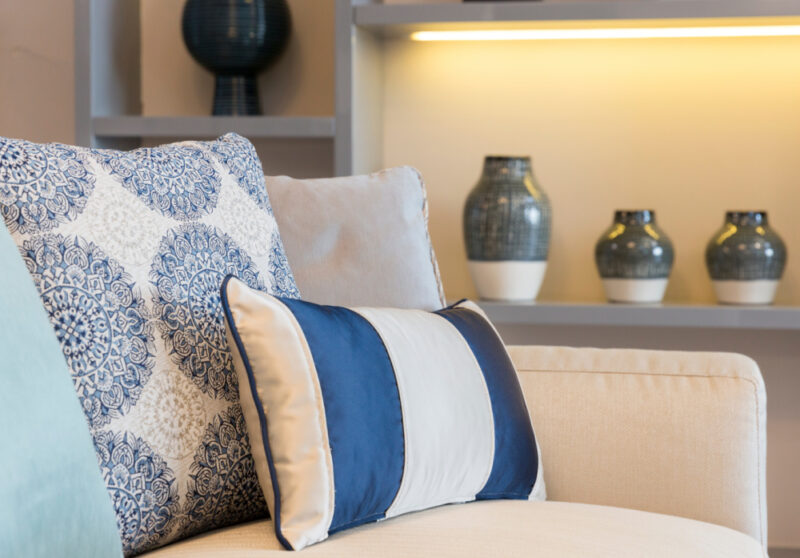 To Chop or Not to Chop
A chop – an indentation in the center at the top of your throw pillows – can tie the whole room together. This step is purely for aesthetics and is totally optional.
The chop turns the pillow corners into points that sweep the eye upward, so you can highlight a focal point above the furniture.
Mixing patterns, sizes, shapes, colors and textures of pillows can really elevate the style of your living spaces.
Shopping for Quality Pillows
There are thousands of places to purchase pillows. Really beautifully made pillows can be very expensive. What makes one pillow more expensive that an inexpensive pillow?
The better the fabric, the more expensive the pillow will be. Silk and velvet will be more expensive than cotton and polyester.
Pillows with down inserts will cost more than pillows with polyester inserts.
Embellishments, such as piping, cording, trim, fringe, or appliqué will increase the price of the pillow.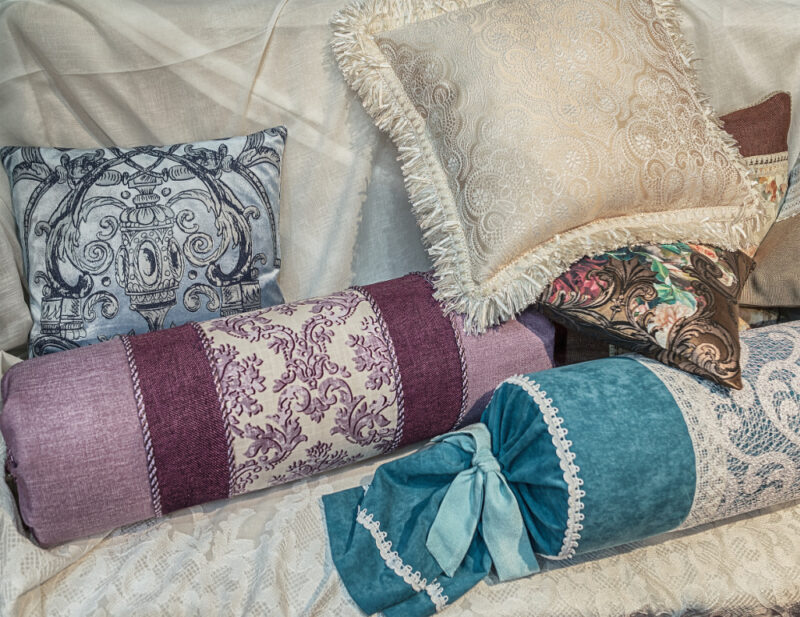 The better the workmanship of the pillow, the higher the price.
Pillows with zippers will cost more.
Remember when shopping for pillows to decorate your home that it's OK to bring pillows home to try different combinations. Keep what works and return what you don't like.
Since I am in pillow-shopping mode, here are some great resources for pillows. You'll notice the color blue is dominant in these choices since that's my color palette of choice:

Here are some other really nice resources for pillows:
Chloe and Oliver Pillows
Motif Pillows
Pottery Barn
Designer Mod Home
Concelli Pillows
Lamps Plus
Here's a reel from NFM's Instagram about ways to use pillows.
Don't forget that to get exactly the color, pattern, shape, and texture you need and want, you can make your own pillows or selwct your fabric and have them custom-made.
If you want to learn tips for how to decorate your home with pillows, then PIN this post to keep these pillow tips handy.