Using books in our home decor is a super popular practice these days. If you love books and have a ton of them as we do, there are endless ways to display them throughout your home. I want to give you some great ideas about how to decorate with books your home decor.
There are so many pretty ways you will be inspired to decorate with books, especially stacked books. I'm going to take you through a tour of our home so that you can see all the wonderful possibilities.
We can never run out of places to use books in our homes. These great tips to decorate with books will add beautiful decorative elements to your home, as well as functionality.
How to Decorate with Books in Your Home Decor
Books can be used in any room in your home, with the exception of the laundry room. Obviously, you can place them just about anywhere:
obviously on bookshelves
coffee tables
sides tables
consoles
nightstands
guest room
powder bath
the mantle
the kitchen counter
Our focus in this DIY Challenge is on stacked books. Stacking books is a great way to add horizontal style to your decor. Stacked books can be used to give more height or act as bookends. They also can act as a base for decorative accessories.
Tips for Decorating with Books
TIP: a decorator told me years ago to remove the book jackets from your books. This is your home, not a bookstore or a library. I keep all our book jackets in a plastic tub in a closet.
TIP: use books with the binding or the pages showing, depending on the look you want.
TIP: group books by size, color, or shape. If by color, group colors or mix the binding colors, whichever look fits with your decor. 
TIP: if you don't have enough books to use in your home decor, shop garage sales, estate sales, flea markets, and Half~Price books.
I love books with white and blue covers and use them the most in our home right now.
We have stacked books throughout our home so I have several ideas you can use to decorate with books in your own home decor.
Living Room
Bookshelves
This is obvious. Books are usually stacked vertically, but look great in stacked groups, usually of 3.
For a special stacked book look, I added words to the bindings of 3 books (paperbacks I have already read) with a combination of stencils from A Maker's Studio. The pretty blue is ChalkArt in Water to My Ocean. I love this idea because you can create a personal message. I'll share the how~to in a later post.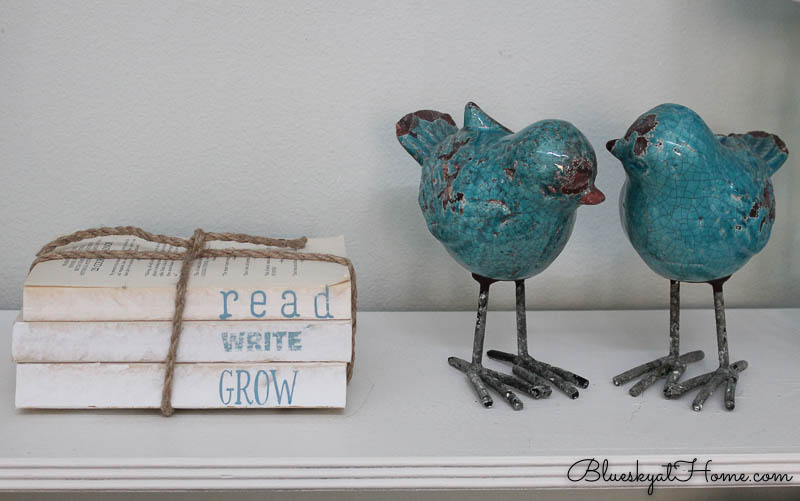 I covered 3 older hardbacks with adhesive burlap. I love this material and have used it in other projects. Here the stacked books are used as a bookend and a place to display a small white vase.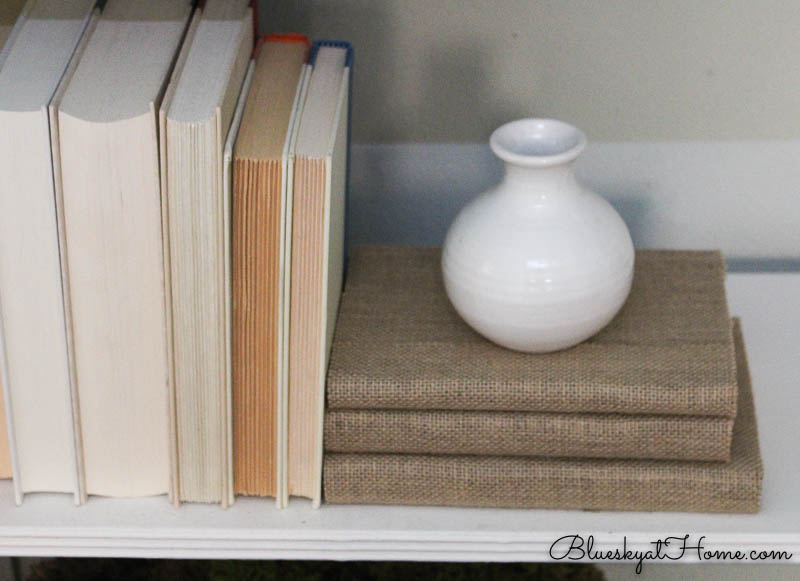 Inside a Cabinet
A cabinet with glass doors or a hutch is another great place to use books to decorate your home. We have a tall cabinet that is strictly for display and a stack of books creates a sense of interest inside the closed doors. I use a stack of 3 small white books (my favorite Madame Chic series) to raise up a cherished photo of my grandson and me. Next to it is a photo of my older daughter and the granddaughters. Both photos were taken almost 5 years ago. The kids have grown, but I haven't changed at all!!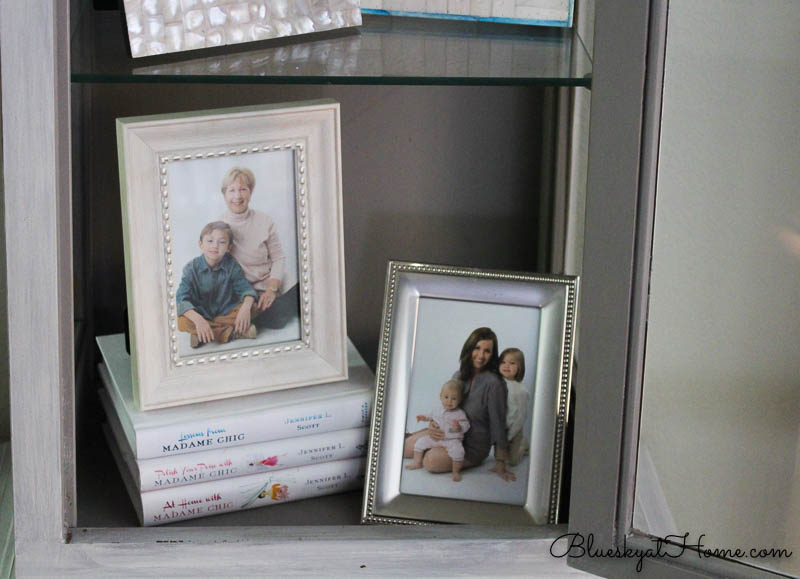 Coffee Table
The coffee table is a perfect place to display stacked books; it's an area that is constantly changing. In these vignettes, I tied a stack of 3 books with white covers with twine. I set them inside a favorite grey~painted tray that I brought home from Haven Conference 4 years ago and painted grey. The set of wire baskets and the ceramic pear are from an antique mall in Atlanta.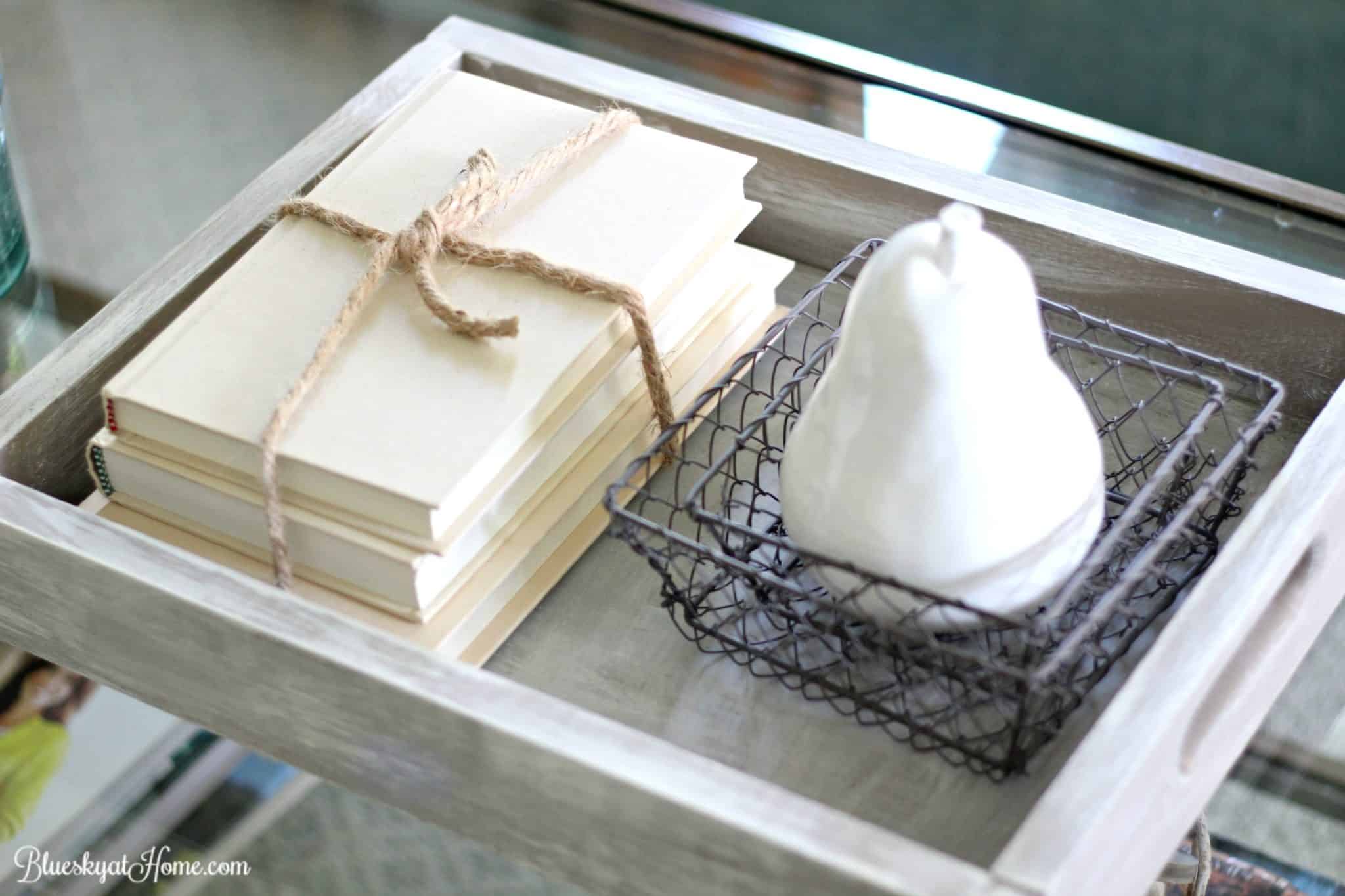 As you can see by the photo below, I am a coffee table book addict (Here are some of my favorites.), so I have to use the coffee table as both storage and display; fortunately, our coffee table has a bottom shelf to stack books. In this vignette last fall, I placed the grey tray on the bottom shelf.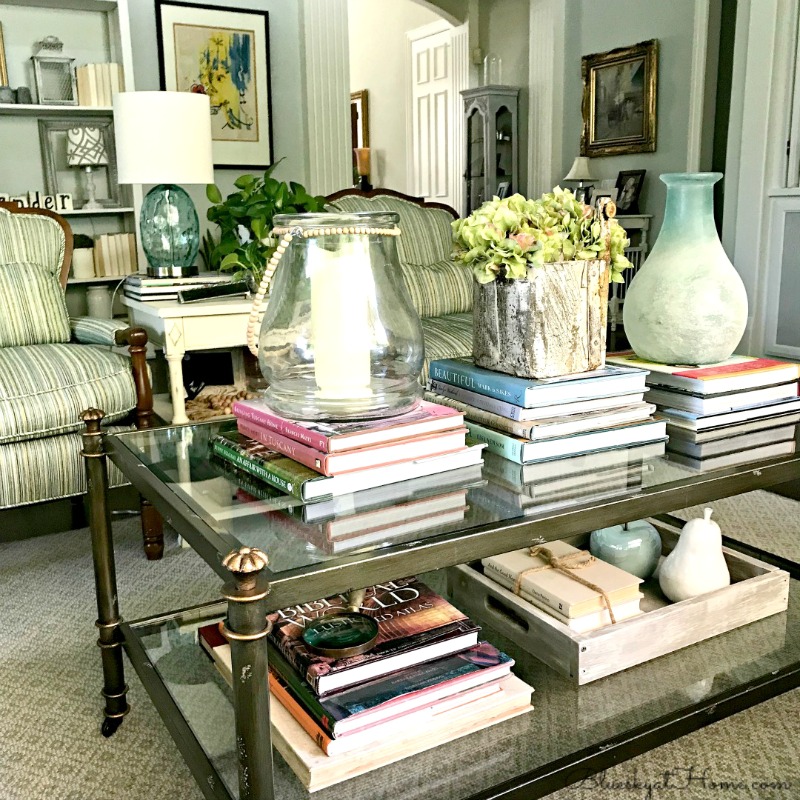 This is what my coffee table display looks like today. On top of our coffee table I currently have 2 stacks of books. The grey tray is back with the tied stacked books. A set of 3 glass bottles, which I found at a local antique mall, provide color and shape. A blue/green candle also adds color as well as another vertical element to contrast with the horizontal books and tray.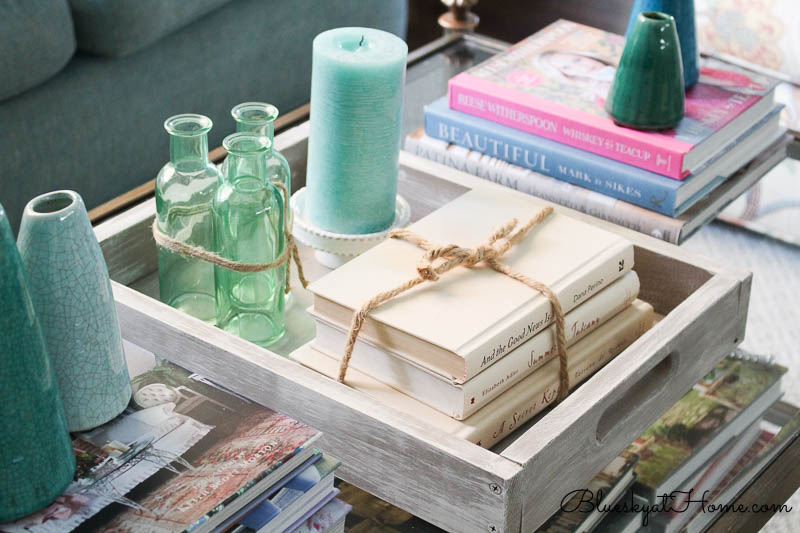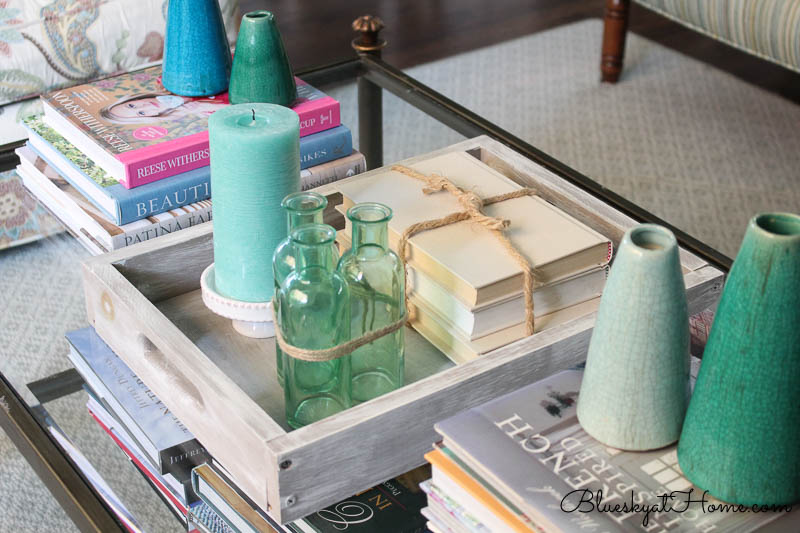 Side Tables
On the table on one side of our living room sofa, books covered in white craft paper add height to our bright yellow lamp. Can you see that the large book on top is white?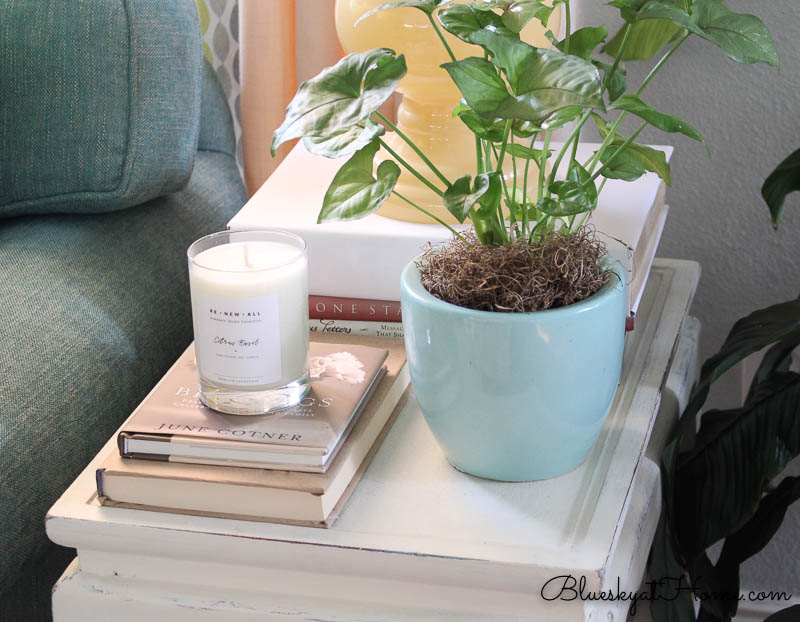 TIP: Use inexpensive white or brown craft paper to cover books; they add a neutral and consistent look when you want to tone down the varied colors of book covers.
One of my favorite candles from A Maker's Studio (the scent is Citrus Blend) sits on another stack of 2 favorite little books. I covered the book on the bottom with brown craft paper. The ivy plant adds the pop of green so welcomed in home decor. The aqua blue planter ties in with the blues of our walls and sofa.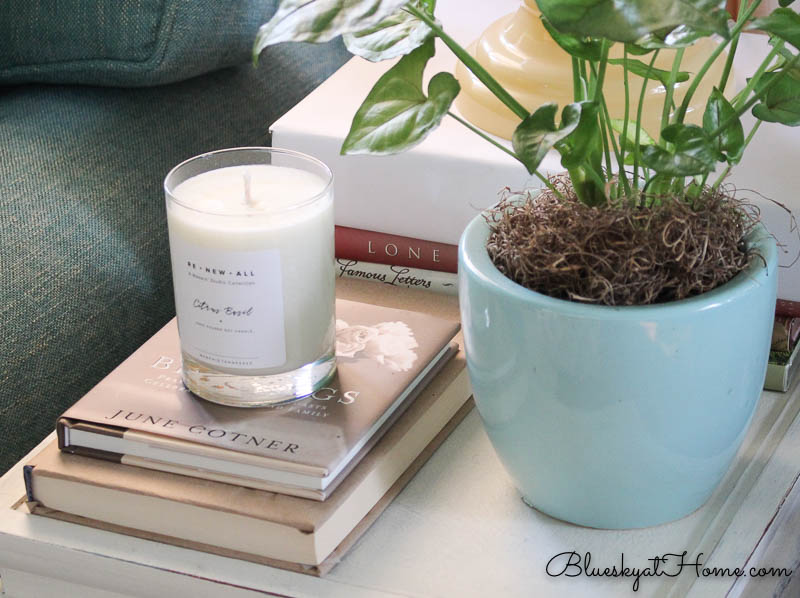 Breakfast Room Console
We have had this metal and glass large candle holder for many years. The stack of books it sits on gives the candle a base and adds a little more height. I think it looks so much better on the book stack than if had just sat directly on the table. I selected these books since the color of the covers complement our blue walls and the candle.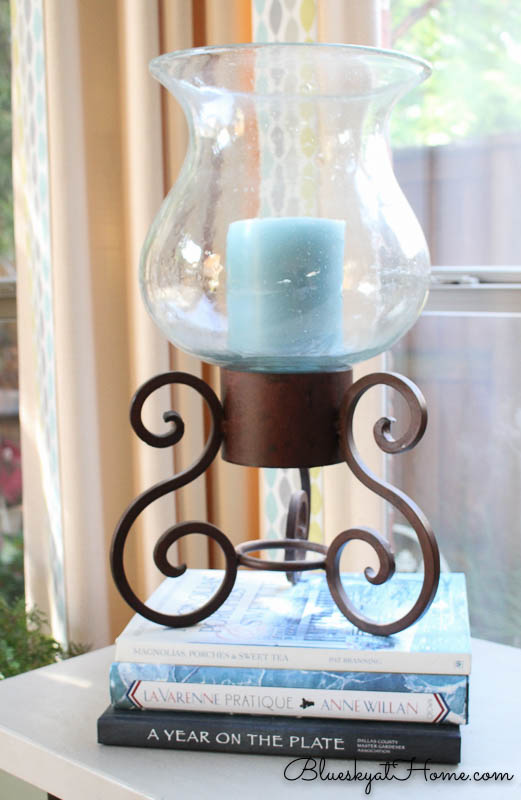 Master Bedroom
Using books to decorate our home extends into the master bedroom. Remember that any flat surface can hold books.
Console Table
These sweet blue pitchers that I purchased in Atlanta are a nice contrast to the white shades 0f 3 stacked books. Even though the pages of the books are different shades of white, the overall neutral theme works well with the soft blue color.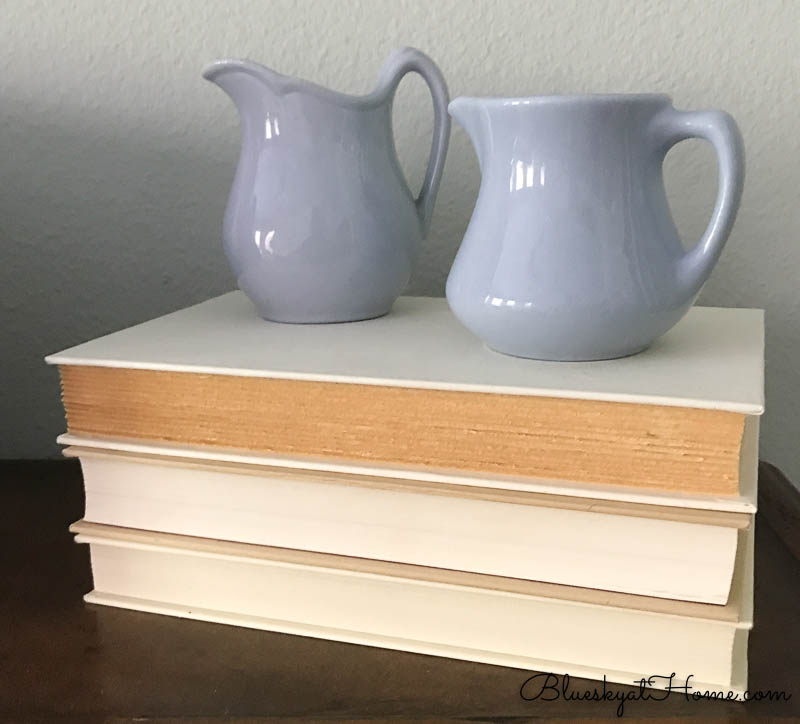 Nightstands
On my nightstand, I used stacked books with white covers to raise my new lamp from IKEA up several inches. I'm the one who reads in bed, so I needed this rather short lamp to cast more reading light. Although I read these books years ago, I still like to see the titles every day.
Sweet Shark doesn't read in bed, so I placed the blue crisscross painted planter that I just made on 3 stacked books, also ones that I have read. There is a link to a Facebook video that I made about painting planters in that post. Notice that on his nightstand I placed the books with the pages showing in keeping with the blue and white theme in our bedroom.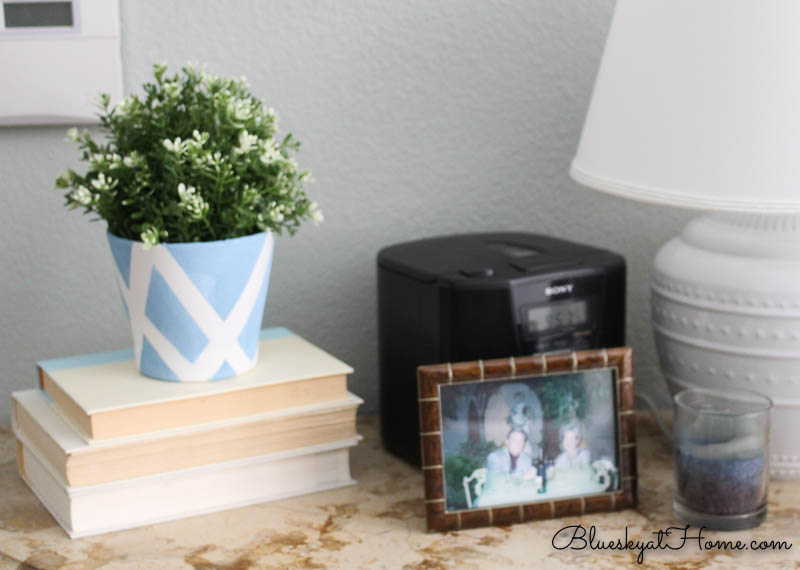 Reading Table
The table between our 2 wing chairs in front of our bay window provides a comfortable place to relax and read ~ it's Sweet Shark's favorite spot when he comes home from work. The only must~have on the table is a reading lamp. I painted this garage sale lamp several years ago. Because it's rather short, stacked books are the perfect choice to give the lamp a few extra inches of height.
Again, I covered several large coffee table books in white craft paper for a cohesive and light look.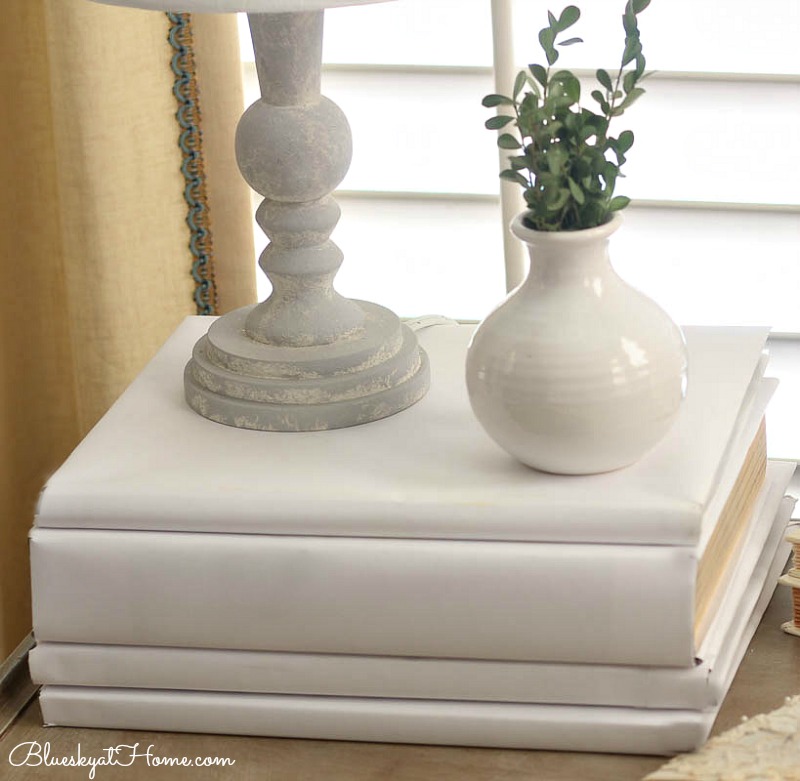 I'm always switching up our accessories. Here's how the reading table looks today. I still have the stacked books, but I added some with grey colored covers for more contrast with the white paper covers. I still have a green plant, a favorite photograph (our Kentucky Derby trip in 2001), my new candle from Joann, and Sweet Shark's baby Bible.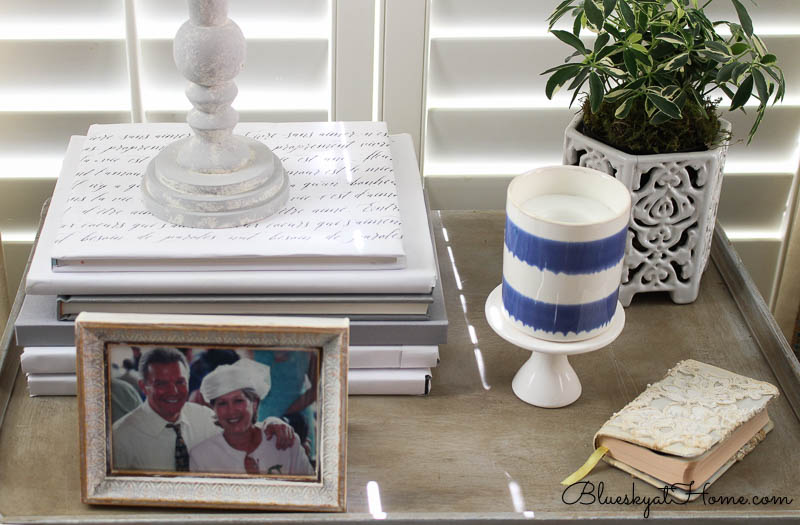 I used white craft paper, the French stencil from A Makers' Studio, and ChalkArt in Preaching to the Choir to add a sense of style and elegance to the book cover. I loved this project so much that I plan to use the stencil directly on some books soon.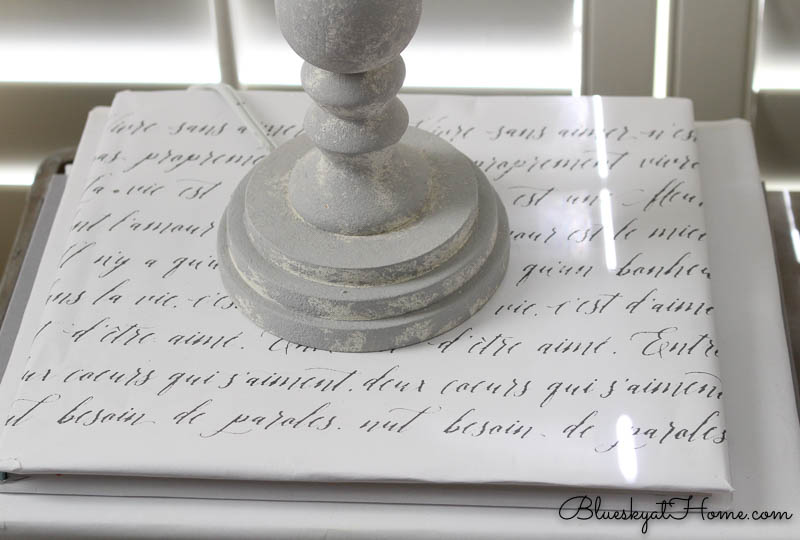 My Office
I have so many books in my office ~ mostly food memoirs, which was really into several years ago. I use stacked books as bookends and as a place to display favorite items. This white bowl with the raised dots ~ it's one of 3 ~ was a flea market find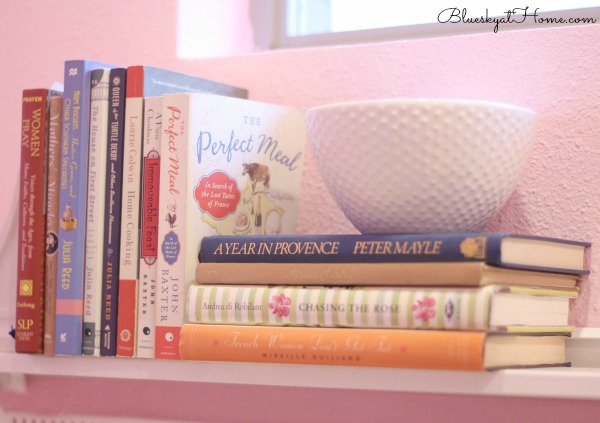 I've read every one of these books and they are like old friends that I can visit (look at) when I need to look away from the computer in my office. The sun really comes in the high window on a bright day. The mug in the center was a freebie from Haven.

The pastel stripe boxes on the stacked books are from my favorite macaron shop in the world ~ Sucre in New Orleans.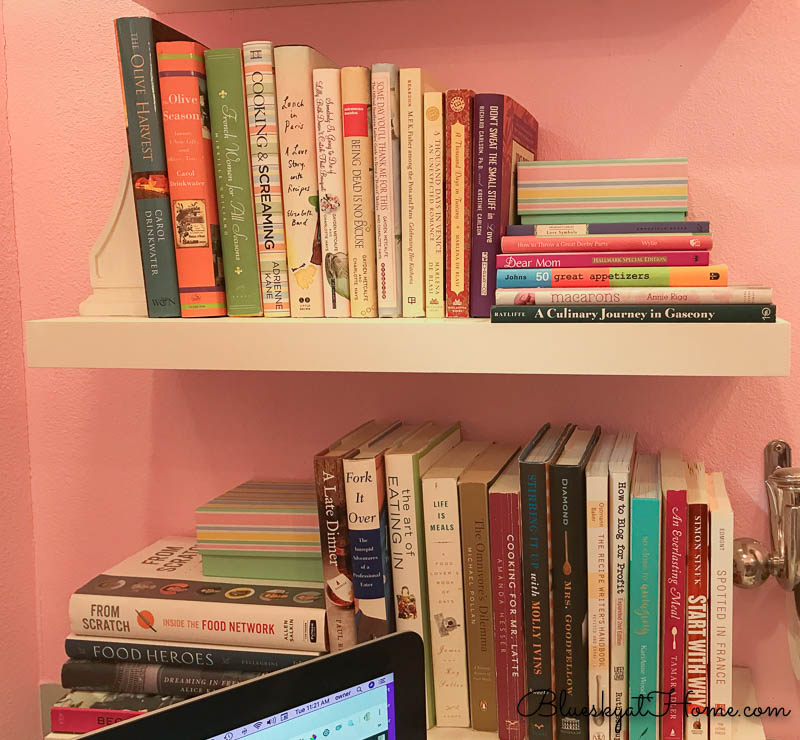 I hope that these tips on how to decorate with books and the images give you ideas to use stacked books more in your home decor. Whether you buy books strictly for decoration or use ones that you have read, books add a beautiful esthetic to our homes. Plus they make us look smart!
You may want to receive my Decorating with Books Tip Sheet. Click on the graphic below.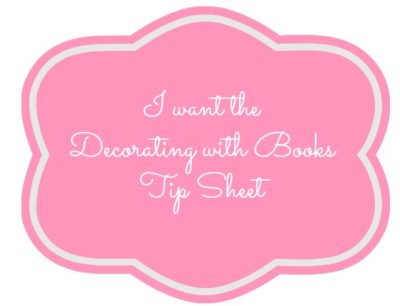 Don't forget to PIN for Later!