5 New Farmhouse Accessories in My Kitchen
Good day, welcome to a new week. After sharing Kentucky Derby decor and recipes with you for a couple of weeks and working on our dining room makeover for the One Room Challenge, I took a little break to look back at some of the farmhouse accessories that I've added to our kitchen the past couple of years.
Are you one of those people who is always looking for a new piece to spruce up your home? Are you occasionally rearranging spaces with things you already have in your home? Does one new purchase spark your creative and decorative passion and productivity? I can honestly answer YES! to all those questions. And that's the reason that I'm always looking for new farmhouse accessories for my kitchen.
Since I can't resist shopping  
local flea markets and antique malls
, I always seem to find a thing or 2 to add to the decor.  You might remember these
awesome finds
from a few months ago. Sometimes it's an addition to fill a spot and sometimes it's something to replace a long~time, I'm~kind~of~tired~of piece.   I especially look for farmhouse accessories that will add character and interest to our kitchen. And it's even better when new items blend in with old pieces we already have.
5 New Farmhouse Accessories in My Kitchen
These farmhouse accessories are some of my very favorites.
Farmhouse Accessory #1
In the past few months I've added a few farmhouse accessories to the kitchen that I think provide just the right amount of French and farmhouse look. It all started with this sign that I found before Christmas at Forestwood Antique Mall.
I knew exactly where it would go in our kitchen ~ on the wood cover of the Vent~a~Hood. Except for Christmas when I put a wreath there, it's a big, blank space that really bothered me. This picture is really old, so regrets for the graininess.
The sign stayed in the back of my car until January. After we put away all the Christmas decorations, I casually said to Sweet Shark, "by the way". I was so relieved that the top part of the sign fit perfectly.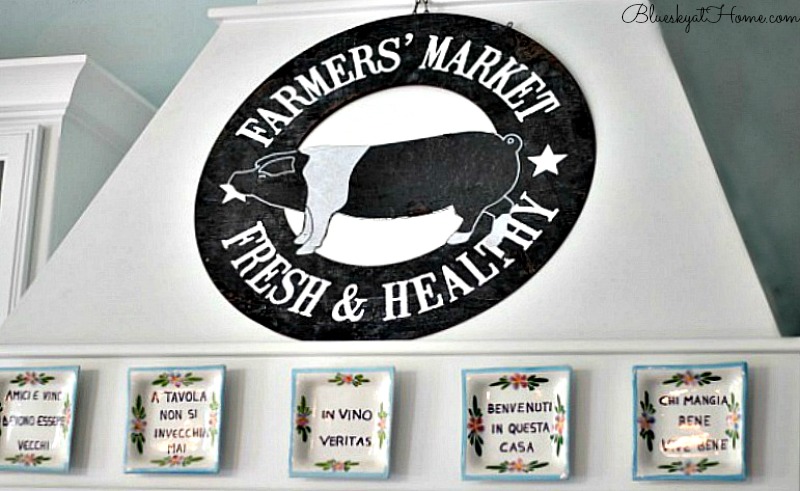 Farmhouse Accessory #2
We had to find a spot for the bottom part of the sign which Sweet Shark had removed, leaving the chain attached. Here's where we put it.
It's hanging in the cased opening between the kitchen and butler's pantry below my much~loved clock that I bought a couple of years ago in McKinney, Texas. Sweet Shark and I are short enough that we don't have to worry about hitting our heads, although I have banged the sign with a broom handle a couple of times.
Farmhouse Accessory #3
I've slowly been adding white dishes to my kitchen decor. Our everyday dishes are Villeroy & Boch in the Manoir pattern which I love for its classic styling. All the dishes were behind our cabinets with doors, and I realized it was silly to hide them. I decided to bring out some of the serving pieces. But I didn't have a place to put them. So I moved these 6 plates (found last year at Lucas Antique Mall) from the smaller of the 2  glass cabinets ~ which I thought was kind of sparse and boring ~ to another glass shelf.
And moved these 4 plates here. I bought the plate hangers at Joann. Now I have a pretty place for them that doesn't take up any shelf space.
In the glass cabinet, I added two platters, bowls and the butter dish from our Manoir to some of the flea market finds I've purchased in the past year and other pieces, such as my French vintage coffee maker I bought online and a pretty pitcher that belonged to my mother~in~law. I love my white farmhouse~looking dishes.
Farmhouse Accessory #4
I bought my pretty vintage~looking cake stand planter at a charity auction.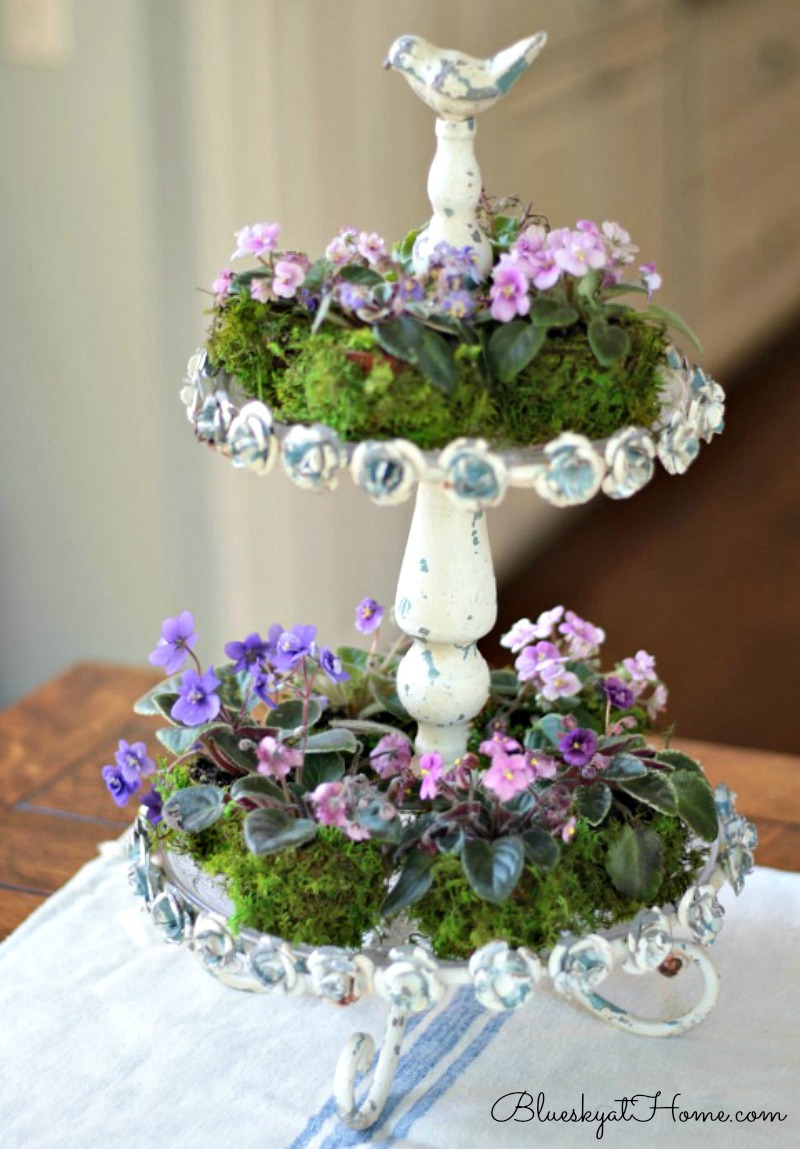 I knew that the little African Violets couldn't stay there long, (We planted them in another container.) so I had another idea for the cake stand. Instead of using 3 glass cake stands for display space ~ I used my Frenchy~farmhouse cake stand. I think my pastel ice cream bowls from Pottery Barn (I don't think they are available anymore.) and my polka~dotted bowls look great here.
Farmhouse Accessory #5
And then one of those "I'm not looking for this, but I have to have it" moments a couple of years ago at the City View Flea Market  They have a back parking lot sale twice a year and I have had great luck finding awesome things. In one booth (This is so weird, but the booth belonged to my neighbor down the street.), I found this awesome sign. There was no doubt it was coming home with me.  I found one other sign, but that's another story for another day.
I thought it so fitting that this statement means "Open all day"! Since the edging of the sign is particle board, I painted them in Annie Sloan Graphite to blend in with the front of the sign.
I'm loving the look of my kitchen with these farmhouse accessories. Some of the items were pieces I've had for years and I love mixing them with the new pieces.  Just a bit of rearranging can do wonders for a space in your home. A new look.  A new happy feel. A fresh face.
What do you do to get a happy, fresh, new look at home?