Happy end-of-the-week, beginning-of-the weekend to everyone. Let's share a thought.  Have you ever wished for somethings you really needed (O.K., just really wanted) for your home or outside spaces?  I don't mean a Mercedes sitting in the driveway or a Monet on the wall.  Just that certain something that you know would be just perfect in a room or on the patio. Something that would add panache or practicality.  I've had three things on my wish list for months. I've looked at flea markets, garage sales, online, in catalogs, but to no avail. Either I found what I wanted, but the price was way more than I wanted to pay (that is usually the case) or it was too new and a million other people could order the same thing.
No, I wanted the vintage, great price, I can re-do better kind of thing.  The three things on my wish list, the things I dream about were:
French garden chairs, sort of like these:
But those are a little too new, a little too perfect.  I wanted something more like this: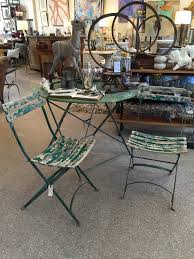 The second thing I wished for was a bar cart for our dining room:
All had glass and/or mirrored shelves, the right metal finish, wheels, and good size and shape.  But the prices?  $499 and up.  Way more than I wanted to spend.  But they did go in my inspiration file.
And finally, a just-right size and shape little table to go between our Bergère chairs, like these:
Well, early on the day before 4th of July, my friend Susie and I met at the parking lot flea market sale at one of our favorite antique malls, City View.  Not many venders were set up and I anticipated a bust shopping trip.  But lo and behold, the vintage, re-purpose and re-love angels were hovering overhead and I found not 1, not 2, but all 3 of the items I had been dreaming about. Great condition, great prices (I didn't even have to haggle.), and they were mine.
So here is dream #1:  French garden chairs.  12 of these babies were stacked, and I picked the two that were in the best condition, which means they fold up easily and are sturdy.  French garden chairs may look a bit flimsy, but they are actually very steady and comfortable.
You'll notice that they have a different number of slats on the seat and the back.  Good, they for sure didn't come from a catalogue.  A few screws were loose, but a quick turn of a screw driver and they were tight. A couple of exposed screw tops were missing, but they just made the chairs more appealing to me.  Here is the best part:  $12 a piece.  I had to keep from jumping up and down.  (Not a good idea if you want to haggle over the price, which in this case, I did not.)
The green paint didn't fit my vision. I knew I would paint them with Annie Sloan Chalk Paint  since  I had already painted my mosaic patio table in Greek Blue and Old White.  Greek Blue is a perfect match for my Sunbrella Resort Air Blue cushions (You can read about that here.)  But I decided to try something a little different.  I had about 1/2 sample jar of Provence which is one of the prettiest colors anywhere, so I decided to try it. And, of course, it's very French.
I used two coats, the first full strength and the second applied with a wet brush and wiped down with a rag.
One of the great things about Annie Sloan Chalk Paint is that it dries so quickly.  I could paint one coat on one of the chairs and by the time I was finished paining the second one, I could paint the second coat.
Next I added a wash of Old White to give the chairs the "I found these chairs on a trip through the French countryside in an old, neglected jardin and shipped them home"  look.
These chairs are one of my very favorite possessions.  I actually painted these on the morning of our 4th of July Party (you can see the party and recipes here).  They were outside on the patio by the time our guests arrived.
I wish you could come sit outside with me and sip a glass of sweet iced tea or a margarita sitting on my French garden chairs.  Let me know if you are in the neighborhood.  Later I'll share the transformations of my two other wish list items.
Have a great weekend.