10 Awesome Spring Home Accessory Ideas
Using accessories for spring decorating is one of the easiest and most affordable ways I know to create a lighter feel and add a pretty palette to any room. I want to show you 10 awesome spring home accessory ideas that will inspire you.
As I've been slowly transitioning to spring this year, I'm tending to use many of the same awesome spring home accessory ideas that I used last year ~ after all, they were brand new then. So why not share those great ideas with you?
I love accessories for their versatility, affordability, and just darn right cuteness.
Our living room is our main gathering, entertaining, T.V. watching, hanging out space. It is a roomy space with a large window that lets in wonderful east light. Open to our kitchen and breakfast room (southern light comes in), it's definitely an open concept space.
I think this part of our house naturally has a spring/summer feel to it. I'm not moving or changing furniture, just adding accessories for a springtime look.
When I think about how I want to update our living room for spring I always want more color and a lighter feel. I wanted to bring in accessories for spring that can also be functional.
If you want to see the previous look, you might visit this post to see how our living room looked a year ago. Since I had already been doing a little research shopping, I knew that blues and greens, flowers and glass would definitely play a role in my spring decorating. As my plan came into focus,  I narrowed my vision into 10 spring accessory ideas that would add just the right look I wanted.
10 Awesome Spring Home Accessory Ideas
My spring home accessory ideas are perfect for PINNING to your boards.  These awesome spring accessories were definitely the inspiration for my spring decor in our living room. I hope you will be able to use some of them in your own home.
GLASS JARS FOR SPRING HOME ACCESSORIES
After visiting a few stores a couple of weeks ago for spring decorating ideas, I knew that glass would play a role in my spring decorating scheme. When I saw these 3 glass jars (vases) at Tuesday Morning, I grabbed them.
I loved the soft, almost sea glass green color. I thought that they would look beautiful on our coffee table. I love their translucent quality and how they reflect off the glass of the table.
TIP: Odd numbers are always the most esthetically pleasing for stand~alone asymmetrical arrangements.
A few years ago I made sea glass jars from liquor bottles. This was one of my favorite, most useful DIY projects. These sea glass bottles have been on the mantle, the coffee table, the bookcase, and in our bedroom. For this spring look, I moved them back to the mantle with 2 new planters.
GLASS BALLS
Everyone loved the green and blue glass balls from Wisteria that I shared a couple of weeks ago.
Instead of purchasing new balls, I unpacked my green, blue and white glass Christmas balls that I bought at Wisteria for Christmas a few years ago. Last year I decided to place them in the tall "lantern" that I bought at a charity auction. It's a totally different presentation, provides vertical color, and a great focal point.
TIP: Vertical color and texture can be just as impactful as items laying flat. It draws your eyes up.
TIP: If you have clear or other colored Christmas balls that would work for spring, consider using them or mixing them with newly purchased ones.
Now, I've used the glass balls in a different way. I placed a bunch of the glass balls in my silver Nambé tray. I like the contrast in texture and shape with the glass vases. This approach creates lots of interest and a great focal point. I'll show you more of the coffee table in a minute.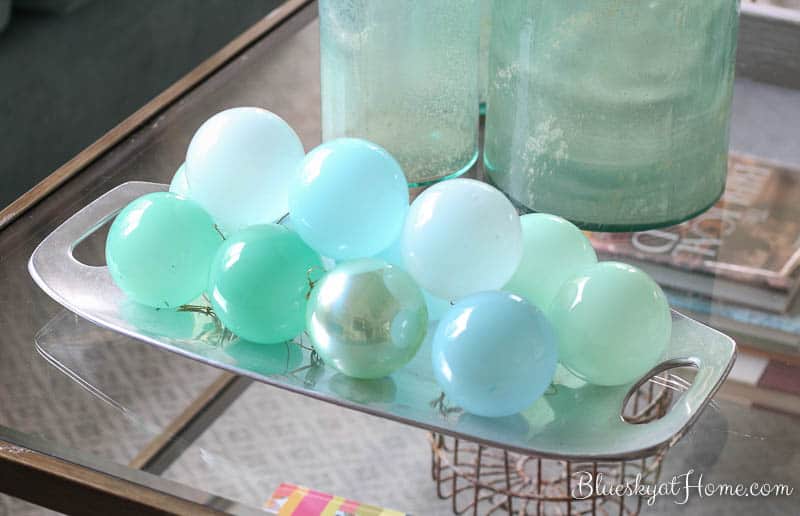 FLOWERS
Can you live without flowers in the spring? I can't. Sometimes I leave the 3 glass vases empty and sometimes I use real or faux white hydrangeas in them.
TIP: Remember to cut flower stems at a diagonal and dissolve the flower food that comes with most flowers in cool water. I try to change out the water at least every other day.
Bright pink roses add a pop of color in a wire and glass container on an end table.
TIP: If the outer leaves of roses are starting to wilt or turn brown, just pull them off.
I opted for white faux peonies on the mantle.
Do you remember when artificial flowers looked so fake that you wouldn't dare use them for home decor? Well, that aversion has changed in the past few years with newer production methods and attention to detail.
When I saw the faux flowers at Pier 1, I couldn't believe how realistic they looked. Turns out that they are hand~painted, which gives them such a natural look and feel.
PLANTERS
Pretty planters can serve as decorative accessories also. They provide not only functionality but color and texture.
I have been searching for new planters to replace these brown ones (I'm not a "brown" person, except for hardwood floors and antique furniture.) in front of our fireplace.
Finally, perseverance paid off and I found just the right ones at At Home. So much better. This soft green color fits perfectly in my spring color scheme.
TIP: Planters come in all textures and materials: metal, ceramic, terra cotta, and wood; when selecting a planter, think not only about size and color but also texture. How will the shape and texture complement or contrast with the plant? I think the color of the planter should be a different color or tone from the plant.
The planters on the mantle are also new. I found those at Tuesday Morning. And fortunately, there were 2 of them.  I wasn't looking for planters at the time, but I thought they were so pretty that I could find a place for them. The colors blend nicely with the sea glass bottles on the mantle.
BOOKS
We all know that books are used in today's decorating, not just for reading pleasure, but also for color, texture, and ambiance.
We have hundreds of books, more than I can display. A few years ago, I removed all the covers on our books on our living room bookcase. I liked the look so much better; it now looks more like a library and less like Barnes & Noble.
TIP: Group like colors of books for a more cohesive look.
When we are in Savannah almost three years ago, the lobby of our hotel had shelves and shelves of bookcases with all white or cream books ~ no covers. I loved the look and tried to emulate it.
In another way to give the bookcase a lighter look, I opted for a look that I've seen a lot lately ~ turning the pages out and the binding in.
TIP: If you want to keep the covers with the books, slip the covers into the book facing the back of the bookcase. They won't show from the front of the book.
TIP: For a lighter feel on your bookcase, remove 1/3 of your books. That's what I did on the bookcase. I didn't fill in the empty space with other objects, but just let the space stay blank. This method really opens up the look of the bookcase ~ like cleaning out too many shoes in your closet.
I'm constantly rearranging our bookcase. After I repainted it last year, it has a lighter look that I'm much happier with. There is nothing new on the bookcase, just rearranged items.
On our coffee table, I removed the covers from 3 hardcover books that sit inside a tray. It turned out that they all had white hardcovers. I cut off a piece of heavy twine and tied the books together. This is one of my favorite book looks in the room.
TIP: Tying books with ribbon or twine adds a vintage look for little money or effort.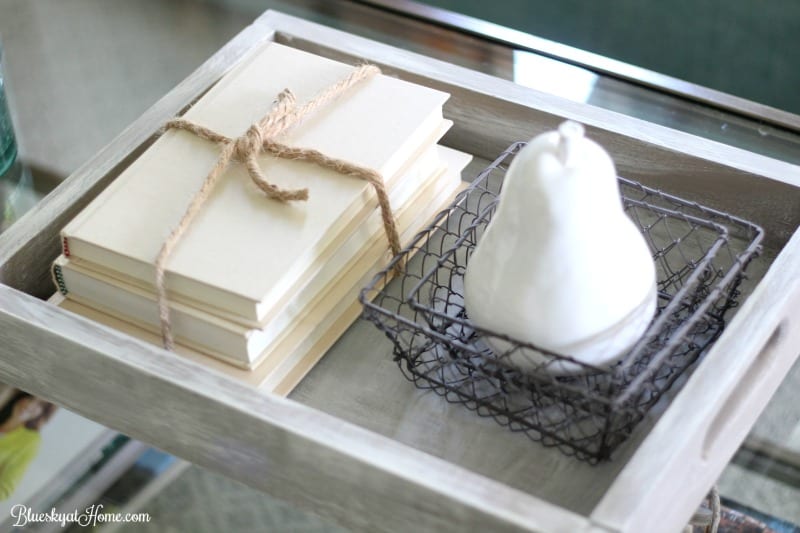 WHITE FOR POPS OF COLOR
I love the blues and greens in my spring decorating accessories, but nothing "pops" like bright white against darker colors and textures.
On the bookcase, after removing about 18 books, I left much of the space open. But to add that pop, I added some white pieces in random places. The white provides a needed contrast against the matte texture of the painted shelves.
This planter started life as a terra cotta color and I painted it with white chalk paint. It has a rustic, weathered garden look. I covered three styrofoam balls with moss for some contrasting green.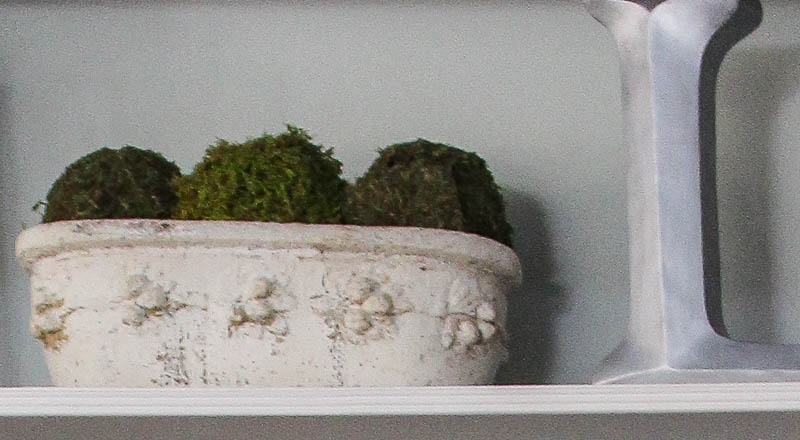 This jar is one of a pair that I also painted white and topped with a moss ball.
And finally, this ceramic jug is a flea market find.
These white pieces are what's on the bookcase now, but check back in a week and I probably have moved them around and added others.
TIP: Layering textures in your spring accessories ~ or in any season ~ gives variety and interest to your decor: mixing metals, ceramics, glass, wood, fabric, hard and soft surfaces in a natural way is much more interesting than just using the same materials.
CERAMICS
Ceramics ~ objects made from non-metallic materials ~ make wonderful spring home accessories.
You may have noticed the new planters I bought and the pear, pitcher, and bowl are all ceramics. They all share a shiny finish, but can be made in different colors, forms and styles. Even these sweet birds are ceramic. I just think ceramic items have a place in any decorating scheme.
TIP: Flea markets, antique malls, and estate sales are great places to pick up ceramics, especially white. I have a dozen white ceramics that I bought at such places. Every white decorative ceramic dish I have (I'm not counting my pottery from Villeroy & Boch or my World Market party dinnerware.) is from one of these sources.
One of my favorite new purchases is this ceramic pale blue apple that I found at Home Goods. It was just sitting there waiting for me. I moved the little wire baskets with my little ceramic pig to the bookcase.
Now with the green glass vases, my glass balls and the wood tray, I have a mix of shapes and finishes: oblong, tall, short, square, smooth, shiny and matte.
THROWS
Spring and even summer can have cool nights. When you want to lounge on the sofa watching recordings of Fixer Upper or Grey's Anatomy, it's nice to have a light throw to cuddle under.
Throws are another spring home accessory idea that is functional but adds color and texture.
When I was in Atlanta shopping at Scott's Antique Market, one vendor had dozens of different colors of Turkish "towels". My daughter and I thought they were more like throws and we both wanted one. It was cheaper to buy two so we shared the price. She bought a pale gray and white combination and I chose this one with shades of white and camel for Sweet Shark's big chair. I love the fringe on the end.
TIP: For the price ($30 each), I wish I had bought two in different colors. Throws can be used as shawls, made into pillows (very inexpensive fabric relative to yard goods), rolled up and displayed in a basket and just look so pretty in any setting. I'll be on the lookout for more.
LAMPS AS A SPRING HOME ACCESSORY
A new lamp can do wonders for updating a spring decorating scheme. A new color, a new material, a new shape ~ any or all of these factors can bring punch and new style to a room. Personally, I love lamps; overhead lighting (unless it's a beautiful chandelier) can't match the ambiance that a lamp provides.
Another "it's not just practical" accessory, lamps can be treated like jewelry in your home. They can be very expensive, but so many options are available today in all price points that there is a lamp for every budget and style.
I've been wanting new lamps for our bedroom. I found one set of lamps and lampshades at Target and one set at At Home that I thought were possibilities and brought them both home. I set up both for Sweet Shark to consider. Fortunately, we agreed on the same set for the living room. (The other set went in our bedroom.)
The clear blue glass lamps had such an ethereal color and feel to them. Originally I set one on the sofa table and, with our pool in the background, it blended the indoors and outdoors. The silver base and inner stem and the silver finial I chose match the hardware on our T.V. cabinet.
The linen~looking shade was the right neutral color. And it was just right in scale and shape.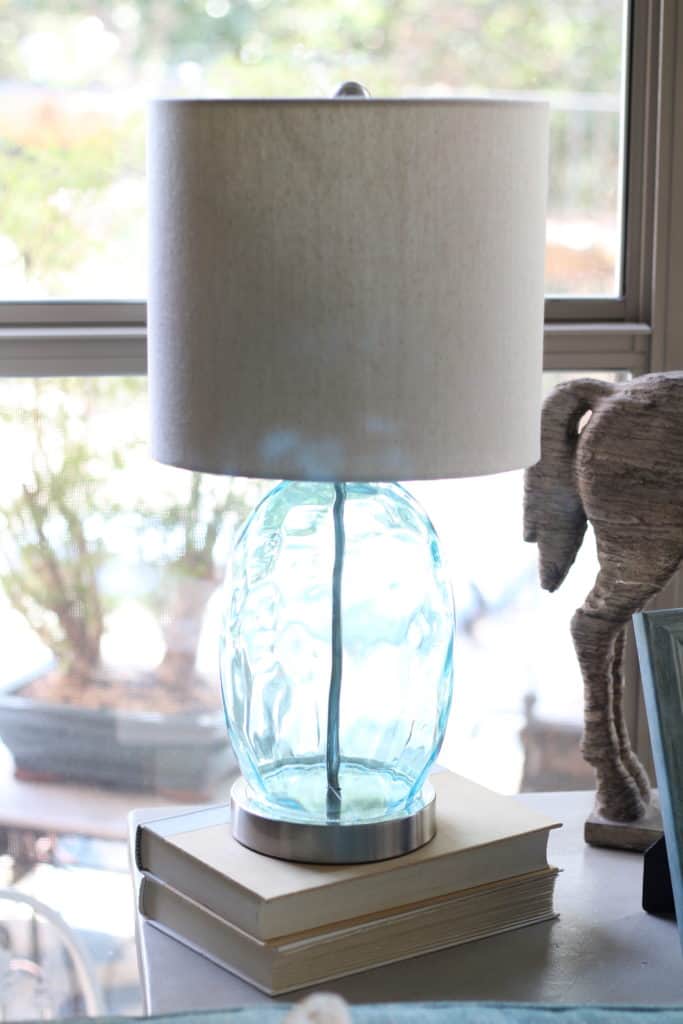 I still needed a place for the other new lamp so I used this repurposed table that I painted. Since there is not much space between the sofa and the fireplace, this small round table fits just right. And when you need to add height to anything, books are the best "risers".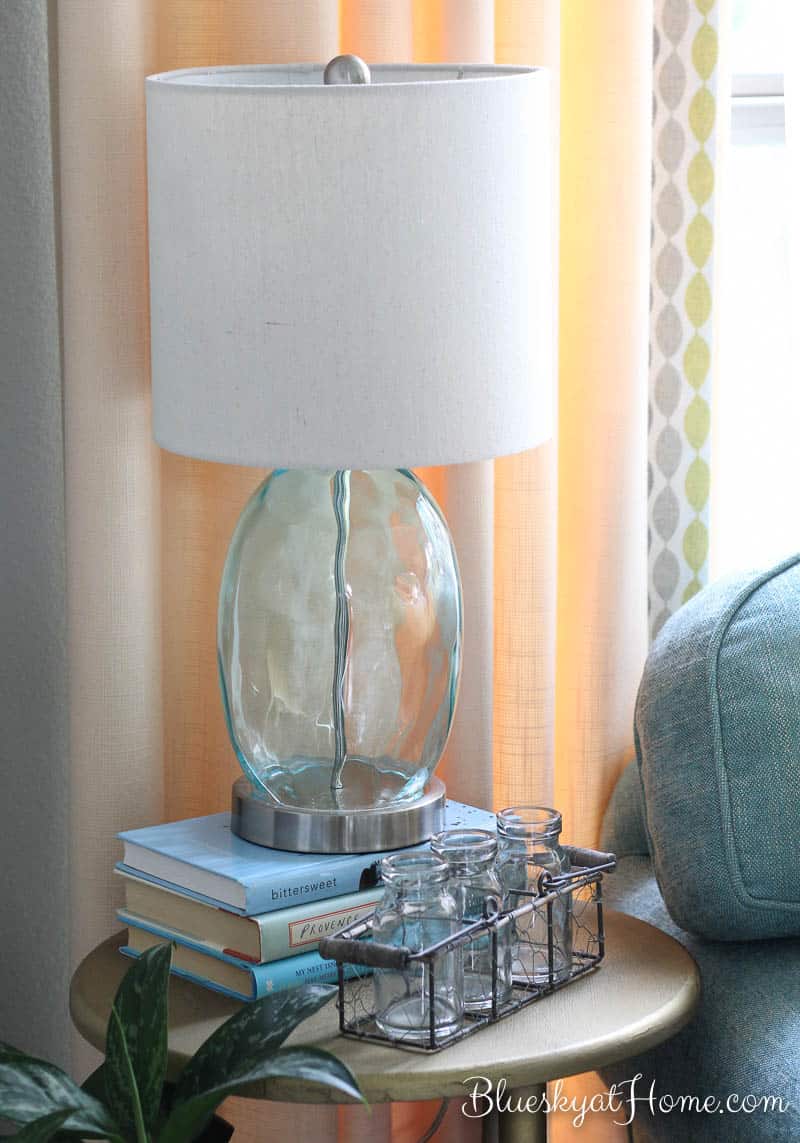 After we moved the sofa table into the breakfast room, I placed the other lamp between our two Bergere chairs. I love the new lamp so much better than the painted brass lamp that was there. I'll try to find a place for the old one upstairs.
So I gained one more lamp for the living room as well as switching out an old one for a new one. Jackpot!
TIP: When buying lamps, bring several possibilities home to try. It makes choosing the right lamp easier. Also, try different shapes of shades and finials to get just the right look.
PILLOWS FOR SPRING ACCESSORIZING
Pretty pillows, please! We all love pillows. Is there another spring home accessory idea that adds more color, texture and prettiness to spring decorating than pillows?
Here's my challenge: our sofa is a soft aqua. I love it, but it's not like I can put any color in the rainbow on it. During fall and winter, I use white and neutral pillows on the sofa. I loved them, but I was ready for a change.
See the pretty aqua and yellow pillow in the middle of the sofa? That's the one pillow that I bought in spring 2016 at Home Goods that I still love and want to use again.
Spring is calling and I want COLOR. I had looked at several decorator stores where pillows can run in the $200 – $300 range, but that just wasn't in the cards.
I've made my share of pillows, but time just didn't allow me the luxury of searching for material and sewing. Ready~made and affordable were on the agenda, but I wouldn't sacrifice color suitability, style and comfort. So I started hitting all the big box decorator stores in town. Four stops and no luck.
Finally, I made it back over to Home Goods and hit the jackpot. I wished I'd started my search here.
I found four different pairs of pillows that I thought would work ~ different shades of blue and yellow, different sizes and shapes, mostly squares, but one set of rectangles. I brought them all home and recruited Sweet Shark once again to be my design assistant.
We put different combinations of sizes, colors, and shapes on the sofa. We left a few combos on the sofa for an hour and then switched them up. Eventually, we came back to our first combination. We love this combo of two pairs for the colors, size, and texture. These pillows may be my favorite new thing in our living room for my spring decorating with accessories.
I couldn't believe how well the blue in the pillow compliments the blue in the sofa. I love the tassels, too.
The yellow in the large pillow blends nicely with the yellow of our existing yellow glass lamp and drapes. The patterns are a great contrast and both pillows have soft fabric and feather inserts so they are super comfortable.
When shopping for pillows, keep an open mind, but look for complimentary patterns, textures, sizes and colors.
Don't hesitate to bring several home to try. You don't have to make a final choice until you see the pillows on your sofa, chair, or bed. You may be surprised what you like the best. The combination we chose was not the one I liked best in the store.
Here you can see the mantel with all its spring accessories with new planters, flowers, sea glass bottles and blue candles. That small grey lantern was a Tuesday Morning find that was cream and I painted it grey with a whitewash.
Here's the view of the sofa with its new pillows and the glass vases.  It was a very bright day, but you can see the glass balls and the new lamps.
Resources
Glass Jars, Ceramic planters ~ Tuesday Morning
Glass Balls ~ Mary Cates
Lamps ~ At Home
Pillows ~ Home Goods
Throw ~ Scott's Antique Market, Atlanta
WOW! I hope you enjoyed the 10 spring home accessory ideas and the tips I shared. I loved sharing with you because it's just so much fun decorating. We are absolutely loving the look of our updated living room. I wish you could come for a visit. I may never leave.
You may not be able to visit personally, but you can PIN IT.