5 Beautiful Bedroom Makeovers ~ A ORC Round~Up
Hey friends, it's week 6 of my ORC Challenge Round~Ups and this week we're heading over and into some beautiful bedroom makeovers.
I can tell you that I'd love the chance to sleep one night in these lovely spaces. Bedrooms are so fun to design. They can be whatever you want them to be ~ sleek and modern, traditional, romantic, light and bright, dark and moody. Almost any color palette will work.
In my mind, a great bedroom has some  of these essential elements:
plush, soft bedding
good lamps with multiple light settings
nightstands with a drawer (tissue, hand lotion, reading glasses, whatevers)
comfy headboard to lead against for reading
books, a picture or two, a glass of water
fresh flowers
darkening drapes or shutters
ceiling fan
pretty art
a rug to step up when getting in and out of bed
a comfy chair and reading lamp
I selected 3 master bedroom makeovers, 1 guest bedroom makeover and 1 little girl's bedroom (because I have 2 daughters and 2 granddaughters and I just couldn't resist).
It was really hard to choose; there were some precious boys' bedrooms, but for this episode, the girls won out. Pull up a chair and get your glass of sweet iced tea and enjoy the bedroom makeovers tour.
5 Beautiful Bedroom Makeovers ~ A ORC Round~Up
Master Bedroom Goes from Dark and Drab to Divine
Caitlyn of Cait Waite Designs actually designed this bedroom makeover for a good friend (also her GYN/OB). The makeover also included the master bathroom and closet, but we'll focus on the bedroom makeover.
This light, bright room with a soft palette of cream, coral and blue fits the romantic style. Originally the room was dark, the hand~me~down furniture was dark and heavy, and the entrances to the bathroom were small and took up wall space. So what was the plan to transform this room?
Rip out carpet and replace with hardwood
Add a decorative area rug
Create a focal point by making one opening to the bathroom instead of 2
Replace dated ceiling fan with a beautiful new chandelier
Install new can lighting and bedside lamps
Paint the room a light cream
Add new window treatments (shades and drapes) to make ceilings feel larger
Replace old furniture with new
Add accessories, art by local artists, an plants
New bedding and headboard
Add a bench for seating
I love the art, the tufted headboard, the beautiful lamps and the gorgeous barn doors leading into the bathroom. This bedroom makeover succeeded in spades by creating a room that fits Caitlyn's friends esthetic and transformed the space into soothing sanctuary. Great job Cait!
Transform a Master Bedroom from Green to Gorgeous
A master bedroom should be relaxing and soothing. Can't say that the pea~green walls created that sense of comfort.
Katy of A Shade of Teal decided to tackle her master bedroom makeover in just 4 weeks and she pulled it off. With some awkward windows to deal with and some issues with the hardwood floors (previous owner mystery), the plan was clear: creating a softer palette and make maximum use of the large bedroom space. Katy and her husband painted the room when they moved into the house and the bed frame and headboard were purchased. That was all until this ORC.
Choose cozy bedding
Choose new area rug
Install new drapery and hardware
Chose larger, updated furniture ~ 2 dressers and 2 nightstands
Possibly add a sitting area with a new chair
Add new accessories, lamps and art
I love the soft color scheme of white, grey and blue. The thick shag rug must be so comfortable underfoot on a cold morning. Everything Katy touched came together to create a cozy get~away.
Cozy Window Seat Provides Focal Point
I have to admit that the transformed window seat in Kate's master bedroom is my favorite spot. It's one of the main reasons I chose her bedroom as one of my favorite bedroom makeovers. On her blog, Kate Smith Interiors, she shows how this dark, mustard yellow room became a comfortable retreat. The walls became ivory, the ceiling became blue and the patterns and textures just invited you in for a night of slumber. What's on the agenda from Kate (whose husband told her to do whatever made her happy!)?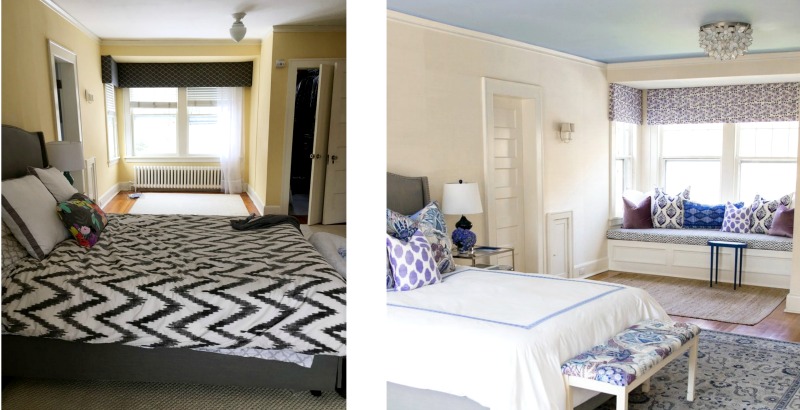 Add color with blues and ivory and small touches of hyacinth, periwinkle and violet
Repair plaster walls and ceiling
Paint trim ivory
Paint ceiling blue
Add texture with grasscloth walls and plush pillows on the bed
Add a variety of patterns, utilizing botanicals, ikats, and block prints
Create a functional seating space in the alcove (covers radiator and mis~matched flooring
Install new overhead lighting
Add new window treatments
Make a custom cushion for a new bench ~ extra seating
Paint a vintage etagere in a bright blue and style with art and accessories
Add a new mirror, lamps and nightstands
Add area rug
I would love to sit on Kate's window seat with a good book and dreamily stare out the window. All her mix of patterns and colors work so well together that you want to snuggle up. Night, night.
Guest Room Retreat Welcomes Visitors
Having a welcoming and comfortable room for company to enjoy is high on everyone's list. Extra, unused bedrooms tend to become catch~alls for odds and ends and storage. What had been a mishmash of old furniture and castoffs became an enviable space for any guest of Faith's from Design~Fixation.
There was a funky wall hiding a chimney to contend with. You may have to fight with Charlie to enjoy the room, but it would be well worth it. Faith launched her bedroom makeover after selecting a new color for the walls and ran with it.
Paint an accent wall a deep teal and the other walls white
Install shelving that flanks the chimney
Paint vintage mahogany dresser white and paint hardware gold
Buy larger bedside lamps
Hang new curtains
Order new lower bed frame
Style dresser
Buy or make new art, throw pillows
Add new curtains
Add new rug
Rearrange bed and nightstands in front of a wall with window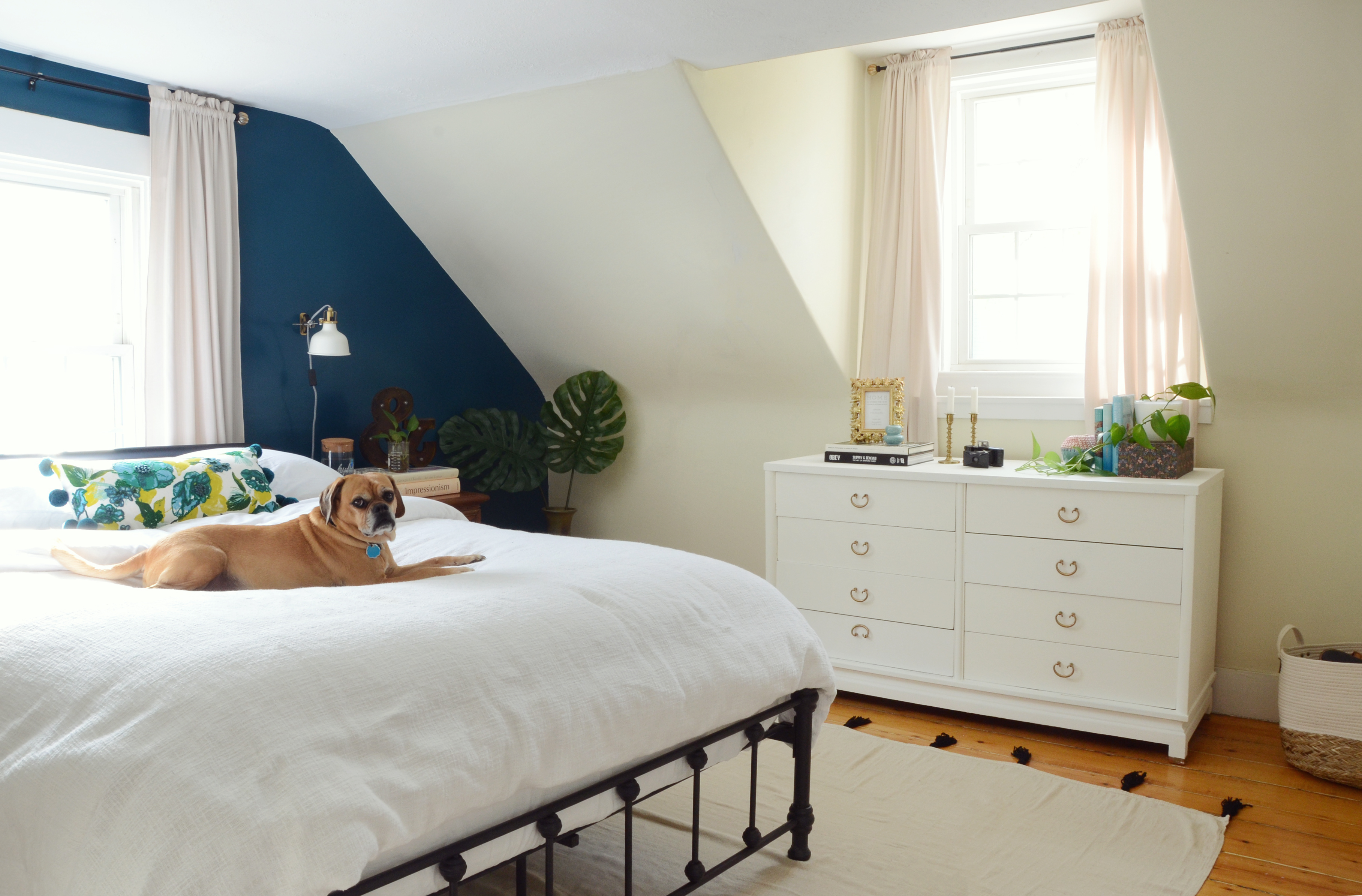 The accent wall is a real winner in this room and I love the white repainted dresser. Adding a little greenery and thoughtful toiletries for guests (a basket full of away~from~home items) brings this bedroom makeover to completion. Move over Charlie; it's nap time.
Little Girl Room Fit for a Princess (of Any Age)
This picture stopped me in my design lover tracks. If you love bright colors and patterns and art, this sweet bedroom makeover is one that will surely please.
I've helped my daughter design 2 nurseries (for each granddaughter) and then transform both into little girl rooms and I'm gaga over anything girly.
Marquin of Marquin Designs was ready to give her 3~year~old a real big girl room that would last for many years.  I can imagine the sweet dreams that all the color and art will inspire. What was Marquin's vision to make this bedroom makeover a little girl's dream?
Paint walls a soft mint green
Reuse great~grandfather's twin beds
Reuse Marquin's childhood dresser
Reuse bookshelf
Create a gallery wall from collected art and art created for the wall
New window treatments.
New bedding, including new custom bed skirts
New pillows
Add fiddlehead fern for greenery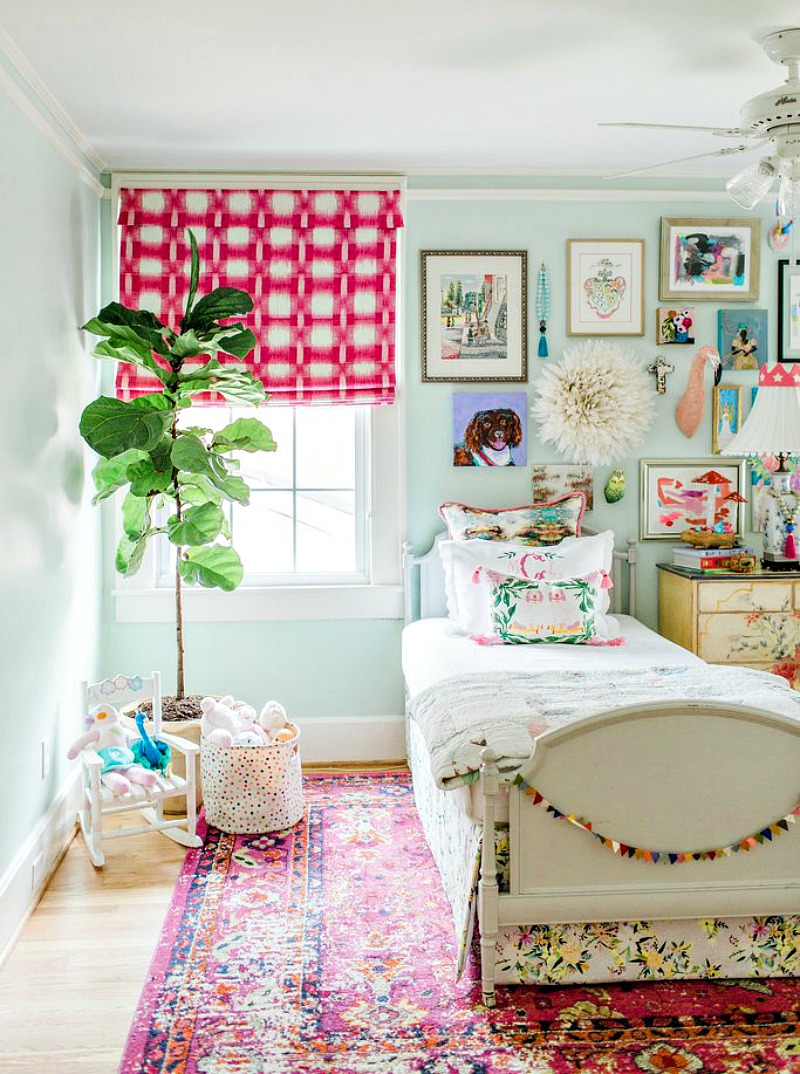 The gallery wall is the stunner here with not just new art, but art that has been collected and has meaning, such as a framed card that Marquin drew as a child. 3~dimensional art, such as a large pom~pom, and flamingo head adds a touch of whimsy. It's no wonder that art is a focal point of this room since Marquin is a professionally trained artist. I'd love to be a 3~year~old again, wouldn't you?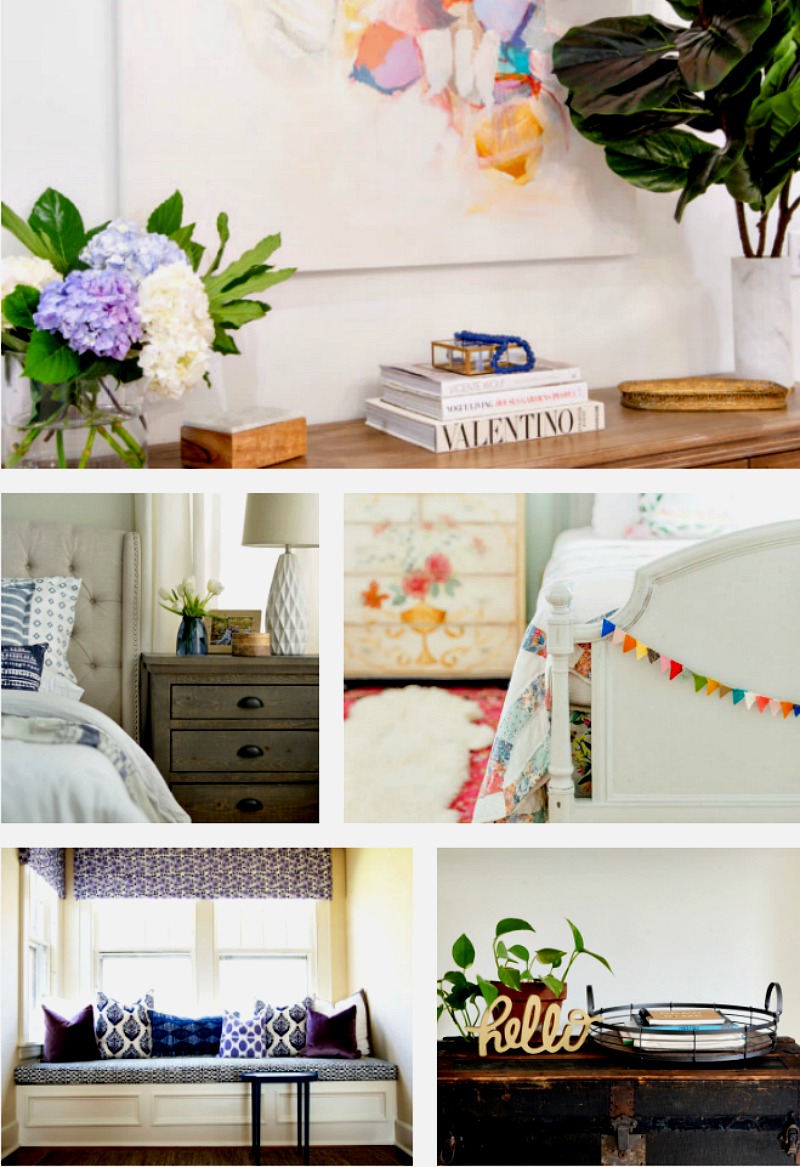 Once again, I've so enjoyed reviewing all the ORC contributors. I love reading the visions and thought~processes of other bloggers and designers. Hope you've enjoyed this episode of bedroom makeovers too.
If you've missed any of my previous One Room Challenge Round~Ups, here they are for you: Outdoor Spaces, Kitchen, Dining Rooms, Living Rooms.
I hope that you'll PIN this post for some bedroom makeover inspiration.