5 Divine Dining Room Makeovers ~ A ORC Round~Up
Last week on my One Room Challenge round~up I introduced 5 fantastic kitchen makeovers, so now it's time to step from the kitchen to dining room makeovers. I know many people these days don't use what we call a formal dining room, a separate space that is reserved for family dinners, special occasions, and holidays. Personally, I love having a formal dining room ~ if you have the space, and since several bloggers focused on making over their dining rooms for this design challenge, I must not bee the only one.
Regardless of the style of a dining room, there's something elegant about a room that has such a special purpose. If it is a separate room, the opportunity exists for creating a different design esthetic, usual different colors or furniture than the rest of your house. Each of these dining room makeovers creates a unique feel, making great use of light, color, patterns, texture and accessories.
Just as my
backyard makeovers
and the
kitchen makeovers
choices were hard, choosing which 5 dining room makeovers were my favorites was not easy. I went back and forth on a few, but those that made the final cut had 3 things in common: 1. I would love to host a dinner in the room. 2. It was light and had a natural feel to it. and 3. Each one reflected the creativity of the designer. The room had personality.
5 Divine Dining Room Makeovers ~ A ORC Round~Up
Today's my birthday so think of these dining room makeovers as my party favors for you.
French Style Dining Room Makeover
There was no doubt in my mind that Tracey of Porch Daydreamer's dining room makeover would be on my favorites list. Tracey and I met at Haven Conference last summer and sat next to each other in 2 classes. I've followed her since then and she and I have similar design styles.We both love French country style and blue. It was a coincidence that we both chose to makeover our dining rooms for the ORC. I cringed when Tracey's mirror arrived broken (and prayed the same didn't happen to me.) No construction was involved in the making of this dining room makeover, but plenty of design changes took place.
Tracey needed more seating in the dining room and she wanted a softer look. I love the casual formality (Is that a style?) of the room and it's just so darn pretty. I think I'd serve coq au vin and a raspberry clafouti (very French) for dinner and sip Chablis. Bon Apèttit.
new paint color
new table and chairs
new drapes
new mirror
new lamps
new wall art ~ both paintings and plates
painted the credenza
added a bar cart
mixed chair styles
new floral arrangements
I always try to identify my very favorite change and for Tracey's dining room was was the new painted look of the credenza. Painting gave it that softer French look. I love the plates as art on the wall flanking the new mirror (the one that didn't break). Tracey even refinished the new dining room table for a softer, warmer look. Mixing the styles of chairs creates a more casual, comfortable feel. And the bar cart invites guests to start the meal with an aperitif and linger for an after dinner drink. Wish I could join her to enjoy this lovely room.
Modern and Traditional Mix
When I first saw the before picture of Kati of Kati Kleimola's dining room, I wondered what she was going to do with the wall paper. I loved the beautiful arch between the dining room and the living room, but that wall paper? Obviously, Kati didn't wanted it either, so that was a first strike at her dining room makeover. The room was dark and felt like it was in a time warp. On the positive side, this room seems really large and boasts a big picture window which should bring in wonderful natural light. The dark hardwood floors and the dark stained wood trim made the room seem really heavy and dated.
Here's what Kati did to transform her dining room:
moved the piano out of the room
removed the wallpaper
painted the room light cream ~ Fresh Cotton by Valspar
new modern light fixture
new airy drapes
added display shelves
added colorful accessories ~ flea market and inherited goblets
new rug
painted existing hutch
painted original artwork (Kati is a fabulous artist and you should see her portofolio.)
As you can see by the after photo, it's now a light, bright space with fun colorful accents. Now the very traditional dining room table and chairs contrast with the modern surroundings to give the space a sense of timeless spark. I love that now the dark wood trim, instead of feeling heavy just accentuates the architecture of the home and makes the walls seem even brighter. The wall of shelves and Kati's original artwork adds a great personal touch.  This room feels so inviting, ready for family gatherings.
Bright Pops of Color and Pattern
Linda of The Home I Create obviously loves color and she used it to create a bright, happy dining room. She actually transformed her living room and dining room because they are connected, but we'll focus on the dining room. What attracted me to this dining room makeover was the wonderful use of color, pattern, and texture. Linda mixed patterns and texture in the drapes, cushions and pillows but pulled them all together by color ~ specifically blue and white and pops of orange and yellow. Although she kept most of her original furniture, it all looks fresh and new. It's fun to buy new things for our home, but repurposing gives a great sense of satisfaction. Moving accessories around makes them seem new.
painted existing (flea market find) bamboo dining room chairs white
custom chair cushions in blue velvet
new pillows for the bamboo chairs
new chandelier
new drapes
painted new drapery hardware gold (originally silver)
reused dining room table and chairs
new slipcovers for dining room chairs
reused hutch and artwork, candlesticks and mirrors
added art and centerpiece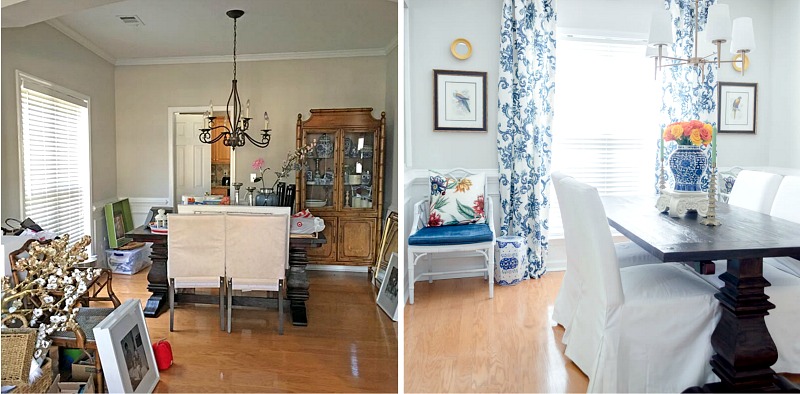 I absolutely love Linda's choice of pattern on the drapes (We both chose gold and lucite hardware!) and how it works so well with the blue and white vase on the table. The flowers in the vase bring out the beautiful colors in the floral pillow fabric that Linda chose. Linda and her family had only lived in their home for 3 months when she started work on the dining room, which had been serving as a storage area for boxes and unpacked items. Now its a light~filled space any family would enjoy for special occasions and entertaining.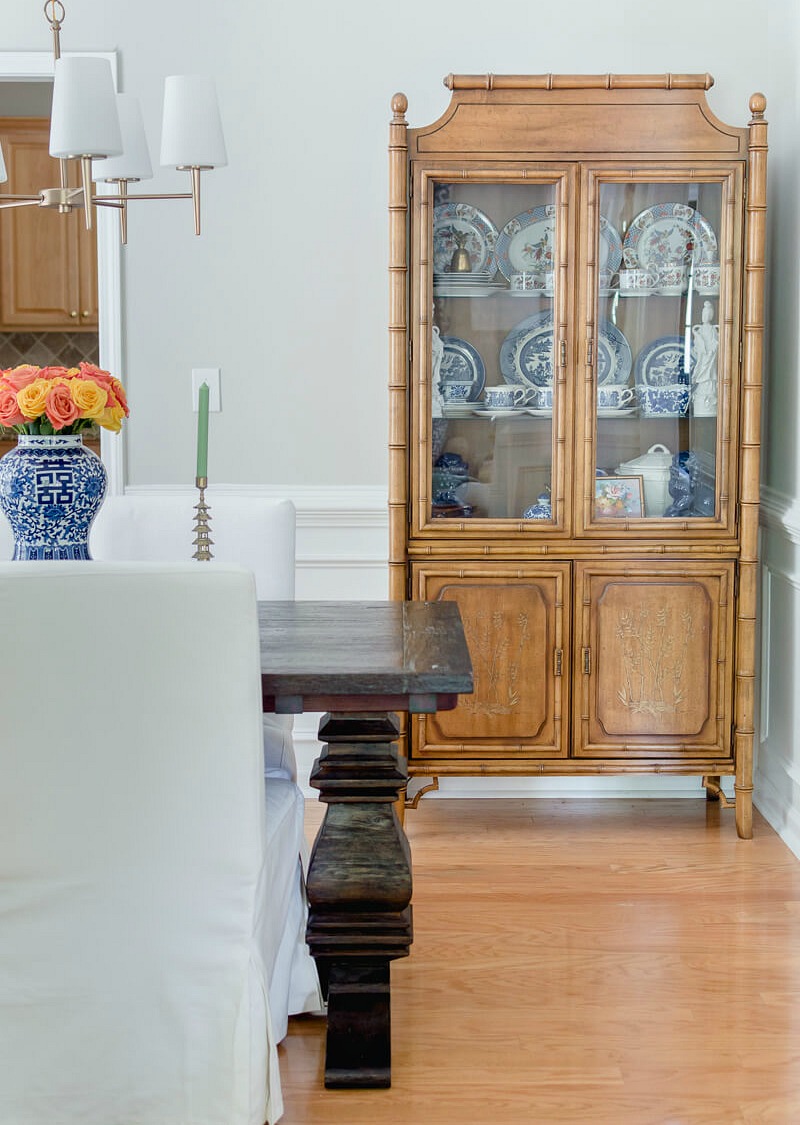 Blue and Green Blends for Funky and Fun
Teri at TMoreHome is a whiz at DIY projects. This girl can put up board and batten, hang wallpaper, and paint furniture. My kind of girl. As you can see in the BEFORE picture, the dining room has a very traditional (yawn) style and didn't reflect Teri's fun personality. By infusing a little farmhouse with color and pattern in the wallpaper and art, she's created a space that is uniquely all hers. It's another bright, light space that pulls you in for gathering.
Here's what Teri did to make her dining room makeover a reality:
painted the walls
removed the original wainscotting
added high faux shiplap to the walls (check out how she did it in Week 3.)
wallpapered above the board and batten. (She has a tutorial.)
painted bamboo chairs black (originally green)
reupholstered captain chairs
painted sideboard
hung new mirror
restyled sideboard as a bar
hung new scones
rehung painting (from horizontal to vertical)
installed new light fixture
added new runner (scarf), dishes and placemats
made new drapes
hung plate rack
Teri kept her budget in mind throughout this project. The art that inspired the color scheme of blue and green carried over to the navy chairs and the green stripped wallpaper. What a fun space to enjoy a meal with friends and family. I can just hear glasses tinkling and laughter from guests. Cheers!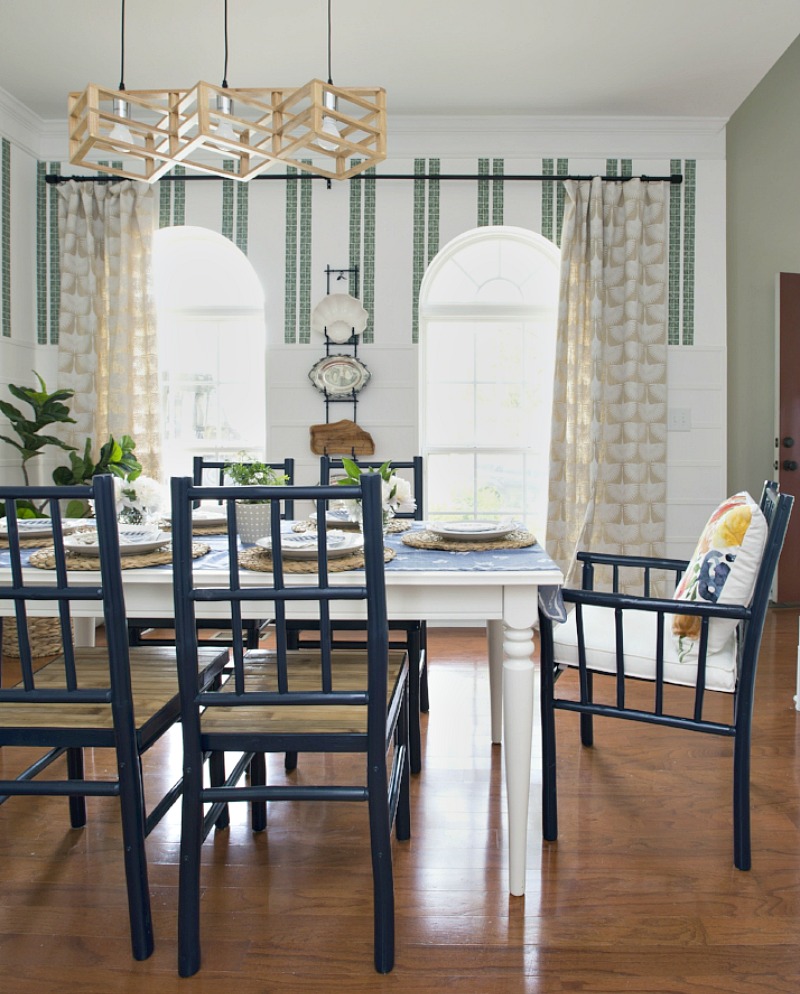 Light Bright Farmhouse Family Dining Room
Lindy and Justin are a husband and wife duo who combined hard work and an artistic talent to create this farmhouse inspired dining room. Together at Home as Art, they share their love of design, art and DIY. With 4 kiddos in tow, a functional dining room for family gatherings was needed. Functional means a table and chairs, but they wanted a space that reflected their personalities and design style. The dining room makeover transformed the space to light, bright with farmhouse touches. Here's where the hard work came in,
painted the dark wood ceiling white
painted the walls white
repurposed a reclaimed bench into a shelf
added a new mirror
accessorized the shelf/bench
sanded down black~painted beams around entrance to dining room
removed angled pieces from beams
re~stained beams a natural color
added new buffet
added Lindy's original art above buffet
made a new stained top for the dining room table

As a couple this dining room makeover was truly a labor of love. The dining room now fits more the style of their home and live style. They have a great video sharing the process which I urge you to watch. Although they live in California, this dining room has a easy, comfortable Southern vibe to me that welcomes you to come in and sit a spell. I think I will.
That completes One Room Challenge Round~up number 3. Once again, I love all the fabulous talent and creativity I'm seeing that I can share with you. It's so fun to get to know these other bloggers and learn from them. I hope you have enjoyed these dining room makeovers as much as I do. Here's a few more zoomed~in shots of some special features.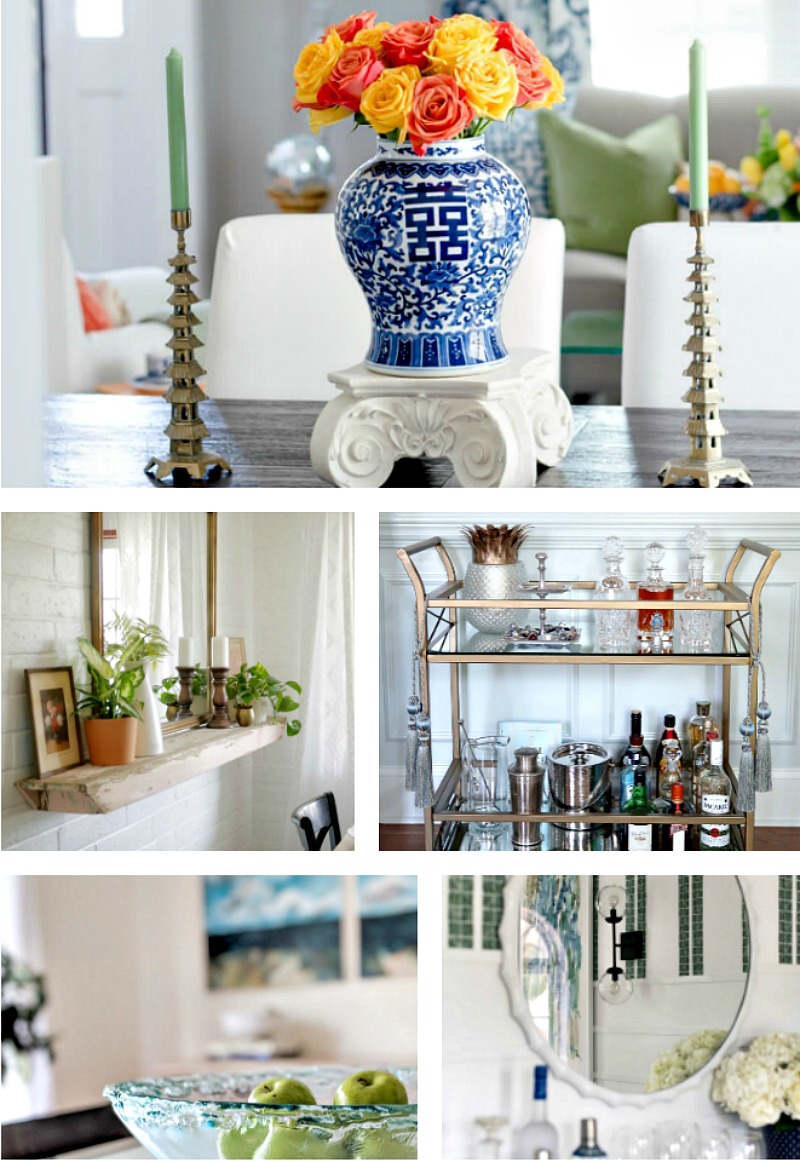 Top ~ Floral Centerpiece with Blue Vase and Flea market Candlesticks from The Home I Create
Middle Left ~ Repurposed Chippy Shelf from Home as Art
Middle Right ~ Bar Cart from Porch Daydreamer
Bottom Left ~ Beautiful Glass Bowl and Original Art from Kati Kleimola
Bottom right ~ New Wallpaper and Mirror Above Bar from TMoore Home
In case you missed my dining room makeover, here it is.