7 Creative DIY Backyard Makeovers to Inspire You
As soon as spring arrives, we start thinking about summer and spending more time enjoying the outdoors. We start visualizing great patio and backyard spaces. So let's look at 7 amazing and creative DIY backyard makeovers.
Backyards can be big, small, or in~between. They can have lots of yard or covered entertaining areas. With pools or without. I actually started looking at backyard makeovers because that's the area I always want to look pretty in the spring and summer.
Summer of 2019, we decided to plan a major backyard makeover for 2020. Well, you can guess what happened. Today, with a new puppy in our midst, we've decided to put off the major redo until next spring.
But that doesn't mean that I'm not still looking for ideas for our backyard. I'm constantly dreaming and imagining what a new backyard plan will look like.
Here are 7 awesome DIY backyard makeovers that will give us all some inspiration for any summer.
Before I share my favorite backyard makeovers, I wanted to share the criteria I used.
I tried to find backyard spaces that fit my style esthetic and have been truly transformed in terms of function, practicality, beauty, and creativity. And great DIY efforts counted, too.
Whether you just like to see pretty backyards and patios for the fun of it (You probably wouldn't be here if you didn't.) or you need inspiration and ideas for your own future makeovers, I hope you'll continue to enjoy this Saturday series:
Ideas for 7 Creative DIY Backyard Makeovers
Most backyard spaces need a place for sitting and visiting and a place for outdoor relaxation. 
All 7 of these backyard makeovers did just that. All started with very different spaces, some small, some large, some wide open and some constrained by existing structures (a house), fences, roofs, foundations or air~conditioning units. All overcame these challenges to create a beautiful and relaxing backyard.
BRITTANY GOLDWYN'S TINY BACKYARD MAKEOVER
When you have a small backyard, every foot counts and space has to be used wisely. Brittany of Brittany Goldwyn had several issues to overcome with her backyard makeover:
exposed air~conditioning unit and electric and water meters
no patio for entertaining or dining
no place for plants
no lighting
As you can see by the BEFORE picture, the area was originally pretty devoid of charm or functionality. But what a change in this backyard. Here's what Brittany did:
built an attractive screening fence to hide the air~conditioning unit and meters
laid a patio foundation with rock surround to create a covered dining area
created places for hanging baskets (check out Brittany's DIY), hanging pots for herbs and vegetables
added string lighting for nighttime (be sure to see how pretty that looks)
added a swing for baby and cat perches
The backyard makeover created a very useable and functional space in a small area. It has a clean, minimalist vibe that is full of greenery. I love the contrast of woods (light and dark) and the creative ways Brittany added green plants vertically to contrast the horizontal fencing and siding and make the most of the space she has.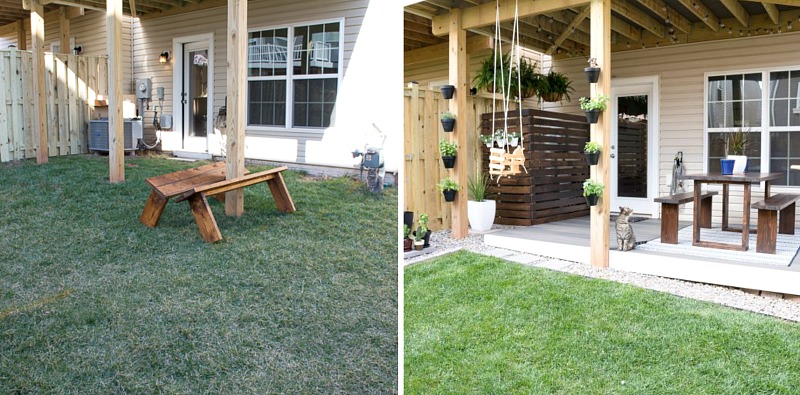 If there is a show for tiny houses (oh, I forgot, there is), there should be a show for tiny backyards and Brittany should be on the first episode.
THE ASPIRING HOME BACKYARD MAKEOVER IS A WATER RETREAT
Joy of The Aspiring Home was a Houstonian who survived Hurricane Harvey. That's not why her pool and backyard kitchen makeover is one of my favorites. It's because she created a beautiful retreat that any family would love to enjoy with family and friends.
Necessity was the reason behind this backyard makeover. If you have ever had a swimming pool in your backyard (I've enjoyed 3 pools in 3 homes I've had.), you know that maintenance is a constant concern. Joy's backyard makeover included:
replacing deteriorating tile and coping
replacing the pool plaster
adding fountains
replacing the decaying patio decking with large pavers
updating and repurposing planters
removing old plantings and broken urns
creating conversation areas
updating the outdoor kitchen with new counters and paint
adding new furniture, art (check out the turtle picture), and accessories
This makeover was a major project. With our Texas heat, I'm sure this beautiful pool and entertaining area will get a ton of use.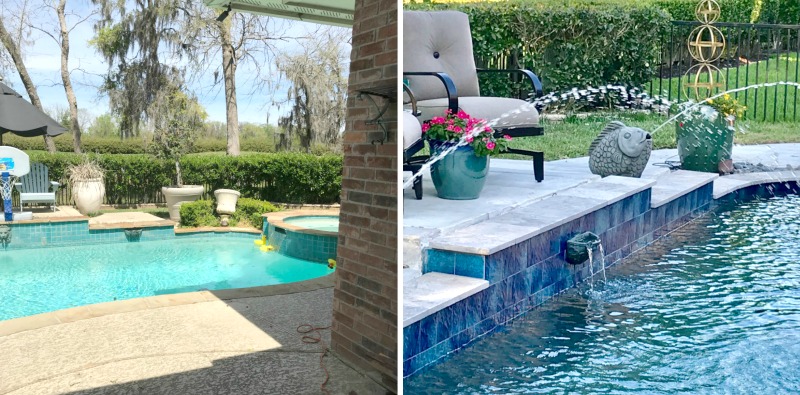 Joy moved recently to North Texas and lives about an hour from me. I'd love to see what she has done with her new home.
LONG AND NARROW SIDE YARD BECOMES AN OASIS FOR DINING AND RELAXING
Sometimes our backyards are our side yards as was the case for Jaclyn Harper. This space couldn't be used for outdoor dining or entertaining.
The BEFORE picture shows the small area next to the house and a long grassy area next to the rear of the house which made for a real design challenge. It really was an unuseable space.
As you can see in the AFTER picture, Jaclyn now has both a lovely designated dining space and a sitting area that beckons guests to the back of the yard. In this backyard makeover, here is what Jaclyn did:
replaced the broken concrete pavers with a new concrete patio that is attractive and safe
added a concrete foundation to the back of the yard for entertaining
added a dining room table and chairs for outdoor
created a grilling area for outdoor cooking
added a sofa, lounge chairs and tables for an outdoor sitting area
added a large umbrella for shade
hung string lights for nighttime lighting and ambiance
added accessories, such as pillows, blankets, plants, lanterns and candles for ambiance, color and interest
In the beginning, the space was not where you wanted to spend time, but now it's a lovely place with designated areas to entertain and dine.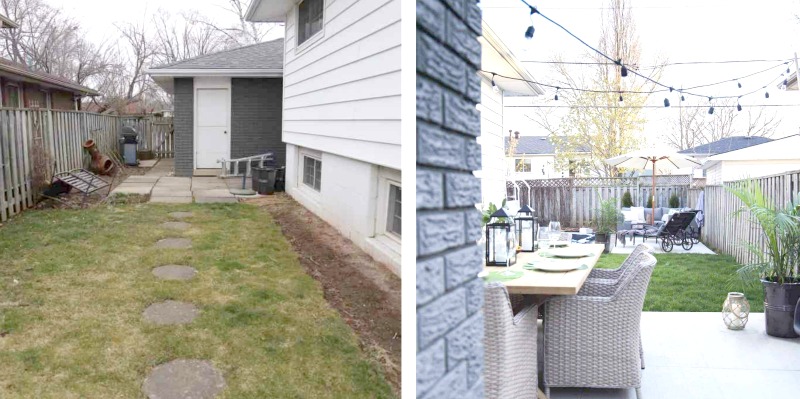 BACKYARD REDO FROM A ~ Z
Have you thought about hiring a professional to do a remodel or makeover for you? With the exception of one bad experience, we have had good luck.
When Sarah of Room for Tuesday and her husband decided it was time to give their backyard a total upgrade, they intended to hire out, until they couldn't find the right contractor and the price blew them away.
Doing the work themselves and spending "300+" hours, they had the backyard oasis of their dreams. It included:
Pergola or some sort of shade structure
Paver patio to break up the grass
Nice landscaping
A fire pit
Built-in seating under the structure/pergola
A new privacy fence to keep the dogs safe
A sprinkler system 
Sod 
This backyard makeover really should be on HGTV. It's an inspiration for anyone who wants to do the work 100% themselves.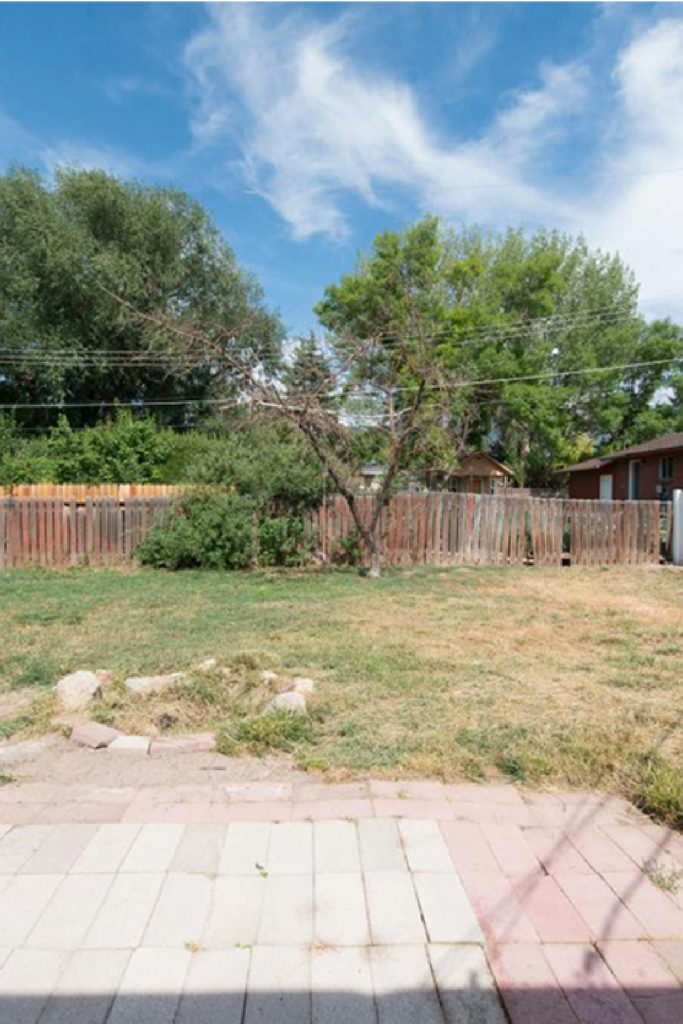 LARGE BACKYARD MAKEOVER CREATES A MULTI~FUNCTIONAL FAMILY OASIS
Ever think you can have too much space?
This huge backyard not only wasn't very pretty, but it didn't provide for the different needs of the family. What it did have going for it was a gorgeous tree that provided a focal point as well as great shade.
On the negative side, a barren dirt area surrounded the tree and an outbuilding wasn't inviting. Without designated spaces for dining, entertaining or family activities, the space was wasted and unused.
As Andi of Happy Day Andi explains, this backyard makeover was a HUGE undertaking. Andi had to stop for winter and take up the project again in the spring. There are so many elements in this makeover that you have to go see the transformation.
Ready for the to~do list:
finish sprinkler systems and drip irrigation in planter boxes around new patio
lay new sod
finish patio area with dining tables and chairs
finish outdoor eating area
build pergola around the "shed" to create the outdoor kitchen
install tile around kitchen bar
install appliances in kitchen bar
install the fire pit
add lighting to patio and kitchen bar area
This very challenging backyard makeover resulted in an area perfect for parties that puppies can enjoy too. I can imagine how much fun it will be to entertain here. This major backyard overhaul has to be admired for the sheer amount of work that had to be done and how well it was completed.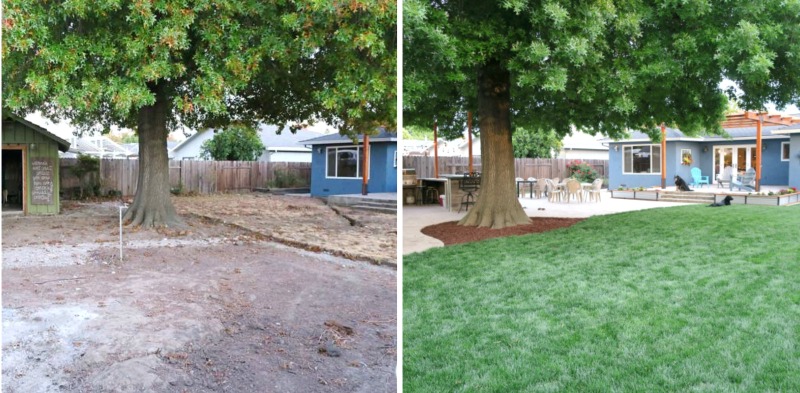 A BACKYARD RETREAT IN THE MAKING
Creating a major backyard retreat is a major undertaking. It can take months of initial construction and then a few more years of more plantings and tweakings.
Jenna of Jenna Sue Designs and her husband have been doing just that for the past few years. It definitely has been a labor of love. I wanted to show you the beginning of the makeover ~ she calls it the riverside retreat.
This backyard project included:
cleaning up the tiles on the patio and stencil them
adding a path to a new firepit
creating both a eating area and a dining area
adding lights
adding landscaping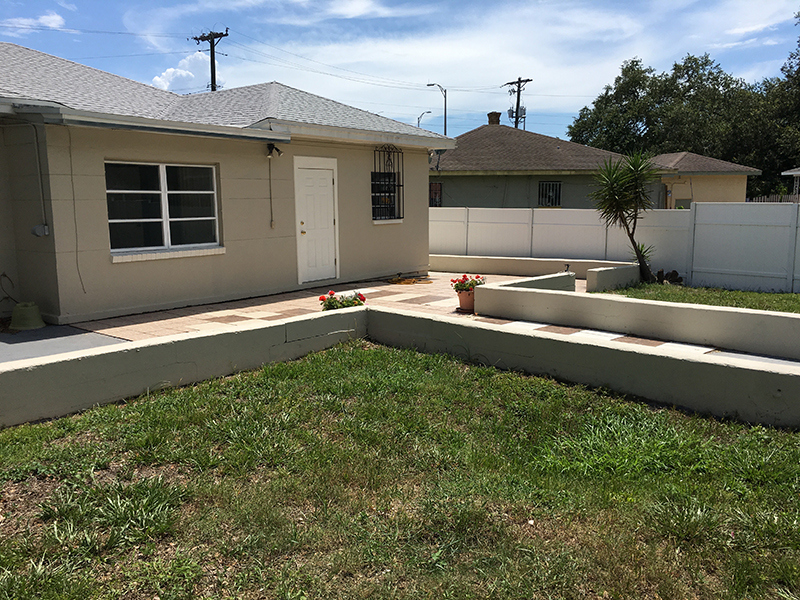 PLAIN JANE COVERED PATIO BECOMES A WELCOMING ENTERTAINING SPACE
This backyard makeover by Becky of Dalydigs had good bones and nice size to its credit. With fresh paint, beautiful furnishings, and whimsical accessories, it now has both designated seating and dining areas and a palette that lures you outside.
The soft green and cream color scheme and the comfortable seating attracted me. The space has a very organic feel with lots of wood (the coffee and dining tables) and greenery. A hanging swing chair not only provides an additional seat, but adds rounded form to the straight lines of the other furnishings.
Here was what Becky's completed:
cleaned the brick
added new sconces and ceiling fans
installed a wood ceiling over the drywall
painted the exterior wood trim on the doors
cleaned and painted the concrete floor
selected and ordered furniture for the seating and dining areas
planted herbs and succulents
designed and arranged the rugs, furniture and accessories
hung the swing chair
I love the soothing, relaxing feel of this patio space. Its simple palette packs a big punch of rustic modern design, which is the look Becky was after. What a great place to enjoy a glass of wine with friends.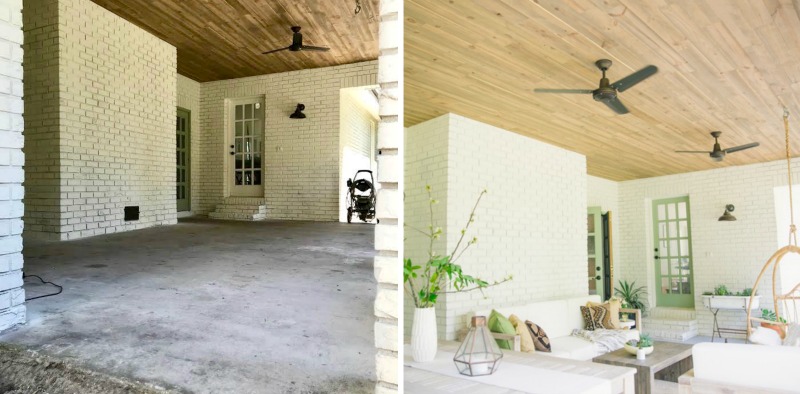 AND THAT'S A BACKYARD WRAP
What did you think of my 7 creative DIY backyard makeover choices?
It wasn't easy to pick just 7, but I really think these 7 are a great representative of different sizes, colors, styles and projects to give you ideas and inspiration for your own backyard makeover. Or maybe to just enjoy the view.
Here's a few "bird's~eye" views of some of the little extras.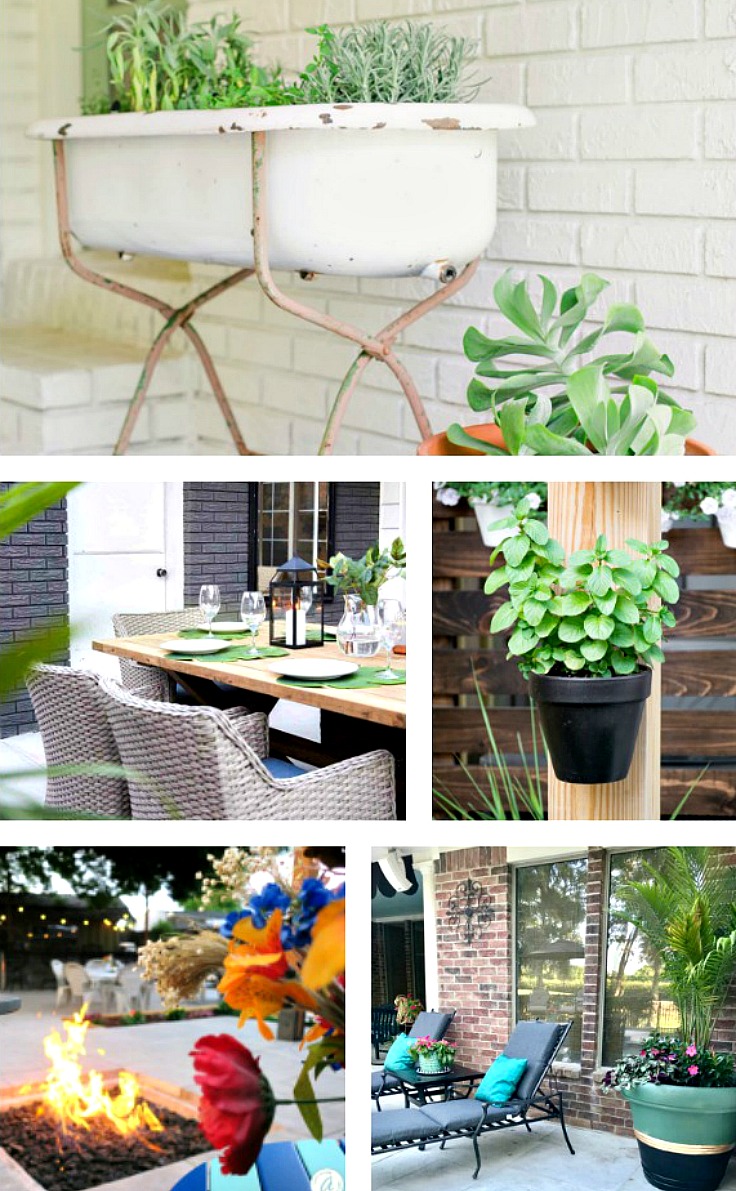 I so enjoyed showing you these 7 backyard makeover projects. There is so much inspiration. I hope you'll visit them all and Pin their projects. I've Pinned them to my Outdoor Spaces Pinterest Board.