With warmer weather on the horizon, we are all looking forward to spending more time enjoying the outdoors. So let's look at 7 inviting spring front porch ideas.
Are you ready to decorate your front porch for spring? These pretty spring front porch ideas will have you itching to add spring touches to your porch.
Whether your front porch is small or large, there is something so nostalgic about a front porch.
Sitting out front in a rocking chair with a tall glass of sweet iced tea, waving at the passing neighbor. Listening to the birds chirping in the morning from your flower~filled front porch. Enjoying a glass of wine in the evening on a comfortable porch swing.
I have a confession: we don't have much of a front porch.
No room for a rocking chair or a porch swing.
No room for a farmhouse table to place my glass of iced tea.
No room for a sign or rugs or benches.
It's the one major thing I would change about our home. I have dreams about front porches.
But I do love to drool over other people's front porches and take whatever ideas I can. Any little thing for a spring "front porch" is better than nothing.
7 Inviting Spring Front Porch Ideas
What do you think the perfect spring front porch should have?
comfortable seating
flowers and greenery
tables for drinks or a book
hanging baskets
rugs
a porch swing
pillows
accessories
I found most of these ideas on Pinterest and pinned them to my Outdoor Spaces board. For a couple of examples, I went straight to some blogger friends who I knew would have great spring front porch ideas.
Ready to see my suggestions? Let's step outside and look at all the pretty porches.
FLOWER POTS ON THE SPRING FRONT PORCH
One thing that every front porch needs is pretty flowers. The spring front porch of my friend Coco of The Crowned Goat is adorned with beautiful flower pots. Hydrangeas and petunias are the show stoppers.
The other thing a front porch needs is comfy seating. Coco uses white wicker as a love seat, table and chair.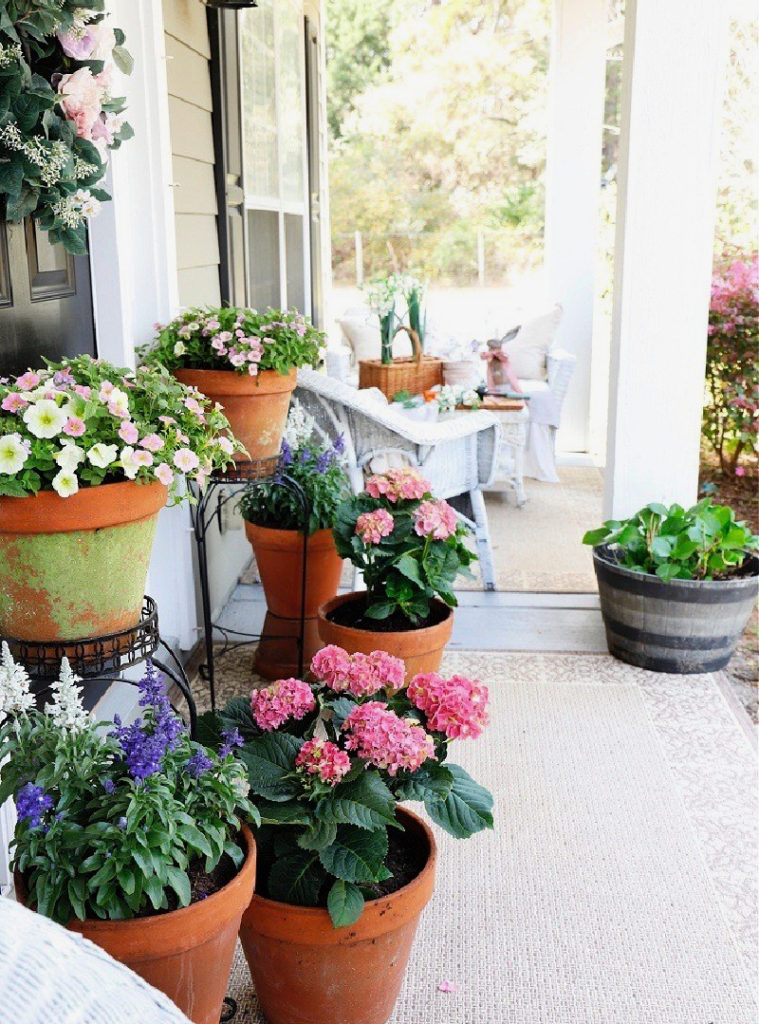 SOUTHERN COASTAL FRONT PORCH
My friend Tracey of Porch Daydreamer has one of the prettiest porches. Tracey and I met at Haven and hung out in Charleston one year.
Tracey changes her covered porch for the different seasons. This spring/summer version has plenty of seating anchored by a beautiful rug. Don't you love the porch swing? All those pillows make for comfy relaxing.
Lots of hanging ferns and palms with flowers make this such a beautiful place to enjoy from morning with coffee to evening with wine.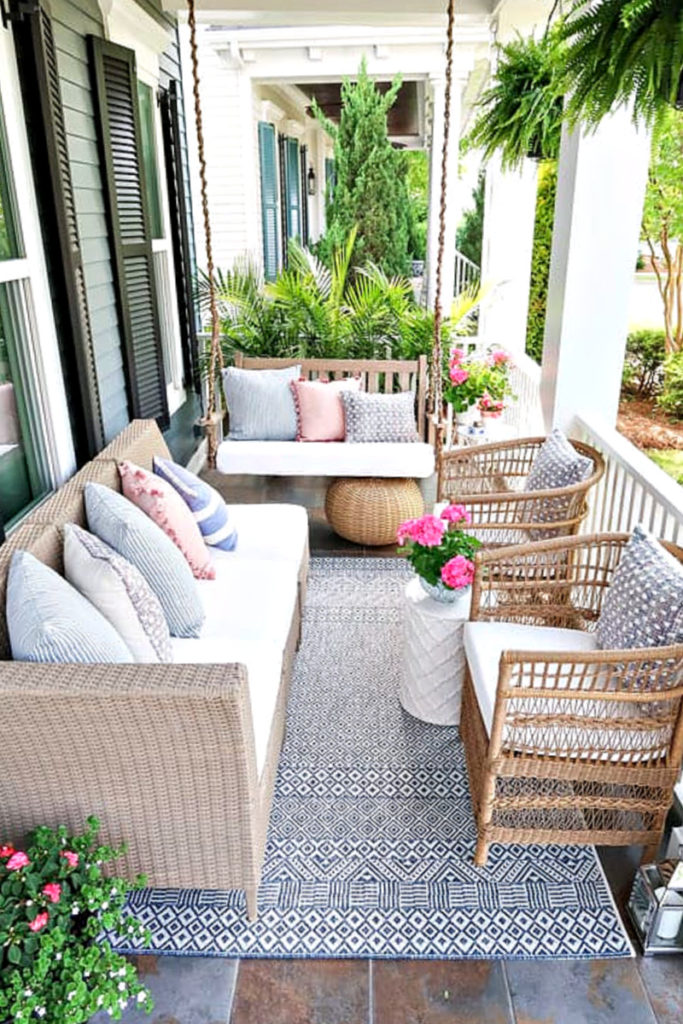 ROCKING CHAIRS ON THE PORCH
Two simple rocking chairs on this spring front porch welcome you to "sit a spell" (Southern saying). This spring front porch from Beth of Home Stories A to Z gets its interest from the pop of blue.
Touches such as rugs and pillows give a front porch a warm and welcoming feeling. Add the pop of blue in the side table and this porch feels like an outdoor living space.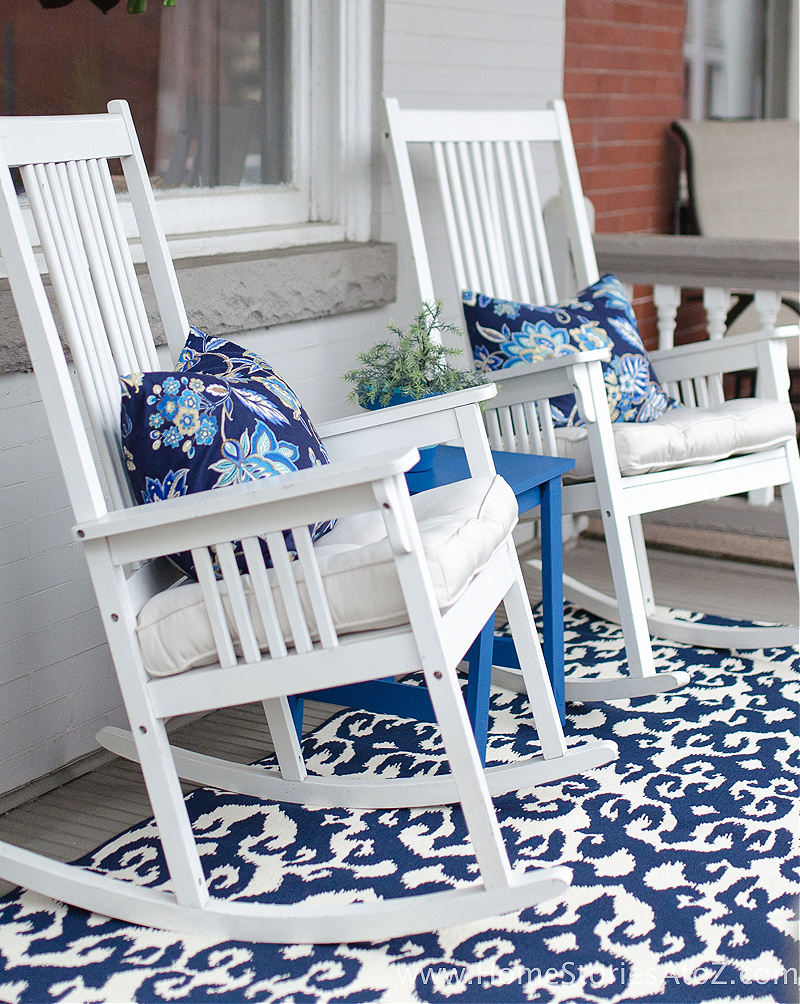 FARMHOUSE TOUCHES AND A PAINTED DOOR
This is one big front porch. The size allows for pieces of furniture that give it a lovely "living room" feel. The first thing I notice is the beautiful blue front door. It's a showstopper.
What gives this spring front porch from Susan of Saw, Nails and Paint warmth is the addition of a small dresser. The galvanized pails and watering cans add a great farmhouse vibe.
A door hanger also adds more interest to the door as well as a pop of color.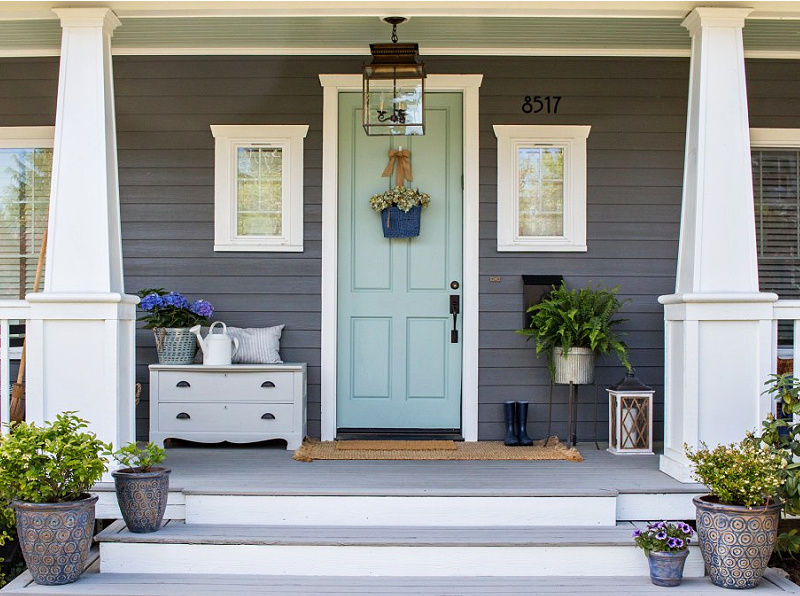 VINTAGE VIBES AND PATTERN
Mixing patterns and colors outside is just as impactful on a front porch as it can be inside. I love how Heather of Southern State of Mind mixed black and white pillows and flower pots with the blue chinoiserie~style garden stool.
The vintage table adds charm and a place for more planters with flowers. The deep cushioned seats on the rattan chairs provide comfy seating to enjoy this space.
THE ULTIMATE PORCH SWING
Who wouldn't love to take a nap on a spring afternoon on this large porch swing?
Doreen of The Art of Everyday Living has created an inviting place to relax and enjoy the outdoors. I love the rope hangers. The bright blue pillows and stripe throw add to the pretty setting.
A pop of green in the plant stand adds texture and the blue garden stool a place to set down a drink.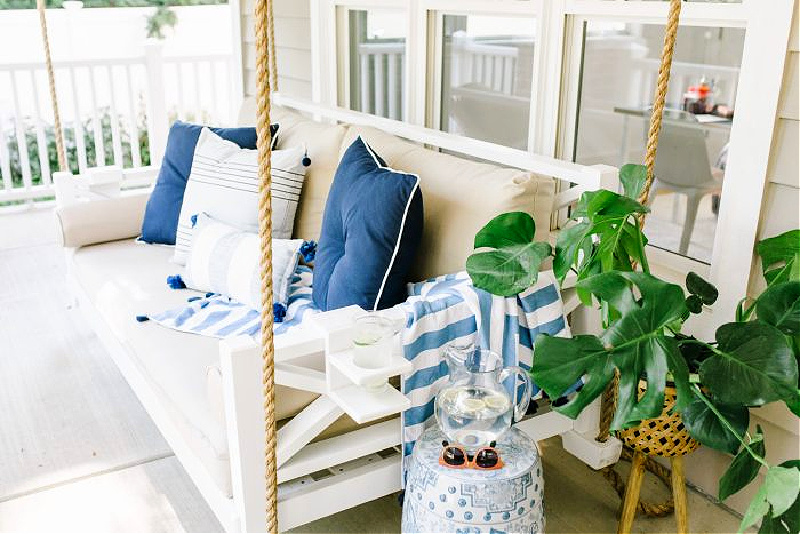 ROCKING CHAIR AND VINTAGE PIECES
Once again, seating is so important on a front porch. Ann of On Sutton Place uses a blue check pillow in her spring front porch setting.
Green ferns add natural color. The wicker table gives a place for a few vintage containers with flowers. This is such a nice spot to enjoy the front porch.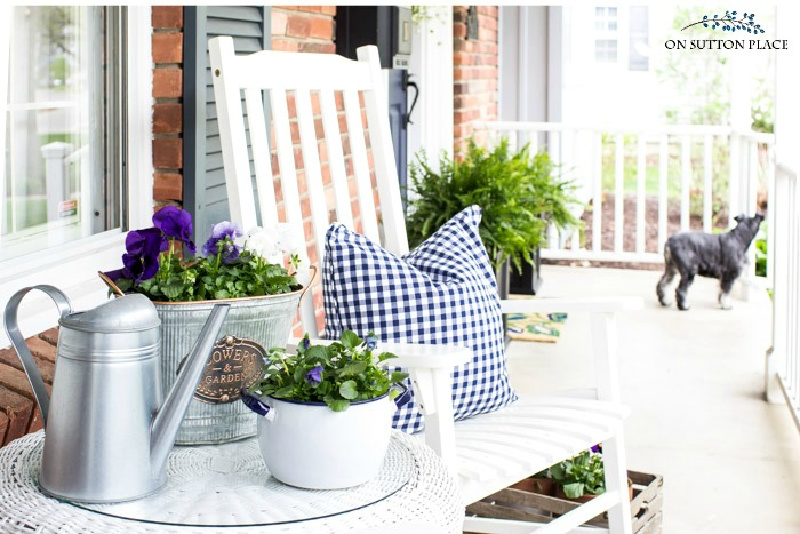 Even though we don't have a front porch, I have taken away some great ideas for our limited space. All these front porch ideas can also be used for a patio or terrace.
What ideas do you like? Have you used any of these ideas on your own front porch? Are you ready to redecorate you front porch for spring?
Don't forget these ideas. Pin this post for quick access to these spring front porches.
Enjoy your front porch.