10 Best Ideas for Using Blue in Your Home Decor
Welcome to 10 Fabulous Finds at Bluesky Browsing #34. This week I'm sharing 10 best ideas for how to use blue in your home decor.
If you love finding articles and resources that give you ideas for home decor and DIY projects or a recipe or two, you've come to the right place.
Think of 10 Fabulous Finds as a home decor/DIY/Craft/recipe Readers' Digest.
In case you are new to Bluesky at Home, what fabulous finds do I share at Bluesky Browsing?
ideas to help you in your home decor efforts
a yummy recipe or cocktail
fun DIY projects
the latest trends in home decor
a quirky new find or two
Focusing on finding new projects, resources, tips, new ideas, and inspiration for you is my main task. I'm constantly discovering fabulous finds to inspire us. My goal is to help you find ideas for your home decor, your crafting, your home organization, and anything about home.
Today is Holy Saturday. Tomorrow is Easter. I wish you a safe and joyous Sunday as we celebrate the resurrection of Christ.
Our weather has been beautiful and very spring~like. Yesterday, I made a trip to Lowes for flowers for the back yard. Today is planting day. Hopefully, we'll get some rain to get the flowers off to a good start.
Ready to see this week's fab finds?
10 FABULOUS FINDS: BEST IDEAS FOR USING BLUE IN YOUR HOME DECOR
This post contains affiliate links to products and resources you may love to have. If you should purchase anything from this site, I may be compensated, but you don't pay a penny more.
In case you missed last week's 10 Fabulous Finds, here is Bluesky Browsing #33.
Are you a new or intermediate blogger? Every week I share valuable blogging resources and tips. If you would like to receive The Blogger Bulletin, please join the Blogger Bulletin. It's just once a week and is a quick read.
ON THE HOME FRONT
I made it home on Wednesday ~although 2 1/2 hours late due to a window in the cockpit needing to be replaced. We had to exit the plane while a new one was located, luggage was reloaded, and passengers reboarded. I did have some nice conversations with some other ladies as we waited to reboard.
When I arrived in Atlanta, I took an Uber to the spa where my younger daughter is the manager and esthetician. I dropped off my luggage and walked across the street to have a salad for lunch. Then the best part? My daughter treated me to a wonderful facial. It was divine and gave us time to visit and plan our weekend.
We spent the rest of Saturday, Sunday, and Monday (including a fabulous dinner in Old Town Roswell) getting started on unpacking and organizing her new apartment. By the time she took me over to her big sister's house on Monday afternoon, every room except the living room was neat and organized. She'll have to do that one on her own.
On Monday and Tuesday, I watched my granddaughters each play a softball game and attend softball practice. The weather was perfect for spring and softball. It brought back so many memories of my kids' sports days.
On Wednesday morning I went with my daughter to Peachtree Presbyterian Church where she is the Director of Early Children's Ministry. A program for the women of the church was featuring a guest speaker ~ Ruth Graham, the daughter of Billy Graham. A renowned speaker and author, Ruth spoke on the epidemic of loneliness in America ~ the topic of her new book, Transforming Loneliness. Her talk was enlightening about this issue. I'm so glad I was able to hear and meet her.
6. This week on the blog was all about Easter living room decor on a blog hop and an easy and yummy Blackberry Cobbler recipe.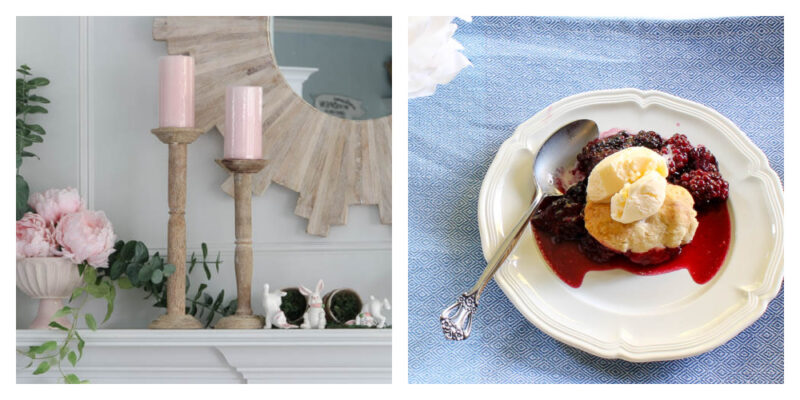 Easy Easter Decor in the Living Room| Easy Yummy Blackberry Cobbler Recipe
10 FABULOUS FINDS: BEST WAYS TO USE BLUE AT HOME
Here we go with Bluesky Browsing #34.
Let's start with some beautiful blue home decor ideas.
It's three weeks until the Kentucky Derby. When I saw this beautiful Kentucky home with blue as the main color choice, I had to share it. I could move right into this home and not change a thing.
2. Like any color, blue can be the main color or it can be used just as an accent. Beth Webb Design shows how to use blue in fabrics, accessories, or art,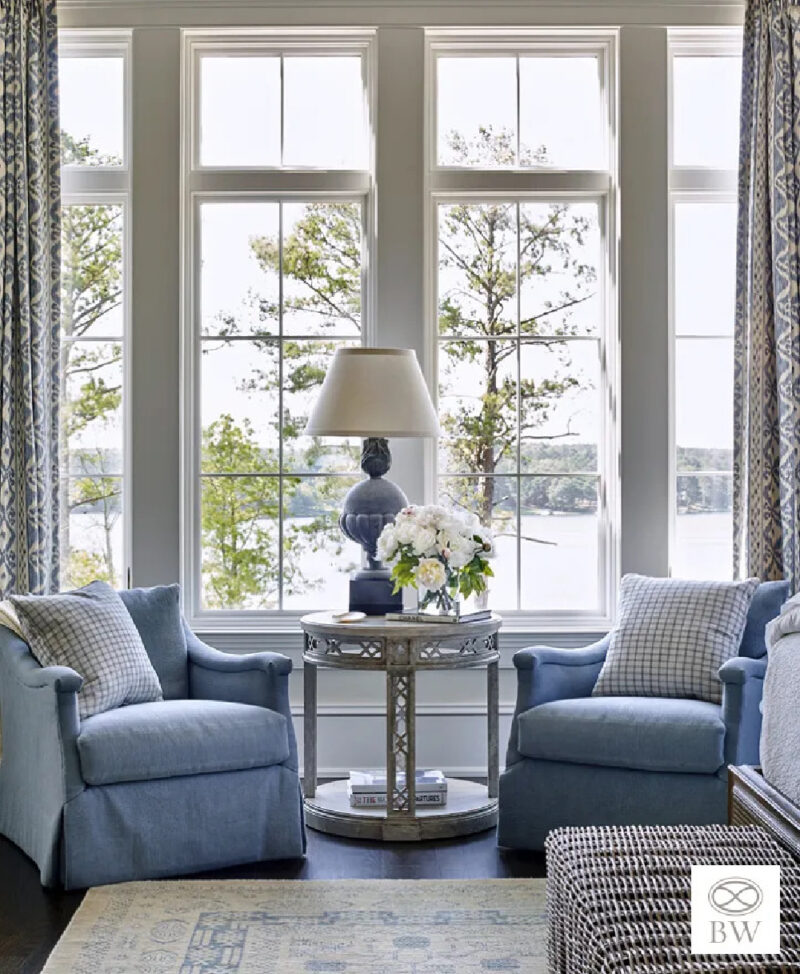 3. If you love blue accessories, you'll love how Tamara of Citrine Living uses them to style a coffee table in three ways.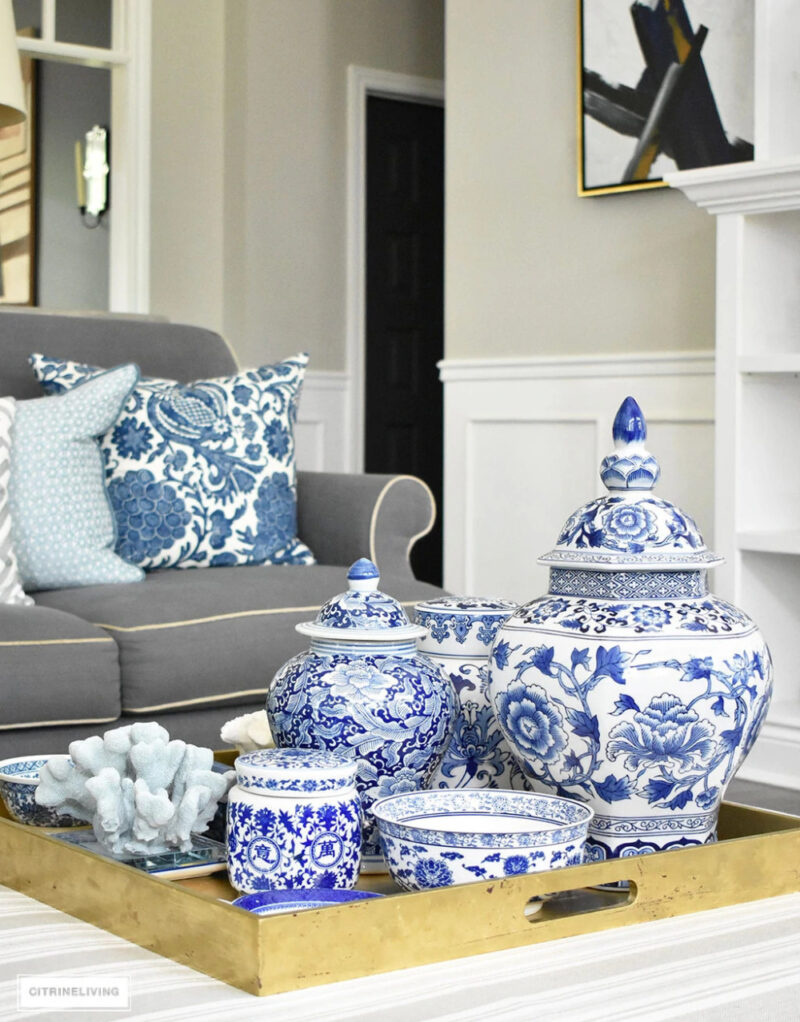 4. There are so many shades of blue to enjoy for our home decor. We have several in our home. The Turquoise Home shares an overview of blue paint colors. I chose this image because it uses Palladium Blue which is in one of our guest rooms.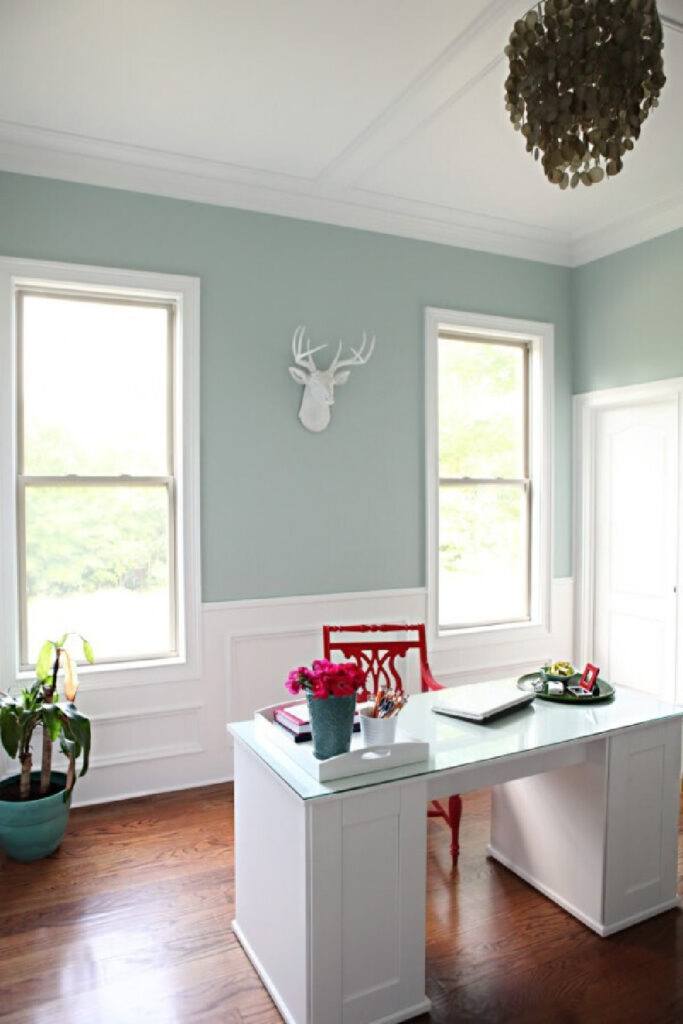 5. Our bedroom is primarily blue and white with pops of yellow. This cozy blue bedroom would be a dreamy space to sleep in.
6. I wish Caitlin Wilson were my neighbor. I'd be ringing her doorbell to borrow a cup of sugar just to see the inside of her Dallas home. The use of blue and white is so intentional and beautifully done.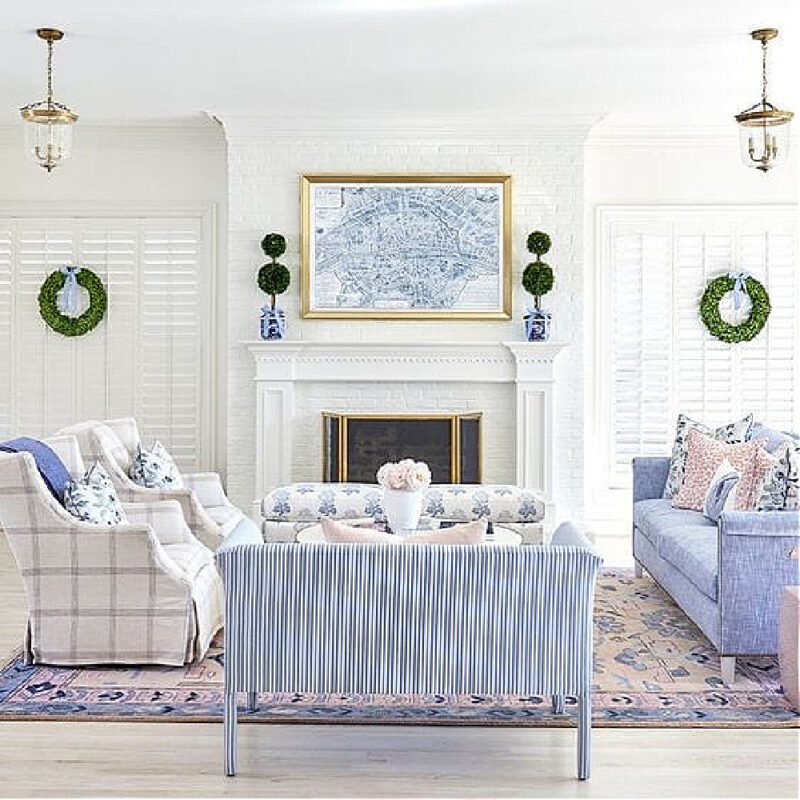 7. I've started a file of blue accessories and furniture that I love. I'm focusing on items for inspiration when our new living room sofa and chairs arrive in October. Two items that I will be looking for are pillows and lamps.


8. Blue in the living room is another classic. This traditional dining room from Kristy Wicks shows how to use blue to the best advantage in the dining room.
9. Well, I had to include in this 10 best ways to use blue in your home decor some of my own. Here are some of my own blue home decor posts:
10. BOOKS OF THE WEEK: I'm reading a great book, but I didn't get much reading done in the past week. I did search for some blue book ideas to share with you.
That wraps for this week's Bluesky Browsing #34. I hope that you enjoyed these ideas for Easter and spring and found some to use for the holiday and going forward.
What did you think of these 10 best ideas for using blue in your home decor?

if you would like more ideas on ising blue in home decor, visit my Pinterest Board, Blue Design.
I'd love to know what subjects you are most curious about. Let me know in the comments and I'll search browse for them. Be sure to PIN to keep these ideas handy.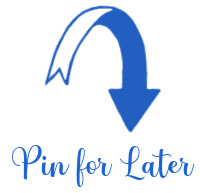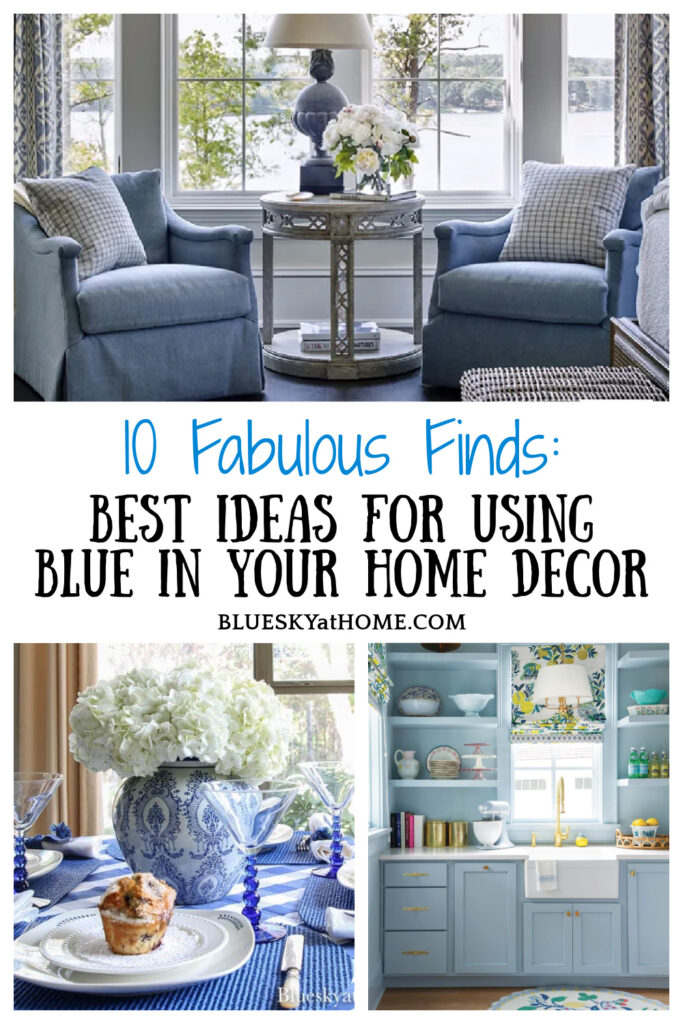 In between writing posts, listening to podcasts, reading, doing various blogging tasks, walking Nola, and playing tennis, I'll be browsing away.
Happy Easter.