How to Host a Sweet Spring Tea Party for Little Girls
Having returned recently from spending time with my granddaughters, I have little girls on my mind. I love tea parties and I know 2 precious little girls who love tea parties. Although I'm home in Dallas and they are in Atlanta, I can still pretend to have a sweet spring tea party with them.
Amber of Follow the Yellow Brick House has gathered her tribe of bloggers today to celebrate spring with tea parties. If you are coming over from Kelly at The Tattered Pew, then welcome.
As a grandmother with Mother's Day around the corner, I can't think of a better way to celebrate than hosting an imaginary spring tea party with these little girls ~ 2 of the best granddaughters ever.
If you have ever hosted or attended a spring tea party, you know what fun it is to dress up, act like a lady (or a princess) and enjoy a pretty table and some special treats.
How to Host a Sweet Spring Tea Party for Little Girls
Just to give you a little background about my 2 precious granddaughters. Annabelle will be 8 this week. She is in 2nd grade at a charter school, has just started to play softball, is strong~willed, very helpful, very sociable and loves to organize parties in the neighborhood. She has her mother's brown eyes and hair and her daddy's smile. She prides herself on being a tomboy, but loves to dress up. She will hug you so hard you can't breathe.
Lilah just turned 5 and is in pre~school, but next year will join her big sister at the same school. She is a blonde~haired, blue~eyed (she looks just like me in my baby pictures ~ no kidding) princess. Here is how her mom describes her: "She is a little burst of sunshine. She takes herself lightly but her fears seriously. She knows what she wants and is a careful observer of all things new before she's ready to try it herself. She is perfectly suited to be Annabelle's kid sister (which isn't a job for everyone) and she does it with grace and patience. She has some epic quirky blonde moments. Her happy squeal can break glass and her smile melts our hearts. We pray all these hold true and will serve her well in life. "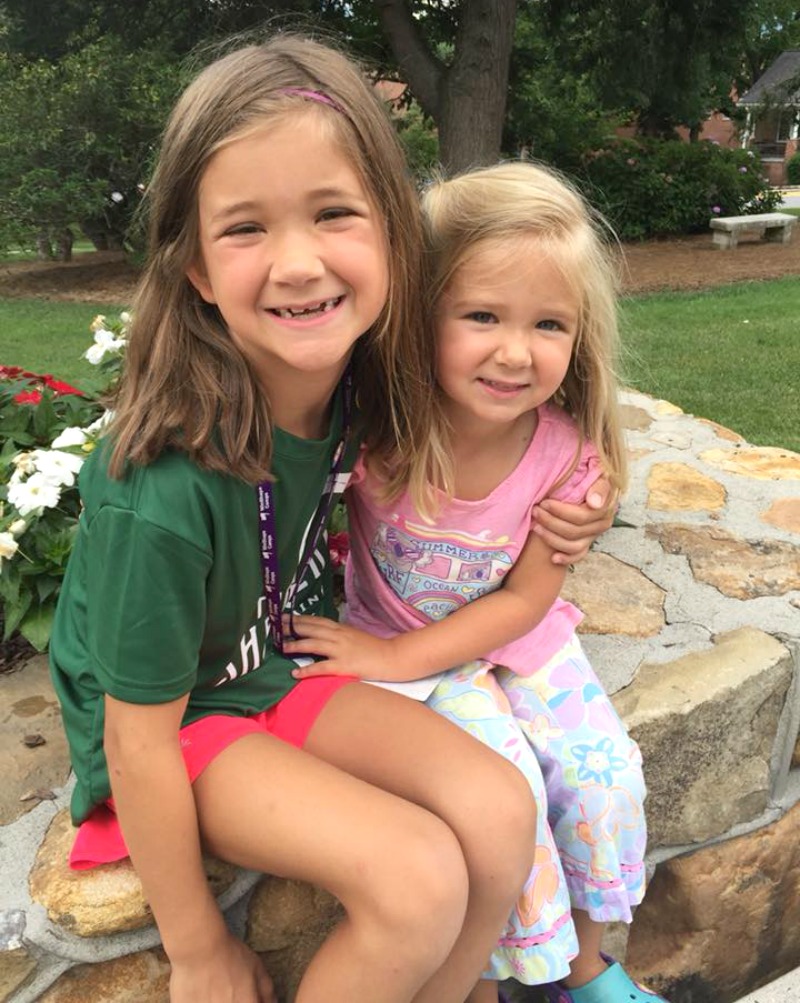 Idea for this Spring Tea Party
Since we are so close to Mother's Day, having a little tea party with my granddaughters came to mind. When my older daughter and the grand girls come to Dallas this summer, I think it will be fun to treat them to a tea party. So this pretend spring tea party is a practice one for a real summer tea party.
Inspiration for my Pretend Spring Tea Party
Keeping 2 little girls in mind, my inspiration for this tea party came from a few sources:
I rummaged through my fabric stash and found a piece of bold orange and white stripe fabric. I think I bought it a few years ago to make Annabelle a summer outfit and never did. Oops, bad grandma. Don't forget to iron your fabric or tablecloth.
I bought these napkins online from Sarah Richardson a few years ago (I also have placemats.), but I've never used them. I thought the pink and orange semi~chevron pattern would pair well with the orange and white stripes.
Here's what I am most excited about: several years ago, when we moved my mother~in~law out of her home of 45 years, I claimed this darling orange polka dot tea service. I've never used it, but I just think it is so cute. It would be perfect for my spring tea party.
I already had pink plastic utensils and pink polka dot straws and pink and orange curly ribbon, and some small glass French yogurt cups for drinks. For flowers, I used my Kombucha bottles, but any tall bottle will work. After I've finished drinking the Kombucha, I remove the labels with Goo~Gone and wash them in the dishwasher. Then I bought deep pink and orange Gerber daisies at the grocery store. I bought pink paper plates at Joann. Now I was ready to design my spring tea party tablescape.
Designing my Spring Tea Party Tablescape
After ironing the fabric and laying g it out on the table, the next step was to tie the pink and orange curly ribbon around the necks of the bottles and then curl the ribbon. I set the 3 bottles in the center of the table with the ribbon facing out.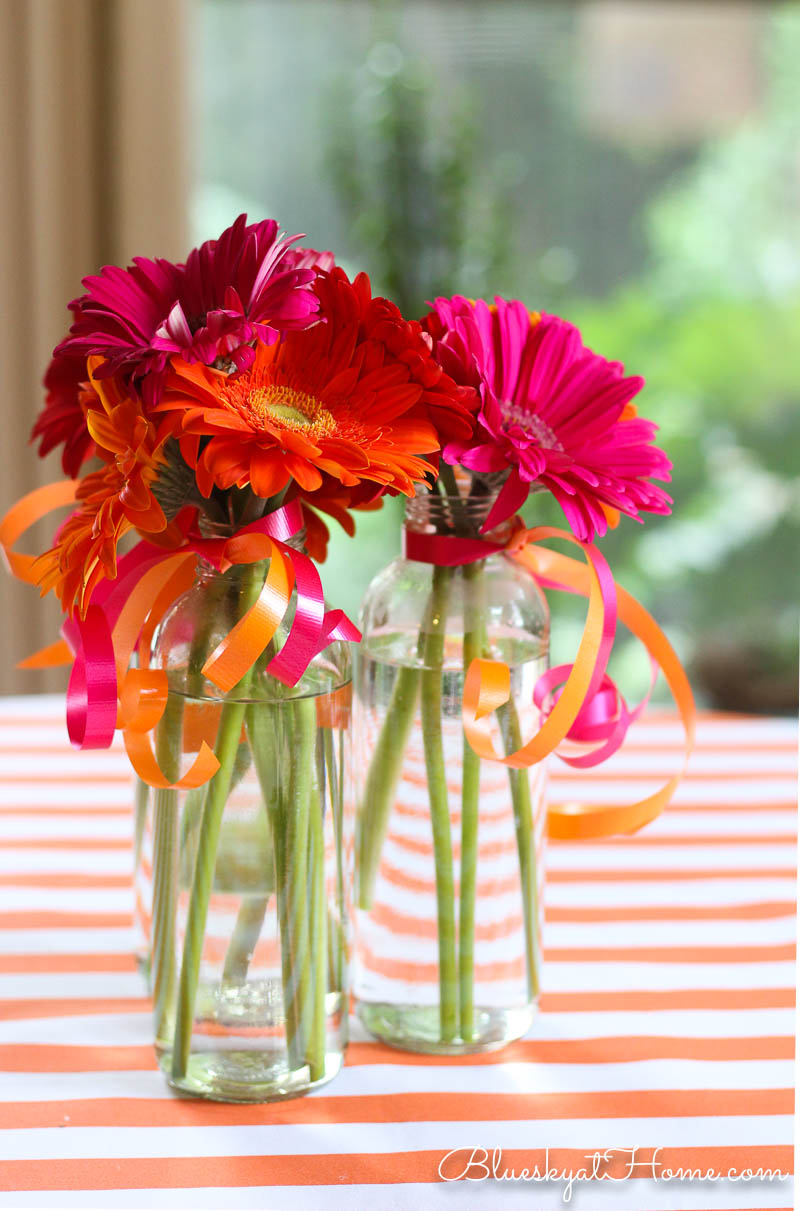 Everything went fast from then on: setting out the pink plates, the napkins, the pink plastic utensils and the yogurt cups. The tea pot, sugar bowl and tea cups came next. Then the fun started.
Spring Tea Party Food
I needed some tea party treats that would appeal to little girls. Knowing the foods my grand girls like and wanting to keep with the pink and orange color theme, I added gold fish to the sugar bowl.
Next came sliced yellow bell peppers and orange slices. And you can't have a tea party without sweets. I picked up some cupcakes at my favorite cupcake bakery, Gigi's. 2 big cupcakes with orange sprinkles for the girls and 2 small pink cupcakes for Jennifer and me. Then I bought a box of macarons at Trader Joe's. I would only use the orange and pink ones.
Of course, the cupcakes had to have cupcake toppers. I used my Cricut to cut out crowns and added some bling with "diamond" embellishments from Joann. Then I wrote our names on the crowns. You may guess that I'm Cici.
Although my grand girls love asking for sips of my sweet iced tea, I decided pink lemonade would be more their "cup of tea". The polka dot tea cups and saucers are just for decoration.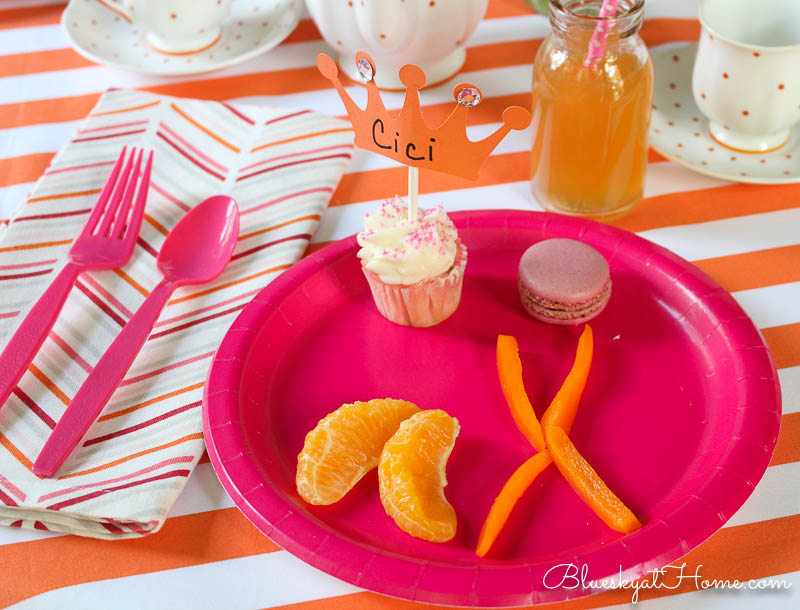 Disclaimer: why, you ask, is the pink lemonade orange? I wanted to make the pink lemonade pinker, but I picked up the wrong container of food coloring. I squeezed it in the pitcher and it turned orange. Oh, well, it tastes like pink lemonade, but still fits the pink and orange theme.
In June, when the girls come to visit, I'm going to surprise them with this tea party. All I'll have to do is buy fresh cupcakes, macarons, flowers, oranges and a yellow bell pepper. Hopefully, we will resist the goldfish until then.
And this time, I won't turn the pink lemonade orange.
More Spring Tea Parties!!
I hope you enjoyed my imaginary spring tea party with my girls. Now it's time to head over to Kristin at White Arrows Home. Please make the rounds and visit all these talented ladies. And don't forget to PIN to your favorite boards and tribes. We love ya for sharing.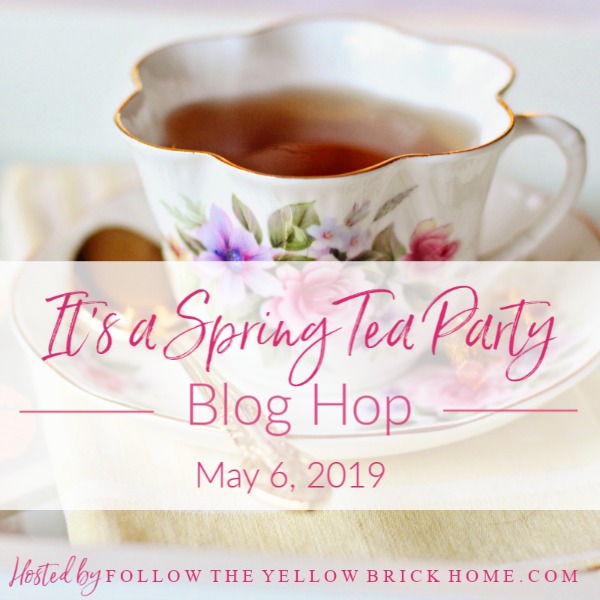 Follow The Yellow Brick Home A Stroll Thru Life Our Southern Home Common Ground Decor To Adore

You are invited to the Inlinkz link party!