Bunnies and Blue in a Spring Tablescape
Are you planning to have friends over for a spring lunch, dinner, or Easter brunch? I bet you want to have a pretty table ready for them. Here is my suggestion to celebrate the arrival of spring with bunnies and blue in a spring tablescape.
As we brought out our spring and Easter decorations last weekend, I gathered those elements that would work for both a spring tablescape and then transition to a simple Easter tablescape.
As our house morphs from "no-season" into the spring season, I can feel the pull of warmer, brighter days ahead. Our days lately have been very chilly. Now that we are officially in spring, I feel like a bear coming out of hibernation after a long winter nap.
It's time to let our creative ideas flourish and fill our homes and gardens with spring touches.
I'm very excited to be joining Rita of Panoply in her monthly tablescape blog hop. She is such a dear and so organized. This group of ladies is great at creating beautiful tables for any season or event.
If you are joining me from Lynne of Thrifting Wonderland, welcome to Bluesky at Home. I'm happy that you are joining me for this fun tablescape blog hop.
Vision for my Spring Tablescape
My vision for this spring table is a mid-week lunch for a group of girlfriends. I love having friends over for a casual get-together. I hate to let a pretty tablescape go to waste.
Our menu would start with a simple appetizer like deviled eggs – appropriate for a spring meal. As the first course, I have a delicious recipe for a lovely spring pea and mint soup. (I love using my small Lenox soup bowls that sit on a small silver tray inside a silver holder.)
Our main entreé would be a lovely salad with fruit and a small biscuit on the side.
Dessert would be something springy and light – a lemon tart would be perfect.
I think it sounds yummy. What do you think?
Color for My Springtime Table
The spring decor palette can be many different colors, from pastels (one of my favorites) to neutrals, greens or blues. I'm partial to blue so I wanted to include blue as my main color for this spring table.
This isn't my first blue tablescape. Here's another spring tablescape with blue. I've also used blue for a summer tablescape and this summer dinner tablescape.
My blue palette shows up mostly in patterns in several elements on the table: runner, plates, napkins, bunnies.
Green always is included as a nod to nature. And, of course, white plays a role, too, in spring flowers and other table accessories.
Because I can't resist, there is a little bit of pink here and there.
Starting a Springtime Table
Do you have a vision in your head when you start creating a tablescape or a DIY project? I do. I had the entire table planned in my head before I started.
Then on Saturday, I went to a local antique mall and found something I had wanted for a long time, but couldn't afford. I couldn't believe my luck. I had to add it as a central focal point to the table. Don't scroll down and peek!
As usual, the first thing I do when creating a new tablescape design is clear my table. For the past few weeks, our dining room table has featured a sweet arrangement of lanterns and bunnies. Once I cleared that off, I was ready to begin infusing bunnies and blue into a spring tablescape.
One thing I did leave on the dining table was the beautiful blue runner with a bunny motif that I bought at an antique mall several weeks ago.
My table service would be for six so I refolded the runner, which is very long, to use the ends as placemats.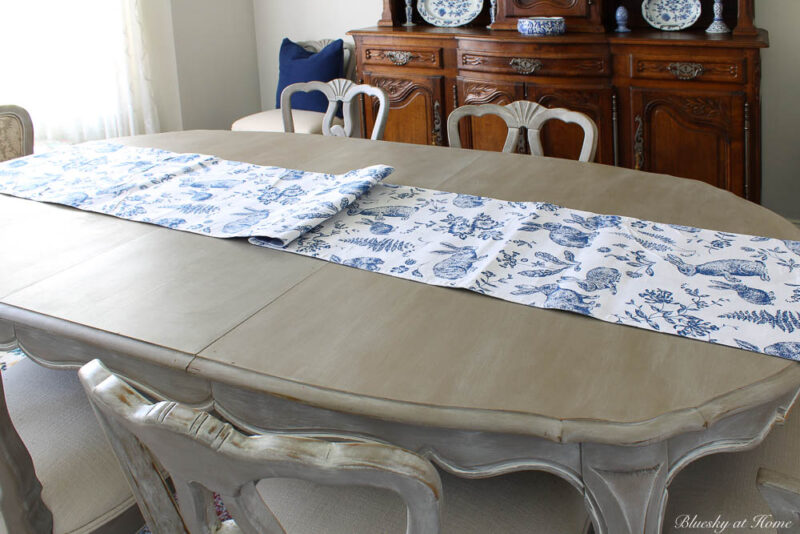 Bunnies and Blue Centerpiece
Here is what I included in my centerpiece arrangement:
three cake stands
green moss
chinoiserie cache pots
fresh spring flowers – white hydrangeas from Trader Joe's; I used three bunches of 3 each.
DIY eggs
assorted ceramic bunnies
green moss bunnies
a bird's nest
To start, I used a combination of three white cake stands. Each one is different: two are round and one is square. One round one has a ruffled edge. I placed the square cake stand in the center.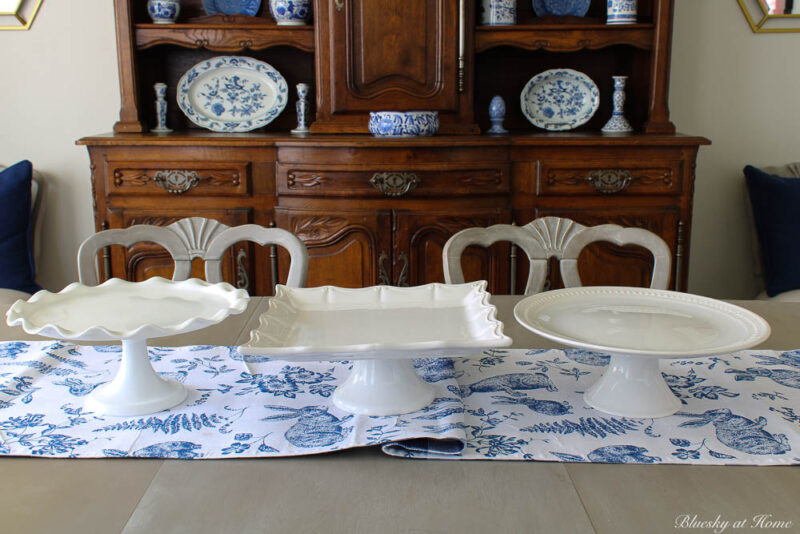 You can see many of my blue pieces on our vassielier behind the dining room table.
While my hydrangeas were soaking in the kitchen sink, I chose two of my chinoiserie cache pots. Actually, they chose me.
I have five cache pots. Three have holes in the bottom, so the two without holes were the winning choices.
I cut a piece of florist foam to fit in each cache pot and filled them with water.
NOTE: I took many of these photos after I had finished most of the tablescape.
In the meantime, I placed green moss on the cake stands. I filled the white-washed bird's nest with fresh moss.
After the hydrangeas and the florist foam had soaked for about an hour, I clipped the stems and placed them in the foam.
I set the cache pots on the round cake stands.
I love the look of hydrangeas in chinoiserie cache pots. It's such a classic look.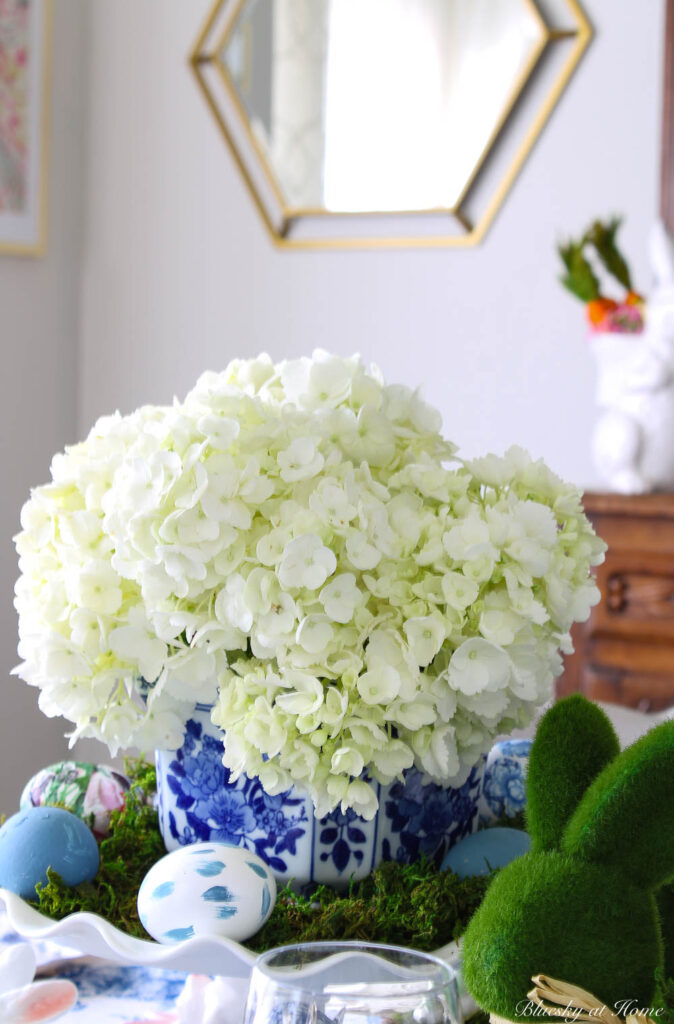 You can certainly use faux flowers instead of fresh ones. I have even mixed fresh and faux when I ran out of flowers and needed a fuller look.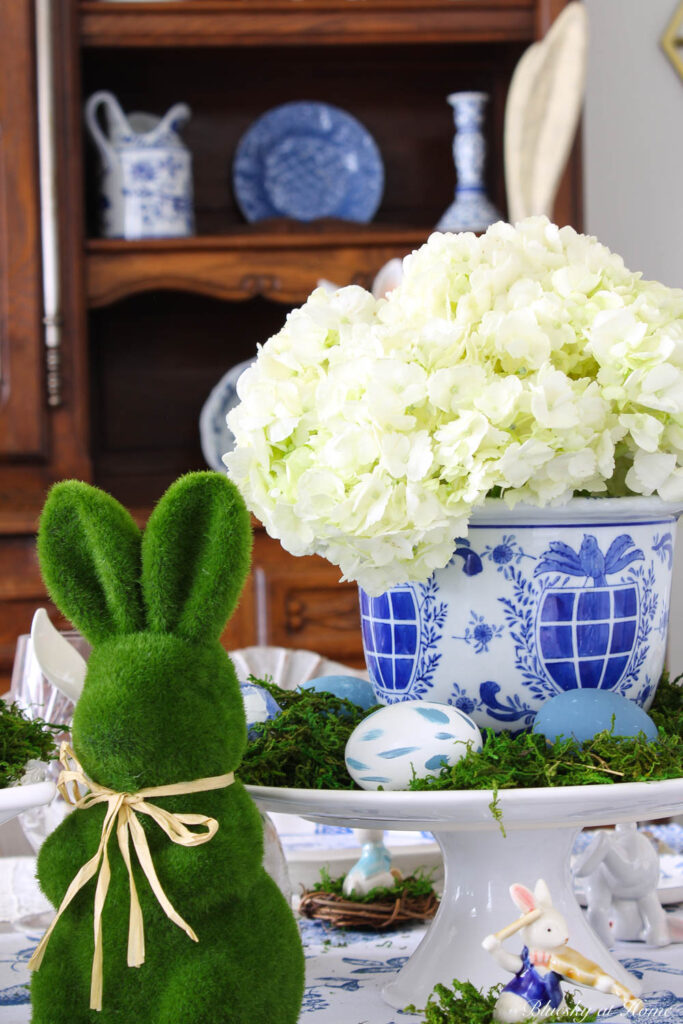 Surrounding the pots, I added decoupaged Easter eggs that I made a week ago. I had just finished painting some wood eggs and I added those. (Post to come about those.)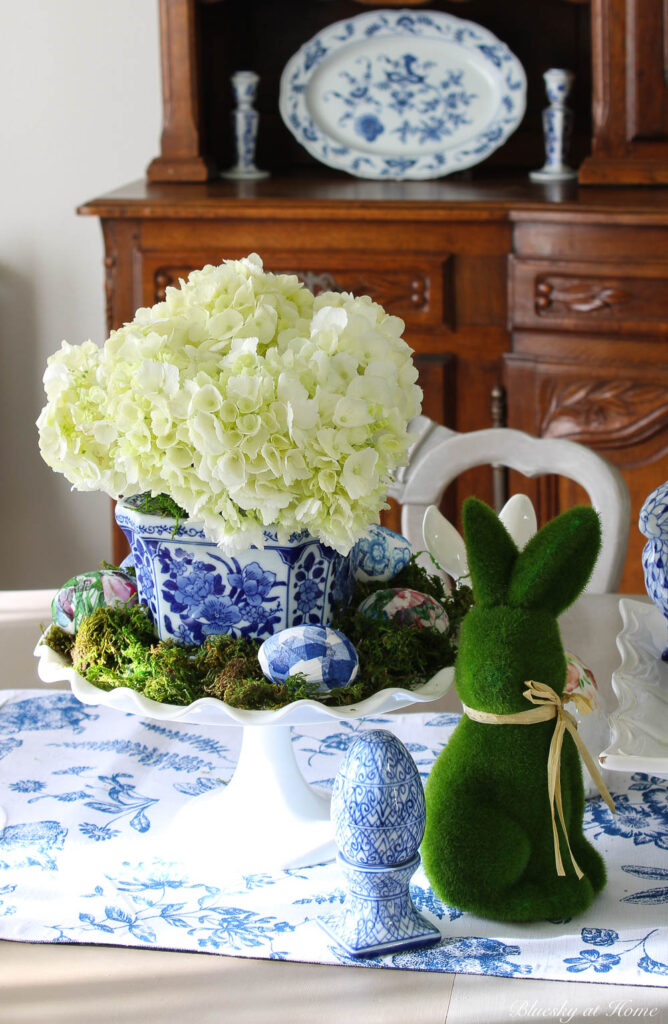 BIG REVEAL: Here's my antique mall find.
Inside the bird's nest, I placed that recent antique mall purchase: two look-alike Herend blue bunnies.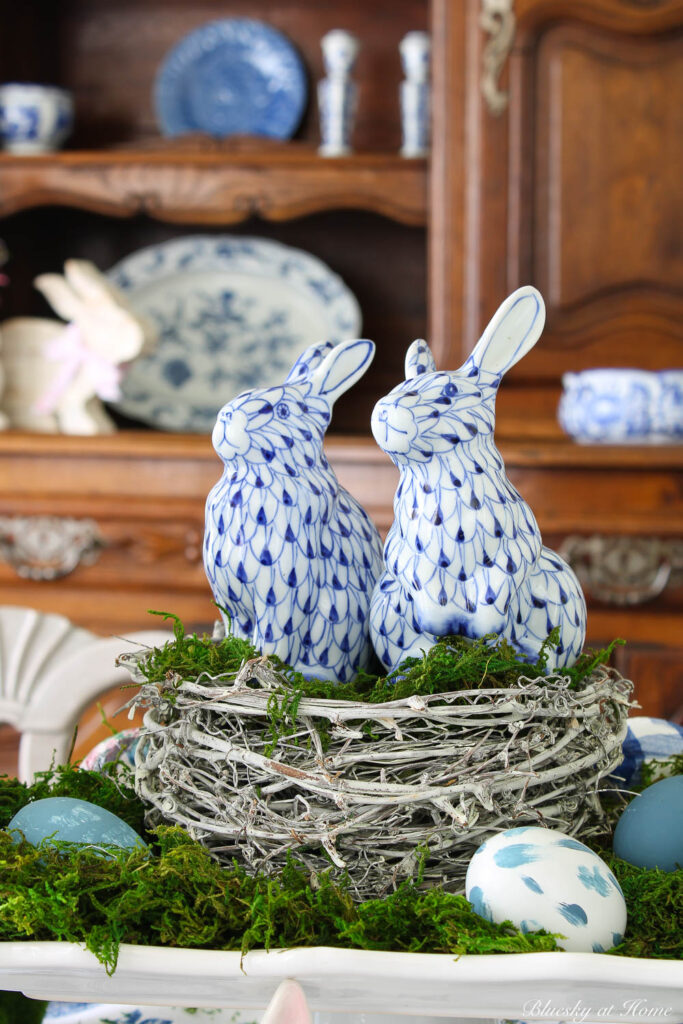 I have wanted these for years, but I couldn't justify the price. The real thing can be several hundred dollars.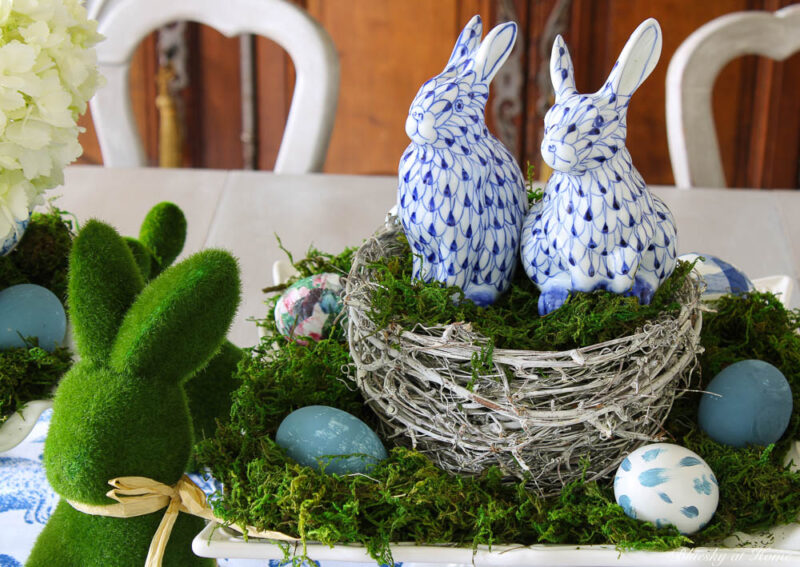 These are not the real thing. The mark on the bottom just says "handmade".
I think they are so sweet, look close enough for me. They were $36 each. I didn't think twice.
Around the base of the cake stands, I placed a variety of ceramic bunnies that either belonged to our children or I have bought for myself.
For another pop of green, I included three moss-covered bunnies. The two taller ones I found at Dollar Tree. The smaller one came from Dollar Spot at Target. I wish I had bought more of both styles.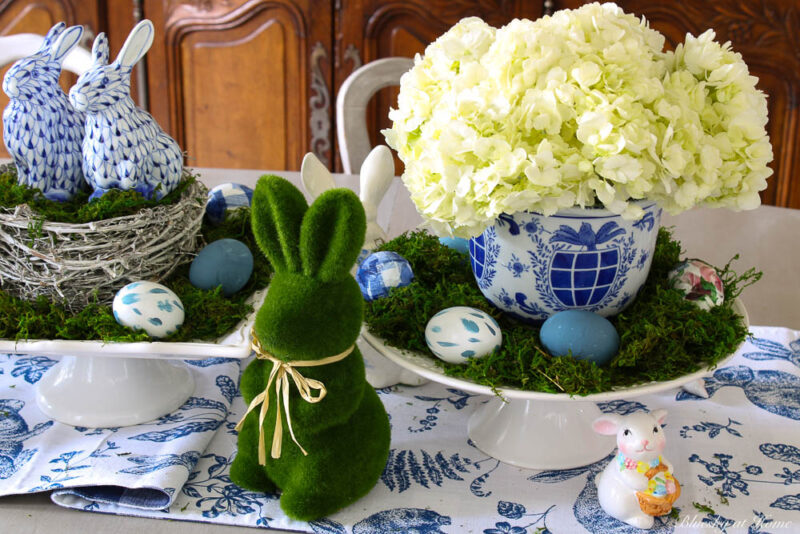 That completed the centerpiece grouping.
Blue and White Place Settings
Putting together the place settings was easy.
I had already gathered the items for my place settings:
my white everyday china – Manior from Villeroy and Bosch
the prettiest blue patterned paper salad plates
the coordinating blue paper bread and butter/dessert plates
blue chevron paper napkins
vintage white pearl-handled knives and forks that belonged to my mother-in-law
4 vintage lace placemats from a set of 12 – purchased at an estate sale
iced tea/water glasses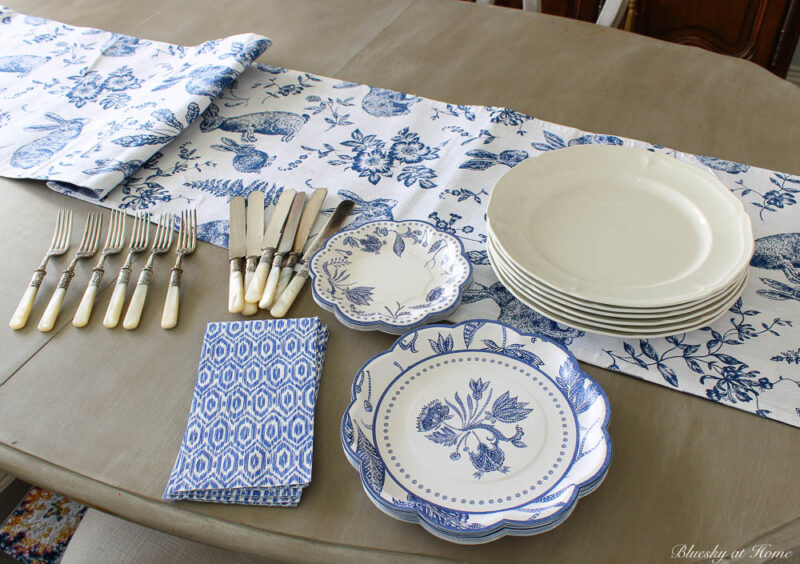 TIP: Be sure to iron your placemats.
For the table setting, I used the white dinner plates as chargers. Then I stacked the paper salad plates on top.
The tall crystal water/iced tea glasses belonged to my mother-in-law.
I love mixing the more modern pattern of the napkins with the floral pattern of the plates.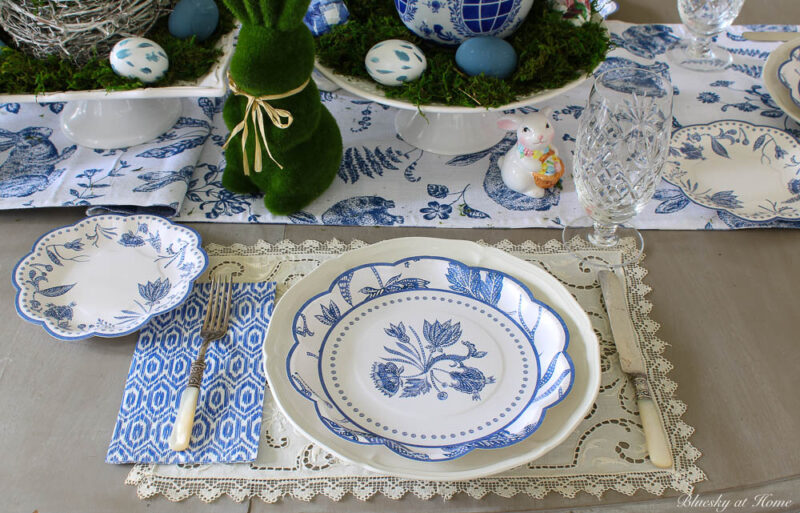 The vintage look of the lace placemats. I know that the mother-of-pearl-handled silverware is decades old.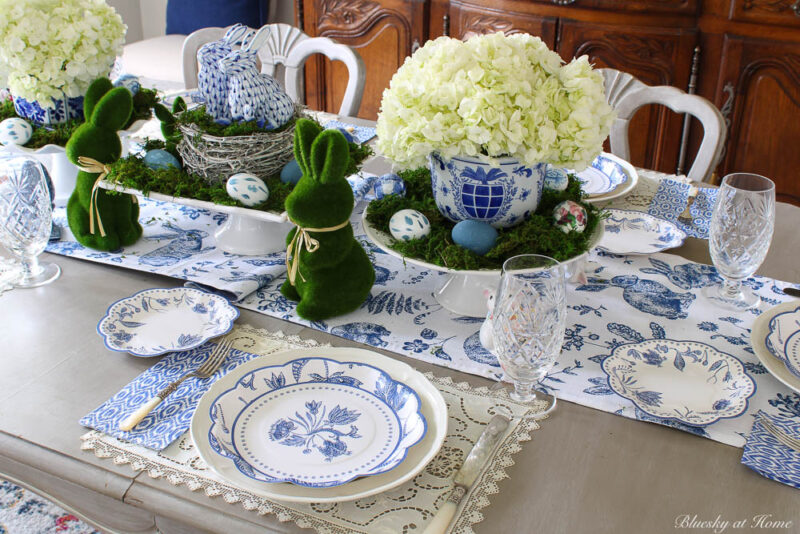 Finishing Touches
In my stash of spring decor, I found a little bird nest, then I found three more and four small twig wreaths. I still had a few small bunnies to use. How could I combine them?
I placed green moss in the three little nests and three twig wreaths. Then I added a variety of small Easter bunnies from my collections.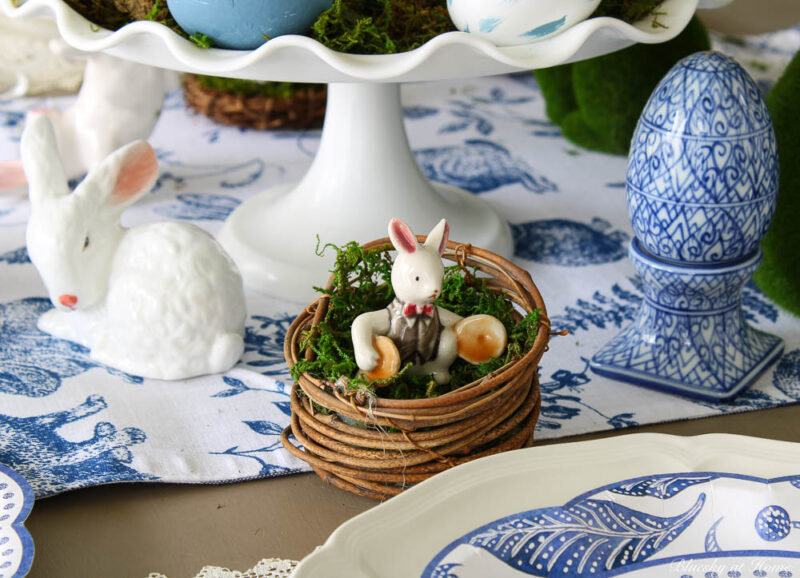 I placed one in front of each place setting. I like to have a fun surprise for my guests at each plate setting – something whimsical or unexpected.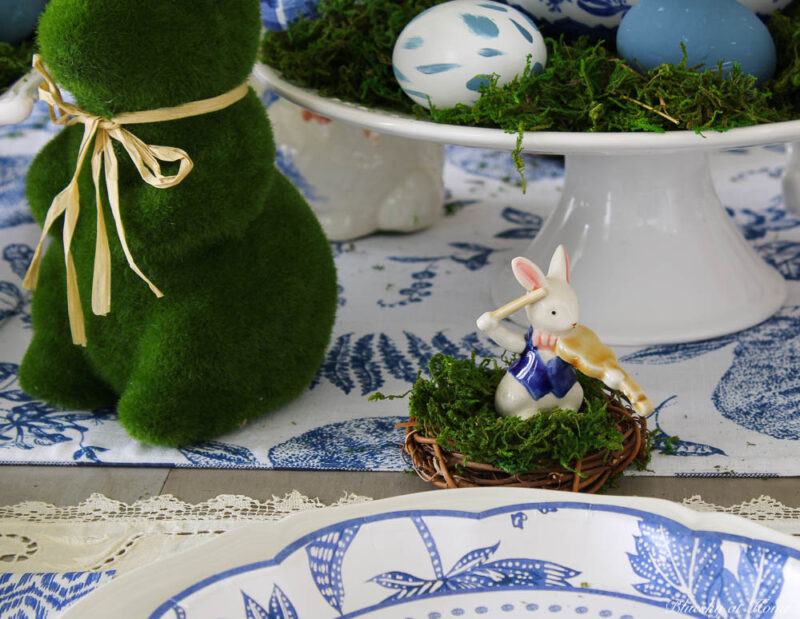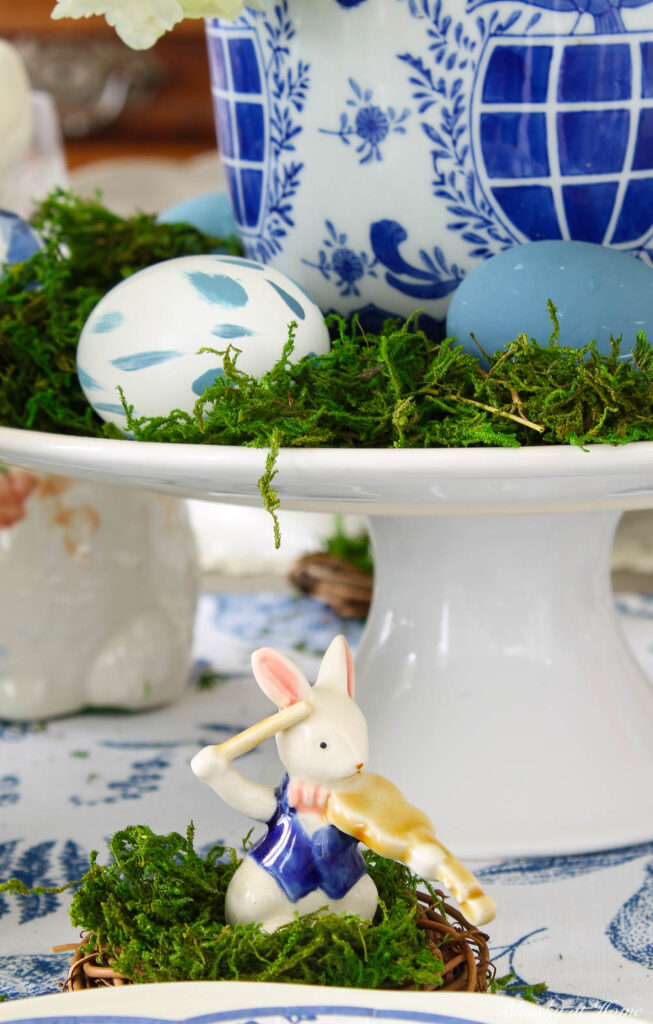 I did add more white bunnies with pink polka-dot ribbon bows to the vassielier. I love that little touch of pink.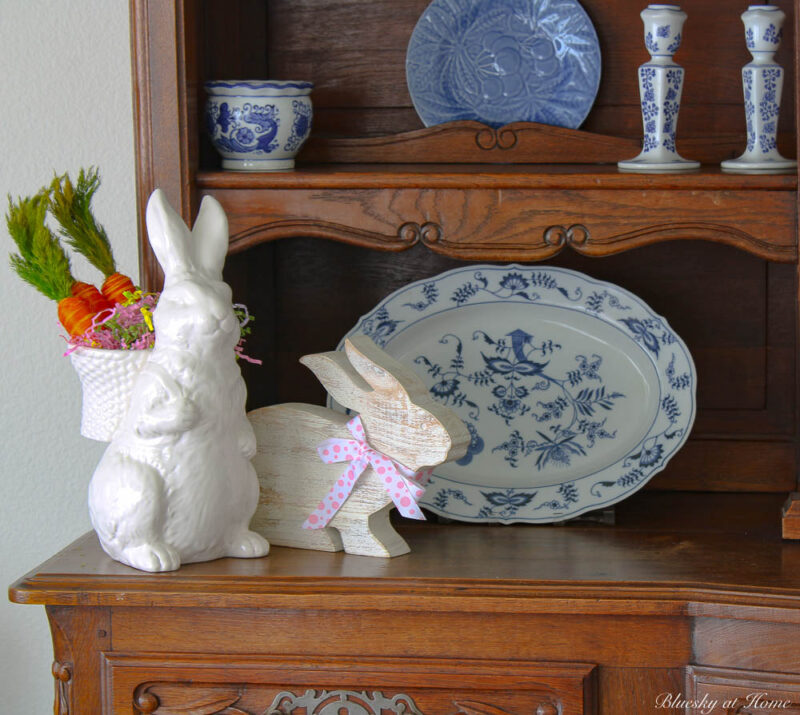 My bunnies and blue in a spring tablescape is complete. I actually think it's one of my favorites. I love the blue patterned "ingredients", especially my new porcelain Herend look-alike bunnies. The green bunnies and moss are a perfect addition for the white and blue palette.
I enjoy having a pretty table set during any holiday. It immediately makes your home feel dressed for the season.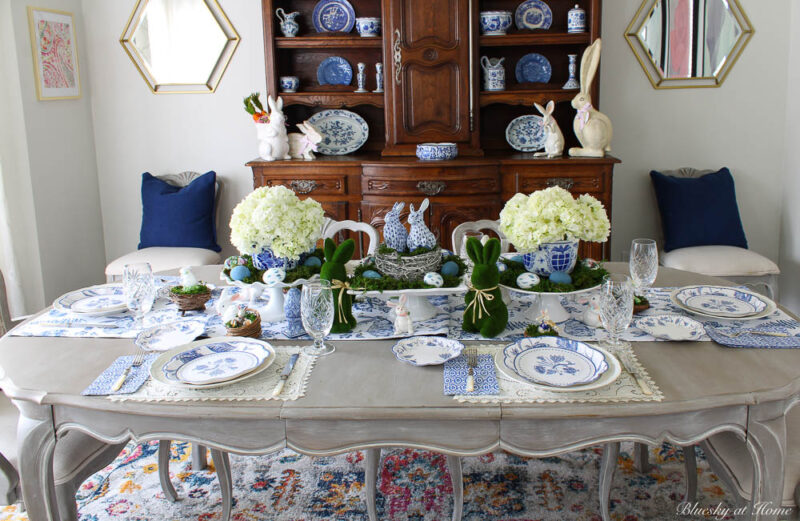 I hope that you have enjoyed my spring tablescape tour, learned something, or gathered some inspiration for your own spring table. Feel free to copy!
Now, please hop over to Sandra from Dinner at Eight. She is a whiz at creating beautiful tablescapes. Enjoy all the lovely ideas shared here.
I hope you will PIN this "bunnies and blue" spring tablescape to one of your PINTEREST BOARDS. It would make my day and your friends love to see fresh ideas.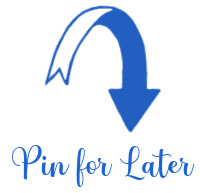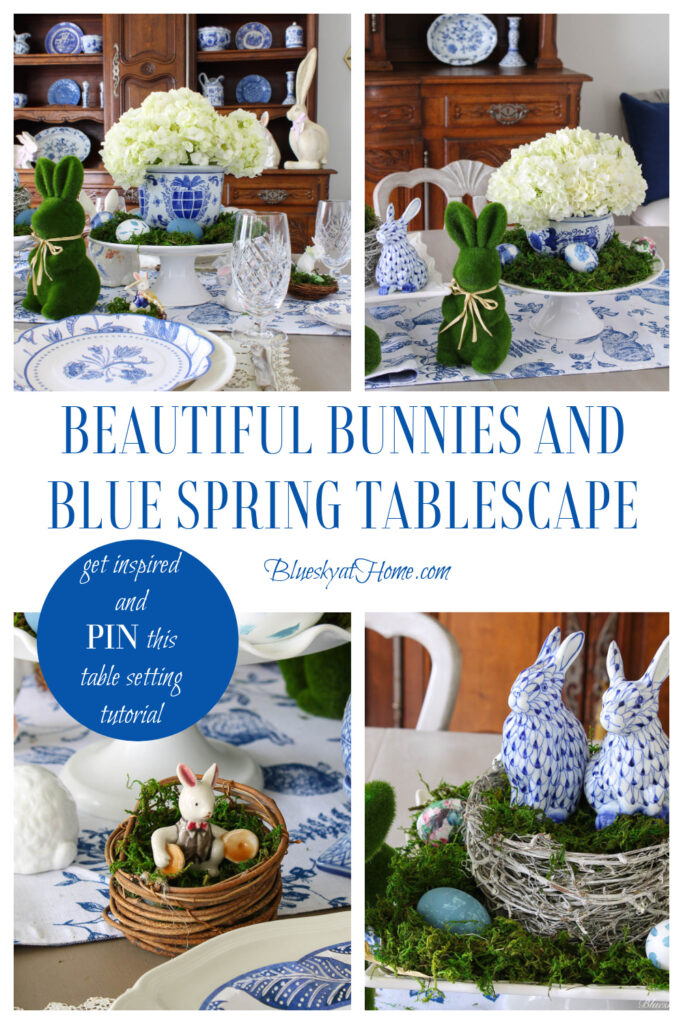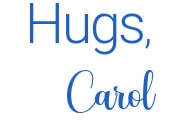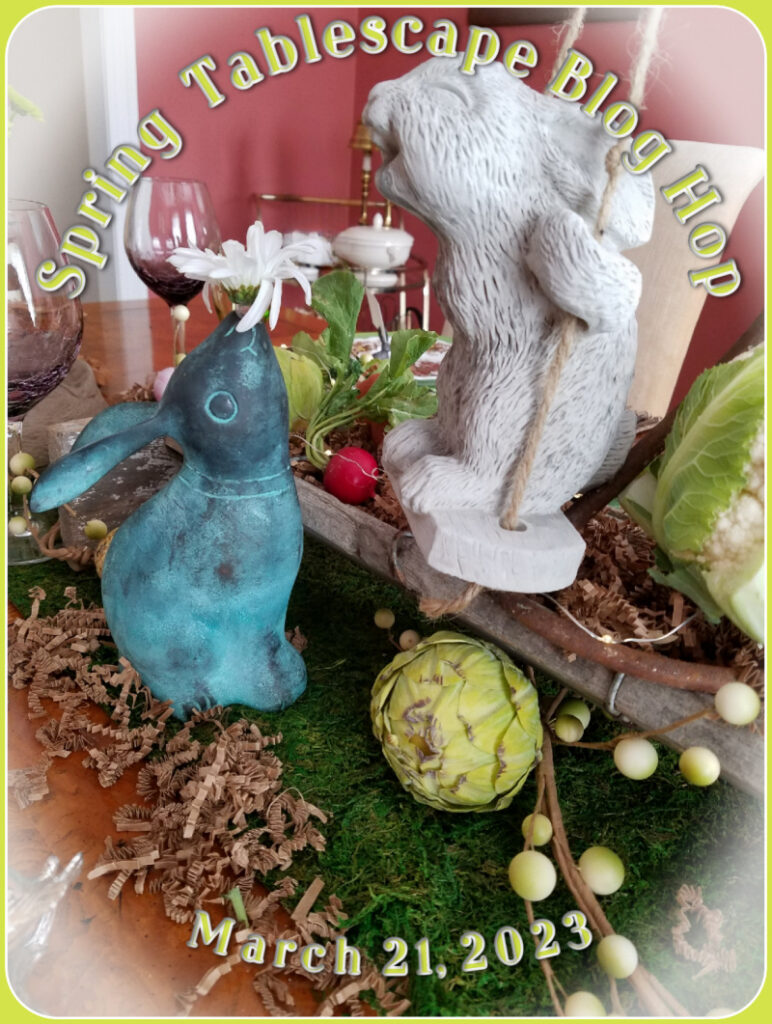 Panoply – Preppy Pink & Green Spring / Easter Tablescape
Home is Where the Boat Is – Cottontail Farms
Everyday Living – The Blessing of Easter
Corner of Plaid and Paisley – One Happy Bunny
Bleu Belle Interiors – Spring Brings Joy
Living With Thanksgiving – Easter Fun
Hyacinths for the Soul – Springtime Pleasures
Celebrating Everyday Life – How to Style an Elegant Easter Brunch Table
The Painted Apron – Carrots and Cottontails
The Bookish Dilettante – Tablescape Blog Hop: Wildflowers for Spring
Pandora's Box – A Dollar Tree Dessert Station
My Thrift Store Addiction – Egg-cited for Spring Breakfast Table
The Little Yellow Corner Store – Creating Happiness With An Easter Tablescape and a Giddy of a Good Time
The Cat's Whiskerz – The annual spring meeting of the bunnies
Celebrate and Decorate – Spring Table Decor
Red Cottage Chronicles – Blue and White Tablescape for Spring
Me and My Captain – Spring, When Flowers Bloom and Nature Sings
Thrifting Wonderland – Spring Forward Tablescape
Bluesky at Home – Bunnies and Blue Spring Tablescape
Dinner at Eight – Welcoming Spring with a Fluffle of Bunnies
Zucchini Sisters – Lavender and Sage Spring Tablescape