How to Create a Natural Fall Tablescape
The first week of September signals the beginning of the fall season.  Bright colors and pastels of summer are being taken down (maybe packed away) for the next 9 months. My rendition of a fall tablescape this year is very different from last year. This year I'm going to show you how to create a natural fall tablescape.
We've already seen pumpkins, autumn colors, and scarecrows in stores. Mums are available to plant in our yards. It must be time for a fall tablescape blog hop.
I'm so excited to be back in the tablescape "tribe", hosted by Chloe of Celebrate and Decorate. This week's fall tablescape blog hop is full of inspiration, ideas, and creativity.
I always enjoy browsing through my fellow blogger's interpretation of a seasonal tablescape. It's like giving everyone the same recipe for potato salad and coming up with 20 different versions. Each one is different, but they are all delicious.
You know that I love to create DIY projects and I love including them in my tablescapes and this one is no exception. Last year my fall tablescape was packed with color and metallics. This year I wanted a completely different look. As I walk you through how to create a natural fall tablescape, I'll point out the DIY projects and I'll share the actual projects in upcoming posts.
How to Create a Soft and Natural Fall Tablescape
This post contains affiliate links of products used in this post (ones I love and highly recommend). If you order any product through this site, I may receive compensation, but you do not pay a penny more.
My vision was to create a fall tablescape with white, creams (oatmeal, gravy), taupes and lots of texture and natural finishes. I wanted wood and fabric and texture and pattern ~ a casual table for guests that would have a relaxing, non~fussy vibe.
The dining room is the scene for my fall tablescape and I set the table for 6, which is my favorite number for a small, intimate gathering. I wanted to make placemats with a white and taupe buffalo check (Do you love buffalo check as much as I do?) and I found the perfect fabric online. Unfortunately, the fabric was not available for 2 more weeks, so I improvised and made my own placemats. I already had this awesome gingham stencil from A Makers' Studio and I decided that gingham was the next best thing to buffalo check.
DIY Placemats

I bought a lightweight taupe fabric at Joann for the placemats. Making these placemats with the stencil and ChalkArt in Peace & Joy was fun. I love the imperfect, natural look of the placemats which laid the foundation of my natural fall tablescape. I'll share the DIY project at a later time.
Silverware Caddy
I knew I would use our Villeroy and Boch dishes (the pattern is Manoir) for the white in the tablescape. But the simple white plates needed a touch of whimsy and texture. I knew exactly what to add ~ another little DIY.
A couple of weeks ago Sweet Shark and I had a fabulous dinner at a new restaurant in town called Sachet. Every place setting had the sweetest silverware caddy (or is it a pouch?) with an herb motif. I asked our server about them and he told us that they were custom made for the restaurant. I knew I wanted to create a similar item for my tablescape.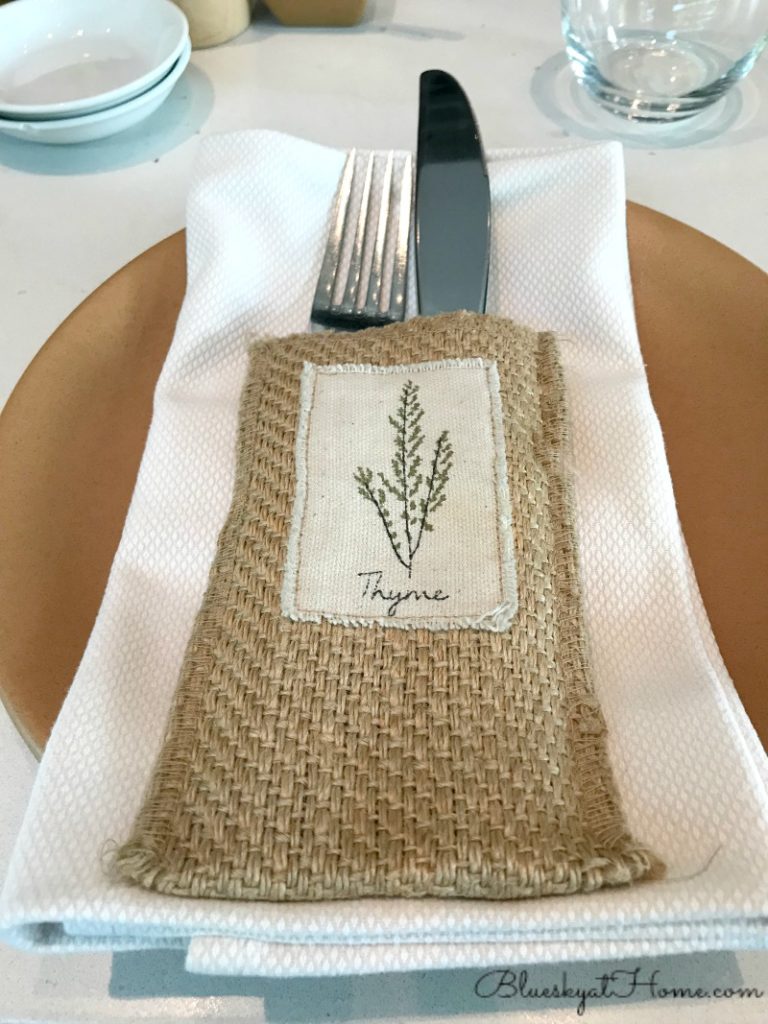 I searched through my fabric stash and found an oatmeal~colored fabric leftover from another project. Then I used my foliage motif stamps and Rescue Restore paint in Little Black Dress. This is one of my favorite DIY projects and I think it adds a natural, unique focal point to each place setting. At the last minute, I added some stitching around the edge in black thread. I like the extra contrast.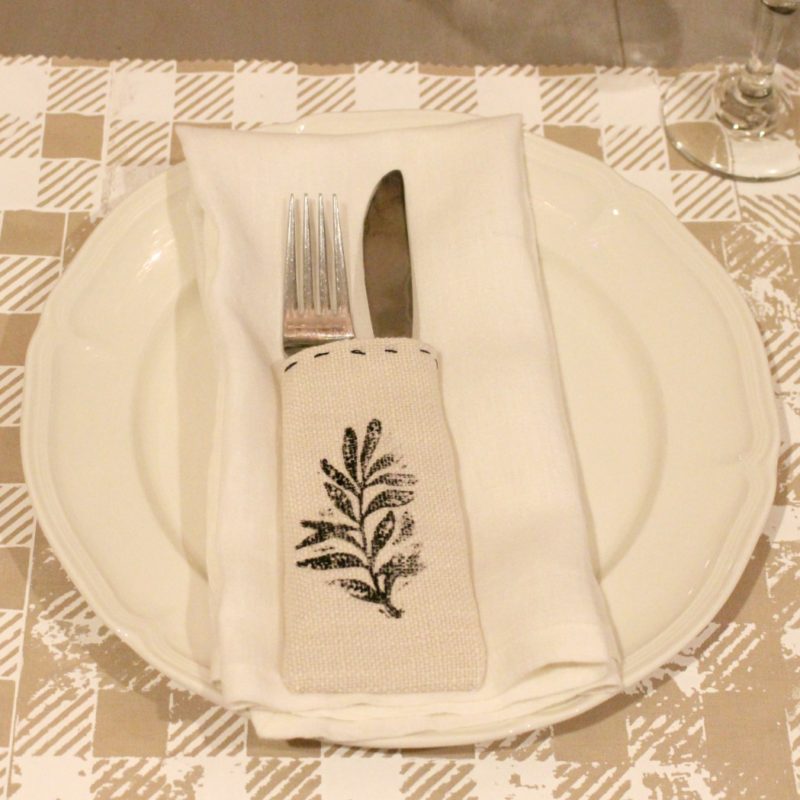 I used my cream gravy~colored linen napkins as a base on the silverware caddy.
Planter and Wood Palette Centerpiece
I bought 3 terra-cotta planters at Lowe's a few weeks ago. I liked the shape and the fact that they didn't have the traditional rim around the top for more a French feel. Orange pots are not my favorite so I painted them and gave them special treatment. (Another DIY post to come).
I did use 3 colors of Rescue Restore paint and a secret ingredient to create an old~world look. I wanted a very natural, organic look to fill the pots. A trip to our favorite nursery (Thanks to Bill at Jackson's Pottery.) and decided that soft herbs would be the perfect look. I picked a pot of sage ~ a very fall~ish herb ~ and 2 pots of lavender because I just love lavender. (We can take the pots outside later.) The pale green leaves and the somewhat French look of the herbs fit just right with the vintage texture of the pots.
I didn't want to set the pots directly on the dining room table, but I didn't have a tray large enough to hold the pots. Luckily, I found an unfinished palette~style wood piece at Joann (This one is similar to the one I bought.). It was just the right size to hold all 3 pots down the center of the table. I thought the raw wood needed to be dark to ground it on the table and provide contrast with the pale~painted pots.
Well, you know me ~ this was an easy DIY fix. Gel Stain in Hazel Mahogany from A Maker's Studio was the perfect product to use. I sanded the edges just a little and applied 1 coat of the Gel Stain, which was enough. I didn't even seal it.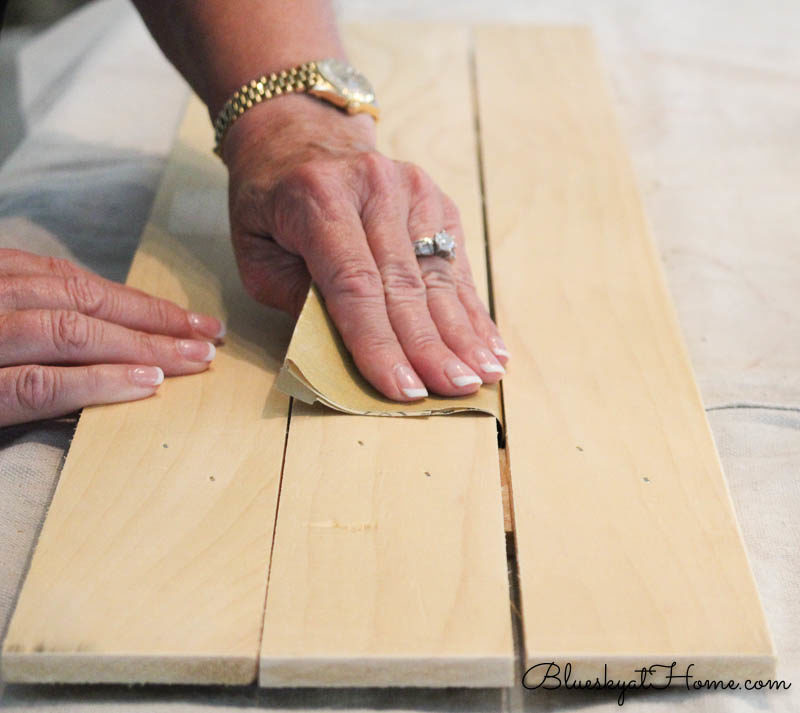 I love the contrast between the light colors of the clay pots and the dark wood "tray".
Painted Wood Tags
I love tags and I wanted to add some words that came to mind when I thought of fall. I found some unfinished little wood tags at Joann and made them into signs for the herb planters. (DIY to come.)

The Finishing Touches
For glassware, I added the gold~rimmed wine glasses I found last year at Dollar Tree. I left them unembellished (I know, it's hard to believe I didn't do anything to them.) As we unpacked some of our fall decorations, I found a bag of woven "twig" like balls from last year. I added them randomly on the natural fall table. They add a round shape, texture, and color.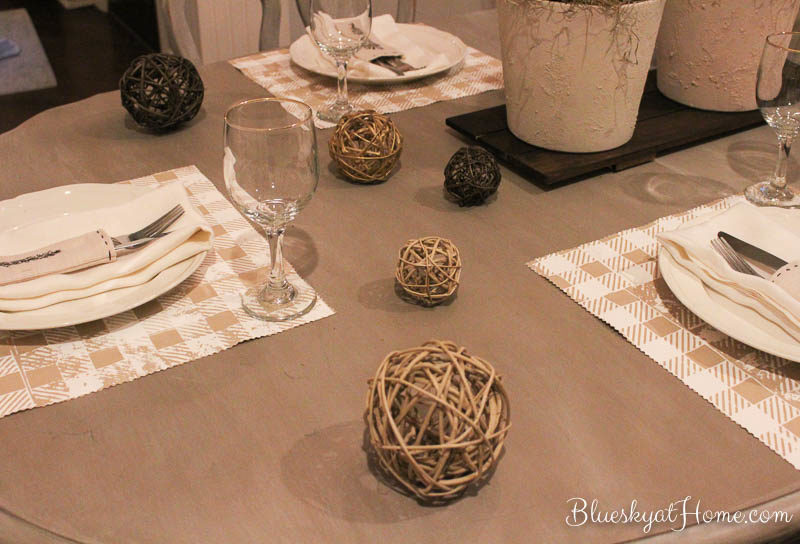 I just hope no one gets playful and starts tossing them around.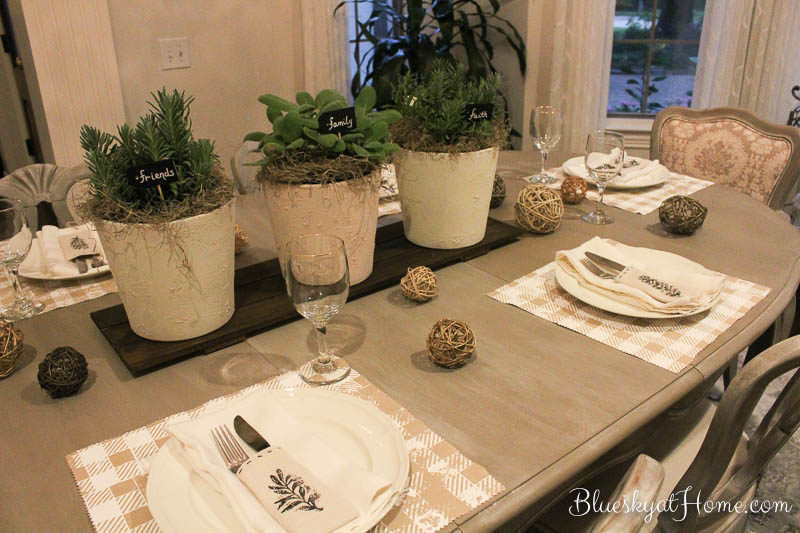 I hope you enjoyed learning how to create a natural fall tablescape. I loved creating the DIY projects that made this fall tablescape so special for me. I will be sharing these DIY projects in the next few weeks:
gingham stencil placemats
transforming terra-cotta pots
silverware caddy with leaf stamps
fall word signs
stained wood palette "tray"
If you need inspiration for a natural fall tablescape, please PIN this one to remember it.