5 Cute and Easy Easter DIY Projects
Earlier this week I shared with you How to Decorate Your Home for Easter, a review of how I decorated our home for Easter in 2016. As I was unpacking our decorations last week, I looked at the 5 cute and easy Easter DIY projects that I made last year, deciding which to keep, which to update and which to discard. Although we decorate every year for Easter, last year I created several new items to enhance our decor. They were fun to do, quick, inexpensive ~ some free! ~ and I think added pizzaz and seasonal color to our home. How can you go wrong with bunnies, flowers, and daffodils? So while I'm evaluating these projects, I thought I could use your help and input, too.
So here are my easy Easter DIY projects for your idea box or creative to~try list. I'd love your feedback. It's like cleaning out your closet: keep, fix or throw away.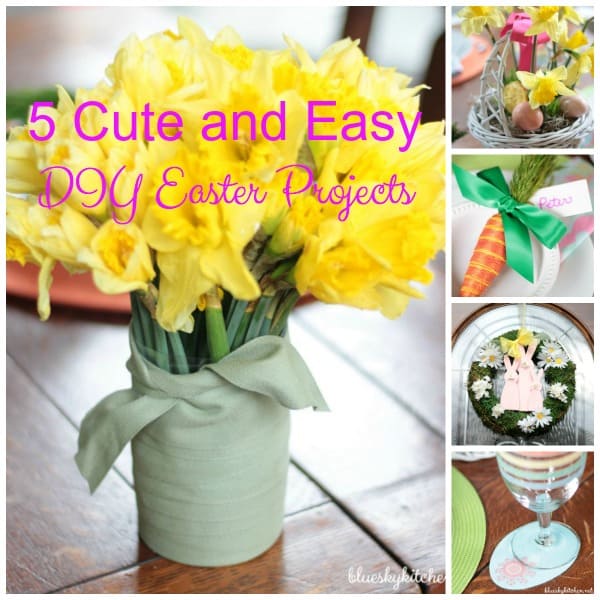 5 Cute and Easy Easter DIY Projects
Some of these projects were deliberate ~ I need something for the front door and a centerpiece for the breakfast room table. Others were accidental ~ Yippee, I can finally use these plastic containers and I have all this ribbon and spray paint waiting for a project.
Easter DIY Project #1 ~ Front Door Wreath
Supplies
green Styrofoam wreath*
decorative moss*
one bunch faux daisies*
tin snips
spray adhesive
wooden bunnies*
Krylon Ballet Slipper Spray Paint
glue gun
Rust-Oleum spray paint handle (a freebie from Haven conference that I just love!)
ribbon.
Cost
wreath ~ $9.99, wooden bunnies ~ 4.99, moss ~ 2.99, daisy stems ~ 1.99 = $21.56
Step 1
Use adhesive spray to attach the moss in small pieces on the front and inner and outer edges of the styrofoam wreath. (Several months ago, I shared how to make moss balls, using the same method.) I recommend doing this outside.
Step 2
Spray paint the wooden bunnies with Krylon Ballet Slipper Gloss.
Step 3
Use tin snips to cut off the daisies from the stems. I already had small white flowers in my "stash". I left enough stem on the flowers to push into the Styrofoam wreath. Look mom, no glue!
Step 4
Use a glue gun to attach flowers to the bunnies' noses and to attach the wooden bunnies to the wreath.
Sept 5
Make a bow from your ribbon of choice and a hanger from netting. Hang on door, using a nail or picture hook.
Easter DIY Project #2 ~ Easter Baskets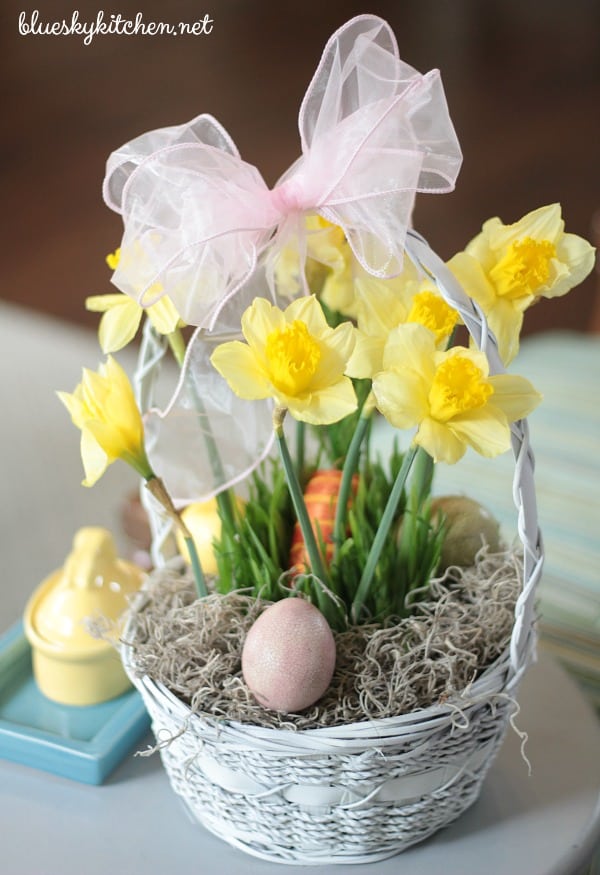 Supplies
flower baskets
Krylon White Chalk Spray Paint*
floral grass
Spanish moss
grocery store daffodils
wooden skewers
ribbon
wooden Easter eggs.
Cost
baskets ~ free, grass ~ $3.99 each at local grocery store, paint ~ $5.06, daffodils ~ $2.25 = $7.65 each basket
The baskets before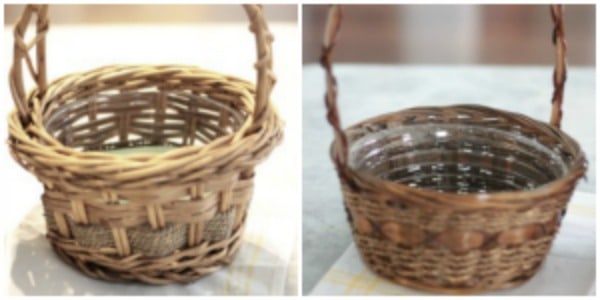 Step 1
Remove the plastic liners, if included, and paint using Krylon Chalky Finish Spray Paint in Classic White*. It took 2 coats, rolling the baskets around to cover all areas. Using the Rust-Oleum spray handle has made spray painting so much easier. Can't imagine spray painting without it. The Krylon Chalky Finish gave a really nice finish to the baskets.
Step 2
Re-insert the plastic liners and place the floral grass in them. Originally I was going to "shave" the grass down, but I decided to leave it ~ that way the daffodils would look more like they popped up in a field. I filled in around the grass with Spanish moss I already had.
Step 3
Cut the daffodils down to size. Here is where I got really clever. I pushed wooden skewers inside the daffodil stems to keep the stems straight. I was really proud of myself for thinking of that. This would work really well for gerber daisies.
Step 4
Arrange the daffodils in the grass, pushing the skewers into the grass. I used about 7 or 8 daffodils in each basket. Add Easter eggs and any other decorative items you like. Make a bow and tie on the handle of the basket. You could also use tulips or gerber daisies.
Easter DIY Project #3 ~ Carrot Place Cards
Supplies
decorative carrots (2 packages of 3)*
ribbon
packaging paper tags
pink Sharpie pen
Cost ~ $6.66 (that's for the carrots)
Step 1
Remove string tie from tags if included and write name on them. You could also use card stock and punch a large hole in one corner.
Step 2
Using ribbon of choice, pull ribbon through hole in tag and tie around carrot. Make your bow.
Easter DIY Project #4 ~ Ribbon-Covered Vases
Supplies
empty round glass or plastic containers with straight sides
ribbon
grocery store flowers
Cost
free!! for the vase, daffodils $1.99 for 10
At Christmas, I bought about 12 packages of batter-operated white lights. Each came in a clear plastic container. Sweet Shark thought I was crazy, but I saved every one for "something". Well, "something" is here. I wrapped 2 of the plastic containers in ribbon. You might remember I saved all the ribbon from my older daughter's wedding presents almost 10 years ago. Last summer I decided to organize all the ribbon I had piled in a box. Yes, that is an empty toilet paper roll. I rolled ribbon by color onto the rolls ~ great project while I was watching reruns of Fixer Upper. Now the ribbon is tidy and I can easily find a color I'm looking for.)
Step 1
Whatever container you are using needs to have straight sides. Keep a "tail" of ribbon and start at the bottom of your container, turning it, overlapping, and pulling the ribbon tight as you go. Don't worry if your ribbon is a little wrinkled ~ it will either be covered or stretched. Keep the "tail" pointed up toward the top of the container.
Step 2
When you reach the top of the container, cut off the end of the ribbon with enough excess to loop the ribbon and secure the ends. Cut off the ends at a slant. Fill your container with water and arrange your flowers.
Easter DIY Project # 5 ~ Coasters
Supplies
1 package of 12 egg foam shapes*
1 package of 20 pastel flower stickers*
Cost
4 coasters $1.76, 44 cents each
This project was so easy ~ just put 1 large sticker on each foam shape ~ pink, blue, green and white
I had such fun making these Easter DIY projects and I love how they turned out. Some (the wreath and baskets) were more involved, but the others were so easy and quick to do. Except for spray painting the baskets, I literally made all 5 in one day. Kids could easily make these coasters.
*Supplies ~ purchased at Jo-Ann's.
I hope you'll try one of these projects to get ready for the Easter Bunny! I'd love to know which one you like the best. Leave me a comment with the name of your favorite project. Let's see which one is the most popular. Help me decide which ones to keep and which ones to change or discard.
The bunnies and I thank you.