Do you decorate your home for Easter? We do and today I want to share how to decorate your home for Easter. Easter means many things, but one thing for sure is SPRING! With the mild weather we have had this winter, flowers are blooming early so it seems like spring is already here. (I shared earlier that I think it's just a tease.) Last week I shared how I decorated our living room for spring. One of my favorite holidays to decorate for is Easter, with its pastels, bunnies, chicks, and my favorite colors ~ blues, pinks, greens and yellows.  I'm ready to unpack the Easter decorations that have been sitting on our dining room table for 2 weeks. Easter comes toward the end of April this year so this is the week to start getting ready for the holiday; but before I share this year's Easter decor, I wanted take a trip down memory lane to see how I decorated our home last year for Easter.
I created a few DIY projects for our Easter decorations last year and I'll show you those projects and how I made them in a later post. We've always decorated our home for Easter, but last year was by far the most we had ever done, and both Sweet Shark and I loved the happy sense of spring. I ready to open the doors for you.
How to Decorate Your Home for Easter
The parade begins at the front door. This Easter bunny says "come on in" in a pot with roses.
I made this Easter wreath with bunnies and daisies for the front door and I'll show you how next week.
A few weeks ago we received two baskets full of flowers. After the flowers ran their course, I used the two Easter baskets, one as the centerpiece of my Easter tablescape with daffodils.
And the other on a side table. I'll share how I made the baskets next week. I love the daffodils and pink ribbons and Easter eggs.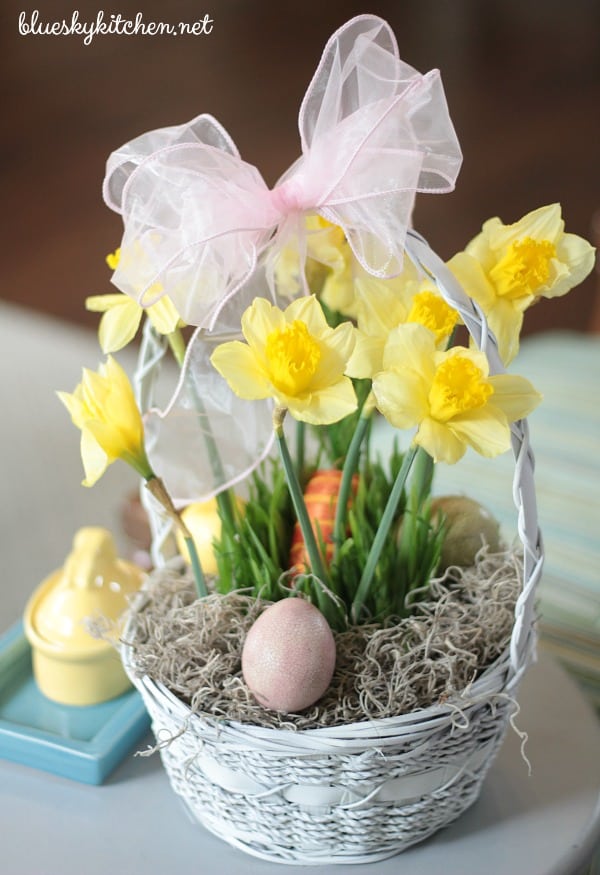 This Easter basket belonged to my younger daughter when she was a little girl. I still love it. I filled it with some of the figurines from her bunny collection.
Here is the "bunny church" that I used as the centerpiece for our coffee table. I'll share the "how-to" for it too.
I've always loved this little bunny orchestra. It was my son's as a little boy. He has way out~grown it.
The acrobat bunnies also belonged to my son. One of these days, I hope to pass them on to his kids.  Don't you love the yellow roses? We love yellow roses in Texas.
I found this yellow bunny at a flea market. There's a pink bunny waiting for Easter, relaxing in a chair.
Since we are going out for Easter lunch, I set the breakfast room table for March meals.
Look who is coming for Easter brunch? I'll tell you about the carrot place cards later.
Flopsy and Cottontail are invited too.
Later, I'll show you how I made these coasters for my springtime Fiesta glasses.
Chicks and bunnies wanted to be in the Easter parade.
Some other bunnies "came a-swingin" to the parade. Do you like my vases for the daffodils? I'll show you how I made those.
I hope you enjoyed our Easter Parade from 2016 and you got some ideas on how to decorate your home for Easter this year.  Looking back helps me re~evaluate and determine what I want to use again in 2017. Some people may keep a notebook of past holiday decor or parties. I just post about it. See you soon for the DIY Easter Projects.