How to Convert Closets to Create an Office
I know it's Halloween and I should say, Happy Halloween. O.K., Happy Halloween. Celebrate trick or treating with the kids or handing out candy to the neighborhood kids ~ we have our bags of candy ready. I'm celebrating, too. But not goblins and witches and ghosts. I'm celebrating, jumping up and down, turning circles, shouting yippee and giving arm pumps! Why, because today starts construction on my office. Yes, friends and family across the world, I am finally getting an office. A real space all my own to work, write, craft, compose, blog, edit, and DIY to my little Texas heart's content. I've been using part of the kitchen counter as my computer space while files, supplies, paints, printer and paper live in other parts of the house and garage. Finally, my hinting and sighing and pouting (I hesitate to say complaining.) to Sweet Shark has paid off and he agreed that a designated office space for me would be a could thing (and up our home's value!). So I'm going to take you on this journey with me over the next several weeks and show you how to convert closets to create an office.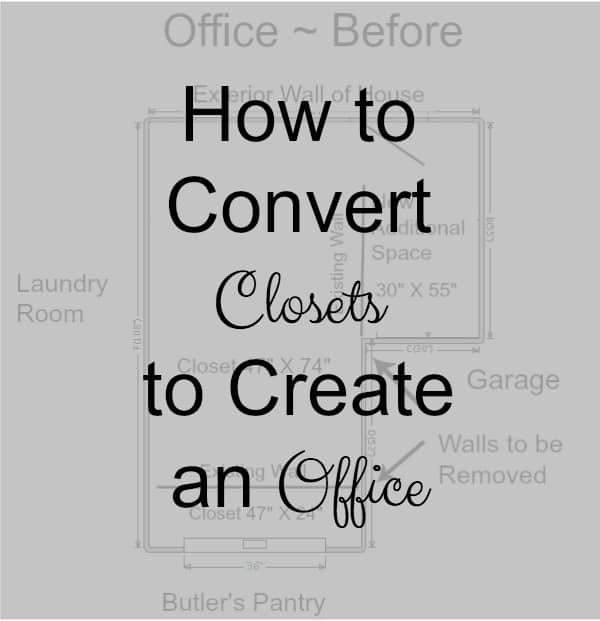 The Current Situation
We are not converting a room ~ I really didn't want to give up a guest room and I didn't want my office upstairs. And we couldn't expand the footprint of our house. So the the only space we had available was 2 closets ~ 1 in the butler's pantry (I have 3 bookshelves for my cooking binders and magazines, and the broom and ironing board.) and the second one in the garage (all our Christmas decorations). Fortunately, they back up to each other.
It looks like this.
Here is the butler's pantry closet; the bit of door you can see on the right leads to the garage.
I had actually started emptying the closets before I took this photo. Books and paints (which I stored in the Elfa door rack) have already been removed and packed.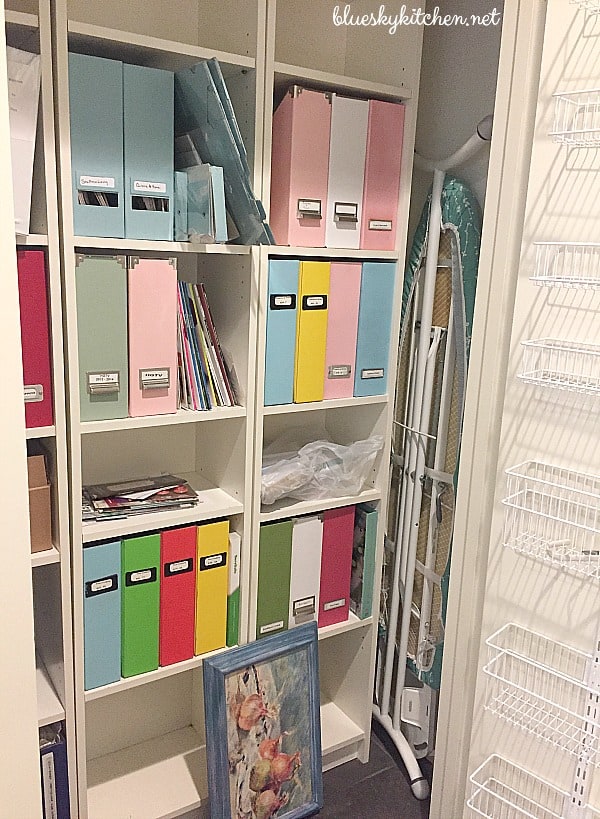 Here's the door to the garage closet.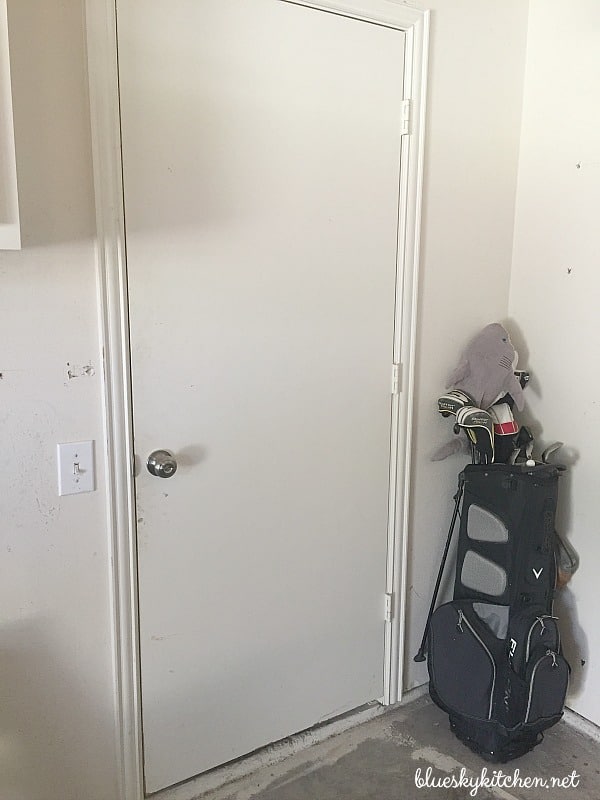 Before we could start construction we had to find another place for all our Christmas decorations. Last week our contractor (We are using the contractor who did our house remodel almost 4 years ago.) built these shelves in the garage and painted them. Our garage is 10 feet high and we had plenty of room on each side of the existing shelves (which had been removed from one of the guest rooms and mounted in the garage when we did the remodel). Each shelf is 8 feet X 25 inches tall X 25 inches deep to accommodate our boxes.
We spent Saturday morning moving all the boxes of decorations to the new garage shelves.
And now we can see the space better.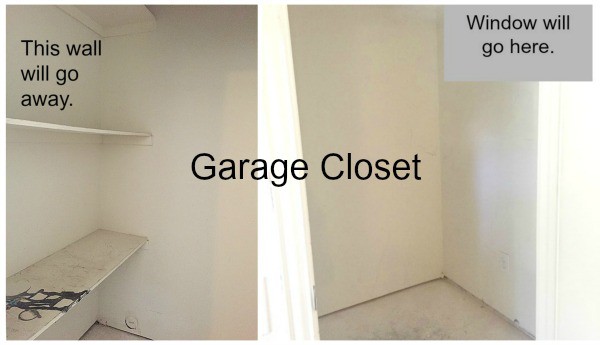 Then we emptied the butler's pantry closet. We took all the magazine holders and 3~ring binders upstairs (just to stay during construction), the ironing board went to the laundry room. The Ikea Billy Bookcases went to the garage.
The Plan
We will remove the wall between the 2 closets and remove the wall and door between the garage closet and garage, adding additional space from the garage, a "bump~out of about 2 1/2 feet by 55 inches.
The Vision
After construction, the space I have to work with should look like this.
Here's my vision after adding the work space, shelving, and storage:
We will add a window on the exterior wall of the house for light and because I do not want to work in a cave.
The worktops will be counter height (from Ikea)~ I like working from stool height. I found the perfect stool on Wayfair.
My 3 existing Ikea Billy Bookshelves will be used. Since the ceiling is over 10 feet, I already bought extenders for them.
My existing file cabinet (currently in the laundry room) and an Elfa drawer unit on wheels (also in the laundry room) will move into the office.
We'll add shelving on the wall behind the computer and the craft area.
We'll add a large pegboard on the opposite wall.
Plenty of electrical outlets under and above the counter space.
Task lighting and an new overhead light fixture ~ I'm thinking chandelier!
Paint all the walls (color to be determined), but I can tell you it will be pink!
My dry~erase calendar, my decorative clip boards and some art work will find a home.
New flooring ~ floating, lock~in, laminate "hardwoods" in a grey tone.
The current Elfa door mounted shelves will be mounted in the office ~ not sure where yet.
Well, that's the plan on how to convert closets to create an office. We're hoping to be finished in 3 weeks. So keep your fingers crossed that by Thanksgiving I'll have an office. It won't be big, but it will be mighty cool. I'll keep you up on the progress. And I promise a big reveal "episode". It's my own little fixer upper.
And if anyone has done a project like this, please share any advice, do's and don't's.