How Our Office Construction is Progressing
Our office construction is progressing so it's time to share a few photos. Don't you love before and after projects? I love to see how a space looked before and see the process and then the big reveal. Isn't that why we all watch Fixer Upper and Property Brothers and Love it or List It? When we bought and remodeled our house starting 4 years ago, I couldn't wait to drive over every afternoon to see what had changed. Although this project is so much smaller, it is still fun to come home and see the changes. What a difference a week makes. Last week I shared with you the plan for my new office space here. To refresh your memory, we are combining 2 closets and adding space from the garage. After just 1 week, we actually have a space that we can see, walk into and visualize. I thought you might like to see how our office construction is progressing.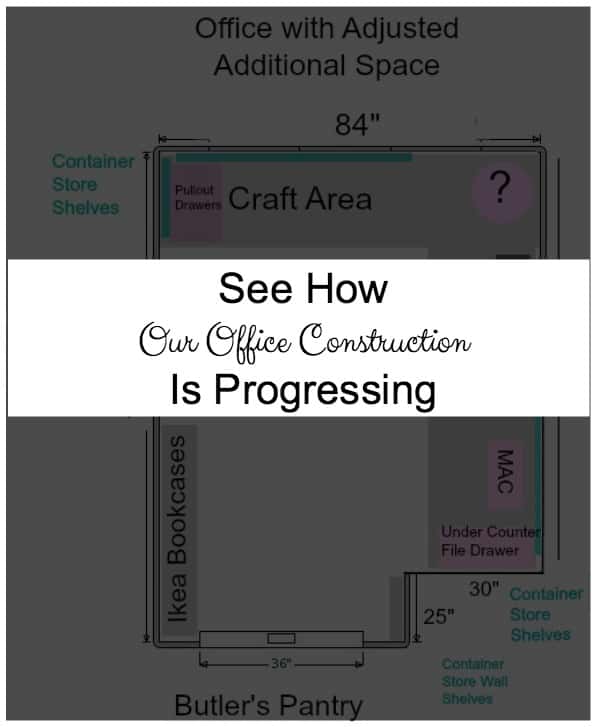 Before construction began, here is the space I thought we would end up with.
As soon as the workers arrived early Monday morning, we discussed how we might get even more space. We thought we were tied in by where the drop~down stairs to the attic came down in the garage. Our contractor's assistant suggested that if we switched the direction of the stairs, we could gain an extra 2 feet of space. Well, 2 feet is a lot of square footage when you are dealing with a small space, so we quickly agreed to his suggestion.
First the wall separating the garage from the closet came down.
Then the wall separating the two closets was removed.  On the other side of the plastic sheeting (with a zipper!) is the butler's pantry. We decided that I didn't need doors into the office so a new cased opening will be framed. 8 inches will be added to the wall on the right side to accommodate my 3 Ikea Billy Bookcases.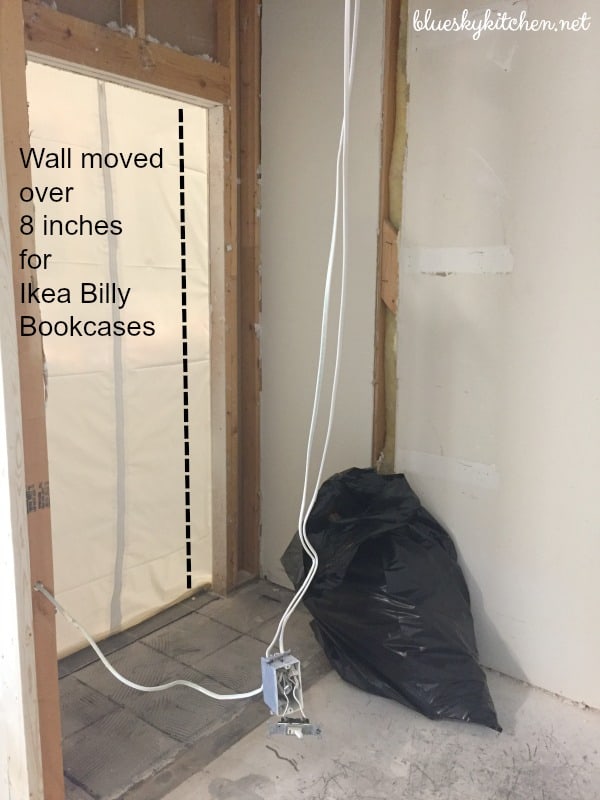 Once the old studs and sheetrock were removed we could really see how much more space we would be gaining. The next day, the drop~down stairs were switched to come down in the opposite direction. We gained 25 inches of space on the "bump~out".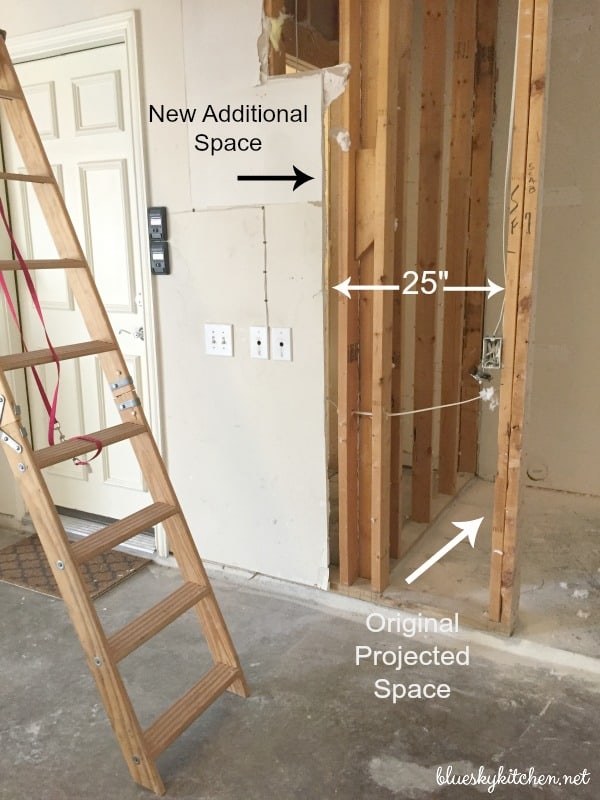 Next the new studs were added, the new concrete was poured and the sheetrock was put up. Now we can walk in an actual office space and see how our office construction is progressing. I can measure walls. It's turned out much bigger than I anticipated, which is a good thing.
Overall, we gained about 5 more square feet than originally anticipated. The extra space means more actual work space and more visual space. I had to adjust where the bookcases will go, but I gained space for wall storage.
Here you can see the bump~out from the garage side.
And here's the new lay~out, at least for now.
Today our contractor is coming with the electrician to determine where overhead lighting, task lighting, and outlets will go. I can't wait.  Thanks for letting me share this project with you and I hope that you like to see how our office construction is progressing. Check back next week for more updates.