How I Decorated Our House for Thanksgiving
The turkeys have come home to roost. The Pilgrims and Indians have gathered together. The pumpkins have been "harvested". It's Thanksgiving time. It's time to show you how I decorated our house for Thanksgiving.
During the past week, while keeping out of the way of the workers constructing my office, I've been decorating our house for Thanksgiving. For the first time in many years, we will be not be home for Thanksgiving; we will be spending the holiday with our daughters and grandkids. In spite of being away from home for the holiday, I still wanted our home to have a festive Thanksgiving decor during November. I think Thanksgiving is the hardest holiday to find good decorations for, but finally, after gathering for several years, we have a good collection of appropriate pieces to create a holiday feel. And so it's getting easier to decorate our house for Thanksgiving.
How I Decorated Our House for Thanksgiving
Let's start at the front door. Last year I made this fall door hanger for the front door, which welcomes guests all through the fall and Thanksgiving season. I bought extra ribbon and wrapped it around the door hanger.
In the entry, I placed a burlap runner on our credenza and used a few of our turkeys, pilgrims and Indians. Some autumn leaves and acorns add a casual feel.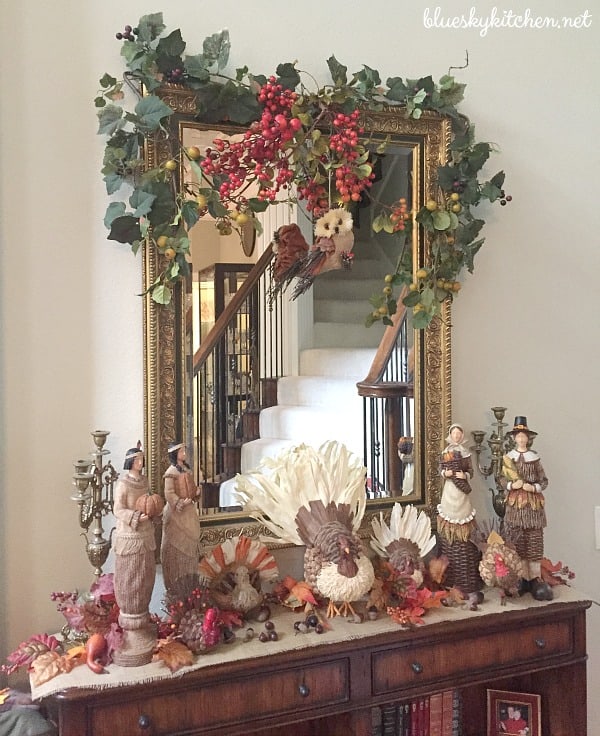 A new purchase this year are the vines and berries on the large mirror above the credenza. A little Thanksgiving owl joins the party here. I think he's so cute.
As you enter our living room, our large bookcase serves as a roosting place for a couple of turkeys.
Once again, I used my estate sale Remington Sure Shot Crate as a container for flowers. Yellow and orange mums are just the right combination for seasonal color. I added a little orange "shred" to finish off the arrangement.
Since a coffee table is always a focal point, I wanted to give it a special look. I started by placing a burnt~gold throw on top of the glass. Then I added some more of our turkeys ~ I love the 2 that are candle holders ~ along with some gourds. I used a box under the throw to add height. My twig planter is the right size and I love the rustic look with the mums.
The other focal point in the living room is the mantle. I love to see how people decorate their mantles. I used the "thankful" sign that I made last year. I shared with you here how I made it. Then I added the sheaves of wheat from Pier 1 that I bought for fall decorating, the Pilgrims and Indians that we've had for years, and some faux autumn leaves.
I hope you enjoyed how I decorated our home for Thanksgiving. Everything always seems more festive and happy with a few turkeys and pumpkins visiting for the holidays.
I want to remind you about the Holiday Recipe Blog Hop that starts next Monday. Please drop back by Bluesky Kitchen to enjoy a wonderful week of great recipe inspiration.
Have a great fall weekend!