7 Easy Inexpensive Ways to Save Space Using Hooks
Are you getting in the mood to organize? I decided to make more efficient use of space by going vertical. I found 7 easy inexpensive ways to save space using hooks.
If you're like me, you're always looking for ways to save space in your home. Going vertical is a great way to add efficiency without sacrificing space. So I came up with some easy inexpensive ways to save space using hooks.
The urge to organize happens occasionally when I start to feel that drawers or shelves or places under the sink are getting out of hand.
Do you need more storage in the kitchen or the bathroom or the kids' bedrooms? Want more efficient use of space in the closets (for you) or in the garage (for hubby)? Do you need to eke out some more space in your office or craft room?
I'm always moving things around, hoping to find more space and a more efficient way to store stuff. Just when Sweet Shark remembers where the vegetable peeler is, he looks for it and can't find it because I decided another drawer was a better place.
When you move one thing, that leads to moving something else. In another life I might have been a professional organizer.
I really focused on some things in our home that needed better storage solutions. 5 things that really kind of bugged me, 5 things that didn't have a good place to stay when not in use and weren't handy when I needed them.
As I tried to figure out the best way to fix the space issue for these 5 areas, I realized drawers or shelves weren't the answer. Neither of those options provided the "get it out of the way", but "make it handy" solution. By accident, I found 5 ways to save space.
Looking through a drawer in our butler's pantry, I found something that would work for 1 item. Walking around the house looking at the problem areas that had been causing me fits, I realized that the thing that would work in 1 area, would also work in the other areas ~ hooks.
Hooks would solve my dilemma. So with a little DIY magic, in 1 day, I found 5 easy inexpensive ways to save space using hooks.
Using Hooks: 7 Easy Inexpensive Ways to Save Space
This post contains affiliate links to products that I use and highly recommend. If you should purchase any product through this site, I may receive compensation but you do not pay one penny more.
I've already used hooks in our home, specifically on the backs of the bathroom doors to hang robes and in the garage to hang mops and brooms shovels and rakes, but that's about it.
I love that hooks provide ways to save space by taking advantage of vertical space. When we think of wall storage, we normally think of shelves. But hooks in the right place for the right use can be the perfect solution for adding space, efficiency, and storage.
And, as I discovered, hooks can be just as much a decorative element as other hardware, such as drawer pulls or knobs. Plus, they are relatively inexpensive.
First Way to Save Space ~ Where to Put My Camera
There is little unused wall space in my office:
Almost every inch of wall space is covered in bookshelves or Elfa racks.
Between my computer, my Cricut Explore Air, and office supplies, my desk countertop is pretty much maxed out.
The under~counter storage carts are also filled to the brim (Yes, I've already been rearranging those to be more efficient.) The one thing that I did not have was a good storage place for my camera.
As a blogger, I always want my camera handy, but I also don't want it taking up valuable countertop space when I'm not using it.My battery charger and extra lens have their own space in a drawer, but the camera wasn't so easy.When I found a brass hook in a baggie in a drawer in the butler's pantry, I had no idea where it came from and I don't remember buying it. It had a sticker on the back for a store I've never heard of. It's a mystery, but that hook gave me the idea to use hooks to solve my space~saving problems.Now I had a brass hook to use and I found the only available spot in the office to hang the camera ~ next to the Elfa shelving that holds paint.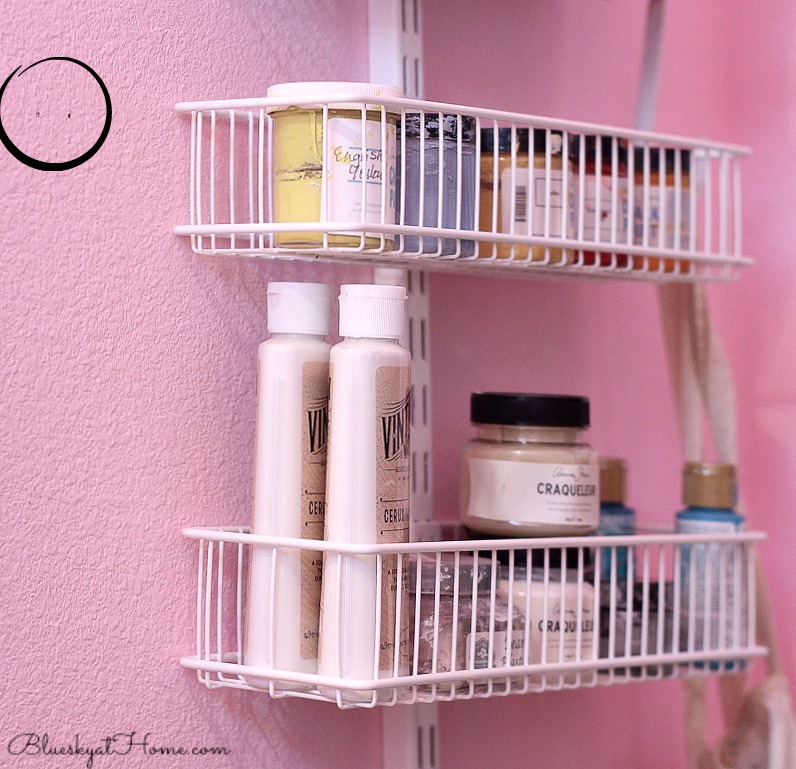 I did have to buy a package of #4  1~inch brass screws.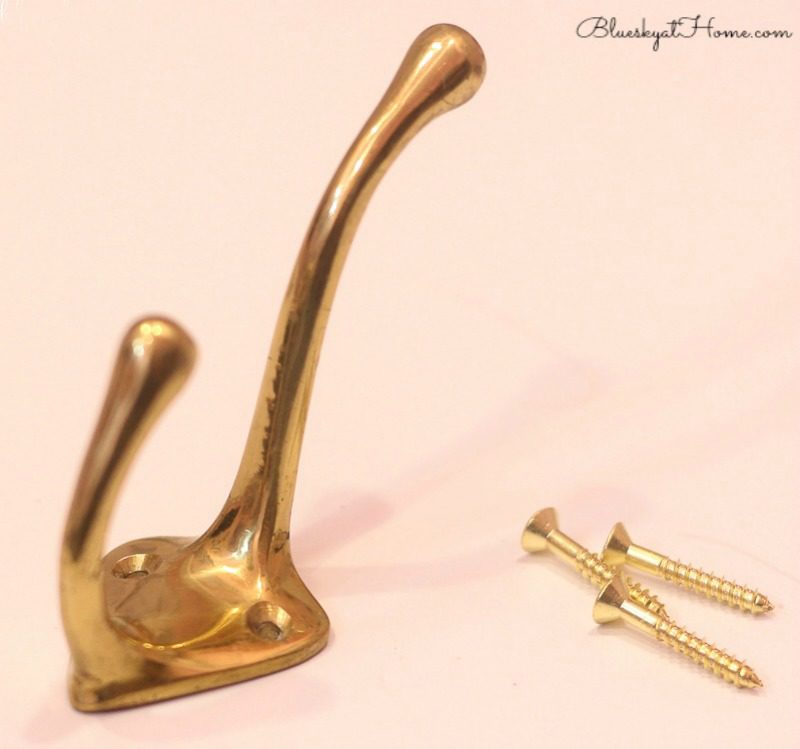 The camera now:
is safe when not in use
easily accessible
is out of the way when not in use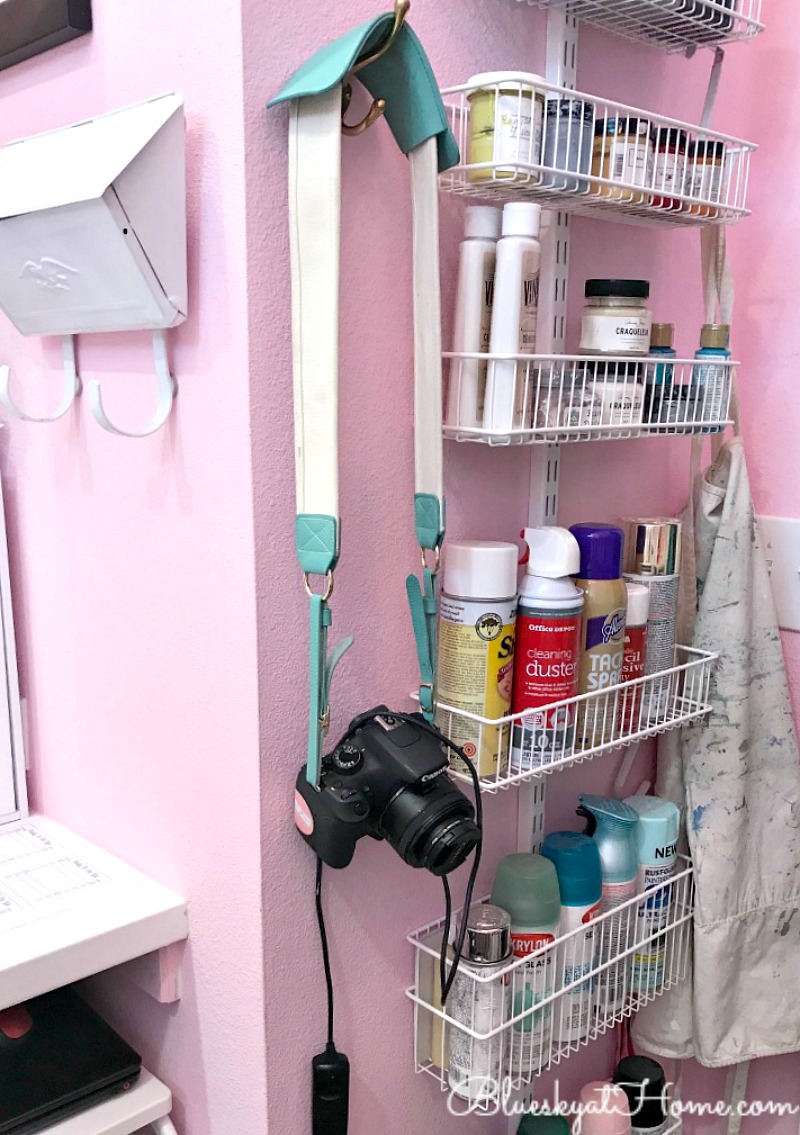 Second Way to Save Space ~ Where to Put my Purse
Where do you put your purse when you come home?
On an entry table, the kitchen table, the kitchen counter?
To be honest, this question drove me crazy every day.
When my computer was in our kitchen and I had a stool to sit on, I would put my purse on the back of the stool. With the stool now moved to our kitchen island, there was no place either in the butler's pantry (where we enter from the garage) or in the kitchen to put my purse except on the countertops which wasn't a good place. For months, I just dropped my purse on the floor where it got in the way and also got dirty on the bottom.
I thought that the open space below the kitchen counter (where the stool used to be) might offer a place to put my purse. Placing my purse on a hook under the counter solved 3 problems:
an out of the way place
a place that was easy to access when I came home or left the house
a place off the floor so the purse wouldn't be in the way or get dirty
I searched Sweet Shark's toolbox and found 2 screws that would work for this hook. In a few minutes, I had determined the right placement for the hook, screwed it in, and had my purse in the perfect place. That one little hook solved my purse dilemma.
Third Way to Save Space ~ Where to Put Extra Dishtowels
Do you go through dish towels? We do. After they get too worn or torn for the kitchen, I demote them to the laundry room to use as cleaning rags.
I can't resist a dish towel with a cute quote or picture. I've even framed them! You just can't have enough dish towels. So a few months ago, I picked up a set of 4 blue and white dishtowels with farmhouse patterns at Ikea. I decided they were the perfect farmhouse vibe for my kitchen and they were too cool to keep hidden in the drawer.
But where to put them? A picture on Pinterest inspired me to think about hanging them on the side of our kitchen island. I just needed a piece of wood and some hooks.
At Haven in the Behr booth, we painted a piece of wood in a wide array of colors. I choose white and packed the wood in my extra suitcase.
As it turned out, the 1/2 X 4 X 16~inch piece was perfect for the side of the island.
All I needed were 4 single~prong hooks. I found just the right ones in a brushed chrome ~ I love when they come with screws ~ and I bought 8 just in case I found other places to use hooks. I also bought 2 packages of 2~pronged hooks, just in case.
I did give the piece of wood another coat of white paint in Bauhaus Buff One Step Paint by Amy Howard leftover from our laundry room project.
Once the paint was dry ~ about 30 minutes, I measured where the 4 hooks should go on the board. Then I drilled pilot holes and screwed the hooks to the board.
Sweet Shark used 4 screws (found in his toolbox) to attach the board to the side of the kitchen island. Project done.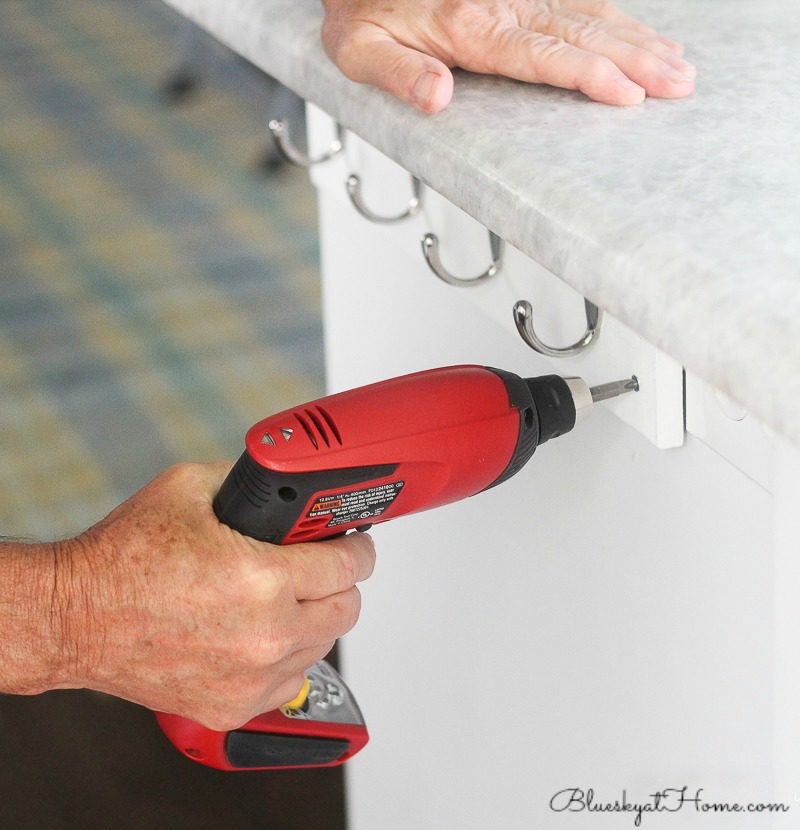 Each towel has a small cloth tab on the long side, but I chose to hang them from the short side. I love the pattern and soft blue color that the dishtowels add. They can't be seen from the living room.
Here's the payoff:
4 dishtowels are easily accessible
out of the way
add color and pattern to the kitchen
fewer dish towels stuffed to fit in a drawer with others
As a bonus, I can change the dishtowels depending on the season or holiday.
Should I paint over the screws or let them match the silver of the hooks?
Fourth Way to Save Space ~ Get Those Totes Off the Floor
In our closet, I have shelves for my purses that work well. However, I had 3 large travel/beach totes that did not fit on shelves. I also had 2 other purses that did not have a home. They all ended up on the floor and always seemed to be in the way as well as have a messy look.
I used the package of 2~prong clothes hooks that I bought at the same time as the ones for the dish towels.
The problem was where to put them. The only place was on Sweet Shark's side of the closet, next to the door into the closet. I eyeballed where I thought they should go and screwed them in.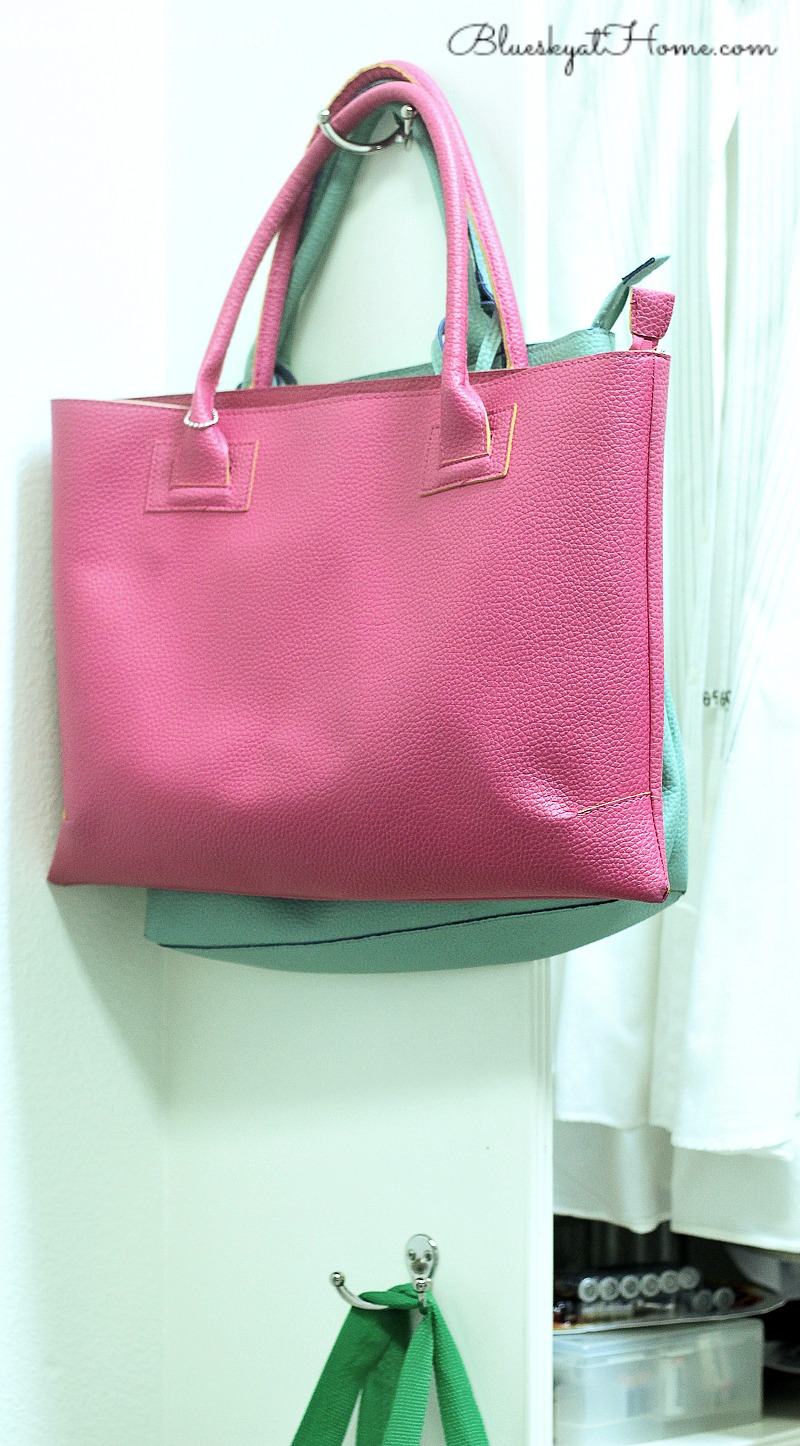 Once again, the hooks proved to be the solution.
totes up off the floor
out of the way when not needed
easy to get to
Now there is not a pile of messy totes on the floor and the closet looks so much neater.
Fifth Way to Save Space ~ Hang Those Bath Towels
Upstairs, our 2 guest rooms share a jack and jill bathroom. When I was ordering bath fixtures during our remodel, the bath towel bar that I wanted was out of stock. The only one available that matched the other fixtures was just 18 inches long.
After it was installed, there was only room for 1 bath towel. As a result when we had guests (usually our daughters and grandkids) wet towels ended up on the floor ~yuk! I've been thinking about a solution and Haven came to the rescue.
Next to the Behr paint booth was the Liberty Hardware booth. After you painted your sample board, you could pick out hardware from Liberty. I picked 3 chrome hooks that I really liked and brought them home.
I found another leftover piece of 1 X 4 that was 24 inches long and painted it in Bauhaus Buff.
Setting the 3 hooks on the board, I realized I had room for 4 hooks and 4 hooks would definitely work better than 3. I looked up Liberty Hardware and found the model to match the hooks I already had. I clicked on where to find them and hopped over to the Home Depot website.
Within 2 minutes I had ordered 1 hook for pickup. Forty~five minutes later I received a text saying my order was ready for pickup.
I called Sweet Shark who was out running errands. He picked up the hook and we had the 4 hooks ready to install.
Again I drilled pilot holes and then attached the 4 hooks. We removed the original towel bar and used toggle bolts (Sweet Shark picked those up at HD also.) to attach the board to the wall. Since towels can get heavy, especially if wet, we wanted the added security of toggle bolts. I plan to paint over the screw heads.
Isn't this the cutest way to hang towels? I like the pairing of the rustic wood with the modern hardware.
I think this set~up will be easier to have 4 towels out for company and extras stored in the cabinets. It will also be easier for the little ones to hang up their towels after baths.
The towels on the outside hooks are from Ikea and they have cloth tags. What a great idea.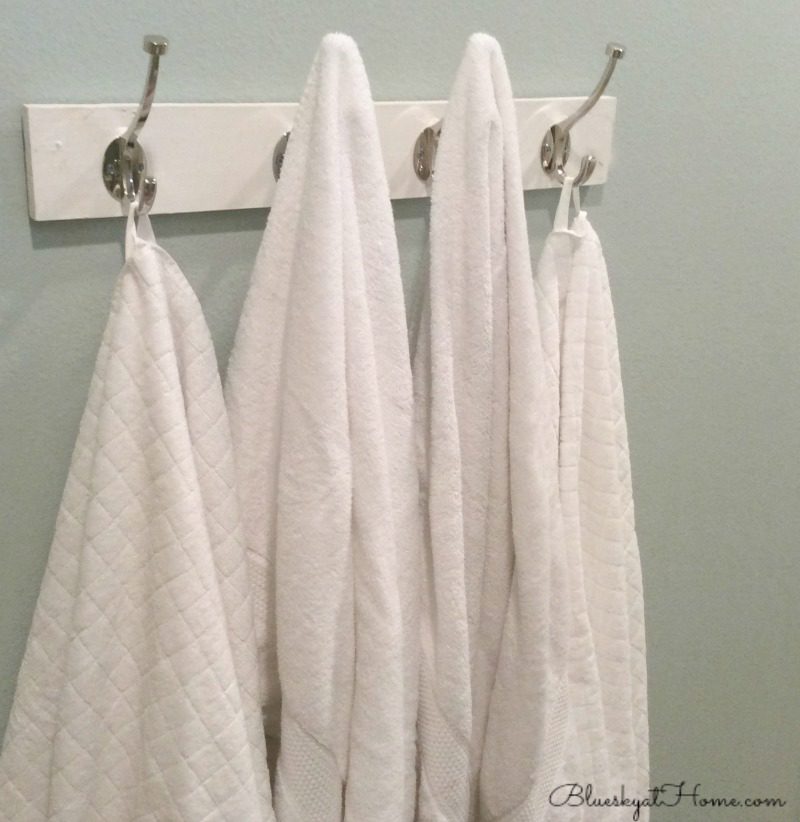 The takeaway:
can hang 4 towels instead of 1
a more interesting decorative space idea
more space in the cabinet with 4 fewer towels
an easy place to access both wet and dry towels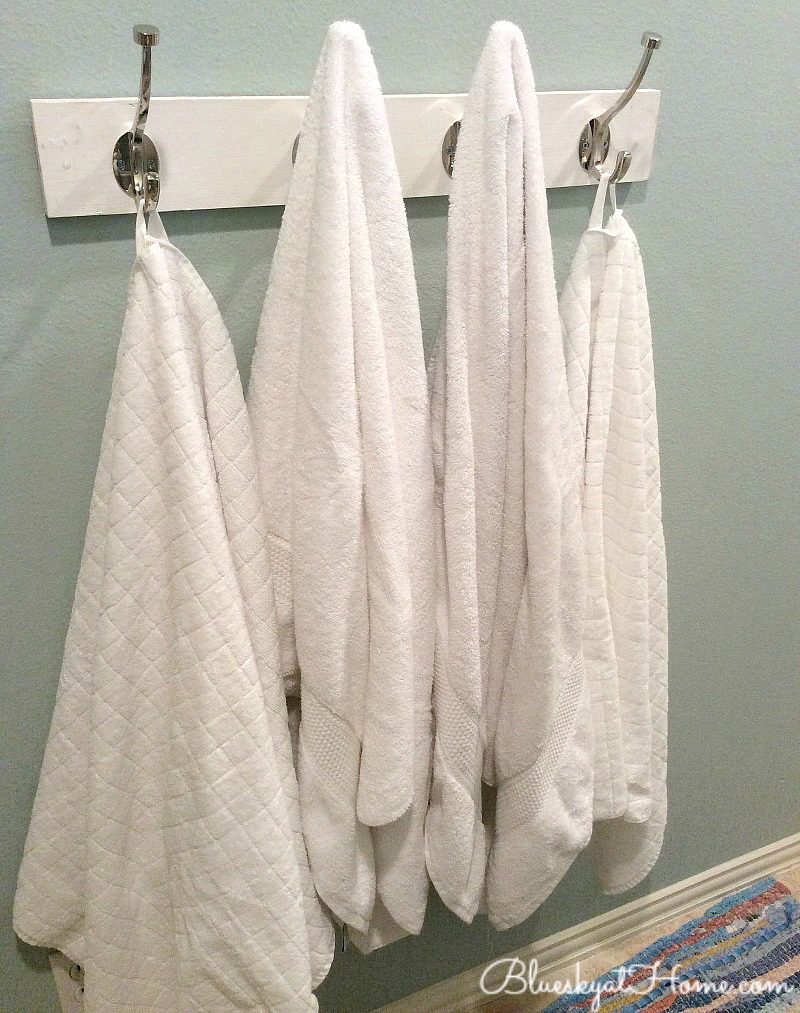 Two Bonus Storage Ideas – # 6 and #7
I had a couple of hooks left over from the dishtowel project. Between our refrigerator and the kitchen wall is a very slim storage cabinet where I keep ladles and extra spatulas. I decided to use one hook on the inside of the pantry door to hang a couple of aprons. Before they got stuffed in a drawer below the cooktop with skillets.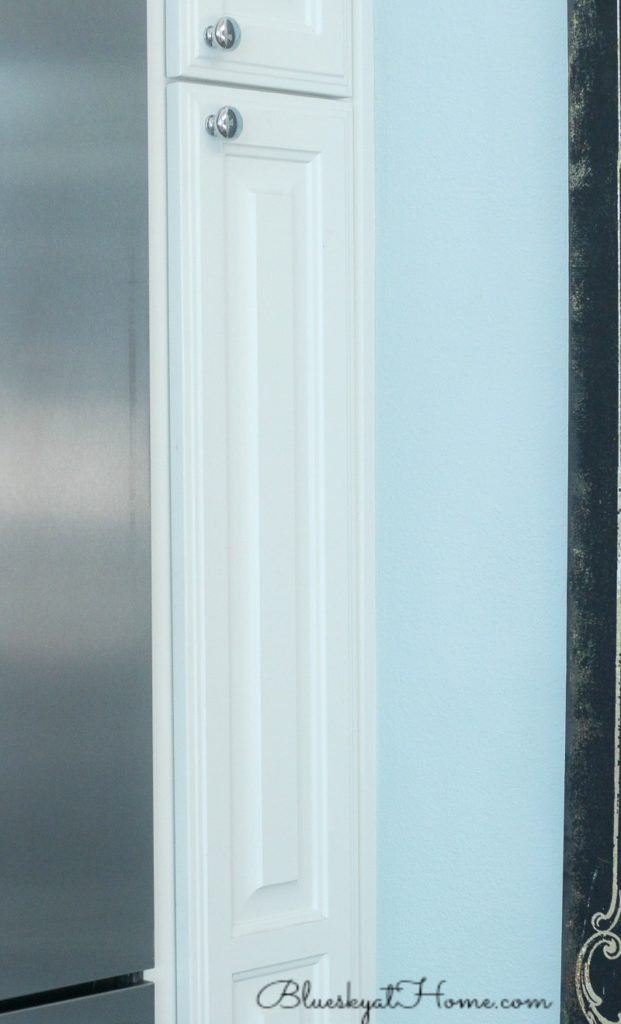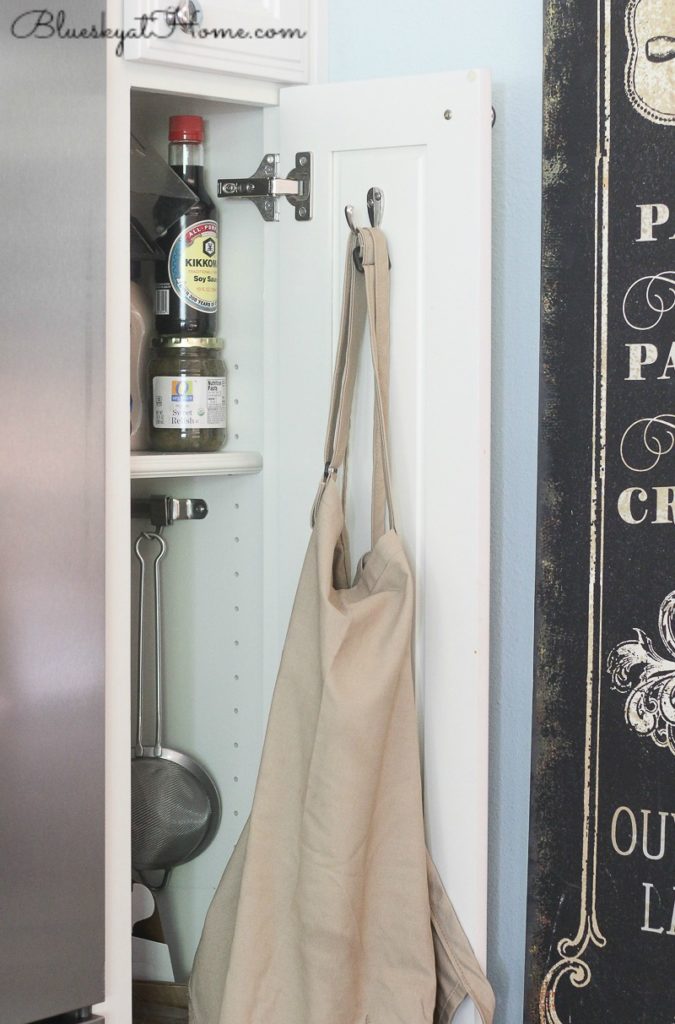 I also used a picture frame hook to hang my large plastic ruler in my office. Previously I stored it between the wall and one of my storage carts where it often fell out of sight.
All I had to do was bend out the bottom of the hook for the hole in the ruler. Now I can easily grab it when I need it and it's just one more way to save space.
It's hard to believe that in 1 day I found 7 ways to save space. We created some home decor charm with wooden boards and hooks, lowered my stress level (messy makes me crazy), and increased efficiency.
The moral of this story: think of ways that hooks can save you space, add decorative elements and create easy access for items around your house. I hope you got some helpful ideas and inspiration for your own storage dilemmas.
Here's what we had to buy:
1 package (5~count) brass screws $1.24 @Lowe's
1 package (4~count) toggle bolts $2.28 @HomeDepot
1 Liberty Hardware Chrome Pilltop Coat and Hat Hook $5.94 @HomeDepo7
5 single prong brushed chrome hooks $1.98 each @Lowe's
1 package (2~count) double prong brushed chrome hooks $3.28@Lowe's
I hope this post inspires you to think of ways to use hooks to take advantage of unused vertical space and add more organization to your home.
Don't want to forget these ideas? PIN it!