Citrus-Inspired Summer Centerpiece
Lemons are lovely anytime of year. Why not make a citrus~inspired summer centerpiece?
Although lemons and their cousin limes mature in the winter, we often think of them as summer fruits. Their colors make them the perfect addition to a summer centerpiece.
That means yellow and lime green are our colors for this summer centerpiece ~ a combo that can't be beat.
Citrus-Inspired Summer Centerpiece
Where did the inspiration for this citrus~inspired summer centerpiece come from? Pinterest, of course.
This is Pinterest Challenge time. Our hostess, Cindy of County Road 407, chose the perfect subject for the hot days of July. The inspiration photo is from our friend Mary at Home is Where the Boat Is.
Mary lives on a boat on a lake. How cool is that! She's a whiz at creating beautiful settings lakeside. This centerpiece and table are so inviting.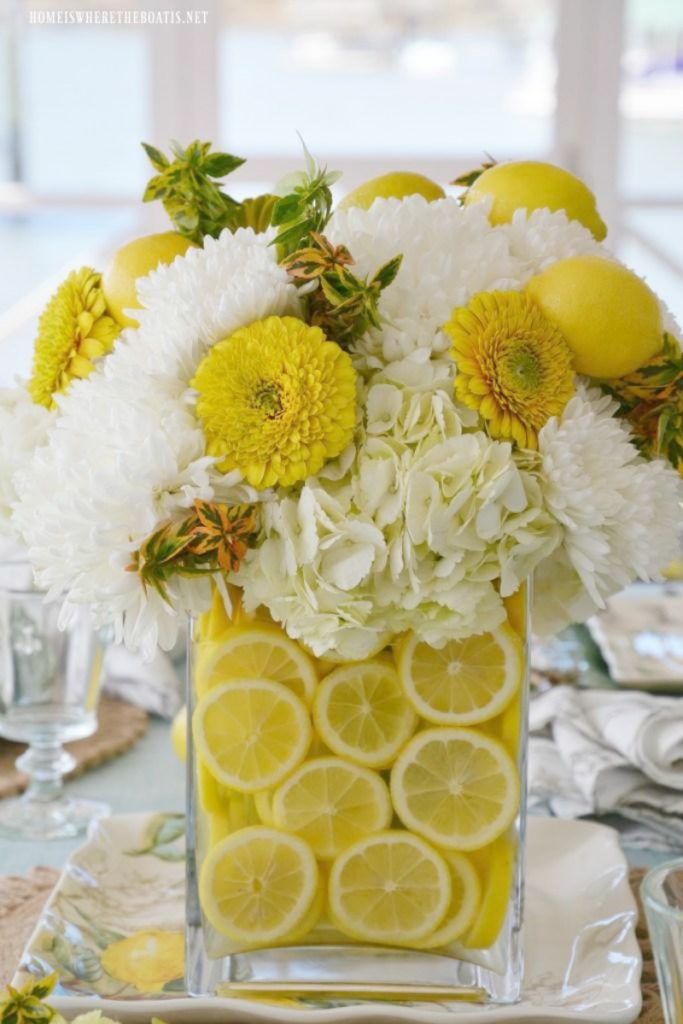 If you have been following these Pinterest Challenges each month at Bluesky at Home, you know that the idea is not to imitate, but to be inspired. Citrus is our inspiration.
If you are coming over from Lora at Lora B. Create and Ponder, then welcome to Bluesky at Home. I'm so glad you are here.
Inspiration for my Centerpiece
Mary made an entire tablescape inspired by lemons. I decided to create a centerpiece for our breakfast room table. Something simply to enjoy and and look at during the last hot days of summer.
What was my inspiration for my citrus~inspired summer centerpiece?
This large beach tote was a gift from a group of ladies that I taught cooking classes to 8 months of the year for about 5 years. At our last class in May, before we took a summer break, they always gave me the nicest thank you gifts.
The large tote was full of other lemon~theme goodies, such as cocktail napkins, lemon~flavored lip balm, and a lemon dishtowel.
I've wanted to use this lemon~design tote for a long time in some way as a design element. I thought it would be perfect for my citrus~inspired summer centerpiece.
Mary used sliced lemons to line in between two glass vases. My tote would line the outside of a glass vase. The only problem? I didn't have a clear glass vase large enough. Until last Thursday when an estate sale was held in our gated community.
I got there in the first hour and the first thing I saw was this large round clear glass vase. It was mine!
I set the vase inside the tote and tucked the sides of the tote inside the vase.
I needed a smaller vase to sit inside the larger one to hold my arrangement. Fortunately, I had 3 of those.
Flowers for my Centerpiece
This vase would hold my flowers. Did I mention flowers?
I love shopping for flowers and bringing them home. For this arrangement, I chose a mixture of white and yellow zinnias, "extra" white hydrangeas, yellow tulips, and a tiny daisy~like flower called Chamomile Matricaria.
I cut off the ends of the stems at a diagonal and place the flowers in the sink filled with water. I also placed a florist foam block (oasis) in the sink to absorb water.
After they have soaked for a while, I lay them out on the counter and admire how pretty they are.
Next, I placed the florist foam in the smaller vase and fill with water. I began to arrange the flowers, removing leaves and cutting off the stems to get the height I wanted for my summer centerpiece.
I started with my extra white hydrangeas and white zinnas. I think those were the same white flowers that Mary used in her centerpiece.
Next, I added the yellow flowers, pushing most of them into the florist foam. The others I pushed into the water around the foam. The last flowers were the daisy looking ones.
That's how easy it was to arrange my flowers. Now I needed to add the citrus element.
Citrus for my Centerpiece
We always have lemons and limes in the fridge, but I bought a few more just to be sure I had enough. I pushed both wood skewers and long metal skewers into the ends of the limes and lemons. Then I scattered the fruit skewers around the flowers.
As a final touch, I added a white and yellow dishtowel on the table. Sliced lemons and limes on a yellow plate completed my citrus~inspired summer centerpiece.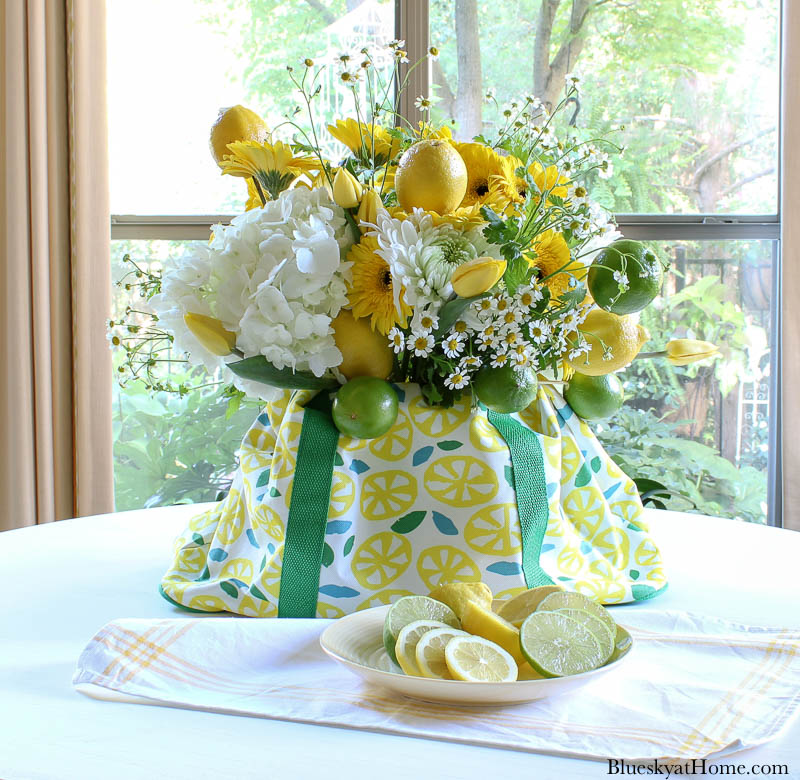 I think this summer centerpiece is a simple, sweet focal point on the breakfast room table. It brightens my view from the kitchen.
Version 2 of my Centerpiece
Now, if you don't have a citrus~inspired tote bag to wrap your flowers in, I have another idea for you ~ use a piece of lemon~themed fabric. I few days after I made the first version of my summer centerpiece, I decided to change it out using a lemon motif fabric.
The tulips had opened up and I had removed the lemons and limes back to the refrigerator.
Instead of returning the citrus fruit to the skewers, I tucked them under the flowers around the top of the vase.
The citrus filled in the vase nicely at the base of the flowers. Yes, I know one of my hydrangeas is a little droopy. I've been watering the flowers everyday, I promise.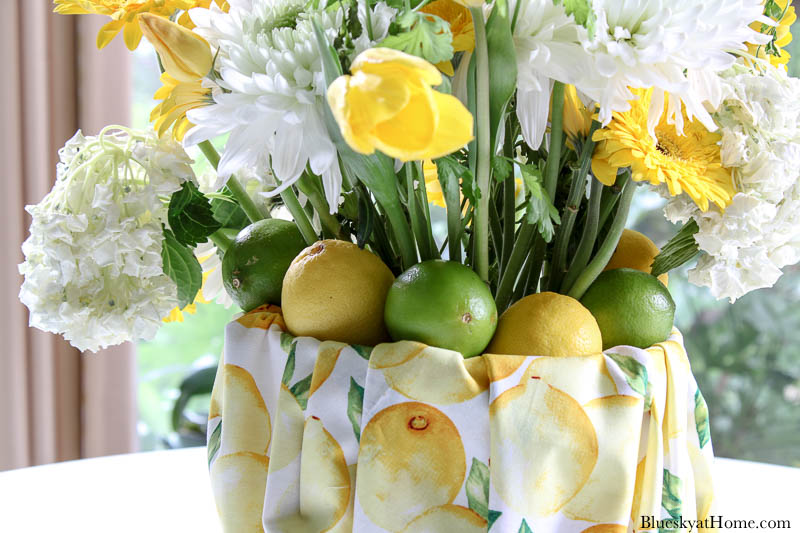 Now you have 2 ways to create your own citrus~inspired summer centerpiece.
I love the happy vibe of lemons and limes and the bright yellow and white flowers. I hope you'll PIN to save this summer centerpiece idea.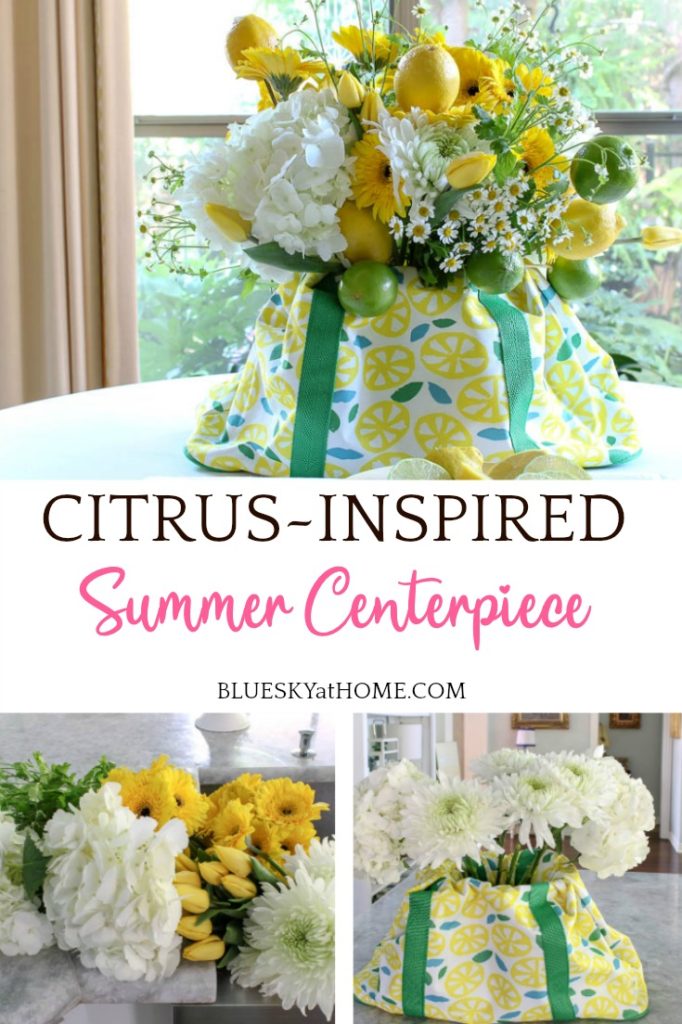 Now it's time to see what other versions of this citrus~inspired Pinterest Challenge my friends have created. Start by heading over to Barbara at French Ethereal. Lots of lemonade to follow.