DIY Christmas Wood Signs to Make
Let's get a head start with some cute Christmas decorations. Love little handmade signs? How about some DIY Christmas wood signs to make now?
It's never too early to start thinking about Christmas decorations. I have some cute DIY Christmas wood signs that you can make now and easily store until it's time to decorate.
Signs are perfect for any home decor style at Christmas. You can use them individually, style them in a gallery wall, or set them on a table or the mantel.
It seems that everyone wants to plan early for Christmas this year. If you need some ideas for Christmas signs to make, you will like this project.
DIY Wood Signs to Make for Christmas
These wood signs would not only make pretty holiday decorations for your home. They would also make great gifts for friends and family.
Supplies for Your Christmas Signs
This post contains affiliate links to products used in the creation of this project. If you should order any item from this site, I may receive compensation, but you do not pay a penny more. Your purchase is greatly appreciated as it helps support the continued publication of this site.
These sweet Christmas signs use easy-to-obtain supplies. Using stencils and ChalkArt to make signage is so fun for those of us who are not artistic.
Painting your Signs
For these DIY Christmas signs, I had 3 small unpainted wood frames on hand. They are 8 x 8 inches.
You can buy them at Joann ~ don't forget your coupons! These square signs had a twine hanger which I removed.
First, I painted the wood frames with Rescue Restore paint in Blessed and Little Black Dress. I painted the frame in Little Black Dress and the flat background in Blessed. The 2-ounce jars are perfect for small DIY projects.
You could use white and black acrylic paint that you have on hand.
After I painted the center base white, I edged the frame with painter's tape and painted the frame black.
Stenciling Your Signs
I had plenty of cute Christmas stencils from A Makers' Studio on hand. I cut out the 3 stencils I would use.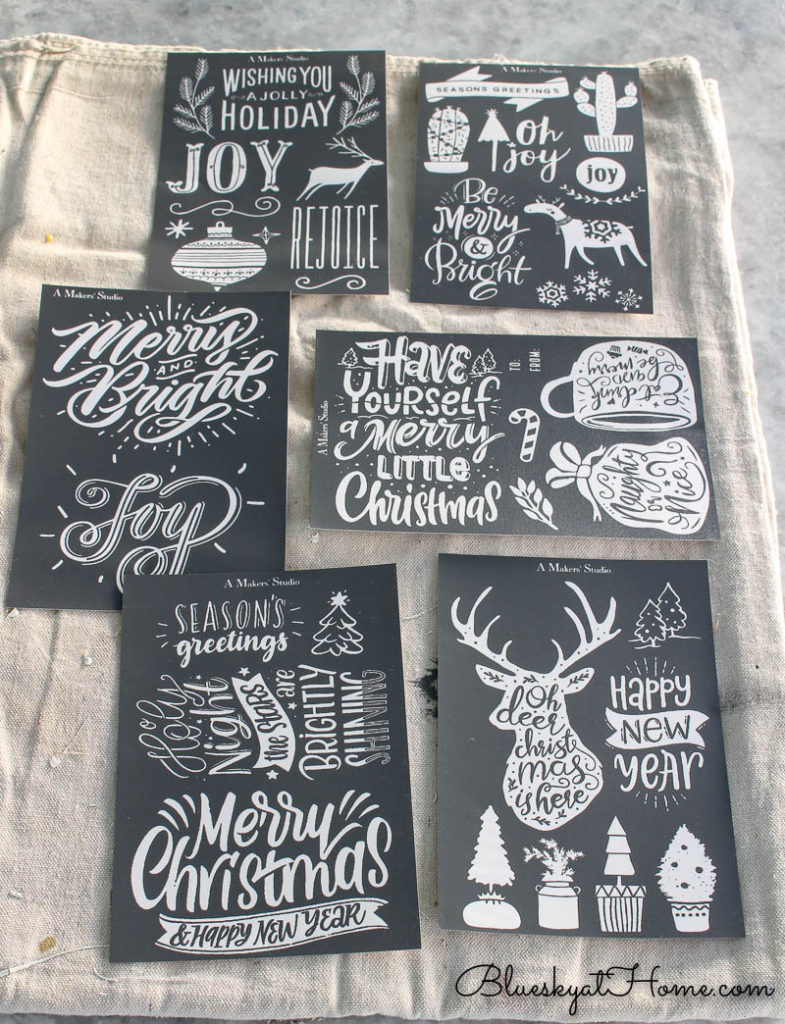 Next, I picked the ones that would fit best in the framed wood signs. As you can see, I laid out the stencils before I painted the signs.
These stencils have an adhesive backing, so they are easy to lay on the wood back and reposition until you have them centered. Then you can "rub" them down on the wood so they adhere in place.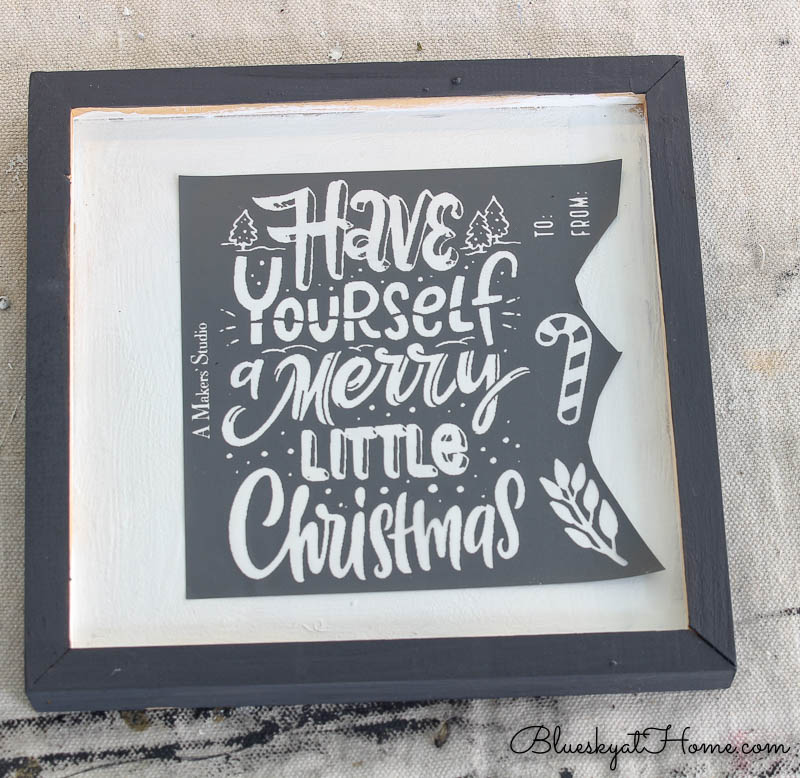 TIP: Place painter's tape around the stencil, if needed. This step provides a little extra workspace.
Using the plastic scraper, you apply the ChalkArt by pressing and scraping it across and into the stencil. You will be able to see the stencil design.
Carefully remove the stencil from the wood.
TIP: I have a bowl of water ready to put the stencil it to wash off the Chalk Art.
It will take the ChalkArt about 30 minutes to completely dry. Then you can run your finger over the design and it will be secure. If you want to remove the stencil, you can use a damp paper towel to rub it off.
Repeat with more signs, changing the stencil design.
Displaying Your Signs
I stapled some red and white twine to hang the Christmas wood signs on the side of our kitchen cabinet.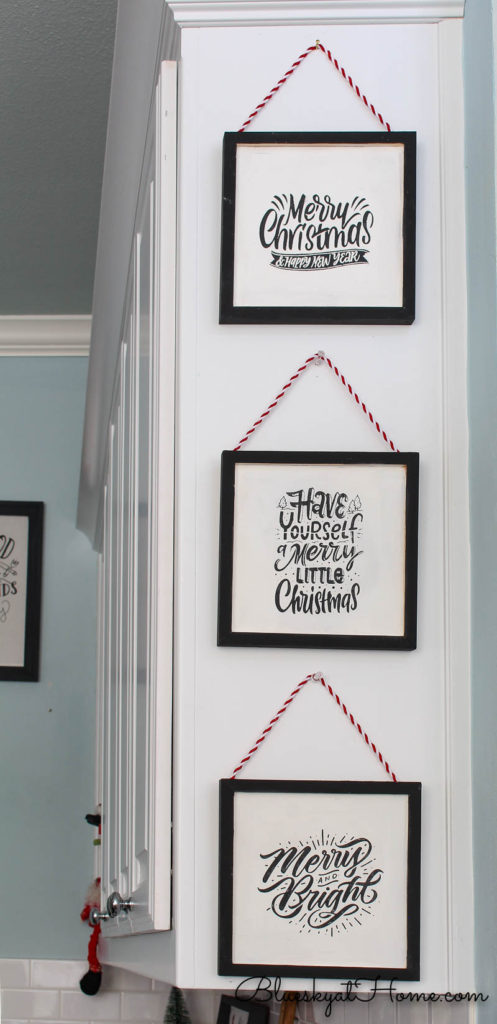 You could also place the stenciled wood sign on a stand and display on an end table.
These DIY Christmas wood signs are easy and fun to make. They will last as long as you want to use them.
If you want some more instructions on making signs with stencils, this post on 9 tips to make signs with stencils will be very helpful.
If you aren't ready to make these handmade Christmas signs, then PIN this post for later so you will have the instructions.