How to Make DIY Patriotic Pillows: Celebrate the USA with Handmade Decor
Do you want to show your patriotism while adding a homey touch to your living space? I have the cutest DIY patriotic pillows to help you celebrate! With just a few easy steps, here is how to make DIY patriotic pillows that will add the perfect amount of patriotic flair to any room. 
You can show your pride and make your home décor extra special by using this step-by-step tutorial. There is no better way to show your support for your country than with a little red, white, and blue.
Whether you use these pillows for Memorial Day or July 4th, you can decorate your home with star-spangled designs and a patriotic touch. 
There are multiple patriotic decor ideas you can make for seasonal decor. I think these patriotic throw pillows are one of the easiest and best projects you will find. 
What's another reason to make these patriotic pillow covers? They don't require a sewing machine. Just a little hand sewing is all you have to do. 
Where to Use These Pillows for the Patriotic Holidays?
These patriotic decorations can be used in so many places:
create a patriotic front porch by placing the pillows on a front porch bench
on a patio chair or loveseat
in the house on the sofa
have an old quilt in the guest bedroom? Use them there.
Mix them with throws, quilts or existing pillows for patriotic home decor.
Supplies for Your Patriotic  Pillows
This post contains affiliate links to products used in the creation of this project. If you should order any item from this site, I may receive compensation, but you do not pay a penny more. Your purchase is greatly appreciated as it helps support the continued publication of this site.
You'll love that you may have some of these supplies on hand for this DIY project. If not, they are fairly inexpensive to find.
pillow insert in the same size. I used 18-inch pillow inserts. I took them out of existing pillows. You could use a 20-inch pillow insert also.
cotton fabric in your choice of colors and patterns. I already had all the fabric in my fabric boxes. You don't need large pieces and can definitely use scrapes. I used four different fabrics, but all were red and white, blue and white or a combination. For the most interest, I picked fabrics in patterns. You need less than a fourth of a yard for each star.
cardstock or heavy paper to make a star pattern. It doesn't matter the color and scrape pieces will work great. I used my Cricut Machine to make the stars. I determined that I needed three sizes: 8 inches, 6 inches and 4 inches.
very sharp scissors for cutting the fabric. I started with my sewing scissors, but switched to my favorite little sharp Fiskars scissors. These were easier to cut the corners and the angles of the stars.
pencil or fabric markers 
fabric glue – found a fabric glue stick in my fabric cabinet. When I opened it, it was dried out so I made a quick trip to Joann and bought a new package.
a large piece of cardboard, optional, for placing inside the pillow insert when you are gluing.
embroidery thread or thin yarn for embellishing the stars on the pillow
Decide on a Theme
The first thing you need to do is decide on a theme. For my patriotic pillows, I decided to use a star. I almost added stripes but thought that would be too busy. 
You could make a flag design. 
Deciding on a theme first will help you choose your colors and fabrics.
Also, decide on the right size of your theme pieces. That will determine how much fabric you need.
Consider how many stars you will need of each size. I determined that I would need 6 stars for each pillow: three 8-inch stars, one 6-inch star, and two 4-inch stars.
What will make your star pillows different from anyone else's is the number of stars you make, the sizes, and the fabric colors and patterns. The placement on the pillow makes a difference, too.
Steps to Making Your Patriotic Pillows
Step 1 – Iron your fabric and pillow covers if necessary.
Step 2 – Make your star pattern. As I said, I used my Cricut Machine to cut out three sizes of stars. In Cricut Design space, I chose a star shape and cut out a large star in 8 inches. Then I duplicated the star and resized it to 6 inches, and then to 4 inches.
Step 3 – Place your cardstock pattern on the wrong side of the fabric. Trace around the star pattern with your pencil or fabric marker. Hold it firmly so the paper doesn't slip. 
Step 4 – Repeat with your other star patterns and fabrics.
NOTE: I didn't worry about raw edges on the fabric. Any slight raveling would give some character to the DIY pillows.
NOTE: I realized after I made my first 4-inch stars that I could fold the fabric, right sides together and draw and cut two at once.
Step 5 – Once you have all your stars cut out, lay them on the pillow cover and decide on the final placement.
Step 6 – Squeeze your fabric glue in a thin line all around the star about 1/8 inch from the edge of your star. Then add a dot of glue in the center and "spokes" of the star.
Step 7 – Carefully turn over the star and place it on the pillow, smooth down the fabric on the pillow cover. Repeat until all your stars have been placed and glued on the pillow cover.
This glue goes on white but dries clear. This glue advises to let it sit 4 – 6 hours. I just let it sit overnight.
NOTE: Revision – later, I discovered that the glue would work better if it were placed about 1/4 inch from the edge of the fabric. I'll explain below.
The pillows at this point are basically finished. But I wanted a bit more color and style.
At this point, I had spent less than one hour on the pillow project. How to make patriotic pillows was such an easy DIY project.
Embellish the Stars
​This is where the embroidery thread comes in. I had plenty of white and a little bit of red embroidery thread in my sewing cabinet. I decided to add it to the stars for two reasons:
extra reinforcement for the stars
more contrast and color on the pillows
Using a large embroidery needle with a sharp point, sew about 1/8 inch from the edge of the star in a running straight stitch. I made my stitches about 1/8 – 1/4 inches long.
For the smallest stars in the red, white, and blue color pattern, I used red embroidery thread. Then I discovered that was all I had, so I switched to white for all the other stars.
NOTE: Here is where the revision that I mentioned above comes in. When I began to sew the embroidery thread around the edge of the star, in several places there was glue right where I wanted my needle to go through the fabric. It was doable but made it harder to get the needle through. Just be aware there could be some resistance, and place the glue just a little farther from the edge of the fabric.
Just FYI, sewing the embroidery thread onto the stars took the longest time of the whole project – about 2 hours. I watched two episodes of Call the Midwife, Season 10. Not a bad way to spend an afternoon.
Final Step for the Patriotic Pillows
Now all you have to do is stuff your pillows with the pillow forms. Make sure that the pillow inserts are evenly distributed inside the pillow. Give them a few good whacks, if need be.
Where to Use Your Patriotic Pillows
I knew before I started this project that my patriotic pillows would look great on the blue loveseat on our patio. I was not disappointed.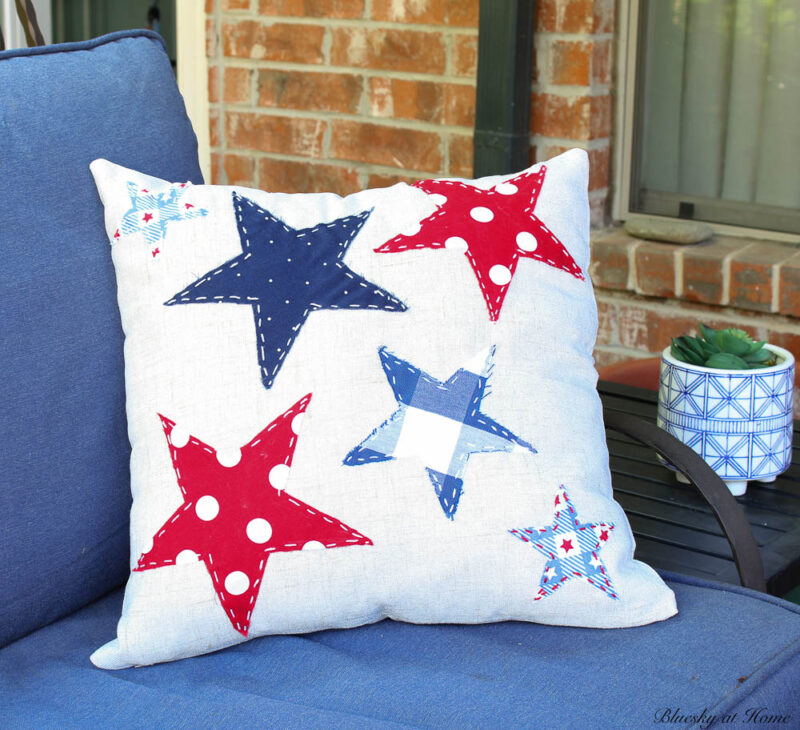 The white background of the pillow pops against the blue loveseat.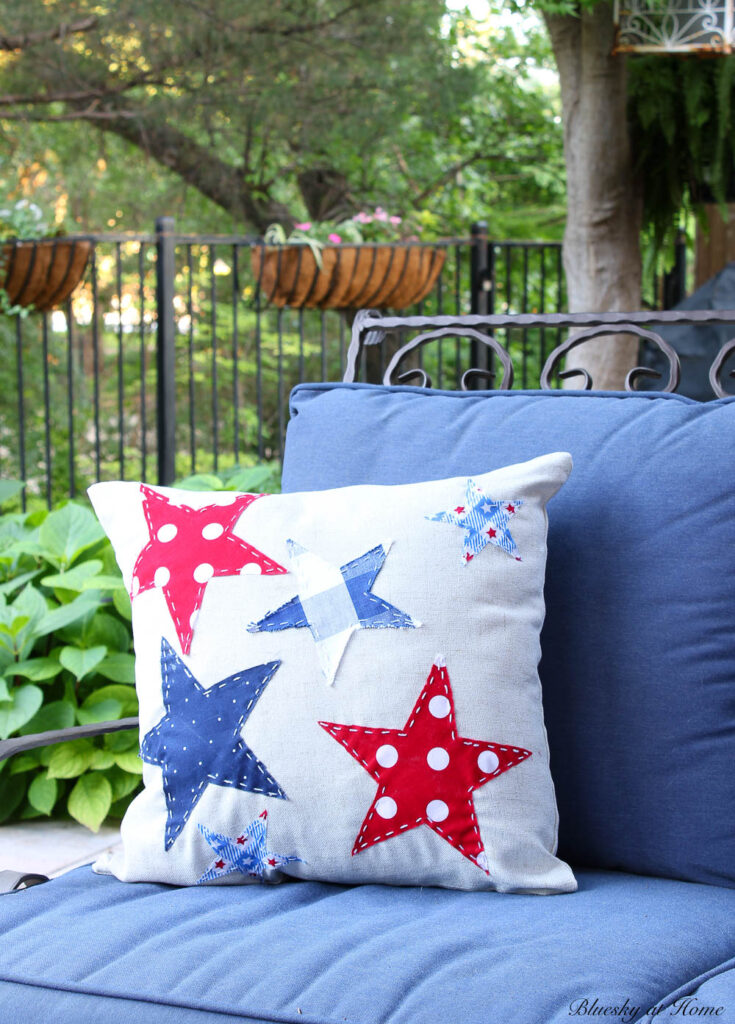 I love the bright, happy vibe of the red fabric with the white polka dots. The blue fabric with the small dots is cute, and the blue gingham fabric adds a traditional pattern. The light blue and white fabric with little red stars is a nice contrast to the more solid patterns.
What do you think?
Here are some other DIY pillow projects I know you'll like.
If you want to make patriotic pillows for Memorial Day or Fourth of July decor, please PIN this little pillow project.
See this Pinterest Board, Patriotic Holiday Ideas, for more ideas. Please follow me on Pinterest, too, for lots of great inspiration.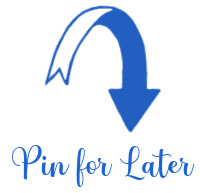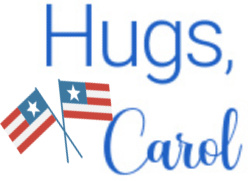 Decorate and More with Tip – DIY Patriotic Star Door Hanger
Life as a Leo Wife – Seaside Serenity: Crafting Your Own Coastal Farmhouse Lantern!
Southern Sunflowers – Dollar Tree Stencil Craft on Canvas
The Painted Apron – Pedestal Serving Tray
Purple Hues and Me – DIY Coiled Rope Shoulder Bag
My Thrift Store Addiction – Blah to Blue-tiful Birdie Upcycle for the Garden
Bluesky at Home – How to Make a DIY Patriotic Pillow
Birdz of a Feather – Homemade Gift for Dad
Apple Street Collage – Easy Painted Rocks
Patina and Paint – Re-cycled Patriotic Sign