How to Make a Monogram Pillow from a Dishtowel
Monogram pillows are a big thing in home decor these days. Did you ever think you could make a monogram pillow from a dishtowel? Yes, you can.
As a Southern girl, I adhere to Reese Witherspoon's adage: "If it doesn't move, monogram it!" During a recent spring home decor shopping excursion I found a dishtowel that was already monogrammed. One big letter  ~ our last initial ~ on a neutral background with a stripe for interest. It would be perfect for our living room. That means that you get to see how to make a monogram pillow from a dishtowel.  Lucky me and lucky you.
You may remember that I recently shared 10 Fun, Easy Projects for Repurposing Dishyowels. One of those ways is to use dishtowels to make pillows, which I did at Christmas when I shared this DIY pillow project.
Monogram Pillow: How to Make One from a Dishtowel
Here's how easy it is to make this monogram pillow from a dishtowel.
First, I cheated a little bit. The dishtowel is monogrammed, but not a sewn monogram, but a printed one. I hope that's O.K. with you. The effect and the end result is almost the same.
Earlier in the day, I saw a very similar dishtowel at another store. I mean very similar, but the price tag read something like $38, not terribly out of line, but more than I wanted to pay. But that dishtowel gave me the inspiration to make a pillow. An hour later at The Sample House, I found just the one I needed.
The color was right. Check. The size was right ~ 18~inches wide X 27~inches long. Check. The price was right. Check. $6.95! Can't beat that. And even better the monogram and the stripe were on both sides. Check, check. So let's get started.
Step 1 ~ Iron Your Dishtowel
Here's the pillow. Ironing before you begin will take most of the wrinkles out. You don't want wrinkles messing up your pretty monogrammed pillow. You can see that both sides are mirror images.
Step 2 ~ The Filler for the Monogrammed Pillow
Now I've made plenty of zippered pillows before. I like the convenience of being able to take a pillow form out of the pillow if you need to clean the pillow cover.  Honestly, I've never had to do that.  For this pillow, I (or you) could have bought a pillow form to fit the pillow size, but that would have blown my $10 budget and required a trip to my craft store. Better yet, use batting.
A few years ago I bought a huge roll of batting at Joann. At the time, I bought it to make a padded headboard for the big kids' guest room right after we moved into our house. Then I also used it to make simple decorative throws for our master bed and the two twin beds upstairs in the grands' guest room.  Batting is so inexpensive and I still have a ton of it. Batting can also give you exactly the size you need for a pillow that is not a standard size (9 x 9, 12 x 12, 20 x 20, etc.), which my monogram pillow was not. Plus batting can give you exactly the thickness you want.
So I unrolled the batting (the roll is 48~inches wide X 10 yards long) and measured the width I needed, which was 18~inches. I didn't even mark the batting. I just laid my large plastic ruler on top of the batting and just cut along at 18~inches; it doesn't have to be perfect because you'll end up having to re~trim it later. As I cut, I rolled the batting over at about 26 1/2~inch lengths until I got it about the thickness I thought would work for the pillow. It's like making a flat layered roll of batting.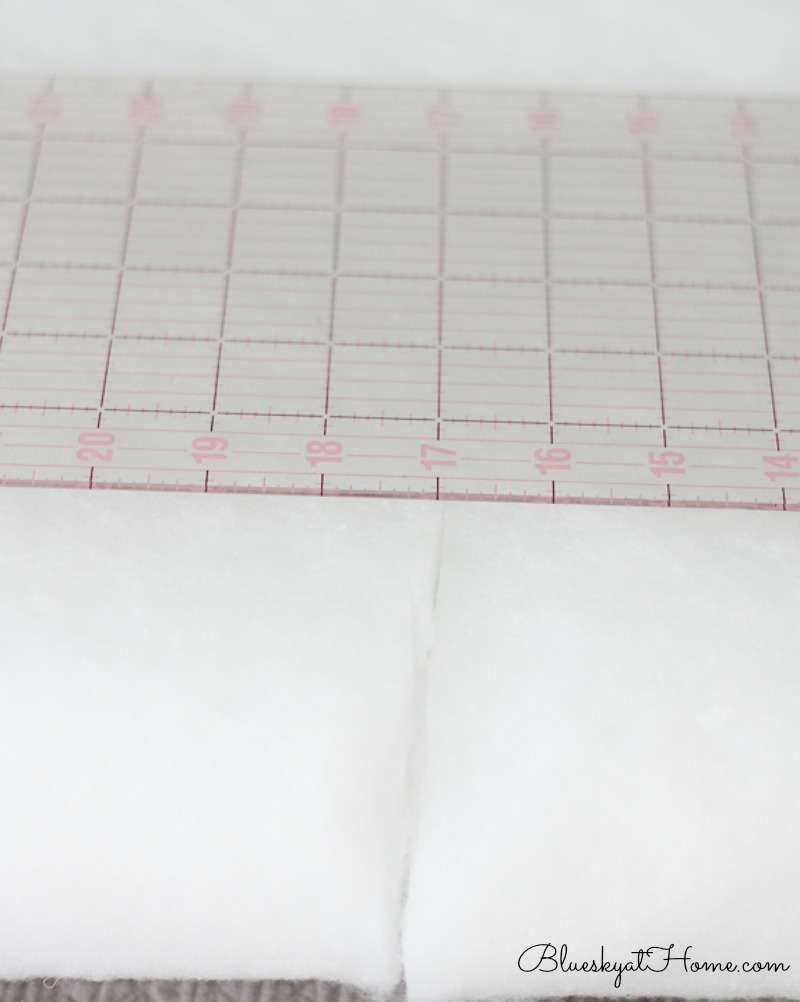 Step 3 ~ Pinning the Pillow
Making a pillow from a dishtowel may be the easiest sewing project there is. Fold the towel in half, right sides together, lining up the edges. Pin along the two sides to allow for a 1/2~inch seam allowance. Since your dish towel will have the edges hemmed, just pin and stitch right up against the hem. I wanted all 4 sides of the pillow to have a seam, so I pinned in a 1/4~inch seam on the fold.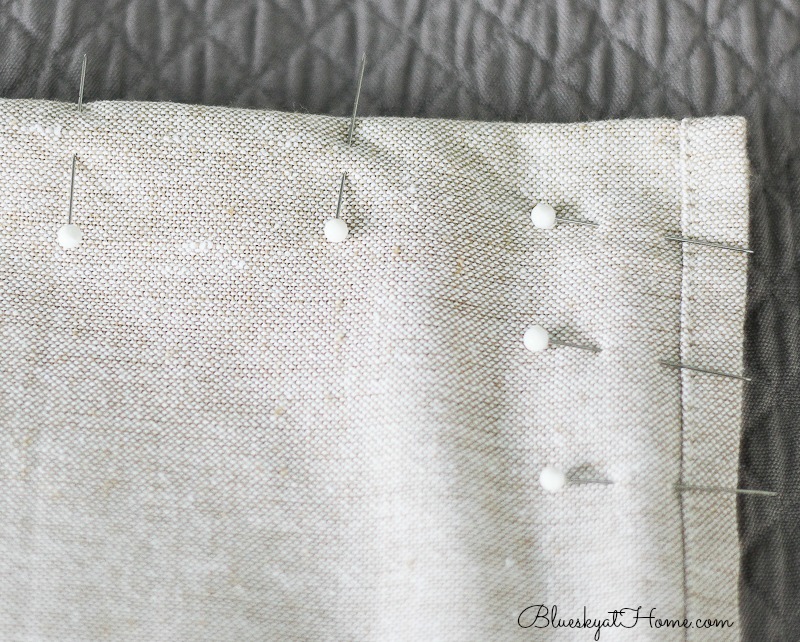 Step 4 ~ Stitch Your Pillow
Now stitch your 3 sides.
NOTE: As with any pillow, about 1 inch from the corners, make your seam a little wider. This keeps your pillow from having pointy corners. Then trim the excess fabric at the corners.
Step 5 ~ Stuff and Test Your Filling
Turn the pillow right side out, pushing the corners out to make a clean point. When I tried to stuff the batting into the pillow, it was clear that I had too much batting. I simply unrolled a few layers of batting until I got the right thickness for the pillow. At this point, you can re~trim the width of the batting to cleanly fit inside the pillow. Now I stuffed the batting back in the pillow, smoothing the layers and pushing the 4 edges into the corners of the pillows.
NOTE: If your corners need more filler, just take small pieces of batting and stuff into the corners until they are full and the corners are firm.
Step 6 ~ Hand Sew the Open Side of Your Pillow Cover
Now pull the open front and back of the pillow together and pin from side to side. Since the edges of the dishtowel were hemmed, I didn't turn them inside, but used the hemmed edge as the bottom of the pillow. Hand stitch, using small stitches across the width of the pillow. My mother called this "whip stitching". Hopefully, using small stitches and matching thread to your dishtowel, your stitches won't show. But this is the bottom of the pillow, so that helps to hide them.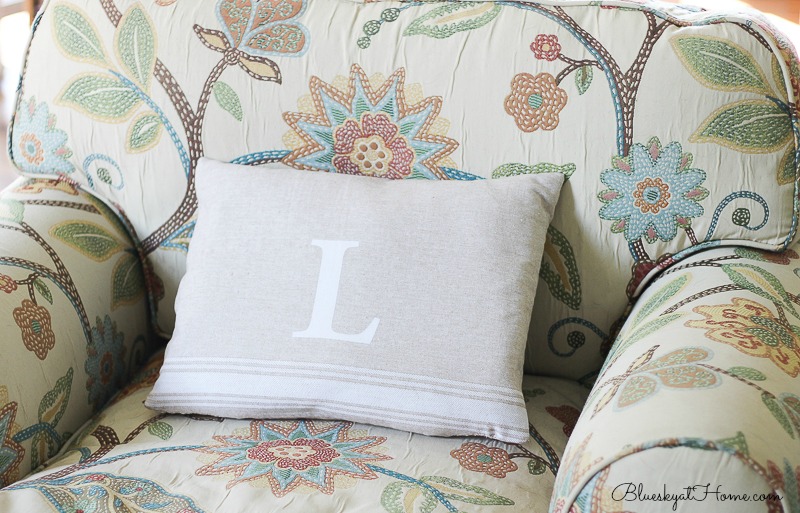 That's all it takes. Less than an hour and you have a pretty monogrammed pillow. I was going to put the monogram pillow on our living room sofa, but I decided to use it on Sweet Shark's reading/T.V.~watching chair. He is always taking the pillows off the sofa to put behind his back, so hopefully, this new monogrammed pillow will not only be decorative but give him a little more back support and comfort.
I can't count the cost of the batting and thread for the pillow since it's infinitesimal, but I paid $7.52 (tax included) for the dishtowel. That is a lot of bang for my buck.
I couldn't be happier with the result. I may have to do this again ~ and again. I hope you love this little DIY project and can see how to make a monogram pillow from a dishtowel is a quick and easy project.
PIN away!