How to Host a Valentine Brunch for Your Girlfriends
Happy Valentine's Day. Valentine Brunch. Doesn't that just sound like so much fun? Of, course, it does. But why and how to host a Valentine's brunch for your girlfriends?
Well, first the why. Let's admit it. We love our girlfriends. We love to laugh with each other, tell stories, share the latest scoop about a new dress, a new store, movies, books, recipes, babies, grandbabies, new drapes, moving, our homes, our families. The list is endless of what we can talk to our girlfriends about. So in case you want to treat your gal pals, I'll show you how to host a Valentine brunch for them.
We have girlfriends from high school, college, church, camp, sorority sisters. Women we met at the playground or in the carpool line when our kids were little that become lifelong friends. Women we met in PTA or Junior League or other charity organizations. Friends come from anywhere, at any time, in all shapes, sizes, and colors. You can't have too many girlfriends.
This Valentine Brunch is from a few years ago, but it was so awesome that as my Valentine treat to you, I wanted to share it again.  For a long time I have wanted to host lunches for my girlfriends, ones new and old, from all diverse places. Get people together who may not know not each other and some who do. Let my friends meet new friends.
Valentine's is not just a time to express our affection for our significant other. I think it's a perfect time to tell your girlfriends how much you appreciate their friendship, their laughter, their presence, their support. So you're my girlfriends, right? This Valentine brunch was such a success that I have to share with you how to host a Valentine brunch for your girlfriends.
How to Host a Valentine Brunch for Your Girlfriends
I think any successful party has pretty decorations and flowers, great food and drinks, and a relaxed host and hostess enjoying their own party. But the most important thing is great friends.
Valentine Decorations and Flowers
A while back, I made this Valentine's door hanger with a wood square, paper, and faux flowers (all from Joann) to greet my guests. I wanted them to know this was a special occasion.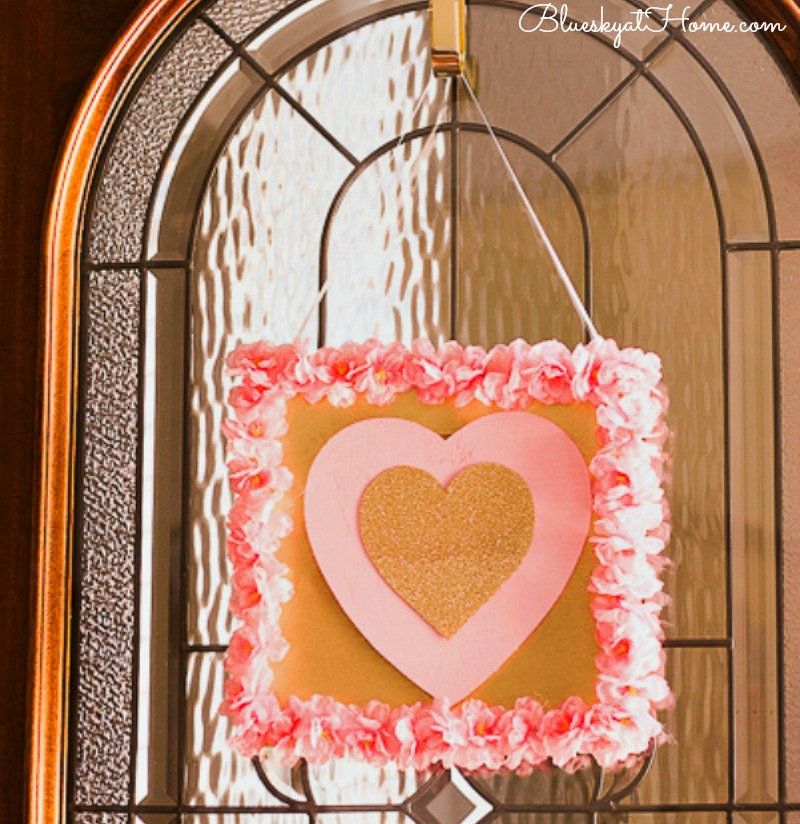 I don't know a girl who doesn't love flowers. My color scheme for this Valentine brunch was pink (surprised, anyone?) and gold so I had flowers on the living room coffee table, on the mantle, and in the dining room. I bought the white and pink roses at Sam's and the cyclamen and pink tulips at my local grocery store.
The cyclamen are in the galvanized container that I bought in Atlanta last summer and brought home packed in my extra suitcase. Then I added a little Valentine banner that I made. If you missed the new Valentine's garlands that I made this year, take a look here:
Red Hearts and Pom~Poms Garland 1
Red Hearts and Pom~Pom Garland 2
I hung hearts and flowers from the chandelier in the dining room.
For the dining room table, I placed pink roses in 3 rose bowls in the center of the table. "Love" sprinkles add a bit of color and festivity to the table.
As placemats, I used cute Valentine scrapbook paper. I cut off the corners for a softer look. Pairing our Eternal by Lenox china and Buttercup silver with mason jars for tea or water is a fun contrast of formal with casual. The "napkins" are actually guest towels from Swoozies. I loved the pattern of gold and pink hearts. I used the same pattern for cocktail napkins.
On the chest in the dining room, I made a drink station for tea and water. The plates are for dessert. Another rose bowl of pink roses and extra pink~and~white striped straws add more color.
Drink of the Day
Always greet your girlfriends (or any guess) with a special drink: mine was Pink Lemonade Vodka with Pink Champagne. Make sure you serve it in a pretty glass. I used our basic World Market and Ikea Champagne glasses but made them festive by adding heart stickers, which did again for this year's valentine's tablescape. (Here's how to make the stickers.)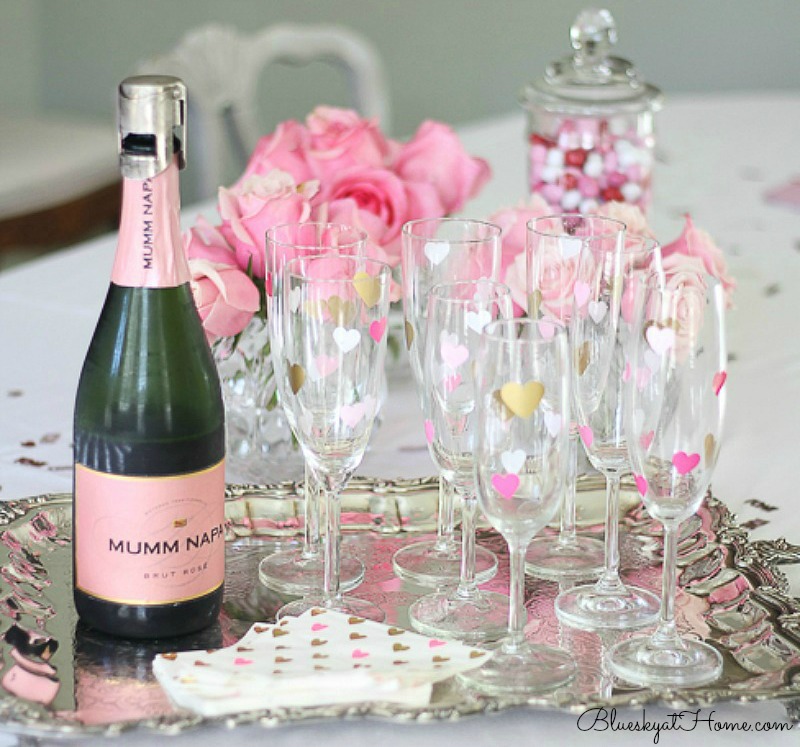 TIP: We always keep champagne/prosecco and martini glasses in the freezer in our garage fridge. You do have to let the glasses lose their "coldness" before putting on the stickers. I did this a day ahead and just put them back in the freezer.
The Menu
I wanted a menu that I could prepare mostly ahead of time with minimal put together the morning of the party.
Valentine's Brunch Prep Schedule
Anytime, up to a week before your Valentine brunch, set your table.
2 Days before the Brunch
Grocery shop for flowers and food.
Make flower arrangements.
Mise place all your recipes.
1 Day before the Brunch ~ Here was My Schedule with My Menu
Make the Strawberry Cookies and place them in an airtight container.
Make the Red Velvet Cupcakes and place them in an airtight container.
Make the frosting for the cupcakes, put in a piping bag and place in the fridge.
Wash, cut and store all the fruit in the fridge.
Assemble the crustless quiche, cover with foil and place in the fridge.
Combine the pink lemonade and vodka in a small pitcher and place in the fridge.
Make the strawberry butter and put it in the fridge.
Get out serving platters and serving pieces.
Day of the Brunch
Preheat the ovens, one for quiche, one for the bacon.
Cut bread into heart shapes for French toast.

**

You could do this a day ahead and wrap in foil.
Combine wet ingredients for French toast.
Cut package of bacon in half crosswise, rub slices with brown sugar, and place on foil~lined sheet pan with rack. Set aside on the kitchen counter.
Arrange fruit on serving platter.

**

If you have room in the fridge, you could do this a day ahead and cover tightly with plastic wrap.
Melt white chocolate in microwave and assemble marshmallow straws. Place in the prepared display.
Frost the cupcakes.

**

You could do this a day ahead.
Fill pitchers with water and iced tea (purchased at

McAlister's

~ I love their tea and they make it better and cheaper than I can. You buy it in 1~gallon containers for less than $5.00).
The party started at 11:00 and I planned to serve brunch about 11:45. I took the quiche out of the refrigerator at 9:30, let it sit for an hour and put it in the preheated oven at 10:30. I also took my frosting out of the fridge and let it come to room temperature. Piping the frosting on the cupcakes took just a few minutes. Then I arranged the desserts on the bar cart in the dining room.
By 10:15, I was dressed except for lipstick (always a last~minute thing with me.) The last thing I did was cook the heart~shaped French toasts in a large non~stick skillet, place them on a foil~lined sheet pan and set them aside. Everything was ready except baking the bacon in the oven (always my go~to method, especially for company), warming the French toast ~ and opening the champagne. We actually used Pink Prosecco.
As everyone arrived, I made introductions and offered the drink of the day. This group of girlfriends immediately got into the spirit of the party and I didn't have to do anything but have a good time.  At 11:30 I put the bacon in the top oven, took out the quiche, turned off the lower oven and placed the sheet pan with the French toast in the oven to warm.
Everyone made a plate, we sat down in the dining room, I said grace, we had a toast to celebrate friendship and we enjoyed a delicious meal, laughing and sharing stories (what is shared at brunch, stays at brunch.). A couple of girls helped clear the brunch plates as I made a dessert plate for everyone. I think the marshmallows were the favorite.
I wouldn't change a thing about the party except this: I forgot to take a single picture. I had great plans for photos of toasting and clinking glasses and laughing and hugs. But I was having so much fun, I forgot. I promise to do better next time.
Everyone at the party wanted the quiche recipe, so if you do too, it is in the RECIPE LIST on my newsletter the Monday Memo. You can have all the printable recipes by subscribing to the newsletter. The Southern Sugar Bacon and the French Toast recipe are also in the newsletter in my list of recipes.
I had so much fun planning, preparing for, and hosting this girlfriend party that I'm going to do it again. I hope that my suggestions for decorations and drinks and menu showed you how to host a special Valentine brunch for your girlfriends.
It may be too late to invite a few girlfriends over for a Valentine's Brunch this year, so be sure to PIN it for your next party.
Happy Valentine's Day to all my sweet friends. Thank you for your comments and for sharing your own ideas.
I hope you have a wonderful time whatever you do this weekend with whomever you celebrate.