How to Style a Hutch for Fall with Whites and Neutrals
As the leaves start to change and the air turns crisper, it's time to infuse your home with the warm and inviting spirit of fall. What better way to do that than by decorating your hutch for the season? Whether you have a traditional hutch in your dining room or a modern one in your living area, I'm ready to share how to style a hutch for fall with whites and neutrals.
I'm here to guide you through creating a stunning fall display that'll have everyone swooning.
For a fall look, I chose to use items that we already had on hand – my favorite shopping experience.
Come with me as I share my hutch decorating ideas. They will inspire you regardless of where your hutch is located or even the size or style of it.
What is a Hutch?
This post contains affiliate links to products used in the creation of this project. If you should order any item from this site, I may receive compensation, but you do not pay a penny more. Your purchase is greatly appreciated as it helps support the continued publication of this site.
A hutch is a traditional piece of furniture that comes in all shapes, different sizes, and styles. It is the perfect focal point any time of year.
A hutch can be found in your dining room, kitchen, breakfast room, or living room. As one of the largest pieces of furniture we have, a hutch offers plenty of opportunity to display a variety of objects. Some hutches have glass cabinet doors, and some have open shelving. Most have some drawers and lower cabinets.
Traditionally, a hutch, or china cabinet, is used to store china, glassware,
Our hutch is in our formal dining space. It is a French antique piece called a vasselier. I wish I had taken a picture of the empty vasselier.
A vasselier is a traditional 18th French-style china cupboard, hutch, or buffet. It typically features a large upper cabinet with doors and shelves to display porcelain wares, usually with at least one lower section with drawers or shelves for additional storage. These cabinets are often elaborately designed and ornamented with intricate carvings and metal hardware. The best ones, like ours are made of walnut.
Here are two examples. The one with the clock is most similar to ours.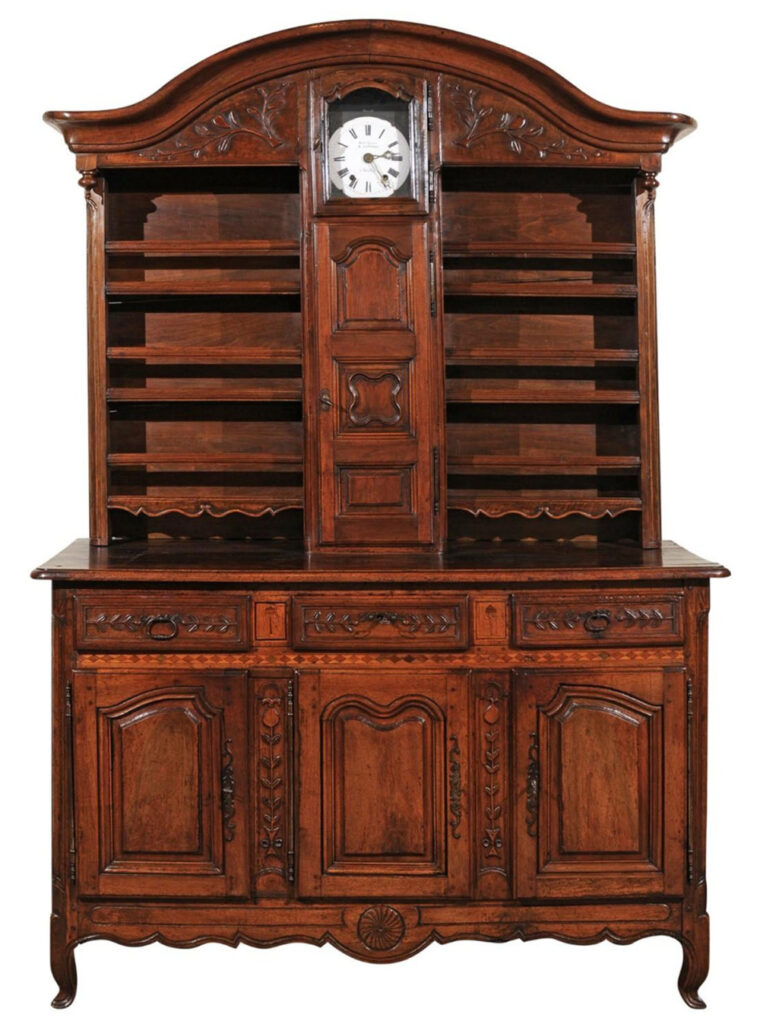 We purchased this piece at an antique store in the Dallas Design Center when we were building our first home together. It was love at first sight.
On the top of our vasselier is one central cabinet with four open shelves on each side. It has a rich, warm brown stain. What makes our vasselier so distinctive is the clock above the cabinet door. It does work!
At the time, we had the perfect place in our breakfast room. (I wish I had pictures of our home from that time.)
I knew the vasselier would be the perfect focal point in our new dining room. You can't miss it when you come into our home. It has been one of my favorite places to decorate for every season and every holiday. Here was the vasselier last Christmas.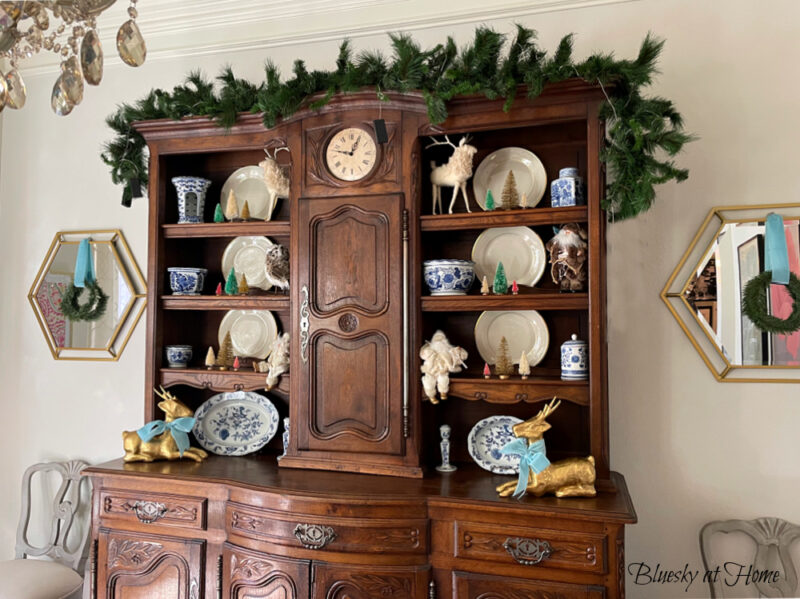 Choose the Perfect Location for Your Hutch
Before we dive into decorating, let's talk about where to place your hutch. Hutches are incredibly versatile and can add a touch of charm to various areas of your home. Some popular spots include:
Dining Room: This is the classic location for a hutch, where it can display your finest dinnerware and stemware.
Living Room: A hutch in the living area can showcase your collectibles, family photos, and even your favorite books.
Kitchen: In the kitchen, a hutch can serve as extra storage and provide a perfect spot for showcasing vintage dishes or cookbooks.
Hallway: If you have a smaller hutch, it can be a stylish addition to your hallway, displaying artwork or decorative items.
Bedroom: A hutch can work in a bedroom for storage and decorative accessories.
Styling Your Hutch for Fall – Embrace the Colors of Autumn
Now that you've decided where to place your hutch, let's look into the fun part: decorating it for fall decor! Here are decorating considerations to make when styling your hutch.
Fall is all about warm and earthy tones. You can pick from several traditional fall colors on your hutch.
Rich Reds, Rusts, Burgundy, and Oranges
​Shades of green, like moss, hunter green, or sage green
Deep Browns and Woodsy Tones
Whites and Creams – this was the color scheme I chose
​Soft Neutrals and Natural Materials – this was the style I chose
For a pop of color, bring in shades of blue like navy, metallics, or even pink
Last week when I was styling our dining room table for a fall tablescape was the perfect time to also decorate our vasselier. Since I was using soft and neutral colors on my table, it only made sense to use those on the vasselier. My color scheme would be white and cream colors with touches of natural elements, such as wood and stone.
I gathered all the white plates, bowls, white platters, and decorative accessories I might need. I included anything that looked like white ironstone and white stoneware.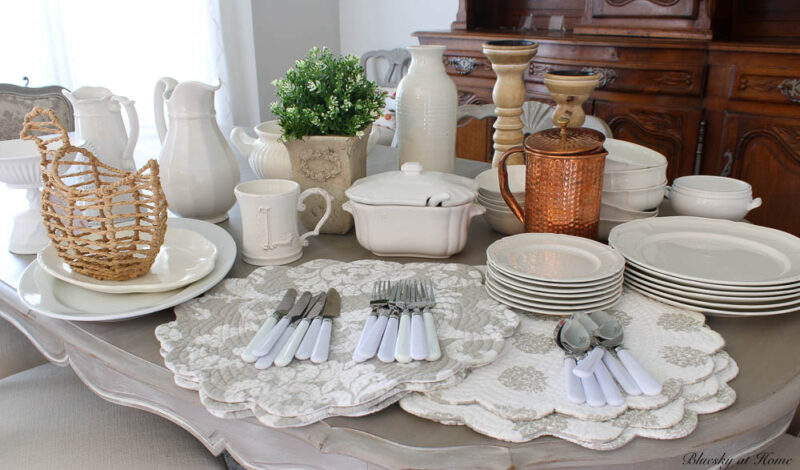 Decorative Items to Style Your Fall Hutch
What seasonal touches can you add to your hutch?
Tall Vases or Candlesticks
Cake stands
Decorative figurines
Stacks of bowls or plates
Wooden elements like rustic trays, candle holders, or wooden figurines
Faux leaves
An autumn-themed table runner in fall colors
Stone vases, terra cotta containers
Metallics, such as copper or brass (warm-season metals), such as a copper tray or pitcher.
Stacks of old books or books covered in natural materials, like burlap or brown craft paper
Burlap, twine, or cording
Warm-toned LED candles or fairy lights for a cozy glow that's perfect for autumn evenings.
Pumpkins, gourds
Cute figures, such as owls, squirrels, or scarecrows to add personality
Vintage items from the thrift store or estate sale
Layer and Vary Heights
For an eye-catching display, create visual interest by using items of varying heights and layers:
Place tall vases or candlesticks at the back of the hutch to add height.
Place larger ceramic pumpkins or themed figurines in the middle of your shelves.
In the front, use smaller items like woven baskets or small seasonal wreaths to create depth.
Depending on the height of your hutch, you could add baskets to the top of the hutch. Our hutch is quite tall so I didn't need anything on top.
Add Fall Foliage and Florals
No fall seasonal decor hutch would be complete without some faux or dried leaves, branches, and flowers. You can use a mix of:
Maple or oak leaves: Tuck them into your displays or drape them elegantly across the hutch.
Sunflowers or mums: These colorful blooms are quintessentially fall and can brighten up any space.
Succulents or boxwoods
Our Dining Room Hutch
Sometimes, you may just need to tweak your hutch for a little update, adding or removing a few items.

However, if you are doing a complete restyling or decorating your hutch for different seasons or holidays, I recommend that you first empty it of everything.
This is a good time to dust and polish the shelves.
​Gather everything you can find that fits the color scheme and style you want.
For this hutch styling, I didn't take pictures as I went. I'll walk you through the different additions and what I added.
White Dinner Plates
The first I did was add six white dinner plates to the top three shelves of the hutch. You can't see it, but there is a little groove behind the decorative "ledge" for this purpose.
These dinner plates are the ones that I bought at World Market years ago. I kept our everyday dishes in the kitchen for daily use.
​Decorating the Shelves of the Hutch
For the top three shelves, I added a combination of white pitchers and white vases plus other decorative accessories. All of these items are from flea markets, thrift stores, or estate sales. I did not buy a single new thing for this styled hutch.
Top Left Shelf
The wood candlesticks are from Tuesday Morning. The white ceramic vase is a flea market find.
Top Right Shelf
I used a few paperback books with the covers removed. The stone vase is one of my favorite items for its natural material, decorative carving, and shape. The two tall vintage vases are also a flea market find.
You can see the different heights.
Middle Left Shelf
For this shelf, I used a white ceramic pitcher with a fleur de lis design. On the right are a stack of burlap-covered books I made. The mini white ceramic pumpkin was a last-minute addition as a nod to fall.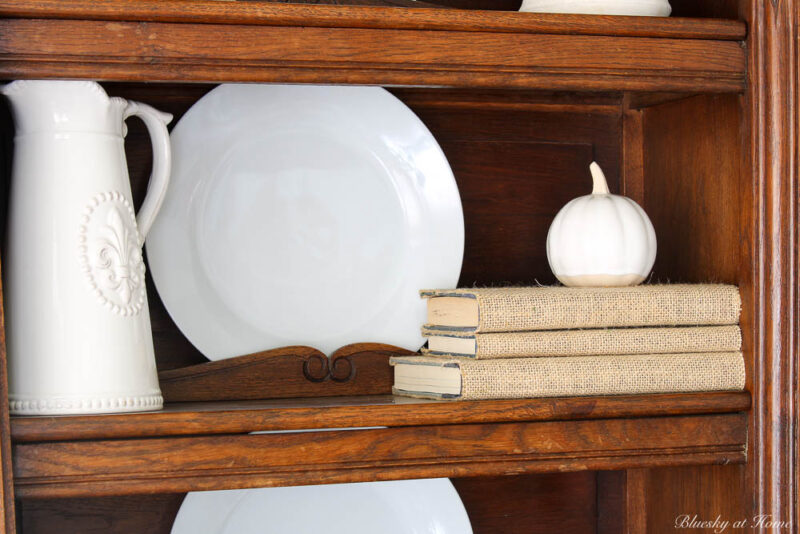 Again, notice the varying heights, materials, textures, and shapes.
Middle Right Shelf
For this shelf, I used another white vintage pitcher with a different shape and a stack of white bowls. I have a weakness for buying bowls at estate sales and flea markets. I bet I could serve 20 people for cereal. The white-painted pumpkin is a simple nod to fall.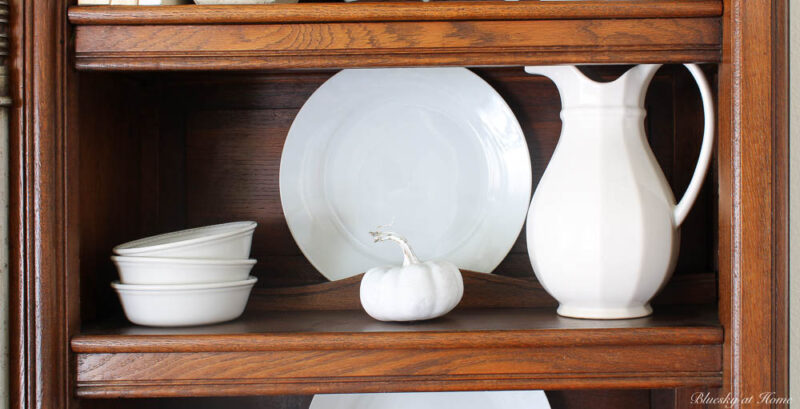 Bottom Left Shelf
The bowls on the right are part of our Villeroy & Boch everyday china. I bought the cute monogrammed mug just for the "L" and the curly handle. A mini pumpkin finishes the shelf.
Bottom Right Shelf
I told you I loved bowls. The dish on the left is a DIY project using thrift store glass.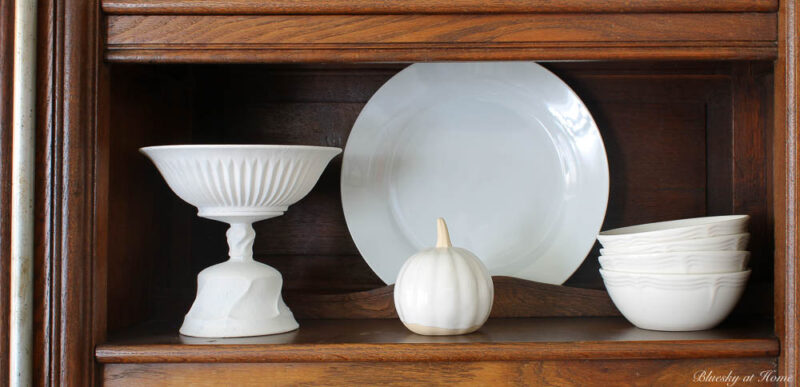 Base of the Hutch on the Left
All three of these white pieces are from flea markets or estate sales. What attracts me to this area is the variety of shape and size of each piece. You can't tell from this picture, but the vase on the left has a crackle finish to it.
Base of the Hutch on the Right
A white estate sale platter contrasts with the round and "ribbed" vase. I ordered the antique tea pitcher online years ago from a lady I met at the Roundtop Antique Market. She made trips to the French brocantes every year to buy items for her shop.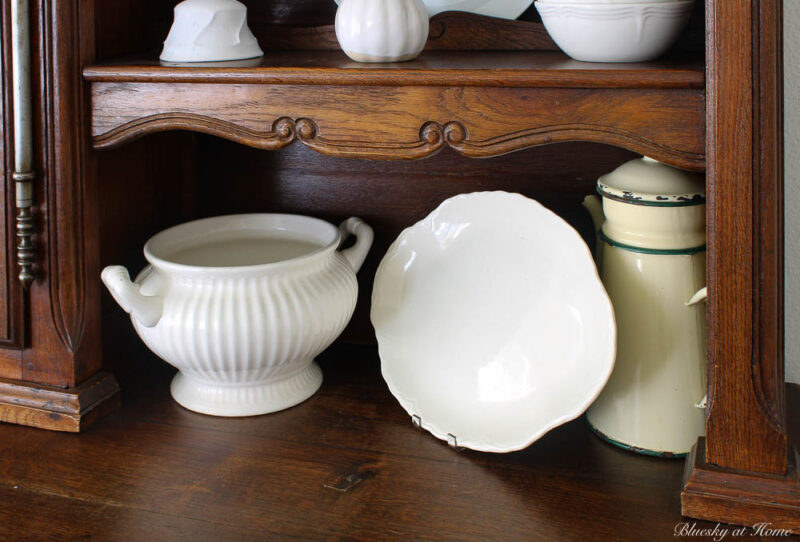 One thing I didn't want to do is crowd the shelves. I wanted variety in the shapes, size and height of the pieces. Cohesiveness and contrast were part of the plan, but crowed and cluttered were not.
I wanted each piece to have a clear place.
What I don't show are the items I tried out and then removed – like wire egg baskets and woven baskets. It just seemed like too much.
Final Embellishments
The nice thing about styling the hutch is that as we get deeper into fall, you can add more fall decor.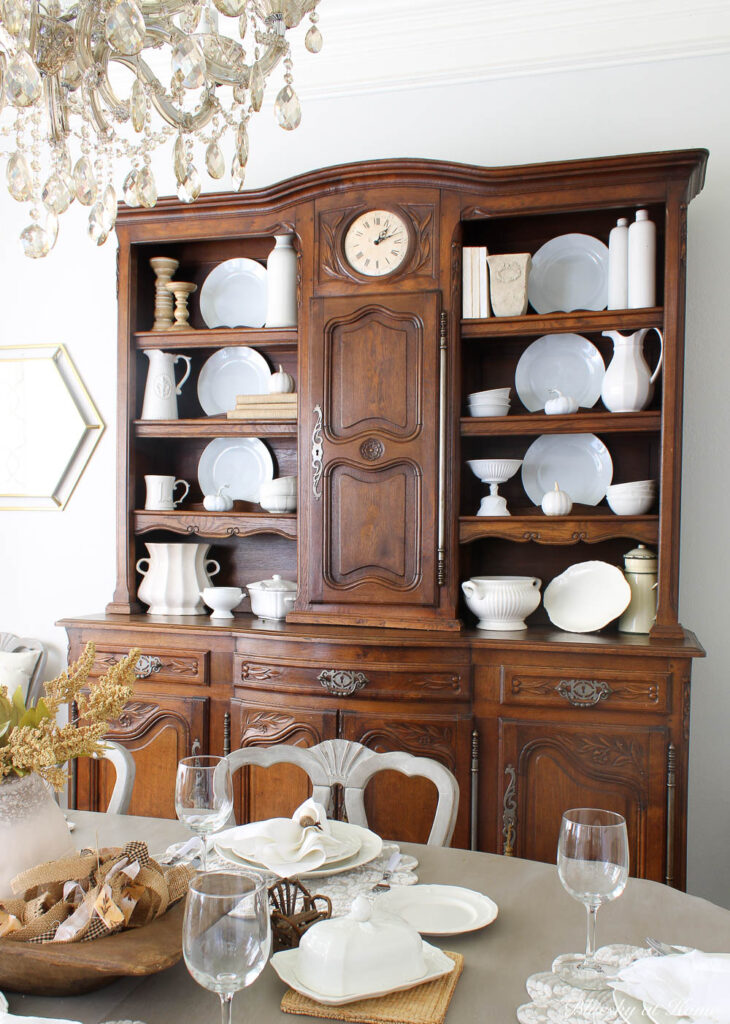 I added four mini pumpkins. Two are white painted pumpkins and two are white ceramic. One of my favorite things is the mini pumpkin on the burlap books.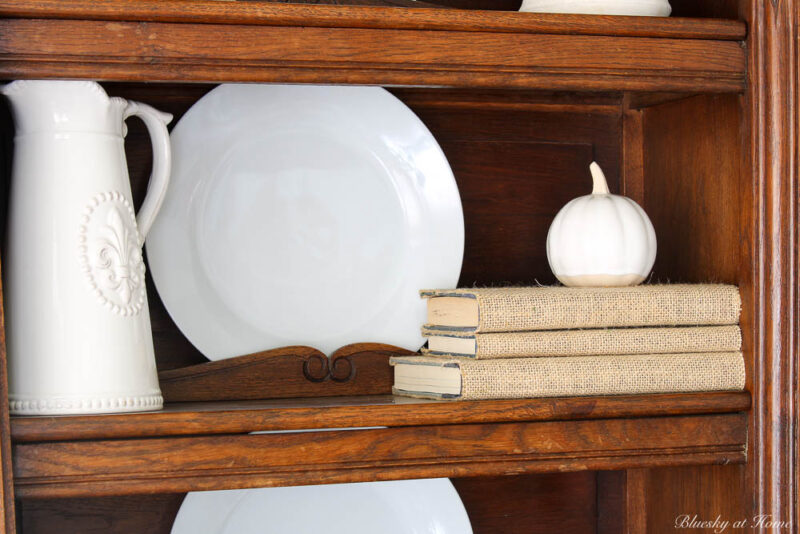 I love how the white and cream elements stand out from the brown stain of our vasselier.
One thing you may notice is that I didn't have any greenery. That may change next week. I found some fallen magnolia stems in my neighbor's yard after I arranged the styling on the hutch.
One thing I did on our fall tablescape was to change up the centerpiece a bit. I needed the faux foliage for decorating our entry, so I removed the foliage and replaced it with the fabric and burlap banner that I had previously made.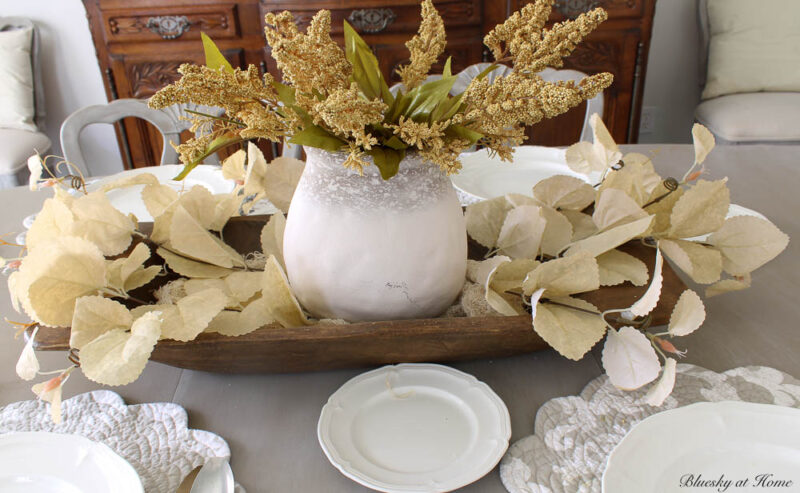 Our fall dining room is now complete, but I can't promise that I won't tweak it in the coming weeks.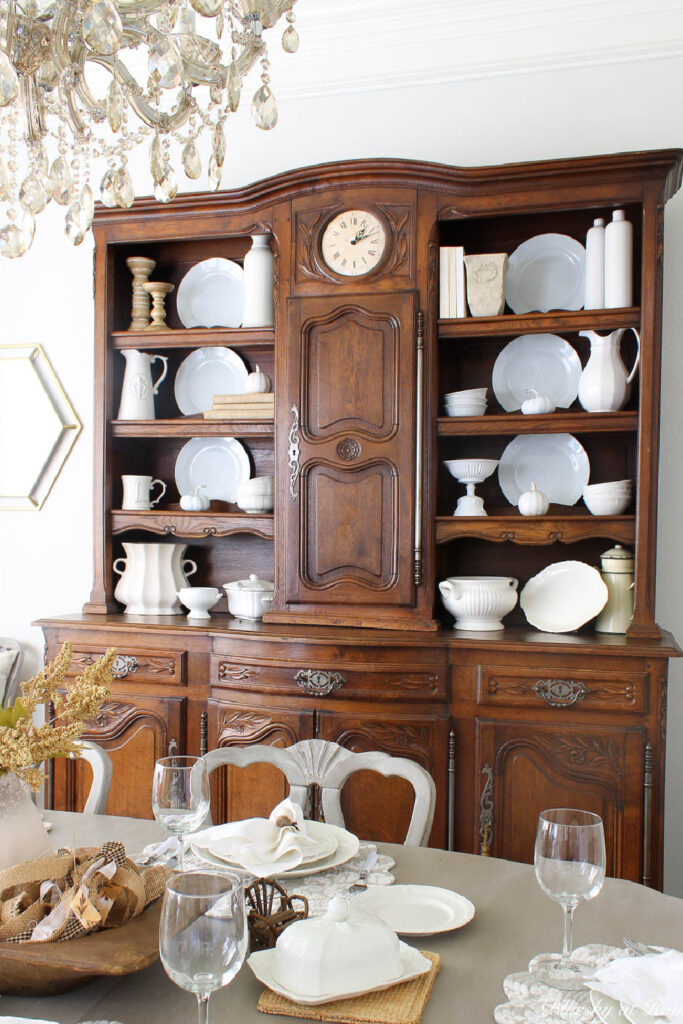 Remember, there are no strict rules in decorating your fall hutch. It's all about embracing the colors and cozy vibes of autumn. Mix and match to your heart's content until you achieve that perfect inviting look.
Individually, all the elements on our fall hutch are everyday items. Brought together, the total is grander than the parts. The soft white and natural colors and the different texture of the simple fall touches evoke a fresh look and gets the feel of fall off to a great start.
So, there you have it, a step-by-step guide to decorating your hutch for fall. With a bit of creativity and the right elements, your hutch will become a beautiful focal point that welcomes the season with open arms. Enjoy creating your cozy fall hutch heaven.
How about adding this fall hutch styling to one of your Pinterest Boards? Visit my Fall Home Decor Pinterest Boards for more ideas.