How to Use Confit Pots in a Fall-Inspired Vignette
It's officially fall. You know what that means in the world of home decor, right? It's time to create cozy autumn vibes in our living spaces. I'm excited to share how to use confit pots in a fall-inspired vignette.
Today, I want to share with you a delightful idea that I've recently fallen head over heels for—creating a fall vignette using a confit pot as the centerpiece.

Now, you might be wondering, "What's a confit pot, and how does it fit into my fall decor plans?" Well, hang tight, because I'm about to answer that question and show you how to use a confit pot to give your home a warm and inviting feeling throughout the season.
One of my favorite things to do to create interesting focal points in our home is to bring different items together in one cohesive arrangement. In the design world, we call that a vignette.
Vignettes have a theme – either a season, a holiday, or a subject (books, pictures) that lend themselves to a gathering of items for interest, color, texture, or pattern.
Vignettes usually have one special piece that is the central focus. For this fall-inspired vignette, my central focus is an antique confit pot.
Vision for my Fall-Inspired Confit Pot Arrangment
Today is the perfect time to create a vignette with a fall theme. It's Pinterest Challenge Day for September. Our illustrious hostess, Cindy of County Road 407, has chosen the most delightful vignette for inspiration.
If you are visiting from Renae at Peacock Ridge Farm, then welcome to Bluesky at Home. I'm so happy you are here.
This lovely fall vignette is from The Cottage Journal. The article highlighted designer, Gloria Parkers 1830's cottage home. It is the essence of fall decorating.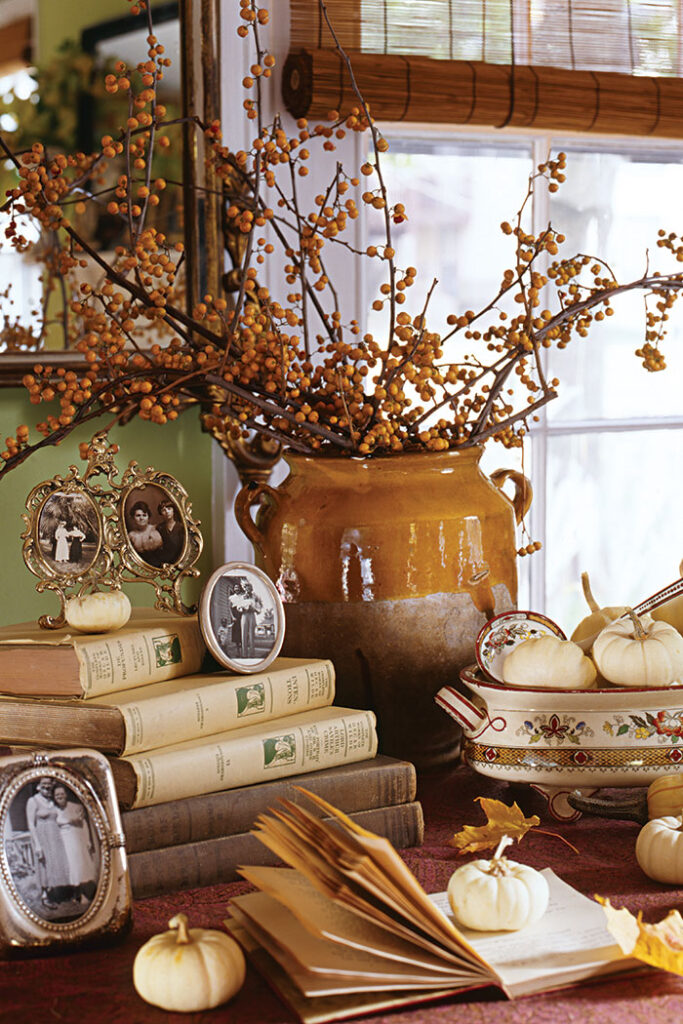 As usual, when using another photo as inspiration, I like to identify the elements. This helps me determine what is actually in the image, what I have on hand to copy it, and what I might need to purchase.
Here is what I see in the photo:
large confit pot
stem of berries
white pumpkins
books
framed pictures
some kind of dish
fall leaves
Here is what I have on hand:
large and medium confit pots – yeah, I have two!
I checked my faux fall floral stash for berry stems. I don't have any, but I have something else in mind.
white pumpkins – yes!
books – yes!
framed picture – yes!
dish – of course, but I have another small item in mind.
fall leaves – I have a similar item that I've been wanting to use.
When I saw this lovely fall vignette, I knew exactly what my focal piece would be – one of our two antique confit pots.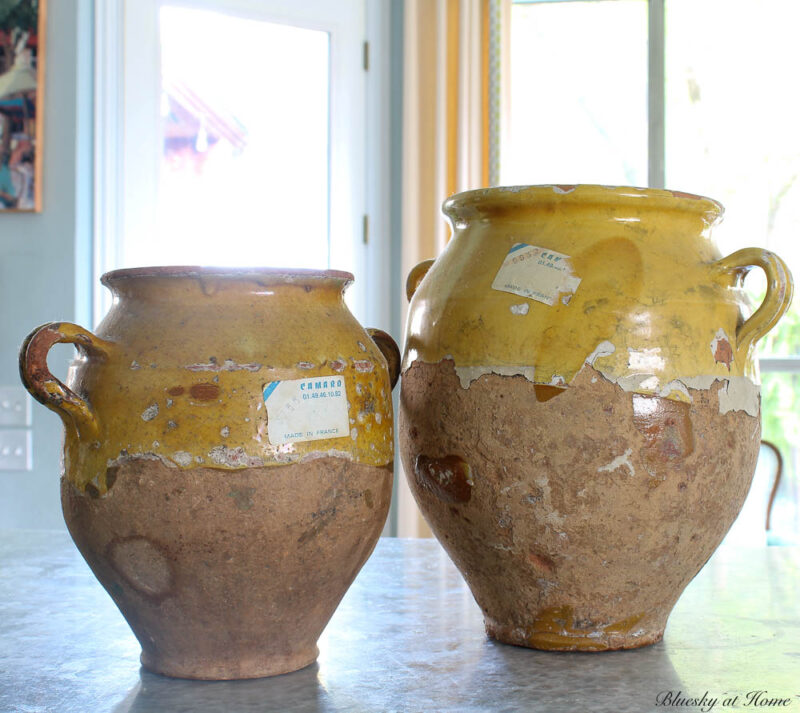 We bought these antique confit pots over 20 years ago at an antique store in the French Quarter of New Orleans. The store was called Antiques de Provence and was filled with beautiful furniture and decorative items. It was owned by a delightful lady named Cynthia. She was so knowledgeable and passionate about her pieces.
She lived above the store and invited us up to tour her home. It was the most gorgeous place and exactly where I would have wanted to live in New Orleans. Her courtyard was the stuff of French dreams.
Over the years, we always stopped in to say hello to Cynthia and see what was new in the shop. We bought a few more things (I have a lovely dough bowl and chest.) occasionally. Unfortunately, the shop closed several years ago, but her Instagram is still online if you want to see some of the items she had.
As you can see, I've never taken the French export labels off the confit pots.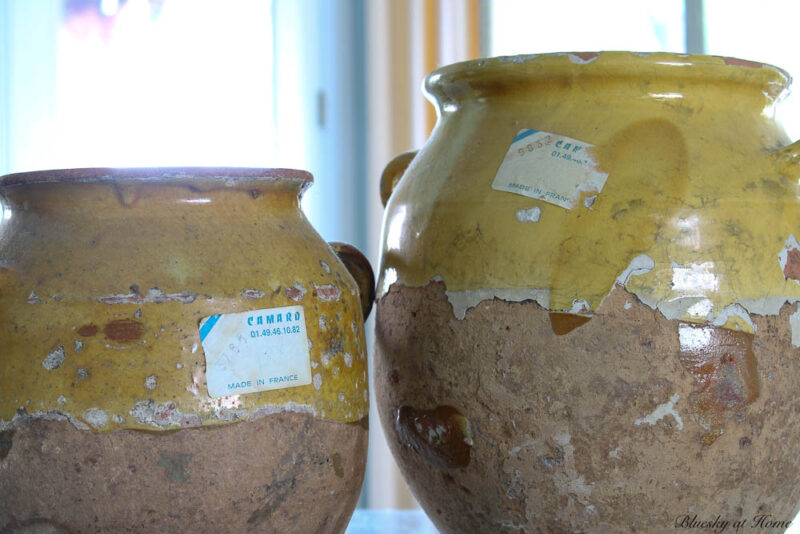 You can probably find inexpensive reproductions these days, but I'm thankful that we have the real thing. There is nothing wrong with a reproduction. If you want the real thing, look for a reputable dealer and expect to pay several hundred dollars. I think we paid $375 for the larger one twenty years ago.
What is a Confit Pot?
Let's start with the star of the show—the confit pot. If you're not familiar with this charming piece of pottery, think of it as a rustic, earthenware pot with a timeless appeal. Traditionally used for preserving and slow-cooking delicious dishes, these pots have found their way into the world of decor.
The most common dish you may have enjoyed is duck confit. These pots were used for preserving food in the 19th century, mainly meats in fat, such as duck confit.
How to Use Confit Pots in Home Decor?
Join me as I begin to use a confit pot in my fall-inspired vignette.
What makes using a confit pot so much fun in your fall vignette is its versatility. Its earthy tones and natural texture make it a perfect fit for autumn themes. Plus, it's an excellent vessel for styling a variety of fall treasures.
To make the strongest statement, I decided I would use the larger of our two confit pots as the focus of the vignette on our kitchen island. The pot is 11 1/2 inches tall and about 10 inches from side to side.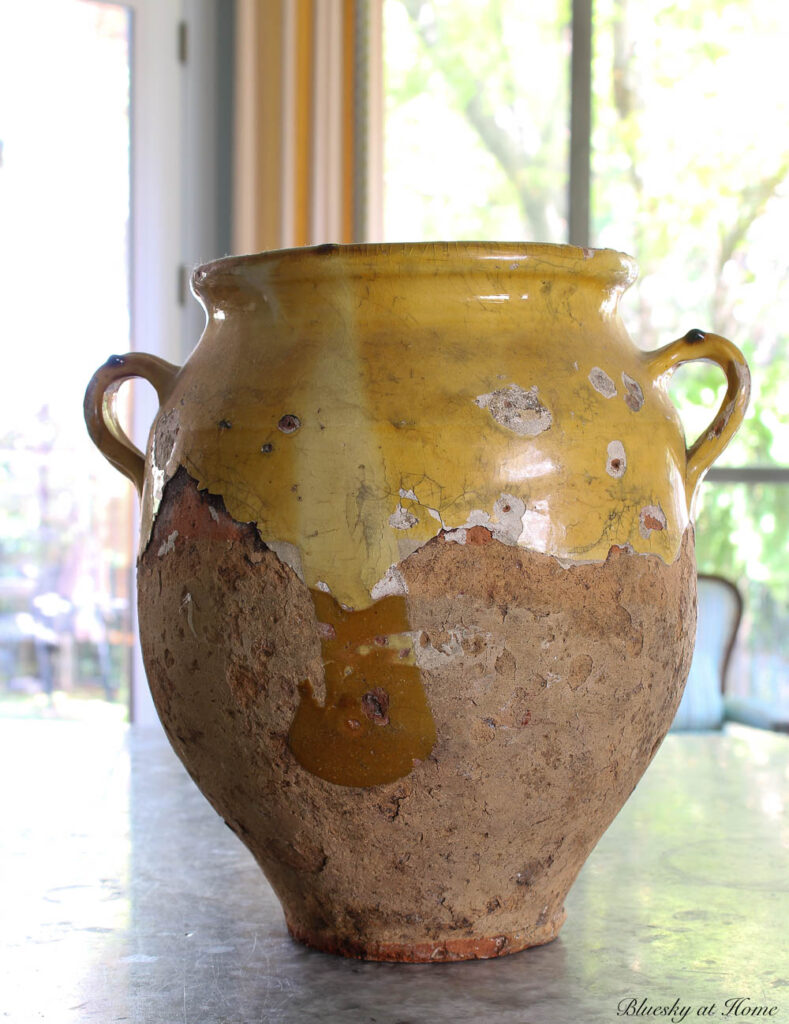 So, what can you add to a confit pot to create a stunning fall display? Here's a list of decorative accessories that will elevate your fall arrangement:
Mini Pumpkins and Gourds: Nothing says fall like these cute little squashes. Arrange them around your confit pot for a touch of autumn whimsy.
Fall Foliage: Incorporate artificial or real fall leaves and branches. You can even add in some faux fall berries for extra color.
Candles: Opt for scented candles in warm, spicy scents like cinnamon, pumpkin spice, or apple cider. Place them strategically around your vignette to add a cozy glow.
Burlap and Plaid: Use burlap fabric or plaid table runners as a backdrop or base for your confit pot. These textures scream fall and add depth to your display.
Acorns and Pinecones: Scatter some acorns and pinecones around the pot for a touch of rustic charm. You can even paint them in metallic or autumnal colors for a unique twist.
Seasonal Flowers: Fresh or faux, blooms like sunflowers, mums, and marigolds bring a burst of fall color to your vignette.
Twine and Ribbons: Wrap twine or rustic ribbons around your confit pot to enhance its rustic appeal. You can even tie a bow for that extra flair.
Fall-Themed Figurines: Consider adding small scarecrows, owls, or other fall-themed figurines to your display to tell a story.
With these accessories, you can create a fall vignette that not only celebrates the season's beauty but also reflects your unique style and personality. And the best part? You can easily switch out elements as the season progresses, keeping your decor fresh and exciting.
When we first bought our confit posts, they sat on our kitchen island at all times. Since moving to our present home, they sit above the kitchen cabinets.
I was thrilled to bring them down to eye level and use them in my fall vignette. I don't know why I haven't used them earlier.
My Second Inspiration
As I said, I didn't have any berries on hand to place in my confit pot, but I had another idea.
In doing a little research on confit pots for this post, I came across a painting I had forgotten about – Van Gogh's famous painting of sunflowers in a confit pot. I actually had a reproduction print of this painting years ago that I gave to my younger daughter.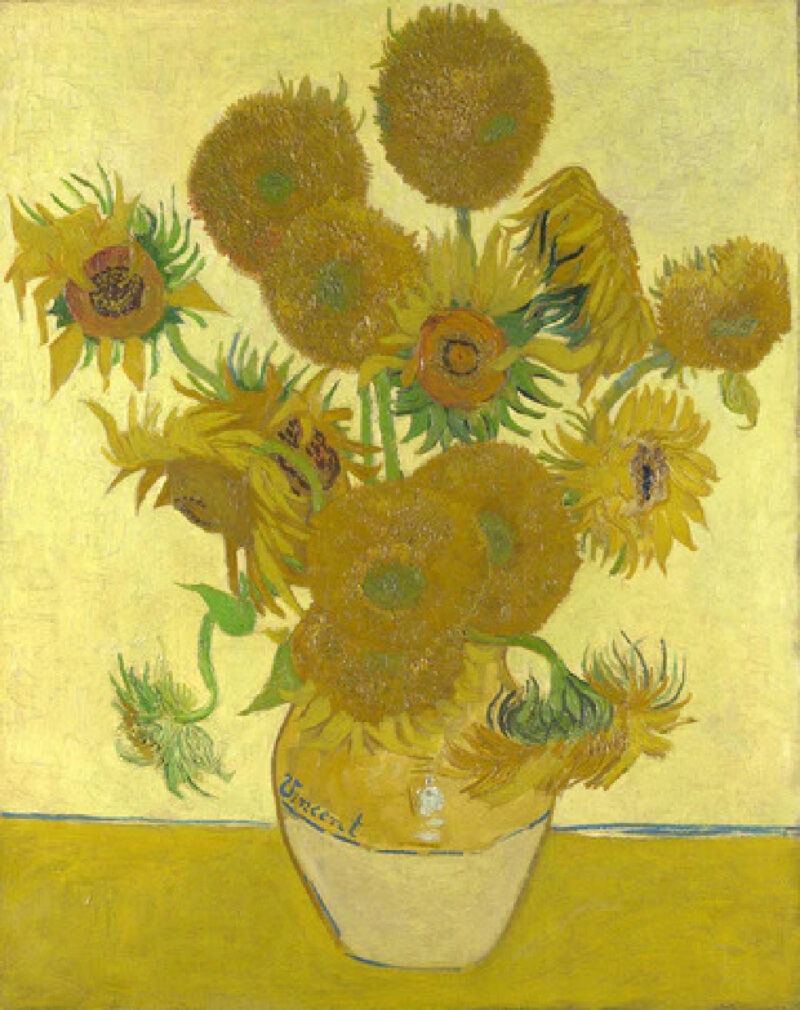 Now I knew what to fill my confit pot with.
A quick trip to my Central Market was in order. Unfortunately, there were no sunflowers in stock. Instead, I opted for yellow chrysanthemums, which worked just fine.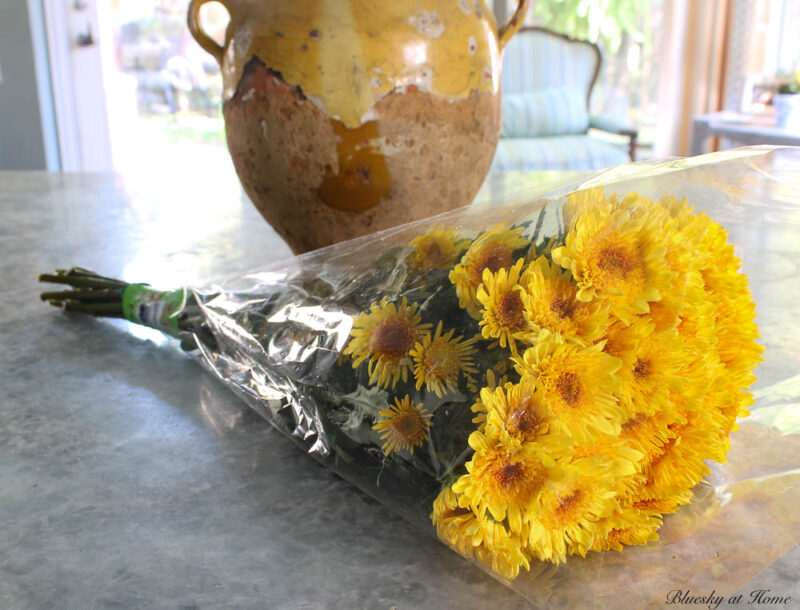 Not wanting to fill my confit pot with water, I filled a glass with water and put the mums in there.
Styling My Confit Pot for a Fall Vignette
Now the fun really begins.
Using a Tray
The inspiration photo looks like the vignette was on a tablecloth with no "container" like a basket or tray. I felt that since my vignette would be on the kitchen island, it needed a container to corral all the elements.
Both my round woven baskets/trays were already in use so I pulled out a square wood tray that I rarely use. It was the right size and shape and the natural wood stain would work with fall colors.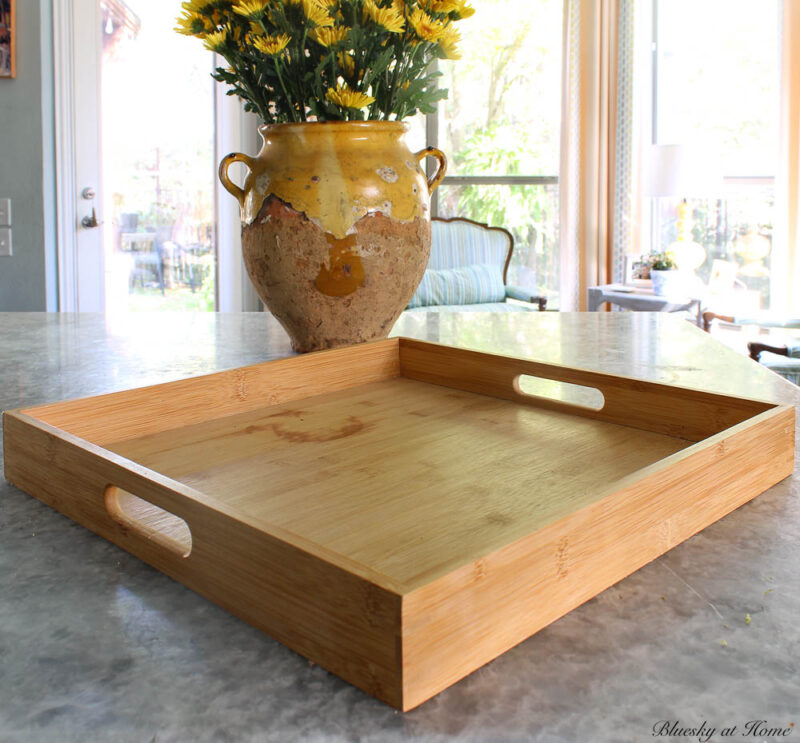 I placed the tray on the diagonal and set the confit pot in the back corner.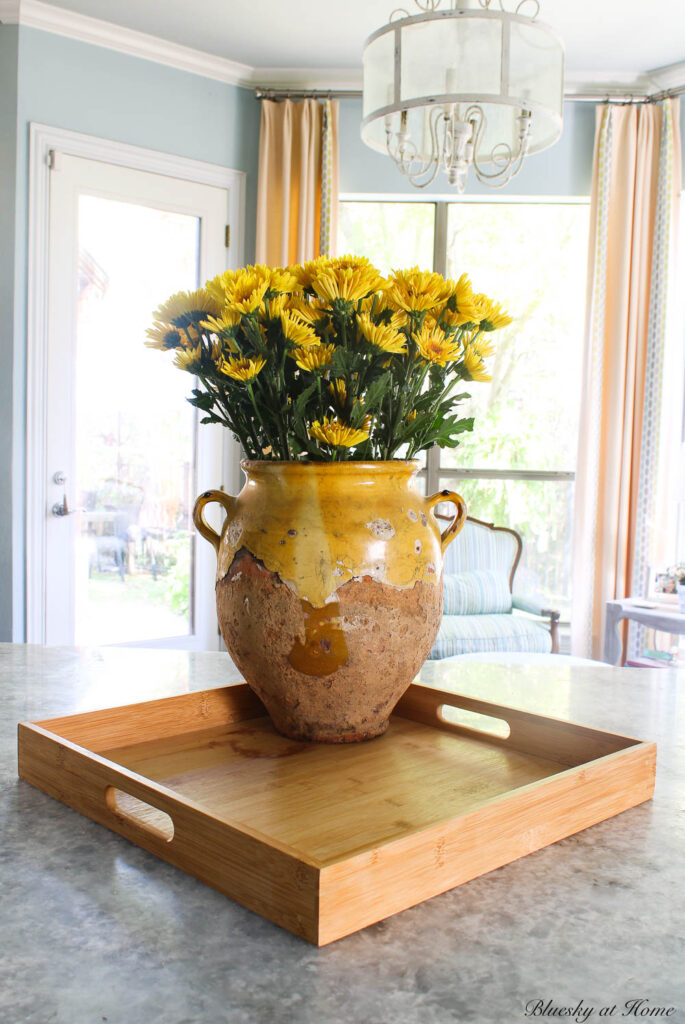 Vintage Book Stack in Brown and Gold
The next thing I added was a stack of three books in dark brown leather with gold lettering and designs. I've had this set of books for so long that I have no idea where I bought them. The pages look old and are dated to the 1700's although I'm sure they are reproductions.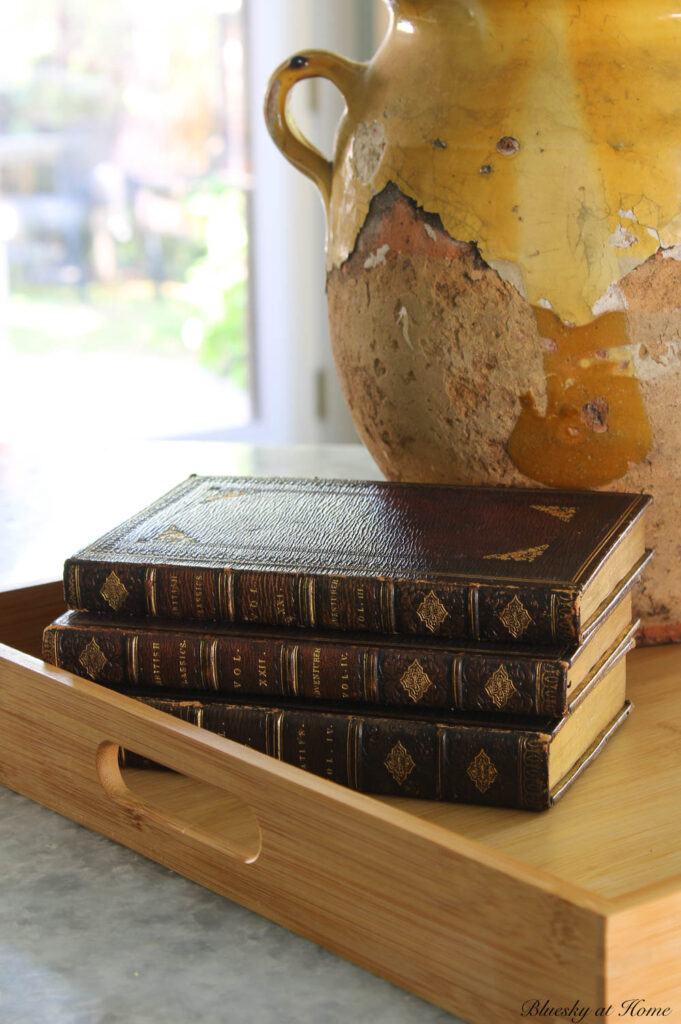 A Little Jar
As a little something to adorn the book stack, I grabbed a small scented infuser from the cabinet in our front hallway.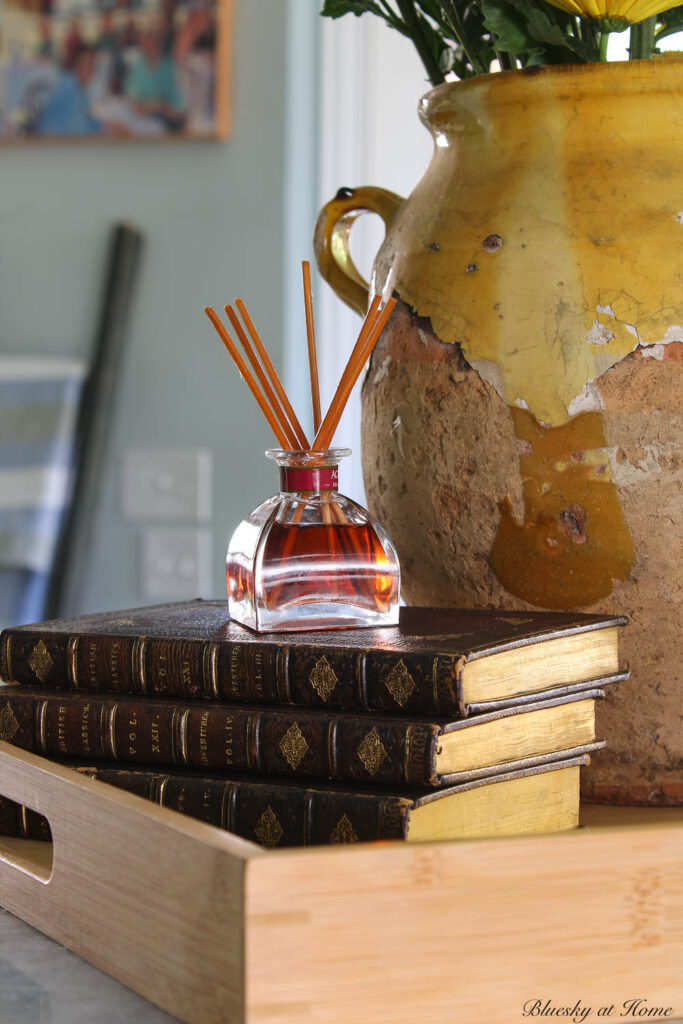 At this point, I realized my color theme was gold, yellow, brown, and amber.
Gold Picture Frame
Next came a gold frame which was the best frame I had in size and color for the vignette. Don't laugh at the picture of Sweet Shark and me. The picture was taken in Bali in 1999. His hair was naturally brown then, and I had darkened my hair color for some reason. Those were the days of "short sets".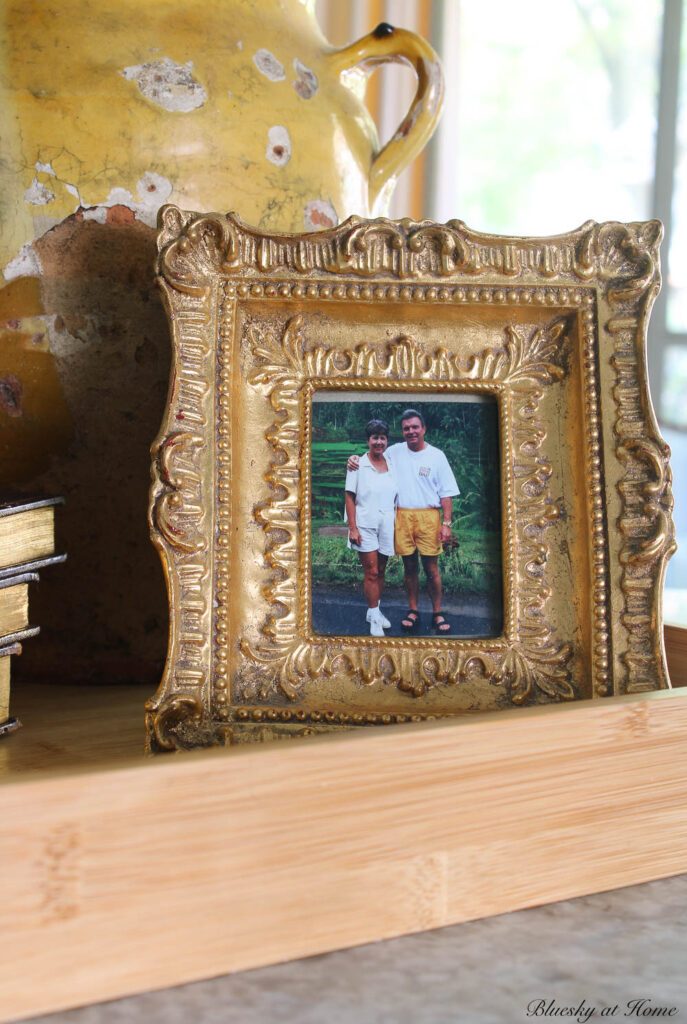 Dried Magnolia Stem
I picked this fallen magnolia stem weeks ago from my neighbor's yard. I've been dying to use it somewhere. I thought now was the perfect setting. The shape of magnolia leaves is so interesting and the two-tone color is perfect for fall.
I tucked it in the front of the books on the tray.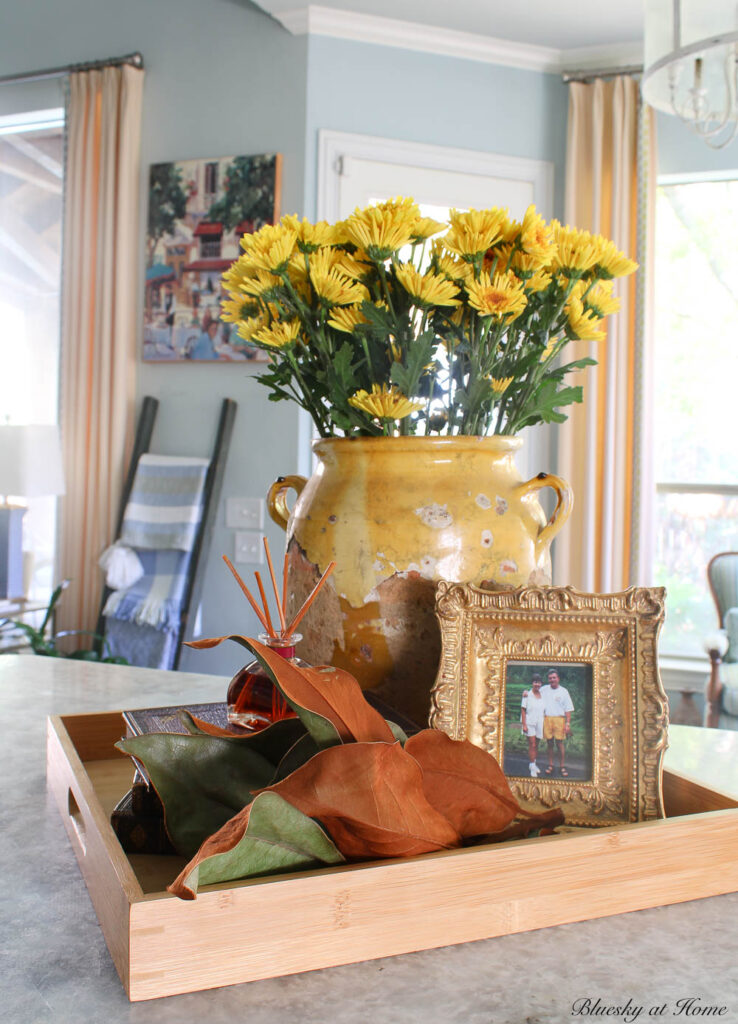 Pumpkin on a Candlestick
I thought the vignette needed some more height to balance the books and the confit pot.
I brought in one of my natural wood candlesticks and topped it with a handmade pumpkin (DIY tutorial to come later).
The candlestick and pumpkin fill in the empty space and add natural texture and color.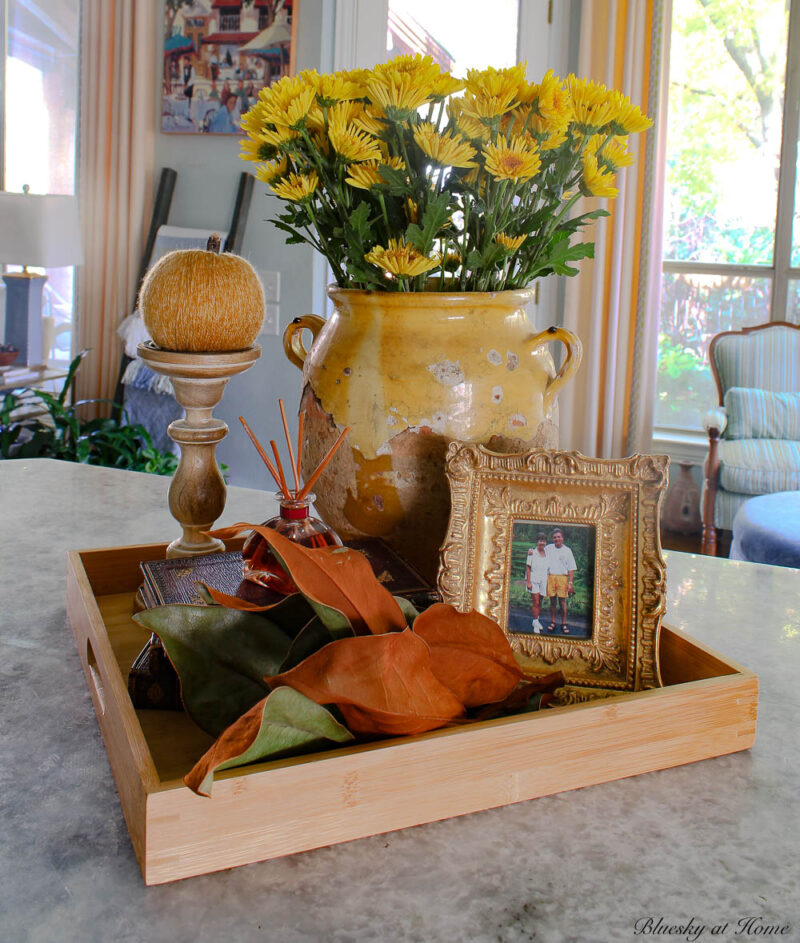 Adding a Pop of White
I love to add a little pop of white to vignettes to draw the eye in. One more DIY pumpkin in white did the trick.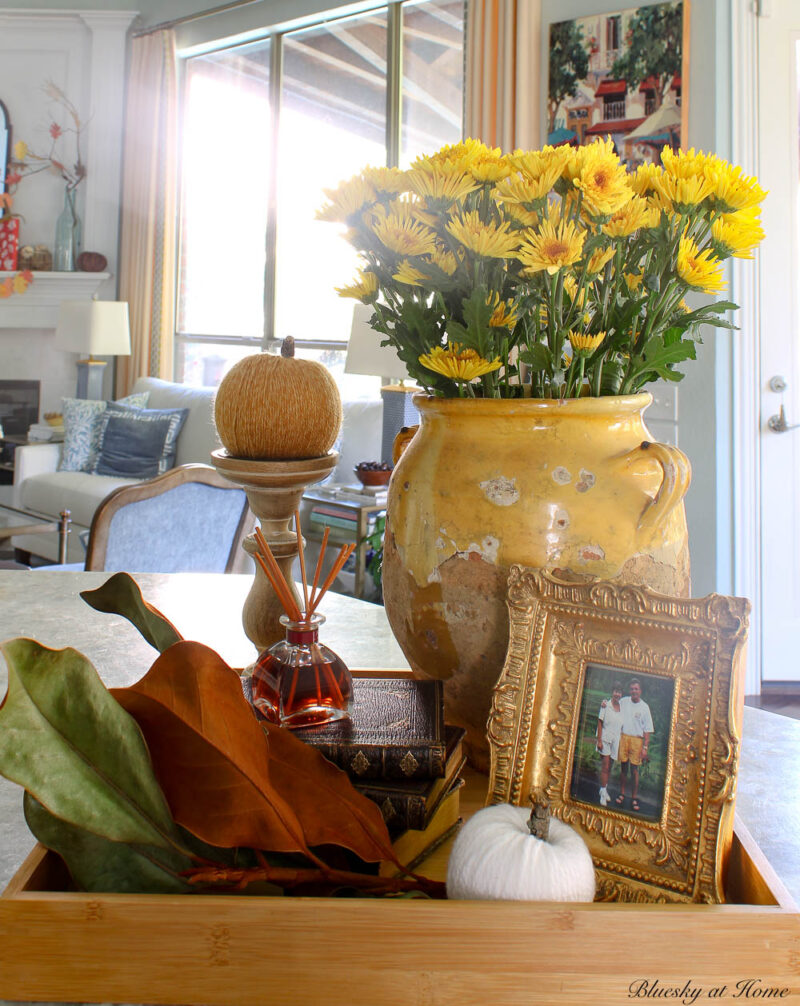 Fall Foliage
Some of the sunflowers in Van Gogh's painting drape down. To mimic that, I could add some faux fall foliage from my collection. I brought in a few stems to see what colors worked best.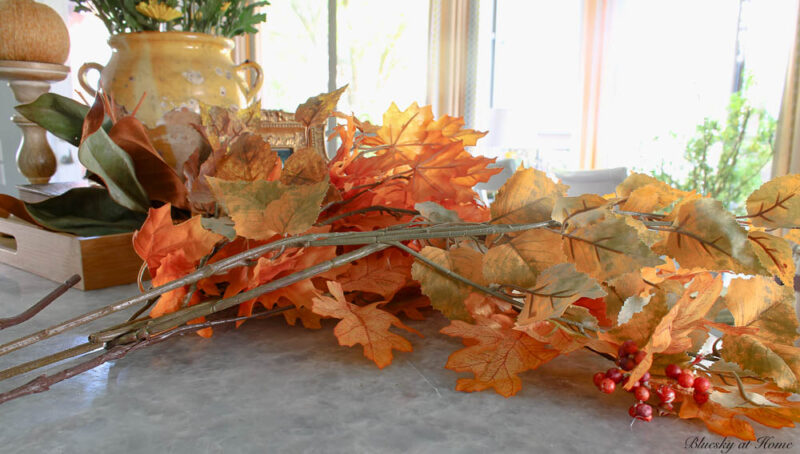 I chose this muted color and added two stems. The foliage softens the vignette and connects the confit pot to the lower elements on the tray.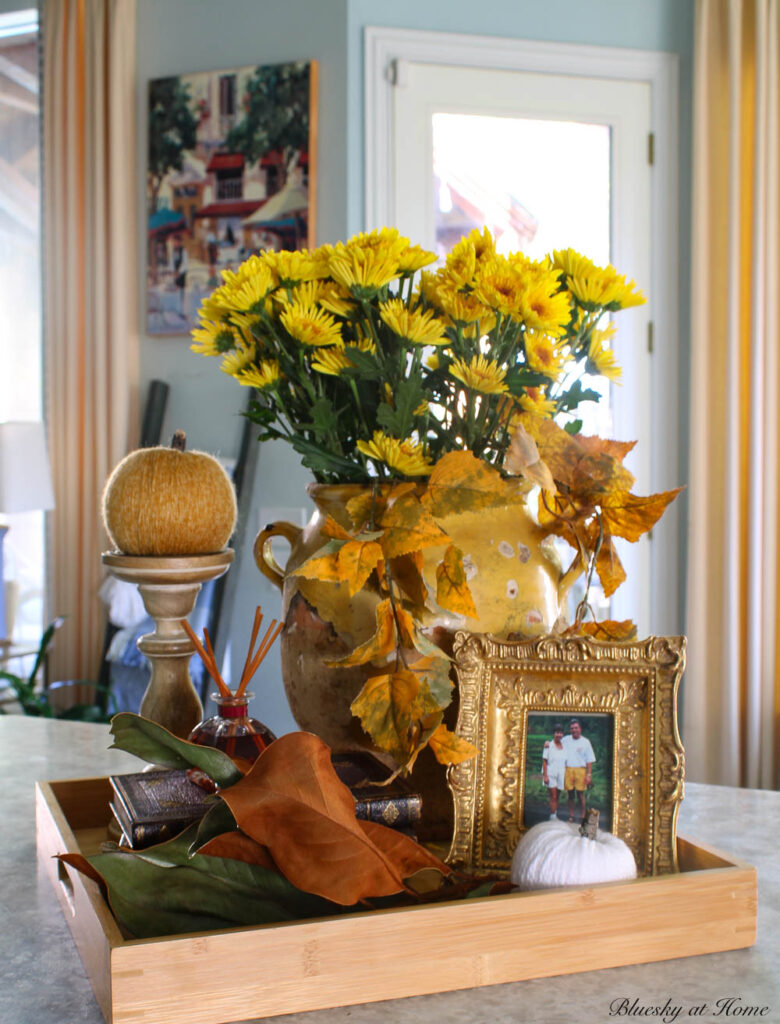 A Few Final Additions
I've been collecting magnolia pinecones for weeks – also from the neighbor whose magnolia tree yield my leaves. One of them filled in a spot on the tray. I love the little red ariels. They are all over my neighbor's yard.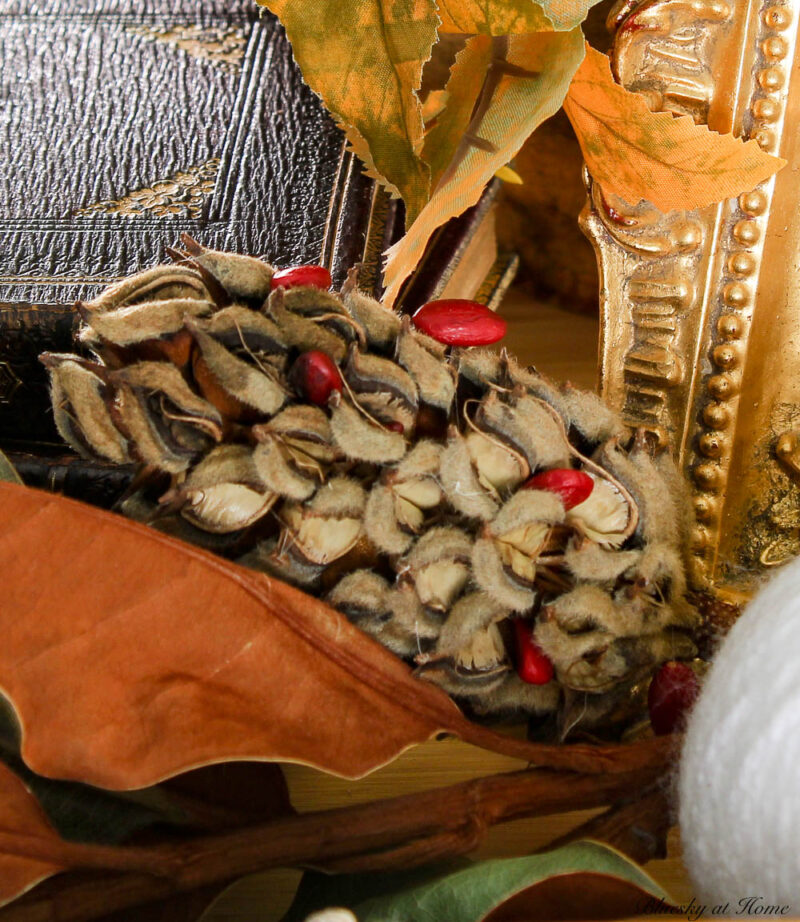 Next, the inspiration image had softness at the base since it sat on a tablecloth. I decided that my tray needed a softer connection to the kitchen island.
I didn't have a tablecloth that would work, but I did have plenty of fall-colored fabric that would. I picked this piece with muted fall colors and a soft pattern.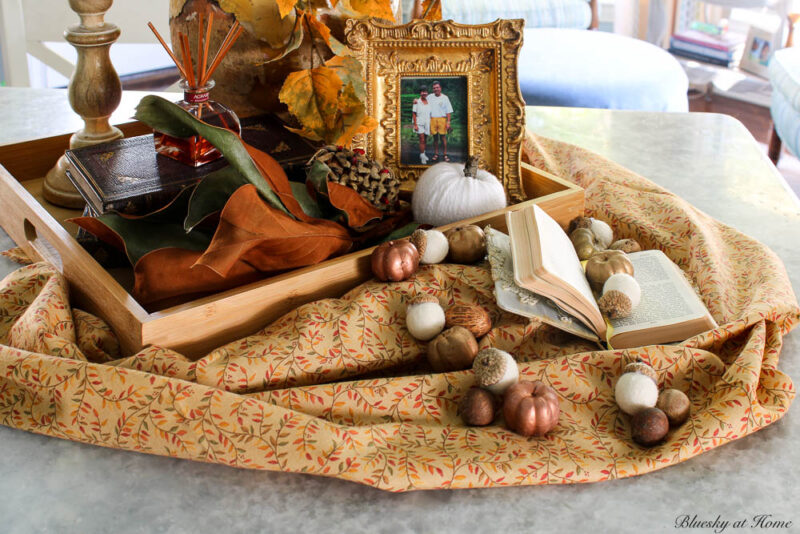 The inspiration photo also had an open book. I needed something small and remembered Sweet Shark's baptismal Bible that I keep in a cabinet in our bathroom. It was the perfect size and stayed open to John 3:16.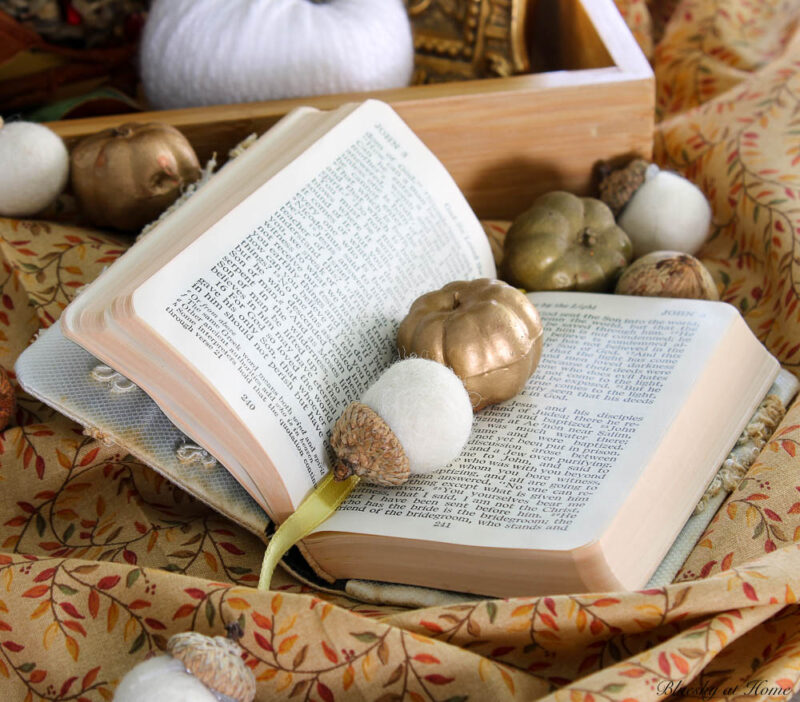 A few tiny faux pumpkins painted in muted metallic shades and some of my DIY acorns filled in around the small Bible.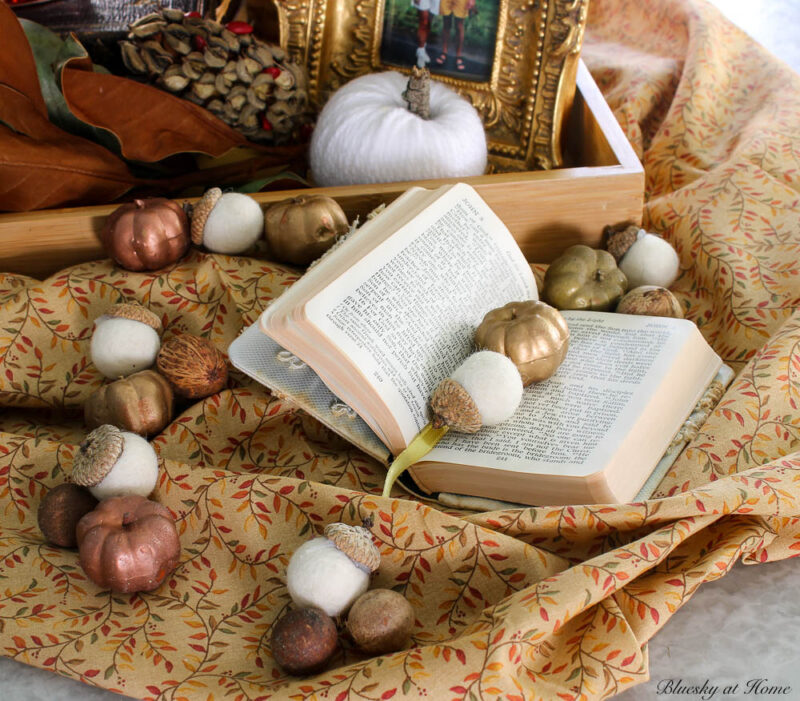 Now my fall-inspired confit pot vignette was complete and nicely finishes off our kitchen island.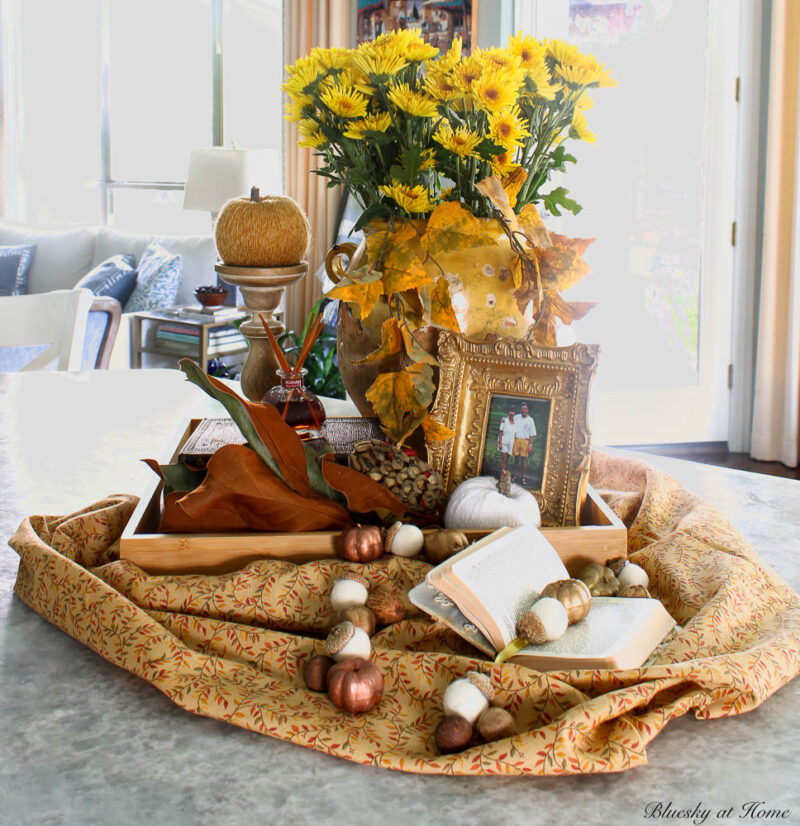 I hope that you enjoyed learning how to use a confit pot in a fall-inspred vignette. Grab your confit pot or other container and let your creativity flow this fall.
I can't wait to see the wonderful vignettes my Pinterest Challenge friends have come up with. You can start with my Texas friend Barbara of French Ethereal.
Stay tuned for more tips and tricks to make your home the coziest place to be this autumn! Visit my Fall Home Decor Pinterest Board for more inspiration. PIN this post to your favorite Pinterest Boards.