3 Fall Decor Vignettes: Bookcase, Mantle, Coffee Table
When decorating your home for the holidays or seasons, what areas do you struggle to decorate? Three areas always come to my mind: bookcases, mantles and coffee tables. So I created 3 fall decor vignettes: bookcase, mantle, coffee table.
They are all focal points that lend themselves to decorating in a room. Our living room is the first room that receives attention for fall decorating so I created 3 fall decor vignettes: bookcase, mantle, coffee table.
As promised, I'm sharing fall decor on Fridays for several weeks ~ Fall Friday. Last week I shared 15 Ideas for Fall Decorating.
The great thing about decorating these 3 areas is that they are contained; they have a specific amount of space that acts like a frame to fill with beautiful accessories and seasonal decor. A bookcase provides vertical space to decorate, a mantle horizontal space, and a coffee table can be square, rectangle or even round. All 3 fall decor vignettes create focal points in your room.
3 Fall Decor Vignettes: Bookcase, Mantle, Coffee Table
Although I've already shared this year's early fall coffee table vignette and my early fall mantle decorating, I think it never hurts to revisit decorating from previous seasons. I loved the 3 fall decor vignettes that I created for our living room last year and I think they are still in style for fall 2019.
This post contains links to products I absolutely love and recommend. If you should order any product through this site, I may receive compensation.
First Step to Decorating
Before I ever start decorating any area, I try to completely empty that space so I can start with a clean slate. It helps your mind to declutter and imagine the space with a new look. I also bring in all the decorations that we already have ~ we pack each season's decorations in large clear plastic tubs from Container Store. In the last few years, we've added built-in shelving in our garage for all the decorations so that we don't have to go up in the attic.
Opening up all the plastic crates and taking out the decorations lets me see what I have and want to use again. I love using decorations from previous years and mixing in just a few new pieces for interest and any new decor theme I think of.
Since our dining room table was already decorated for fall, I was ready for the family room where we spend all our time getting the fall treatment. I concentrated on the bookcase, the mantle and the coffee table first. Each is a little different.
The Mantle
As I was unpacking our fall decorations, I decided that 3 of my white and gold pumpkin plates, which were in the dining room last year, should be front and center on the mantle. I pulled some white and cream books off the bookcase and used them to elevate 2 of the pumpkins.

The gold accents would set the theme of elegance complimented by natural rustic elements. The tobacco basket that I bought at Joann several weeks ago would provide a central point and give the rustic contrast.
Another natural element would come from the dried hydrangea blossoms from our backyard. They naturally turned brown back in September after several days of rain. Gold pumpkins add to the elegant theme.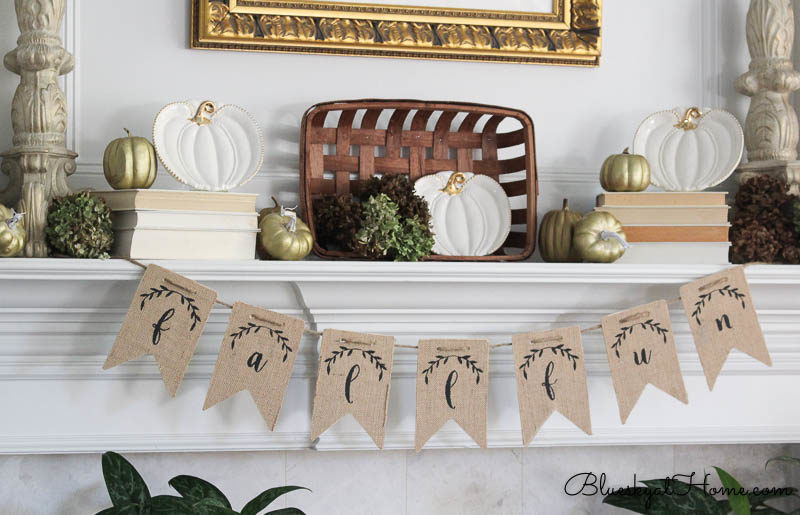 The last rustic element for the mantle was the wood and burlap banner that I made. Since I had 7 wood pennants, I stenciled the words "fall fun", using ChalkArt and stencils from A Maker's Studio. I am in love with these 2 products and I can't tell you how much I think everyone should try them.

I like the contrast of elegance from the gold accents with the rustic from the tobacco basket, dried hydrangeas, burlap, and twine.
The Coffee Table
You can't miss coffee tables in a room. Our coffee table is a rectangle with glass inserts in a brass frame, and I decided to go simple here.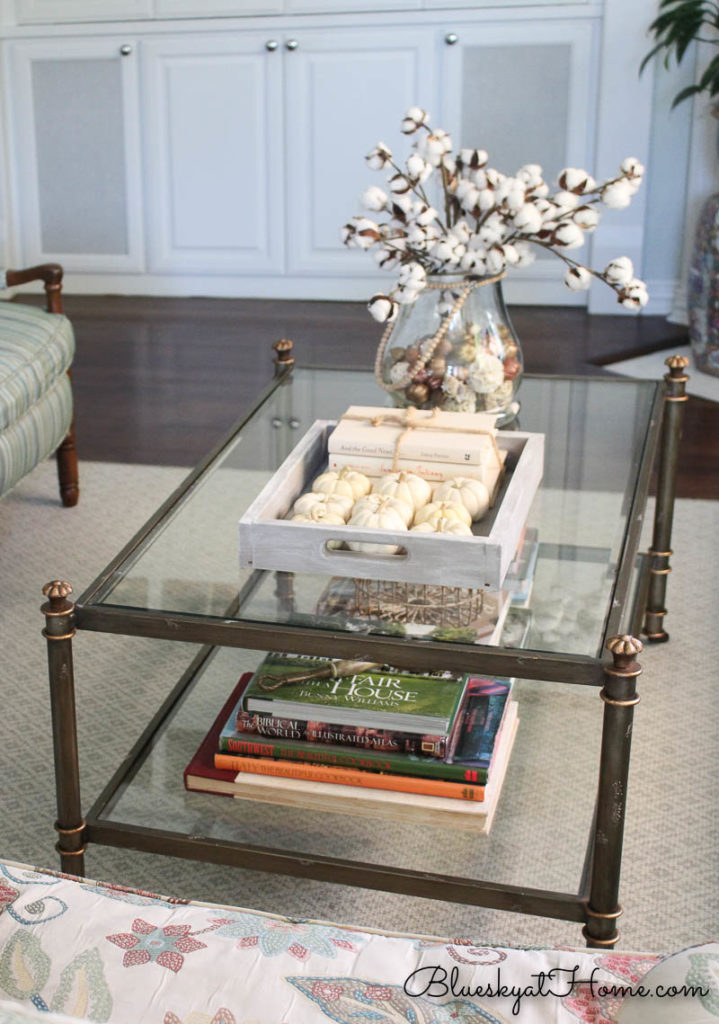 I still love the glass vase with the bead handle from last year which has been in the living room for months with a large cream candle inside. For this fall, I removed the candle and filled the vase with all the cotton stems I had. For a couple of years, the cotton stems were in 2 bunches and placed in burlap bags.
Then, to hold the cotton stems, I used a package of small metallic pumpkins from last year. So, unintentionally, I was again mixing natural elements (the cotton stems) with a bit of elegance (the metallic pumpkins).
To balance the taller vase, I used my wood tray with the heavy twine-wrapped books from I made last year. That is one of my very favorite accessories in our living room. I filled the rest of the tray with mini~pumpkins in white.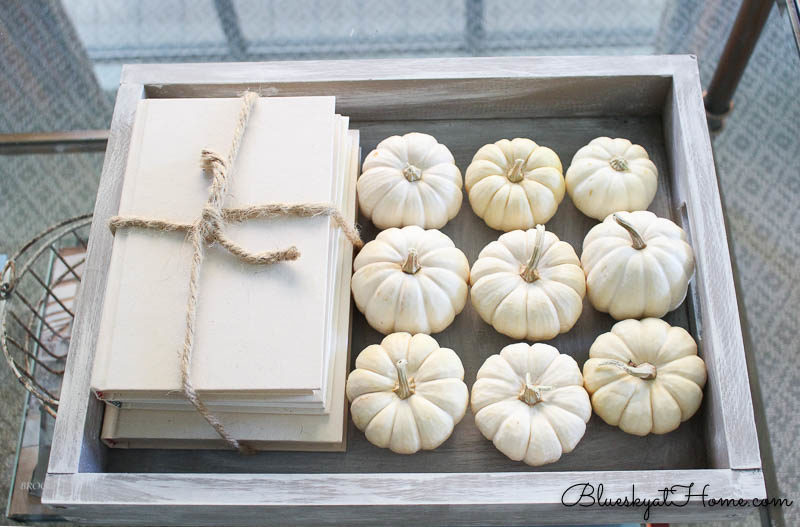 I not only love the neutrals on the table but the contrast of the round vase and the round pumpkins inside the square tray.
The Bookcase
Our bookcase is very tall ~ almost 8 feet. Here's the story of what it looked like originally and how it has looked in previous years. With 5 shelves, it offers some decorating challenges. I don't usually touch the top shelf because I have to get the ladder out. For the last of my 3 fall vignettes this year, I focused on the 3 middle shelves.
I was so excited to bring out the farmhouse sign that I made last year. It's still one of my favorite DIY projects ever.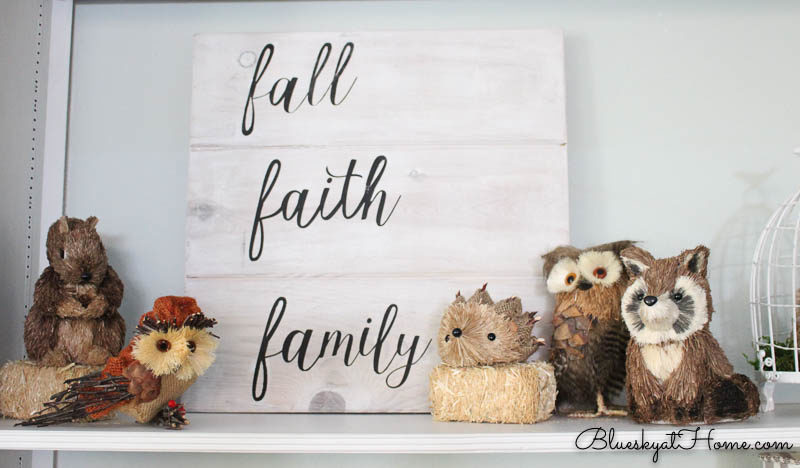 I don't know why, but last year I bought a couple of what I call "woodland creatures". A few weeks ago I found a couple more at Hobby Lobby and then I found a few more at Joann. And now I have a menagerie: 2 squirrels, a hedgehog, 2 owls, and a raccoon.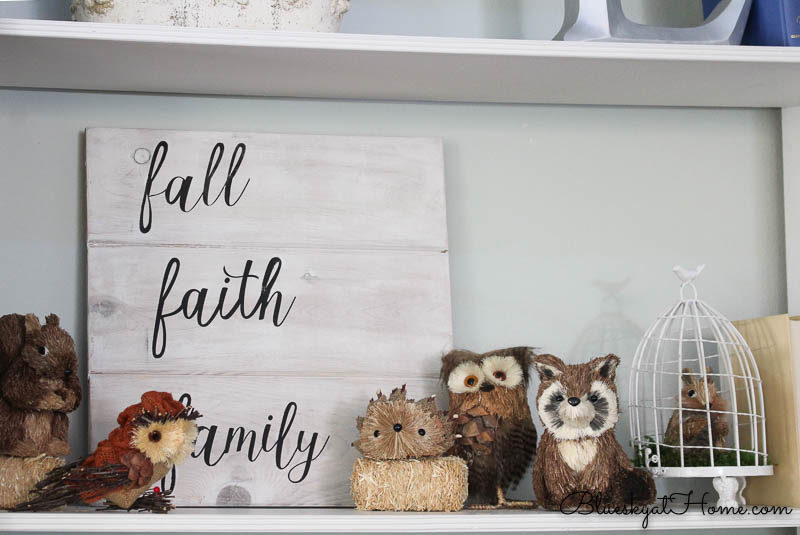 On another shelf, I turned my Remington Sure Shot wood crate on its side and filled it with white spray painted pumpkins from last year. For a pop of color on the bookshelf, I kept my turquoise birds that I bought at an antique mall in McKinney, Texas several years ago.
For the bottom shelf, I stacked 3 twig pumpkins. I have had these for years and have no idea where I bought them. I love the natural look.
The brass and glass lantern that I bought 2 years ago at Pier 1 for Christmas decor has become one of my to~go accessories. For fall, I filled it with more metallic mini-pumpkins ~ just don't open the door or they will all fall out!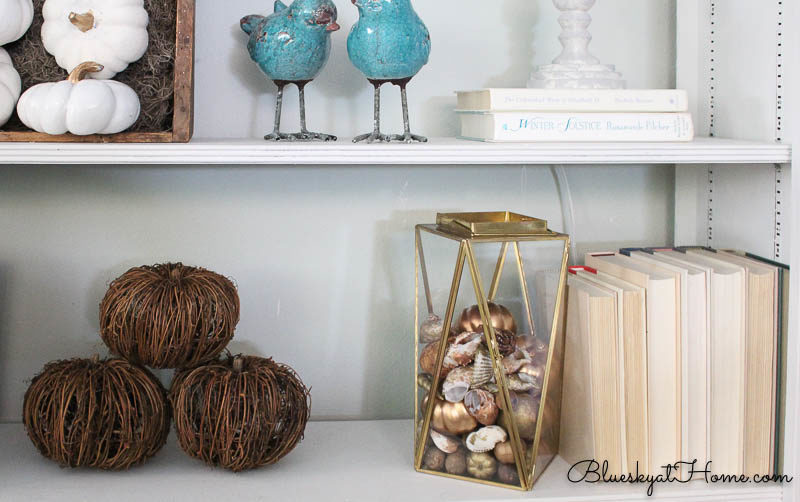 That's how I decorated 3 fall decor vignettes: bookcase, mantel, coffee table. The living room has a cohesiveness that work well together. The colors are soft and neutral but have some movement and vibrancy from texture and shape. I think the rustic animals add a touch of whimsy.
I hope you like the tour around our living room and that you have more ideas for your own fall decorating. I hope you'll save and share it with others.