13 Great Tips to Style Your Coffee Table
One of my favorite areas to decorate in our living room is our coffee table. Let me share with you 13 tips to style your coffee table for a pretty and practical focal point in your home.
Whether you are changing out the arrangements from spring to summer or fall or from Memorial Day to Thanksgiving, the elements of an interesting coffee table are the same. 
Coffee tables are often one of the main focal points of a living space. It's one area that deserves our styling attention. Because it's a contained space, it's always fun to style your coffee table.
At the end of this post, I have a free checklist for you so you can keep these 13 tips handy for future coffee table styling.
How to Style Your Coffee Table: 13 Tips to Help You
When do you begin to transition from spring to summer or fall decor in your home? Do you totally change your colors and your accessories all at once? Or do you take a more "little-bit-at-a-time" approach?
I'm guessing that most of us take a more gradual approach. Why is the coffee table one of the easiest places to style for transitional or seasonal decor?
it's a contained space
a relatively small space
can be redecorated for seasonal changes fairly quickly
Usually at the center of the room, a styled coffee table provides the perfect place for visual interest, personal style, and decorative accents.
Styling Your Coffee Table 
Whether you have a round coffee table or a rectangular coffee table, these tips will work. Square coffee tables or oval coffee tables also work in family rooms, living rooms, or libraries.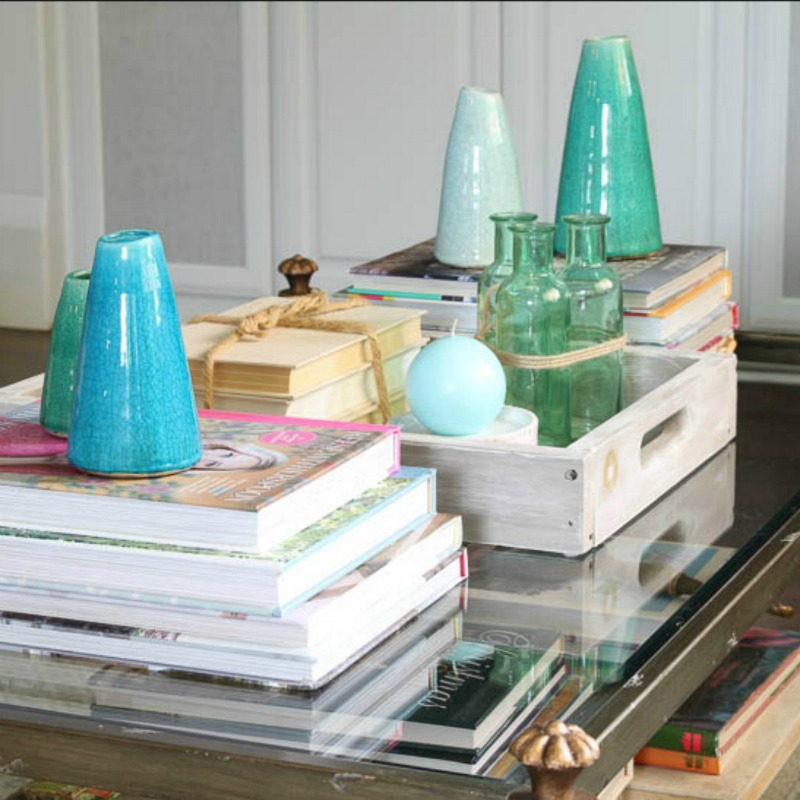 I think this is true of any area that you are redesigning: your mantel, your bookshelves, your cabinets. It helps to clear your mind and look at the space as uncluttered and fresh. 
The best way to start is by taking everything off your coffee table. This was our styled coffee table early in the spring.
TIP 1: Start with a clean slate.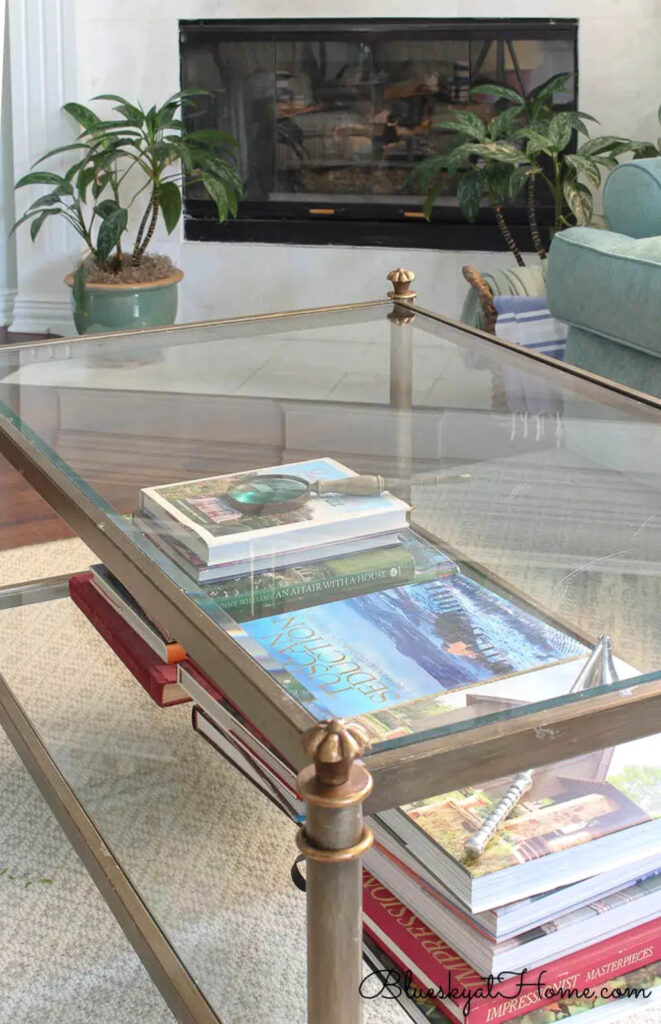 This is also a good time to clean or polish your coffee table. Since we have a glass coffee table, it gets cleaned every week.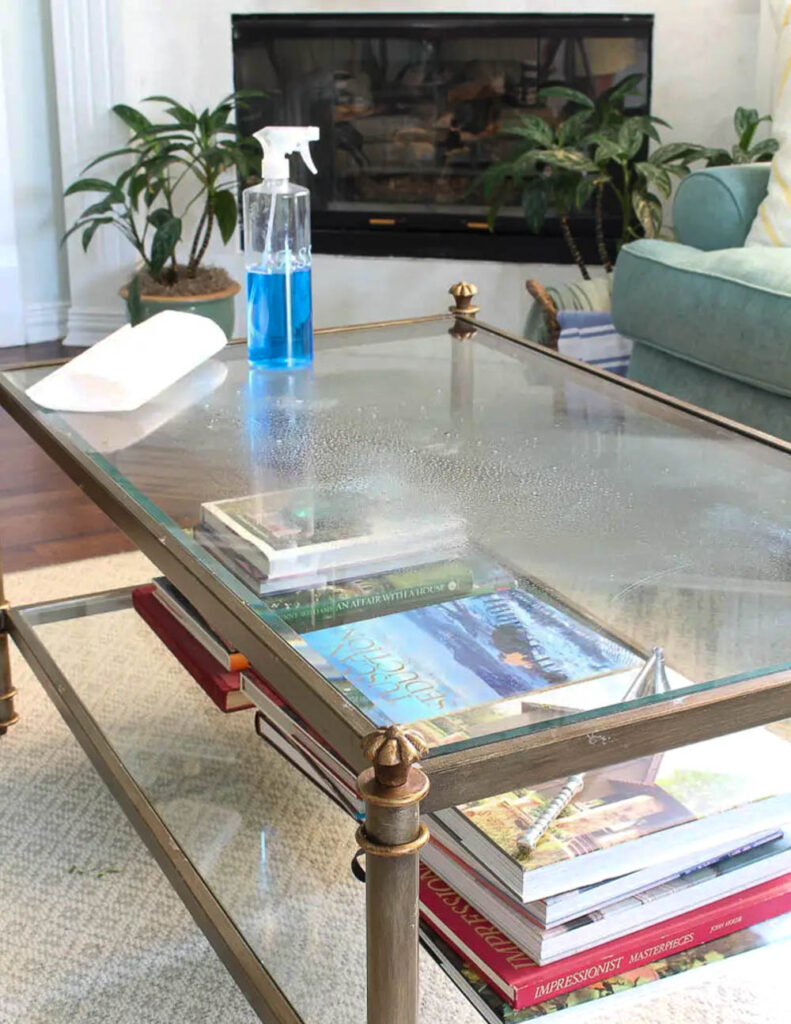 Every coffee table arrangement needs something to tie it together.
TIP 2: Choose a common theme for your coffee table; that could be the style (coastal, modern, farmhouse, traditional), a color, or a season, such as a holiday decor, or a particular item (seashells, boxes, candles, pumpkins).
Even a common color palette can create a cohesive look.  For this transitional coffee table decor, I wanted to use blues.
Essential Elements for a Coffee Table
TIP 3: Coffee table decor has some essential elements that will make designing your space very easy.
Coffee tables are either square, rectangular, oval or round. Regardless of the shape of your table, these essential elements are the same.

Depending on the size of your coffee table, your table should have 2 ~ 3 major elements. One big element in the middle of the coffee table looks like you just "plopped" something down in the middle of the table. That's not very interesting.
TIP 4: Use 2 – 3 major elements on your coffee table in odd numbers. Multiple elements are more interesting and pleasing to the eye than just one.
What are some decorative items that you can use in styling a coffee table?
a stack of books
faux flowers or fresh flowers in a vase
a tray or basket
candle holders
a potted plant
decorative elements, such as sculptural objects, a bowl, a vase, or a picture frame
Essential elements can be of different sizes. The larger the element, the more important it becomes. Large coffee table books are more impactful than a stack of regular-size books, but you can use both.  A scented candle takes on more importance the larger it is.
TIP 5: Vary the size of your essential decorative objects for more interest.
Combining smaller decor items into one larger element makes it more important. How to do that? Use a tray or basket.
TIP 6: A tray or basket is your best friend when styling a coffee table.
Here are great ideas for using trays that will spark your creative use of this essential item.
Our coffee table is a rectangle. For my transition coffee table decor, I'm using two essential elements.
My First Essential Coffee Table Element
The first essential element on our family room coffee table is a round tray used as the base for grouping other small objects.
I don't have a traditional round tray, but I remembered this round brass tray that Sweet Shark's grandmother brought back from one of her travels in the mid-1950s. It's been hanging on the wall above our curio cabinet in his bar. I really wanted a round tray and remembered this one as I was laying in bed (no kidding!).
I love how nicely the brass tray repeated the brass frame of our coffee table. The tray is large, about  17 1/2 inches in diameter. That is a great size for our coffee table; any smaller and it would seem "dinky" and any bigger would be too big for the table.
TIP 7: Remember to keep scale in mind when styling any area of your home. The larger your table, the larger your essential elements should be. 
I decided to put pads under my tray to make it easier to move around and to protect our table. I also did that to our rectangle wood tray.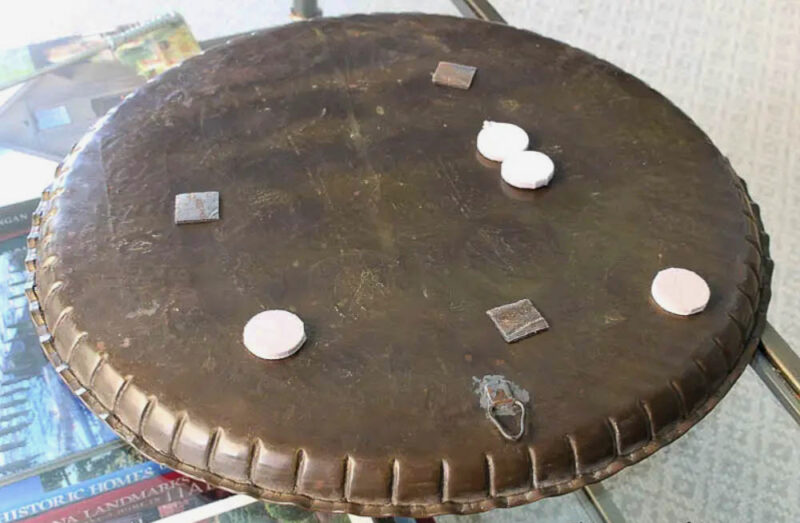 TIP 8: The size of your essential elements should not overwhelm the size of your coffee table, but should comfortably fill the space.
Allow some negative space between the elements on your table. They shouldn't be crowded nor should they be too small.
Elements on My Tray
TIP 9: Add your larger, most important elements to your decorative tray first.
We have had this blue planter for years. All I had to do was add a fern with a soft texture to contrast with the metal of the planter. I always fill in around a planter with Super Moss to give it a professional look.
TIP 10: Use a variety of coffee table accessories in different sizes and different heights.
My next element to use was a stack of books for color and height. To keep with the blue theme, I chose to stack three blue books. Always take the paper covers off your books.
Stacked books can stand alone, be a great place to create height, and set a decorative element.

if you need more ideas for using books in your home decor, then take a minute to look at this post.
For extra height and pattern, I added this scented candle. The color and size of this candle were perfect for the scale of the books. I also like that the stripes bring in a pattern.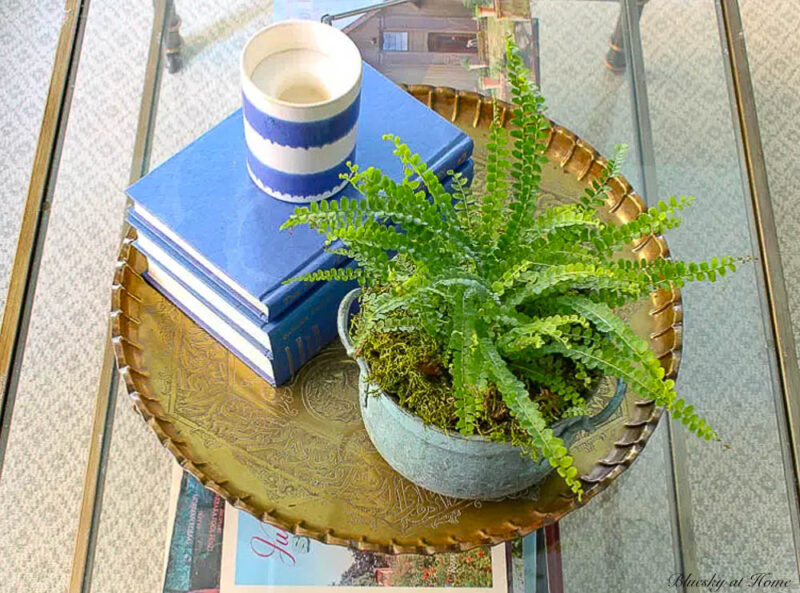 TIP 11: Don't forget to use pattern and texture to give interest to your coffee table.
I like to have one decorative element that is whimsical or handmade, something even a little quirky.
Wood beads have been popular for a few years and since I had all the supplies to make one, I did.
You should see how to make a string of wooden beads and two other DIY projects. The beads are light and don't take up much visual weight or virtual space.
TIP 12: Your essential elements should vary in visual weight. Think solids, like wood or ceramics in contrast with glass. 
Here's where I had some choices for my final decorative element. My first idea was to bring in one of my ceramic birds.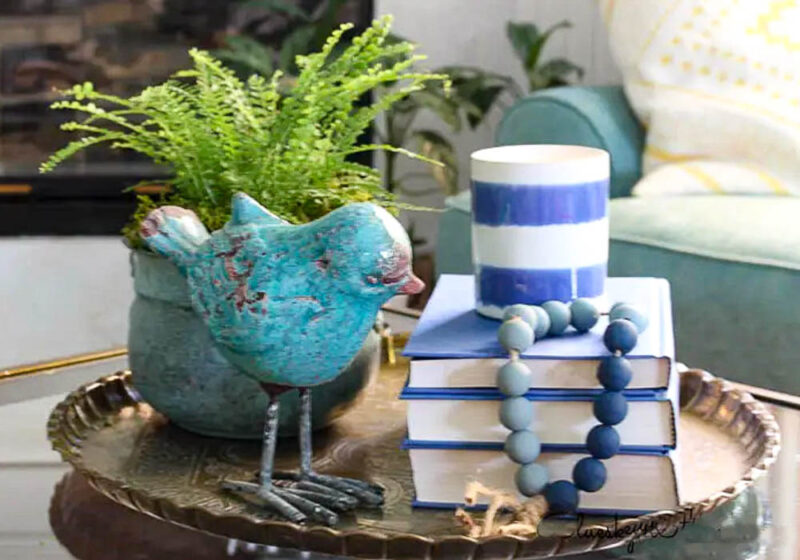 I loved the idea, but the bird seemed too big, the shape didn't blend in, and the turquoise color was a little off.
Next, I tried my white ceramic pear. I liked the pop of white, but it was too big.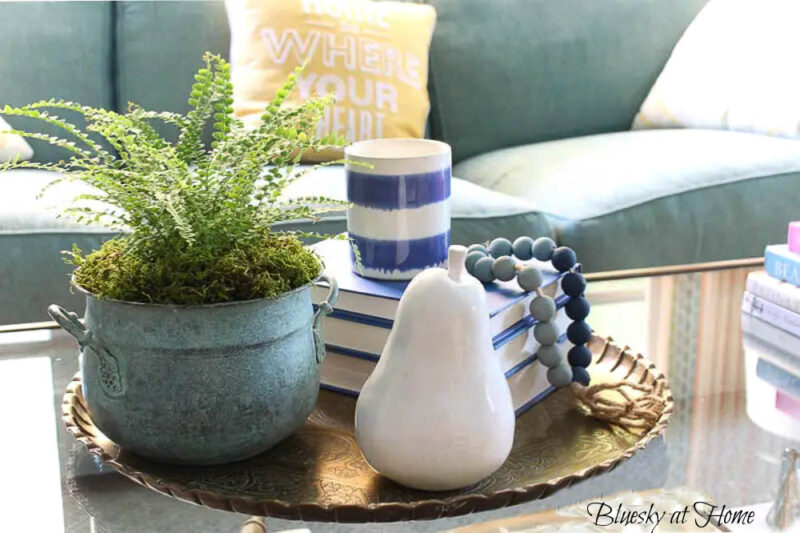 Next, I decided to try my white ceramic apple. It seemed too small in scale.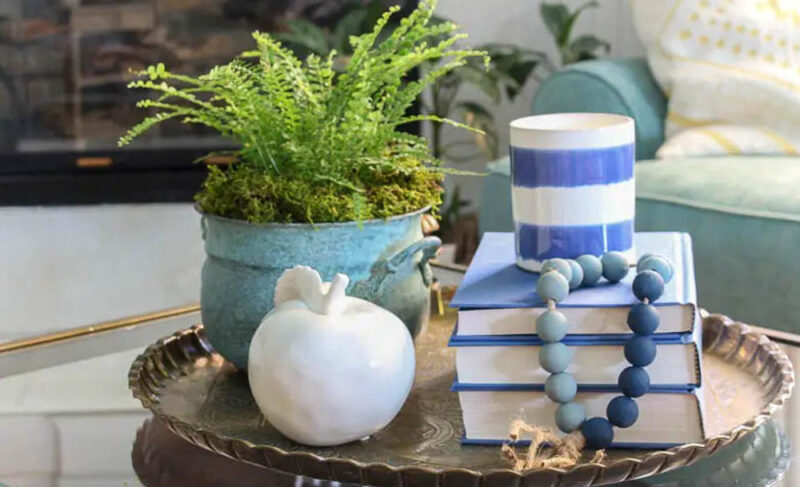 Looking around the living room, a grey tray with ceramic vases in four shades of blue and green was sitting on the breakfast room table. Would those work?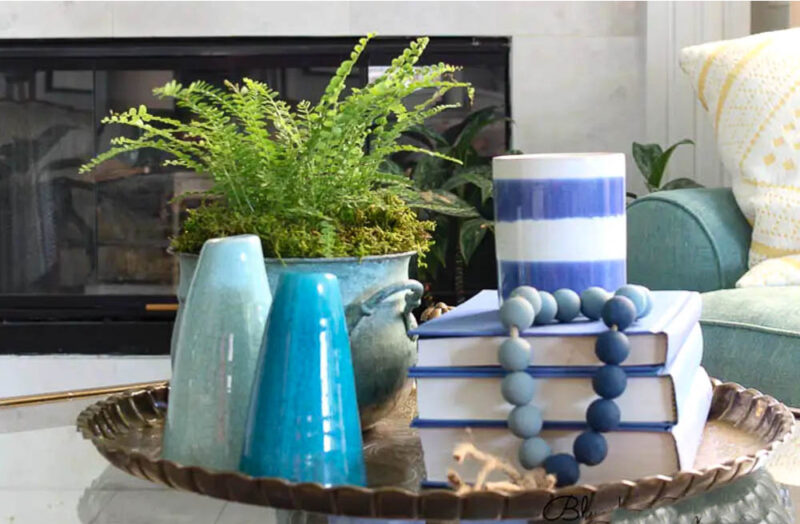 This is my favorite. I picked the lightest blue and the turquoise (better than the turquoise of the bird), which blended nicely with the other blues. The conical shape was a nice contrast with the round tray and the straight lines of the books. The size was right, not too small and not overpowering. (Think Goldilocks.)
My Second Essential Element
I added a stack of coffee table books for my second major element. The top book was Reese Witherspoon's Whiskey in a Teacup, one of my favorite books. Unfortunately, the bright pink didn't work with the books on the tray.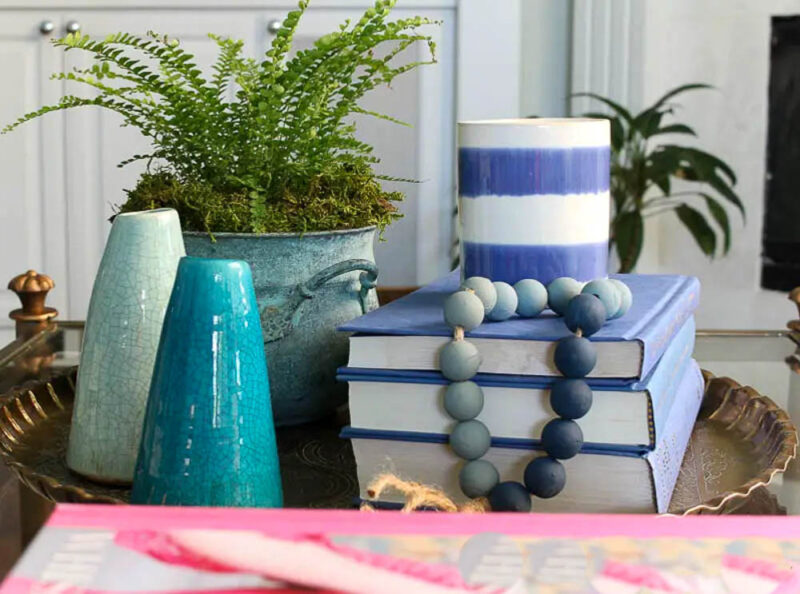 TIP 13: When styling your coffee table, play around: try different elements in color shades, sizes, shapes, textures, and patterns. Move elements around. There should be balance but also contrast. The final combination that works will make itself evident.
So I switched the books around and placed Mark Sike's Beautiful on top which gave the table a more cohesive look. (BTW, this is a beautiful and informative book, one of my favorite decorating books.)
At the last minute, I moved my treasured vintage magnifying glass from the bottom shelf to the top shelf on the book stack.
Now my coffee table had all the essential elements for a beautiful, but simple focal point in our living room. What do you think? The next area in our living room to style will be our mantle.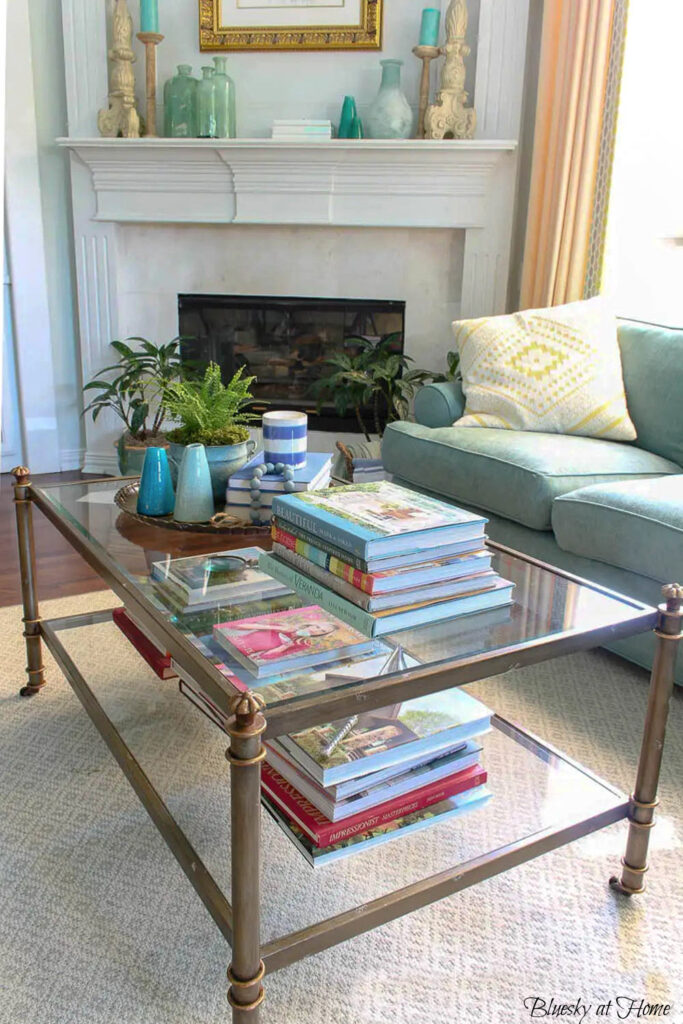 The overall look of our coffee table is simple, colorful, right in scale, and combines different materials in a coherent way.
Would you like a checklist to help you style your own coffee table? Here are 11 tips to style your coffee table and all the notes from this post for you to keep. Just click on the graphic below to sign up to receive it. My treat.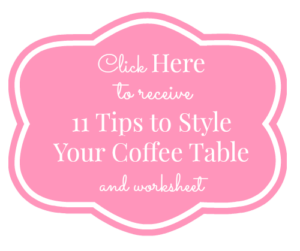 Please PIN this coffee table styling post for guidance.