10 Great Ideas for Using Trays in Your Home
Trays are such useful accessories in every room. Here are 10 great ideas for using trays in your home. You'll love the inspiration.
Trays come in every size, style, color and material to fit in every home. No matter the style of your home, you can find a tray that will work for you.
I have many trays, but I'm still attracted to them in stores, online, or at estate sales or flea markets.
If you have trays, do you need ideas for using them and styling them in different ways? If so, then this post is for you.
You can't have too many tray ideas in your home decor toolbox.
I've gathered some awesome ideas for using trays in your home decor.
Welcome to 10 Fabulous Finds at Bluesky Browsing #53.
Think of 10 Fabulous Finds as a home decor/DIY/Craft/recipe Readers' Digest.
In case you are new to Bluesky at Home, what fabulous finds do I share at Bluesky Browsing?
ideas to help you in your home decor efforts
ideas for better organization and efficiency
a yummy recipe or cocktail
fun DIY projects
the latest trends in home decor
a quirky new find or two
Focusing on finding new projects, resources, tips, new ideas, and inspiration for you is my main task. I'm constantly discovering fabulous finds to inspire us. My goal is to help you find ideas for your home decor, your crafting, your home organization, and anything about home.
This post contains affiliate links to products and resources you may love to have. If you should order anything from this site, I may be compensated, but you don't pay a penny more.
Are you a new or intermediate blogger? Every week I share valuable blogging resources and tips. If you would like to receive The Blogger Bulletin, please join the Blogger Bulletin. It's just once a week and is a quick read.
ON THE HOME FRONT
Again, we got a huge amount of rain on Thursday. Big rain in two weeks. I even had to get out my galoushes!
The U.S. Open Tennis Championships started Monday. We record the entire two weeks. As a big tennis fan and player, this is one of four weeks during the year when my office TV stays on all day. Except for Rafa, I don't have a favorite this year.
Since all three of our grandkids live in Atlanta, I'm grateful for weekly Face Time. Our grandson started high school (yikes) and is excited about enrolling in Technical Theater Production (he gave up band) as an elective. Annabelle entered middle school and started volleyball (which her mama played throughout junior and senior high). Lilah started third grade and continues with softball (her mama's other main sport in high school).
I have a pile of supplies for about 5 fall DIY projects laying out on our kitchen table. Anyone want to come help me finish them?
This week on the blog was about DIY fall projects: How to Make DIY Fabric~Covered Pumpkins (inspired by one of last week's 10 pumpkin projects) and How to Make a Fabric and Burlap Banner ~ I love this banner.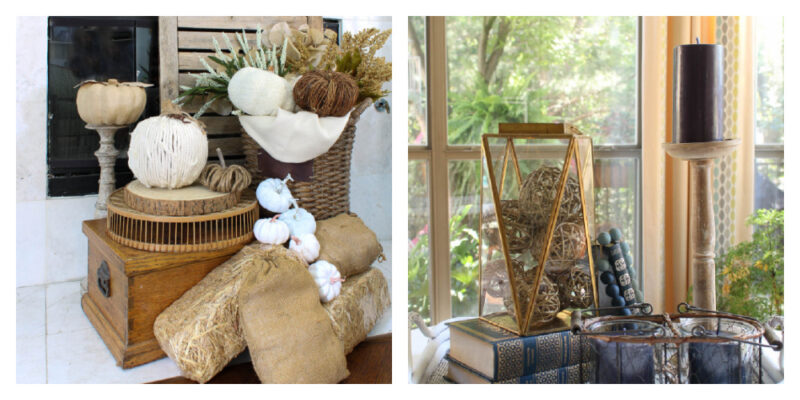 Great Ideas for Using Trays: 10 Fabulous Finds
Here we go with Bluesky Browsing #53.
As usual, I searched Google and Pinterest for these ideas. I saved the ideas I liked on Pinterest to my Accessories for Home Decor Board. Please follow for ideas.
What were my criteria for these tray styling ideas?
I had to really like the tray.
I looked for a variety of materials and styles.
Unique use of trays.
Ideas that used easy-to-find accessories.
Different places to use trays.
I think I succeeded. Let me know if you like these ideas for using trays.
Trays in the Entry
If you have a console, chest or any type of service in your entry, this is a great place to use a tray for decoration or as a place for keys or mail. I love this simple setting from Debbie of Refresh Restyle.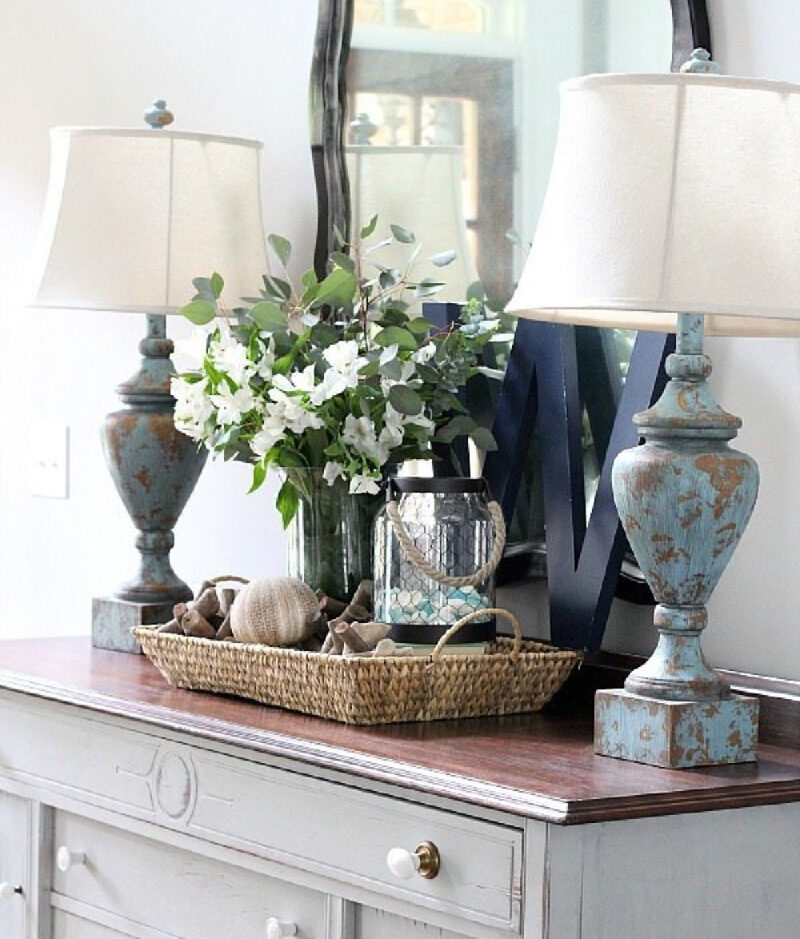 Here is a simple tray vignette I created for our entry: a grey wood tray filled with a brass lantern and shades of blue ceramic vases.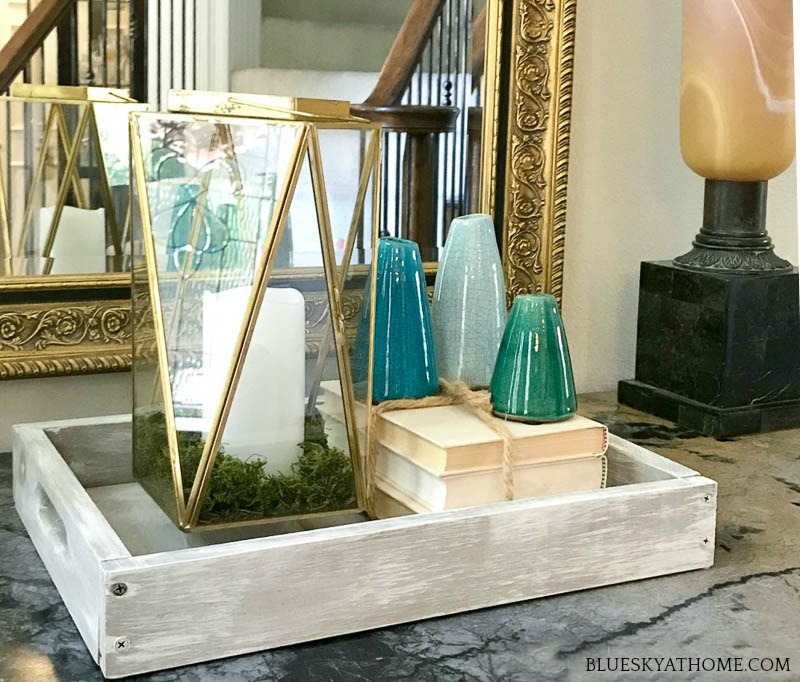 Trays on the Coffee Table
Coffee tables are perfect for adding a vignette with a tray. It's the perfect place for gathering a few favorite accessories. This arrangement from Carol of Through My Front Porch uses a calming two~toned color scheme of white and grey.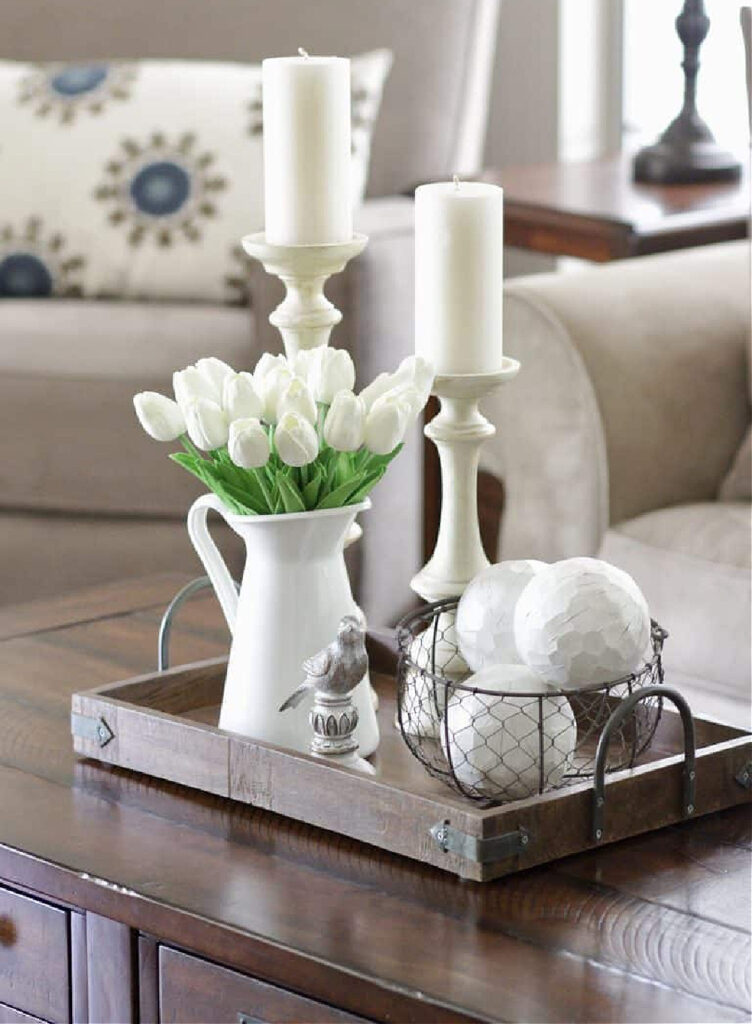 Tray with Texture
Another coffee table tray vignette on the coffee table. This one from Cherie of Light Lady Studio uses textures that are matte and shiny for contrast. Isn't that beaded edging on the tray interesting?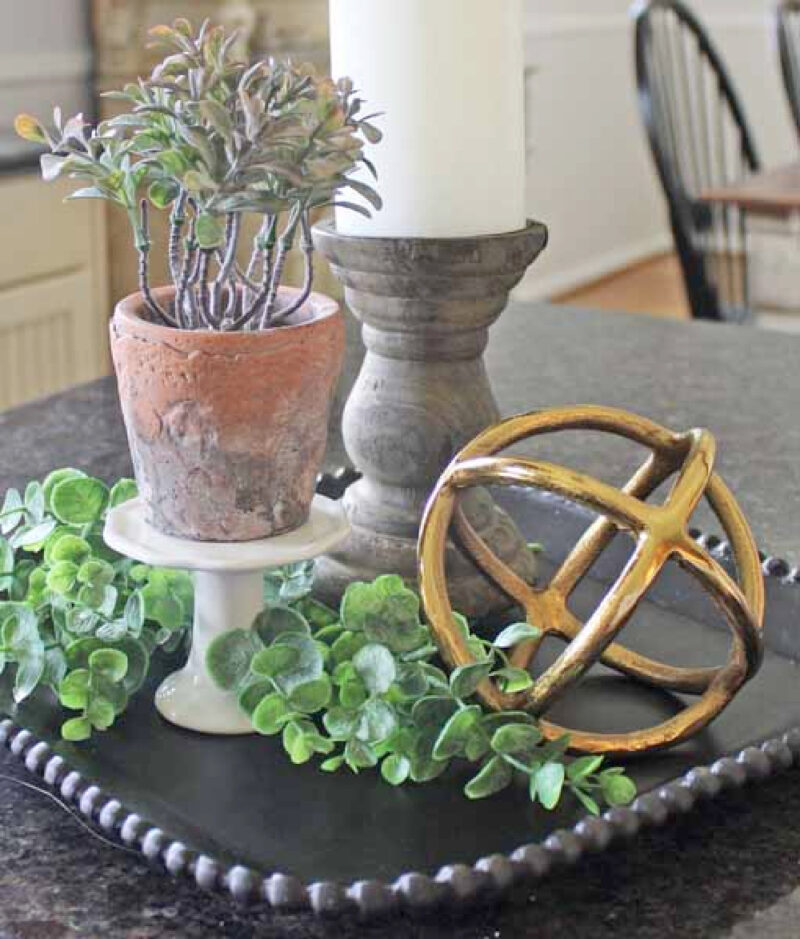 Woven Basket with Blue and White
Woven trays are some of my favorites. I love the natural material, the neutral colors, and the variety of weaves. Pair blue and white balls in a glass vase with a pretty plant and you have a winner. Kelly of Blue Gray Gal uses just a few ingredients to make a stunning vignette.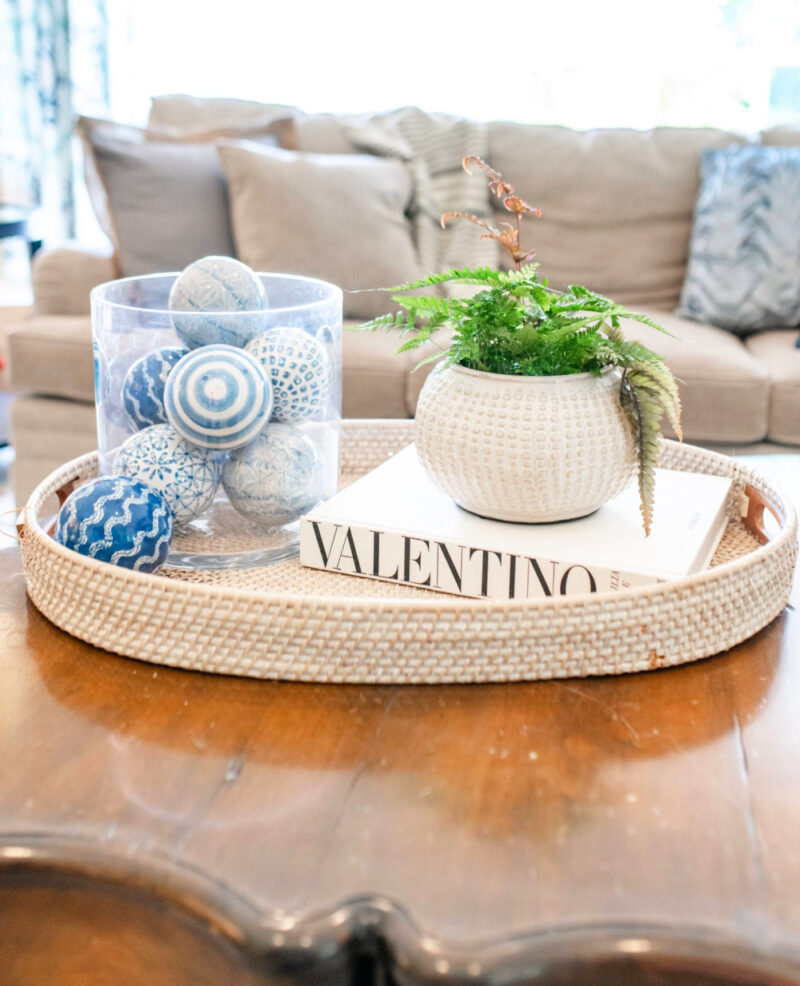 Pumpkin Tray Vignette
We have to remember to use trays to style pumpkins for the fall season. This simple wood tray is the perfect base for shades of fall colors and textures. The velvet pumpkins and glass jar contrast nicely with the smooth finish of the wood tray. Sarah of Thrifty Decor Chick found this tray at Target.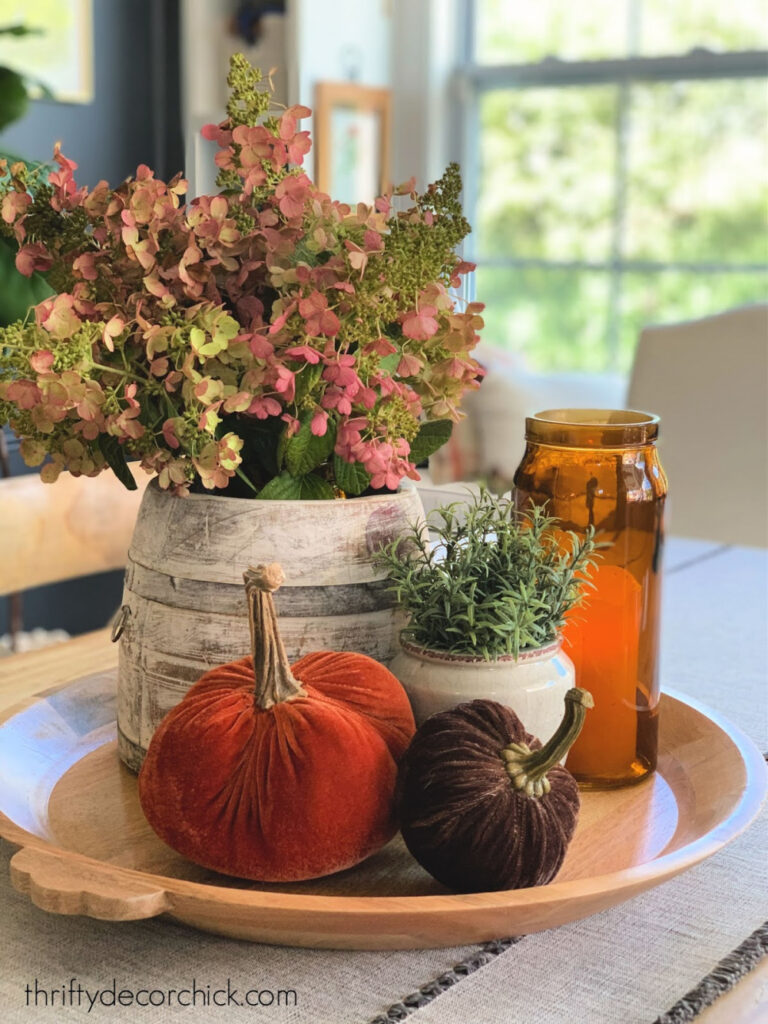 This coffee table vignette in blue and white has been on our table all summer. This weekend will be its last.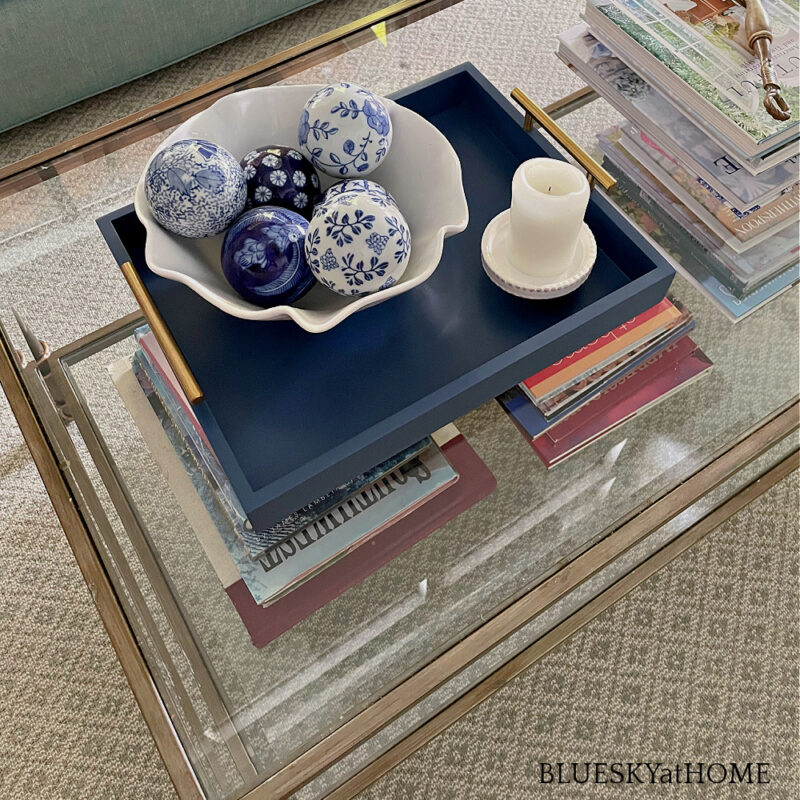 Tray on the Bed
In the bedroom, trays can be set on the bed to corral a book, your glasses, and a small plant. Suzy of Worthing Court creates a soothing scene with a galvanized tray.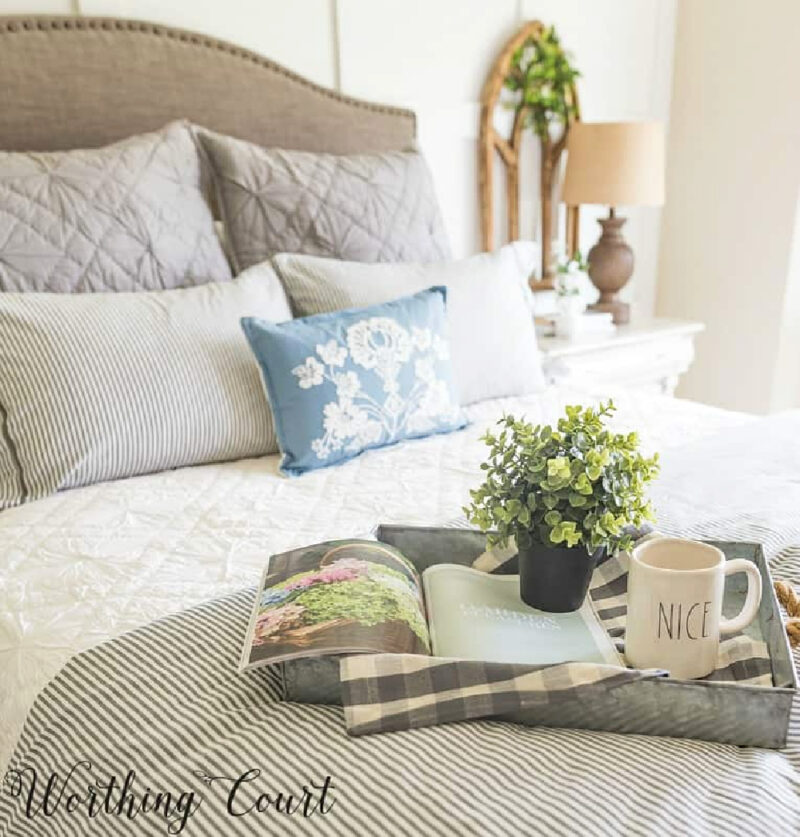 Tray in the Kitchen
Trays in the kitchen are so practical. They can be used to hold utensils, spices, other tools. Or they can be strictly decorative. This vintage-looking wood tray ~ don't you love those little feet? ~ has the perfect wood finish for this setting.
This vignette is one of many great ideas for using trays in your home decor from Curated Decor. Be sure to check out all the different examples of using trays.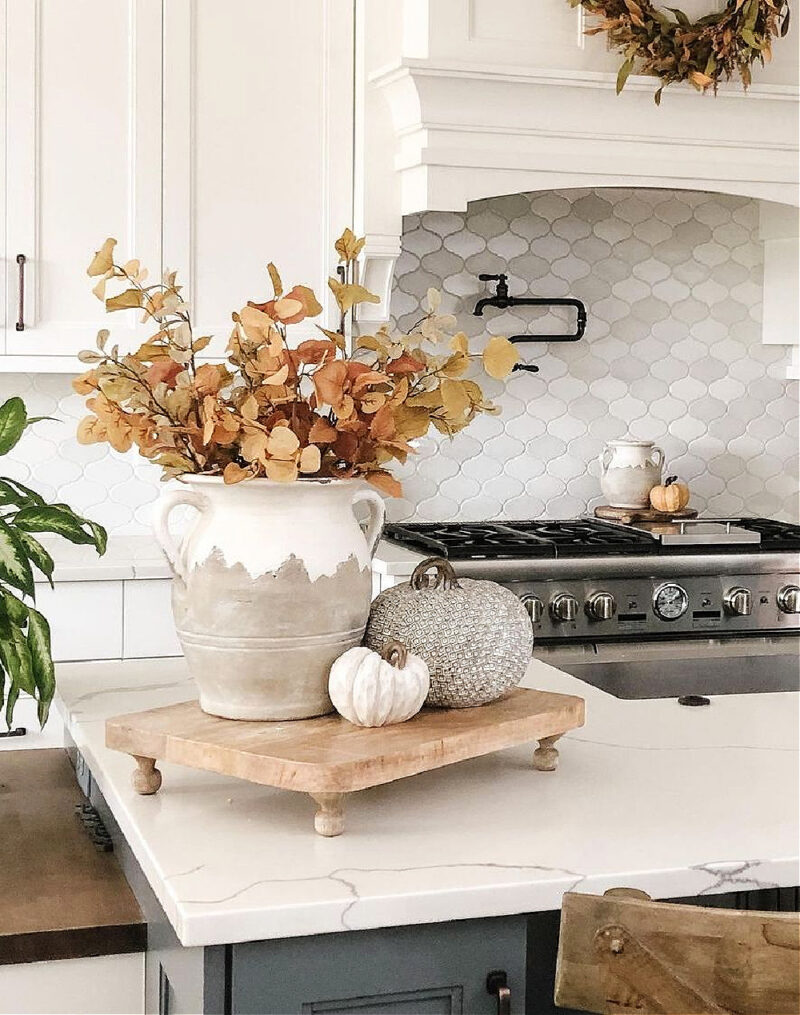 Easy Tray Vignette
This tray vignette from Shelley of Calypso in the Country is a great example of diverse pieces brought together in a tray. Would you have thought of joining crystal with a white porcelain pitcher and wheat? The blue jar adds just the right amount of pattern.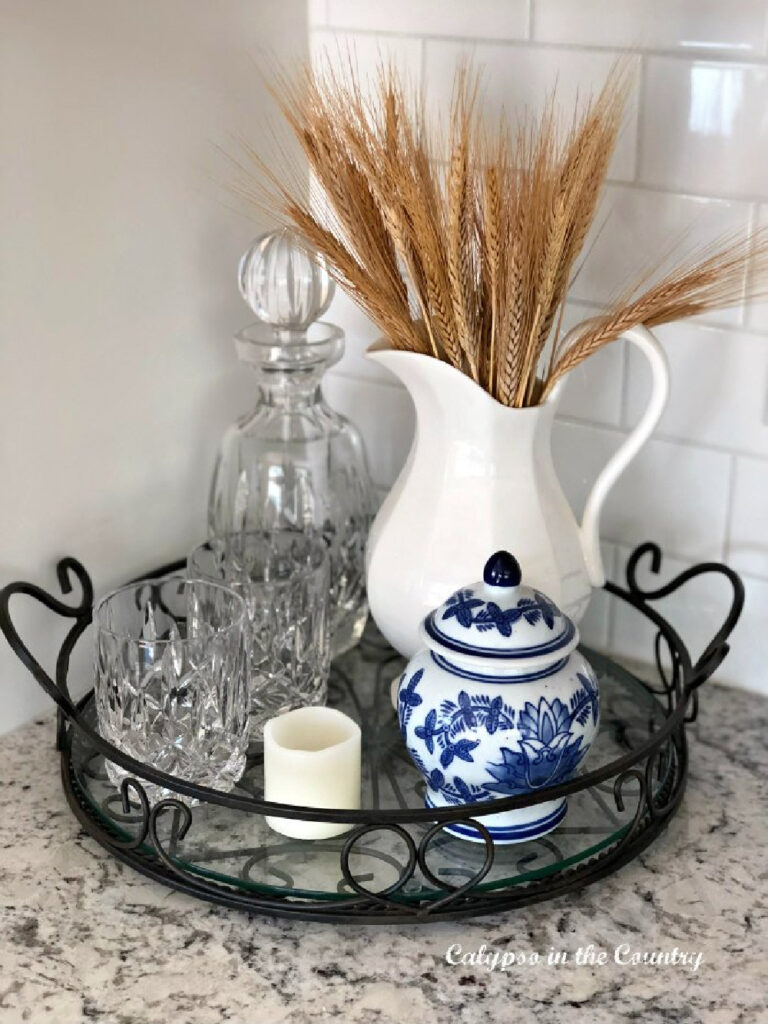 I found this woven tray in the Dollar Spot at Target. It sits on the kitchen counter by the sink. Perfect for soap, lotion and a small plant.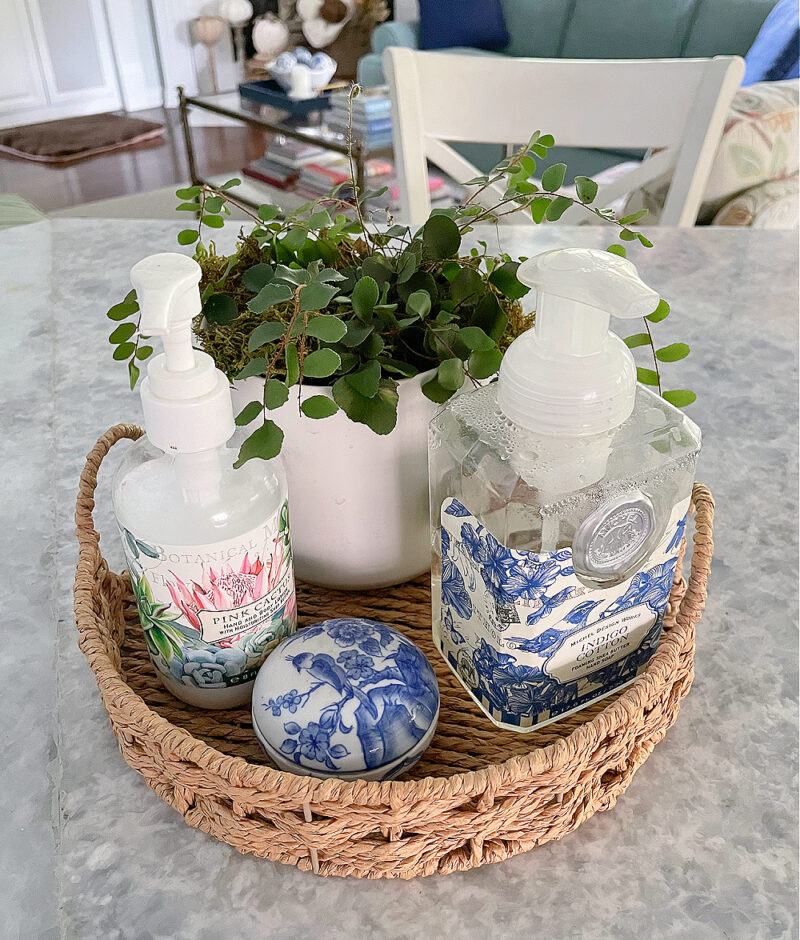 Farmhouse Tiered Tray
Tiered trays are so popular that I had to include some. This farmhouse-style tiered tray from Bree of Rain and Pine is one of several options for you.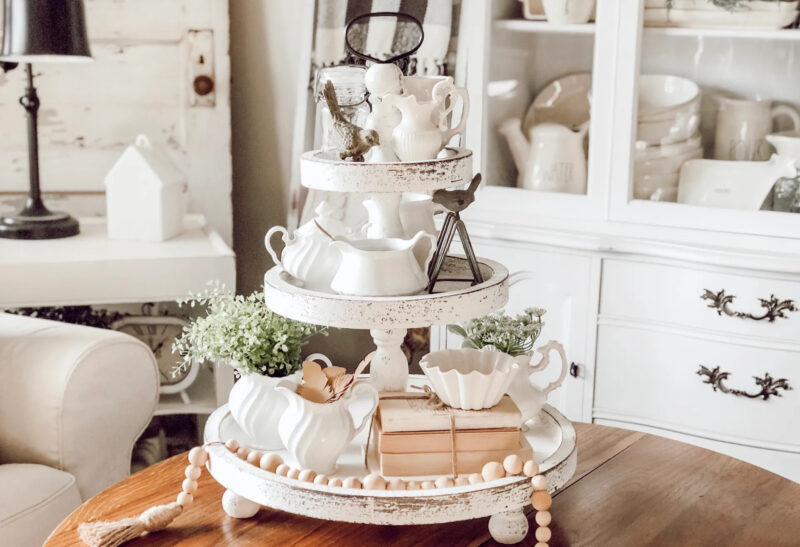 Transforming an Old Silver Tray
Who wouldn't love a pink tray with a little gold bling? Would you have known that it started out as a tarnished silver tray?You can't have too many tray ideas in your home decor toolbox. This awesome DIY tray makeover is too good to be pass up.
I had to include this DIY project with paint and gold leaf. Christy of Confessions of a Serial DIYer shows you how to achieve this look. It's a pretty solution for keeping jewelry neat in the bathroom.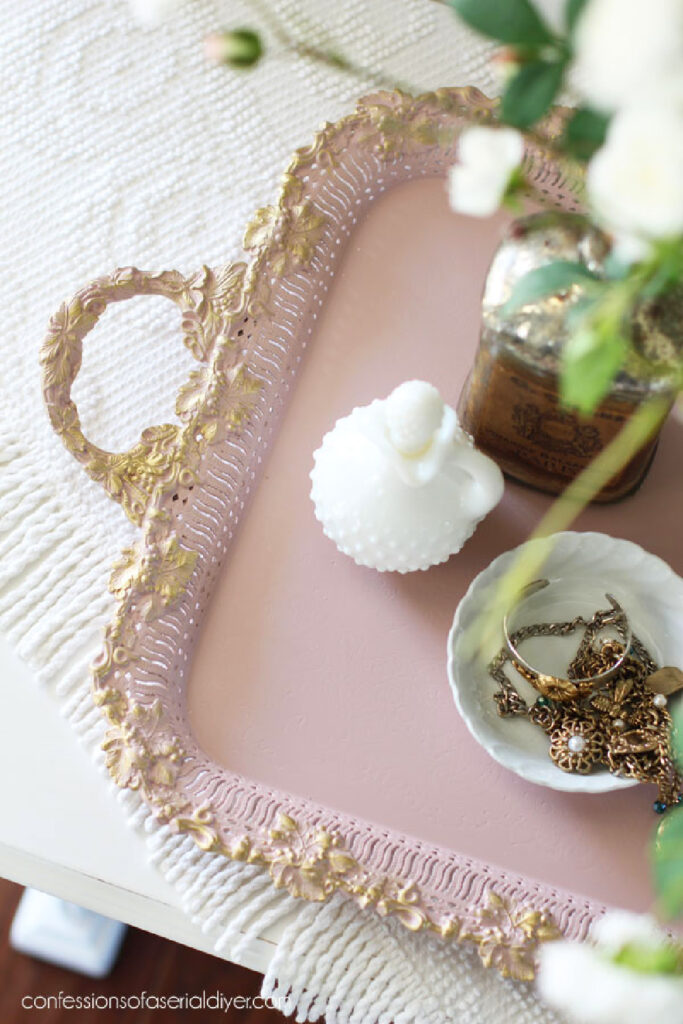 Here is a DIY tray project I made with a curb~side tray and decoupage.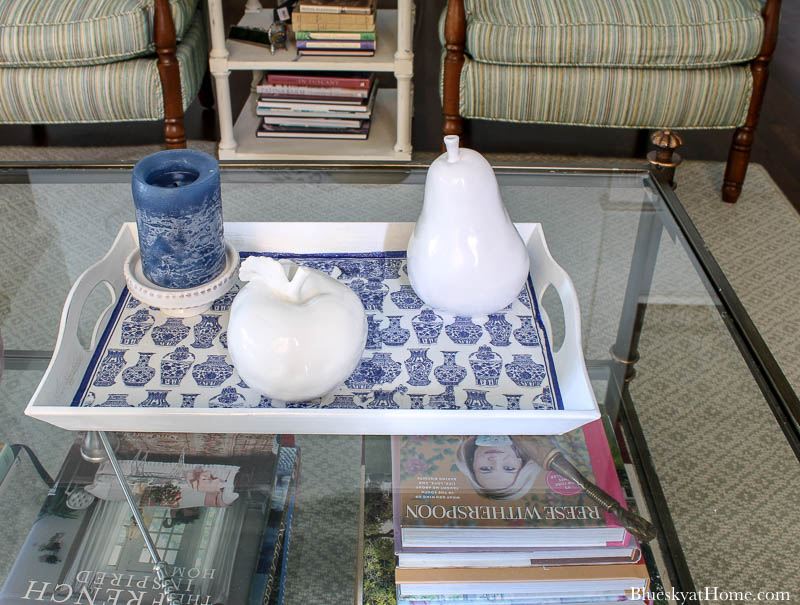 What do you think of these 10 great ways to use trays in your home decor? Which one is your favorite? I've already made notes of some styling I want to use.
Shopping for Trays for Your Home
I found some different styles of trays that you will like.

That wraps up this week's Bluesky Browsing #53. Did you like these ideas for using trays in your home?
I'd love to know what subjects you are most curious about. Let me know in the comments and I'll search browse for them. Be sure to PIN to keep these ideas handy.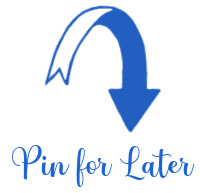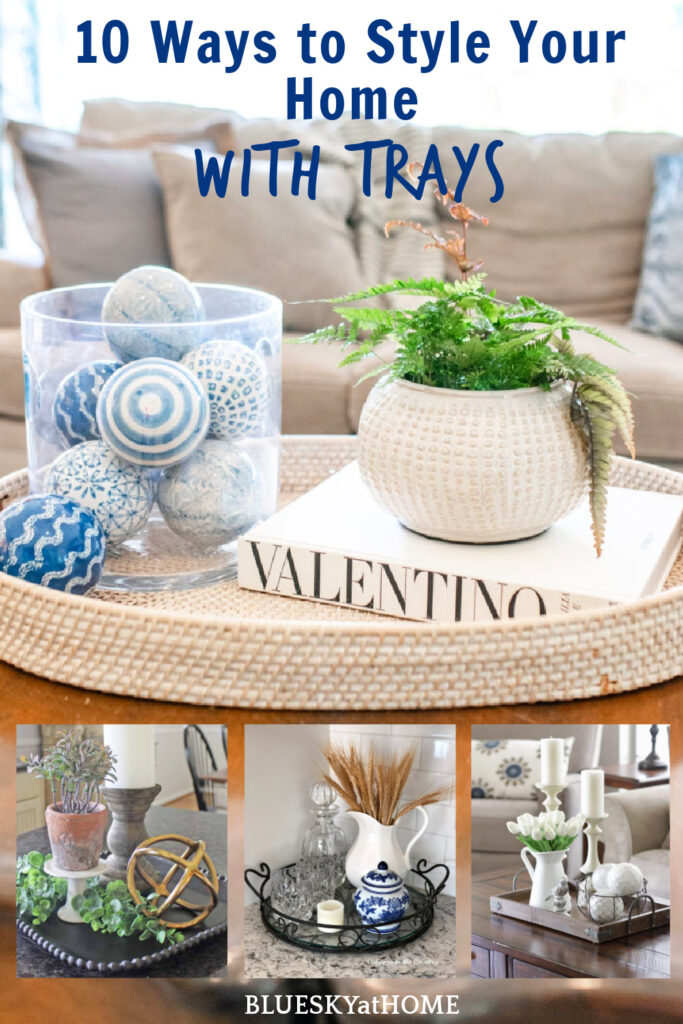 In between writing posts, listening to podcasts, reading, doing various blogging tasks, and walking Nola, I'll be browsing away.