10 Best DIY Pumpkin Crafts for Fall
What would fall be without pumpkins? Why not make some awesome DIY pumpkin crafts for fall? I have 10 of the best ones for you.
Yes, you can find cute pumpkins in the stores. Great ones are available. But if you are a creator, then you will want to use your crafty skills to make some custom DIY pumpkin crafts for your home.
I found some super fun projects that are special and unique. In fact, I think you will love these 10 best DIY pumpkin crafts for fall. I predict you'll have a hard time deciding which one is your favorite.
I did.
How do you customize a pumpkin?
It's easy when you have some inspiration. Then all you need is a vision and simple supplies.
Welcome to 10 Fabulous Finds at Bluesky Browsing #52.
Think of 10 Fabulous Finds as a home decor/DIY/Craft/recipe Readers' Digest.
In case you are new to Bluesky at Home, what fabulous finds do I share at Bluesky Browsing?
ideas to help you in your home decor efforts
ideas for better organization and efficiency.
a yummy recipe or cocktail
fun DIY projects
the latest trends in home decor
a quirky new find or two
Focusing on finding new projects, resources, tips, new ideas, and inspiration for you is my main task. I'm constantly discovering fabulous finds to inspire us. My goal is to help you find ideas for your home decor, your crafting, your home organization, and anything about home.
This post contains affiliate links to products and resources you may love to have. If you should order anything from this site, I may be compensated, but you don't pay a penny more.
Are you a new or intermediate blogger? Every week I share valuable blogging resources and tips. If you would like to receive The Blogger Bulletin, please join the Blogger Bulletin. It's just once a week and is a quick read.
ON THE HOME FRONT
Thank goodness, on Monday, we got so much rain, Dallas made the national news. We set a record for the 2nd most rain in a 24~hour period in history. It was wonderful. The water in the creek below our yard was overflowing until Tuesday. As a bonus, the temperatures have been a little cooler. We know that is just a tease.
Last Sunday Sweet Shark and I went to see Where the Crawdads Sing. We thought it was a very good adaption of the book. I recommend it, but I always think you should read the book first.
I made a trip to Lowe's to see if they had scrap 2 X 4s for a pumpkin project. The wood guy gave me 8 pieces that were the perfect size for my project. FOR FREE!
I've been gathering our fall decorations. I have to decide what I want to reuse this year. The hardest part for me is to decide what fall color I want to use: do I go traditional with rusts, oranges and browns? Or do I go off the reservation with blues and pinks? Or make it easy with neutrals? What do you do?
This week on the blog was about creating fall decor ~ vignettes that add color, pattern, texture, and interest to your home. Fabulous Fall Basket Styling Ideas and How to Style 7 Super Simple Fall Vignettes.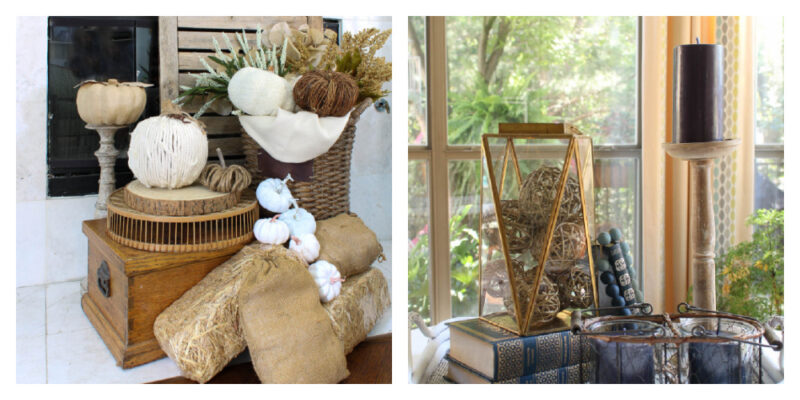 DIY Pumpkin Crafts for Fall: 10 Fabulous Finds
Here we go with Bluesky Browsing #52.
For these DIY pumpkin projects, I searched Google and Pinterest. I ended up finding all of these on Pinterest.
What were my criteria?
I wanted to find some pumpkin project ideas that were a little different.
I was looking for a variety of materials and styles.
Projects that were relatively easy.
Projects that used supplies you probably had around your house or could easily acquire (Dollar Tree, Amazon, Joann).
Projects with clear, easy~to~follow instructions.
I think I succeeded. Let me know what you think of these pumpkin craft ideas.
Sweater Pumpkins
Yes, I know there are a million sweater pumpkin projects, but I really liked how Ellen of Bellewood Cottage explained the process of making these pretty pumpkins. She is clear and gives some great tips. Her idea for making a stem is really cute, too.
I like the soft colors she chose.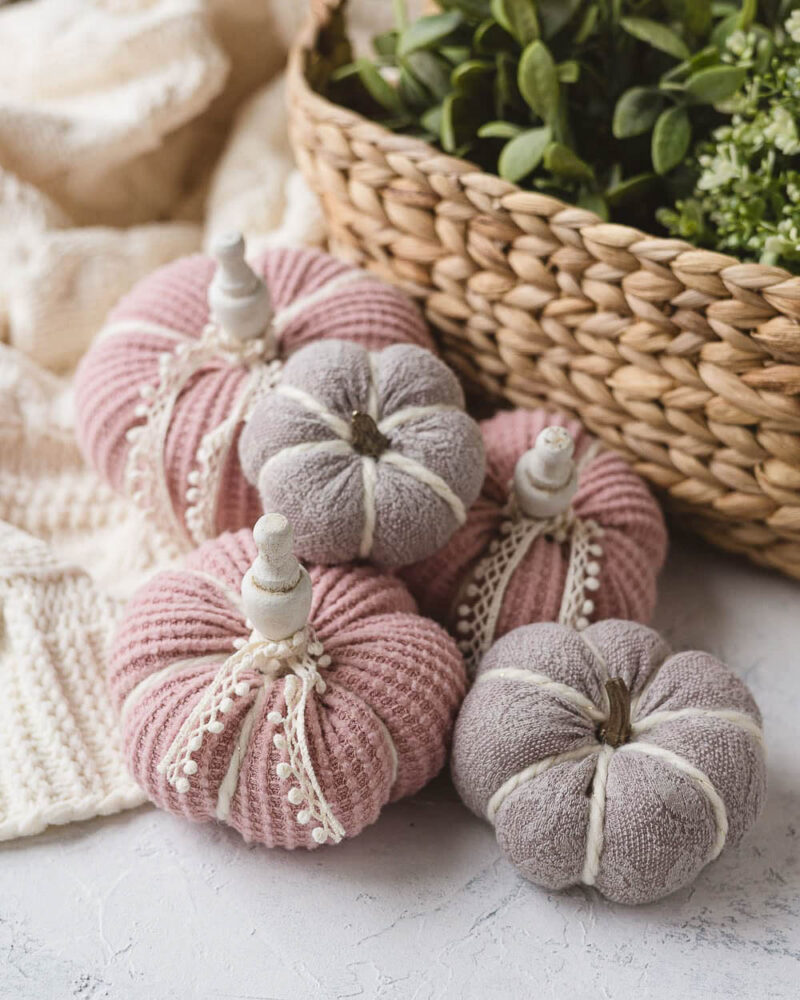 DIY Braided Pumpkins
Last year I made pumpkins using yarn that I loved. The inspiration for the project used braided yarn which I did not have. If I had seen this tutorial from Alexandra of Alexandra MacKenzie first, I would have known that you can easily make your own braid for a braided pumpkin.
The cool thing is that you can make the braid big or small depending on the size and pattern of the yarn you use. And, of course, you can change the color. Another great way to use those Dollar Tree pumpkins.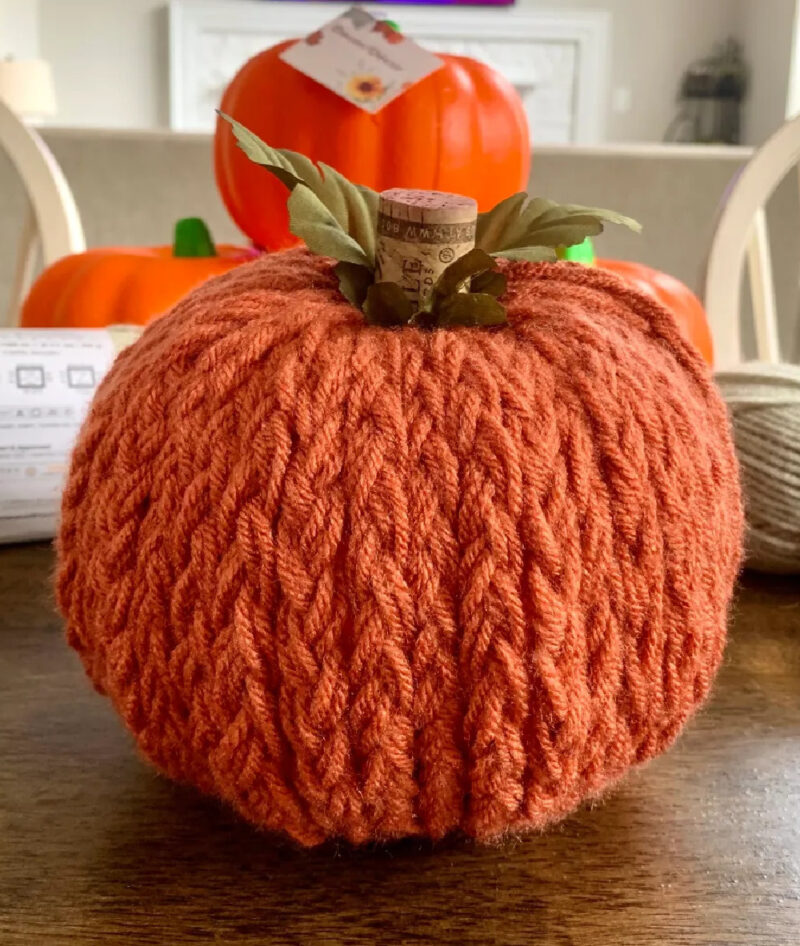 Painted Pumpkins from Wood Scraps
Remember I said I went to Lowe's for wood scraps? These cute wood scrap pumpkin crafts were one of the reasons.
Polka~dots, stripes, and swirls! Who can resist that? Brooke of Re~Fabbed shows us exactly how easy this project is.
I love that you can make this pumpkin project for practically nothing. You can also customize it with different colors and different patterns if you want.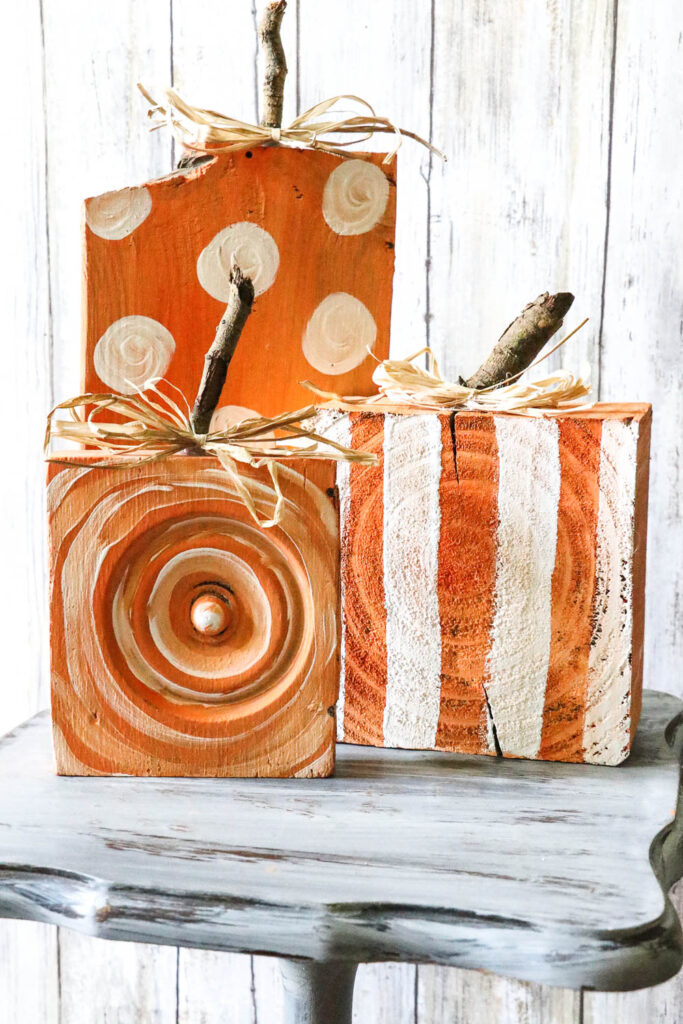 Milk Glass Pumpkin Craft
When I saw this pumpkin craft on Pinterest, I loved the sweet little stem idea. Then I focused on the pumpkin itself. A milk-glass style pumpkin ~ how unique and yet so simple.
It's the creation of Melanie of Southern Crush at Home. Melanie and I were in the same mentor group at Haven 2021. I know how creative she is.
Can you believe that this pumpkin craft started with a Dollar Tree pumpkin? It's those little adhesive dots that make it so cute.
Wine Cork DIY Pumpkin Project
I don't know about you, but we have a ton of wine corks. They are currently in a very oversized martini glass that I bought for Sweet Shark at an estate sale.
I've used wine corks to make placecard holders. I've never thought of using them to make a DIY pumpkin craft.
Well, Lynne and Erika of The Gourmet Connection did. What a great way to use up those wine corks. This wine cork pumpkin is so easy and I bet you don't have to spend a penny to make it ~ except for the wine!
Paperback Pumpkin Project
Since I am an avid reader, I have hundreds of hardback and paperback books. In fact, we have been taking bags of them to our church library ~ so I can buy more! Some books I just can't let go of.
This paperback pumpkin project is a super way to use those books you are never going to read again. It also makes for a unique pumpkin.
Agnes of Just that Perfect Piece shows us exactly how to shape a book into a pumpkin. Then she suggests how to embellish it. It's easier than you think.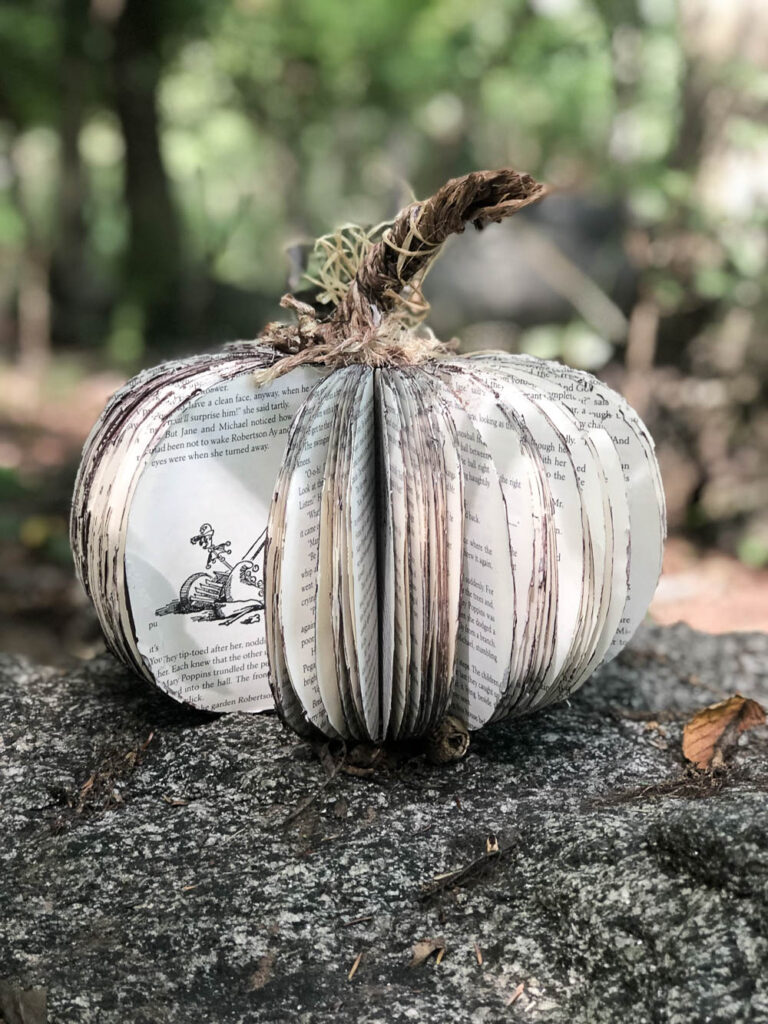 Paper Bag Pumpkin
This creative pumpkin craft may not be what you think it is.
Barb of The Shabby Tree made this DIY paper bag pumpkin from a Dollar Tree pumpkin form (I bought one yesterday on a Dollar Tree shopping spree; I spend $24.80!).
And, yes, the other ingredient is paper bags – lunch bags that you may have at home. How clever is that?
You can bet I'm making this DIY pumpkin craft. Now, where are those darn paper bags?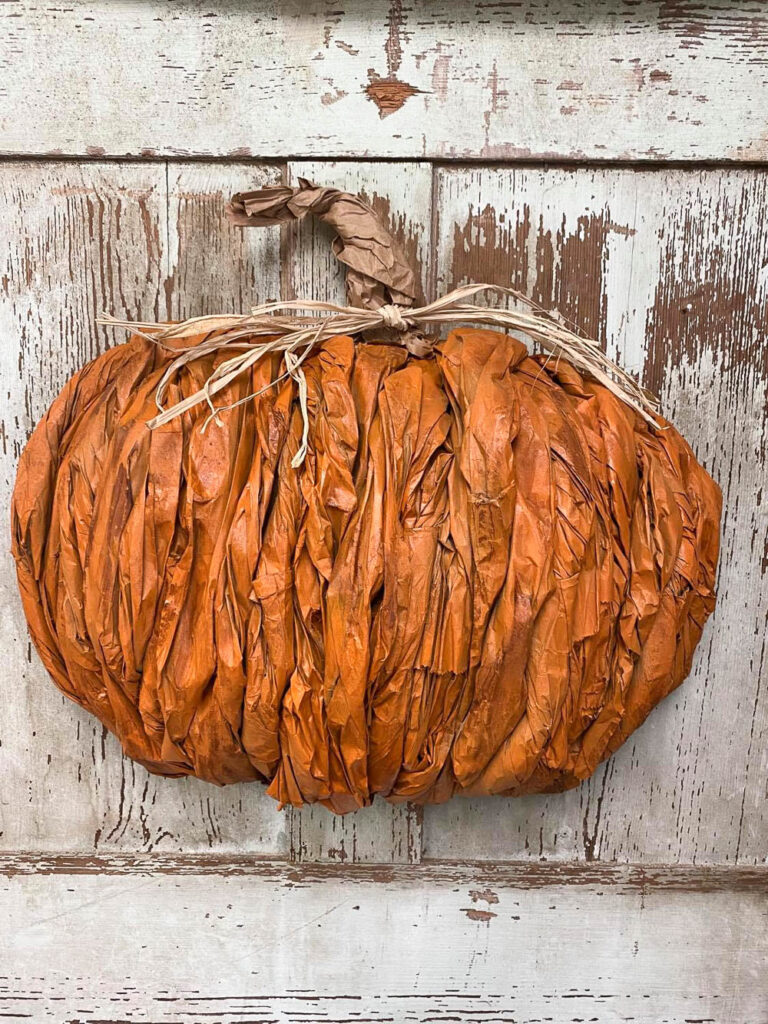 Fabric DIY Pumpkins
Full disclosure: I have used fabric to decorate styrofoam balls, lamp shades, and terra cotta pots. I've decoupaged trays, pots, tiles, and so many other items that I've forgotten about.
But I've never used fabric to decorate a pumpkin ~ to decoupage a pumpkin, specifically.
Those days are over. I loved how Meredith of Unoriginal Mom used fabric to give those iconic Dollar Tree pumpkins a unique and pretty look. If you have fabric scraps like I do (7 boxes organized by color), you won't have a problem getting started making fabric pumpkins.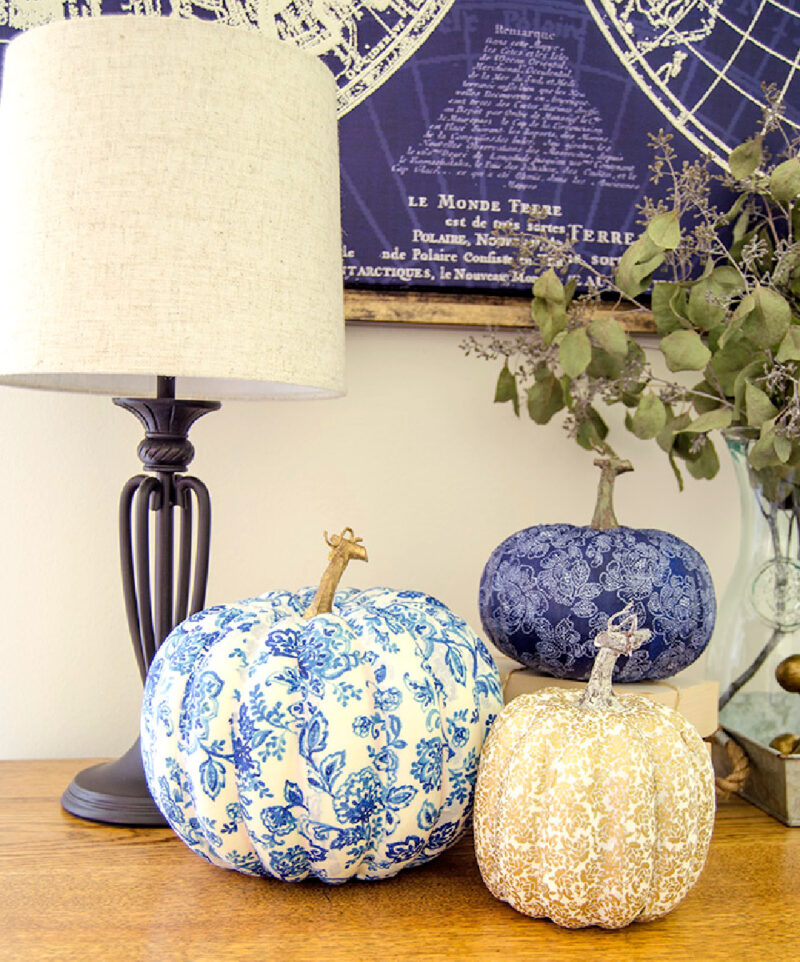 Guess What this DIY Pumpkin Craft is Made of
You probably think it's another sweater pumpkin. Nope.
It's a sock pumpkin. Remember those monkey sock dolls from your childhood?
I can't count how many of Sweet Shark's socks I've thrown out because they had a worn heel or a hole in a toe. Shame on me! Never again.
I love that this is another way to recycle items you have at home or can purchase for next to nothing at a thrift store. Elizabeth of A Well Purposed Woman shares the tutorial to make these sock pumpkins.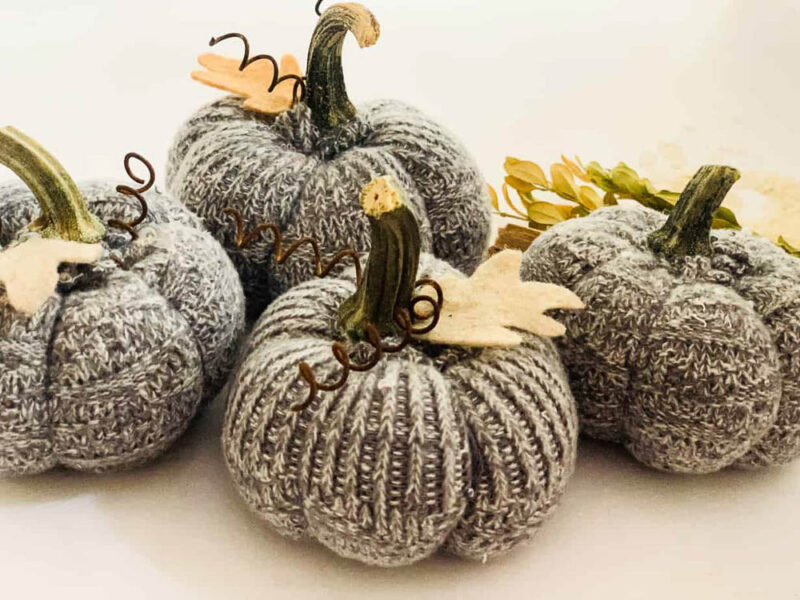 Loop Yarn DIY Pumpkin
When I saw this cool pumpkin on Cindy of DIY Beautify's site, I wondered, how did she make that pumpkin?
It wasn't until I read Cindy's instructions that I realized she made the pumpkin with loop yarn. I've seen this product at Joann, but didn't know what it was.
Well, now I know ~ and you do, too.
That's my 10 Best DIY Pumpkin Crafts. Which one is your favorite? Are you already driving to Dollar Tree or ordering supplies from Amazon?
In case, you are not ready to get out your glue gun and start creating, I found several really cool pumpkins that you can buy online. Have fun shopping.

That wraps up this week's Bluesky Browsing #52. Let me know if these ideas for making DIY pumpkin crafts are inspiring you. I know I found several pumpkin projects I'm planning to make.
To see even more Pumpkin Craft ideas, please VISIT and FOLLOW my Fall DIY Projects Boards.
I'd love to know what subjects you are most curious about. Let me know in the comments and I'll search browse for them. Be sure to PIN to keep these ideas handy.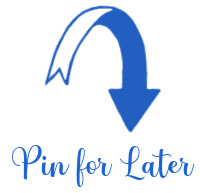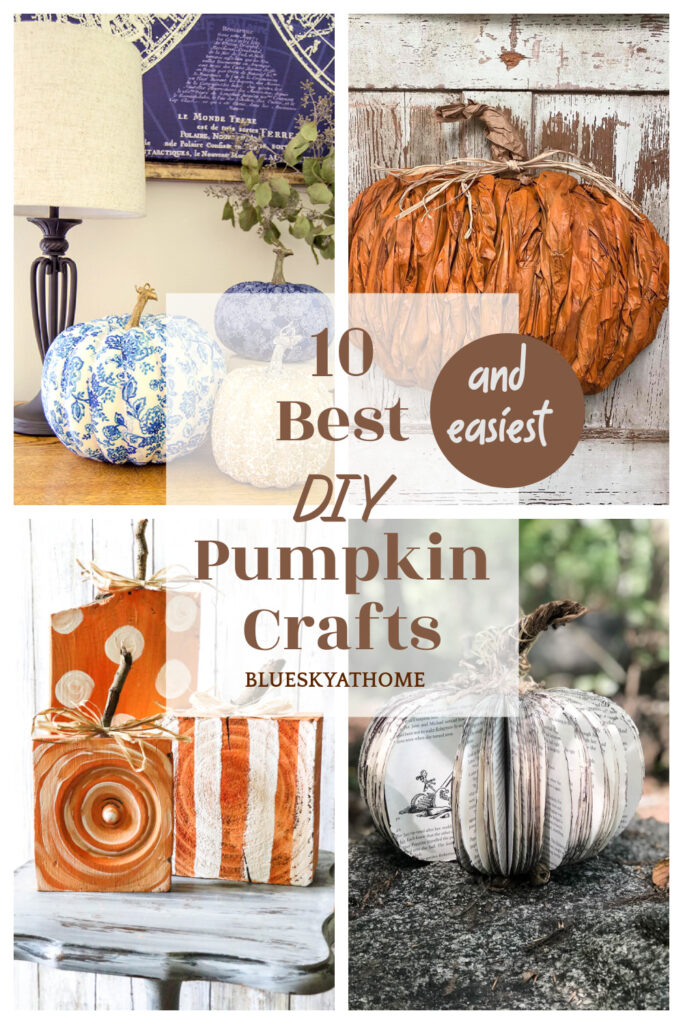 In between writing posts, listening to podcasts, reading, doing various blogging tasks, and walking Nola, I'll be browsing away.