Festive Halloween Decorations for Your Entry
If you decorate your home for Halloween, then I have some festive Halloween decorations for your entry. Trick or treaters will appreciate your holiday home.
We all love to adorn our homes with festive Halloween decorations. Your entry is a great place to get in the Halloween spirit. Guests, or trick or treaters, will know that your home is ready for Halloween.
Whether you are a youngster, a teenager, or a grown~up, Halloween brings out the kid in us. I may not don a costume or carry a trick or treat bag, but I do love getting in the mood for the holiday by giving our entry a Halloween look.
Ready to see ideas for using festive Halloween decorations for your entry? Let's get started.
Welcome to a New Blog Hop
I'm so excited to introduce you to a new blog hop ~ the first one that I've ever hosted. Our monthly theme is Celebrate the Holiday. Every month a group of bloggers and I will share something special for you pertaining to an upcoming holiday or special event.
We might share a decoration idea for your home, a DIY project, a tablescape, a party idea or a recipe. The doors are wide open as long as it works for our holiday theme.
This month we're kicking off Celebrate the Holiday with Halloween. I know we've just passed Labor Day, but Halloween will be here before you know it. We want you to have some awesome Halloween ideas.
If you are joining me from Simply2Moms. Anne and AnneMarie are the sweetest and they have a super cute decoration for you.
Now let's get started with the first month of Celebrate the Holiday and my contribution ~ some festive Halloween Decorations for your entry. My goal is to give you the inspiration to create your own Halloween entry.
For this festive Halloween decor in our entry, I used both longtime decorations and new DIY projects.
I'm going to take you through decorating the entry from start to finish. After I first decorated the entry for early fall for a few weeks, it was time to transition to late fall.
I brought in black and white decorations. This charger was originally made for a fall tablescape.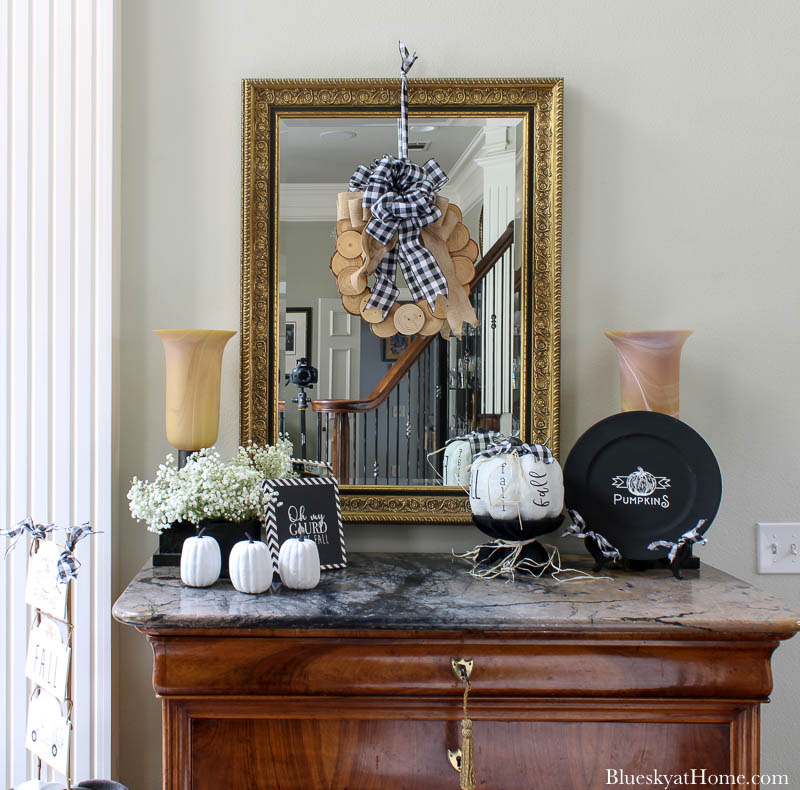 Festive Halloween decorations for our entry begin with a blank slate. The first step I took was to remove everything from the commode in our entry. I did leave the wood slice wreath in place.
Decorating the Halloween Entry ~ Part 1
I decided to cover the top of the commode with my burlap tablecloth. You could use a piece of burlap or a runner that you have on hand.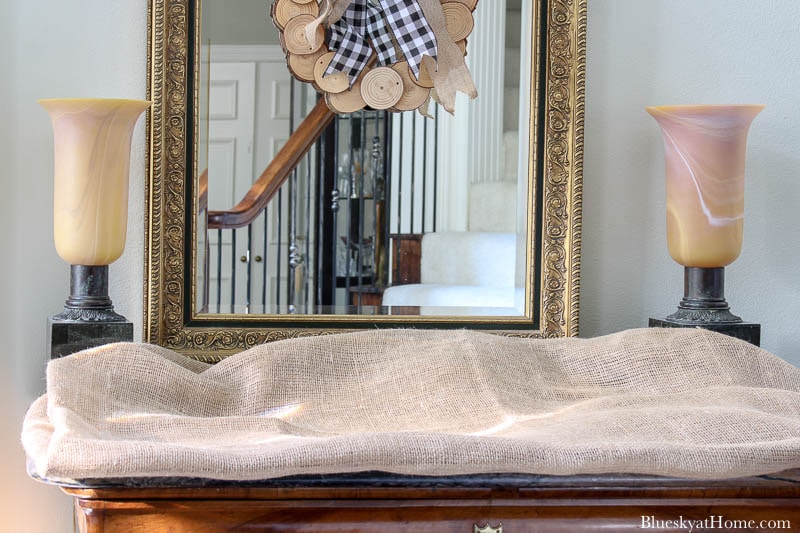 If you saw my DIY Halloween decorations, you'll recognize several of these festive Halloween decorations.
The first one I added was the spooky cat I made. I used jute twine to hang it to the wood slice wreath with the black and white bow.
Next, I used the Halloween charger that I made. After Sweet Shark and I brought in all our boxes of Halloween decorations, I found one more white pumpkin and added it. I love the contrast between the white and black.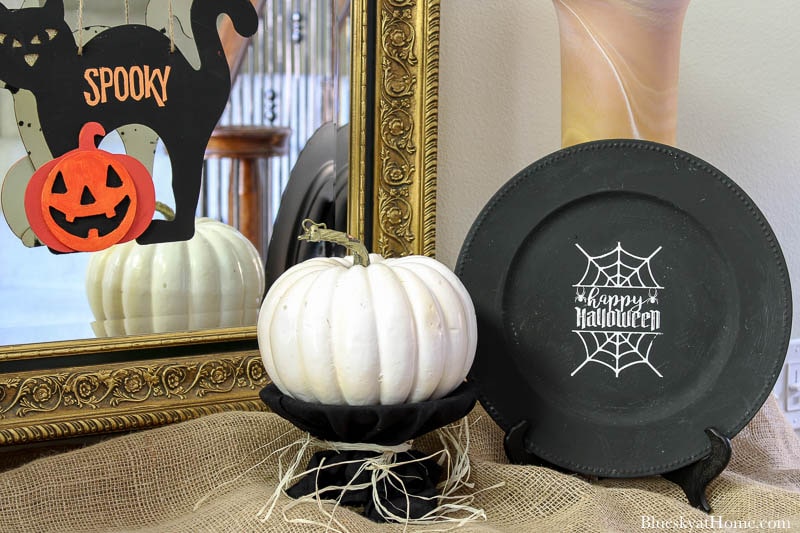 I also found the small hay bales that I bought last year. The gilded pumpkin was a recent DIY project.
TIP: Don't take the plastic off the hay bales. Your surface will stay much neater. Then, you can reuse the hay bales. I reused them last year on the nightstands in our blue and gold fall bedroom.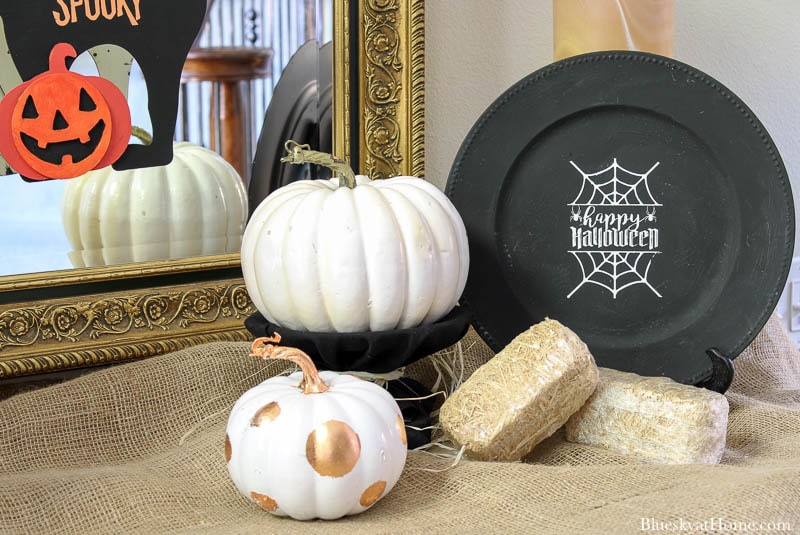 A small Halloween owl fits tucked in the hay bales. Then I added one of the witches from our collection.
This Halloween vignette on the right side of our commode was finished. Now I needed to create one on the left to balance it.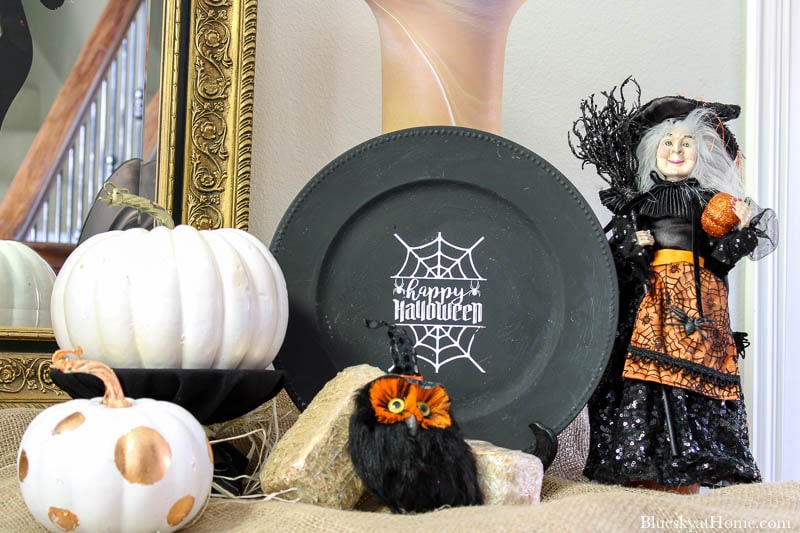 Decorating the Halloween Entry ~ Part 2
On the other side of the commode, I used two of my favorite witches. I like that one is standing and one is sitting.
Next, I added my DIY ghost and painted white pumpkins. This left side of the counter is starting to balance the right side of the commode.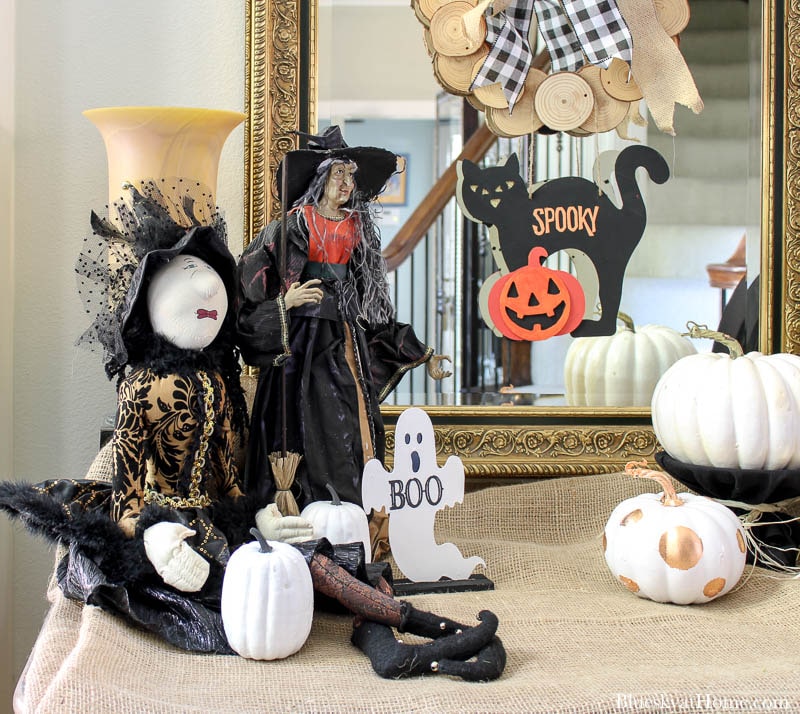 When I bought my wood signs at Dollar Tree, I also found these black candles ~ perfect for Halloween decorations for your entry.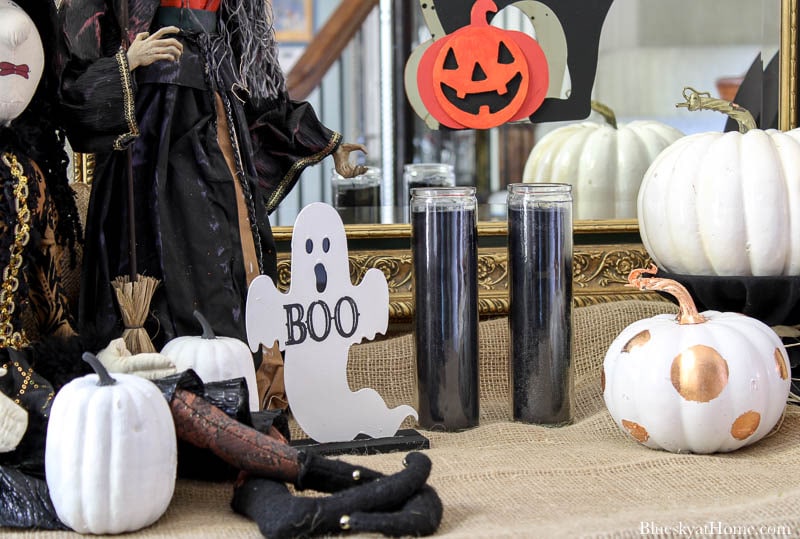 That completed the festive Halloween decorations for our entry.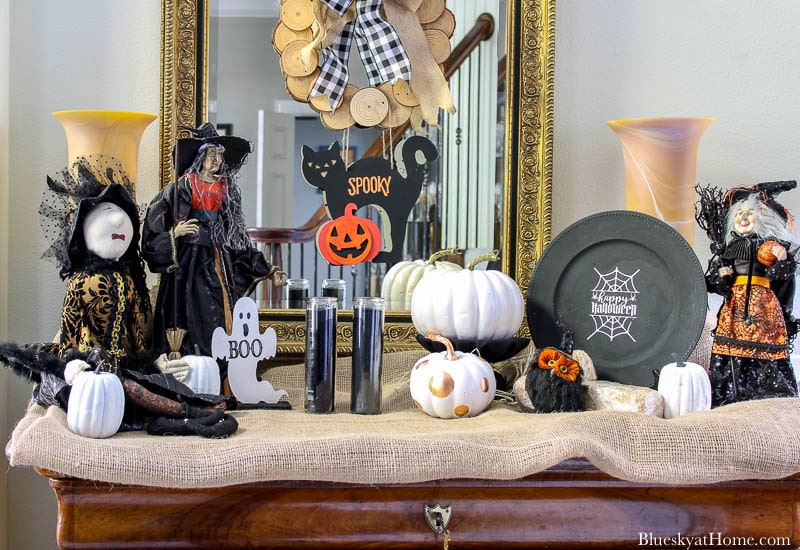 Here you can watch the video tutorial to make all these Halloween decorations.
Halloween Embellishments in the Entry
At our front door, I added the floor mat that I chose last year from Wayfair.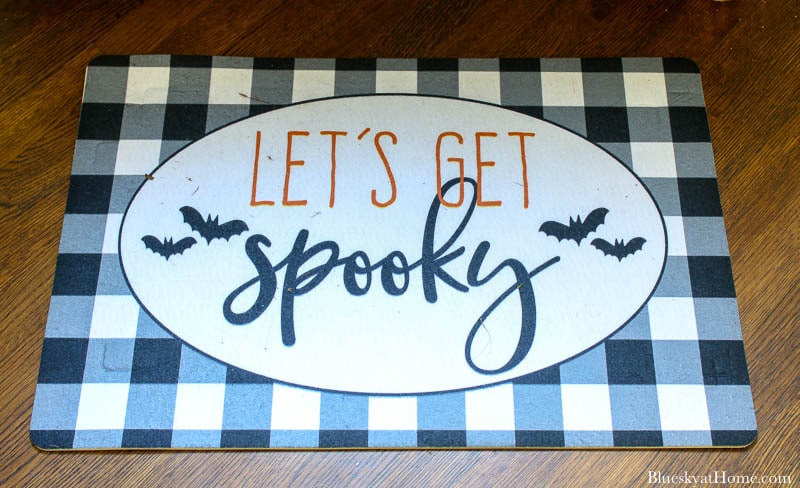 Another witch hangs on our front door handle.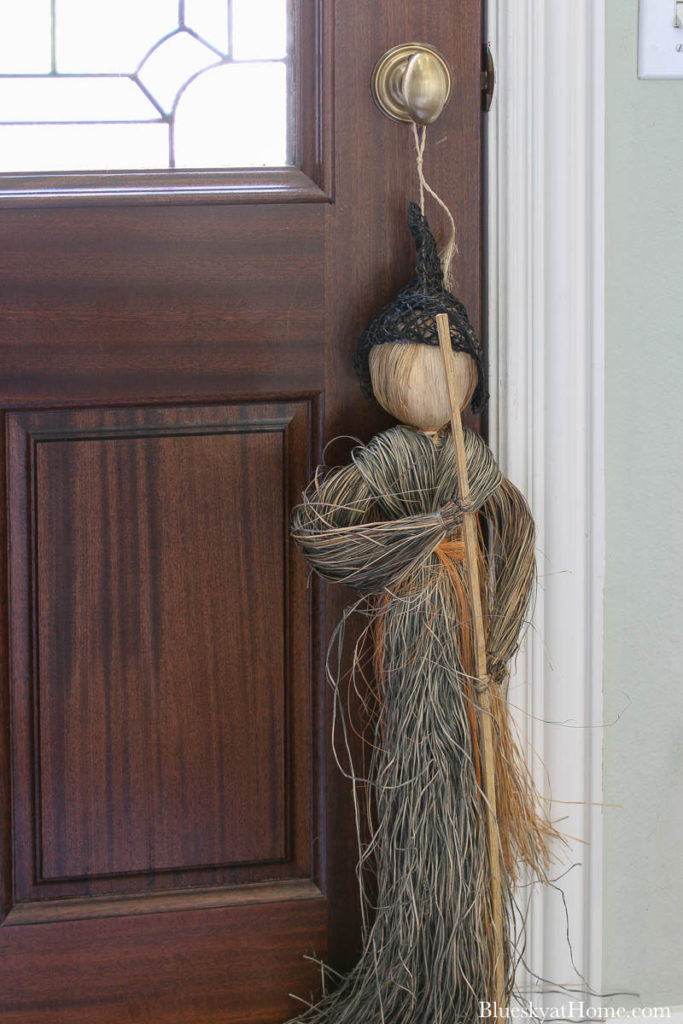 Remember our fall yard sign? I replaced the original fall signs I made with the 3 new Halloween signs for our hay bales. The black and white check shawl was the perfect backdrop for the Halloween signs and black and white pumpkins.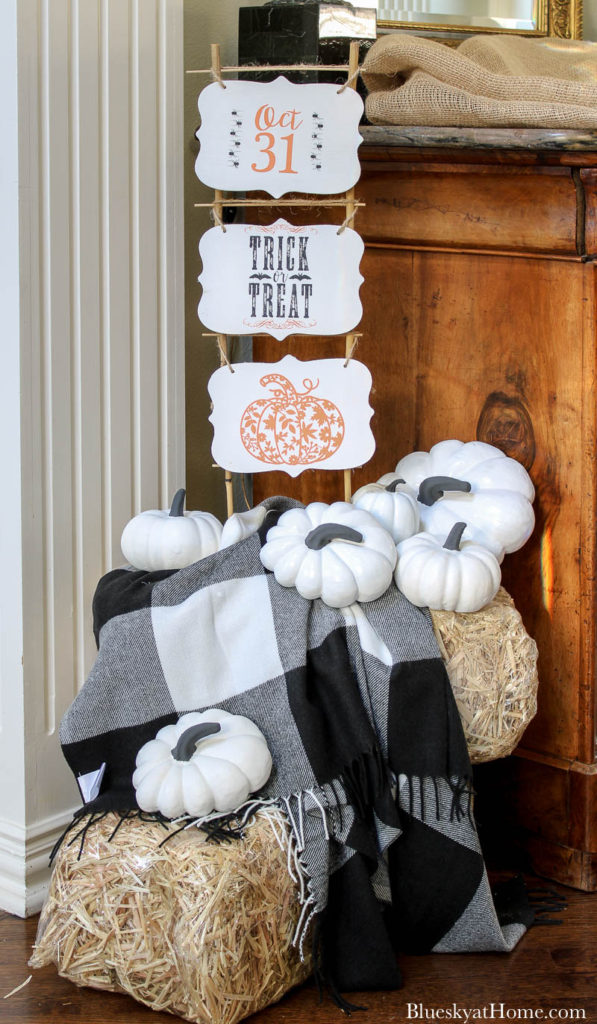 In our Halloween stash, I found a black and gold garland. It added some shiny texture to the mostly matte finishes in this Halloween vignette.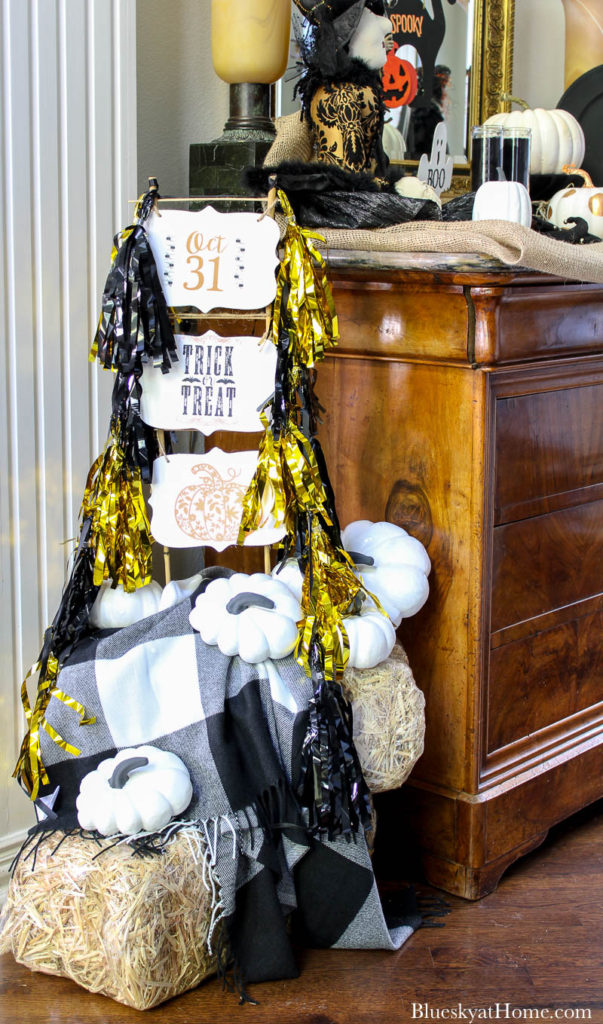 Your Halloween Entry at Night
Halloween at night is especially festive. Our torchiere lamps glow amber for an eerie look.
The Dollar Tree candles add to the spooky atmosphere.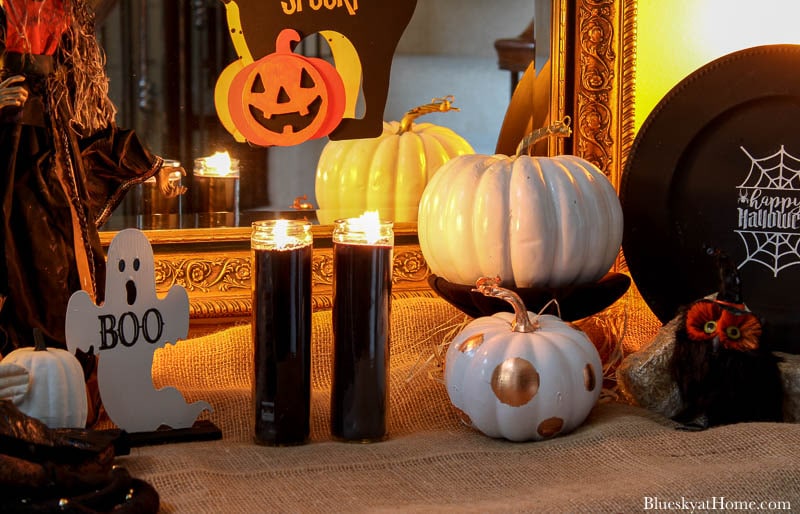 There is a warm and cozy glow when you come into our entry. Don't forget the candles!!!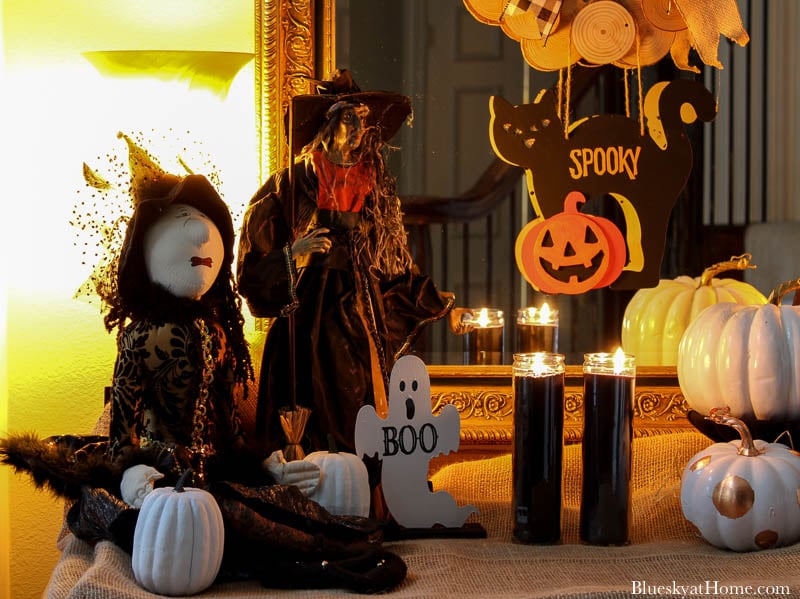 That's our festive Halloween decorations for our entry.
Halloween Vignette Tips
combine your old and new Halloween decorations
make some new DIY Halloween decorations to give your decor a custom and personal feel
when creating vignettes, think in groups of like items, in terms of shape, size and color
bring in collections that you have: witches, ghosts, goblins, scarecrows, jack-o-lanterns
remember balance
contrast shape and color
If you want to keep our festive Halloween decorations for your entry inspiration, please PIN this post.
Have fun decorating your entry for Halloween. Below you will find the list of all my blogging friends. Next up is Kim of Perfecting Places and her Halloween table. Kim and I met at Haven for the first time and she is a sweetheart.