Easy DIY Fall Leaf Art On Canvas
What can put you in a fall mood? Fall colors. We're using fall colors as the focal point of this easy DIY fall leaf art on canvas project.
The changing colors of fall leaves is a traditional sign of the changing season. Using leaves as the central ingredient, this easy DIY fall leaf art on canvas background is a great accessory.
I love a DIY project with a minimum of supplies and minimal expense. This project fits those criteria.
Let's celebrate the colors of fall with this easy DIY fall leaf art on canvas project.
This post contains links to products used in this project. If you should order any product from this site, I may receive compensation, but you won't pay a penny more.
How do you create art with autumn leaves? I'll show you how I did it.
DECIDE ON A PLAN FOR YOUR EASY DIY FALL LEAF ART ON CANVAS
My vision for this canvas project was a picture that I saw on Pinterest from Lauren of Blesser House. She framed 15 dried leaves in wood frames.
My project would be much smaller. Rather than put real leaves in glass and wood frames, I would mount faux leaves on small canvases. In fact, I'm making just one large canvas with smaller canvases on it.
GATHER/PURCHASE YOUR SUPPLIES FOR THE EASY DIY FALL ART ON CANVAS
A few years ago I bought a package of 5 X 7~inch canvases at Dollar Tree.
My first step was to locate the Dollar Tree canvases. After searching every drawer and bin in my office, I couldn't find the canvases. So a trip to Dollar Tree was in order. Two canvases come in each package. I bought three.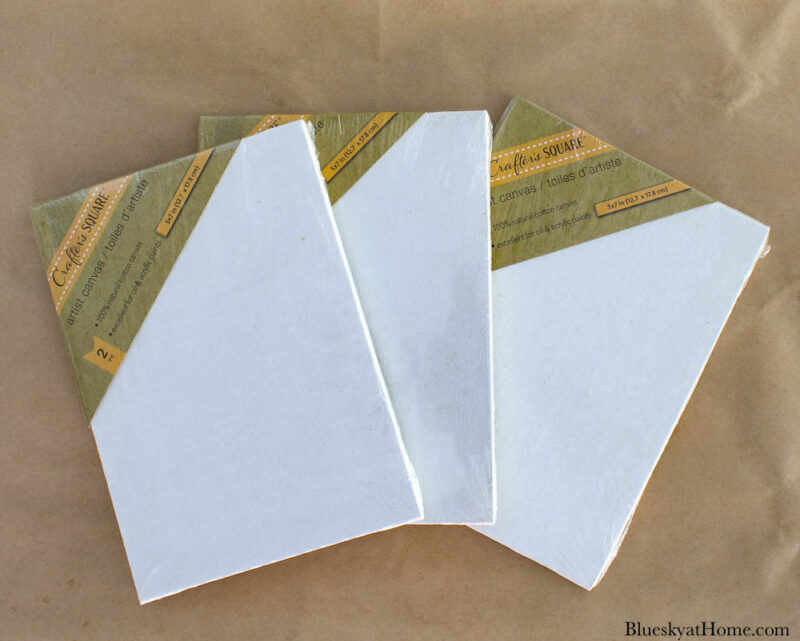 I also purchased one stem of maple leaves. These leaves were a little too bright for my taste.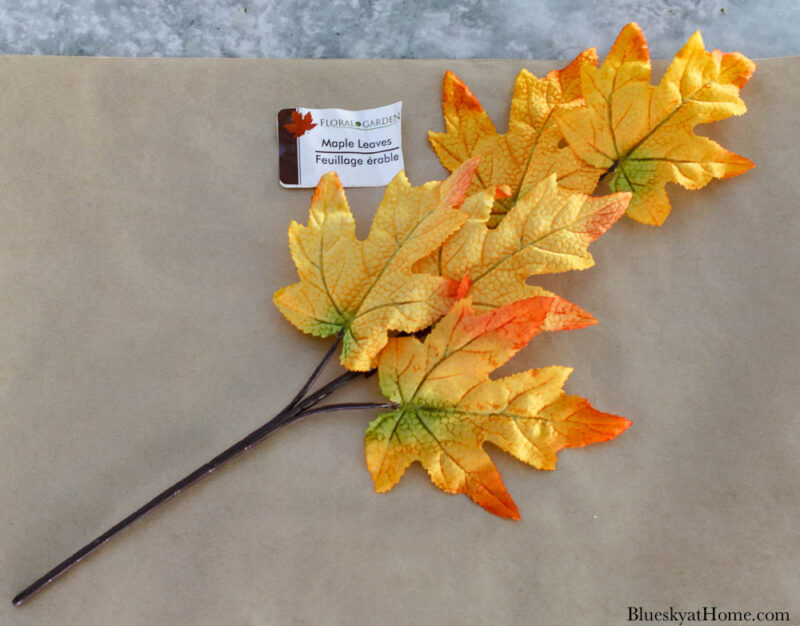 For Steps 1 and 2, here are the supplies needed for the DIY fall leaf art canvas project:
5 X 7 canvases, as many as you want. I planned on using six.
Chalk Paint, Acrylic Paint or other craft paint of choice for canvases
faux maple leaves, as many as you need
Chalk Paint, Acrylic Paint or other craft paint in colors of choice to paint the leaves
small paint brush
STEP 1 ~ PAINT THE SMALL CANVASES
I opened the canvas packages and placed them on a piece of craft paper to protect my kitchen granite.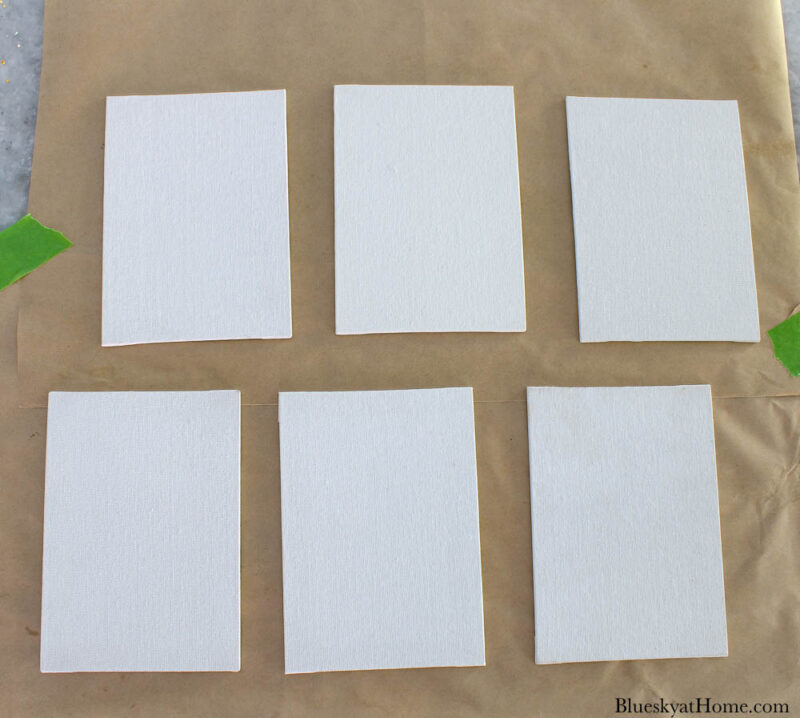 Bright white was not the color I wanted for my fall leaf art canvas. Painting them was the obvious choice My paint of choice for the small canvases was Rescue Restore in Biscuits & Gravy. If you know the color of Southern cream gravy, this is it.
Using a small paintbrush, I applied one coat of paint and let it dry.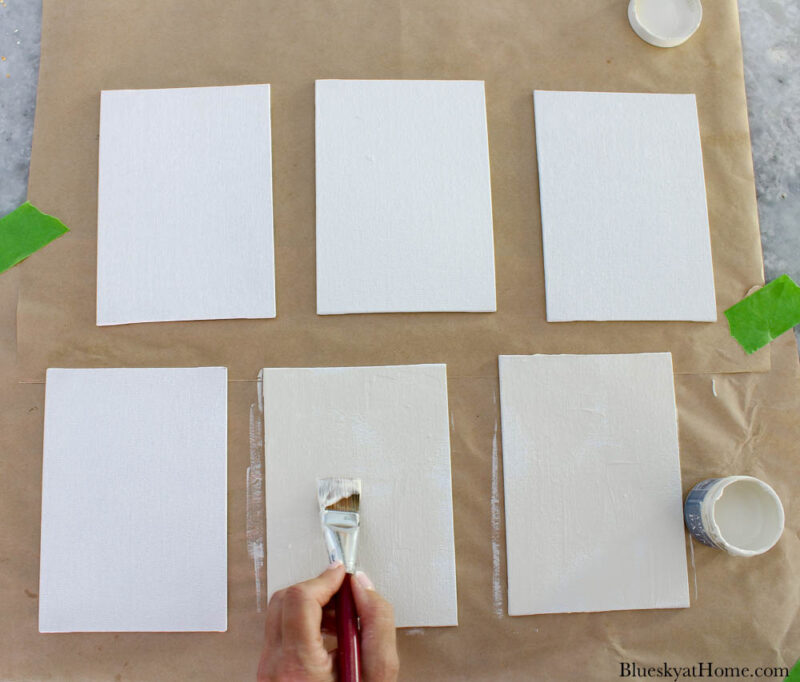 STEP 2 ~ PAINT THE FAUX LEAVES
While the small canvases were drying, I removed the faux leaves from the stem.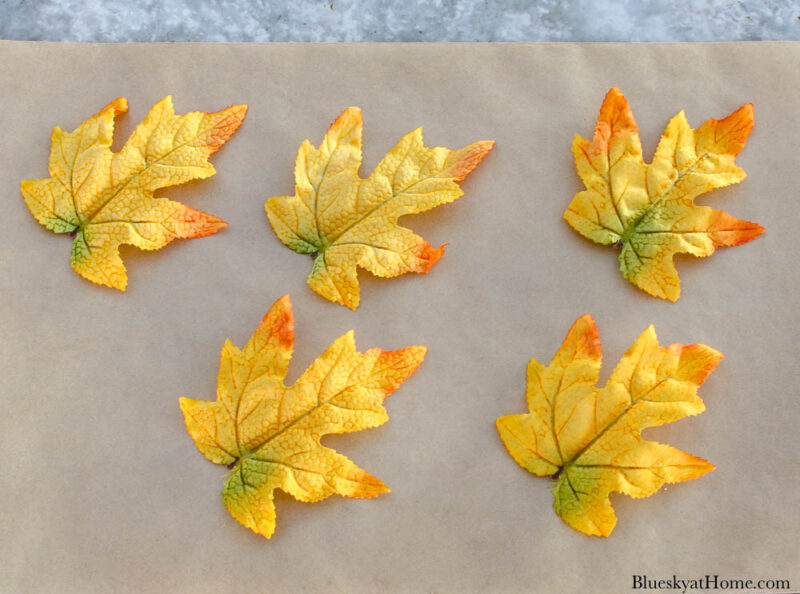 Do you notice a problem? I only had five faux leaves. I would just have to go back to Dollar Tree to buy another stem.
NOTE TO SELF: Check the number of leaves on a stem.
I wanted to use three different colors for my project. In my paint stash, I found 2 colors: a burnt orange in Rescue Restore and a medium green in ChalkArt. I love both of these paints, but ChalkArt is really meant for stenciling. I would try it.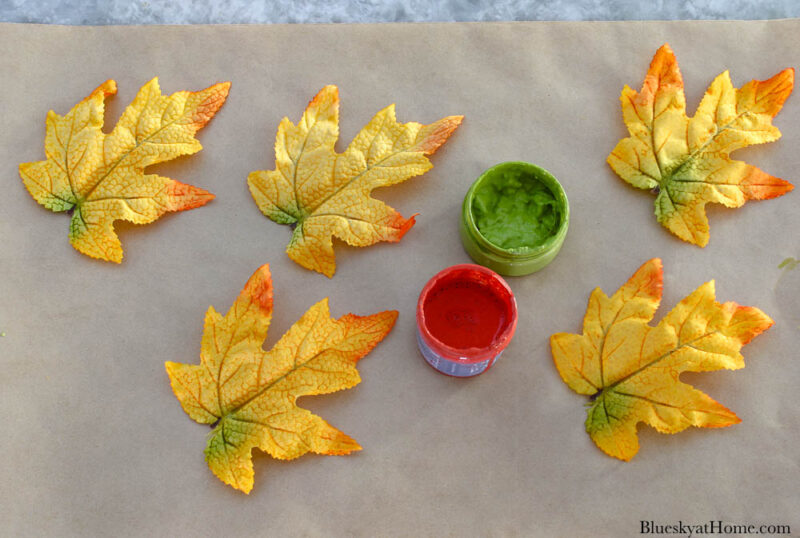 The burnt orange leaves were looking good. I wasn't sure I liked the green color of the other leaves.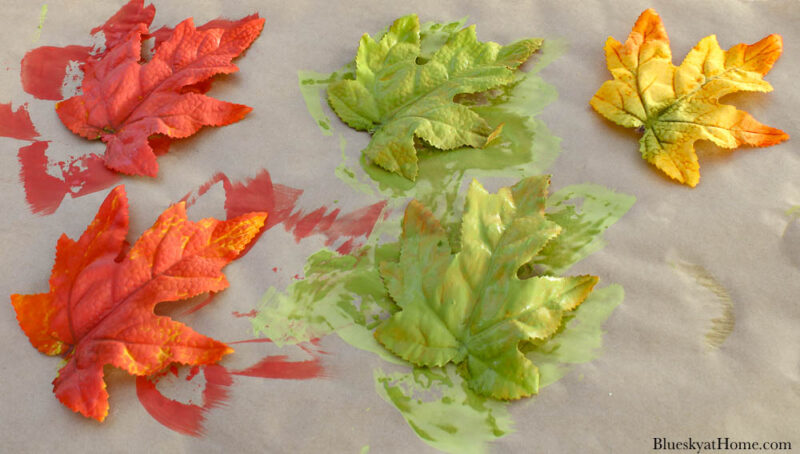 Since I had to wait until the next day to buy another maple leaf stem. I waited to decide on the third color of the leaves.
After realizing that I need only four small canvases (see Step 3 below), I decided I didn't like the green leaf color. I looked for something that was more fall~ish. I thought a shade of brown would work.
I didn't have any brown paint, but I did have two shades of brown Gel Stain that would work. I chose English Walnut, leftover from staining our patio tables and recycling a table as a plant stand.
I just painted over the green paint and also painted the extra leaf.
I liked the brown leaves much better. I let the stain dry while I worked on the next step.
It occurred to me the next morning that the six canvases would look better mounted on a larger canvas, which, fortunately, I already had.
STEP 3 ~ COVER LARGE CANVAS WITH FABRIC
Supplies needed:
large canvas to hold small canvases
fabric of choice, large enough to turn back at least 2 inches on all four sides
staple gun to attach the fabric to wood on canvas; a staple gun is an indispensable tool
I've had several large canvases in my office just waiting for a project. I bought them months ago at Joann on a 50% off sale. The DIY Challenge fall leaf art canvas project was the perfect time to use this large canvas.
First, I placed the smaller canvases on top to see the arrangement. It was obvious that only four would fit.
The good news? Since I only needed four painted maple leaves, no trip to Dollar Tree was necessary.
Again, the canvas was too bright white for the fall season. I wanted another way to change the color rather than more paint. How about fabric? I went through my bin of cream, beige, and taupe fabric and picked this one.
After ironing the fabric, I placed the canvas on top of the fabric. Using the canvas as a guideline, I cut out a piece of fabric about two inches larger than the canvas. Then Sweet Shark helped me use the staple gun to attach the fabric to the wood frame.
STEP 4 ~ ATTACH LEAVES TO SMALL CANVASES
Once the paint on the small canvases and the leaves were dry, it was time to attach the leaves to the canvas.
How do you attach leaves to a canvas?
For this step, you will need an adhesive.
At first, I tried to use permanent adhesive tape. It seemed to work, but when I held up the canvases with leaves, a couple fell off. Next, I used Clear Elmer's Glue, which worked much better. I placed a book on top of the leaves until the glue dried.
After gluing the orange leaves to the small canvases, I decided to attach the other two canvases to the large canvas first.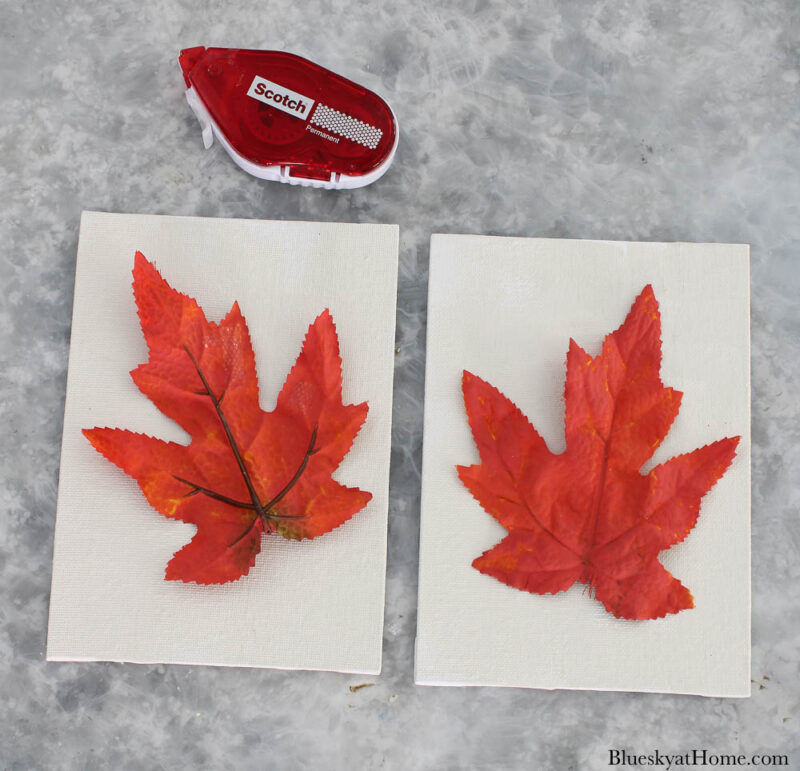 STEP 5 ~ ADD JUTE TWINE/RIBBON TO THE LARGE CANVAS
To hang the large canvas, I used two small eye~hooks and a piece of jute twine.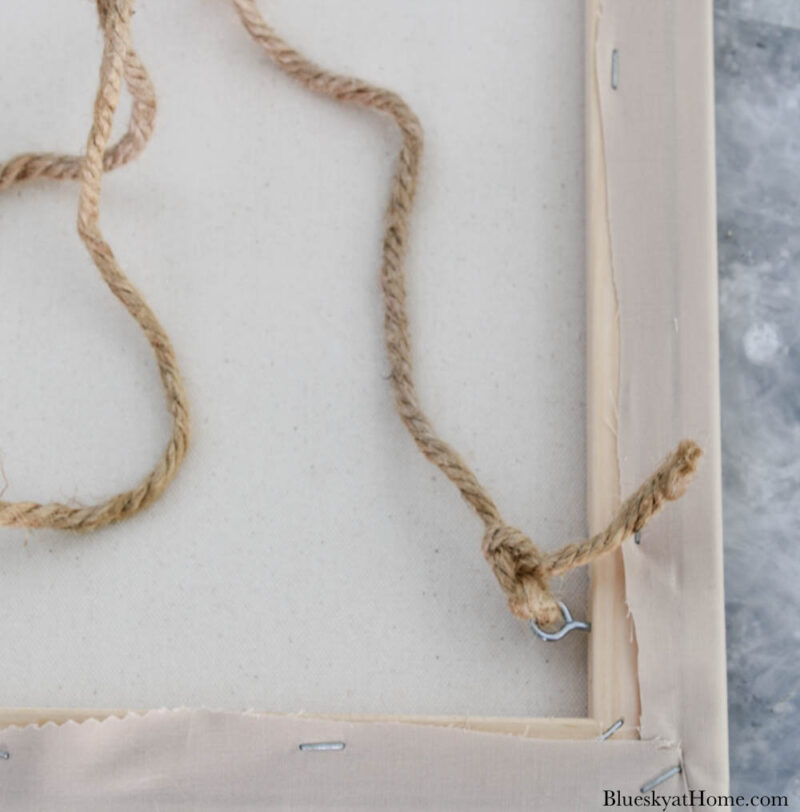 I didn't tie the other end of the jute twine yet. I would wait until I was ready to hang the large canvas.
STEP 6 ~ ATTACH SMALL CANVASES TO LARGE CANVAS
I measured 2 inches down from the top of the large canvas to place the top two small canvases.
Then I used my ruler to place the four small canvases both vertically and horizontally.
To attach the small canvases to the large one I used double stick mounting tape on the back of the small canvases at the top and bottom. I pressed down and rubbed until I thought they were secure.
Then, I added the two brown leaves to the small canvases with the Elmer's Glue.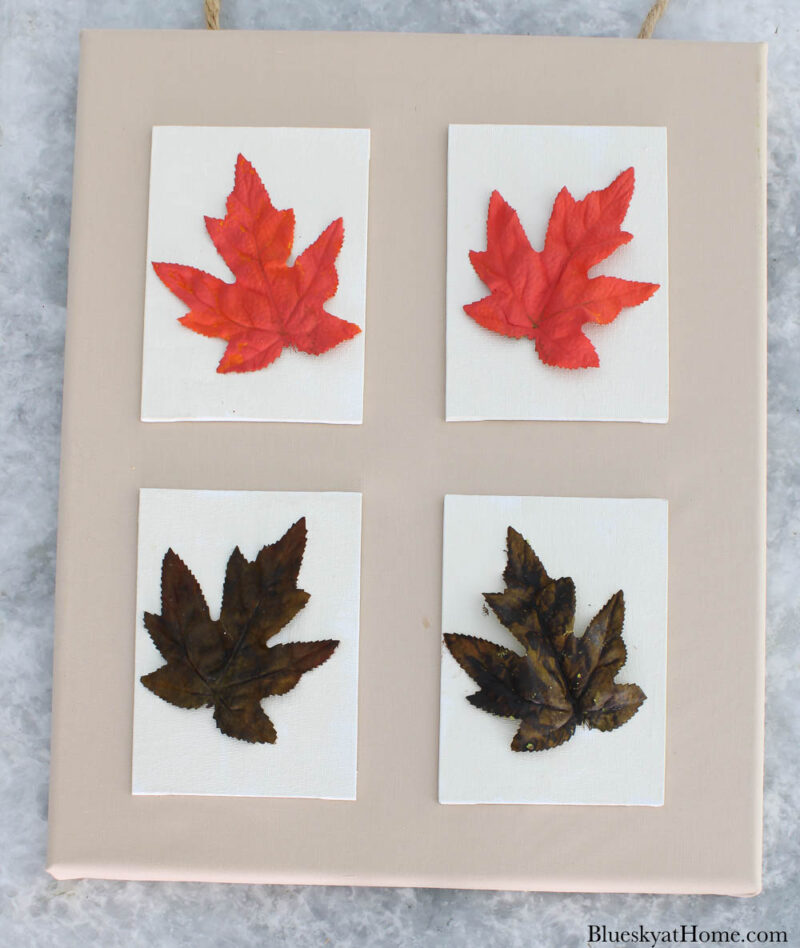 STEP 7 ~ HANGING THE DIY FALL ART ON CANVAS
I knew that my fall leaf art canvas would hang in front of our entry mirror. A few years ago, I placed a small nail in the top of the frame. I use it to hang wreaths and other seasonal signs.
I held up the large canvas to estimate how long the jute twine needed to be. I tied off the other end of the jute twine in the eye~hook. I didn't even cut off the excess twine. I just tucked in the extra twine behind the canvas.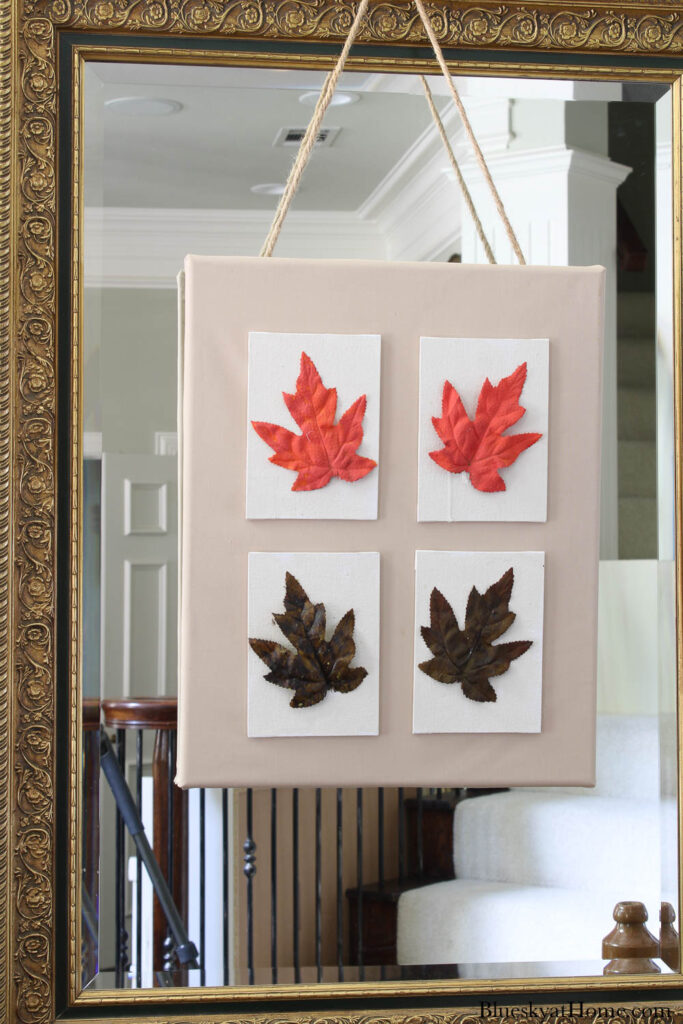 I've never created a "mixed media" project before. Using canvas, faux leaves, paint, and fabric together worked out better than I anticipated. But I do love how the fall leaf art on canvas looks. It's simple, but impactful.
I haven't yet finished accessorizing the entry commode. To start, I did add two hay bales from Hobby Lobby and three ceramic containers, a flea market find.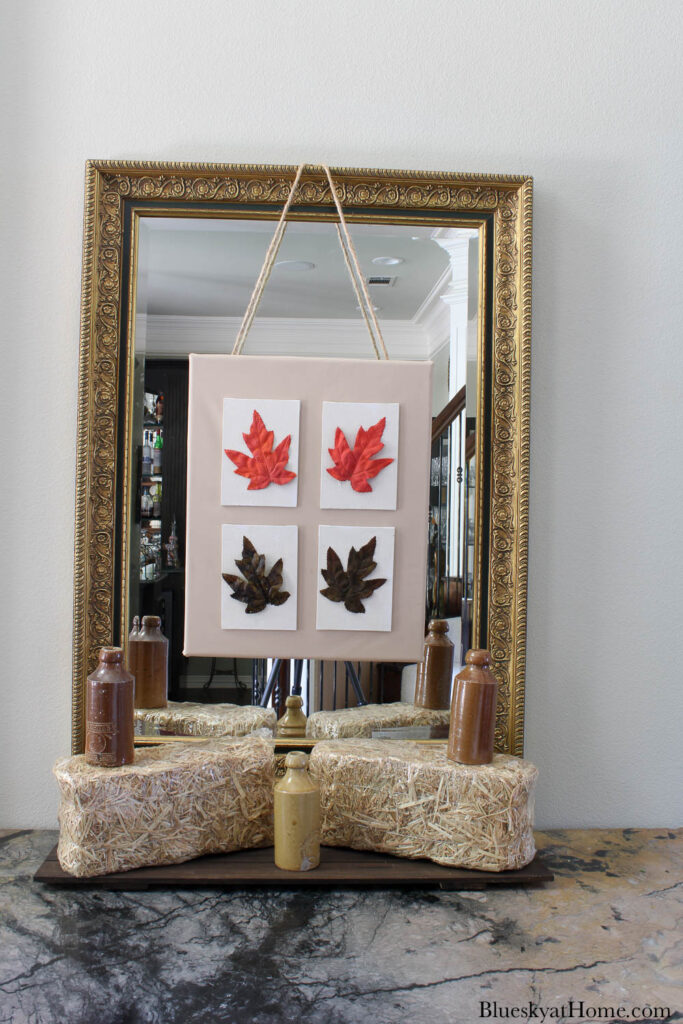 Here is how I finished the entry vignette. I think it looks great.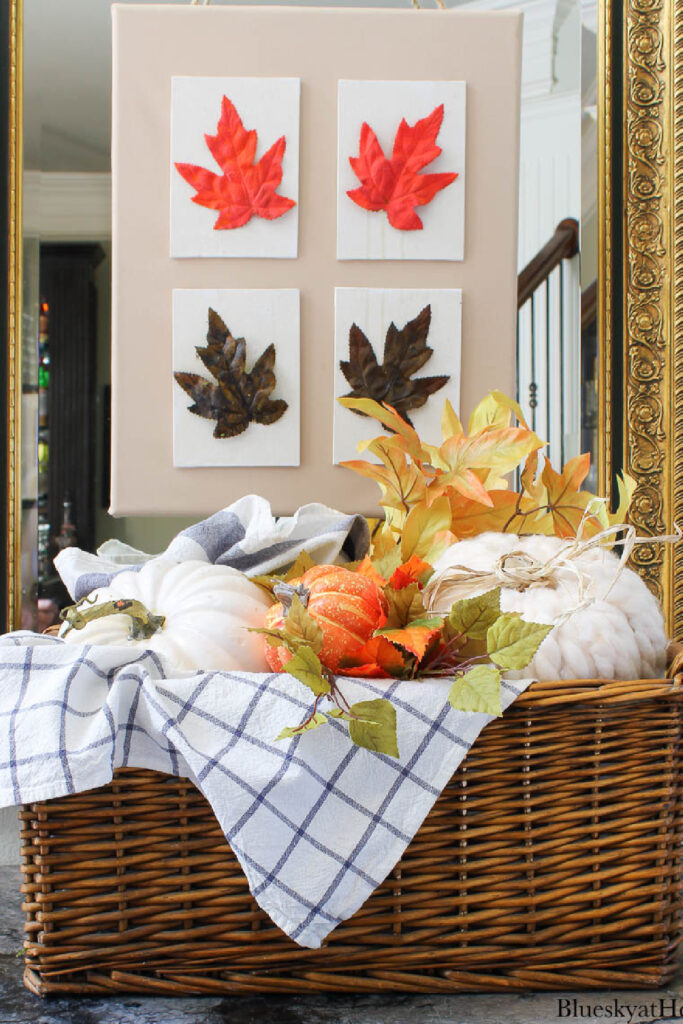 I hope you will PIN this fall leaf art canvas project.