How to Decorate a Glass Vase with Twine
You know those glass vases you find at Dollar Tree? They come in different sizes and shapes. How about making them more decorative? Here's how to decorate a glass vase with twine.
We all have a few of those glass vases around. We may have received one from the florist – well, a flower arrangement in a glass vase.
We also see them at garage sales, flea markets, and resale shops.
I hate to see them go to waste.
Why not make them more attractive? The possibilities are endless.
If you want a vase that has a natural, textural look and feel, then this project is for you.
Why try this project?
It's so easy.
You may already have all the supplies on hand.
You can customize each vase to your liking.
It's an inexpensive project.
This post contains affiliate links to products used in the creation of this project. If you should order any item from this site, I may receive compensation, but you do not pay a penny more. Your purchase is greatly appreciated as it helps support the continued publication of this site.
I said that you need just a few supplies. Here they are.
Supplies for Decorating Glass Vases with Jute Twine
glass or ceramic vases of your choice – I found these at a local Resale Shop for a total of $7.75. I picked them because of the different shapes.
jute twine in the color and thickness you want. There are several thicknesses (I used 4 mm.) in natural and white/cream.
glue gun and plenty of glue sticks – Cricut just released this new model. I can't wait to try it. Here is another one you might like.
scissors
wax paper – I set my glue gun on it. I set the glass vase on the wax paper as I glue the jute to the vase.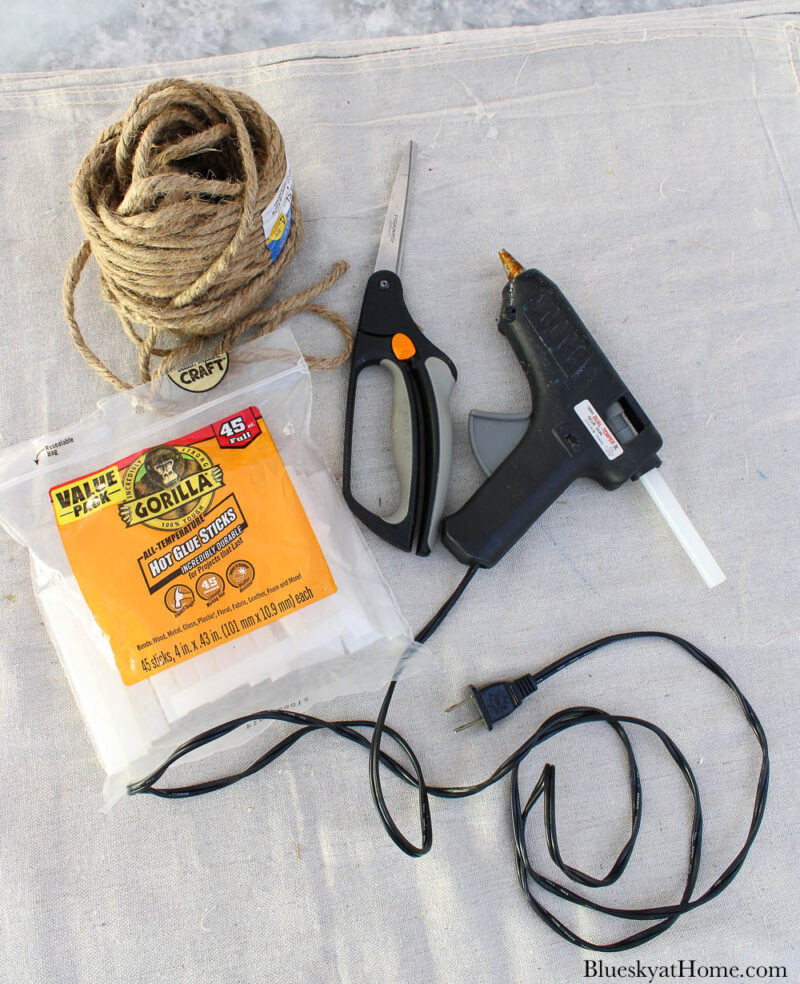 Making Your Twine-Covered Vases
Remember: Garage sales, flea markets, and estate sales are also great resources. Save those florist vases you receive! I used two of the glass vases for this project.
My two vases are very different so I applied the twine in two ways:
One covering the vase in solid coverage.
The other vase had a "ridge" pattern so I used a "see-through" pattern.
Step 1 – Remove any stickers. Make sure that the glass vases are clean and smudge-free.
Step 2 – Heat your glue gun. Place it on a piece of wax paper. Place your bundle of jute twine on the wax paper, too.
You can see how used this glue gun is. I've had it for years. I'm reDu for a new one.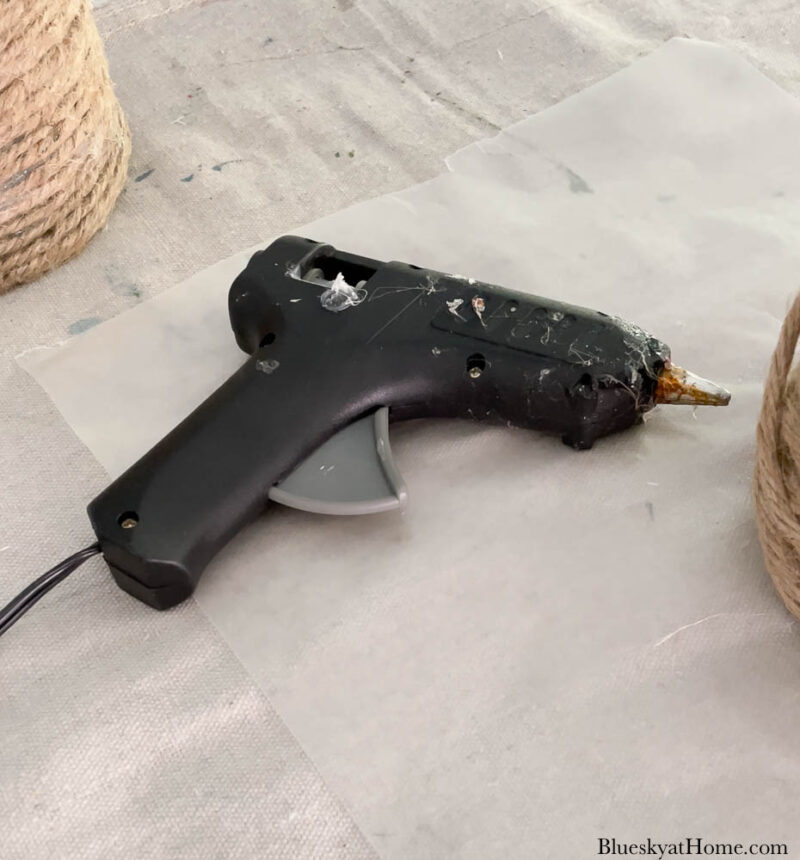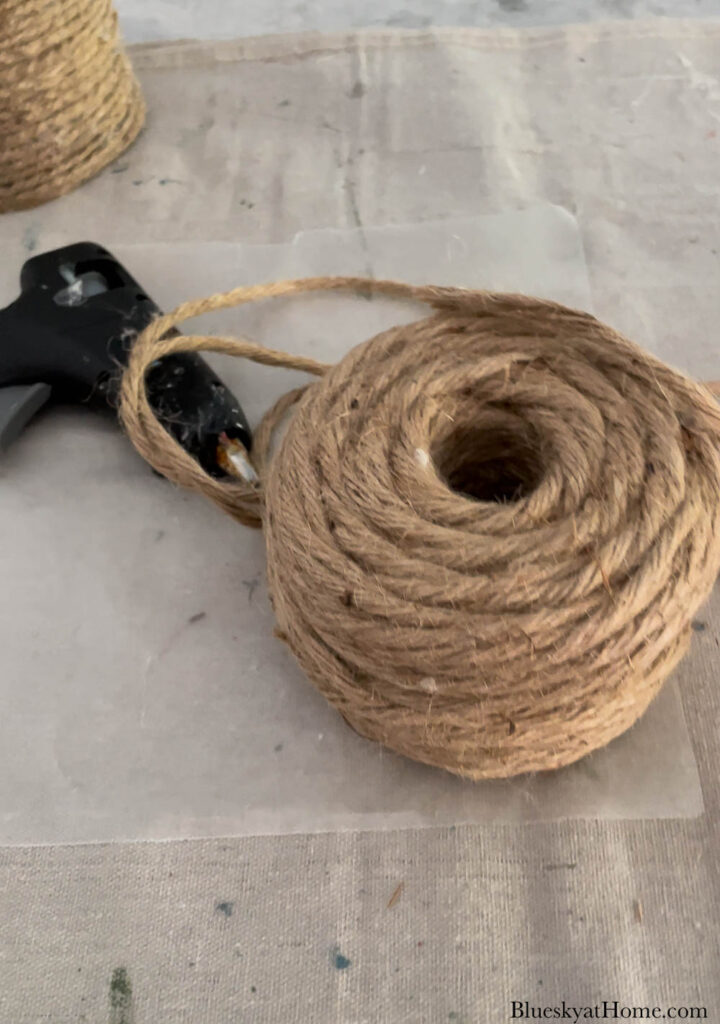 Step 3 – Lay your glass vase on its side.. Starting at the bottom of the vase, run a line of glue along the glass. Place the jute twine on top. Gently press the twine to the glue.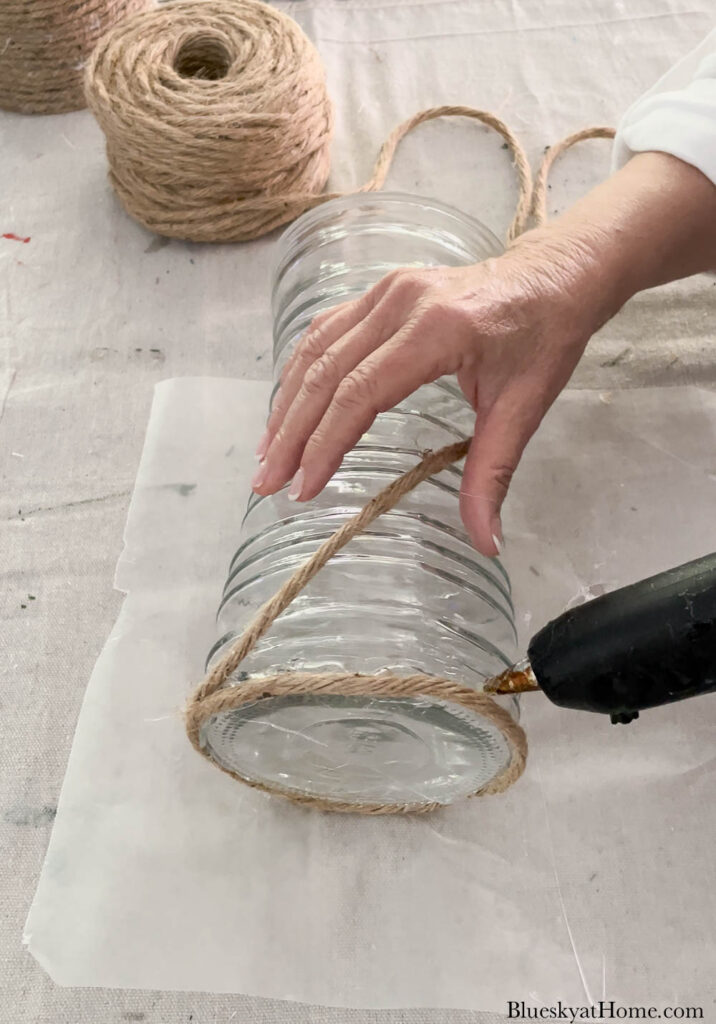 Step 4 – Roll your glass vase to a new area. Run another bead of glue along the side of the first row of twine.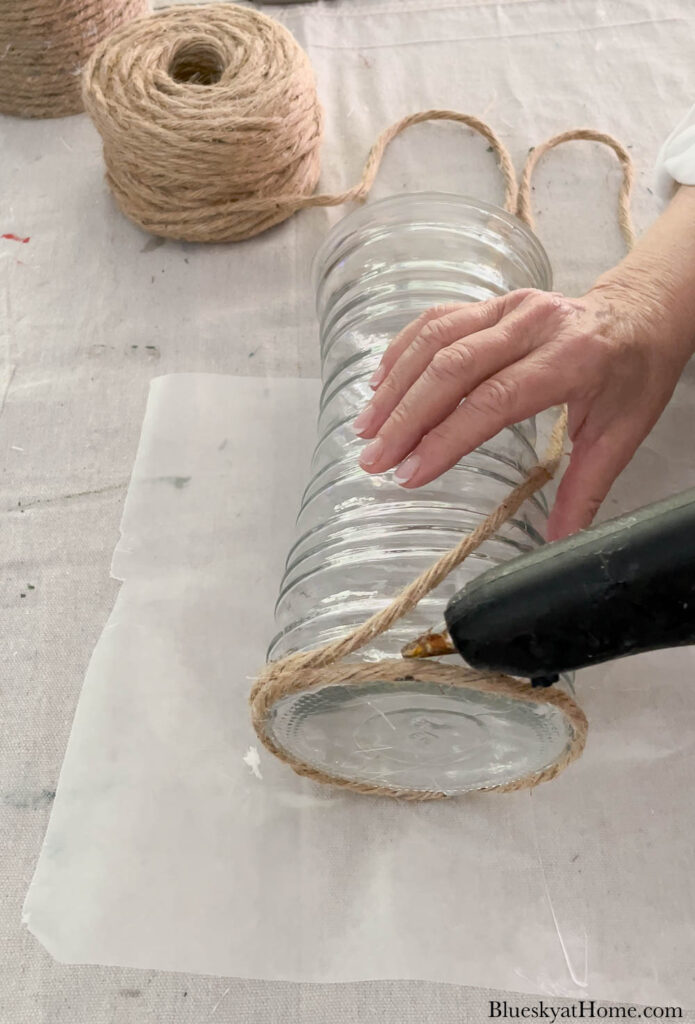 Step 5 – Continue adding glue, laying down the twine, and squeeze the new line of twine next to the previous one.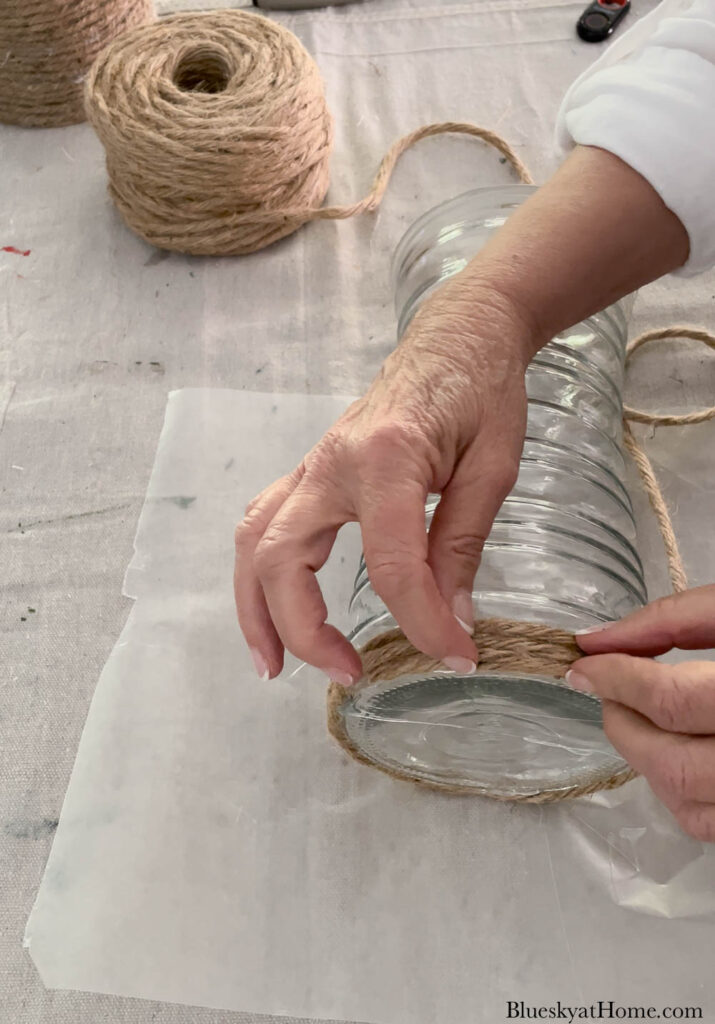 Step 6 – Continue adding glue and twine in a pattern you like. For this vase which had "ridges", I made a pattern of 3 – 4 lines of twine separated by 1/2 – 1 inch of glass.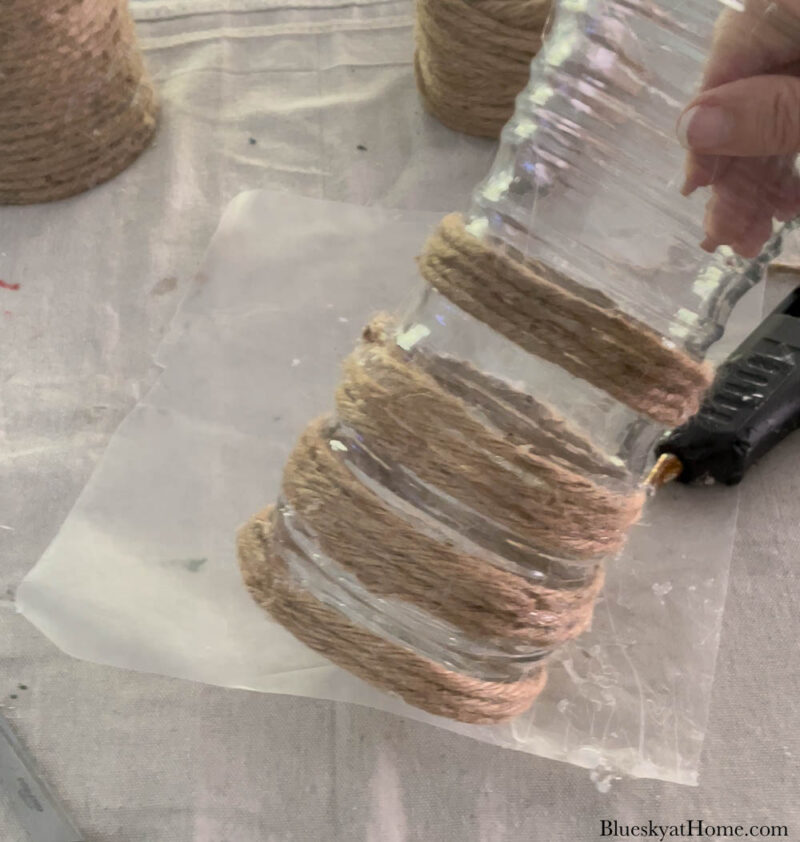 For the other vase, I made solid rows of twine from the bottom of the vase almost to the top.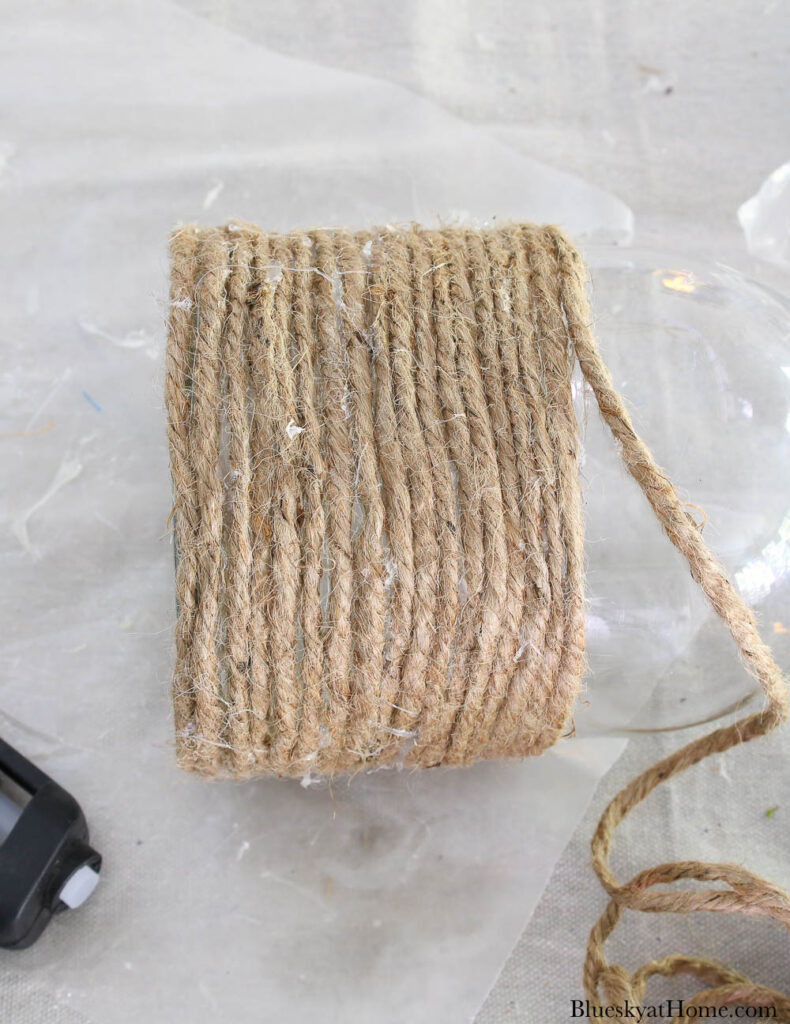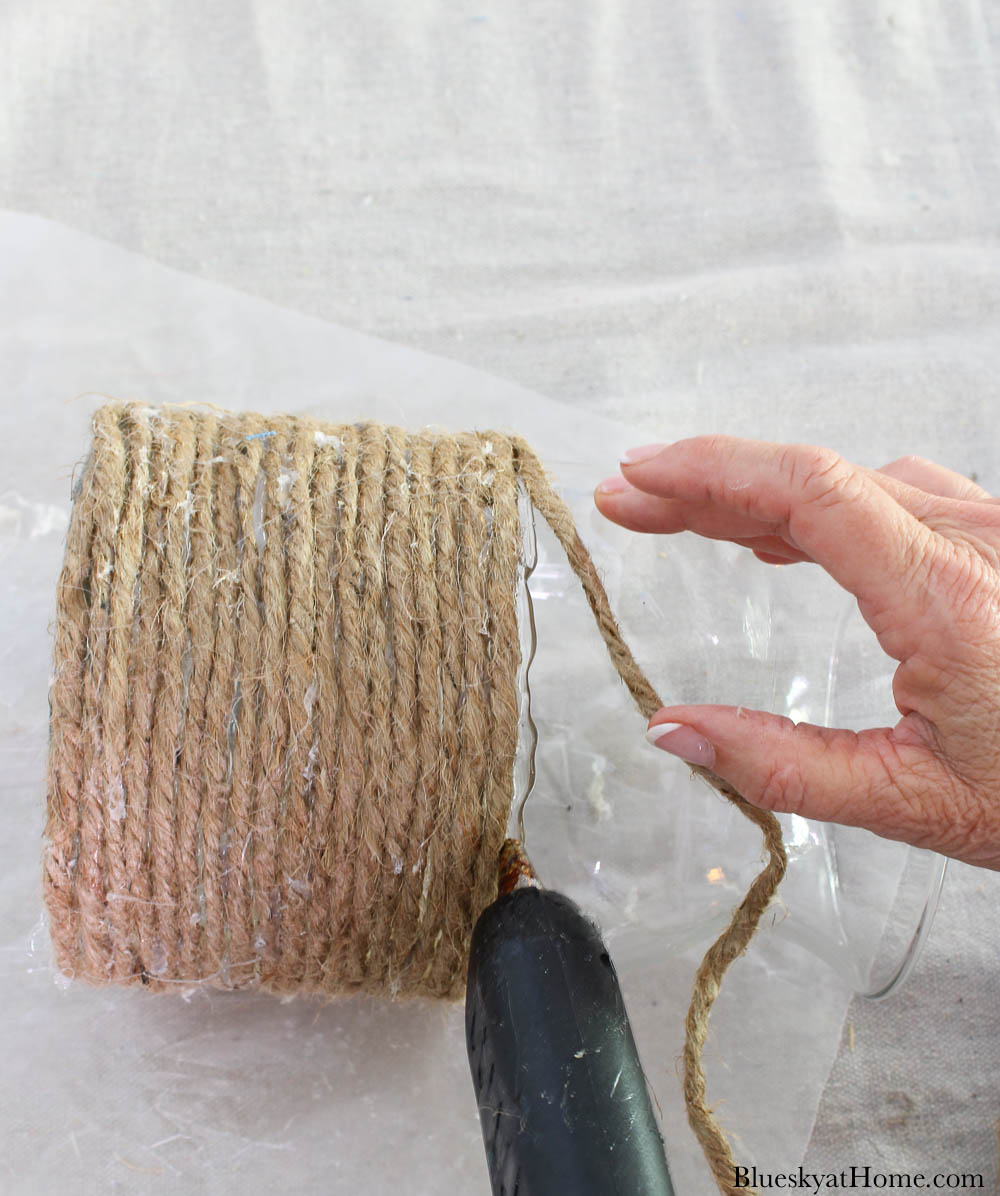 Don't worry if your lines of twine aren't perfectly straight. This is an artisan piece, not manufactured.

When you have finished gluing the twine to the glass vase, use small sharp scissors to clip off any glue strings, glue blobs, and twine pieces.
Here is how to use jute twine to decorate a plain wire basket – it's an Anthropologie hack.
Using Your Glass Vases Decorated with Twine
I needed a new arrangement in our entry for early fall. The vases would give our entry a neutral color scheme and natural texture. Perfect for a fall arrangement.
Step 1 – I started by using my fabric and burlap banner from last year's mantel. I drapped it from our mirror.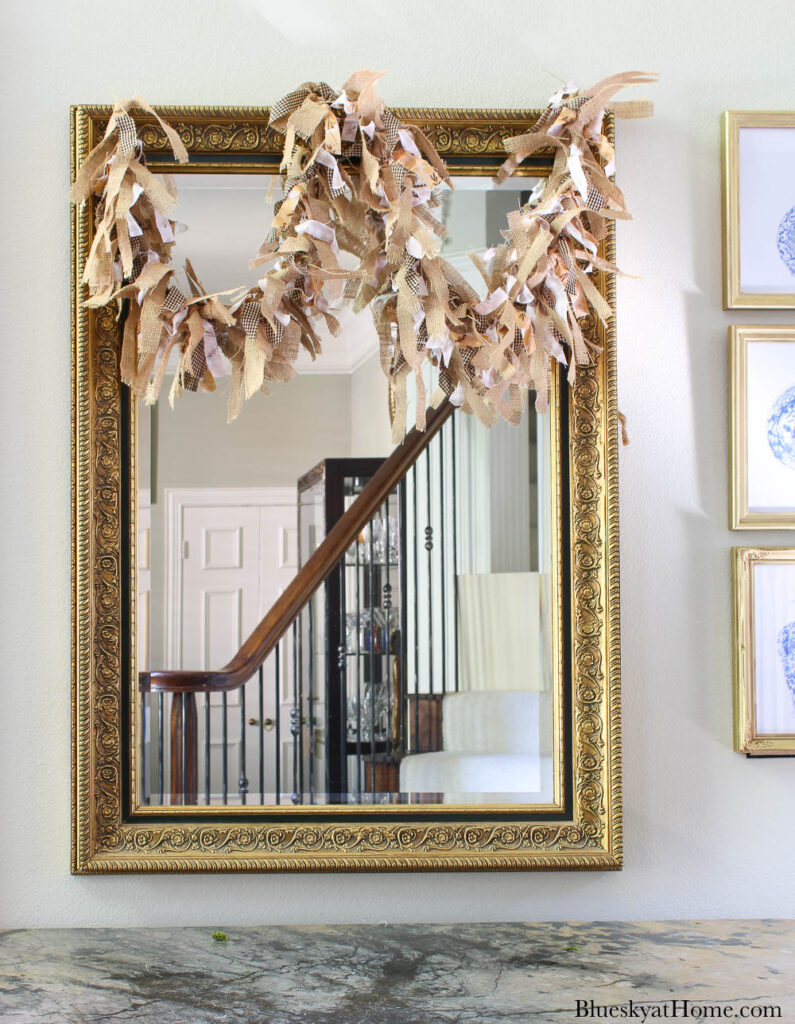 Step 2 – Next, it was time to add the glass vases. Last week, I bought two bunches of pampas grass at Trader Joe's. I've never used pampas grass before. I was sure that the natural colors would be a perfect compliment to the twine on the vases.
Each 3-stem bunch of pampas grass cost $6.99.
I like that the grass forms an inverted V that mimics the banner on the mirror.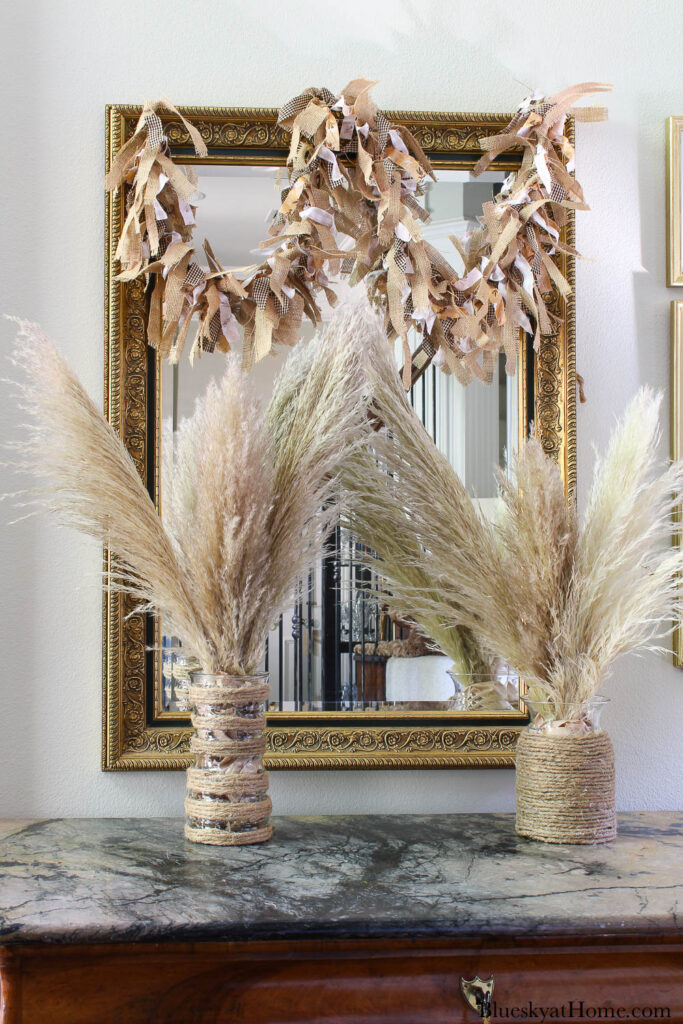 To hold the pampas grass in place, I crumbled plain craft paper. It did a great job – better than newspaper. It blends in with twine.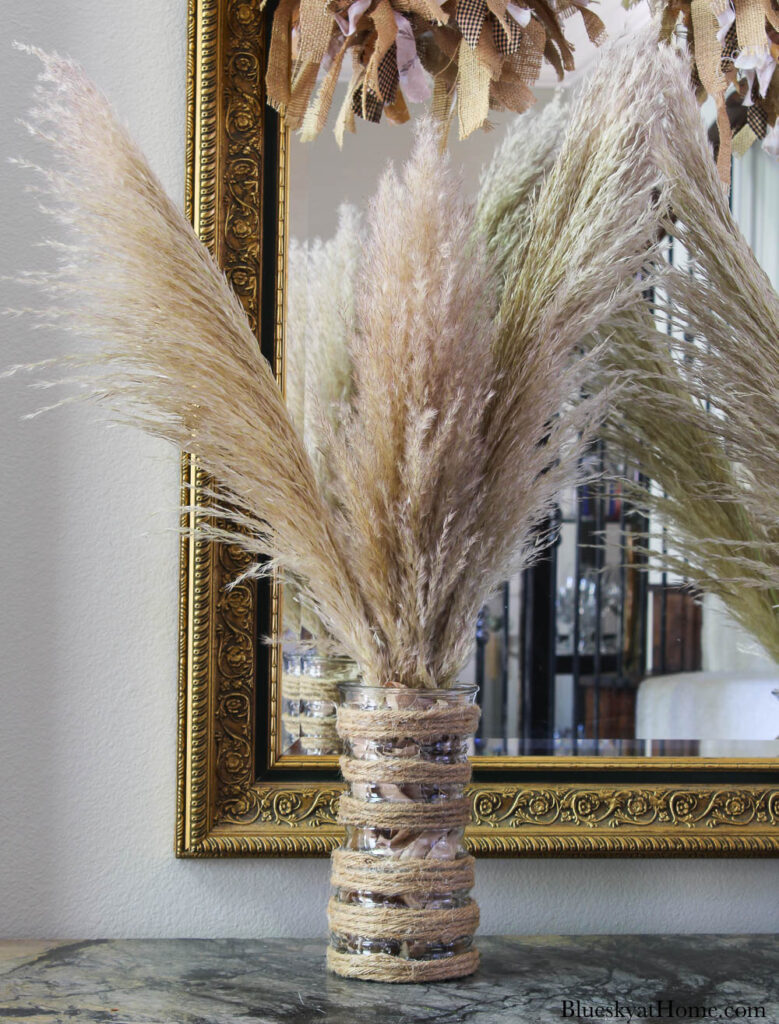 Step 3 – Between and in front of the glass vases, I place my favorite dough bowl. Here is a similar dough bowl.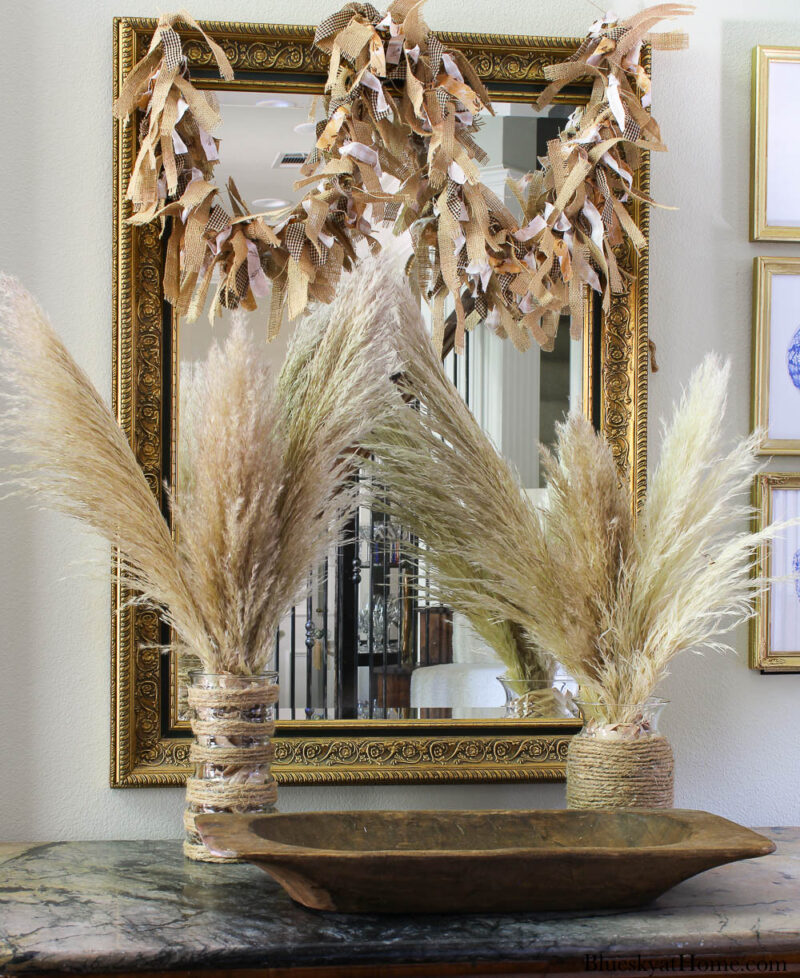 Step 4 – I knew the filler I wanted to use. It needed more height so I used two wood blocks. (Future DIY project!)
Step 5 – For filler, I used the leftover fabric from the fabric and burlap banner. I like repeating a color, texture, or, in this case, the same material as the banner on the mirror.
Step 6 – To bring in a symbol of fall, I placed three of my twig pumpkins on the fabric filler.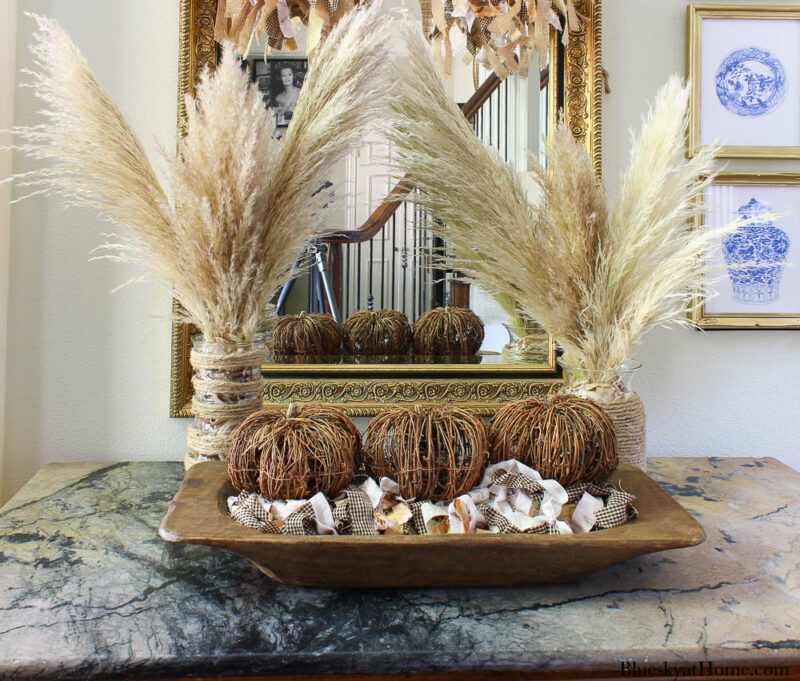 How simple is this fall vignette?
Here is the view of the entry from the living room.
I love the simple natural look of our fall entry. It all started with inexpensive glass vases, jute twine and a glue gun.
It was so easy to put together.
Supplies You Need for this Project
It takes just a few supplies for this project. For using the twine-covered vases in your home decor, you might want to try this accessory.
More Great Fall DIY Decorating Ideas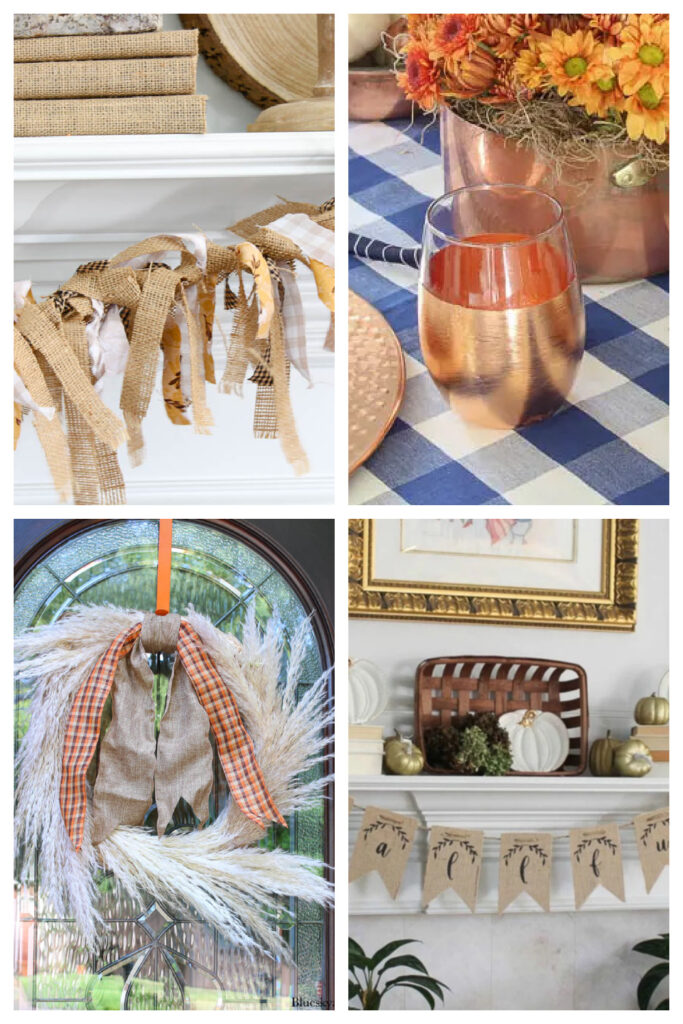 Keep this post handy for decorating a glass vase with twine. PIN IT to your favorite DIY board.
Want more fall decorating? Check out my Fall Home Decor Pinterest Board and my Fall DIY Projects Board. Please follow me on Pinterest.