My Best Flea Market Finds that Joanna Would Love
Flea market finds are at the top of my list for home decor, candidates to repurpose with paint projects, and accessories. And if you watch and follow Fixer~Upper (O.K. who in America does not follow Fixer~Upper? I thought so. Not a hand in sight.), you probably love finding vintage, old, scratched, nicked, tarnished or beat~up stuff at your local or regional flea market, garage sale, or antique mall.
I've been a lover of all things old for as long as I can remember ~ I just didn't know it was a cool thing to do. When I first started watching Fixer~Upper in season 2 (Please forgive me, Joanna, I have no idea how I missed Season 1, but I've made up for it since. Every episode is loyally recorded now.), I thought this woman knows my heart, my design esthetic, the things that make my heart beat faster.
Do you feel this way about flea market finds? If Carrie swooned at buying a new pair of Manolos, I swoon at the thought of shopping at a flea market. Think how much a pair of Manolos will buy ~ their weight in chippy, rusty, galvanized stuff! I love the excitement of flea market finds, the anticipation of thinking what to do with it, where to put it in our home. But then, I think, I don't know what I'm going to do with it or where I'm going to put it, but I love it so much that that flea market find is coming home with me.
Last weekend HGTV shared Joanna's
22 suggestions for Flea Market Finds
. I felt a challenge coming on. What flea market finds did I have that Joanna would love? Would she approve? So I took a little tour of my house to see what I had that fit one of the 22 categories of flea market finds. I didn't check all of Joanna's boxes, but I think she would love my 22 best flea market finds.
My Best Flea Market Finds that Joanna Would Love
I tried to narrow my flea market finds to share to those things that fit Joanna's list. If I had included everything, this post might read "my 50 best" flea market finds. Now, I don't even come close to having Joanna's complete list, but I hope you'll agree that my list checks off those flea market finds, vintage, farmhouse, and French country vibe that add character and personality to our homes.
Metal Baskets
This item was on Joanna's list and we can't get enough of them in all shapes and sizes. Some are utilitarian and and some are just pretty to look at. Here's a few of my favorites.
This stacking set of 3 baskets are currently sitting together inside a painted wood tray on our coffee table. I used them for awhile on my kitchen counter to hold garlic, onions and potatoes, but I like them better together. Found at the Dallas Flea (now called Flea Style) a couple of years ago. It's one of my favorite local flea markets held twice a year. Unfortunately, I'm going to miss this year's spring show because I'll be in Atlanta at Scott's Antique Market (I'm jumping up and down because it will be my first time.)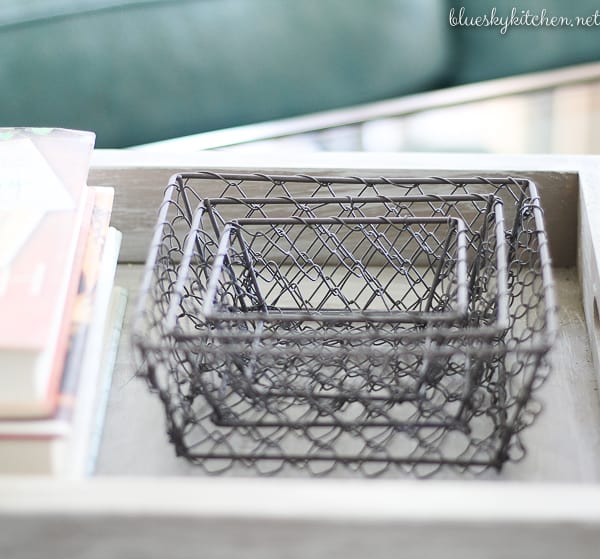 This wire 4~basket caddy that I bought in Atlanta is perfect for silverware.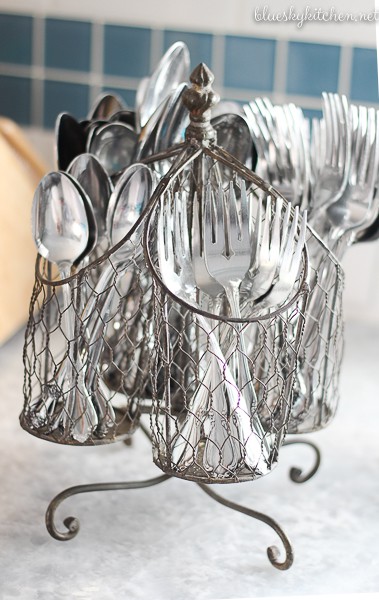 I love these egg baskets that I bought in Roundtop, the biggest flea market in Texas, which is held twice a year. I shared my trip there in 2016, my second trip where I hit the flea market find jackpot.
This wire basket came from a local antique mall. It was bright yellow when I found it. A coat of Old White was what it needed. For awhile I hung it in my laundry room and used it as a shelf for small jars of chalk paint. I like it better on the kitchen counter as a shelf for some of my old mason jars.
This old milk crate was another Roundtop find.
Glass Jars
Another item on Joanna's list. I love using old mason jars for holding beans, rice, lentils, popcorn and any other food item that will fit in and look nice. I especially love the blue ones. They are more expensive, usually about $18 each. A friend gave me the 2 large ones. Love the unique shape of the tall one on the left.
Galvanized Anything
One of my very favorite galvanized items are these 3 cups. There is a name for them and they had an actual purpose, but I have forgotten what they are called and why.
I carried this 3~pot galvanized "thing" home on the plane from Atlanta last summer. I usually use it as a planter, but it could hold anything you wanted in it. When I found it, it was hanging on the wall.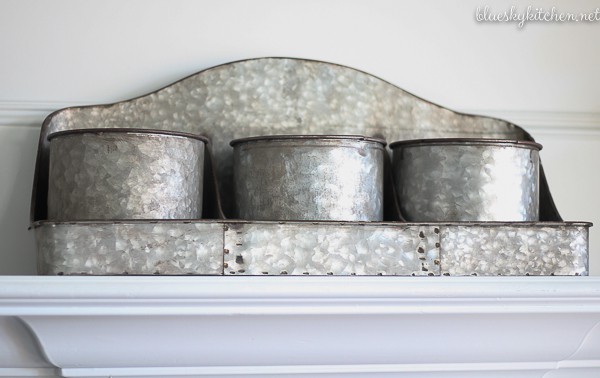 Bird Cages
This beauty started as yellow. A little spray paint and a hanger gave it just the right look.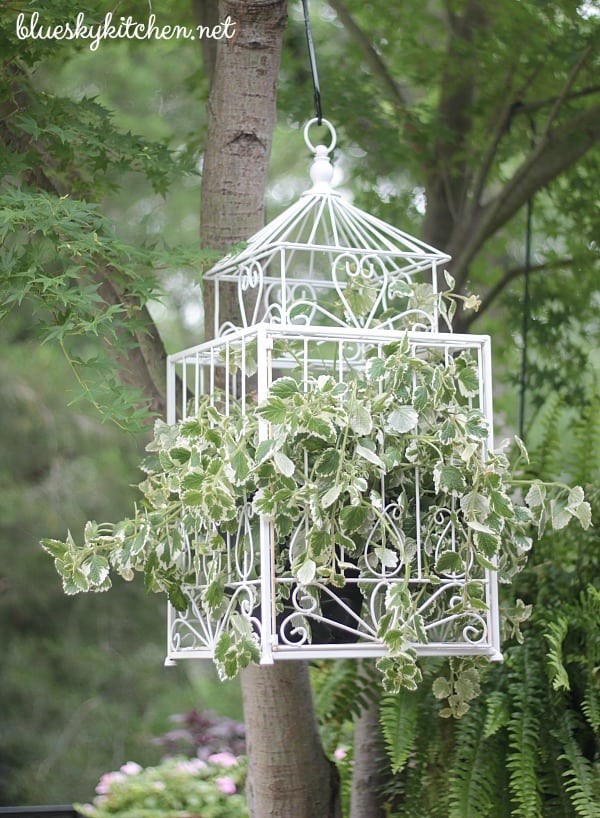 Doors
I recently showed you the French doors that we turned into a barn door for our laundry room. This will always be at the top of my favorite flea market finds list.
Signs
Oh signs, how I love thee, let me count the ways. It seems we are obsessed with words these days. Can't have enough of them. I made the wash~dry~rinse sign when we first moved in our house ~ that was before I was blogging. Wish I had taken pictures. Basically I had a large sheet of paper with French writing that I glued to a canvas, then stenciled the words, and used ModPodge to seal it. It's the sign that says "Laundry" that is the flea market find. I've just used push pins to hang it on the wall.
This replica of a Paris baking sign fits beautifully on one wall in our kitchen. The bottom says that the bakery is "open all day".
I love the focal point that this Farmers' Market sign provides on our large stove vent. Can't beat anything that has a pig on it.
This sign was attached to the one above when I bought it. We took them apart and now this hangs in the cased opening between the butler's pantry and our kitchen. Isn't it awesome?
Wooden Crates/Boxes
I love this Remington ShurShot Box. I've used it for flower arrangements.
Tool Boxes
This may be one of my oldest flea market finds, bought in Jefferson, Texas. It's an old captain's tool box ~ at least that's what the vendor told me.
Clocks
Joanna cites vintage fans in her list of favorite flea market finds. I don't have a vintage fan, but I do love clocks. This one hangs in our kitchen and was retro~fitted with a battery. I needed a big clock above the opening from the kitchen to the butler's pantry and this one fit the bill.
I showed you this one from that I bought in Atlanta in my Big Office Reveal. I love the old vintage look of it. It was so worth carrying it home on the airplane.
Repurposed Furniture
Finding an old piece of furniture at a flea market and repurposing it with paint and new hardware is a flea market dream for me. This sweet little nightstand was white when I bought it. I painted it with Annie Sloan Provence and added a new knob. It holds fabric scraps in an upstairs guest room. That's daughter #1 in her 6th grade graduation picture and Sweet Shark and his mom.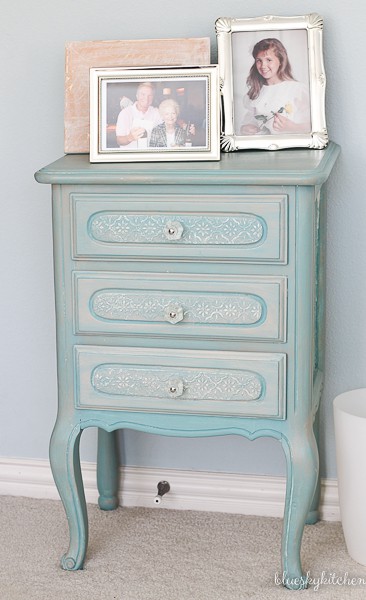 I've had this piece of furniture for years that I found in Canton, Texas, another huge regional flea market. I was told it was a lady's desk and originally the top was slanted and stained a dark brown. I had top leveled and then I painted it first with Annie Sloan Paris Grey, but later went over it in Old white.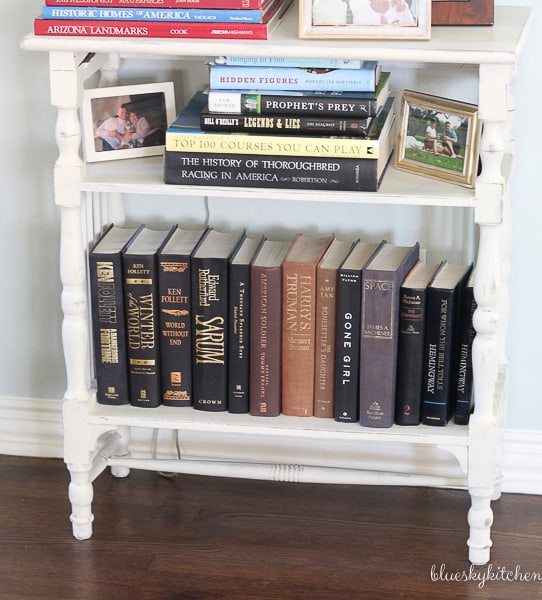 Sometimes a piece is perfect just as is. These 2 flea market finds didn't need any painting. When I saw this little table with a piece of marble on top, I knew it would be perfect next to the tub in our new master bathroom (at the time, we were in the middle of the remodel and the bathroom had just been gutted.) I think I paid $25 for it.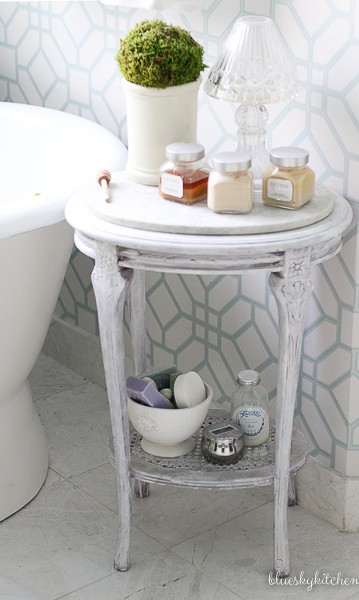 I bought this chippy white chest of drawers at a flea market in Ft. Worth just before we were moving out of our "big" house. Sweet Shark asked me why I was buying furniture when we were packing and trying to downsize. I just looked at him and smiled. I did change out the drawer knobs with "crystal" ones from Anthropologie ~ they have great knobs. It's in the "big kid's" guest room. Most of the drawers are full of fabric, but I leave one empty for company.
Chalkboards
Joanna loves chalkboards and so do I. I have to admit this is not a flea market find, but it looks just like one. I waited until it went on sale so by the time I bought it, it had become vintage!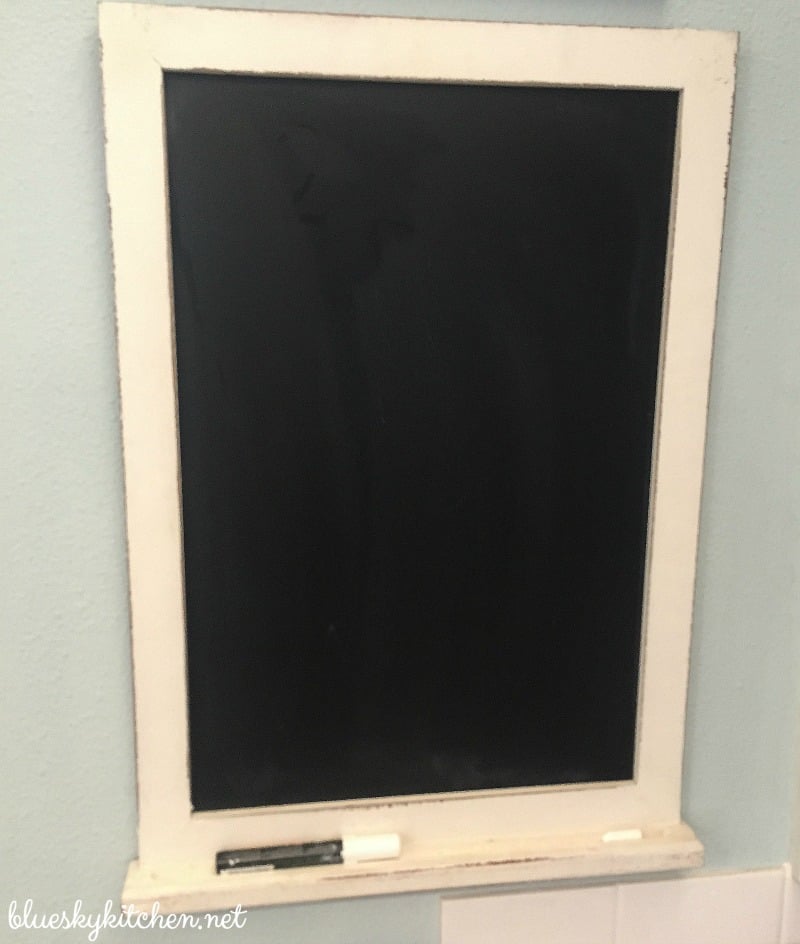 This and That
Some flea market finds don't fit in a category. In addition to farmhouse style, I love anything with a French esthetic (the sign in the kitchen above.) This little gem stays in the laundry room and has places for waxed paper and foil. I do have a roll of paper towels in it. I think it's so cute with its French writing. I've never seen another piece like it.
One more interesting flea market find is this "grocery list" board. You flip the little metal tags when you need an item. It's all written in French and at the top says Aix~en~Provence, which we have been to. Again, I've never seen one like it. It hangs in the kitchen on the side of the ovens.
Of Joanna's 22 Ways to Nab Fixer Upper Style, I had flea market finds from 10 of her categories, but hey, there is always another flea market on another day! What are your favorite flea market finds?