Home Office Reveal ~ Awesome Efficiency in a Little Space
My home office reveal is finally here to dazzle and amaze. Yes, it's been a long time coming, but the reveal is so worth the wait.
I've been teasing you with bits and pieces and photos here and there, but now I'm going to show you the big enchilada (That's a Texas saying.), the whole ball of wax. This home office reveal is not big, but it's mighty.
My home office reveal is so awesome that its small size doesn't matter. I'm so happy just to stand in its pretty pink efficiency.
Can I hear a "Are you ready to see your fixer~upper?" I don't have a huge billboard to pull apart for you, but this home office reveal is ready to go.
Home Office Reveal ~ Awesome Efficiency in a Little Space
For the first time, I've made a video for the blog. Here goes.
And now here's my home office reveal. At the bottom of the reveal, I've shared more links to earlier posts about all the plans, construction and decorative elements of the office.
Remember that this office is small ~only about 60 square feet. Starting on the right of the office is my Elfa wall unit from The Container Store which holds spray paints and other paint jars. I love that it's out of the way but holds so much.
Office Storage
On the counter is a file folder cube from Michael's. I made the gold polka dot planter and the beautiful pink peonies are from Pier 1. The bowl that I found at a flea markets holds chargers.
Below the counter is the first of 2 Ikea rolling carts in the office. This one holds office supplies, extra paper, my camera, and extra lens. I also have a printer cart for the printer and extra paper. Out of the way, but easily accessible.
Speaking of counters: these laminate counters from Ikea are 36 inches off the floor. I like to stand when I'm working so counter height works best for me.
Photo Station
Next to the file cube is the wall with my photo station. When I need to use it, I just move the tissue holder and bowl holding chargers over to the side.
And you can see the beautiful Aspect Peel and Stick Tiles that I installed on the back wall. The tissue holder is a DIY and the Lucite stand was a DIY from Haven 2015 that I added a vinyl monogram to.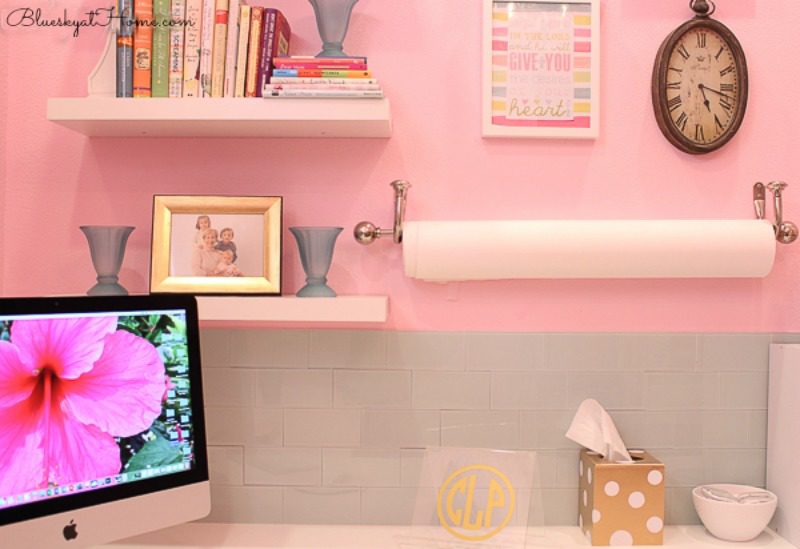 Decorative Touches
Even a home office reveal needs decorative items.
I love the French looking clock that I found in Atlanta last summer. I used scrapbook paper to make mats for the printables. My graphic designer made the mood boards for my original blog name which I framed.
Next are my floating shelves from Lowe's. The faux chrysanthemums in the galvanized tub are also from Pier 1.
Above my work station is "My Happy Place" from the DIY charm packet challenge with Karianne at Thistlewood Farm and a burlap print from my daughters with the grandkids' names and birthdates.
Craft Wall
This is my craft area. The wall storage unit is from The Container Store. I have so much room for DIY and crafts since all my supplies are either on the wall storage or in the Ikea rolling cart below the counter. You can see the cute pen holders that I made using washi tape.
Below the craft area counter is the 2nd rolling cart which holds craft supplies. A wire basket from Ikea holds gift wrap for photo backdrops and sometimes, for wrapping gifts.
Office Bookcases
The Billy bookcases from Ikea hold magazines, binders with recipes, books, baskets and boxes for storage. And here you can see the beautiful Shaw floors that I chose for the office floor.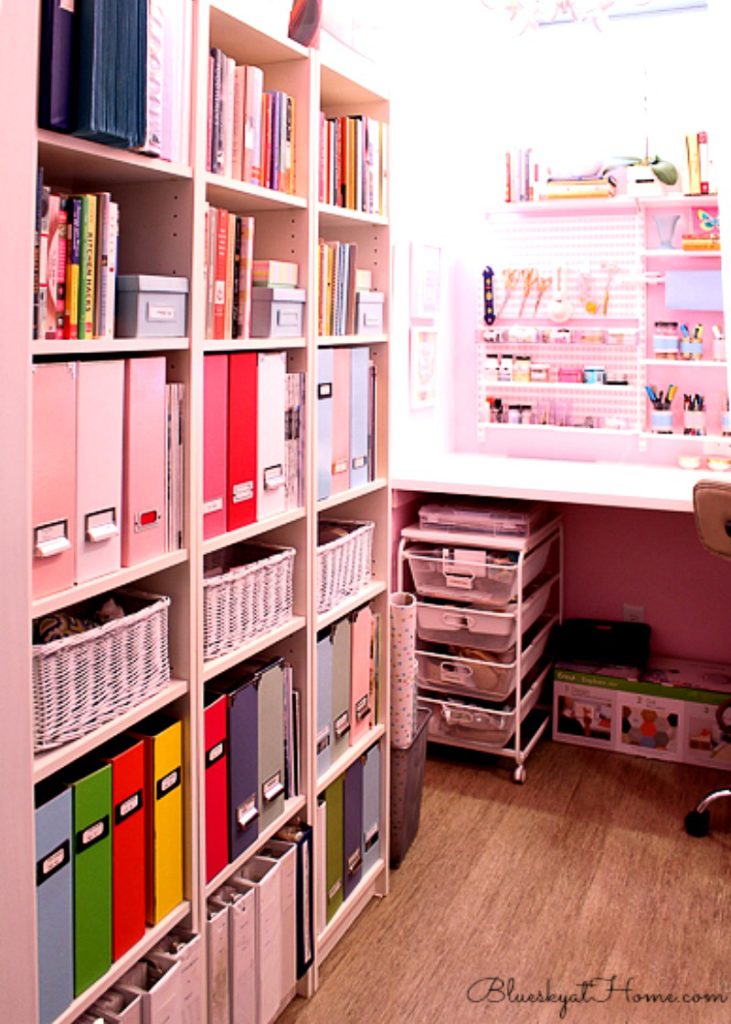 My dry erase calendar finally has a home. I use it as an editorial calendar for posts. I made the mats for the printables from more craft paper. On the side of the bookcases are 3 painted DIY clip boards for worksheets that I print.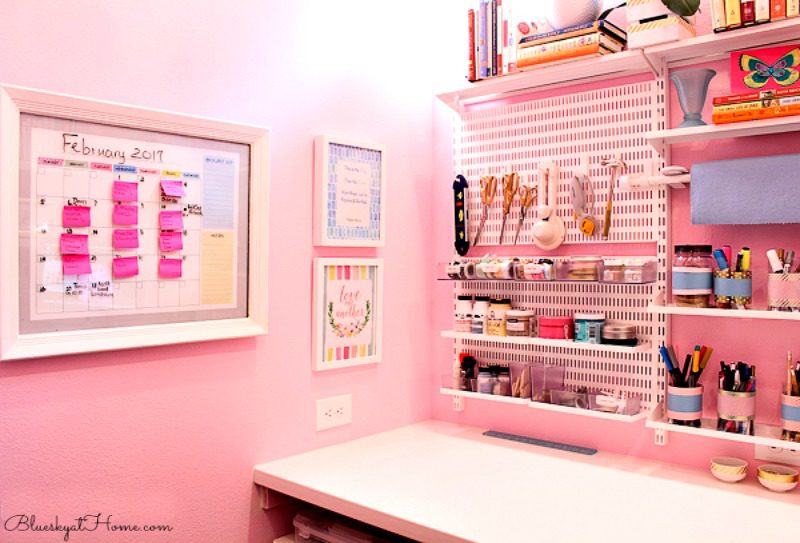 Here are links to the construction of the office from beginning to today's home office reveal ~ grab your glass of iced tea and sit a spell.
How to Convert Closets to Create an Office
How Our Office Construction is Progressing
How to Make an Office More than Just a Place to Work
How to Install Aspect Peel and Stick Tiles
Vintage Chandelier from Blah to Beautiful
How to Outfit a Small Office for Maximum Efficiency
A Vision for My Office ~ Creating a Mood Board
I hope you enjoy my home office reveal. It's fun finally sharing the completed space with you. Hopefully, you can use some of my office storage and design ideas for your own space.
Whenever you read a post on Bluesky at Home, imagine me sitting at my desk creating ~ just for you.