5 Reasons Why I Chose My New Office Floor
My new office floor has been installed. Let's face it ~ floors get a lot of wear and tear. They get walked on, spilled on and rolled on. People feet, dog claws, chair wheels. We expect them to look beautiful, stay clean and shiny or soft and cushiony. We want them to repel stains and pet hair and perk up when we vacuum or mop them or polish them. (How many of you remember being told by your mother, "don't track dirt in, I just mopped the floors!" ) Floors just don't get much respect. I've been sharing the inspiration and choices for my new office here . One of the most important decisions was, what kind of flooring for the office? I'm here to tell you 5 reasons why I chose my new office floor.
The first time I saw the flooring that we eventually installed in my office was at Haven Conference in August, 2016. I didn't know I was in the market for flooring, but I stopped at the Shaw Floor booth, saw the weathered gray flooring and immediately loved it. It looks like wood, but it's actually a laminate product. As I visited with the Shaw representative and she told me the features of the flooring, I knew it would be a flooring choice worth checking out for an (in~my~dreams) office. I asked for a sample to bring home.
5 Reasons Why I Chose My New Office Floor
Back home, I researched the flooring on Pinterest and Google. I found a local distributor on the Shaw website and made a visit. Although they didn't have any of this type of Shaw Floor in stock, they showed me pictures, and found the name of the sample color and style on their retailer website. Once I knew the square footage, they would send someone out to measure, order and the floors would be delivered in 2 weeks. At this point, I didn't know we would start construction.
I've received no compensation from Shaw Floors for this post. All opinions are my own.
This was my inspiration when I started researching.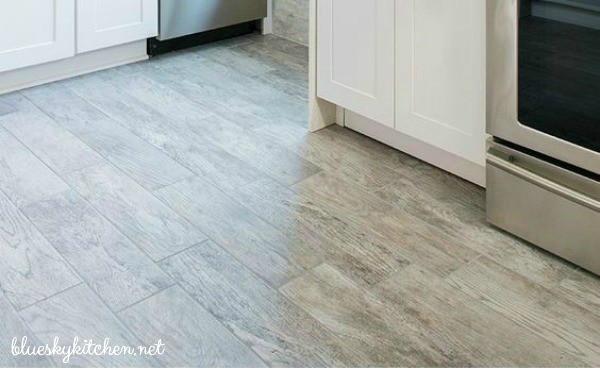 Here are my 5 Reasons Why I Chose My New Office Floor
It wasn't until the end of September that Sweet Shark said that he thought we should go ahead and build the office. There were so many choices to be made and flooring was a major one. I could have made other flooring choices, but in the end, I chose the Shaw Floor (and I would consider these 5 categories ones to consider for any floor, anywhere in your home) for these 5 reasons.
Durability
A floor has to last and be able to withstand wear and tear. Although my office would not be subject to high traffic ~ pretty much, just me ~ I wanted a floor that would last, be comfortable to stand on and take the rolling around of my office stool.
Beauty
Well, it's got to be pretty, right? Knowing that my office would be mostly pink and white, I wanted a gray tone for the floor and a surface that appeared to be weathered rather than smooth. Although the material is a laminate, it looks like wood, and this option fit my esthetic just right.
Availability
During discussions with our contractor about a plan for the office, I showed him the sample piece that I brought home from Haven. He was familiar with the Shaw floor products, had installed them on other jobs, and thought it would be a great solution for the office floor. After the layout of the office was complete ~ old walls torn down, new wall constructed ~ and we knew exactly the square footage we had, we could order the flooring. As it turned out, my contractor ordered it directly from Shaw (no~middle man), saving us a few hundred dollars. You can find a dealer near you at the Shaw website.
Cost
The entire downstairs of our home, except for the butler's pantry and laundry room, is hardwood floors ~ the real kind that are glued down, sanded and stained. They are gorgeous and we love them, but they are expensive in materials and installation. I didn't want tile ~ too hard and cold and not cool. Although my office is small, only about 60 square feet, the Shaw Floors were a fraction of the cost of putting in real hardwood floors. Wood was the right choice, but it had to be cost effective. When weighing the pros and cons of any product for your home, cost, location, and suitability have to be factors. The cost for materials and installation was $400.
Installation
Installing real hardwoods can take days and the weather has to cooperate (it can't be too cold or damp). After installation, they have to cure for a few days before staining and sealing. Tile can be messy with adhesive and grout and there is also a wait time. What makes installation on the Shaw Floor so easy is that it's a floating floor, called VersaLock AG: it's not glued to the floor, so there is no adhesive. The boards (which come in 4~foot lengths) are like tongue~and~groove and are easily cut to achieve the pattern you want or the size of the room. Our sub~floor was concrete, both from the original garage closet and the additional square footage we added from the garage..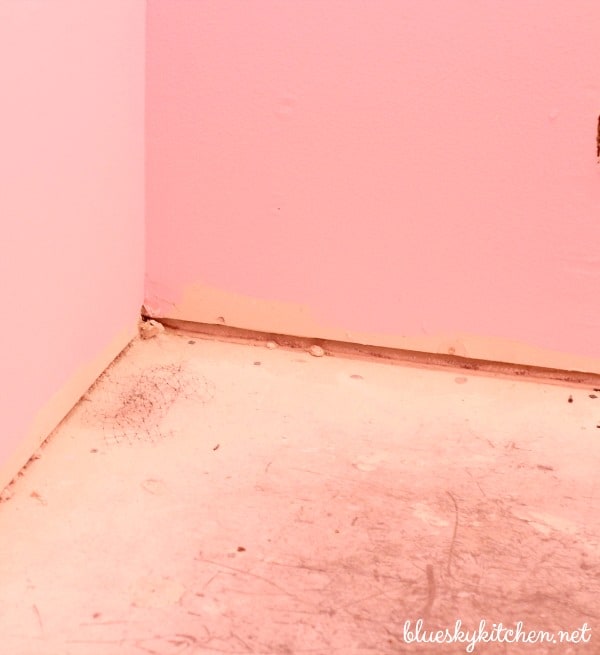 The installation of our Shaw Floor was so fast compared to other flooring options. The installers arrived about 9:00 in the morning and the first thing they did was apply some thin~set to even out the concrete floor.
I don't think it took very long to dry.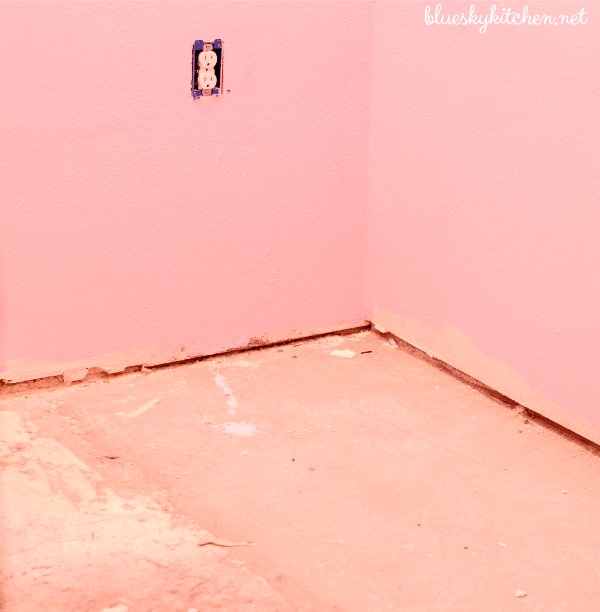 Then they laid down underlay sheeting to give the floor some insulation and comfort. I missed the rest of the installation. I had a cooking class that morning that started at 10:00. We could hear them hammering for a little while, then I got involved in the cooking class and forgot about the floors. About 11:30, I realized I didn't hear any noise coming from the office. I talked back to the office and the workers gone, and my beautiful floors were finished. So in about 2 hours, the floors were installed, no mess was left, and ready to walk on. We had 4 boards left over, so I liked that there wasn't much waste or extra product.
A seamless transition from the butler's pantry, which are slate flooring, to the new Shaw Floors in my office.
Is this floor meant for the DIYer? Absolutely! But Sweet Shark is not a get~down~and~dirty handyman. And although you know I love DIY projects and crafts (you see the other one that I did tackle in the office here.), I'm not into measuring and cutting wood planks (We don't own that type of saw.) or crawling on my hands and knees. $400 was a small price to pay to have someone else order, apply the thin~set, lay down the underlay, measure the boards and install them. But if you are that higher level of do~it~yourself person (or you are married to one), then I say go for it. Here's a good video which shows the process.
Our flooring was 12 ml thick, 5~inch wide planks and 48 inches long. There are so many different colors, widths of planks, thicknesses and lengths of planks to meet whatever look you want or level of durability you need or the price~point you want.
I hope you like my new floors. I can roll my stool across them and never have to worry about wearing them down or scuff marks. I"m so glad that I stopped by the Shaw Booth at Haven. It was a match made in floor heaven.