Santas and Reindeer Shine in Christmas Tablescape
I'm so excited to share this Santa and reindeer Christmas tablescape with you. Setting the table and creating a warm and inviting space for friends or family to gather during holidays is a special thing.
Whenever people are gathered around a table, whether it be simple and rustic or a formal antique or even a campfire, we come together for hospitality and companionship (not to mention food). It's a beautiful thing ~ one that makes us uniquely human. This Santa and reindeer Christmas tablescape is a beautiful thing.
The vision for this Christmas tablescape was simplicity, using a softer texture with snow~tinted garland as the green foundation of the centerpiece. Gold and silver would be my neutral palette and Santas and reindeer the characters in this winter scene.
Santas and Reindeer Shine in Christmas Tablescape
The idea for my Christmas tablescape actually began with a leftover piece of garland.  We had hung all the garland (the mantle, the staircase, Sweet Shark's bar, the banisters and more) in our house the Friday before Thanksgiving.
It really takes 2 people to get it up and fluffed. (I mentioned this in the post Decorating the Mantle with Lights and Garland.) The day after Thanksgiving, after packing up all those decorations and unpacking the Christmas boxes, I discovered this one piece of garland with no place to go. Since designing my Christmas tablescape was on my mind, the garland seemed like just the thing to get me started.
The Garland for my Christmas Tablescape
This post contains affiliate links to products that I used in the making of this Christmas tablescape for your convenience.
I wanted my Christmas tablescape to have a softer feel this year. I thought a white snowy look would give this look. I immediately ordered spray snow from Amazon and it arrived a couple of days later (The garland wasn't the only thing I used it on). My HomeRight small Spray Shelter was still up from making my JOYFUL sign, so I thought it would be the perfect place to spray my garland.
I used about 4 light coats, turning the garland over and over until it was covered on all sides.
TIP: light coats are better than heavy coats, just like spray paint. Be sure to let each coat dry thoroughly. I let it dry at least 30 minutes between coats.
Santas and Reindeer Join the Christmas Tablescape
I laid the garland on the center of my table, giving it a bit of a serpentine shape.
Next came 2 Santas which we've had for a long time and 3 new knitted reindeer which I found at Joann several weeks ago. I thought they were so cute and that I would definitely find a place for them ~ which I did! They were $1 apiece. Wish I had bought more.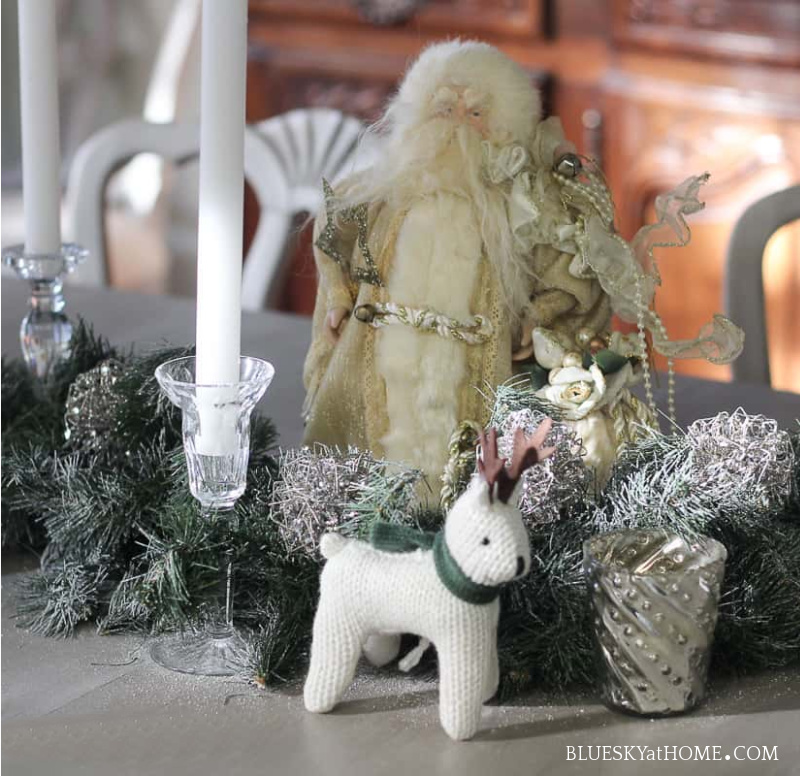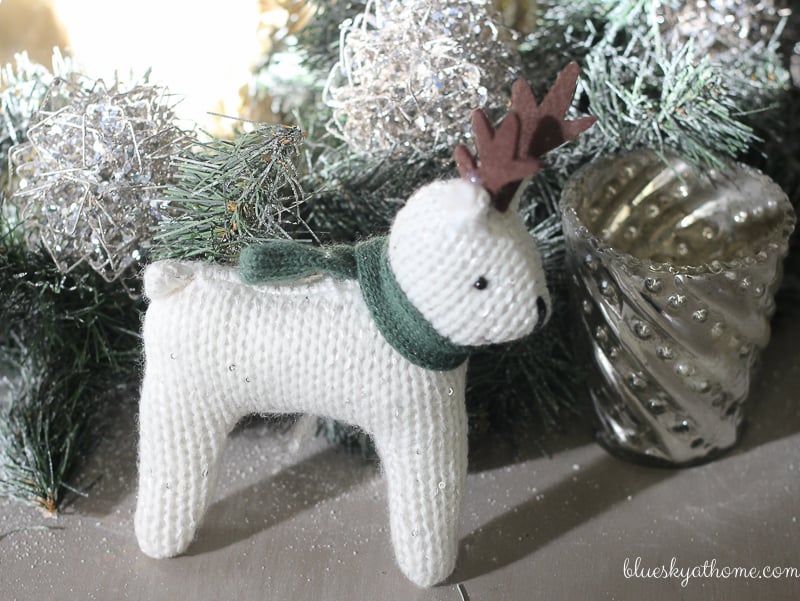 Candlesticks and Votives in the Christmas Tablescape
I added crystal candlesticks with white candles and silver votives ~ you have to have candlelight for a stunning Christmas tablescape.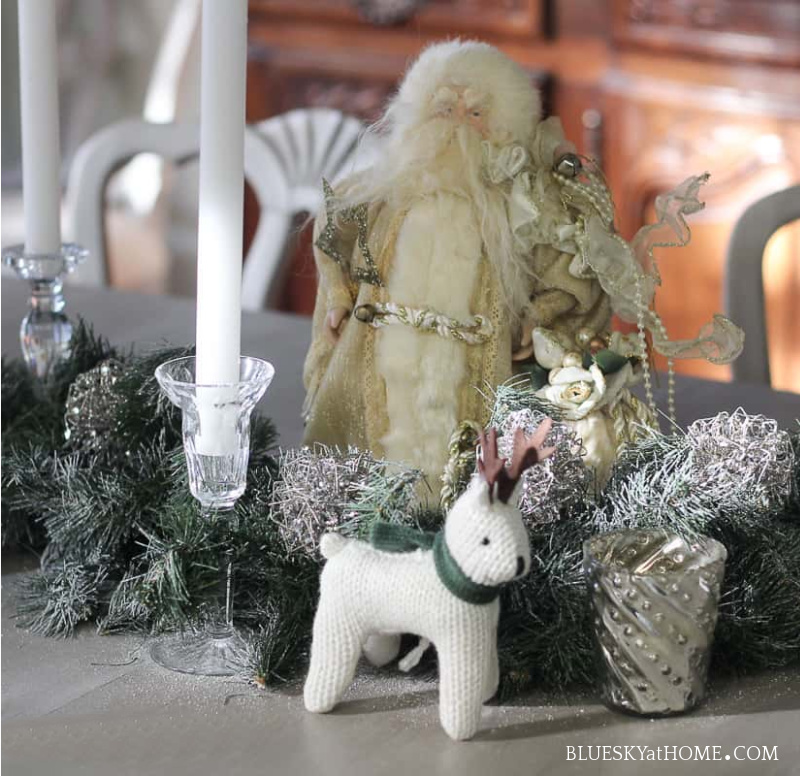 I love this Santa with his gold belt and white fur coat.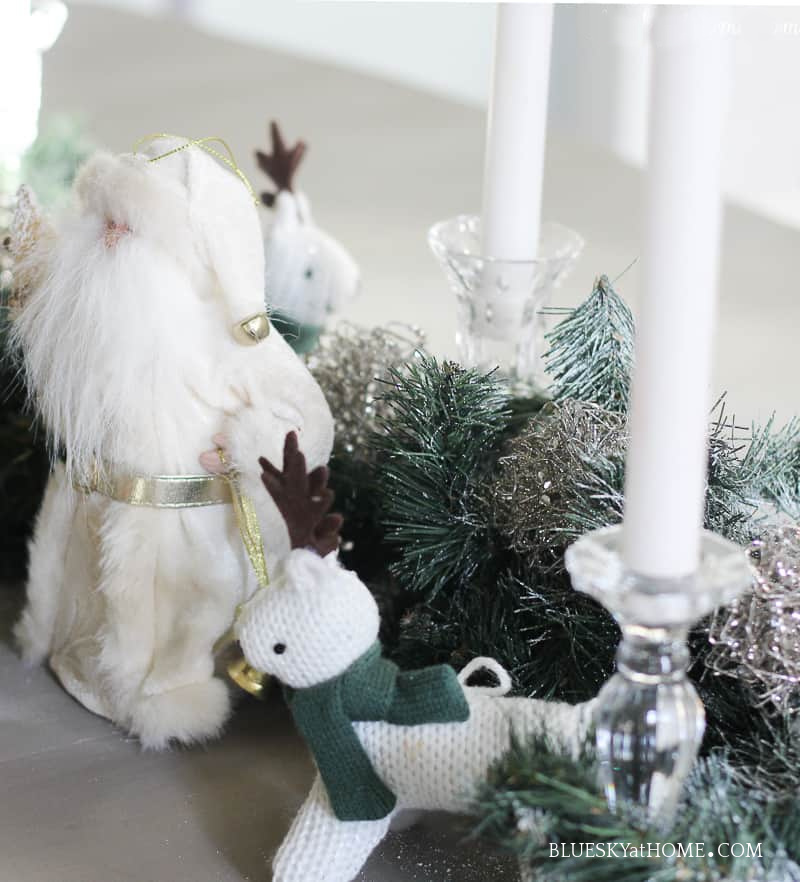 For more silver and a different texture, I added these silver balls that I found at Pier 1 when I was shopping for the Fall Tablescape. At $1 each, they were too good to pass up. I bought 10 and placed them all along the length of the garland. I think they also come in gold.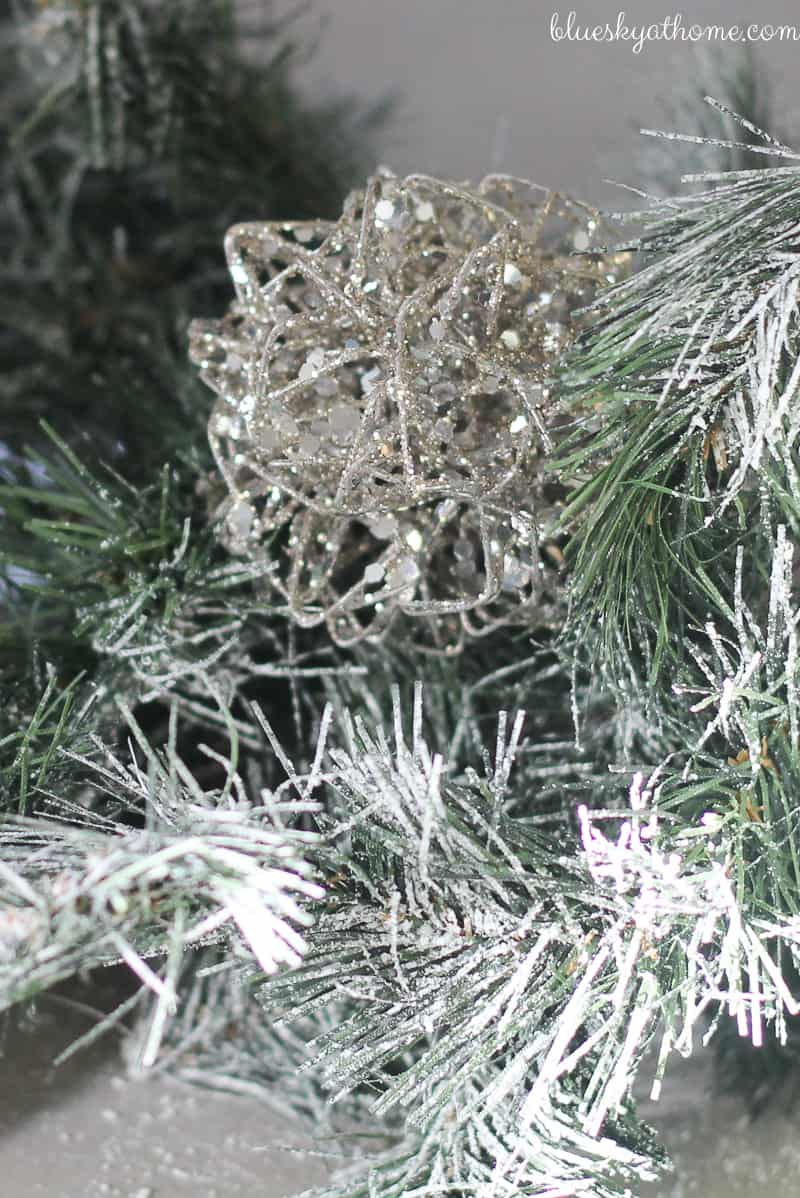 With that, my centerpiece was complete. This was one of the easiest and fastest centerpieces I've ever done. To be honest, it's one of my favorites. Not counting snow spraying the garland, it took me less than 1 hour to complete.
Place Settings in the Christmas Tablescape
I was still in love with the gold beaded placemats from Pier 1 that I used in my Thanksgiving Tablescape so I decided they would be perfect as a base for my gold~rimmed Eternal China by Lenox.  Rather than mix in my Lenox Christmas china, I used an all~white and gold theme. The silver is Buttercup by Gorham. The soup spoon was my mom's Francis I by Reed & Barton. What do you think of my little soup cups? There's a story behind those.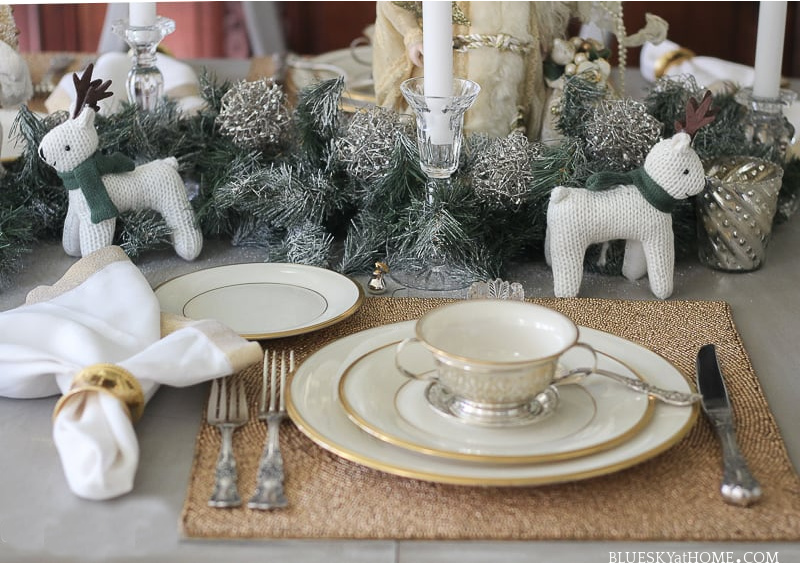 Several years ago in New Orleans, Sweet Shark and I were shopping on Magazine Street (a DO-NOT-MISS if you go to New Orleans) and dropped in one of our favorite shops, As You Like It, a silver shop.
Browsing around I found these amazing soup cups in our Eternal pattern. And they were nestled in the silver holders with 2 sweet handles on a little saucer. Well, I couldn't pass those up so we had them shipped home.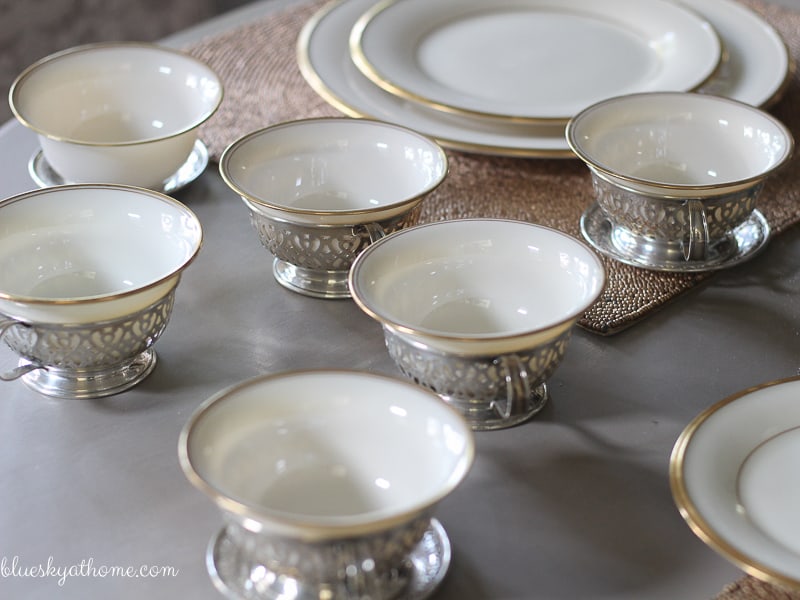 The little saucers are monogrammed. I know there has to be some tragic Southern story behind why someone would sell them (Jilted at the altar? Family business failed? The Yankees were coming and they had to be buried with the family treasures?) O.K. I know that's not a possibility, but it sounds good.)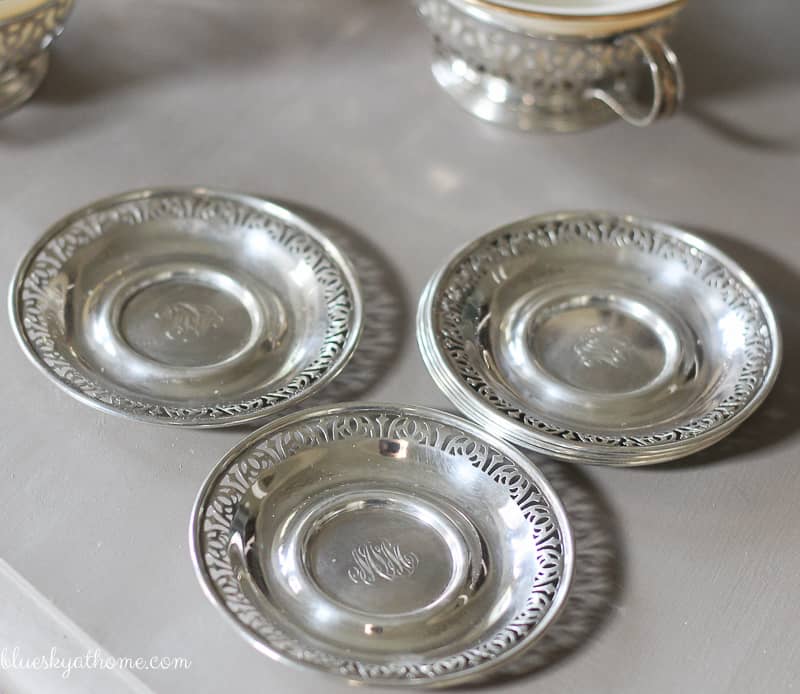 I added some of my salt cellars because I love to use them for a formal dinner. And if this is a formal dinner, then place cards are in order. I mixed my gold and silver ones ~ apples and pears.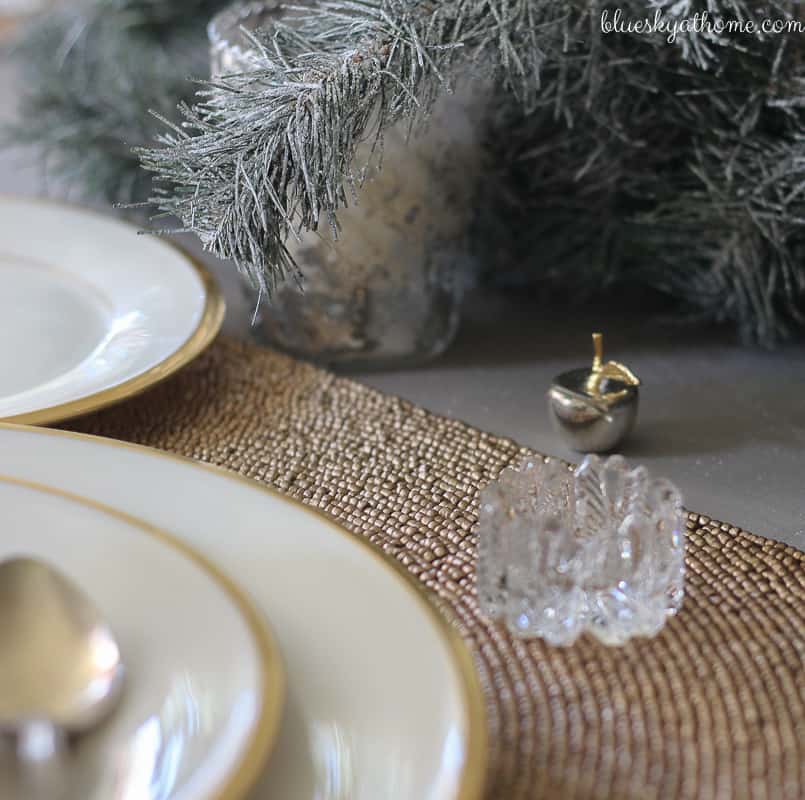 I also used the same gold napkin rings as the Thanksgiving Tablescape because they were just perfect for my gold and silver theme.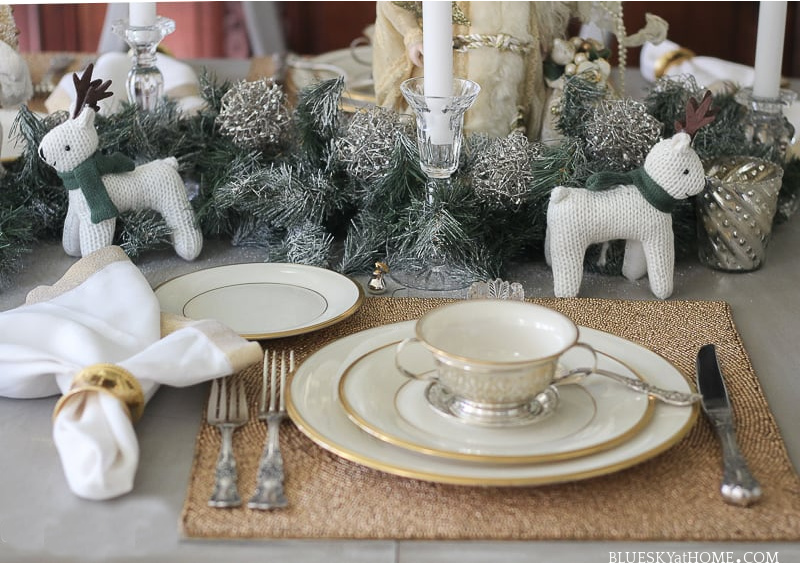 Here's where I went rogue. Instead of our good crystal glasses, I used these, just for fun.
$1.00 at Dollar Tree! Couldn't resist. I bought 6, but I know I should get more for entertaining. I hope there's still some available.
The Rest of the Dining Room
On our commode, I created a vignette using the tray from my mom's silver coffee service, silver~painted pine cones, and the pretty boxes in silver that I made for last year's Christmas tablescape. Some more silver votives and silver ornaments (Box of 50 in assorted textures and colors at Target.)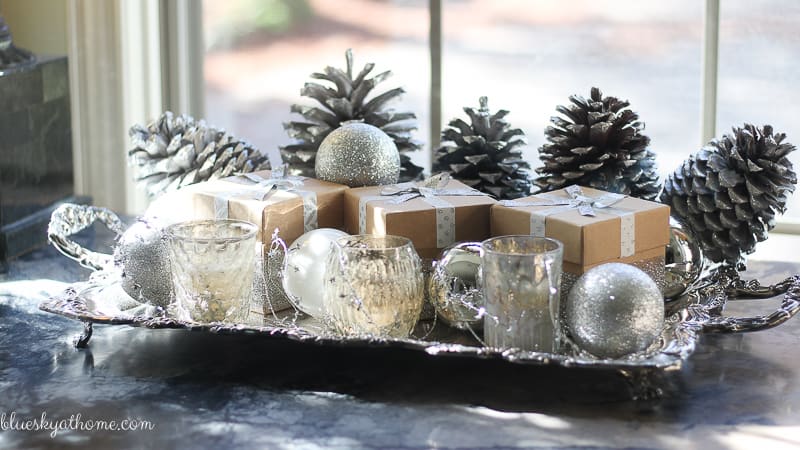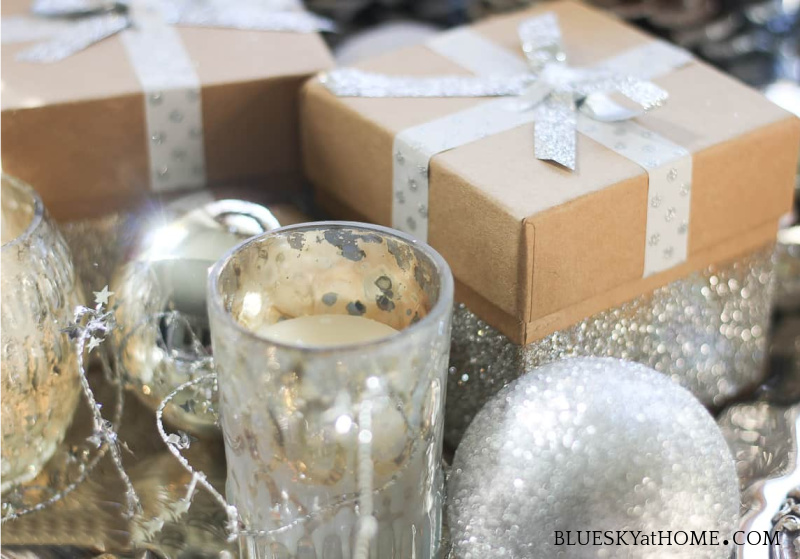 Christmas Tablescape at Night
The snow-flaked garland I bought 2 years ago on drastic after~Christmas sale decorates our vasselier, embellished with bows, icicles, and other ornaments. Our beautiful chandelier always reminds me of Cinderella's ball.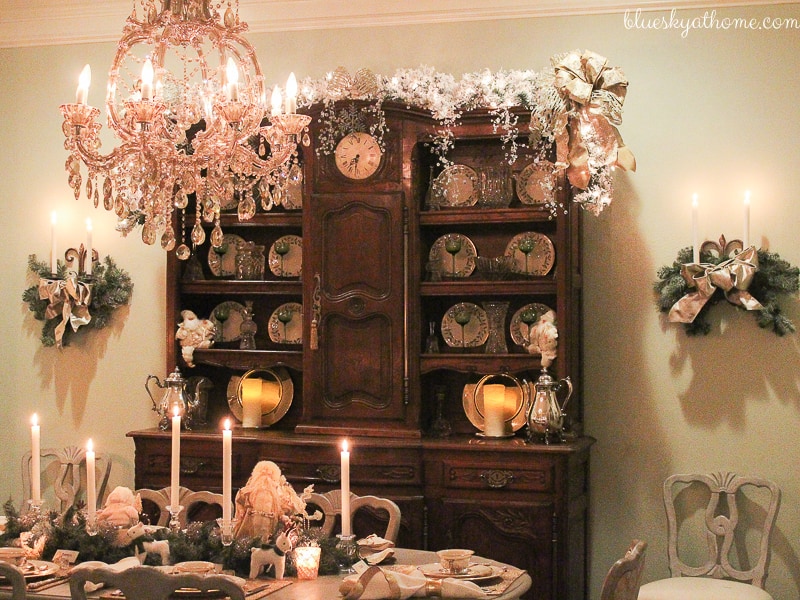 On the vasselier, I placed some of our Lenox Christmas china, a couple more white Santas, and 2 candle pillars backed by gold chargers to reflect the light. The green aperitif glasses belonged to Sweet Shark's mother. Some crystal pieces and the silver coffee and tea pitchers add more sparkle.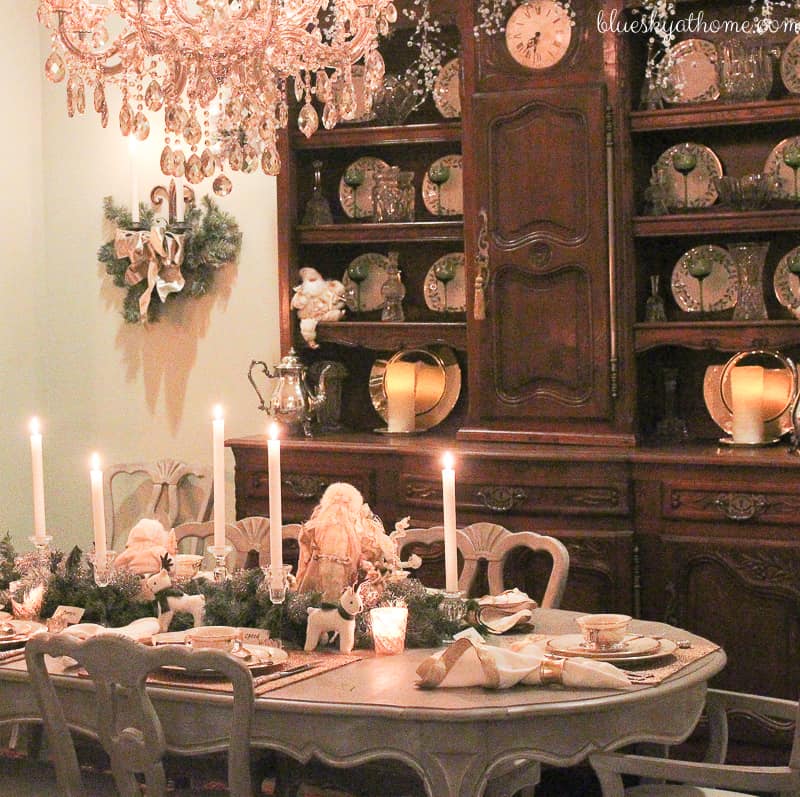 I used a bit of ribbon left from last year to tie on our sconces. These are candles I don't want to forget to blow out!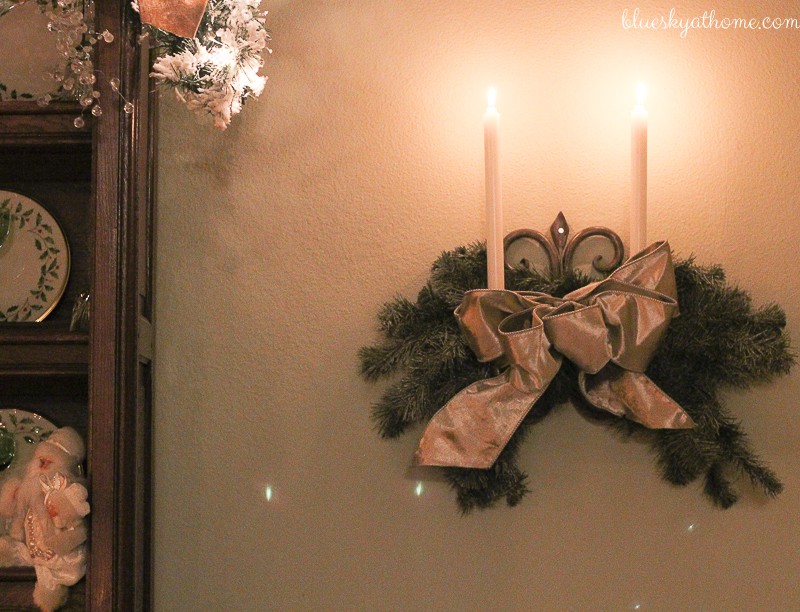 With the candles lit, the dining room takes on a magical look.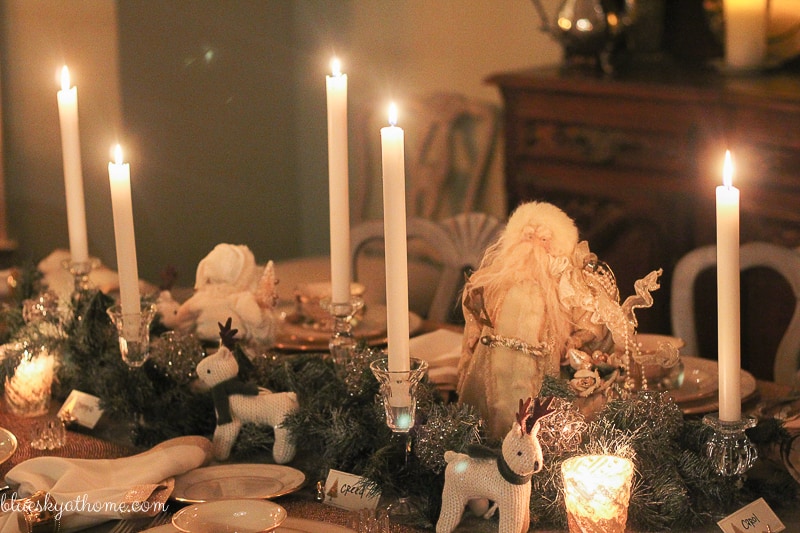 I added 2 wreaths with lights to the bay windows to give balance to our large wreath. The whole setting casts a warm glow on the room.
We'll be hosting a Christmas party this coming weekend and I'm so looking forward to sharing our Santa and reindeer Christmas tablescape with our guests. But you saw it first here. Now I have 3 wishes for you.
Have a Merry Christmas.
Have a Happy New Year.
Please PIN this Christmas tablescape!