Living Room and Kitchen Christmas Decorations
Welcome to the final day of the Christmas blog hop bonanza; from sharing my Christmas Tablescape to home decor and Christmas trees, it's been a winter wonderland for sure this week. After showing you the front of our house, today I'm sharing our living room and kitchen Christmas decorations.
Our living room and kitchen Christmas decorations take on a bit more casual theme than the entry, dining room and bar. This part of our house is larger, brighter and where we live (except on Saturdays when Sweet Shark watches football or golf in the bar and when I'm working in my office) most of the time. The whole house opens up back here.
Living Room and Kitchen Christmas Decorations
So, welcome to the rest of our home. The living room and kitchen Christmas decorations are waiting your approval. Be our guests.
The Living Room
When you leave our long entry hall and see the living room for the first time, I think what you see first is our huge picture window overlooking the backyard. Last year we hung a big wreath in the window and it provided such a great focal point, that it will be a tradition from now on.
It's like magic at night when the lights come on.

Last year we used the battery~operated lights that you manually turn on and off. Since once we put up the wreath (We have to get on a ladder and the sofa is in front of the window.), we can't reach it; last year we left the lights on constantly. They ran out of juice about December 20th and stayed dark for the rest of the season. This year we used the timer lights ~ much better.
The next big item in the room is our large fireplace and mantel with my new DIY JOYFUL sign. I shared how it is decorated last week, but here's one more glance. The upper mantel lights are also on a timer.
It looks much better with the fireplace on.
To the left of the sofa, I placed a small round flea market table. For awhile it was in Sweet Shark's bar, but when we moved the sofa table from behind the sofa (a story for after the holidays), I needed another place for a lamp and it fit just right in the space. On it sit 3 little felt birds that I bought last year at Wisteria. (Last year they were in the dining room.) I like that their blue goes well with our aqua sofa.
On the coffee table I place 3 more objects. You may recognize this awesome vase with the wood bead handle from my early fall home tour sponsored by Kirkland's. I love this vase (so do 5o,000 other bloggers); it's so versatile and natural looking. Around the candle, I filled it with small gold, bronze, and silver (Hobby Lobby) Christmas balls. Then I wrapped the gold lights from Pier 1 that I used back for our Fall Tablescape. On top of the lights, I used a very long strand of gold beads. These lights are on a remote.
I love the magical glow they provide when they reflect off the glass of the coffee table.
Next to the vase is our Santa and reindeer. Sweet Shark's mom gave this jolly fellow to us years ago for Christmas and I treasure it.
The 3rd item on the table is a faux tree that I've used over and over for years. In the past I've put it in a red vase, but this year I used a galvanized pail with a piece of florist foam in it. I cut a piece of gold fabric (cut from the same runner that I used for the entry trees) secured with a rubber band around the pail. It has a strand of lights on it (Doesn't everything have lights?) and various ornaments already on hand. The gold star on top has been around forever.
A few other Santas found a spot on the other end table.
I have really wanted some white pillows ~ the ones that look like cable~knit sweaters. I found the almost perfect ones at Target in the Magnolia section. But I didn't like the dinky tassels and they were green which didn't match my decor.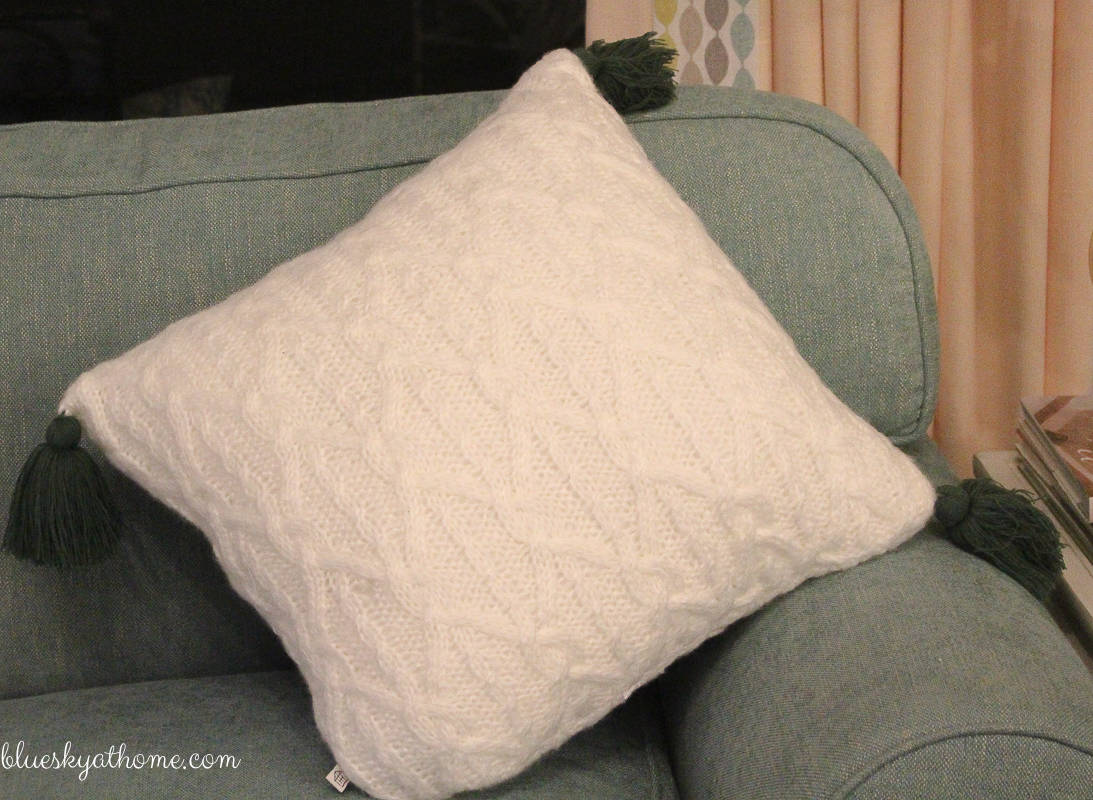 So I cut them off. Fortunately, I had bought a string of large white pom~poms at Hobby Lobby several weeks ago. I had no idea what I would do with it, but it was the perfect thing for my pillows. I just cut off 8 pom~poms and sewed one on each corner. Much better don't you think? Joanna should have thought of this look.
And I finally finished our new Christmas blanket for the living room. I found this snowflake pattern super soft flannel at Jo~ann several weeks ago and knew it was just right for snuggling by the fire and watching T.V. I sewed the pom~pom trim around it and dramatically threw it on the sofa. You can see my "It's the Most Wonderful Time of the Year" pillow that I made last year from a dish towel.
Across the room, I gave our bookcase a more simple look this year. It was decked as usual with its garland, but I only added a small wire lantern filled with red ornaments and a gold reindeer. I left my fall~faith~family wooden sign ~ just because I love it so, but I added a bit of holly, a Santa and a few strings of light to brighten it up.
The Kitchen
Our living room, breakfast room, and kitchen are one large room. When you turn your head toward the kitchen, the first thing you see is our stove vent so it gets its own wreath (lighted, of course.) with a beaded garland.
I didn't change this setting from last year, but the wreath did get a new bow with a ribbon that matches the bows on the banister. You can't see the battery pack when you are standing in the kitchen.
In the glass~fronted cabinets on each side of the vent, I removed a bunch of dishes so I should display some of our Christmas serving pieces and glassware.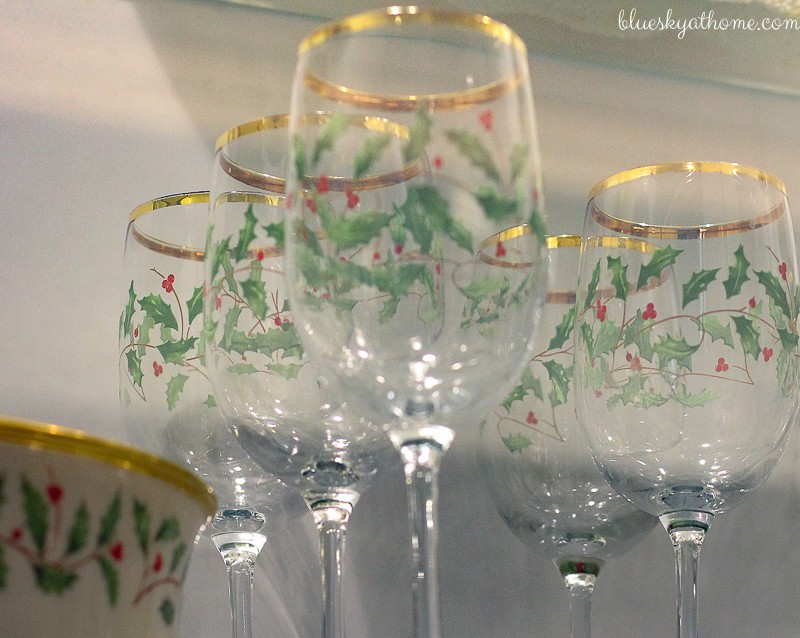 On the counter, my vintage cakestand got some Santas and red dishes. The olive oil decanter was a hostess gift last year from my sweet sister~in~law.
A New Island in the Kitchen
I did a bit of rearranging right before Thanksgiving. This side table belonged to Sweet Shark's mom and we've had it since we moved into our house. I painted it (of course) and made a mosaic top (I was really into mosaics several years ago.) I've never liked the top in our home ~ it came out a bit too country. And it was too small in front of our big breakfast room window. So we're trying it out in the center of the kitchen.
We've decided it's not in the way and gives more storage and counter space ~ kind of a landing space ~ plus a needed focal point. I've got big plans for this baby after the holidays. It is sitting on our Christmas rug that we had custom~made last year in New Orleans. We love her work and we now have 3 rugs from her.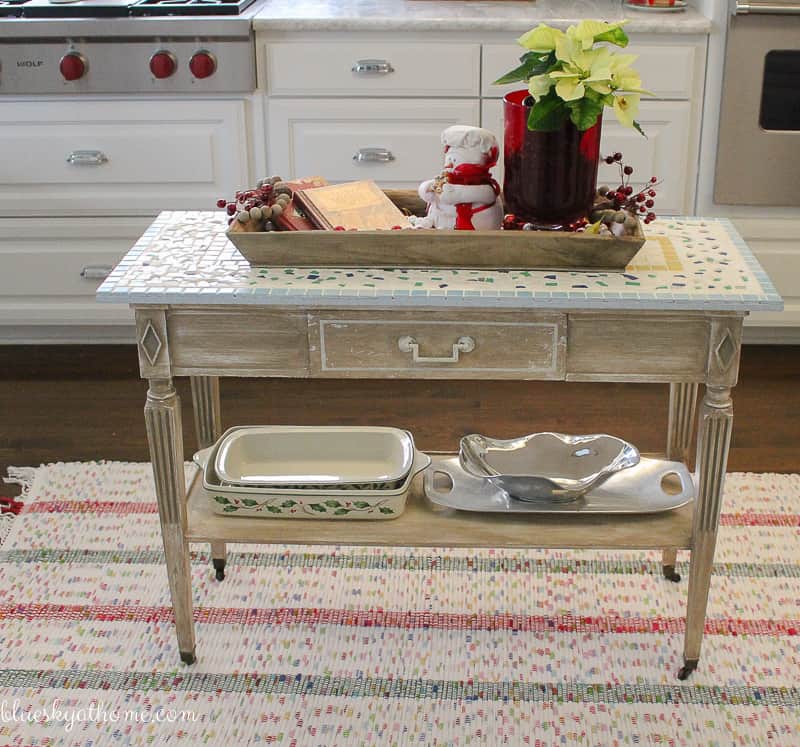 You may recognize this wonderful wood tray from Kirkland's. I think everyone in blog land has one. It's such a versatile piece with a warm and organic feel. I've had that little snowman chef for years. One of the books is titled "Mary Cratchit's Recipes". Another bag of red and white ornaments (Hobby Lobby) fills the space with white poinsettia in a red vase.
Candy/Donut/Cookie/Hot Cocoa Bar
When we moved the side table into the kitchen, that left a big vacant space in the big breakfast room window. We moved the much larger sofa table into the space and it looks so much better.
I planned to put my Dicken's Village there, but knowing that we are having company this weekend, I decided that it would be better used as a sweet treat and hot cocoa I did add a few of my Dicken's figurines. After the party, I'll add the rest of the Dicken's Village (That's a 2~day job.)
The Christmas Tree
And, at last, the first Christmas we were in our home, we walked around and around and could not find a place for the tree. After a few days of wondering what to do, we decided the best (and only) place was the breakfast room. That required removing the table (delegated to the garage). It worked great, but after the first Christmas, we raised the chandelier a few inches because a few tall friends bumped their heads!
We have a tradition of choosing our tree the Sunday after Thanksgiving. Sweet Shark does the lights (Fine with me; he does a great job.) and we both add the ornaments over the next couple of days. Our traditional ornaments are years and years of silver bells and balls and ones we've bought on trips. As each kid graduated and got their own places I packed up their ornaments for them.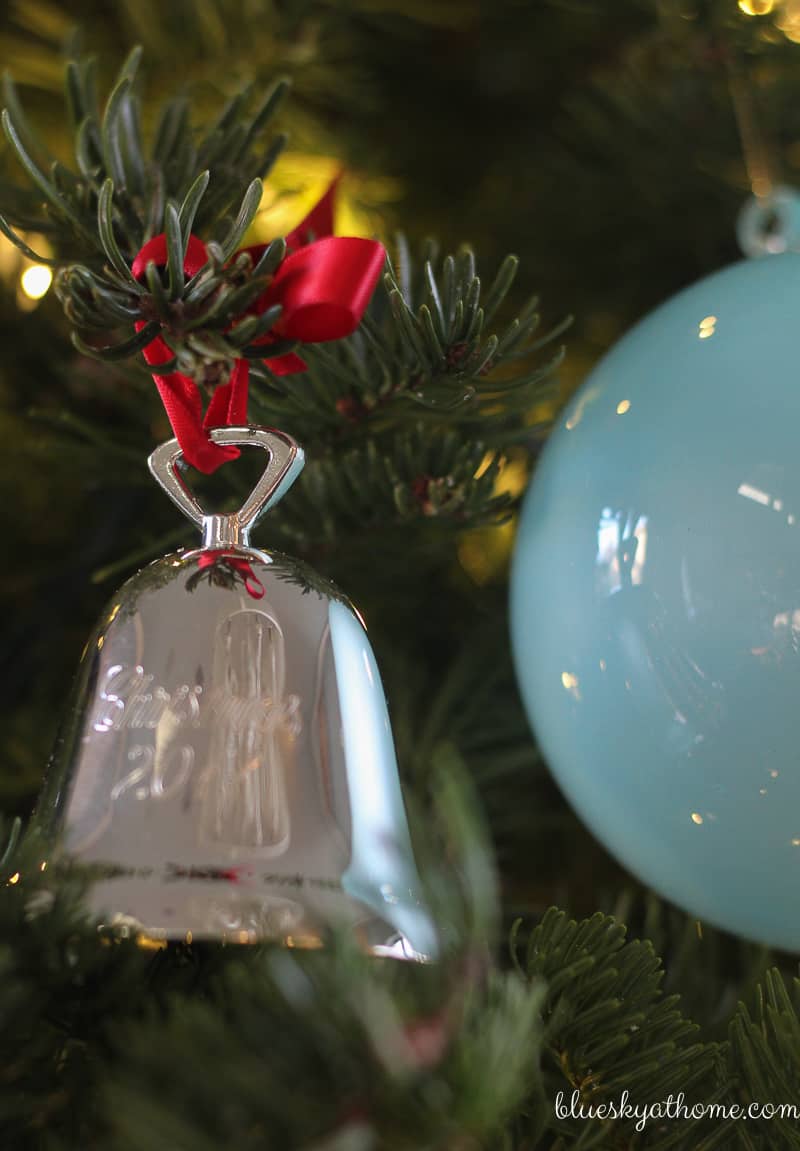 After adding all the ornaments (a week ago), I stepped back and evaluate. I'm an obsessive "tweaker". It was really pretty, but something was missing.
Something white to fill in the dark spaces. On Monday at Jo~ann (I went there for napkins.) I saw these big white flower "balls". The large ones were $12.99 ~ too pricey. Smaller ones were $4.99. But, hot diggity, they are all on sale for $1.99 each. I grabbed all the large ones (9) and all the small ones (5). At home, I embellished them a bit (I'll show you what I did in another post.). I just pushed them in among the branches. I think they add the white pop of color the tree needed.
That was better, but still not the vision I had. More tweaking was needed. I wanted more white. Too late for spray flocking.
Then I read an idea from Amanda at Sincerely, Marie Designs on the Home for the Holidays Blog Hop. She used pillow stuffing to look like snow. Pillow stuffing!! I had a big bag of the stuff just waiting to be turned into snow. How brilliant. How easy. Didn't cost a cent. Thanks, Amanda for the great idea. Don't be surprised if I get some more and tweak a little.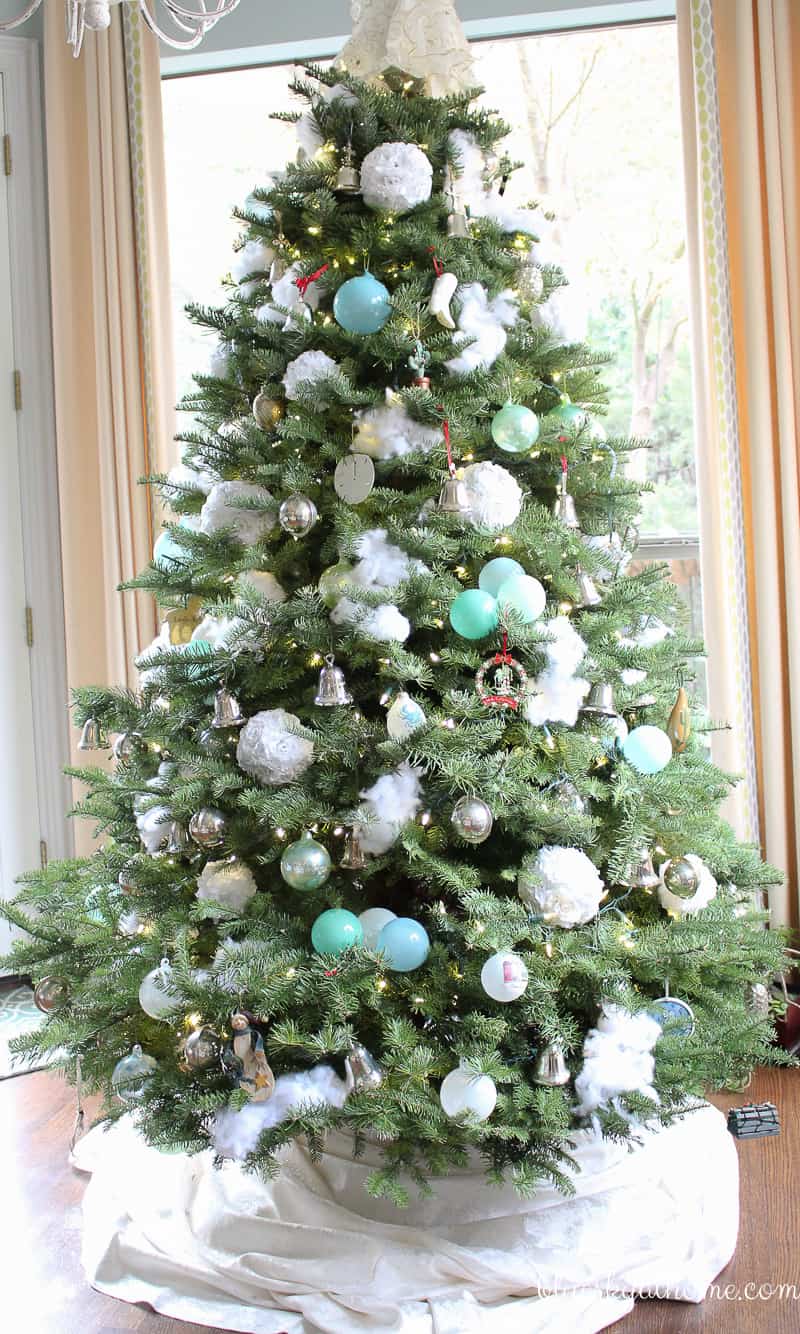 Still not through tweaking. We don't have but a few presents under our tree. Since 3 out of 4 kids and 3 grandkids live out of town, all our gifts are mailed. It looks a little bare under there. I may not have kids at home, but I have the things they used to play with and read: Christmas books and stuffed animals came to the rescue.
Much better. I think I'm through tweaking ~ at least for now.
Here's our tree lit up at night. Because of the 3 windows around it, we get a beautiful reflection. Sometimes it looks like there are 5 trees outside. I obviously took this picture before the final tweak.
I hope you enjoyed the tour of our living room and kitchen Christmas decorations. It's been such a pleasure to share with you and all the other bloggers on this week's bonanza of Christmas blog hops.
Have a wonderful weekend. Snuggle up and catch up on the fabulous Christmas decor from all our tours.