How to Create a Spring Tablescape with Bright Pastels
I can't wait to show you how to create a spring tablescape with bright pastels. I'm so excited because I love creating tablescapes for luncheons, dinners and any party I can think of. And what better way to celebrate the first week of spring literally (on the calendar) and actually (Our North Texas temperatures are in the 80's, which is above normal even for Texas.).
Tulips and daffodils are blooming. The leaves of our hydrangea and peonies are growing ~ yay! our peony came back. And wonder of wonders, even our Meyer lemon tree, which we thought had died after a hard freeze back in December, is sprouting new foliage.
Because I wanted the prettiest view and brightest light, I chose to create my spring tablescape in our breakfast room, which is surrounded by windows. Although there is not much color outside ~ the only color besides green is our pink tulips ~ right now the breakfast room offered the best ambiance for a girlfriend lunch theme. I wanted my spring tablescape to be inspired not by the colors (or lack of) that are in the backyard now, but by the colors that will soon be there ~ pinks, yellows, aqua, blues, even a bit of orange, and beautiful green foliage. I wanted the bright pastels that are my happy colors.
How to Create a Spring Tablescape with Bright Pastels
I did have a few pieces I knew would be in my pastel tablescape. This tea~pot, recently given to me by a good friend, was the first on my list of tablescape must~haves. All I had to do was fill it with lovely pink roses. (I'm going to show you some "behind the scenes" preparations in a later post.)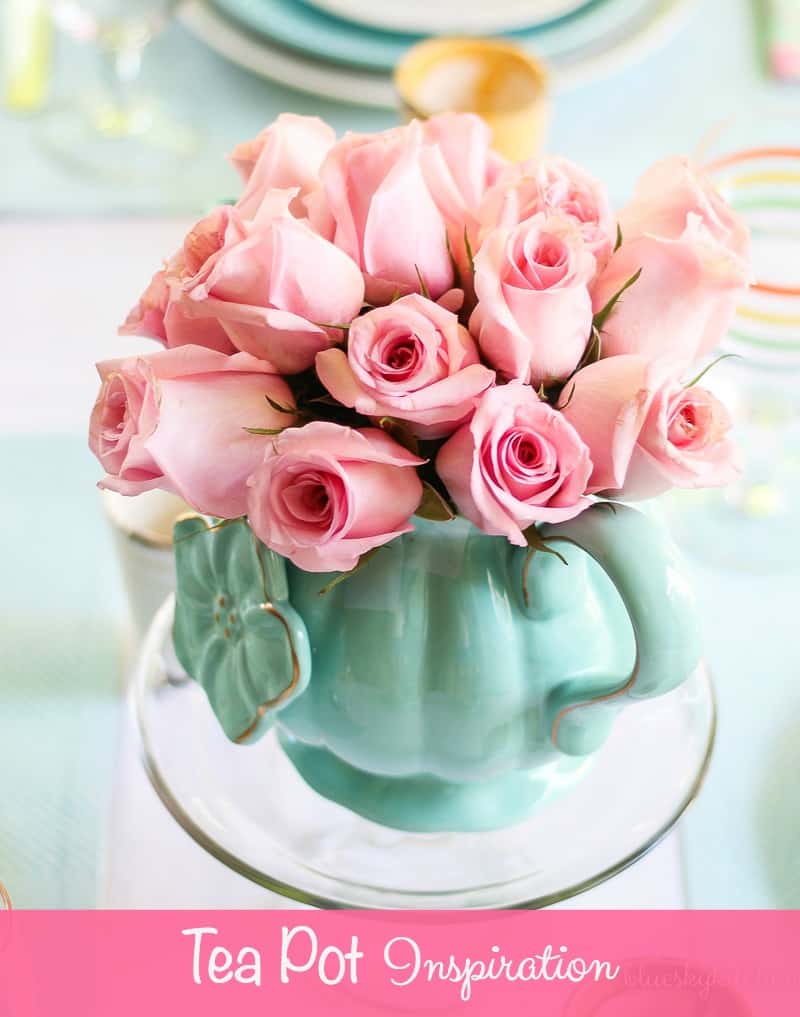 Next on my list of tablescape necessities were my pastel stripe Fiesta glass that I found in a local antique store a few years ago, There were only 7 with a pitcher and so I guess that's why I got them for a great price.
Because our breakfast room table is an antique pub table with a brown stained top, I first covered it with a white tablecloth to give me a neutral background to layer placemats on top. I have had several shades of round woven bright pastel placemats for quite a while, but after trying several combinations, I decided I needed new ones. During my trip last week searching for lamps, pillows, and planters, I found these aqua placemats with a diagonal pattern at Home Goods. I brought them home and was thrilled that they complimented the aqua tea-pot just right. Then I could use my multi~colored napkins that I made several years ago from fat quarters. Our white Villeroy & Boch everyday dinner plates would serve as chargers. I used my mother~in~law's mother of pearl silverware.
Then I needed a salad plate. First I tried these gorgeous pink hibiscus plates that I had seen at Pier 1. I loved them, but somehow they just didn't seem to fit the color scheme and I couldn't set a dish on top.
On the same trip to Home Goods, I saw these awesome plates from Portugal and they are a better fit. I had planned to use these pink sherbet glasses (another antique mall find a few years ago), but they were just too light in weight and color.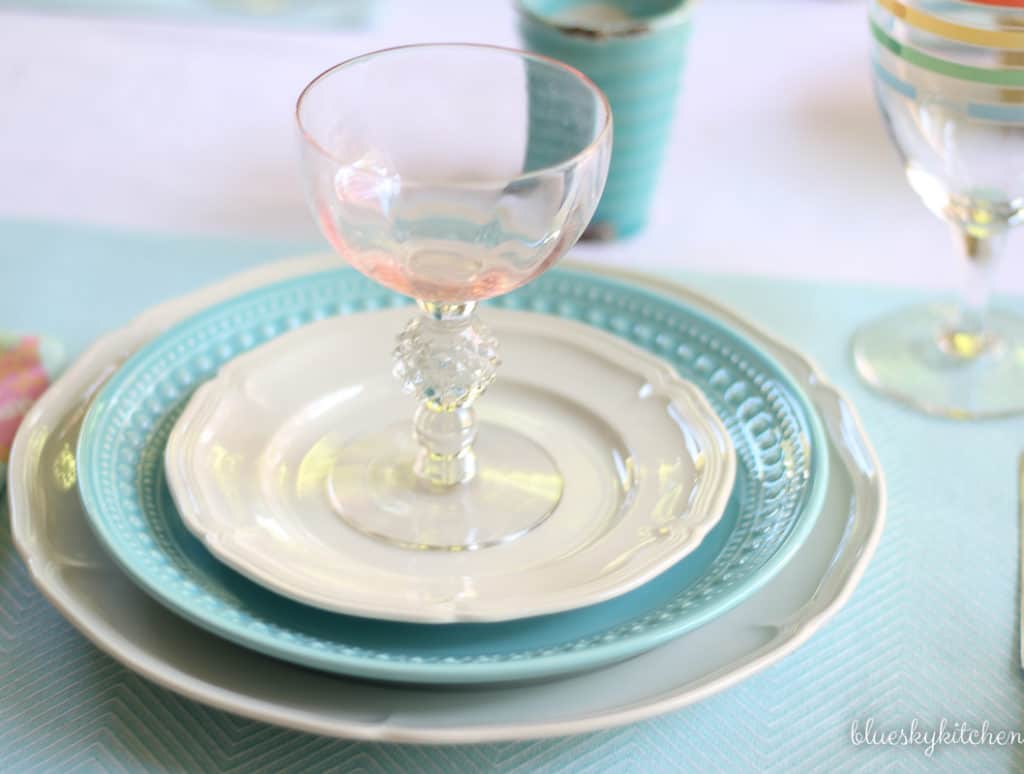 Looking around the kitchen, I spied one of my favorite finds at Pottery Barn from a few years back ~ these sweet pastel cups. I have 8 in different colors. Unfortunately, i don't think PB has them anymore. These cups completed the place setting perfectly.
BIG TIP: just like with pillows, lamps, or art, sometimes you have to bring home several candidates and try them out to see which ones work the best.
I love place cards because you can be creative and add color and a fun element to a table. I used these four small ceramic glasses (antique mall find in Atlanta). The colors were just right. I cut a piece of florist foam to fit inside, filled with water and stuck a rose in. Then I made the place cards. (another DIY post)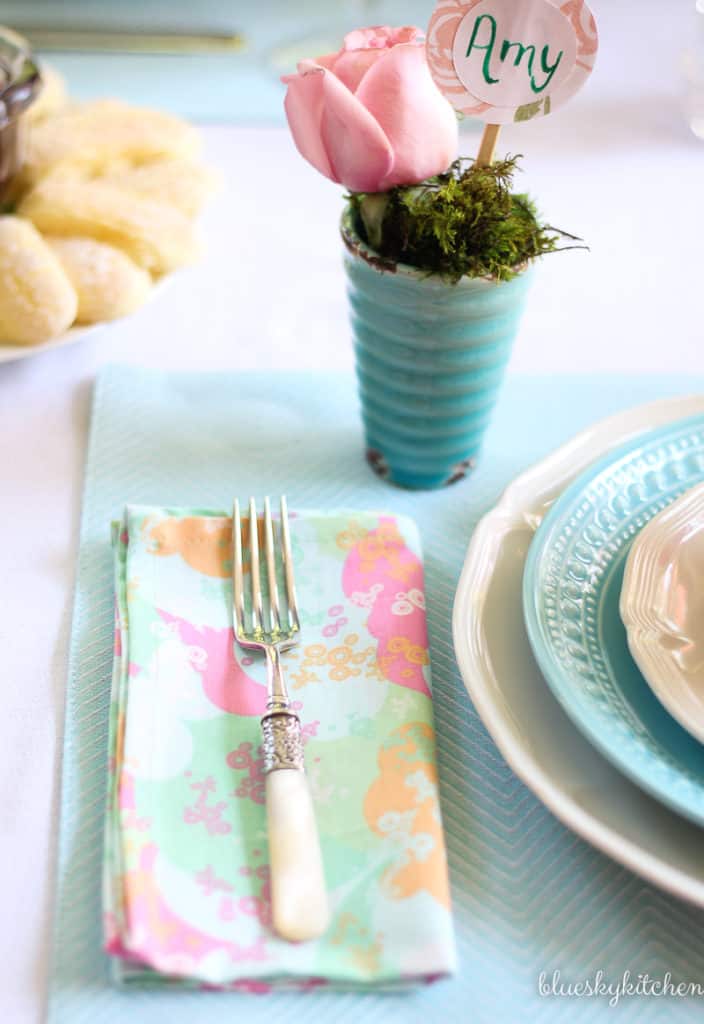 Originally, I set the tea pot on a small clear cake plate. Then I realized that I needed a place for the fruit that I planned to serve. I switched out the cake plate to a larger size and that gave me the perfect place for the fruit. I chose fruit that complimented my tablescape colors.
I added a small crystal pitcher to hold the "jeweled" picks for the fruit and another little crystal pitcher for vanilla~flavored Greek yogurt to serve with the fruit.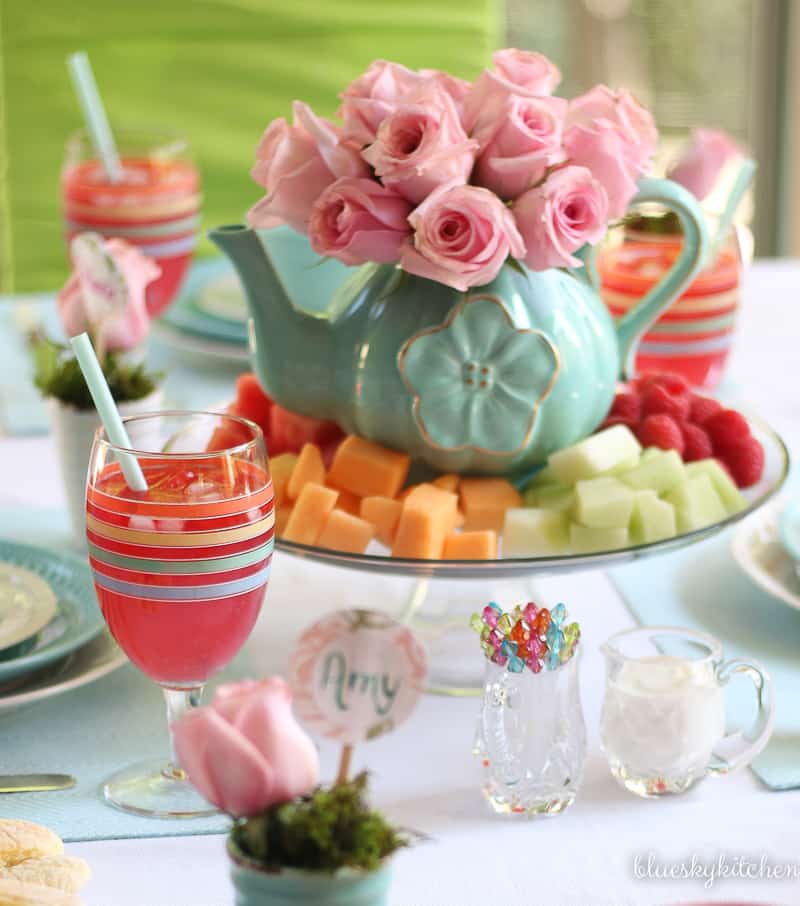 In addition to the fruit, I included some ladyfingers with raspberry preserves.
One of my favorite cookies is macarons. Where else can you get crunchy sweetness in a variety of flavors, fillings and colors? And they are just so French! I stopped into Tart Bakery Dallas a picked up a dozen in 3 colors: Raspberry, Orange Vanilla and Pistachio Crème.
AS a beverage, I chose pink lemonade, one of my favorite girlfriend drinks. If you want, you can add Prosecco or Limoncello for an extra treat. First, I made some ice cubes by adding some red food coloring to the water and using my flexible ice~cube trays from Sur la Table.
TIP: In warm weather, making ice cubes from the same liquid as your drink helps the drink not get watered down when the ice melts.
I added pale blue straws from IKEA which I already had on hand. I just cut off a couple of inches so they fit in the glass.
I also found this precious pink~and~white striped pitcher at Home Goods and I could not resist. A perfect addition to the table to serve the pink lemonade.
As a final touch to the table, I went to my closet and pulled out 4 pashminas in shades of pink, aqua, green, and blue. Tied around the chairs, they add a pop of color and softness.
I stepped away, surveyed how my spring tablescape looked, straightened a fork, moved a glass over a smidge, and declared the table complete.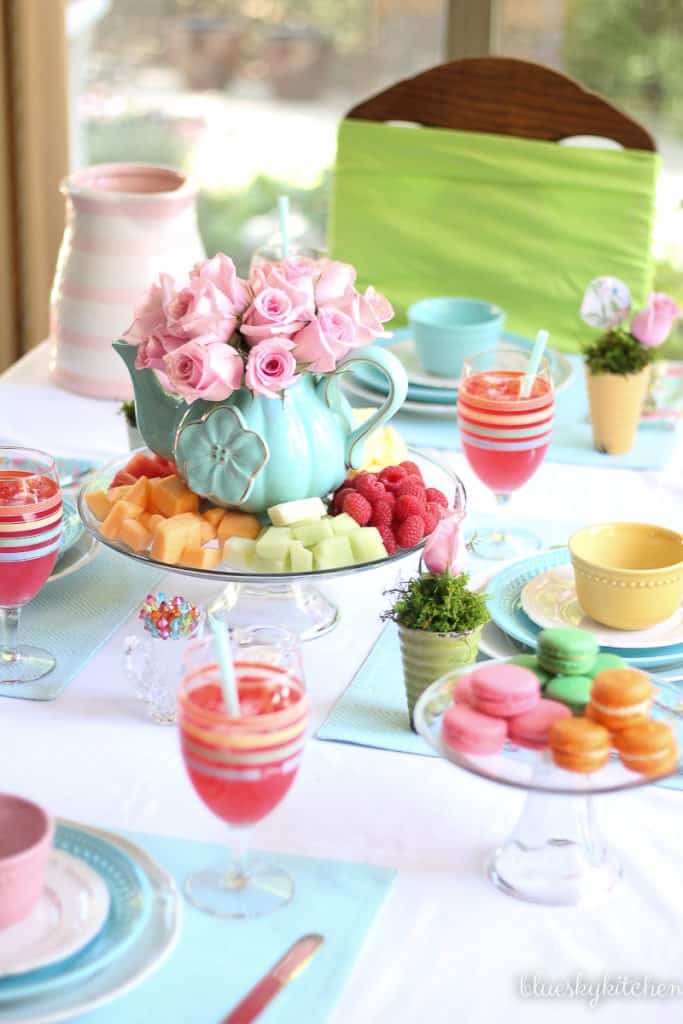 I was thrilled with the results and I love sharing with you how to create a spring tablescape with bright pastels. Pastels can be found in so many items: flowers, plates, placemats, napkins, paper, food and drinks, pashminas and ice cubes. The possibilities never cease.