Pretty Table for a Ladies' Dinner Party
I love dinner parties. They can be elegant and dressy or casual and laidback. They are the perfect way to gather good friends for good food and lively conversation. They all start with a pretty table. Here's a look at a pretty table for a ladies' dinner party.
There doesn't have to be a reason for a dinner party. In this case, there was one – a birthday celebration.
The occasion was a birthday dinner party for my friend Jayne and me. Every few months a group of friends get together and celebrate whoever's birthdays fall closest to the month.
Jayne's birthday is on June 3rd and mine is on June 13th. We split the difference and I hosted the party on June 8th. It was perfect timing to share the simple, but pretty table I styled for the event.
I intended to have the ladies' dinner party outside, but it was just a little too warm for comfort. I set the table in the dining room and it was perfect for the party.
Today is a tablescape blog hop hosted by Rita of Panoply. She's a whiz at her hostess duties. If you are joining me from Sandra at Dinner at Eight, I'm so happy that you are joining me for my ladies' dinner party.
Whenever it's tablescape blog hop time, I try to time it with an actual party I'm planning to host. Or if I'm going to create a tablescape for a blog hop, I'll plan a dinner party, brunch or lunch party. My mantra? Never let a pretty table go to waste.
Ladies' Dinner Party Inspiration for a Pretty Table
This post contains affiliate links to products used in the creation of this project. If you should order any item from this site, I may receive compensation, but you do not pay a penny more. Your purchase is greatly appreciated as it helps support the continued publication of this site.
Tablescapes evolve either from a party theme, a color theme, or items that you want to use.
You might think that this ladies' dinner party was inspired by the birthdays. But, no, it was inspired by three items that I recently bought and wanted to use.
The Prettiest Placemats
When I was shopping for our little Kentucky Derby party at the end of April, I saw these beautiful blue and white floral placements at the party store. I couldn't resist them. They are made by Caspari, the maker of beautiful paper napkins.
The placemats were in a package of 12 for $26.00. They can be wiped down and reused. I didn't think twice about purchasing them.
I couldn't find this particular style (It's called the Met collection) online, but these pretty designed blue and white placemats would be lovely.
The Prettiest Napkins
I'm not above using paper napkins for a casual sit-down dinner party, but I opt for cloth if I find the right ones.
When I saw these beautiful blue and white cloth napkins in a toile pattern, I was smitten. I liked that they were a generous 18 inches square.
They were 12 to a package for $21.99.
Really Cool Salad Plates
Since my placemats and napkins had a very traditional design, I decided to mix it up with a more modern plate. I found the perfect salad plates in a variety of 4 patterns. I bought two sets.
Now I was ready to set my table.
Setting the Pretty Table for the Ladies
I'm sure you can tell that my color scheme is blue and white for this dinner party table.
Normally, I start with the centerpiece, but I was so anxious to use my inspiration pieces that I started there.
Just FYI: I counted that there would be eight of us even though one of our group was out of town. I set the table for eight, but realized when everyone arrived that there were just seven of us.
I laid out the placemats first.
As chargers, I used my large white dinner plates from World Market. I've had these plates for years and they have been used dozens of times.
Next came the salad plates.
For silverware, I chose to use the pearl-handled set that belonged to my mother-in-law. Here is a similar set of white-handled silverware.
Some of the forks needed polishing so I used my favorite silver wipes to give them a shine.
TIP: I always get the package of three.
Even though blue and white was my main color scheme. I wanted to infuse some pops of pink. For a simple napkin ring, I made a ring with wired twine. Then I stuck in a small stem of pink flowers. I had already taken the flower stems apart for wreaths and other decorations.
I decided to add my centerpiece next.
Adding the Centerpiece
For my centerpiece, I used the blue and white "foot bath" I bought at an estate sale. I wanted a variety of colors and textures in pretty pink flowers, so I made a trip to Trader Joe's.
My flowers included pink peonies as the main focal point. I wanted a "I went out to the garden and cut these flowers" look.
NOTE: Buy the peonies as buds. See the ones in the picture below. They will open up in about 24 hours.
I used all the flowers I bought but didn't need the boxwood. I like the airy and spacious feel of the flower arrangement.
Next, I added water glasses and some of my glass coasters.
TIP: Water glasses do "sweat" so coasters protect your table.
You can also see the Delft-style candlesticks I added.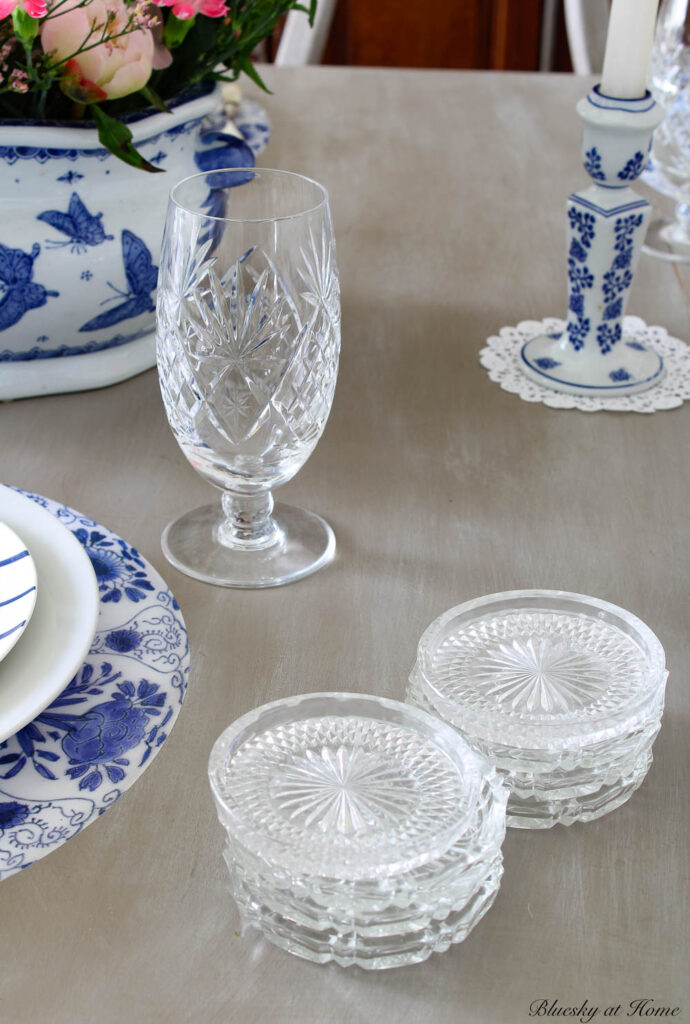 I set the napkins on the salad plate and added the silver forks.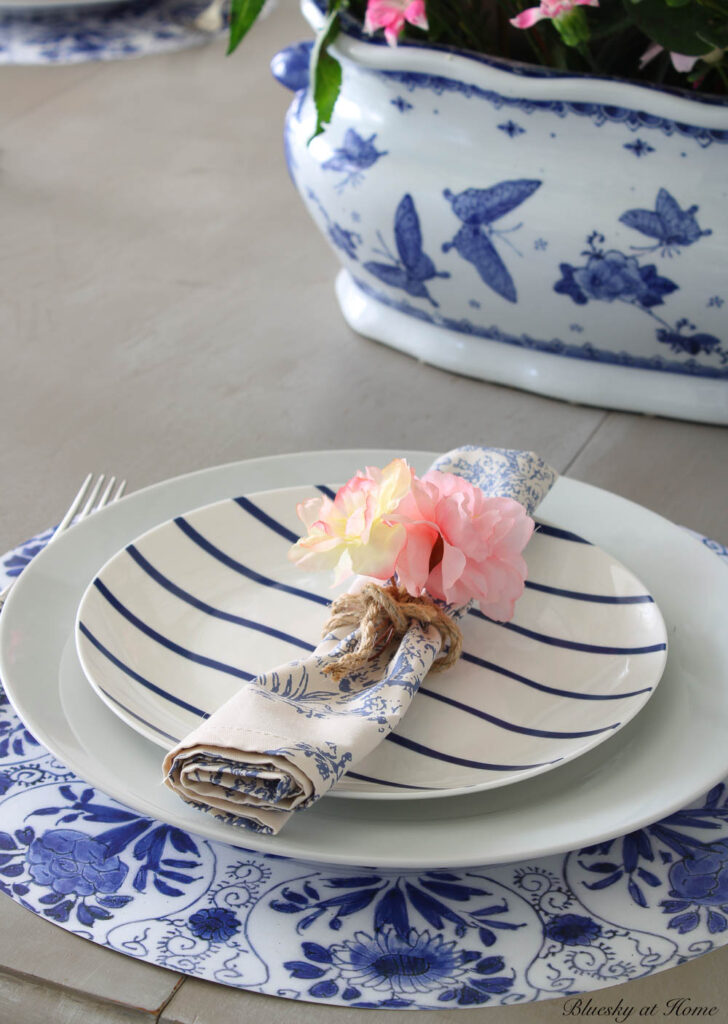 I decided to change my white candles to pink ones. That made my pink accents more impactful.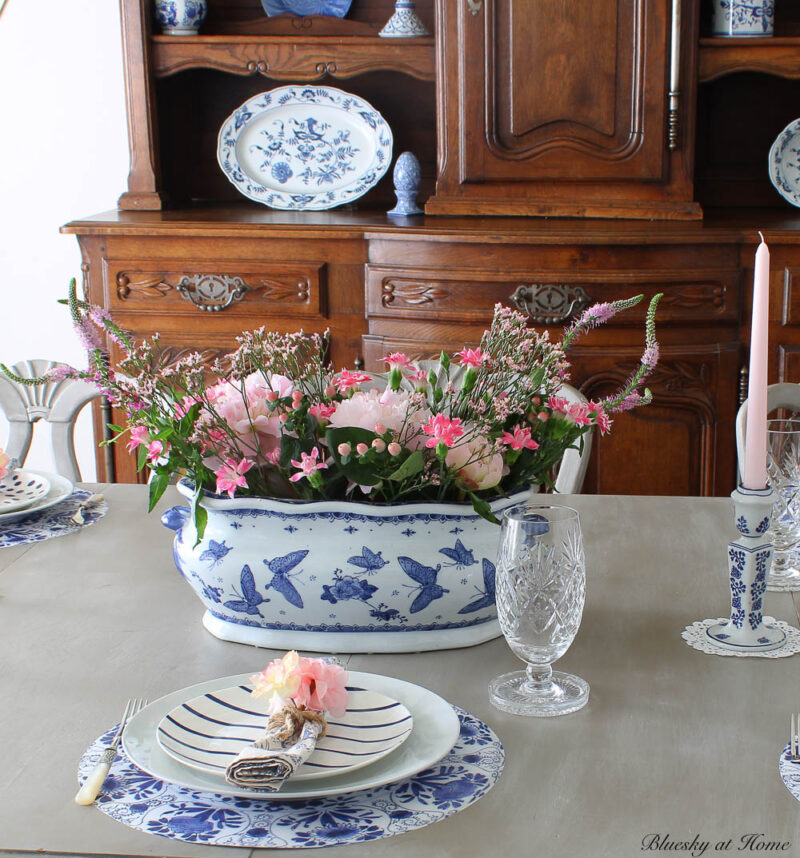 You might think I would add some "happy birthday" elements, but I wanted to leave the pretty table simple and spacious.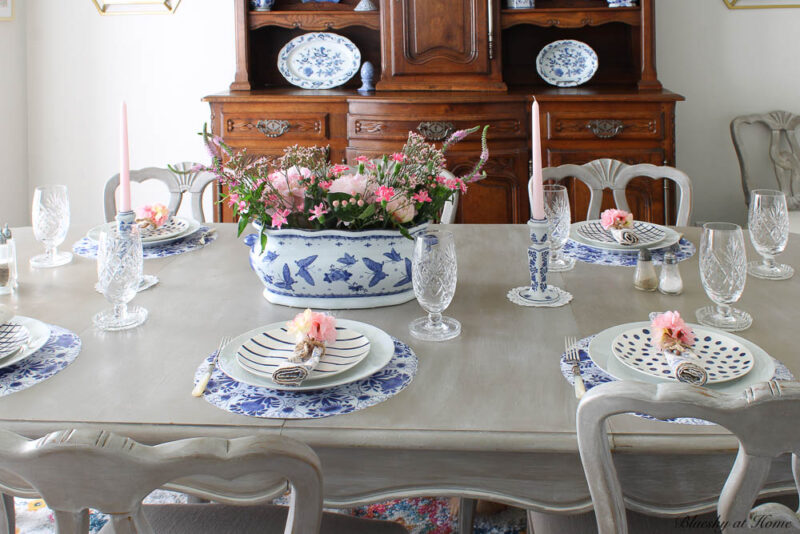 It's Ladies' Dinner Party Time
For our ladies' dinner parties, the hostess makes the main dish and the guests bring appetizers or dessert and wine. You can see from these pictures that a great time was had by all.
These ladies have been friends for years and we love spending time with each other. Here are Jeffre, Connie, Nancy, me, Jayne, and Amy.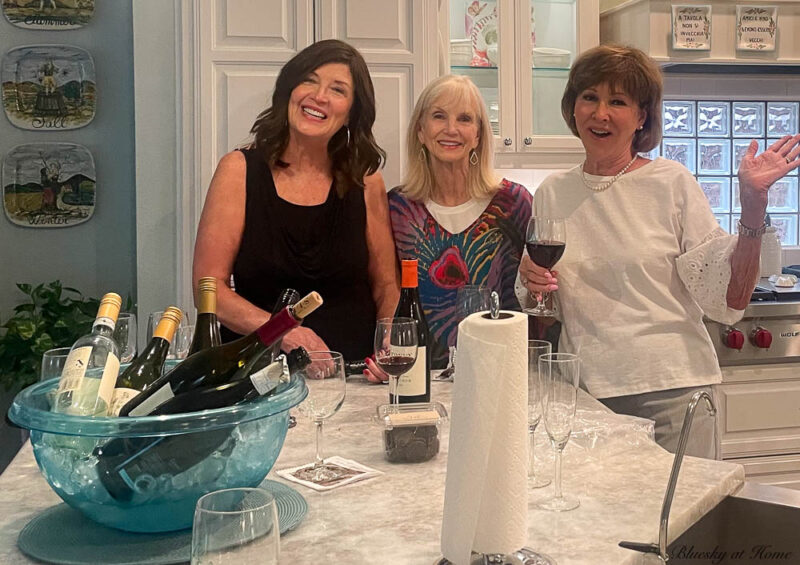 Most of us met when our daughters were in preschool and played sports through elementary school. Today, those girls are grown and several have kids of their own.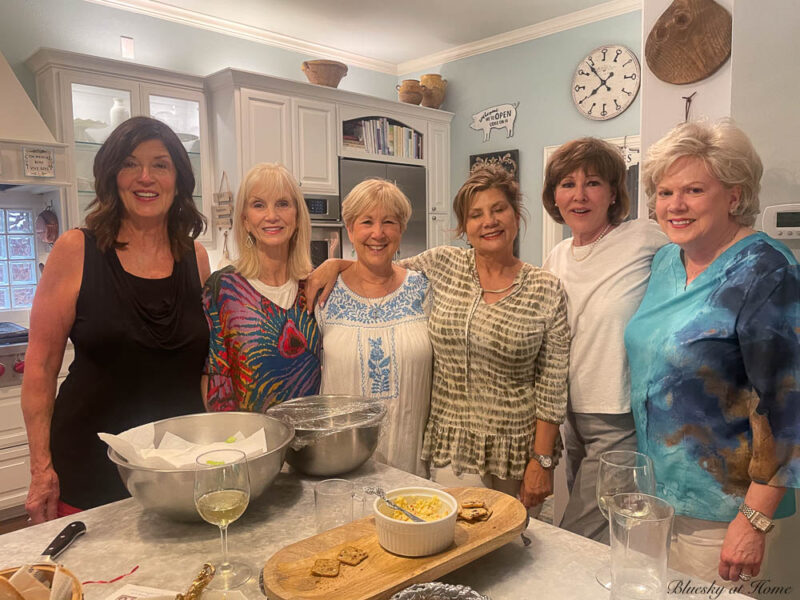 Jeffre, Connie, me, Jill, Nancy, and Jayne
As a first course, I made a delicious fresh pea salad.
The main dish was a delicious baked shrimp dish. I'll share both recipes in future posts.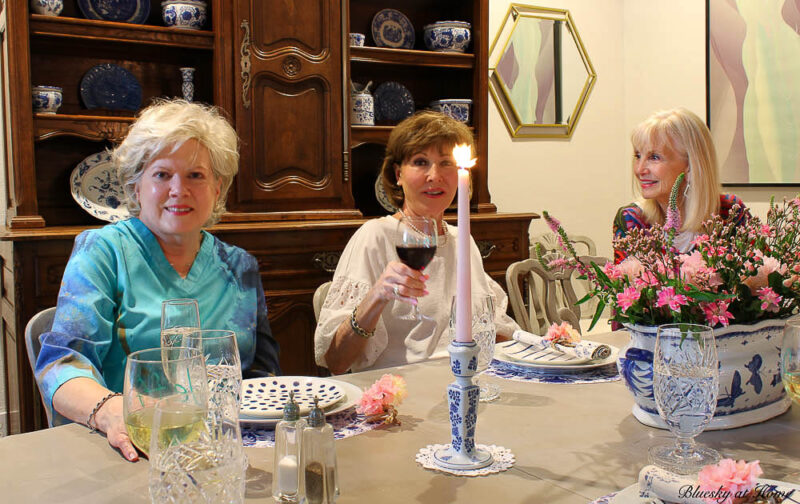 You may be wondering if we had a birthday cake. Absolutely! But we lit the candles and sang Happy Birthday so fast, we all forgot to take a picture of the beautiful cake my dear friend Amy brought.
The evening was a success and it all started with a pretty table. The next day, I finished clearing off the table. The beautiful centerpiece is still looking pretty on the dining room table.
Pretty Table Accouterments for Your Dinner Party
Here are some lovely items to help you set a pretty table for your next dinner party.
Want other ideas for dinner party tablescapes?
TAKE A LOOK AT THESE TABLESCAPE IDEAS.
This list of everyone participating in today's blog hop is below. Please visit our hostess Rita and see her fun summer dining idea. Enjoy all the beautiful ideas we're sharing with you.
I hoped you loved taking a peek at my pretty table for a ladies' dinner party. Use my design, my resources, and my tips to create your next get-together. Be sure to PIN the pretty table idea for your future styling.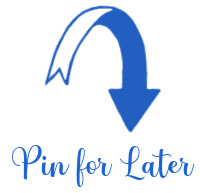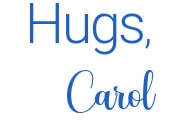 Panoply – Up, Up and Away With Summer Dining
Home is Where the Boat Is – Hydrangeas and Butterflies
Everyday Living – Welcoming Summer With A Garden Tablescape
Life and Linda – A Boho Alfresco Tablescape
Corner of Plaid and Paisley – Summer Plaid and Polka Dot Picnic
Living With Thanksgiving – Summer Blessings
Debbee's Buzz – Alfresco Bee Theme Table and Florals
The Painted Apron – Boats, Floats and Fish!
The Little Yellow Corner Store – Pucker Up Lemony Tablescape – It is Time to Have a Bee-utiful Day!
The Cat's Whiskerz – A summer picnic tablescape for Canada Day
Pandora's Box – Summer Blues
Me and My Captain – Florida Blue Crab Summer Tablescape
From My Carolina Home – Welcome Summer Tablescapes
The Bookish Dilettante – Summer Tablescape:  Old Glory
My Thrift Store Addiction – Summer Picnic Brunch under the Texas Mountain Laurel
Red Cottage Chronicles – Lemon Tablescape for Summer
Hyacinths for the Soul – Long May She Wave
Celebrating Everyday Life – Create a Chic Seashell Table Setting This Summer
Dinner at Eight – A Summer of Colors
Bluesky at Home – Pretty Table for a Ladies Dinner Party