Summer Blue and White Tablescape for a Dinner Party
Do you enjoy hosting dinner parties? Conversation around a table is the best way to offer hospitality to friends. I created a summer blue and white tablescape for our first dinner party in a long time.
I created this summer blue and white tablescape to host our neighbors Julie and Bill and our good friends Valerie and Bill. The occasion was to celebrate the harvesting of friend Bill's beautiful heirloom tomatoes.
Bill would bring his Caprese salad and Julie offered to bring her gorgeous charcuterie platter. Sweet Shark and I would provide the entré, sides, and dessert.
With the guest list and the menu set, it was time to set my blue and white tablescape.
This post contains affiliate links to products used in the creation of this project. If you should order any item from this site, I may receive compensation, but you do not pay a penny more. Your purchase is greatly appreciated as it helps support the continued publication of this site.
Dinner Party in a Blue and White Tablescape
I love creating tablescapes and it's been a long time since we have been able to entertain. This is our first sit-down dinner party in over a year. I wanted it to be special. My favorite color scheme, blue and white, would set the palette of the table.
During the past year, I collected more blue and white serving pieces from estate sales (Yes, we had those during COVID.) and some online. I definitely wanted to include them.
I already had some items that would lend themselves to a blue and white tablescape. Mixing the old and the new is one of my favorite things.
Steps to Creating a Tablescape
Since we would have two couples as guests, I left one leaf in my table.
I always start a new tablescape with a blank slate. I recommend taking everything off the table.
Here are the steps that I took to create this blue and white tablescape. Follow along and see what you think of my process.
Step 1 ~ Add Your Runner, Tablescape, or Placemats
Last week, I made my first trip to our big HomeGoods in a long time. This blue and white pattern runner caught my eye.
I knew it would be a great base for my summer tablescape. There is fringe on all the edges. It has a very casual, farmhouse look.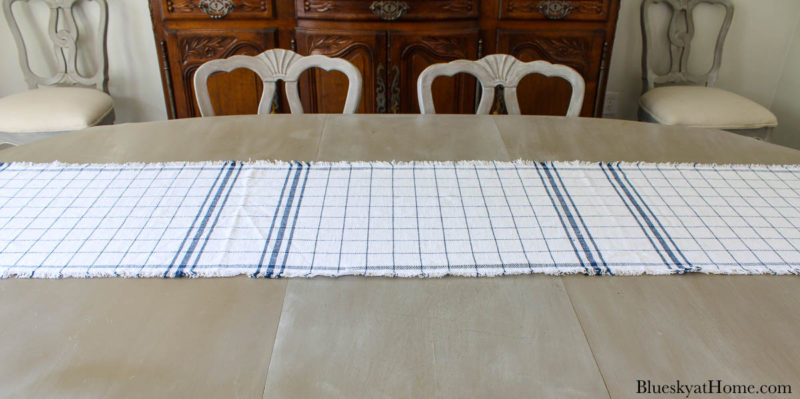 As you can see the runner goes from one end of the table to the other. The ends of the runner would serve as placements for the host and hostess place settings.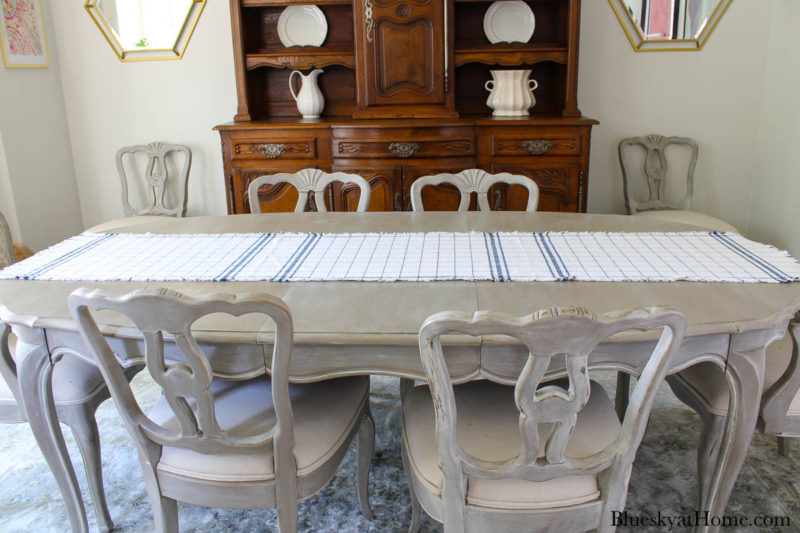 Step 2 – Add Placements
The only blue placemats I had on hand were very casual, rubber mesh ones. The color was perfect so I went with them. I would like to have some dressier blue placemats so I will be shopping soon.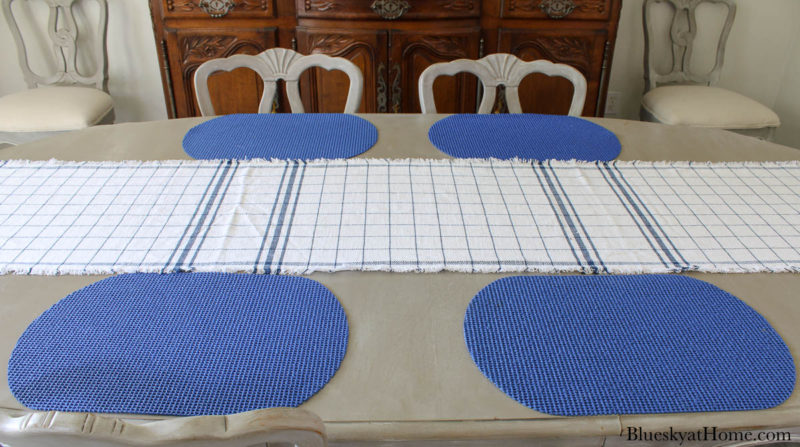 Step 3 – Add Your Plates
For my dinner plates, I used my white World Market plates. I have two sets of 12 of these plates. They are awesome to use for parties.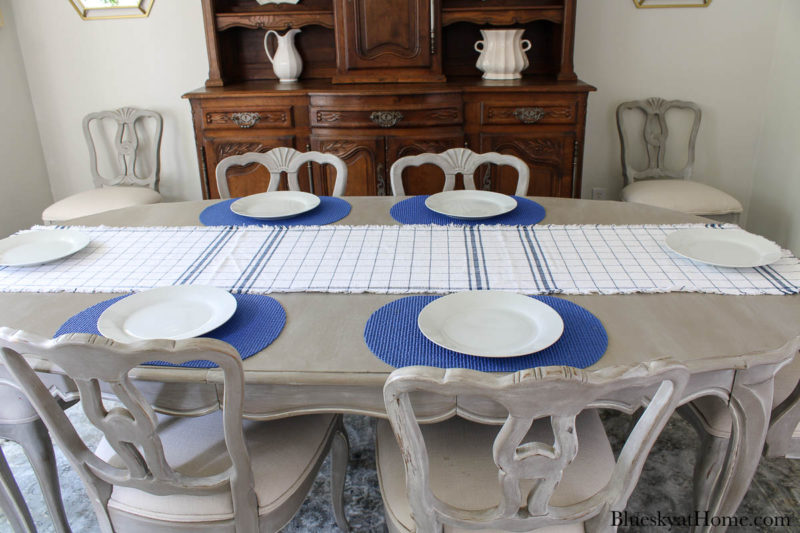 I have used these large plates as chargers for a lunch salad course.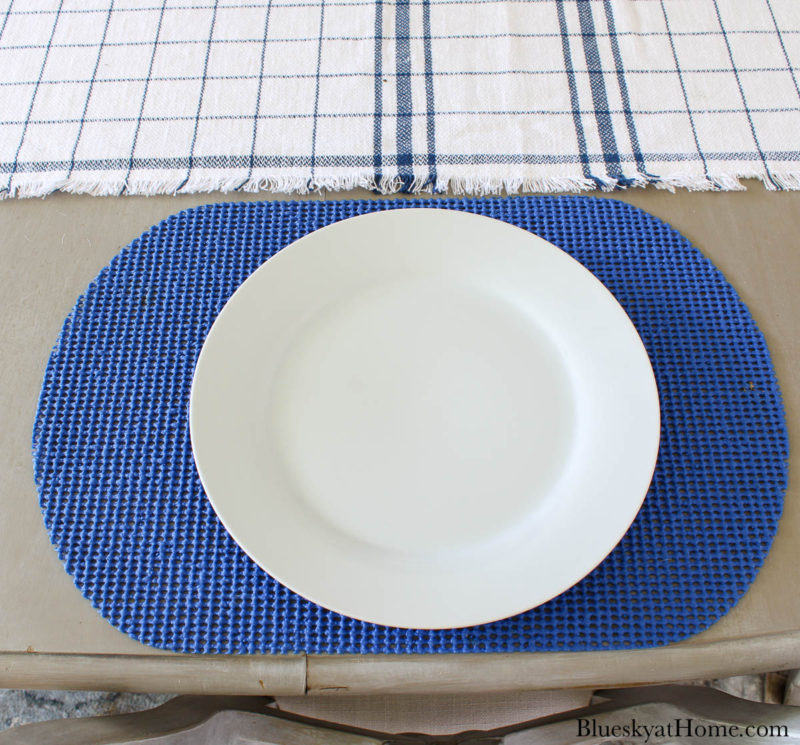 Step 4 – Create the Centerpiece
Normally, I make my centerpiece before I add the place settings. At the time I started this blue and white tablescape, I still didn't have my centerpiece items on hand.
Other than knowing I would use white hydrangeas, I didn't have the vases that I wanted to use.
Both my Hobby Lobby and a Trader Joe's are five minutes from where I play tennis. If needed, I stop there after drills. A stop at Trader Joe's was on my errand list, so I also stopped at Hobby Lobby.
There I found the perfect cookie jars/vases. These jars have the cutest lids – white with blue ball handles. I found two matching ones. Don't you love that pattern? It has both a modern and traditional design.
I love the mix/contrast of patterns with the runner. (You can see that I've gone very simple on our vaisselier with just dinner plates from my Villeroy & Boch Manoir china and a couple of flea market vases.)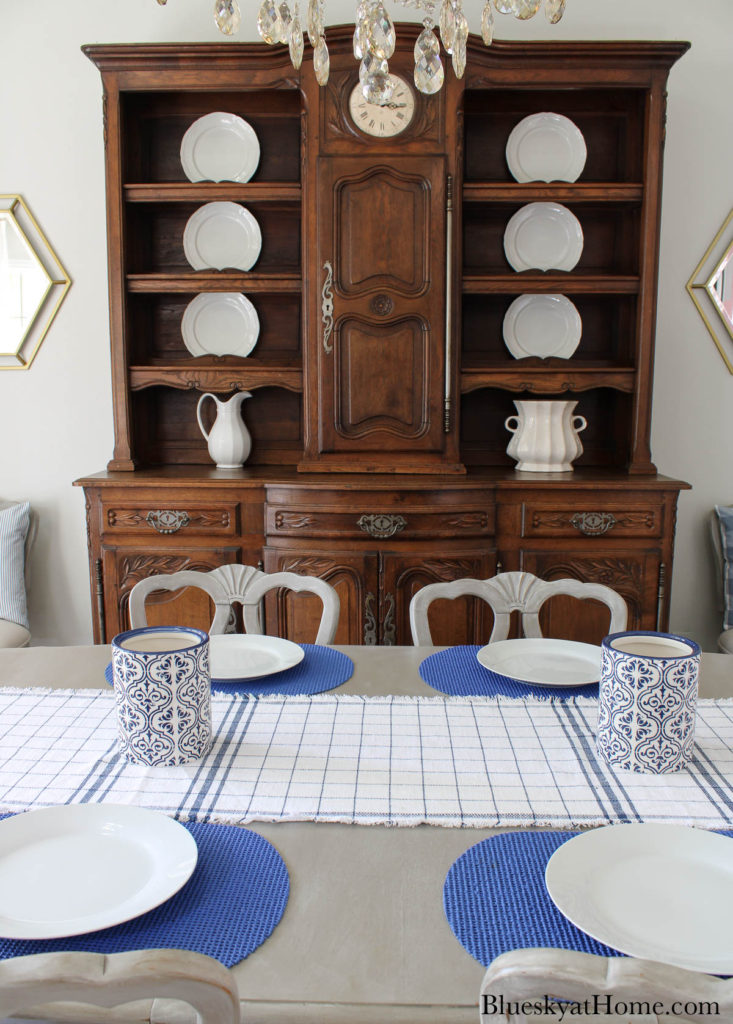 Two bunches of white hydrangeas filled the vases nicely.
In between the vases, I added two candlesticks that I bought on Etsy. We may not light them, but I still wanted to use them.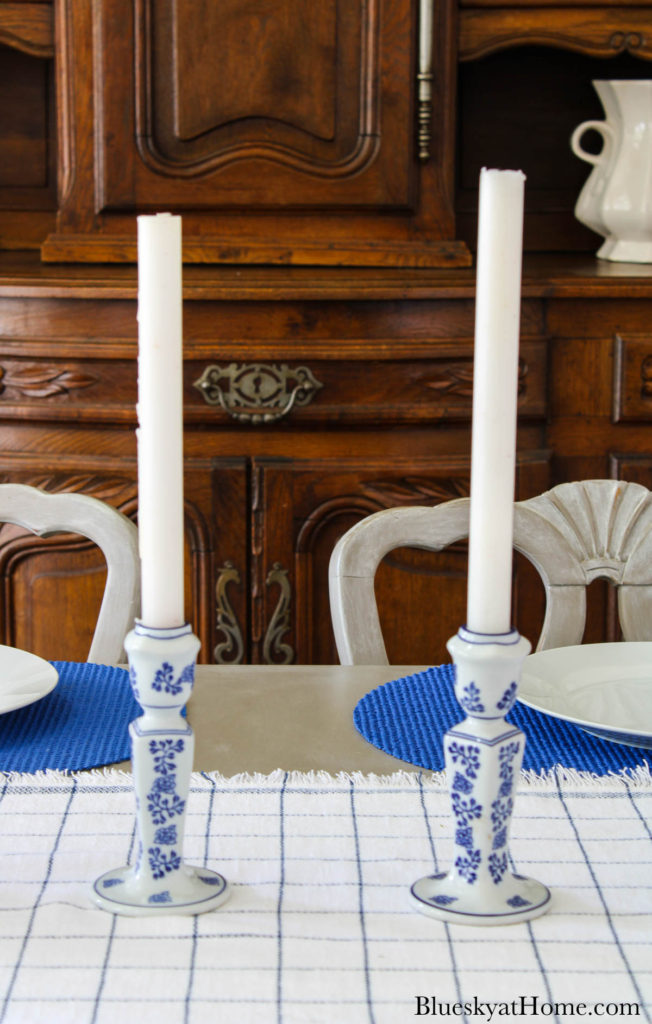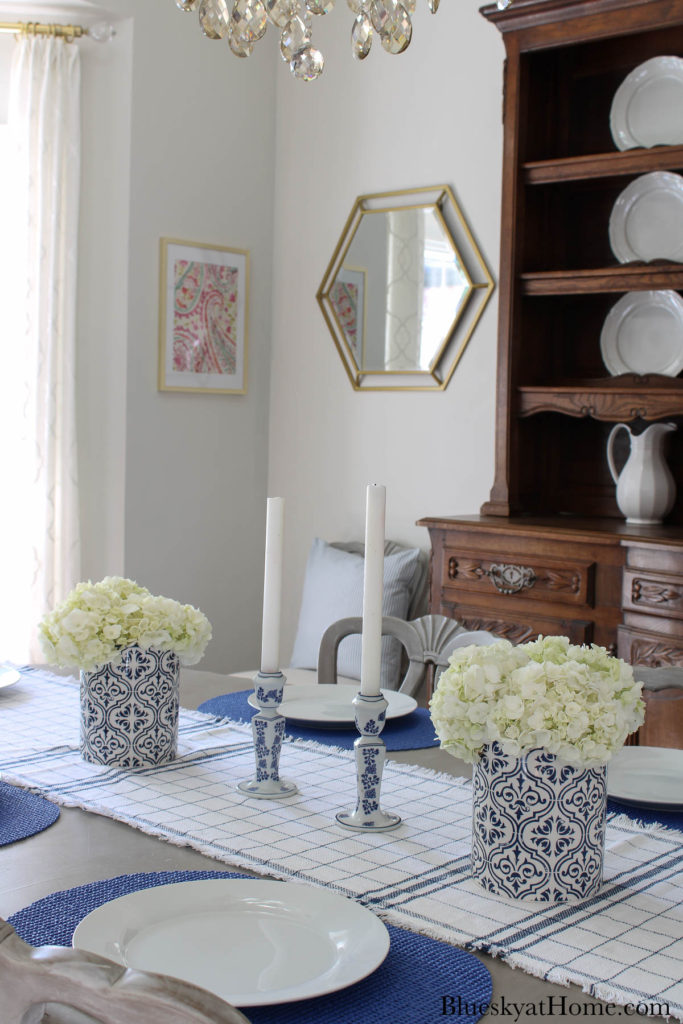 Step 5 – Add the Silverware and the Serving Dishes
The silverware is a mix of our everyday patterns. For simplicity, I placed a white linen napkin on the dinner plates.
The two sets of salt and pepper shakers are ones my mom bought me when I was in college – they have been around for a while.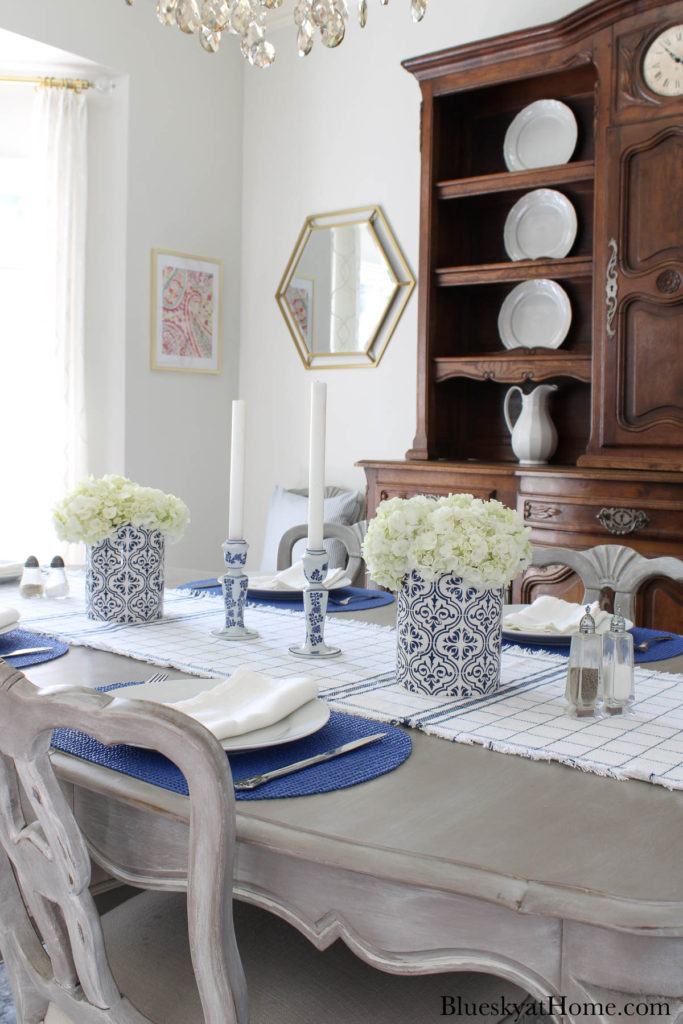 Since I knew our menu, I added a salad plate and a dessert bowl.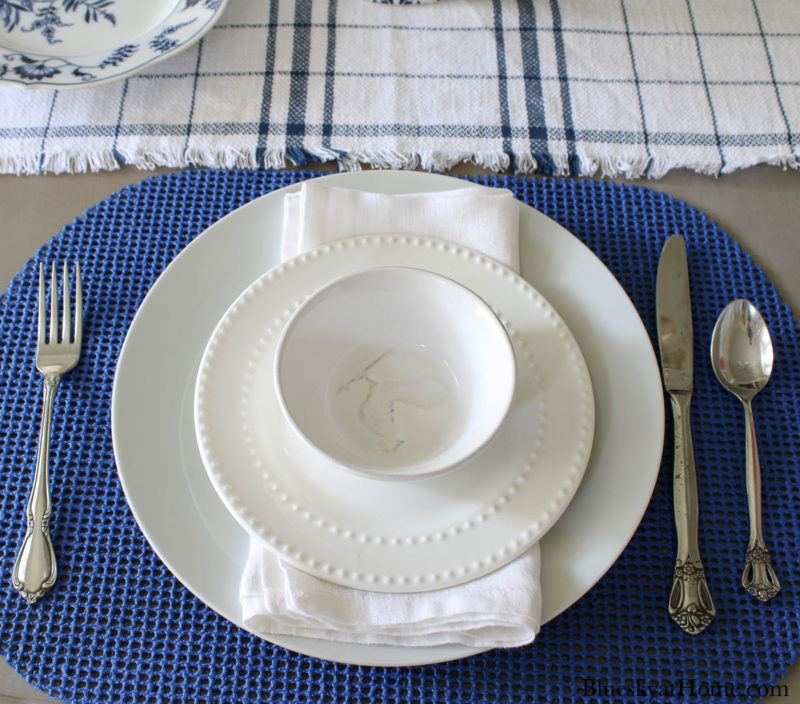 To fill in a bit more, I took this small cache pot off the mantel. It's filled with faux peonies. The cache pot adds to the blue and white color scheme and the different heights of the arrangement.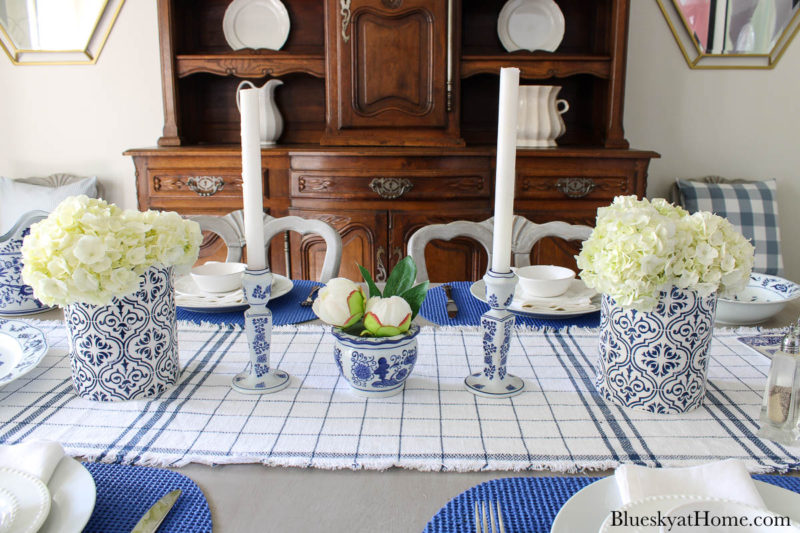 Now, for the fun part. I brought out the blue and white serving pieces that I bought at estate sales in 2019 and 2020:
large platter and bowl have a Blue Danube mark on the bottom.
the pitcher has a mark on the bottom that says "Remme Woods Fine China". Does anyone know anything about that?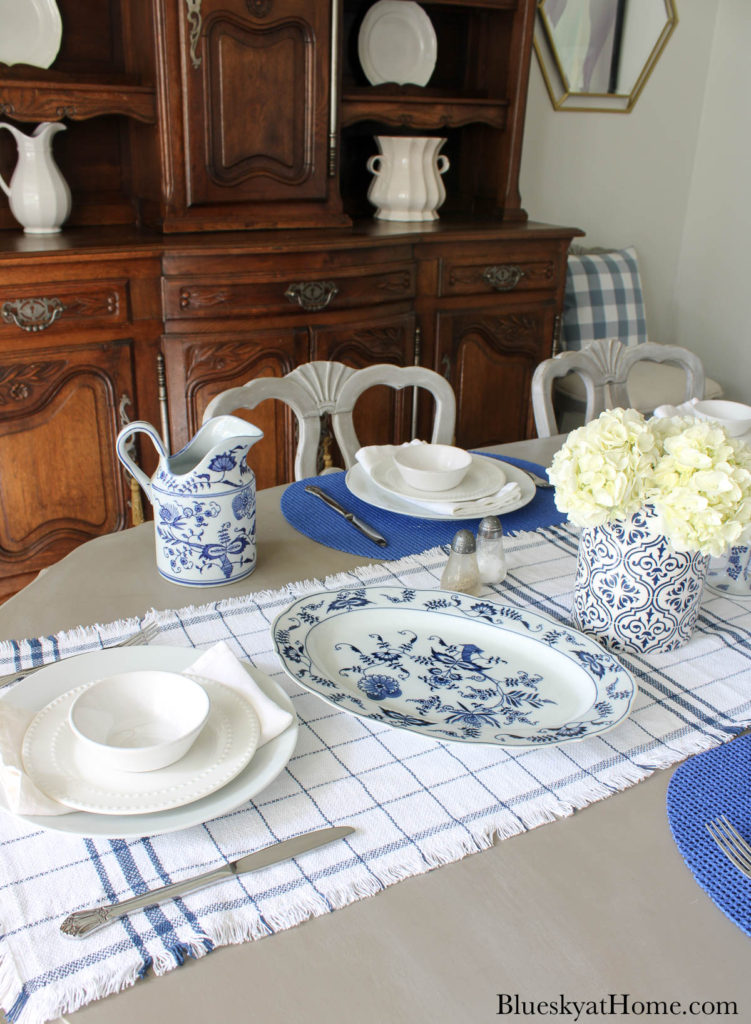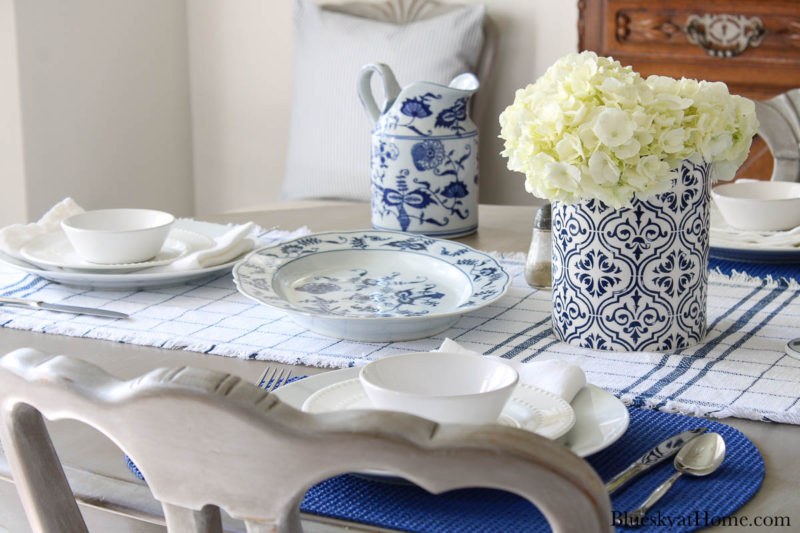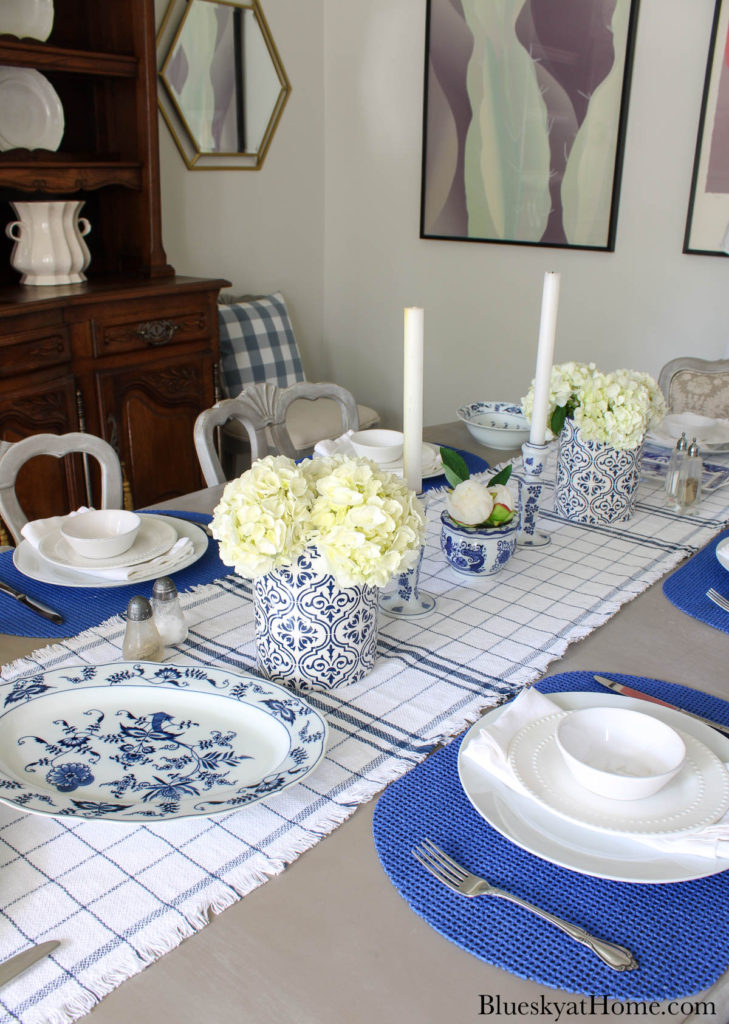 The last tray is a new Spode one that I bought online.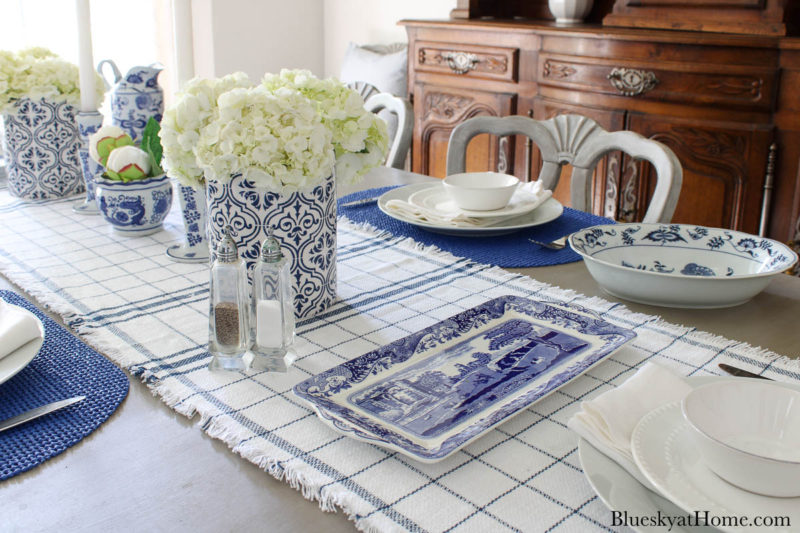 Step 6 – Finishing Touches
I like to place pillows on the extra dining room chairs next to our vasselier. They had the perfect color and pattern and bring the eye into the dining room.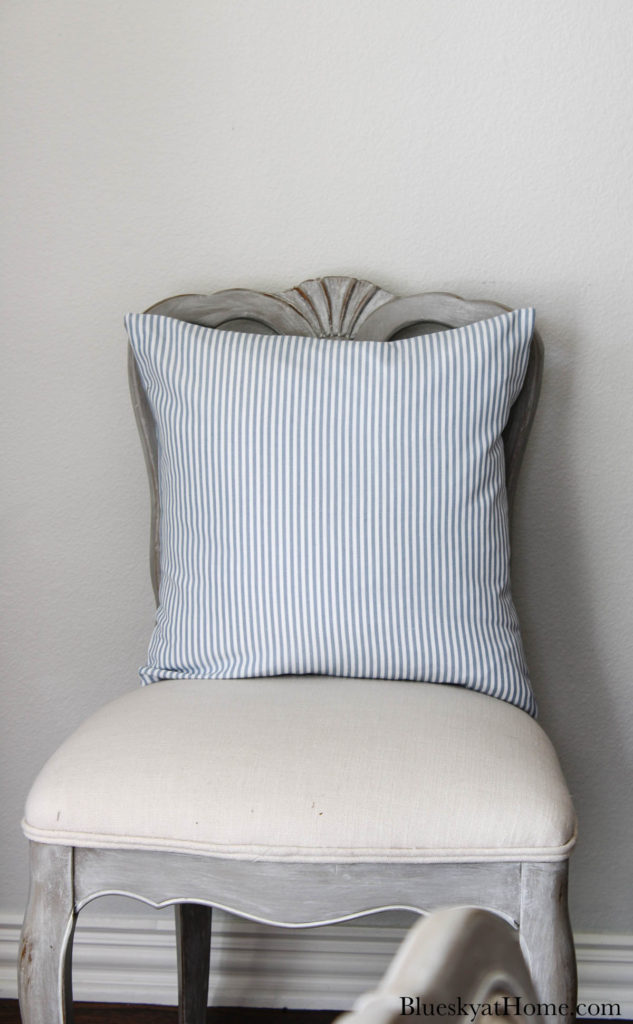 Creating this summer blue and white tablescape was easy and fast. In keeping with a summer theme, it's casual and simple. It's the blue and white theme and the patterns that make it interesting.
I almost forgot the glasses. Our everyday wine glasses worked just fine.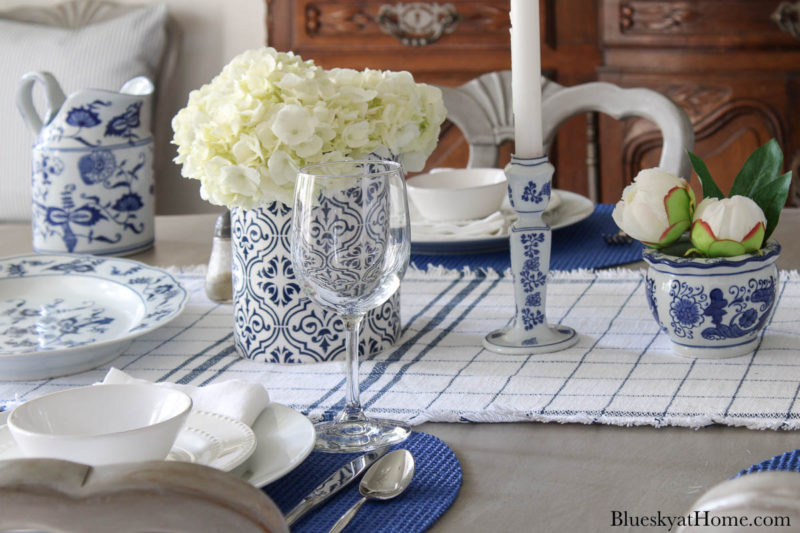 We are so excited to have a new puppy in our home. Nola just turned 5 months and she wants to be anywhere we are. She is getting used to photoshoots. This is her debut!
Blue and White Tablescape Resources
I've had some of these items for so long that I've forgotten where I bought them.
Blue and White Runner – HomeGoods: $12.99
Dinner Plates – World Market: comes in a set of 12 with serving stand
Salad Plates – Estate Sale
Ice Cream Bowls – Estate Sale
White Linen napkins – set of 12 – Estate Sale: $12
2 Blue and White Vases – Hobby Lobby: $24.99 each – 50% off = $12.50 each
2 Blue and White Candlesticks – Etsy
Pitcher, Patter, and Serving Bowl – Estate Sale
Spode Blue Italian Sandwich Tray: $39.97
Small Blue Cache Pot – 1 of 3: $41.99
2 Bunches White Hydrangeas – Trader Joe's: $5.99 each
2 Blue Check/Stripe Pillow Covers – from set of four – these are similar

Did you get some ideas for a blue and white summer tablescape? I hope so. Want to save this for inspiration? Please PIN it. And I would love for you to follow me on Pinterest.