How to Set a Soft and Neutral Fall Table
It's that wonderful time of the year again when nature puts on its most dazzling display of warm hues. We can translate that beauty into our homes. Welcome to my creative corner where I'm showing you how to set a soft and neutral fall table that's as inviting as a warm cup of apple cider on a crisp autumn day.
As soon as the leaves outside begin to paint the landscape with shades of rust, gold and amber, I find myself drawn to a more subdued and serene color palette indoors. This season, I'm all about embracing the tranquil elegance of whites, creams, and taupes – colors that effortlessly blend with the changing scenery outside our windows.
I love setting the dining room table for the seasons. Creating a cozy gathering around a table is the best way to bring friends together.
Although we may still be experiencing weather that feels like the middle of summer, fall is on everyone's mind. Between now and the holidays is a great time to set the table with soft fall colors and natural materials.
It's also the perfect time to gather a group of home decor bloggers for a fall tablescape blog hop. Thanks to our hostess, Rita of Panoply, we are ready to share our fall tablescape style with you.
If you are hopping over from Maureen of Red Cottage Chronicles, then welcome to this fun blog hop.
Creating a Fall Table with a Soft and Neutral Vibe
This post contains affiliate links to products used in the creation of this project. If you should order any item from this site, I may receive compensation, but you do not pay a penny more. Your purchase is greatly appreciated as it helps support the continued publication of this site.
I'm so excited to introduce you to my vision for a fall table.
Join me as we explore every detail of this soft and neutral fall tablescape, from selecting the right elements to achieving that balance between relaxed and refined.
We'll delve into using natural materials, play with textures, and uncover the magic of layering – all while maintaining that sense of soothing elegance that the fall season whispers to our hearts
Vision for the Fall Table
What did I envision for my fall table?
soft colors in white, cream, and taupe
natural materials like wood, fabric, and faux foliage
texture and subtle pattern
a simple, not overdone, style
How to Begin Setting the Fall Table?
Here are the steps I take when creating a tablescape:
decide on a color palette – I wanted white, cream, and taupe
decide on a style – I wanted simple, casual and refined
gather items that fit the color and style of my vision
try to reuse items that I already have on hand
Once I decided on my color and style aesthetic, I cleared off the table (a jigsaw puzzle had been there since July when our granddaughters were visiting).
Then I gathered all the items to fill my table and dining room vassielier (hutch).
I pulled in all my white dishes and decorative accessories from our kitchen cabinets. I included any other items from storage that I thought might work.
I knew that I definitely wanted to use these white and taupe fabric placemats and my white-handled silverware.
We have had one set of four place settings for several years. I recently added another four white silverware place settings that are almost identical. Can you tell which is which?
All summer the vassielier was filled with many of my blue and white decorative accessories. I moved all those to our kitchen.
Then I filled our vassielier with a variety of white dishes and decorative pieces of ironstone and any other white piece I could find. I share how the vassielier looks in a future post.
Starting with Fabric Placemats
First I had to decide which side of the placemat to use. White with taupe designs?
Or taupe with white designs?
I chose to use the taupe with white designs. It had more color and I liked the contrast with the color of our table.
Now I knew how much space I had for my centerpiece. Wanting a natural wood material, I knew the right thing.
My large dough bowl would be the perfect size and color. This dough bowl is almost identical. I wasn't ready to fill my dough bowl yet, so I started on the place settings.
Next came our white everyday dishes, Manior by Villeroy and Boch. I started with the dinner plates and bread and butter plates.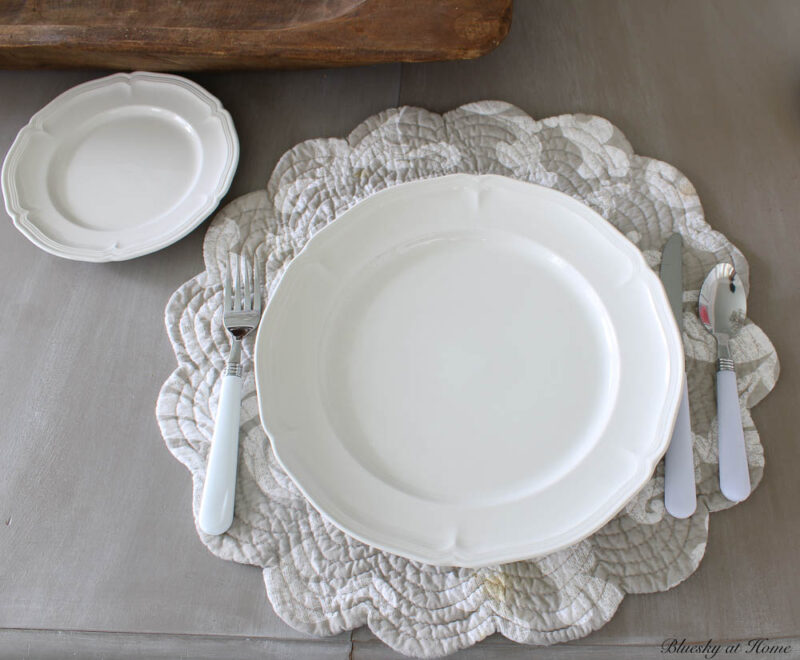 Creating a Soft and Neutral Centerpiece
Now I was ready to create my soft and neutral centerpiece.
In spite of the heat in our garage, I managed to bring in a few boxes of fall floral stems. (I was sweating like a you-know-what.)
This off-white stem was one of my favorites from previous years. I cut each branch off the main stem.
I laid a piece of tea-colored cheesecloth in the dough bowl before layering the faux foliage toward the ends of the bowl.
I had another fall foliage stem that had a soft neutral color. I also cut the stems apart.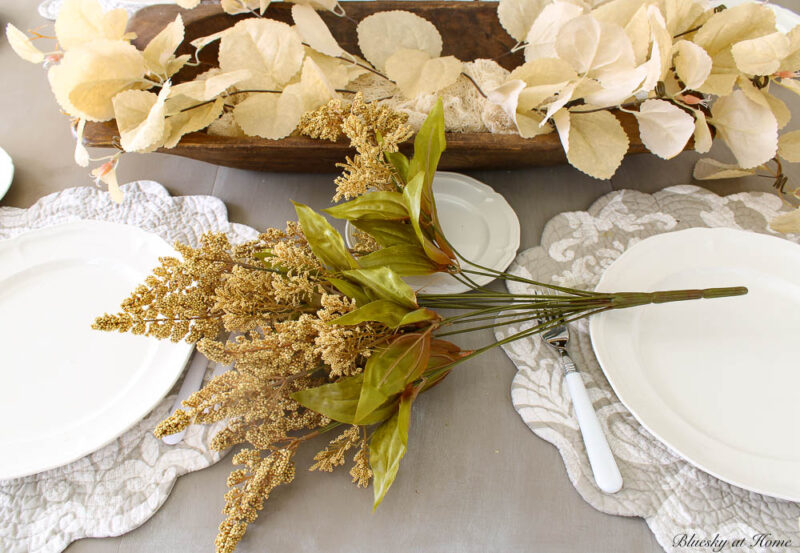 I have had this rustic round vase for a couple of years. It was a freebie from Joann. (Yes, a freebie – Joann was letting people pick six items from one aisle.)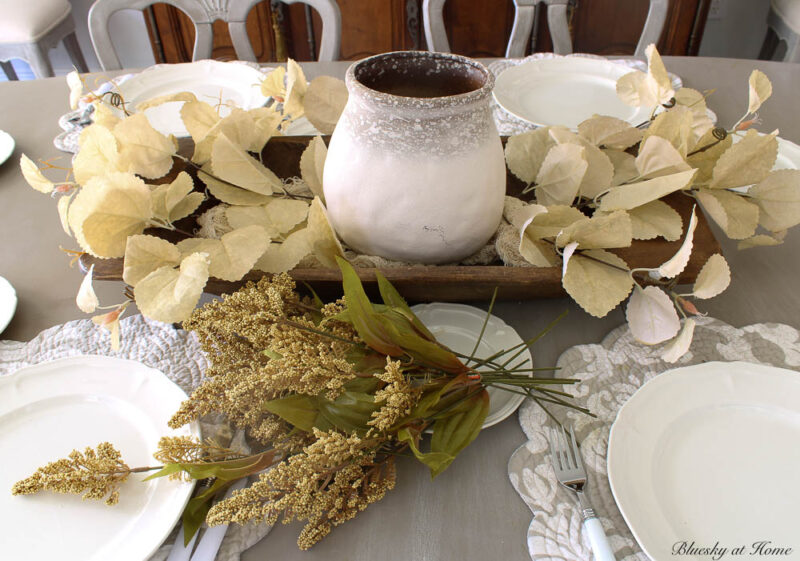 The "wheat-looking" stems with green leaves fit just right in the vase.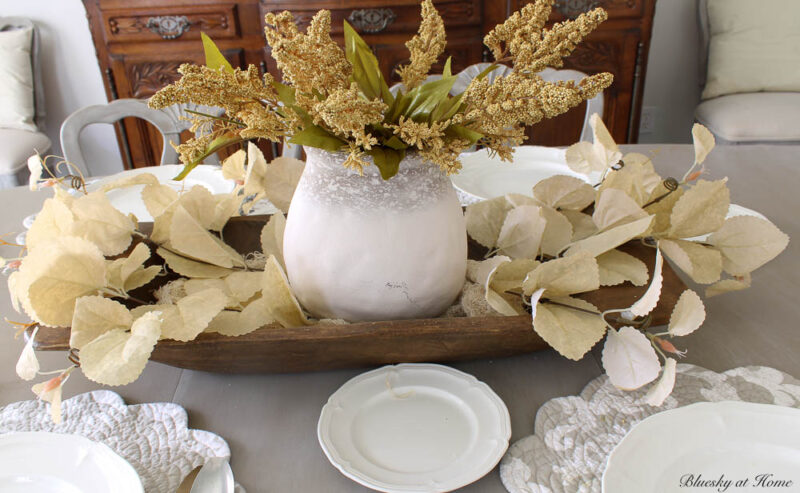 I liked the simplicity of the centerpiece, the soft textures, and the neutral colors. I didn't think any other element was necessary.
Finishing the Fall Tablescape
I had a few more elements to complete my soft, neutral, and natural fall table.
A couple of woven trivets would nicely add more color and texture.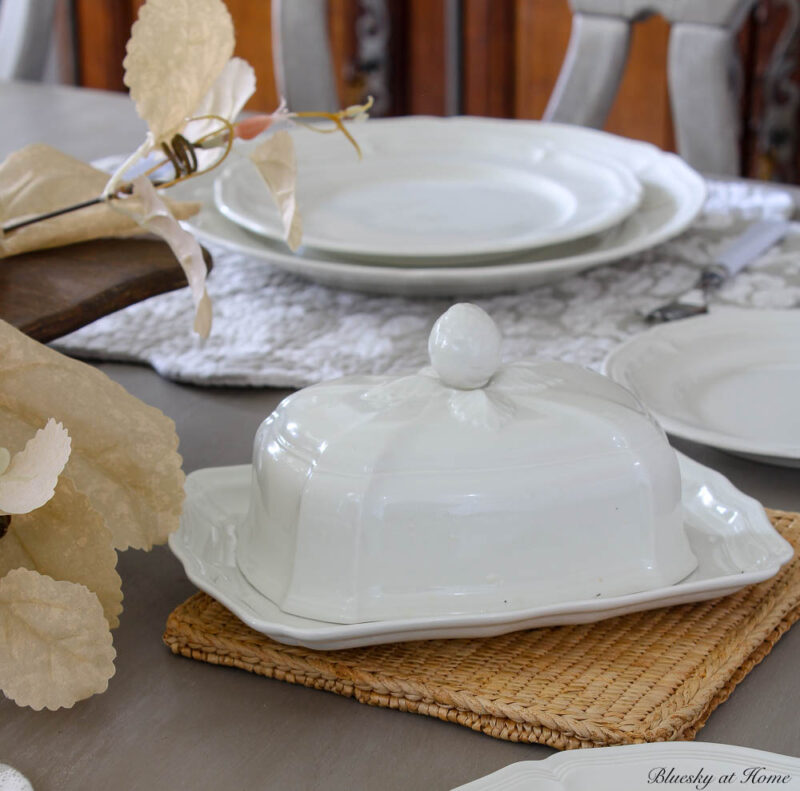 I love these sweet little salt and pepper shakers. My mom bought them for me when I was in college.
I also brought in one of my favorite cutting boards – a true vintage one. It will be perfect for a loaf of bread to pass around the table.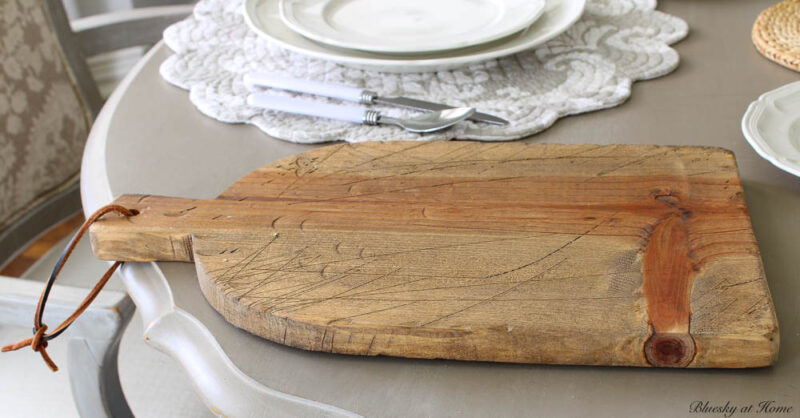 Next, I added salad plates and my vintage off-white linen napkins – a great estate sale find. The acorn and wired twine napkin rings I made last year came out of storage. I love the natural texture and the neutral colors.
The final element of the place setting was simple, clear wine glasses. I wanted to keep the overall look simple.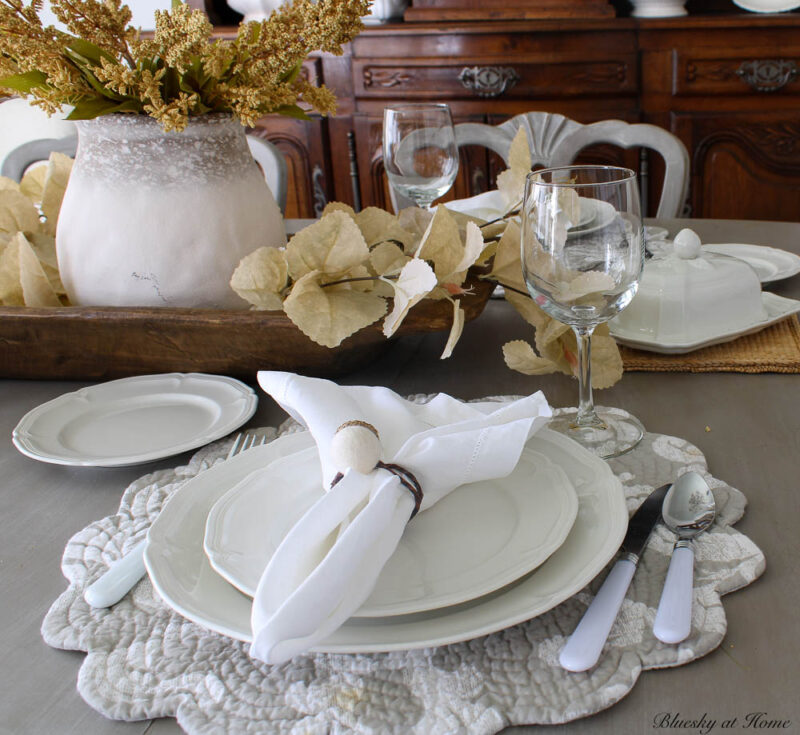 Ready to see the complete fall table with a soft and neutral color palette, texture, and just a touch of pattern?
I'm looking forward to hosting some girlfriends for lunch the week after Labor Day.
Shop this Soft and Neutral Fall Tablescape
I hope you like this soft and neutral style of fall tablescape. Use it for inspiration for your own transition fall tablescape. Whether you're hosting a cozy family dinner or a relaxed gathering with friends, this soft and neutral tablescape is bound to set the stage for unforgettable moments and heartwarming conversations.
Here are More Fall Tablescapes to Enjoy
Favorite Fall Tablescapes
I hope that you will PIN these fall tablescapes. Check out my Fall Tablescape Pinterest Board for more ideas.
The list of my tablescaping friends is below. Start your visits with Lynne of Thrifting Wonderland.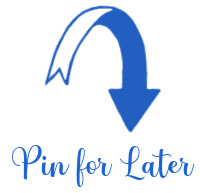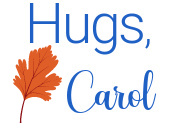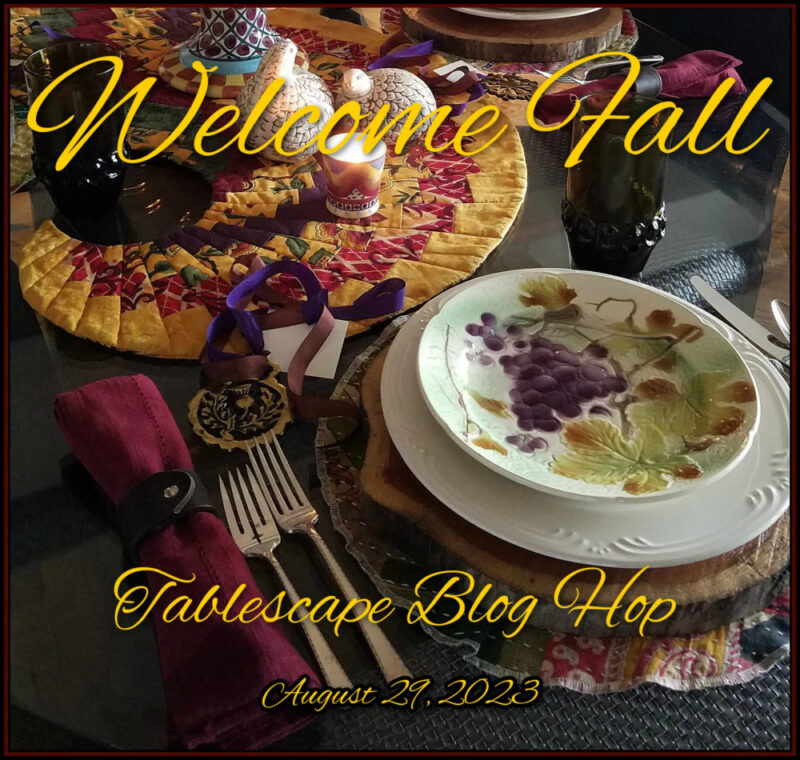 Panoply – Welcome Fall: Mottahedeh Chelsea Bird Tablescape
Hyacinths for the Soul – Welcome Fall, A Tablescape on the Terrace
Everyday Living – Autumn is My Favorite Color
Home Is Where the Boat Is – Sunflowers and Pumpkins
Life and Linda – A Fall Wine Dinner
The Bookish Dilettante – Falling Leaves Tablescape
The Little Yellow Corner Store – A Gathering of Mushroom Joy
Me and My Captain – Goodbye Summer Hello Fall
Red Cottage Chronicles – Autumn Brunch Table Setting
Bluesky at Home – How to Set a Soft and Neutral Table for Fall
Thrifting Wonderland – Savor the Moment…Fall Tablescape
Dinner at Eight – Setting the Table for Early Autumn
My Thrift Store Addiction – Bountiful and Budget-Friendly Autumn Tablescape
The Cat's Whiskerz – Welcoming fall with a spicy tablescape
My Hubbard Home – Welcome Fall with a Harvest Blessings Table Setting
Belle Bleu Interiors – Anticipating Autumn's Arrival
Corner of Plaid and Paisley – Fall is Time for Football
The Painted Apron – Celebrating Fall