How to Set Up a Sweet Halloween Buffet
Have you ever thought about how to set up a sweet Halloween buffet? If you plan to host a Halloween party, now is the time to get busy planning and preparing. Use these suggestions to host a fun and easy party for (almost) any age group.
Halloween is three weeks away. That's not too early to gather your decorations, send out invitations, and plan your menu. Follow my lead and this may be the easiest party you ever host.
I know most people, including Sweet Shark and I, are not into hosting Halloween parties at this stage of our lives.

But our younger daughter is a Halloween fanatic and has always loved dressing up. Even today, she and my grandson always go to Halloween parties in Atlanta with friends.
In fact, she was the inspiration for this sweet Halloween buffet.
A Sweet Halloween Buffet Inspiration
When she and my stepson were about 12 and 14, the weather for Halloween was predicted to be bitterly cold ~ not conducive to trick-or-treating. A couple of days before Halloween, she talked me into hosting a Halloween party for their friends.
I took a deep breath and said OK. Fortunately, I already had bought a bunch of candy for Halloween night. I made another quick trip to the store to buy more candy in bulk, chips and soft drinks.
Then we decorated the dining room with Halloween decorations we gathered from other parts of the house.

The kids had a great time. The party lasted just a couple of hours (It was a school night.) It was actually so much fun to see all the kids dressed up in their ghosts, goblins and Harry Potter costumes.
So this new Halloween buffet was inspired by a Halloween party many years ago. I'm happy to share this idea with you. It's a perfect time because it's Halloween Tablescape time.
My friend Rita of Panoply is again hosting a monthly tablescape blog hop. I love these hops. Such inspiring ideas for you and me. I know that you will find an idea that appeals to you and your situation.
Welcome if you are joining me from Jenna of The Painted Apron. Let's have a spooky good time.
If this is your first time visiting Bluesky at Home, I'm so happy that you've found your way here. If you would like to know more about me and the content that I share here at my blog home, then please read my story. I bet we have a lot in common.
Planning a Sweet Halloween Buffet – with a Little Savory
This post contains affiliate links to products used in the creation of this project. If you should order any item from this site, I may receive compensation, but you do not pay a penny more. Your purchase is greatly appreciated as it helps support the continued publication of this site.
Here are the steps to plan your Halloween buffet.
Step 1 ~ Plan Your Table Base
A few weeks ago at Hobby Lobby, I found a square 40 x 40-inch tablecloth that was on sale at half price. I bought two for $20.00. Don't you love the bright orange plaid pattern with fringe on two sides?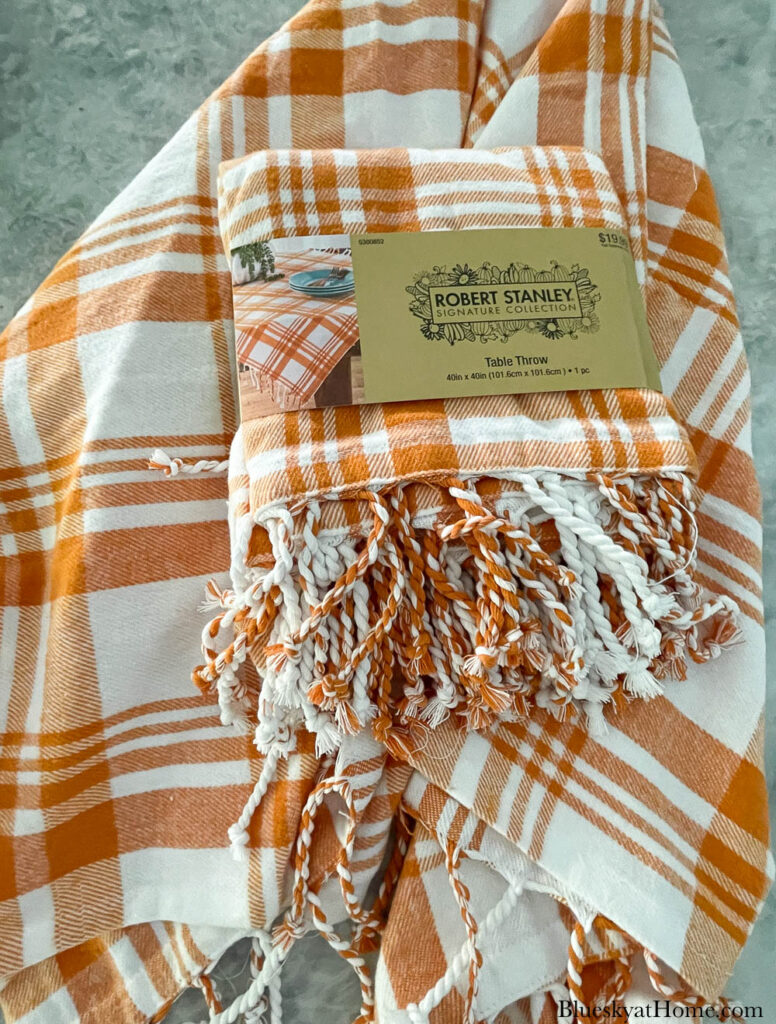 I sewed the two infringed sides together with a simple slip stitch. You could use a sewing machine if you prefer. I now had a 80 X 40-inch tablecloth.
The tablecloth was the first thing I put on the table.
Next came some small individual trays/risers that I found at Target a couple of months ago. I've been waiting for inspiration to decorate them.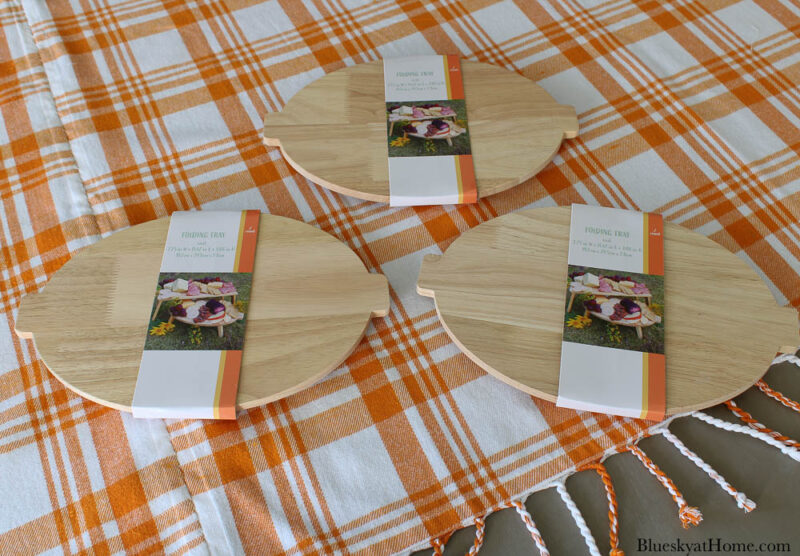 For now, they are perfect for elevating some of my sweet and savory treats.
Next I covered the trays with a black spider netting that I've had for a long time. You could use black or orange napkins or a smaller tablecloth over them.
Step 2 ~ Add your Halloween Decorations
For this Halloween buffet, I only used Halloween decorations that we already had. This are decorations that we have collected over many years. They still look great.
I added three of our cute Halloween critters and four tall Dollar Tree candles in black and orange. They will be awesome at night.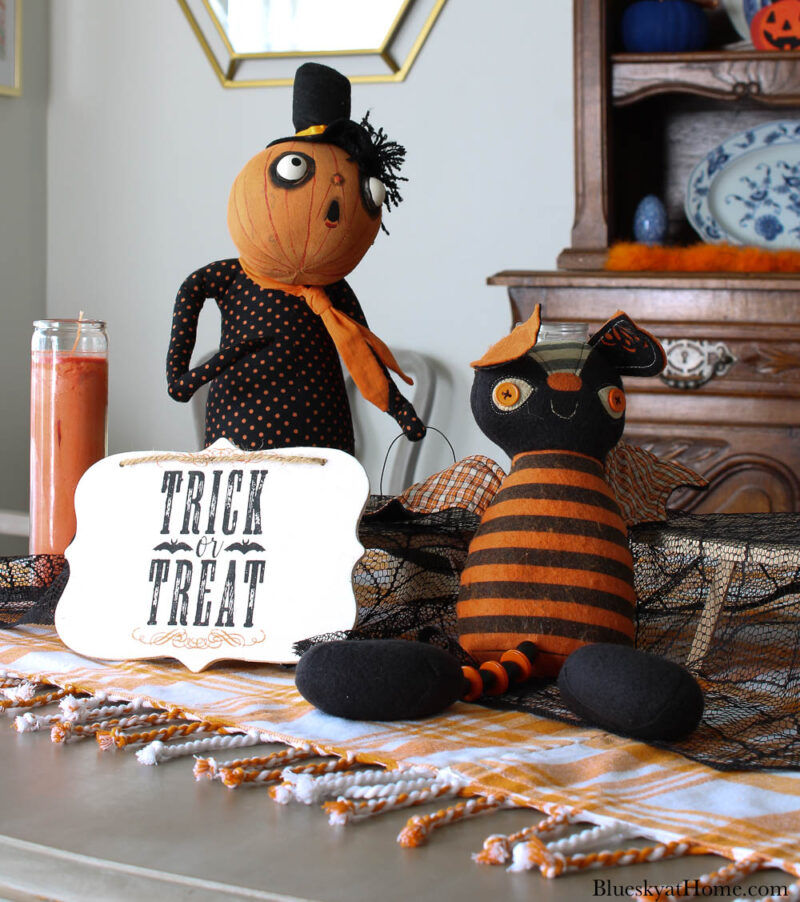 I also added two of the Halloween signs that I made a couple of years ago.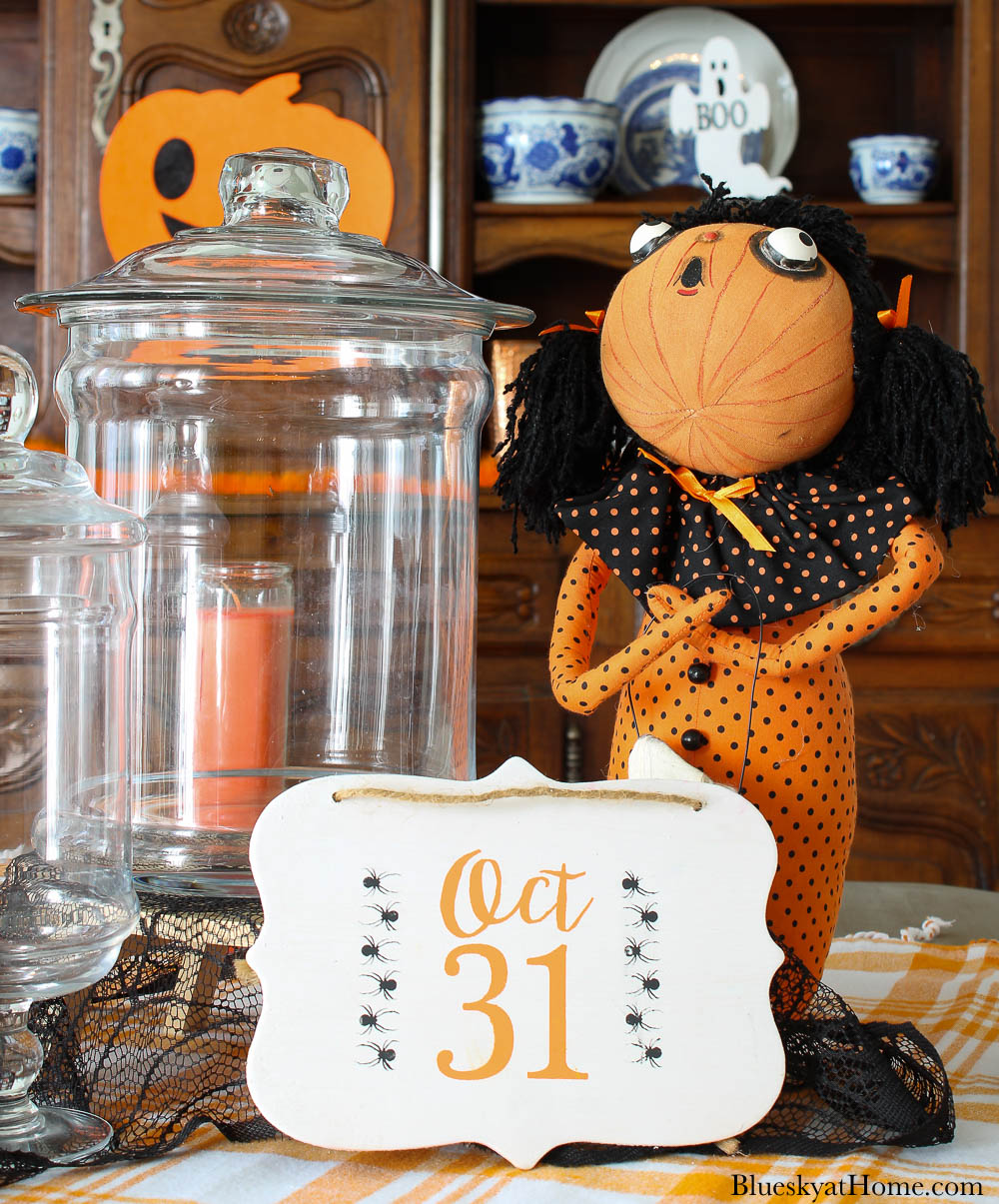 That's about the only decorations I needed ~ the sweet and savory treats would provide the best color and pop to the buffet tablescape.
I did make a cute Halloween tree as a centerpiece, but it was the last thing I added to the table. You can see it in the finished buffet table near the end of this post.
Step 3 ~ Choosing your Sweet and Savory Treats
Since I was leaving town for a few days (to go to The Achieve Conference in Waco), I shopped on Amazon first for my treats. It was so easy. They were waiting there when I returned home.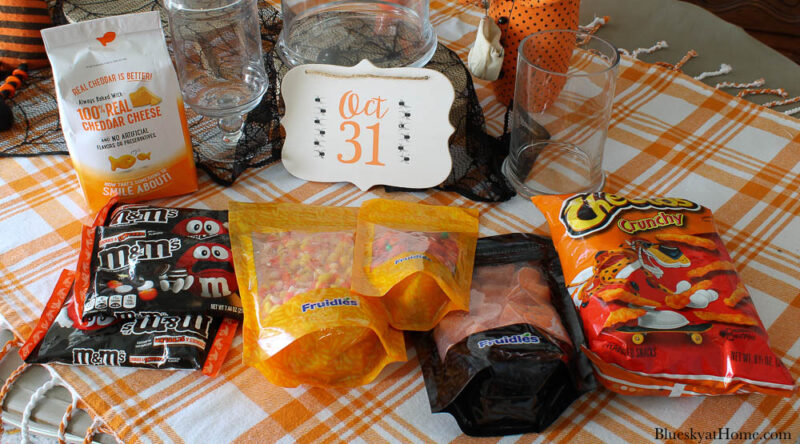 When I returned home, I made a trip to Target to fill in with M & M's, Cheetos (Sweet Shark's favorite) and Gold Fish (great doggie treats).

I also picked up some Target Halloween cupcakes, I found orange bowls for the treats and small bags for taking treats home.
Step 3 ~ Adding your Containers for the Treats
Although I am calling this a sweet Halloween buffet, I did include a couple of savory items.
I started out with my larger apothecary jars. You can see them here.
When I began to fill the jars, I found that some were too big. I replaced them with smaller jars.
Step 4 ~ Add Your Sweet and Savory Treats
As you start to fill your jars with sweet and savory items, the table becomes more colorful and holiday~focused.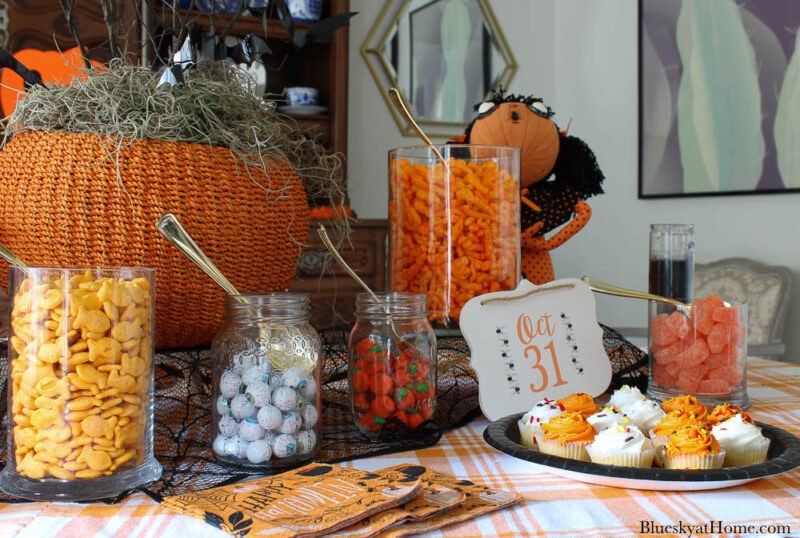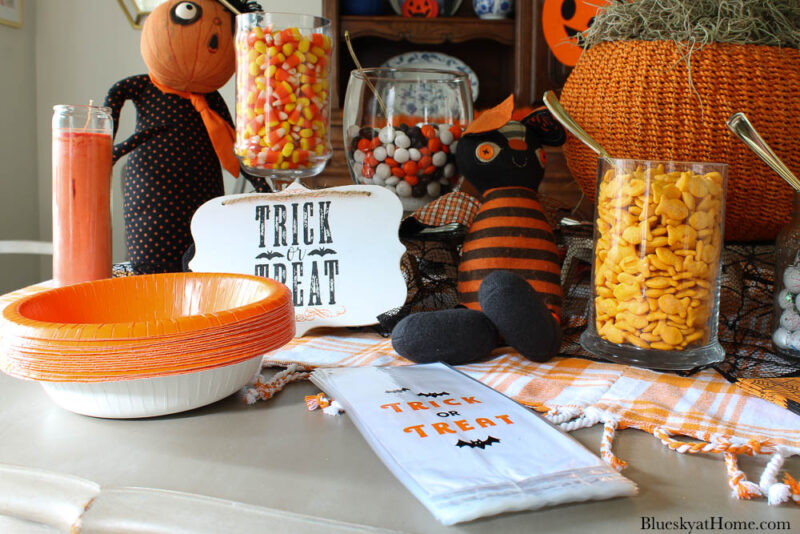 Step 5 ~ Add your Extras – Plates, Napkins, Spoons and Bags
I added some gold plastic spoons to each jar.
Fortunately, I already had some Halloween napkins.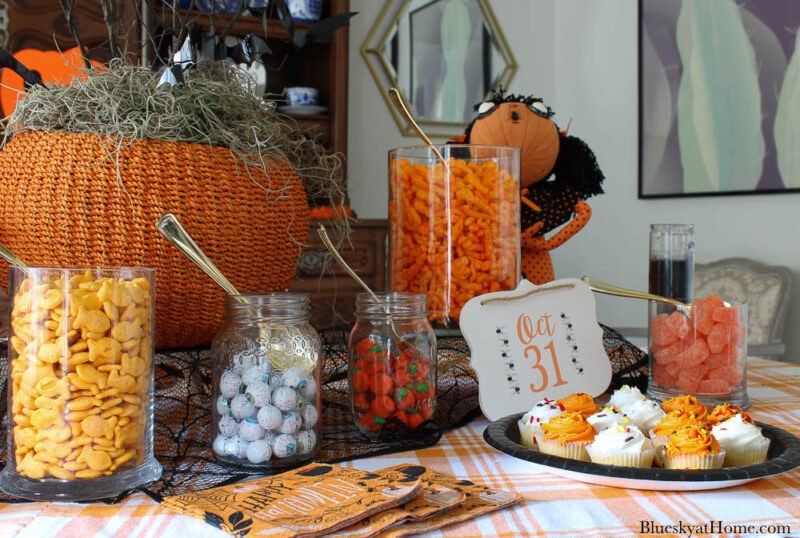 I did purchase some trick-or-treat bags and orange bowls for holding the candy and the savories.
Finally, the table is ready for the sweet Halloween buffet.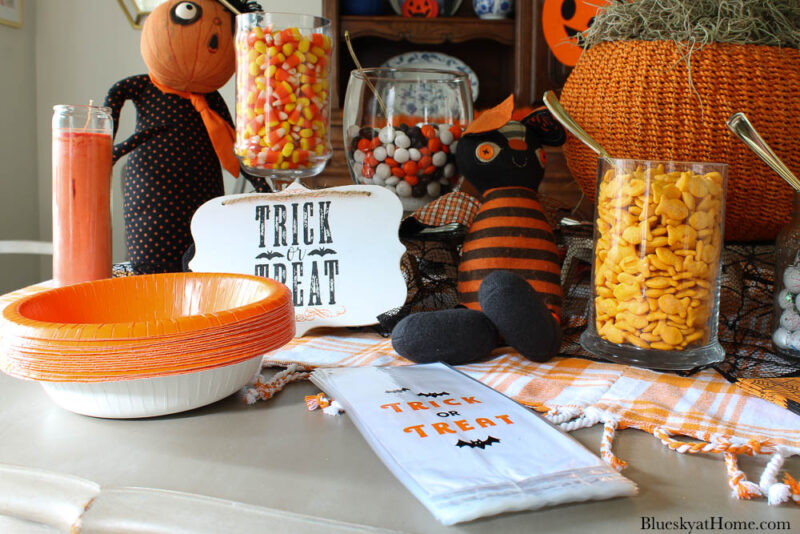 I love how bright and festive the Halloween buffet is.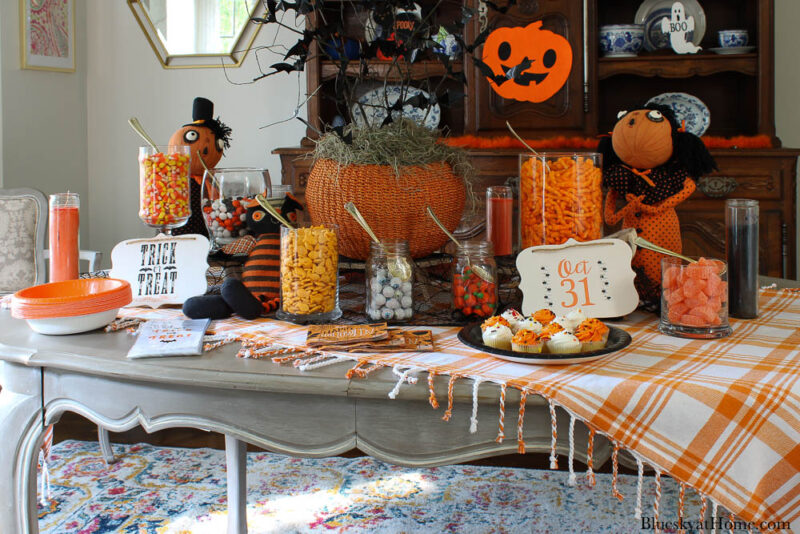 What do you think of my bat tree centerpiece? Be sure to visit and see how easy it is to make.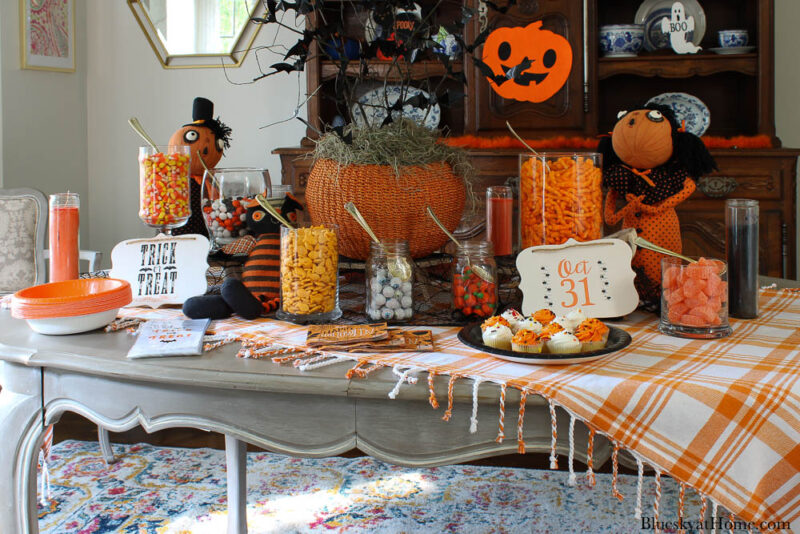 Shopping for this Halloween Buffet
Let the Party Begin
When the sun goes down, light the candles and turn on any other Halloween decorations you have. We have a scarecrow head that lights up and a light that flashes on and off. (Sweet Shark's idea, not mine!)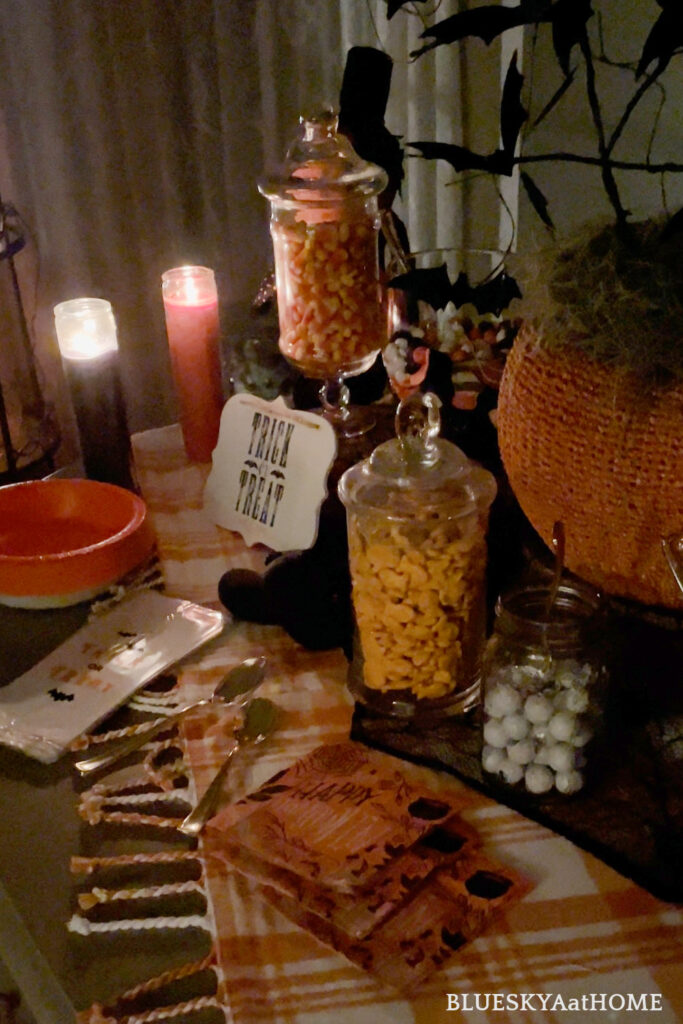 I couldn't let a fun Halloween buffet table go to waste. Next week I'm hosting a fun group of ladies over for a girl's Halloween Happy Hour. This group gets together about four times a year for fellowship and fun.
I hope that you have enjoyed my sweet Halloween buffet party idea. I think it is really cute.
It's easy to put together and requires almost no food prep. You certainly can adjust the "menu" to your guest list. I will definitely be adding more "real" food for our girls' happy hour.
I'm sure you want to keep this post so you can use it for inspiration. Please PIN IT to your party boards. Here are my Party Idea Board and my Halloween Ideas Board.
Be a good witch or goblin and visit the other Halloween tablescape creations. The list is below. Start with Ann of Corner of Plaid and Paisley. I know you'll enjoy them all.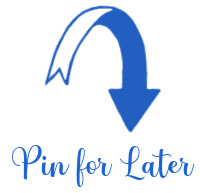 Pandora's Box – Snack Hour Portable Tablescape
Bleu Belle Interiors – A Sweet Halloween Table
Me and My Captain – And the Band Played On
Everyday Living – Halloween Critters and Treats
My Hubbard Home – Halloween Inspired Fall Tablescape – The Best of Autumn
Panoply – Apothecary's Mystical Halloween Laboratory
Debbee's Buzz – Spooky Spellbound Halloween Centerpiece and Table
Home Is Where the Boat Is – Black Cat Trading Company
Thrifting Wonderland – Practical Magic Halloween
Red Cottage Chronicles – How to Set a Halloween Tablescape Fit for a Princess
Life and Linda – If the Shoe Fits
The Little Yellow Corner Store – The Debonair Vampire, Leonard
The Bookish Dilettante – Halloween Tablescape: Midnight at the Ball
My Thrift Store Addiction – Jadeite Whimsy: Seasonal Tray and Table Setting
The Painted Apron – Slightly Spooky Halloween Tablescape
Bluesky at Home – How to Set Up a Sweet Halloween Buffet
Corner of Plaid and Paisley – Table of Vexing Vermin
Zucchini Sisters – Halloween Table Top Decor with Skeletons
Celebrate and Decorate – Halloween Tablescape in Gold and Black
Dinner at Eight – Welcome to Ghostly Hollow!
Karins Kottage – A Bewitching Black and White Tablescape