How to Make an Easy Halloween Tree
We have Christmas trees. I have made an Easter tree. Then I thought, " Why not a Halloween tree?" Here is how to make an easy Halloween tree for any place in your home.
I love adding Halloween decorations to our home. You probably knew that.
Why did I make a Halloween tree?
I needed a centerpiece for a recent Halloween buffet. Every table needs a centerpiece and I thought a Halloween tree would be perfect.
This easy Halloween tree will add a touch of spooky Halloween décor to your home or party.
Did I mention that this spooky tree is adorned with decorative bats?
The Idea for the Easy Halloween Tree with Bats
The idea for my fun Halloween tree started with a pumpkin. I found this pumpkin basket a few years ago at a local antique mall. It was too cute to pass up.
I've used this pumpkin basket several times for floral arrangements. This is the first time it has been the base for a small tabletop Halloween tree.
This project is so easy your kids could make it. It's fast to do. A no~brainer You just need a few supplies. And hot glue isn't required!
Supplies for this Halloween Project
What makes this Halloween tree so great is that it requires just a few supplies. There are several options to what supplies you use.
tree branches – these could be from your yard or neighborhood. I actually gathered several small branches but left them outside and they got wet. So I ordered these tree branches from Amazon and they worked perfectly. They look real and you can bend them whichever way you like.
paper or bubble wrap to secure the florist foam and your branches
Spanish moss as filler to cover the base of the Halloween tree
Step-by-Step Instructions to Make your Halloween Bat Tree
Even though this spooky Halloween tree is so easy to make, I've broken down the process into 11 steps.
Step 1 ~ First, choose your container.
This could be a container you already own. Luckily, I already had my woven pumpkin basket. For this Halloween tree project, I didn't need the top of the basket.
You just want to have the mouth of the container large enough to place the tree branches in.
Step 2 ~ Next, if needed, place the florist foam in the container. The florist foam holds the tree branch stems securely. If the mouth of your container is narrow, you might not need the florist foam.
I had already tested that the stems would go in the florist foam.
Step 3 ~ Then, if using the faux tree branches pull the stems of the tree branches apart. Bend the stems as you like.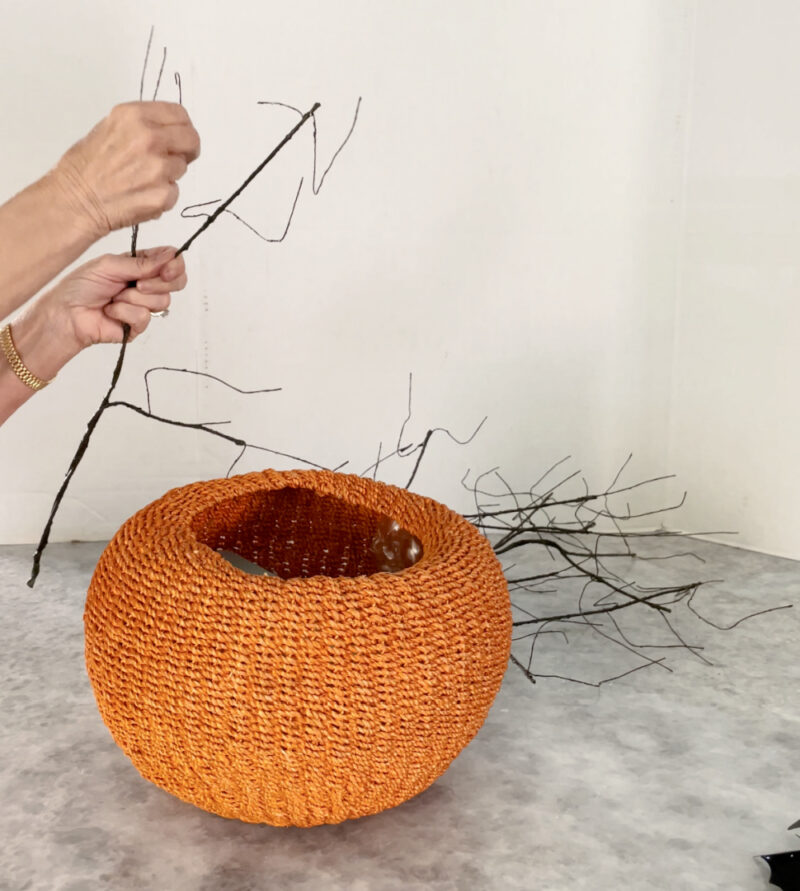 NOTE: Originally, I planned to use the real tree branches I had collected. I was going to use black spray paint on them. I have bought faux tree branches before (see this Easter tree). After my real branches got wet, I decided that it would be easier to use the faux branches.
Step 4 ~ Push the stems into the bottom of the foam, spacing them out as you like. If needed, pull the main branches apart to separate them.
Step 5 ~ Stuff your container with crushed newspapers, packing paper, or bubble wrap. This step will help to hold your branches in place and upright. Fill the container with the paper almost to the top of the container.
Step 6 ~ Unwrap the plastic bats from the packaging. They come in a few different sizes and shapes.
This package had 7 different sizes. Pick a variety of sizes for more interest. I chose the three smallest bats for my Halloween tree.
Remove the bats from the plastic bags.
NOTE: At this point, you won't know how many bats you will need. Just start with a few dozen. You may have to use more, depending on the size of your tree or how full you want the tree to be with bats.
Step 7 ~ Using the designated folds on the bats (The bats have either 2 or 4 folds.), bend them to create the look of a bat with wings. Set aside.
TIP: I put all my bats in a bowl.
Step 8 ~ Next, attach one adhesive square to the back of the center body of each bat. Don't remove the adhesive red backing yet. Set aside all the bats.
NOTE: I folded the bat wings and attached the adhesive backing while watching the Cowboy game. Made the process go faster.
Step 9 ~ When you are ready to start attaching the bats to the tree branches, start removing the red adhesive backing. This step will take the longest. The squares are about 1/4-inch square.
NOTE: To be honest, this step was the only hard step in this DIY project. It was a challenge to remove the little red square adhesive backing without any fingernails (another story).
Step 10 ~ Once all the backing is removed, you can start attaching the bats to the branches of the tree. Press the body of the bat securely to the branch. I had one or two fall off. I just found a better place to put it.
Step 11 ~ Finally, place the Spanish moss on top of the filler.
Make sure your cover the filler. I draped some of the moss down the side of the container.
NOTE: Depending on where you are going to place your Halloween tree, you can face the bats to one side or spread them around all the branches. Since my bat tree would only have one side facing out on my table, I placed my bats on one side of the tree.
Options for Making this Spooky Tree
This easy Halloween tree can be adapted to your own tastes. Try these possible options for your DIY Halloween trees.
Option 1 ~ Use either real branches or faux branches
Option 2 ~ Leave the branches as is or use black spray paint. If you want to really customize it, spray paint it orange.
Option 3 ~ Use the purchased plastic bats which are so easy and inexpensive or cut out bats from cardstock using a Cricut.
Option 4 ~ Instead of bats, use witches, witches' hats, cats, spiders, or ghosts.
Option 5 ~ Add fake spider webs to the tree.
I think the whole family will love this fun Halloween tree. Who wouldn't love a creepy tree?
Using my Halloween Tree as a Centerpiece
My Halloween tree with bats was the centerpiece for my sweet Halloween buffet. I loved the focal point it created.
I hope that you'll make a Halloween tree this year. It's so easy, inexpensive, and fast to make. Those are all must~haves for my DIY projects.
As easy as this project is, I hope that you will PIN IT to remember it for this year and in the future. Check out my Halloween DIY Project Ideas Board for more inspiration.