Awesome Autumn Pumpkin Vignette
We all know that pumpkins are almost essential to any autumn decor. Today I have an awesome autumn pumpkin vignette to share with you.
Whether your pumpkins are real or faux, inside or outside, an autumn pumpkin vignette will add to our fall decorations.
I'm joining Katherine from Katherines Corner and a few of her blog friends for an Autumn Vignette Challenge. The challenge? Include at least one pumpkin in our vignette.
That is an easy challenge!
I love a good challenge and one that includes pumpkins for an autumn vignette is one I will happily accept.
Awesome Autumn Pumpkin Vignette
Pumpkins come in all sizes, colors and shapes, whether real or faux. We already have several areas in our home that sport pumpkin vignettes:
One area that was pumpkin~less was our breakfast table. It was crying out for a pretty pumpkin vignette to finish off our autumn home decor.
This pumpkin vignette would be super simple to make.
The foundation of this pumpkin vignette was the woven pumpkin that I found at a local antique mall last year. I used it then in my Halloween tablescape.
This year I would use the woven pumpkin as the central focus of this vignette. I like that it adds color, shape, texture. At $11, it was a great buy.
Pumpkin Vignette Flowers
Once again, this woven pumpkin would be filled with flowers. The pumpkin is 7 1/2 inches tall and the opening in the pumpkin is 6 1/2 inches wide. I found a glass vase in my collection to use that is 8 inches tall and 6 inches round. This glass vase would be a good fit inside the woven pumpkin and hold the flowers.
This vignette would have the traditional 3 ingredients. The woven pumpkin is the first.
I made a trip to Trader Joe's to select my flowers. This is always a fun step in creating any vignette. I selected a variety of fall colors and variety.
First, I cut the ends off and soaked them in water.
I then soaked a piece of floral foam in the vase. You can see that I reuse the florist foam.
Once the vase was arranged with seasonal flowers, I placed it inside the woven pumpkin. Then I stuffed Spanish moss around the vase to finish off the arrangement.
Now I was ready to "fill out" the rest of the autumn pumpkin vignette.
Filling out the Autumn Vignette
Next, I added a burlap runner that I made a few years ago around the pumpkin. It adds a rustic feel in texture and natural color.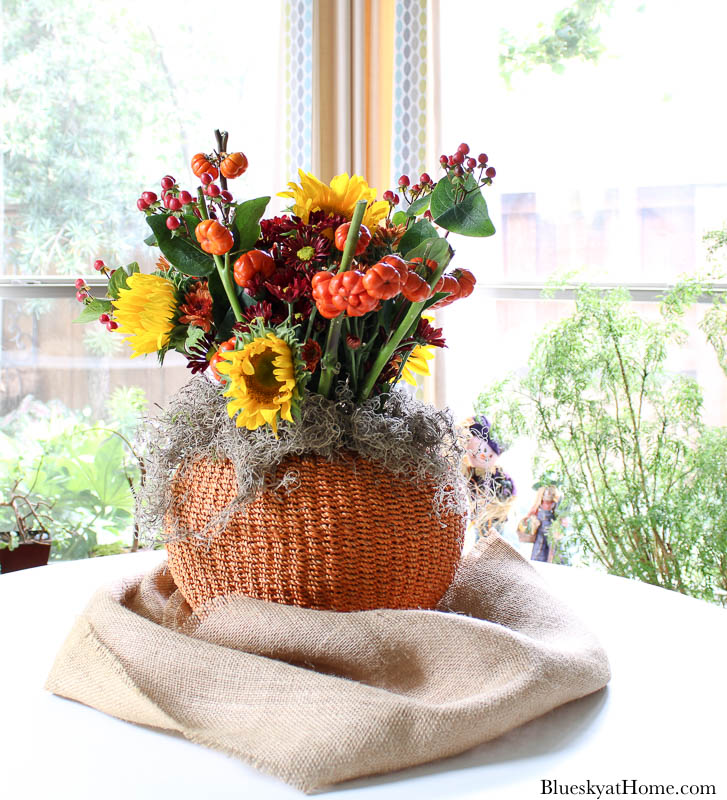 The lid of the pumpkin was the 2nd ingredient of my autumn pumpkin vignette. I love all the natural raffia.
The 3rd and final element in my pumpkin vignette was the addition of 3 real pumpkins. They act as one element.
What a difference this pumpkin vignette made to our breakfast room. We now have beautiful fall flowers in a fun pumpkin container to enjoy.
I hope that you gained just a little inspiration for your own pumpkin vignette from this Autumn Vignette Challenge. Please PIN to your autumn or fall decor boards.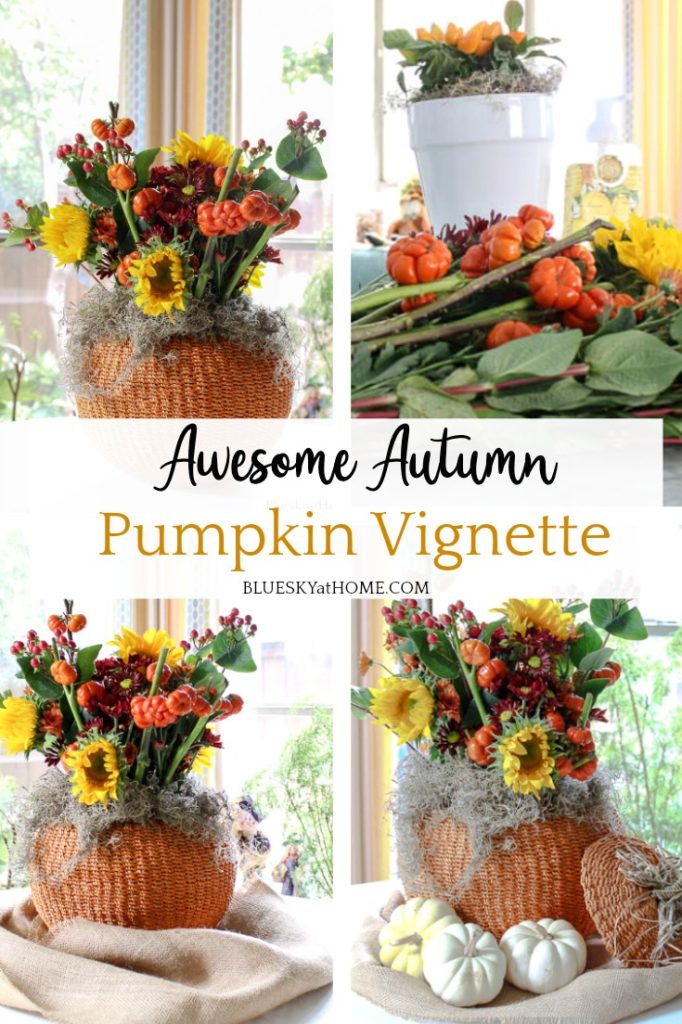 Now please take a few minutes and visit these autumn pumpkin vignette ideas from my blogger friends ~ all with pumpkins, of course.